This quick and easy Rhubarb Sauce recipe has only 3 ingredients. Enjoy it on its own, or over yogurt or vanilla ice cream!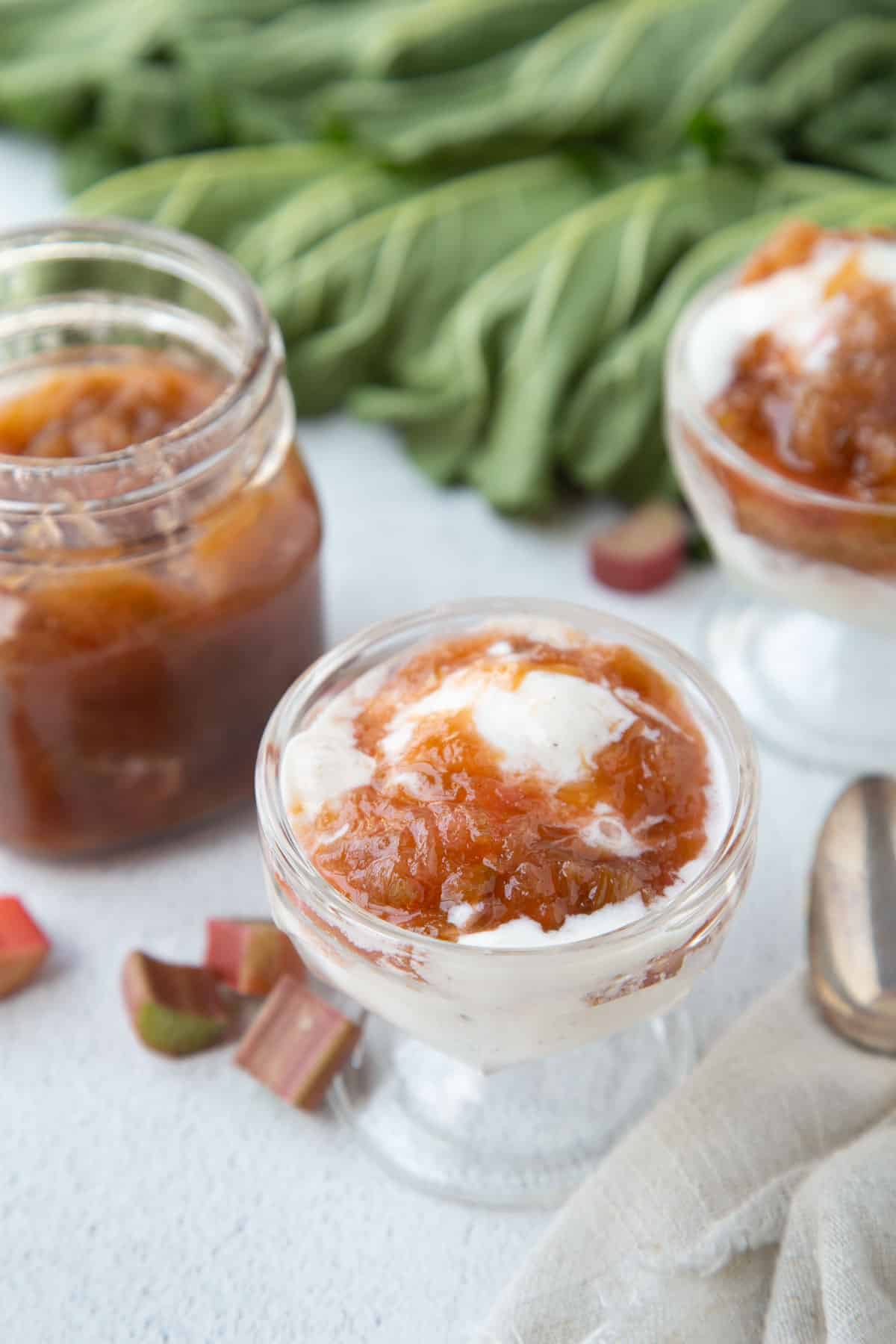 Nothing says spring produce like rhubarb!
This gorgeous plant makes the most delicious sweet treats, like Rhubarb Cake, Rhubarb Bars, and Rhubarb Muffins.
And, you can cook it down into a fruit sauce, similar to making applesauce. The end result is a truly delightful Quick and Easy Rhubarb Sauce.
It has three simple ingredients, so the hardest part of this recipe is sourcing the rhubarb!
This post contains affiliate links. Affiliate links support Gift of Hospitality at no additional cost to you. I receive a commission if you choose to make a purchase through these links.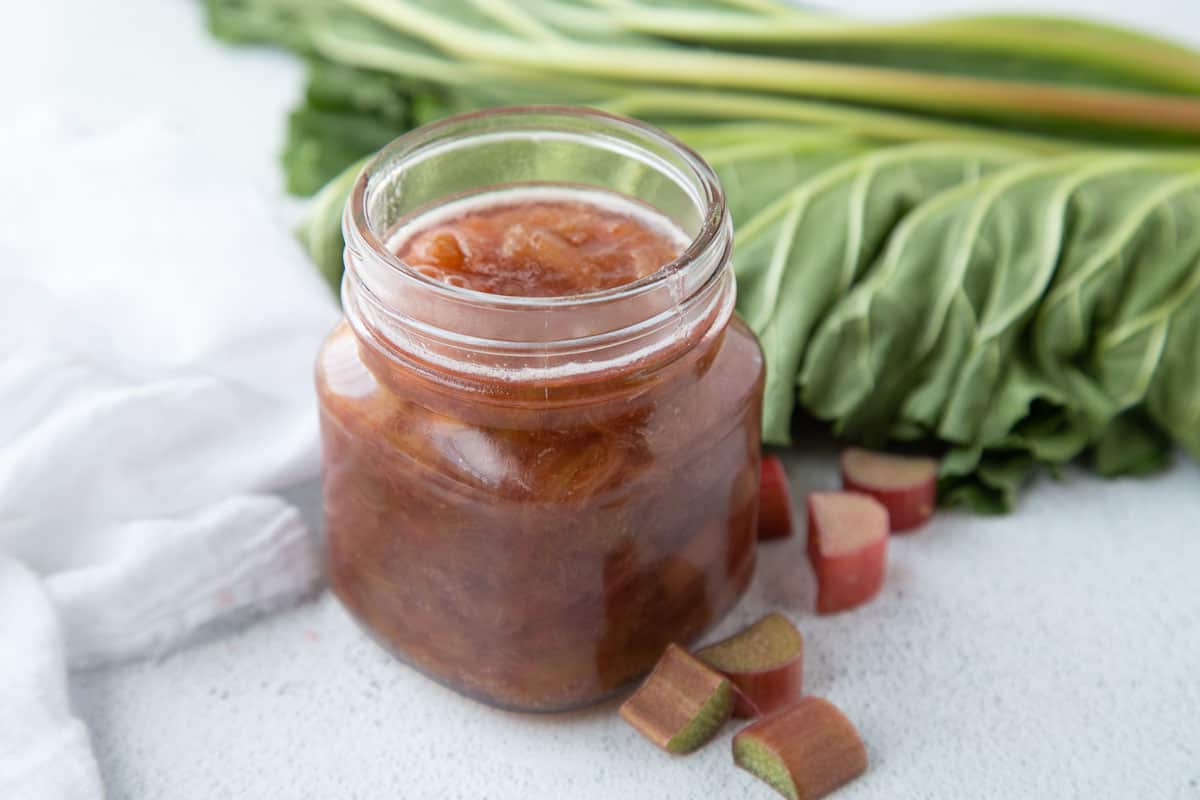 When is rhubarb in season?
Rhubarb is in season in the spring. In the Midwest specifically, you'll see stalks ready for harvest in late April through early June.
If you live in the Midwest or Pacific Northwest, check your local farmer's market in May for the best chance of finding it.
You may luck out to see rhubarb earlier in the year, which is greenhouse grown rhubarb. Either will work for this recipe.
Top tips
Don't be tempted to add water to the rhubarb and sugar as they cook. The rhubarb will start to release its juices as it cooks, so water will just dilute the sauce.
On that note, stir the sauce often to ensure the sugar doesn't burn on the bottom of the pan.
Have green rhubarb? You can make this sauce with a green variety, too! I used a mixture of green and red rhubarb (the green is the Victoria variety, and the red is Crimson Red).
Ingredients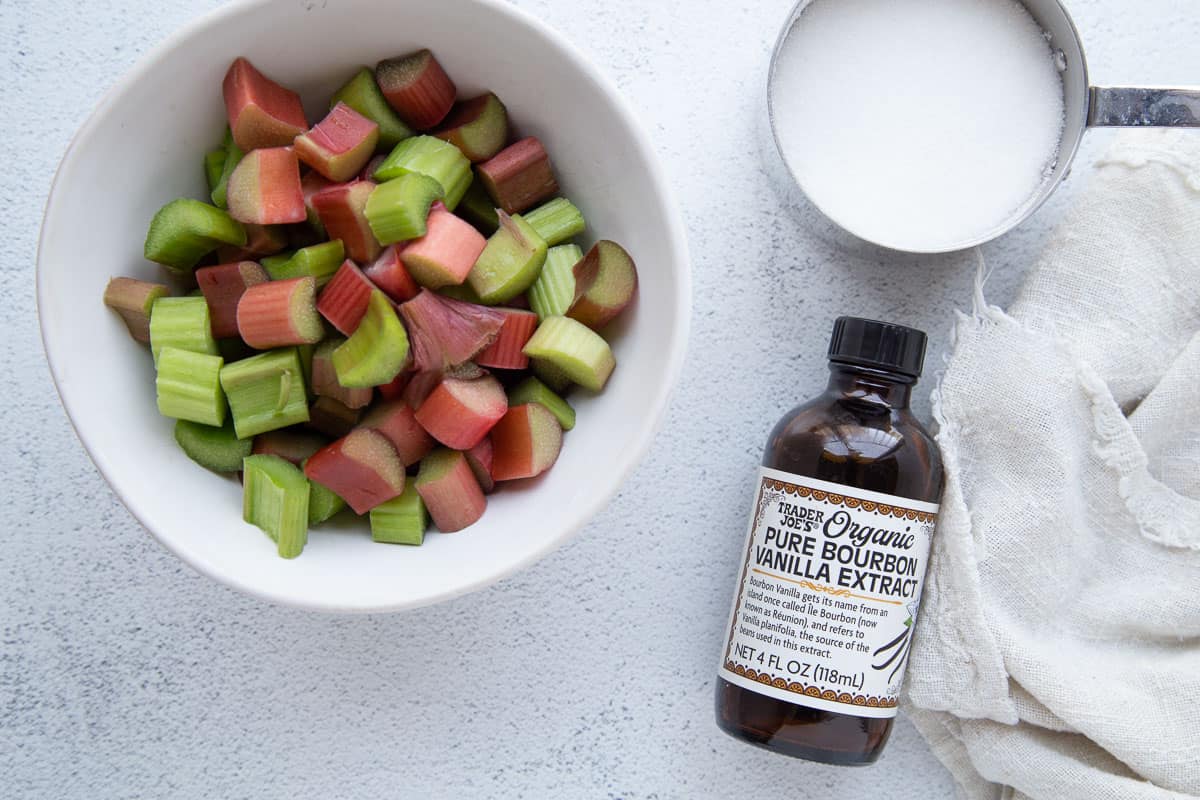 You just need 3 ingredients:
2 cups of chopped rhubarb
Granulated sugar (you can increase or decrease the amount as you wish)
Vanilla extract—this is optional. I like the flavor both with and without it. Try both and see which you prefer!
How to make easy rhubarb sauce
Start by chopping the rhubarb into half-inch pieces.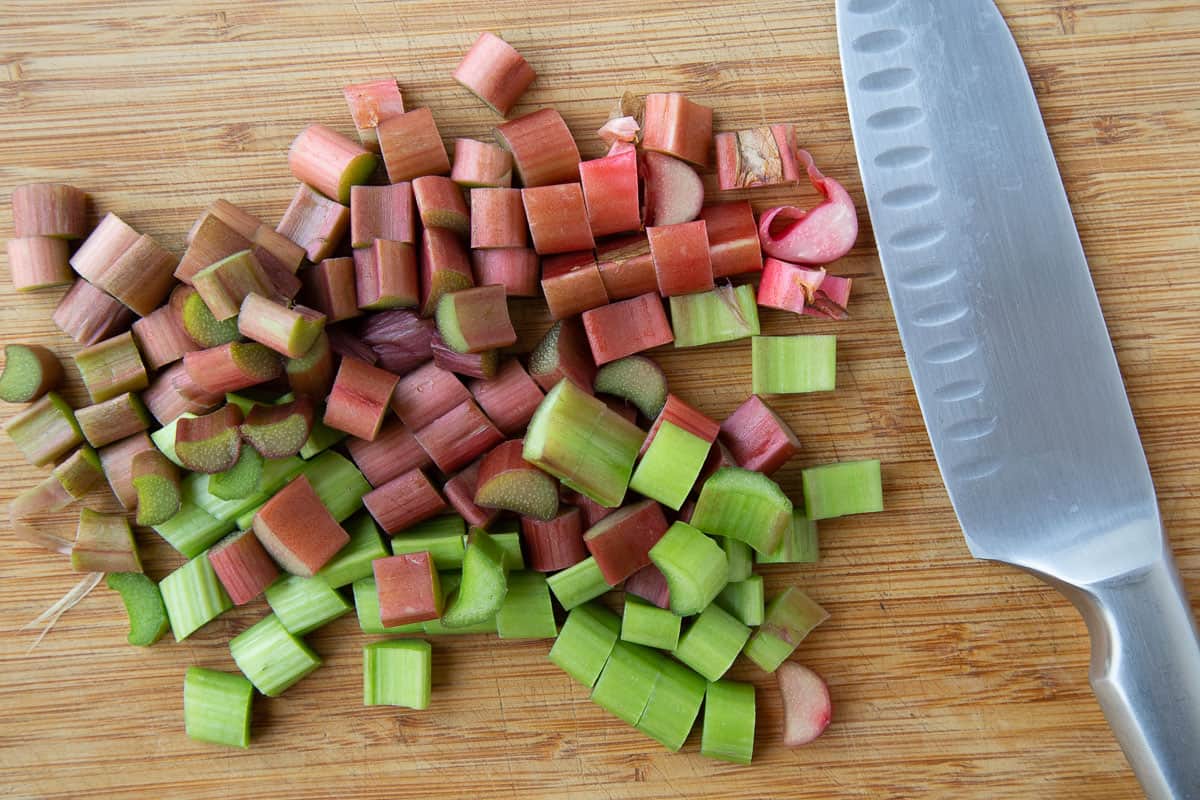 I used a combination of Crimson Red (the red/pink one) and Victoria (the green one) rhubarb for this. You can use any variety that you like.
Place the rhubarb in a small saucepan with the sugar.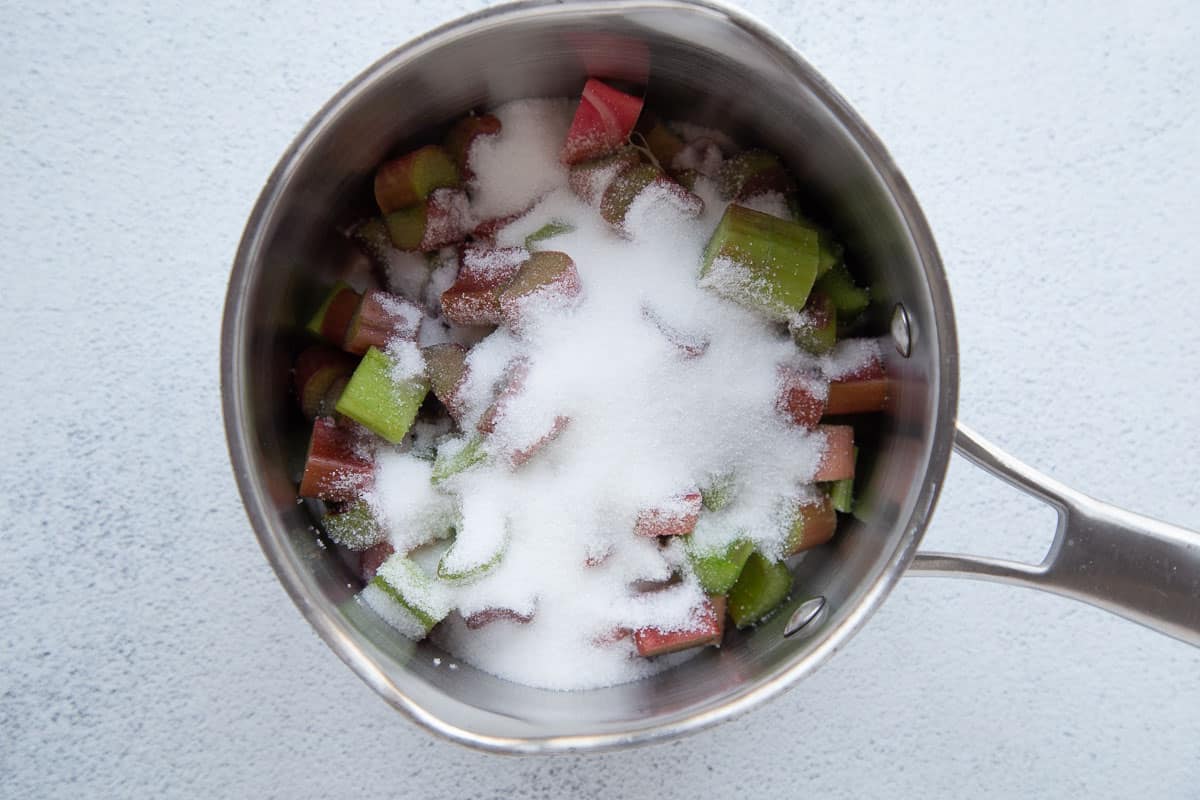 Place the pan over medium heat, and cook, stirring occasionally, until the rhubarb is soft and falling apart.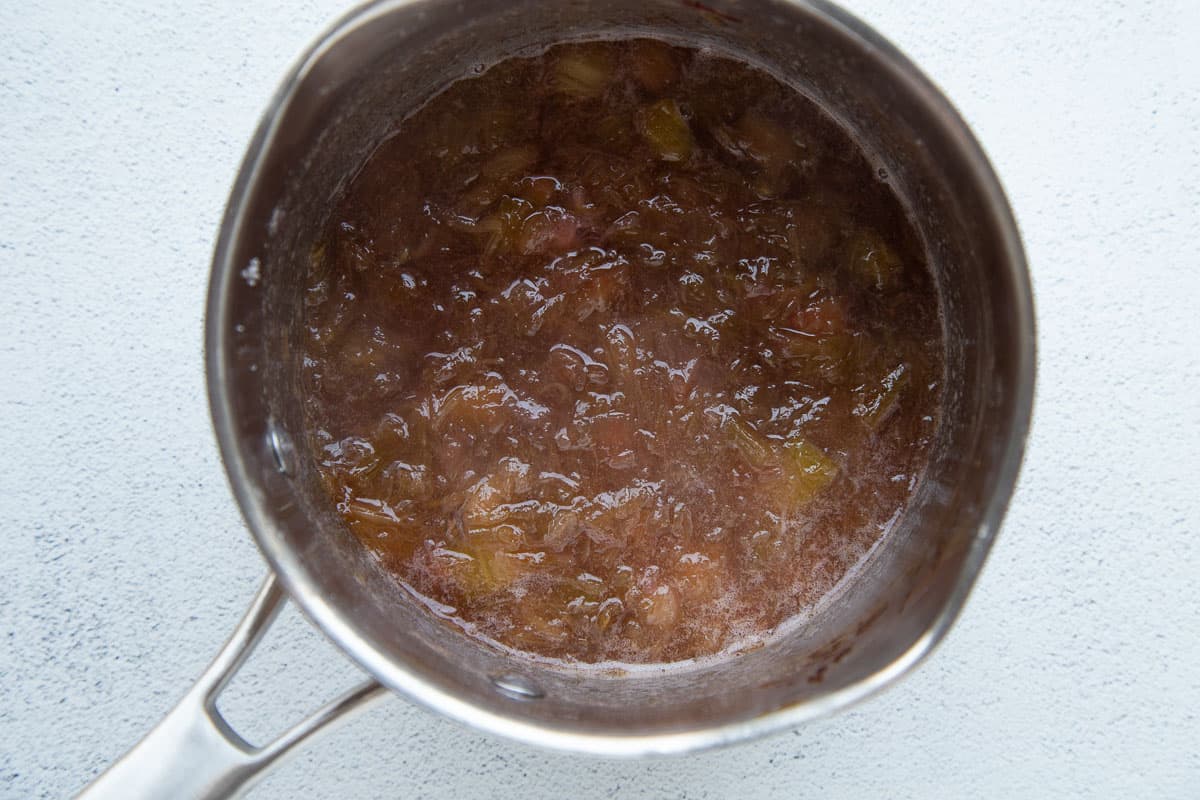 Add the vanilla extract, if using. Let cool and serve!
Frequently Asked Questions
How many cups of sugar should I use for rhubarb sauce?
It all depends on how sweet you'd like it. For a nice balance between sweet and tangy, try 2 cups of rhubarb to ⅔ cup sugar. That ratio is roughly as sweet as unsweetened applesauce. Adjust the sugar to your liking from there.
Can I make rhubarb sauce with green rhubarb?
Yes! You can make rhubarb sauce with any variety of rhubarb. The color of the finished sauce will depend on the variety.
How can I thicken rhubarb sauce?
Use a cornstarch slurry to make a thick rhubarb sauce. Stir in 2 teaspoons of cornstarch shaken together with a few tablespoons of warm water. Let cook for a few minutes to thicken. Add more cornstarch/water if you'd like a thicker sauce.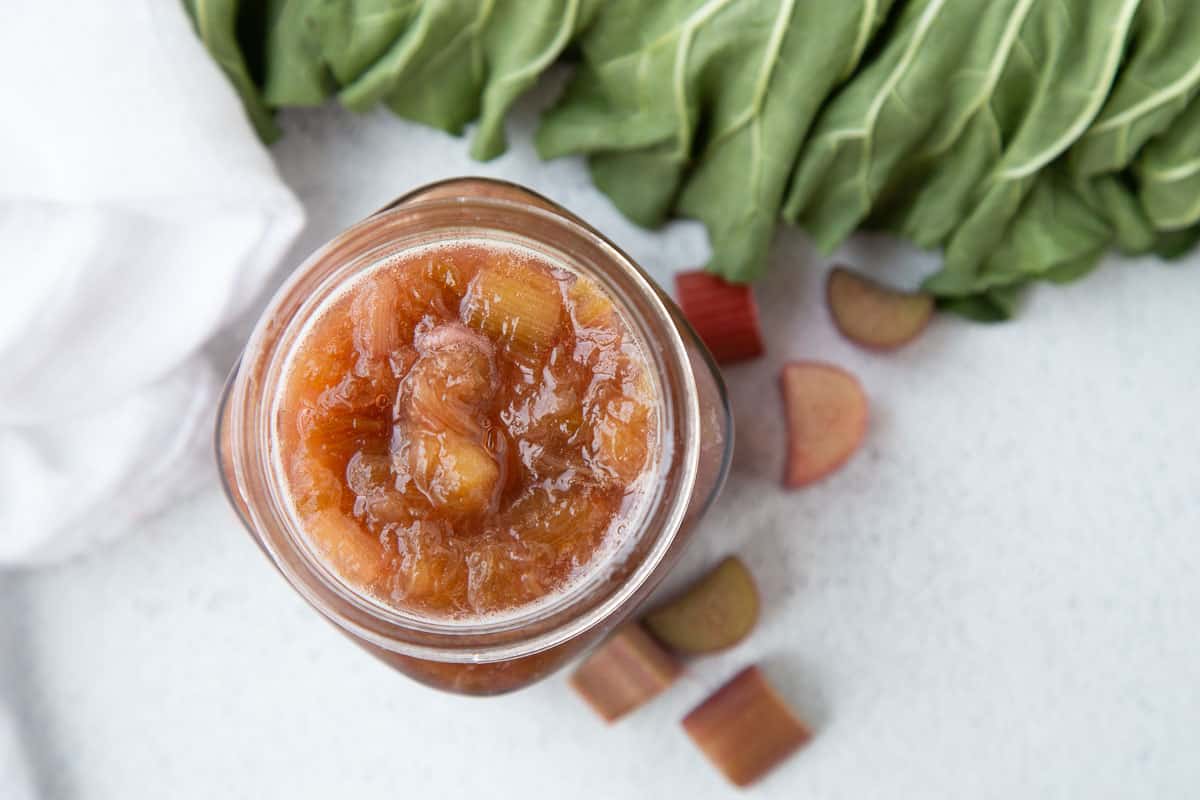 Variations
The most simple recipe is for rhubarb sauce is rhubarb and sugar. If you want to change things up, here's what to add:
A splash of vanilla extract
The zest of one orange
The zest of a lemon
A pinch of nutmeg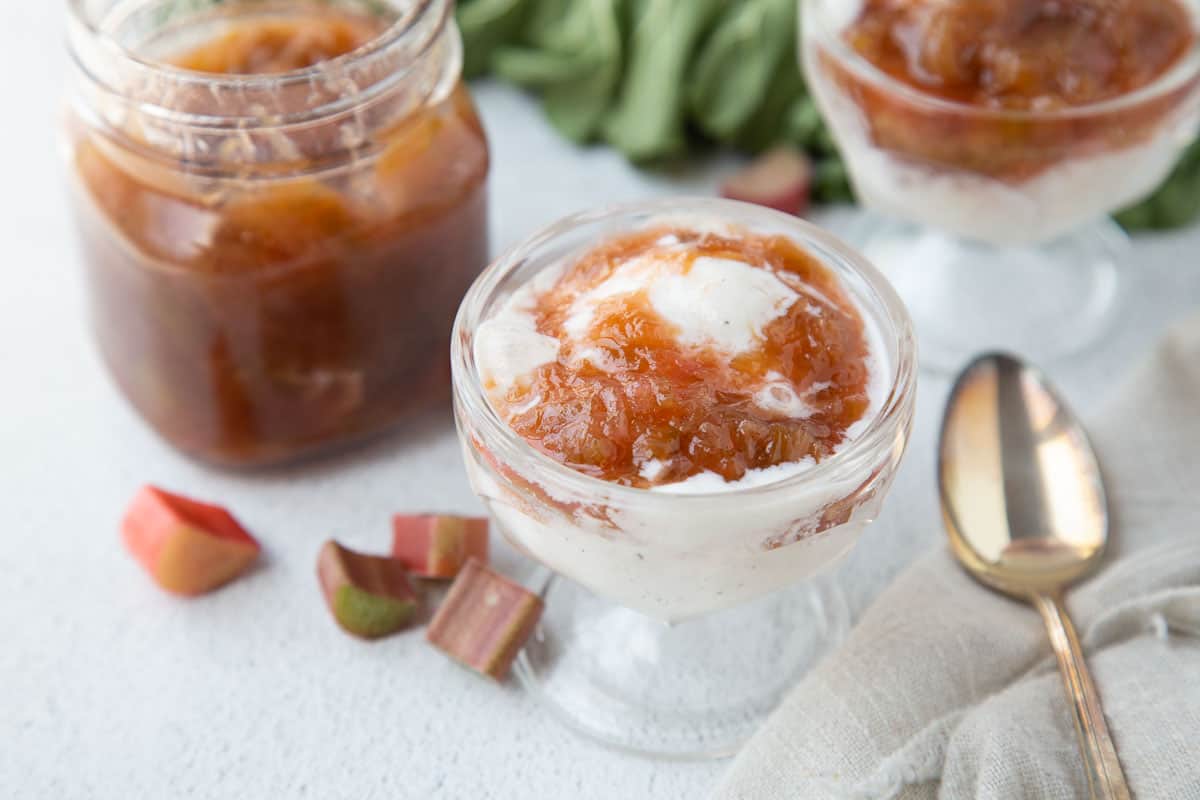 What to do with rhubarb sauce
This easy Rhubarb Sauce is super versatile. Here are a few ideas for how to enjoy it.
On its own
On top of vanilla ice cream
Stirred into Greek yogurt
Spooned over pancakes or waffles
Swirled into oatmeal
On top of pound cake or angel food cake with whipped cream
How to freeze rhubarb sauce
Rhubarb Sauce freezes beautifully. Transfer the sauce to resealable freezer bags (or another freezer-safe, airtight container) and freeze for up to 6 months.
Defrost in the refrigerator for 24–48 hours.
Have you tried this recipe? Please leave a ⭐️⭐️⭐️⭐️⭐️ rating and/or comment below!


📖 Recipe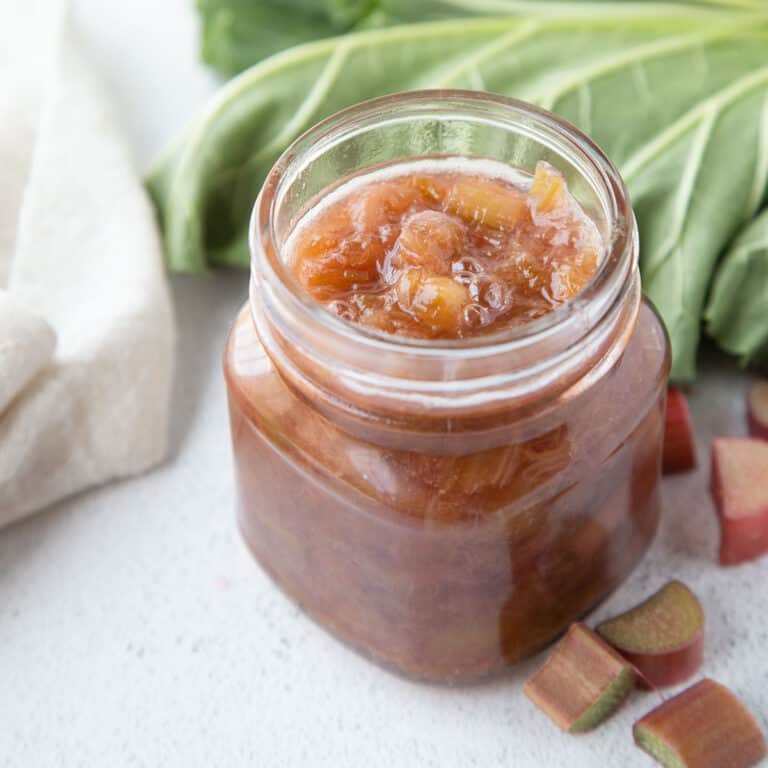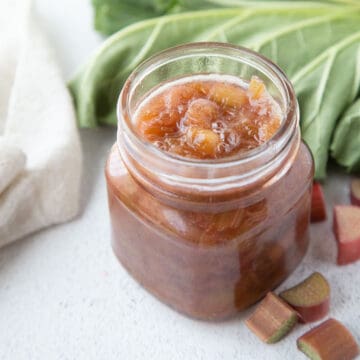 Easy Rhubarb Sauce
This quick and easy recipe is the perfect use for spring's rhubarb harvest. Serve it over ice cream or Greek yogurt!
Ingredients
2

cup

chopped rhubarb

⅔

cup

sugar

splash

of vanilla extract

(optional)
Instructions
Place the chopped rhubarb and sugar in a small saucepan over medium heat.

Cook, stirring occasionally, until the rhubarb has broken down and a sauce forms. Stir in the vanilla, if using.

Let cool and serve on its own, or on top of ice cream or Greek yogurt.
Notes
You can use any variety of rhubarb that you like for this recipe (green varieties, too). The variety will alter the color.
Add more or less sugar to your liking. As written, the recipe is sweet enough to eat on its own (it's about as sweet as a homemade applesauce).
Serving ideas:
On its own
On top of vanilla ice cream
Stirred into Greek yogurt
Spooned over pancakes or waffles
Swirled into oatmeal
On top of pound cake or angel food cake with whipped cream
Nutrition
Calories:
94
kcal
Carbohydrates:
24
g
Protein:
1
g
Fat:
1
g
Saturated Fat:
1
g
Polyunsaturated Fat:
1
g
Monounsaturated Fat:
1
g
Sodium:
2
mg
Potassium:
118
mg
Fiber:
1
g
Sugar:
23
g
Vitamin A:
41
IU
Vitamin C:
3
mg
Calcium:
35
mg
Iron:
1
mg
More rhubarb recipes