Jell-O Poke Cake is a blast from the past! You just need a few ingredients to create this fun, colorful cake that everyone will love.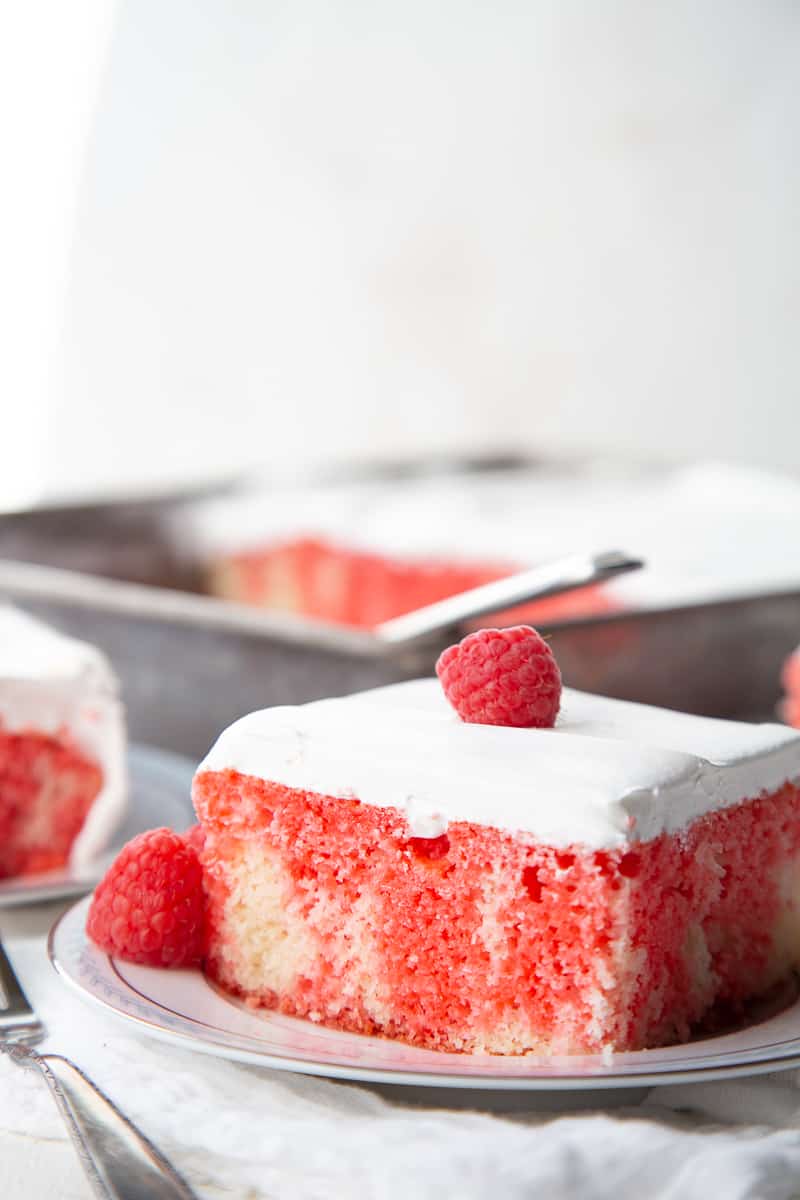 We're heading back to the 1970s with this retro dessert!
Jell-O Poke Cake was invented in 1969 by the Jell-O company as a way to sell more Jell-O. It became popular in the 1970s and it's easy to see why—it's colorful, easy and fun to make, and delicious!
It's also a great way to get kids involved in the kitchen. They'll love mixing the cake batter, poking holes in the cake, pouring the Jell-O over the top, frosting the cake, and of course eating it.
The cake is also very customizable—you can use any flavor of Jell-O that you like. I used raspberry Jell-O, but strawberry, cherry, orange, lemon, lime, pineapple, or any other Jell-O flavor all work well.
It's especially helpful when you need a cake for a color-themed party. The birthday boy loves green? Make a lime Jell-O poke cake! Need something red for Valentine's Day? Raspberry, cherry, or strawberry Jell-O are perfect!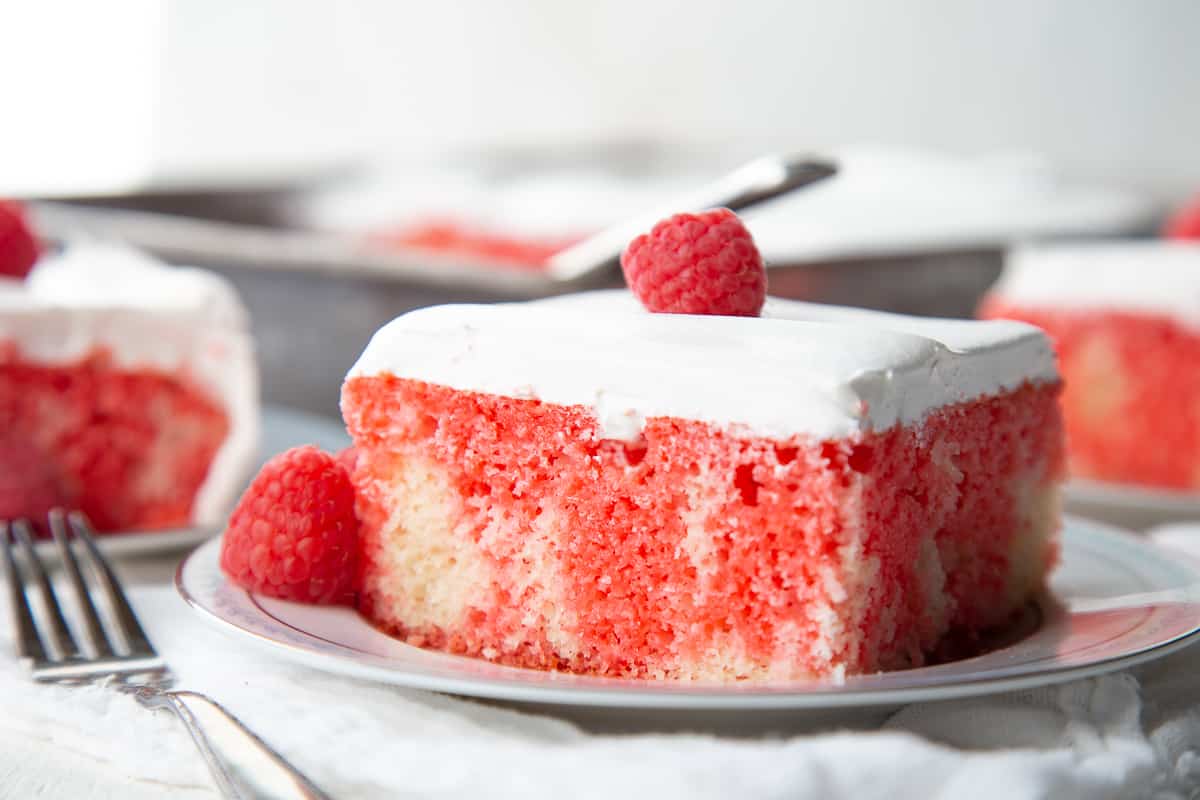 This post contains affiliate links. Affiliate links support Gift of Hospitality at no additional cost to you. I receive a commission if you choose to make a purchase through these links.
Jump to:
Ingredients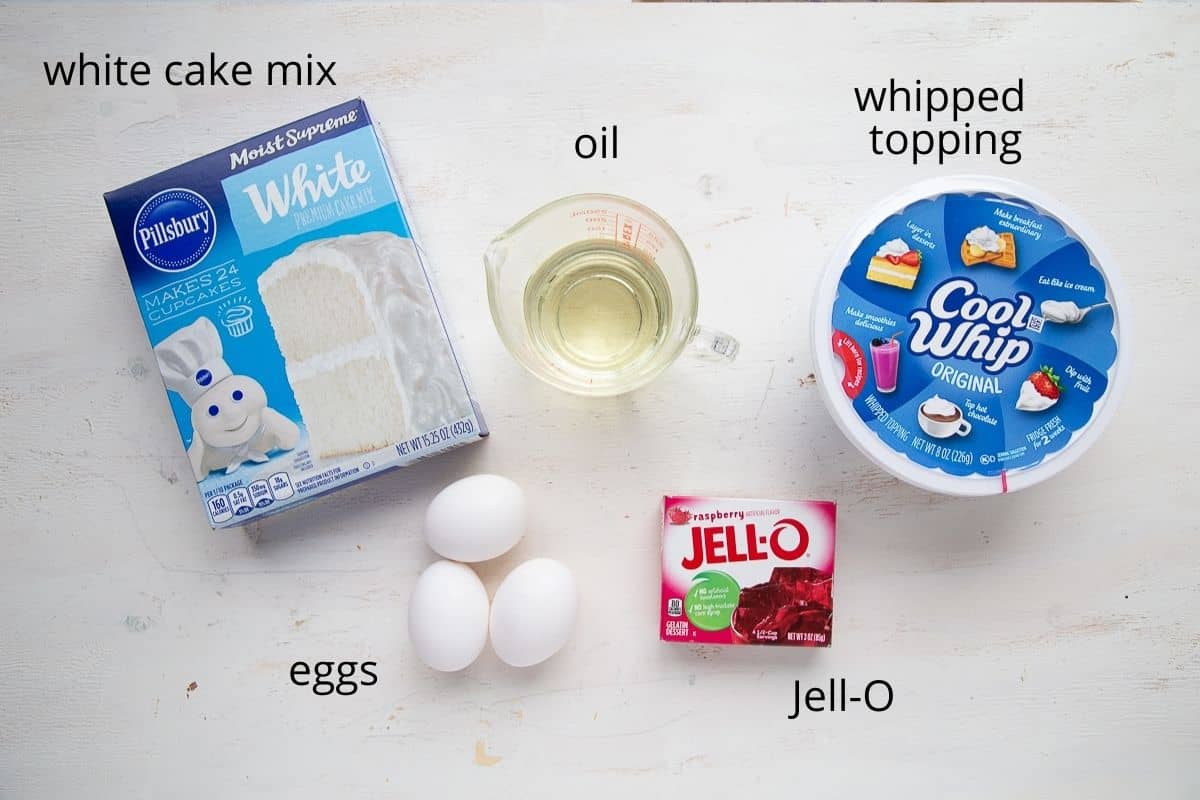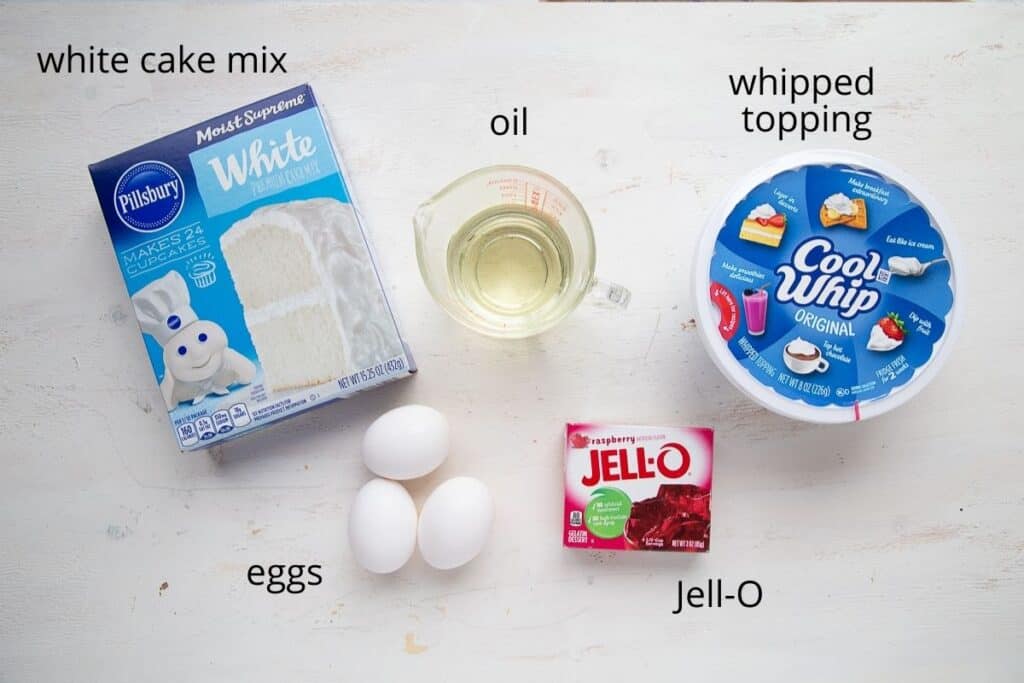 A white cake mix is the base for this recipe. Yellow cake mix works, too, but I like the color contrast between white and the colorful Jell-O.
You'll make the cake according to package instructions. Mine called for eggs, oil, and water.
You can use any flavor of Jell-O that you like.
Whipped topping, such as Cool-Whip, goes on top. You can also used whipped cream if you prefer.
How to make Jell-O poke cake
Start by preparing a white cake mix according to package directions in a 9×13 inch pan. Be sure to grease the pan with cooking spray or butter first!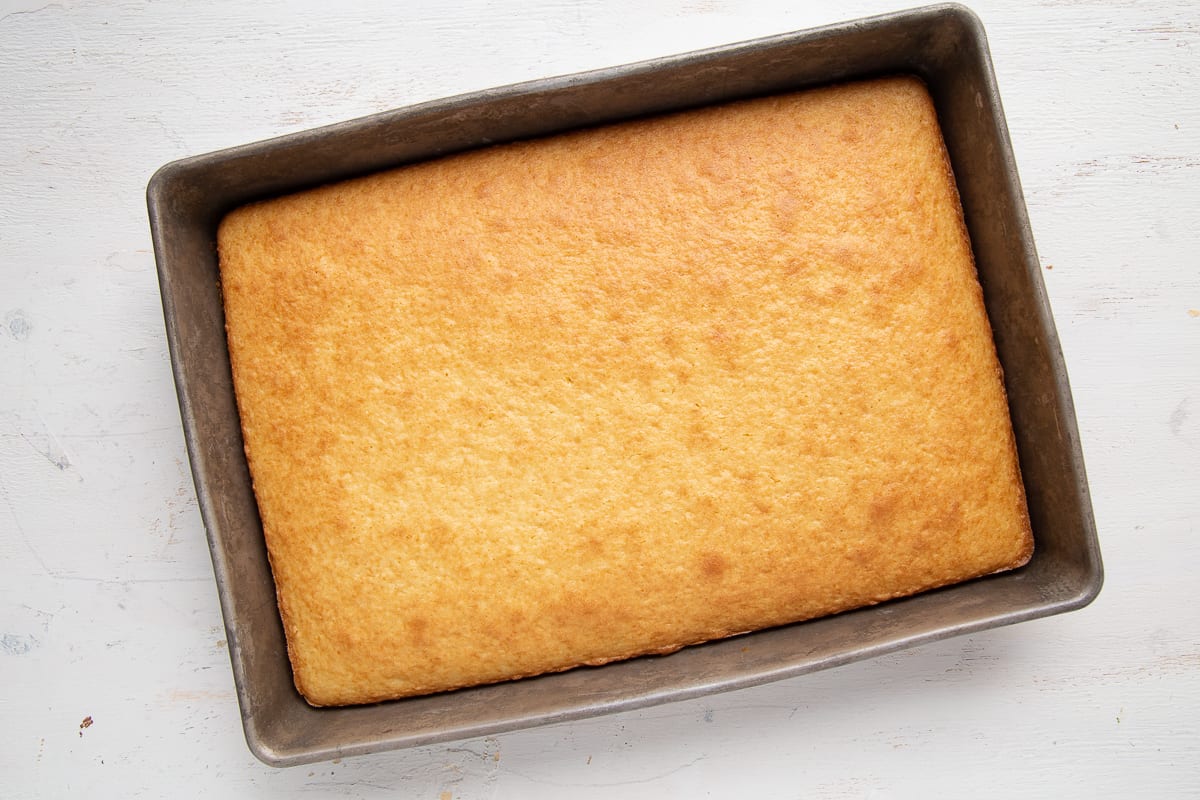 While the cake is still warm from the oven, use a drinking straw to poke holes on top of the cake, spacing the holes about one inch apart. If you don't have a straw, try a fork, a skewer, or the handle of a wooden spoon instead.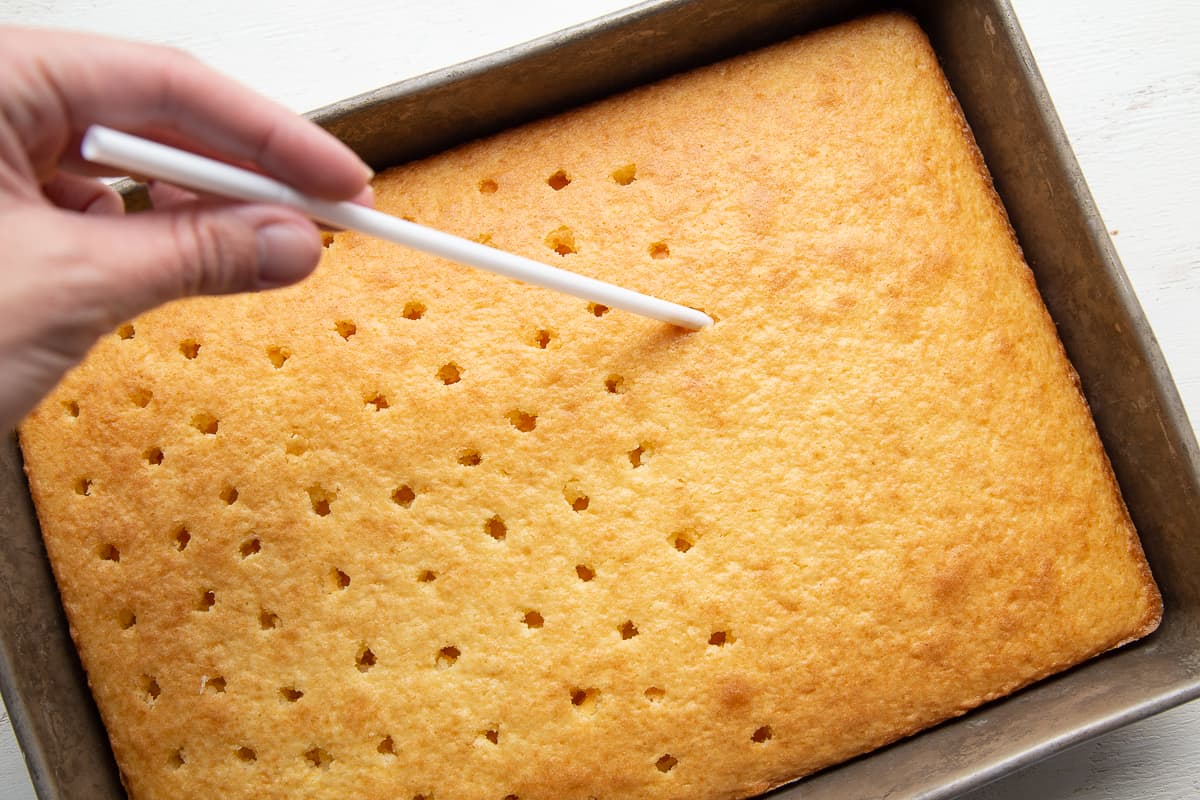 Stir the contents of the package of Jell-O into 1 cup of hot water (it doesn't have to be boiling; just hot from the tap is fine). Then add one-half cup of cold water. The Jell-O dissolves best into hot water, which is why you add the cold water after stirring.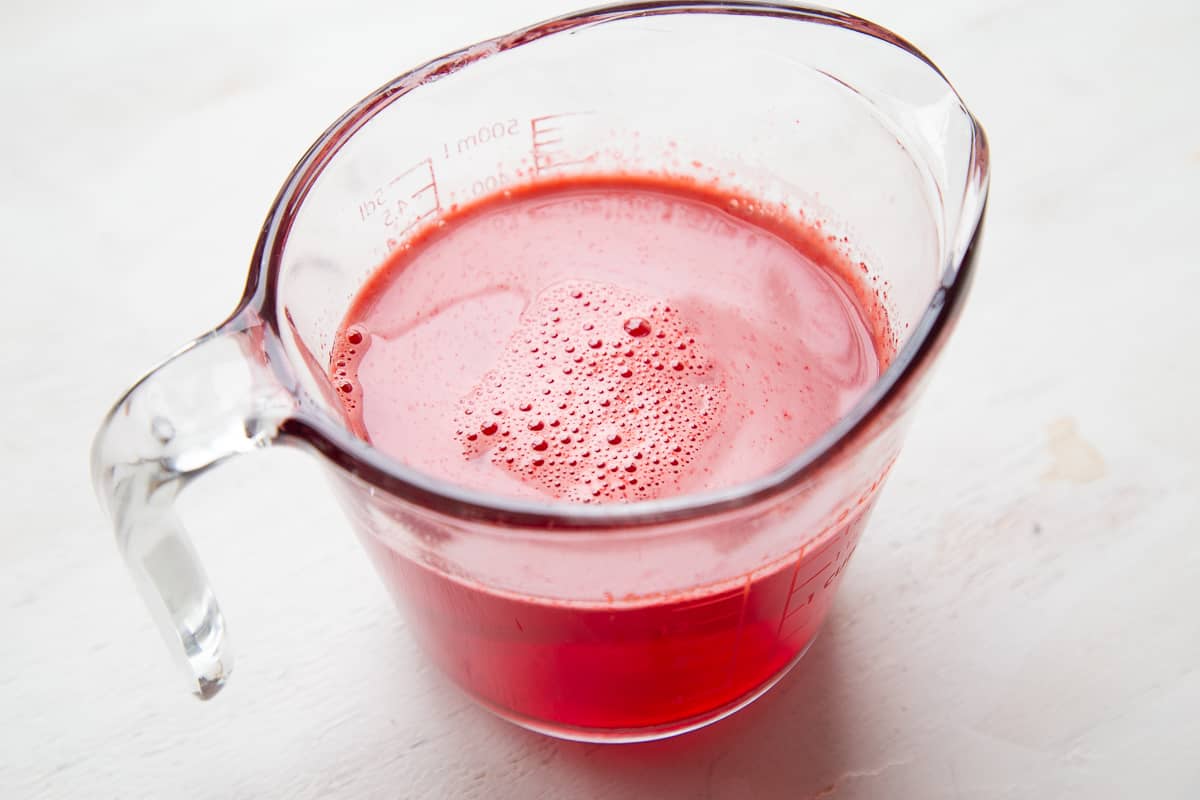 Pour the Jell-O and water mixture over the cake, making sure to pour it evenly over the entire cake.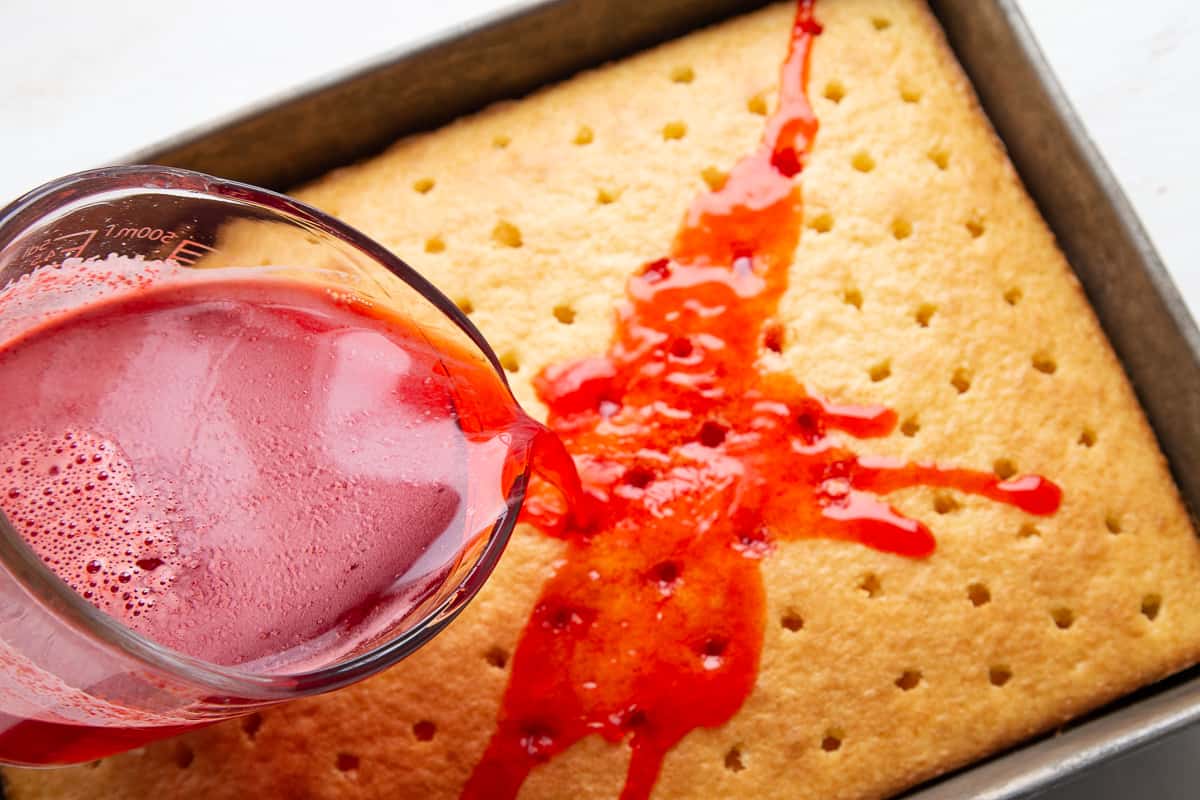 Refrigerate the cake for at least 4 hours. During this time, the liquid will firm up and create gorgeous ribbons of color in the white cake.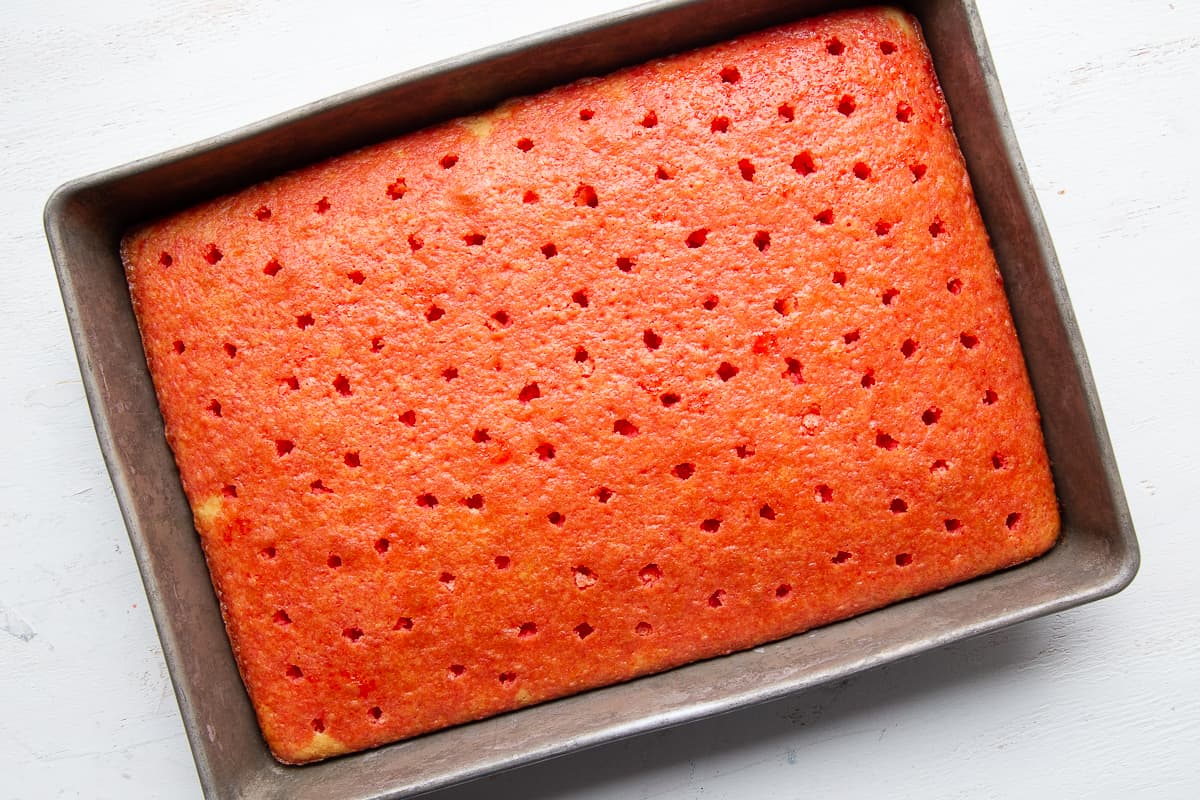 Spread whipped topping over the top of the cake. I like using an offset spatula to spread the topping evenly.
For the topping, I used Cool-Whip, but you could also use fresh whipped cream to top it instead.
After topping the cake, cut it into squares and serve!
Frequently Asked Questions
Does poke cake have to be refrigerated?
Jell-O poke cake does require refrigeration at two points: once while the Jell-O sets up and again after the whipped topping is added. It is delicious when served cold.
What can I use to poke holes for Jell-O poke cake?
You can use a drinking straw, a fork, a skewer, or the handle of a wooden spoon to create holes in the cake for the Jell-O to sink into.
Can I used whipped cream instead of whipped topping?
Yes! Place 1 cup of heavy cream into a large bowl, then mix with a hand mixer or stand mixer until soft peaks form. Add 1 tablespoon of powdered sugar and one-half teaspoon vanilla, and mix to incorporate. Use the freshly whipped cream to top the cake.
The only caveat is, the fresh whipped cream won't last as long in the refrigerator as a cake topped with whipped topping. The fresh whipped cream will begin to get runny after a day or so, whereas the whipped topping stays put for several more days (provided it's refrigerated, of course!).
Make it ahead
Jell-O Poke Cake is a great make-ahead cake! You can make and assemble the cake 1–2 days in advance, and store it in the refrigerator before serving it.
I don't recommend freezing poke cake. The texture of gelatin changes when it is frozen and then thawed, and the cake will end up runny.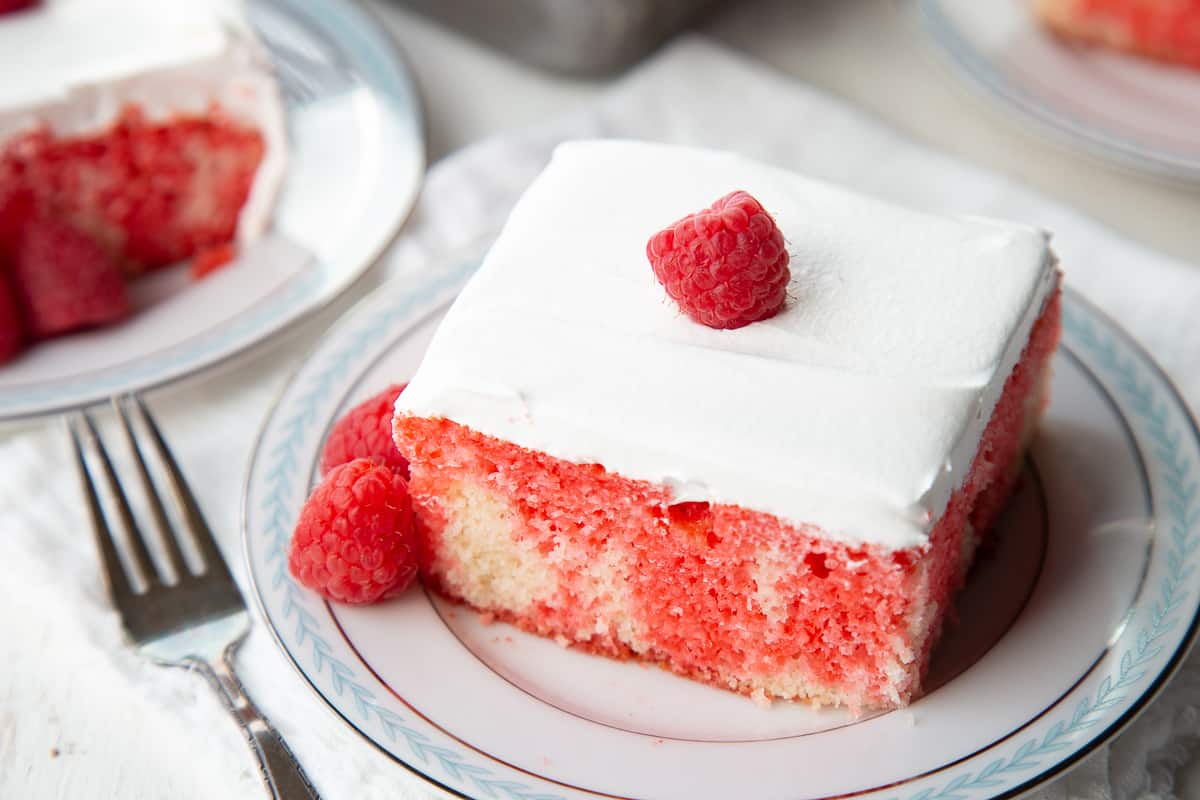 Serving suggestions
When you're ready to serve the cake, cut it into slices and garnish the slices with fresh fruit.
Since I used raspberry Jell-O, I garnished the cake with fresh raspberries. Here are a few more ideas for garnishes for other flavors:
Cherry Jell-O + maraschino cherries or fresh bing cherries
Strawberry Jell-O + fresh sliced strawberries
Orange Jell-O + a thinly sliced orange
Lime Jell-O + a small sliver of fresh lime
Pineapple Jell-O + a small piece of fresh pineapple (dry it on a paper towel first to prevent liquid from running into the whipped topping)
Grape Jell-O + halved red or black grapes
More old fashioned cake recipes
I adore making old fashioned cakes in my grandma's 9×13 inch metal pan.
Ding Dong Cake is another fun, retro cake that everyone loves. And Banana Cake with Cream Cheese Frosting is another family favorite at our house.
Strawberry Crunch Cake is another cake that uses Jell-O to make a fun, festive dessert.
And lastly, Orange Cake with Cream Cheese Frosting and Coconut is the prettiest layer cake for a celebration.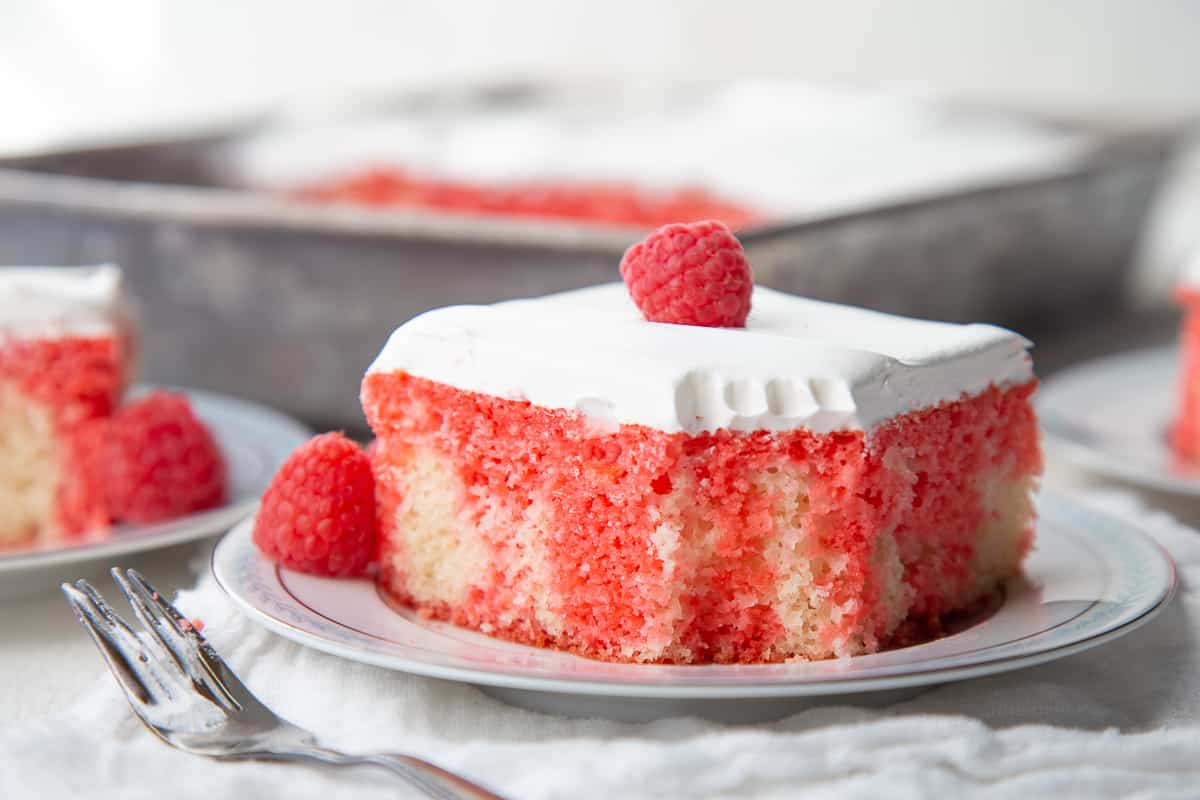 Have you tried this recipe? Please leave a ⭐️⭐️⭐️⭐️⭐️ rating and/or comment below!


📖 Recipe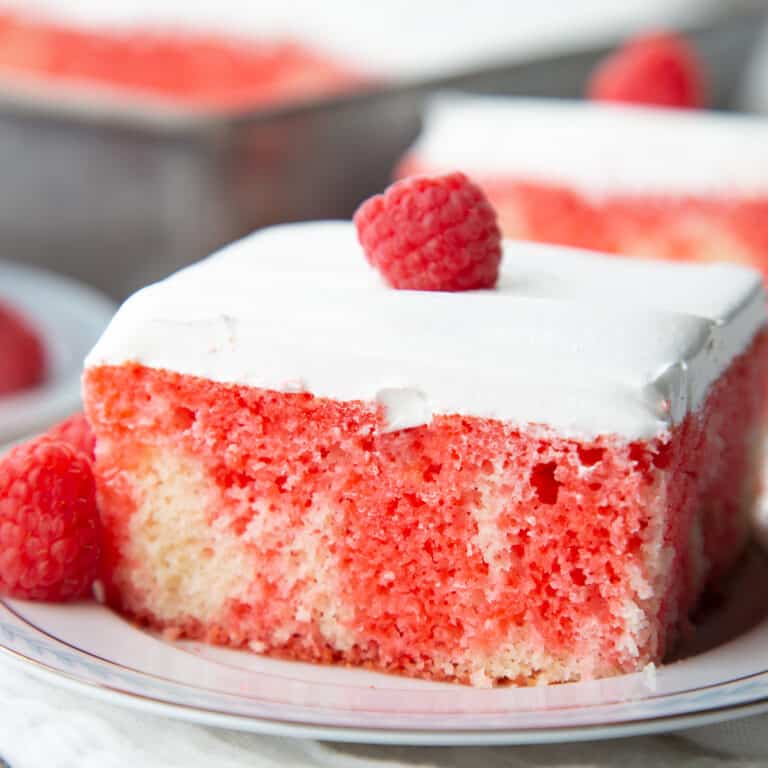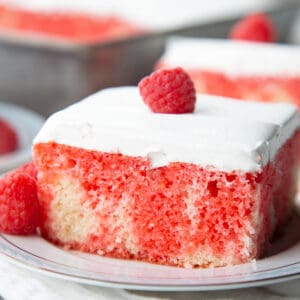 Jell-O Poke Cake
This old fashioned cake is fun, colorful, and customizable with your favorite Jell-O flavor!
Ingredients
1

box white cake mix

(made according to package directions)

1

(3 oz) package raspberry Jell-O

1

cup

hot water

½

cup

cold water

1

(8 oz) container whipped topping,

thawed (such as Cool-Whip)

To serve: fresh raspberries
Instructions
Prepare cake mix according to package directions in a 13×9 inch pan.

When cake is still warm, poke holes 1-inch apart using a drinking straw, fork, or skewer.

Dissolve the Jell-O in 1 cup of hot water. Stir to combine. Stir in the ½ cup of cold water.

Pour the Jell-O mixture evenly over the cake. Place the cake in the refrigerator for at least 4 hours to allow the Jell-O to firm up.

Spread the whipped topping evenly over the cake. Cut into squares, and serve topped with fresh raspberries. Store any leftover cake in the refrigerator.
Notes
You can use any flavor of fruit Jell-O that you'd like! Cherry, strawberry, orange, and lemon are all delicious in this recipe.
Nutrition
Calories:
236
kcal
Carbohydrates:
25
g
Protein:
3
g
Fat:
15
g
Saturated Fat:
3
g
Trans Fat:
1
g
Cholesterol:
33
mg
Sodium:
261
mg
Potassium:
122
mg
Fiber:
1
g
Sugar:
15
g
Vitamin A:
60
IU
Calcium:
59
mg
Iron:
1
mg
Related recipes