This Italian Marinated Vegetable Salad is loaded with broccoli, cauliflower, tomatoes, and more, marinated in a simple Italian vinaigrette. It's perfect for picnics, potlucks, and storing in the refrigerator to enjoy all week long.
Looking for something that's veggie packed AND tasty?
Overnight Marinated Vegetable Salad is packed with a variety of veggies (which you can customize) and tossed in an Italian vinaigrette. After the veggies marinate overnight in the dressing, each bite is loaded with Italian flavor.
This salad is perfect for meal prep—it can sit in the refrigerator all week, and it's just as delicious on Friday as it is on Monday. It's also great for potlucks, picnics, and outdoor gatherings since it's delicious when it's at room temperature.
The recipe is adapted from an old church cookbook. I personally love that it's really customizable. You can use your favorite veggies and even add additional toppings (more on that below) to suit your tastes.
This post contains affiliate links. Affiliate links support Gift of Hospitality at no additional cost to you. I receive a commission if you choose to make a purchase through these links.
Jump to:
Salad ingredients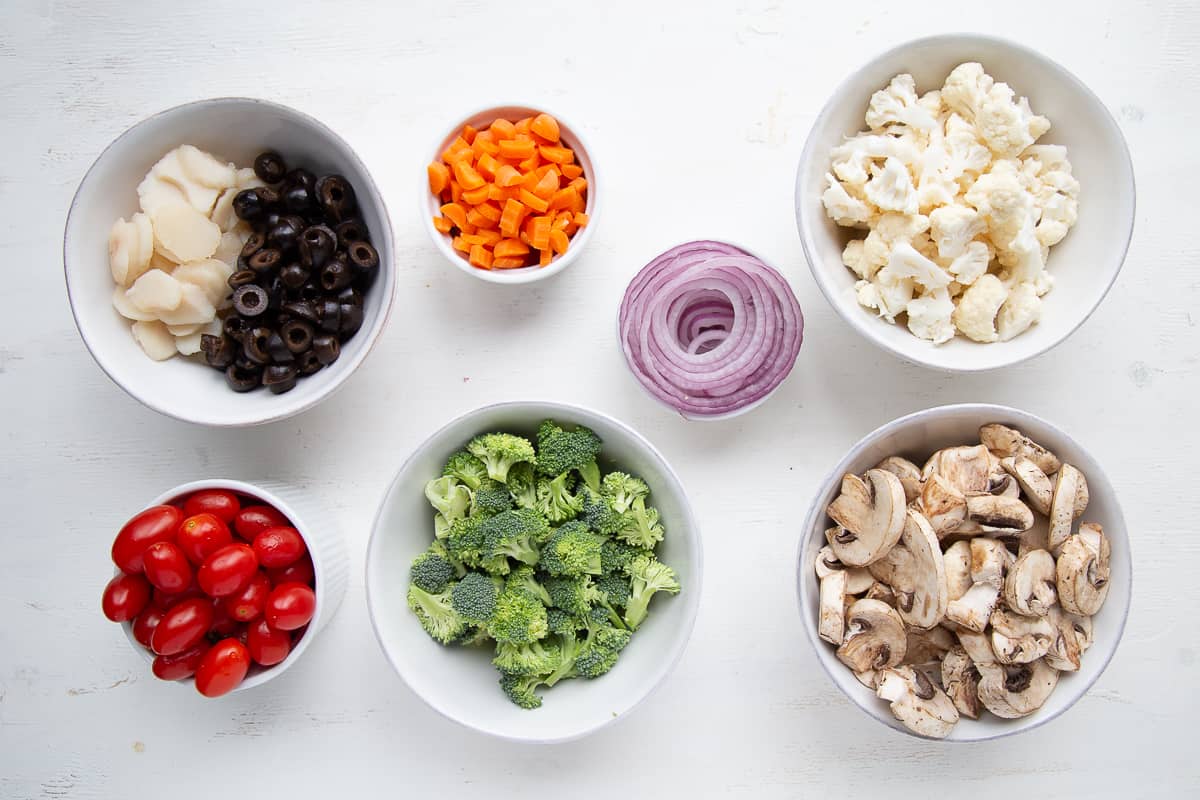 Raid your veggie drawer and grab what looks good! I used:
A small head of broccoli
Half of a small head of cauliflower
Grape tomatoes
About 1 cup of chopped baby carrots
1 container of sliced mushrooms
A yellow onion, cut into rings
1 small can of water chestnuts
1 small can of sliced black olives
Vinaigrette ingredients
A homemade vinaigrette really does make all the difference in this salad!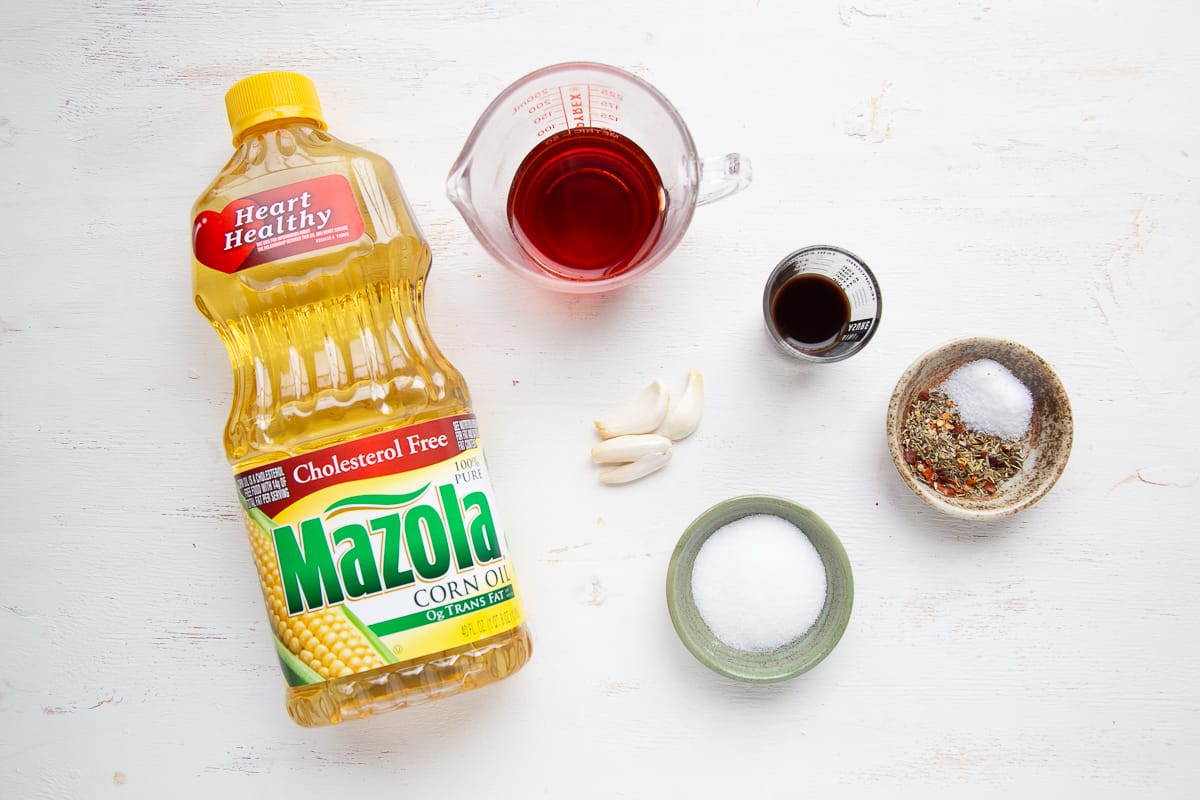 You will need:
Vegetable oil
Red wine vinegar
3 cloves of garlic
A little granulated sugar to balance out the vinaigrette
Italian seasoning (if you don't have a bottle of it, you can create your own with a mixture of dried thyme, rosemary, basil, oregano, and red pepper flakes)
Worcestershire sauce for umami flavor
Salt to season the veggies
To make the vinaigrette, add the ingredients to a jar with a tight-fitting lid.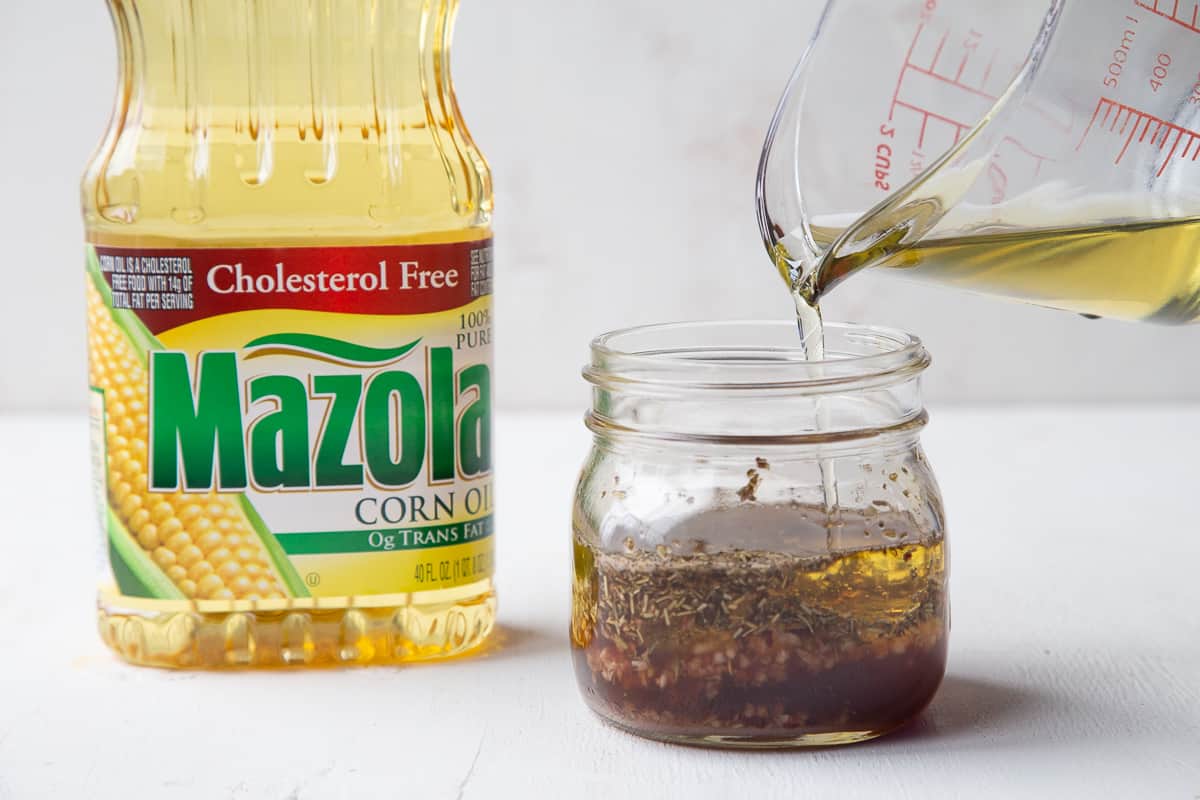 Cover and shake until the vinaigrette is combined.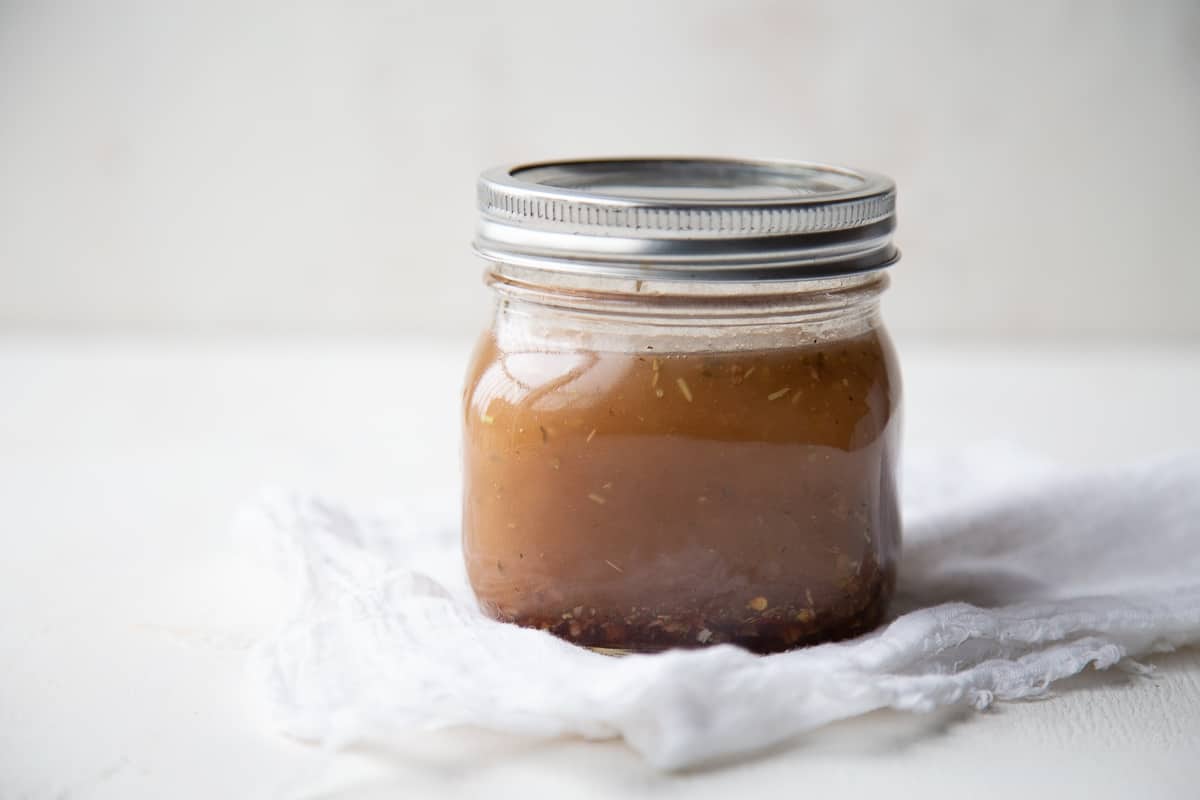 How to make overnight vegetable salad
This hardly requires any instruction! Chop all of the vegetables into bite size pieces, then toss everything together. Let it sit in the refrigerator overnight, or up to 5 days, so allow the flavors to marry and the vegetables to soften slightly.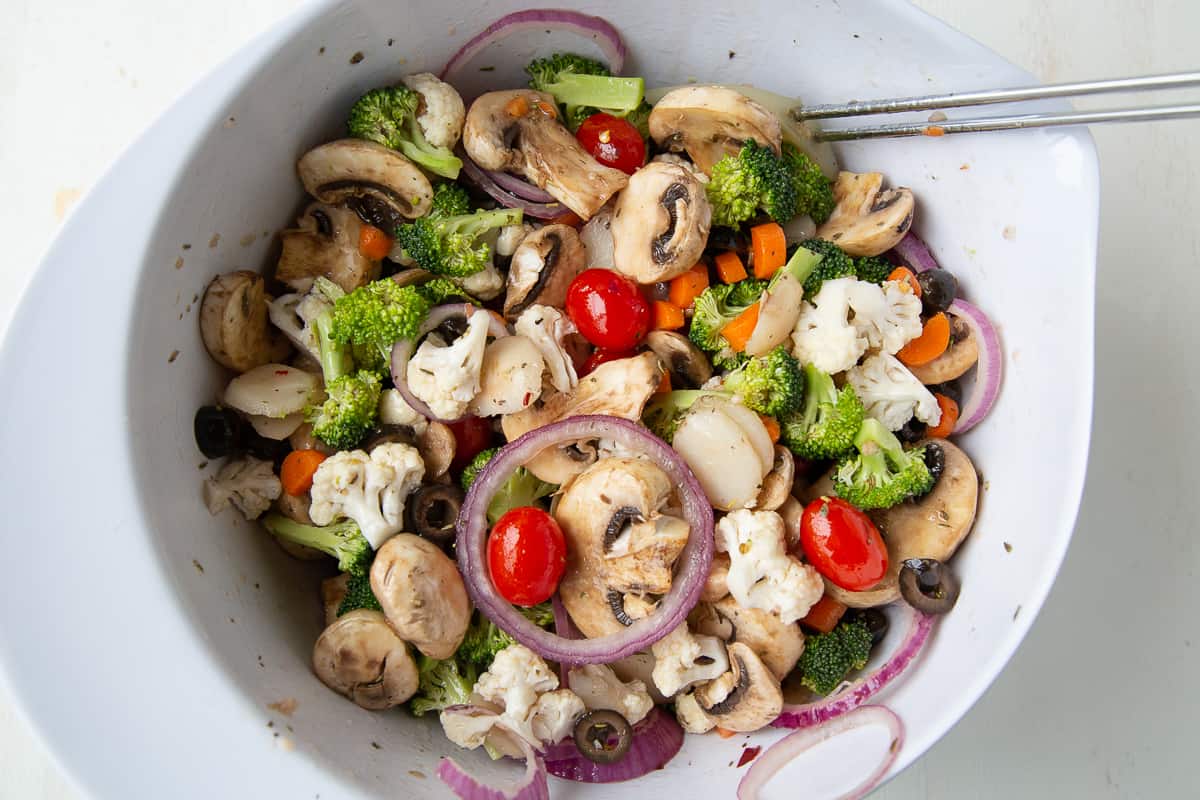 Customizing the salad
This salad is easy to customize. Just use your favorite veggies! Here are some ideas to get started:
Add chopped green pepper and/or diced celery for even more crunch
Use sliced green onions instead of a white onion
Use cherry tomatoes or chopped roma tomatoes instead of grape tomatoes
Leave out the mushrooms and/or olives if you don't like them!
In the summer when it's in season, add diced zucchini or yellow squash
Add fresh peas
Add crumbled bacon to the top!
Make this a meal by stirring in diced grilled chicken breast
Top with chopped toasted pecans or walnuts
Add cheese! Shredded cheddar would be delicious. Add it right before serving.
Meal prep
This salad gets so much more flavorful as it sits, making it great for meal prep. I like to portion individual servings at the beginning of the week so I can just grab one and go.
These glass containers are perfect individual servings, or this set of plastic ones are really nice, too.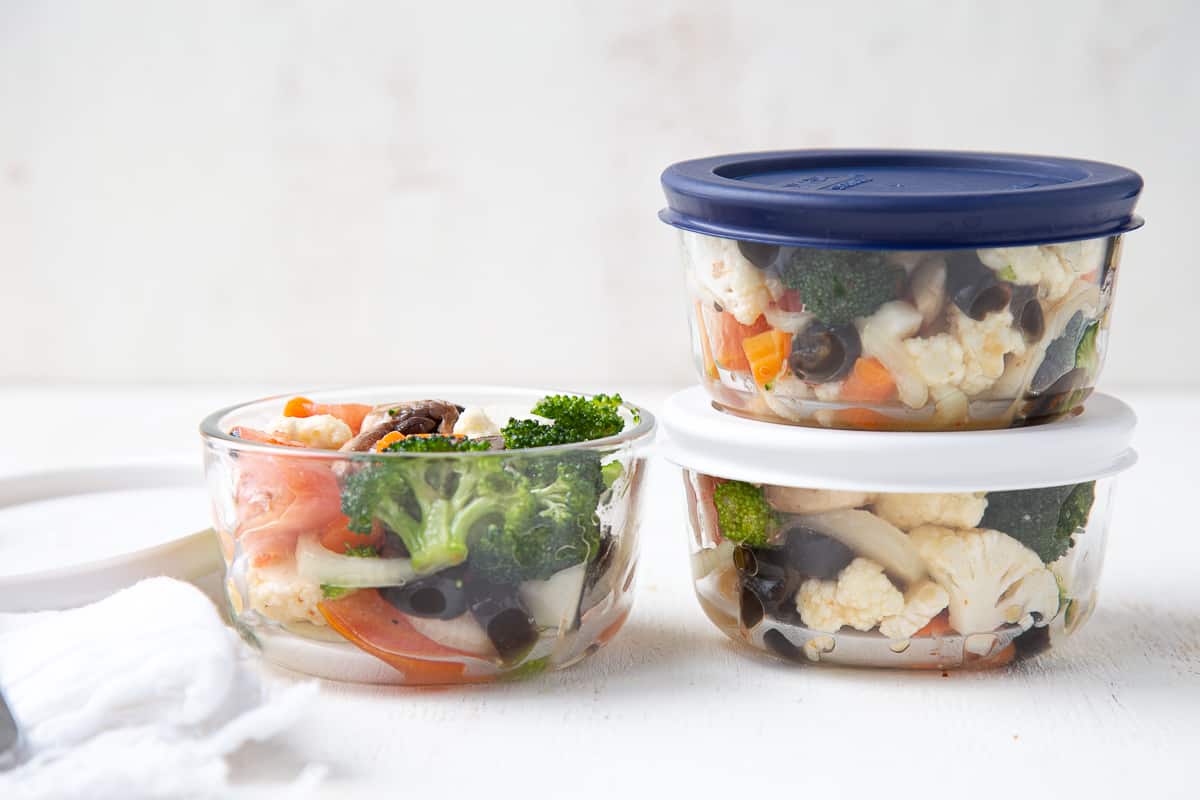 Time saving tips
To save time while you are prepping it, look for cans of pre-sliced olives and pre-sliced water chestnuts. Then you won't have to chop those at all.
You can also often find pre-chopped broccoli and cauliflower in the produce section of your local grocery store. You may need to chop the veggies a little more to create bite-size pieces.
You can also use your favorite bottled Italian vinaigrette in place of a the homemade vinaigrette.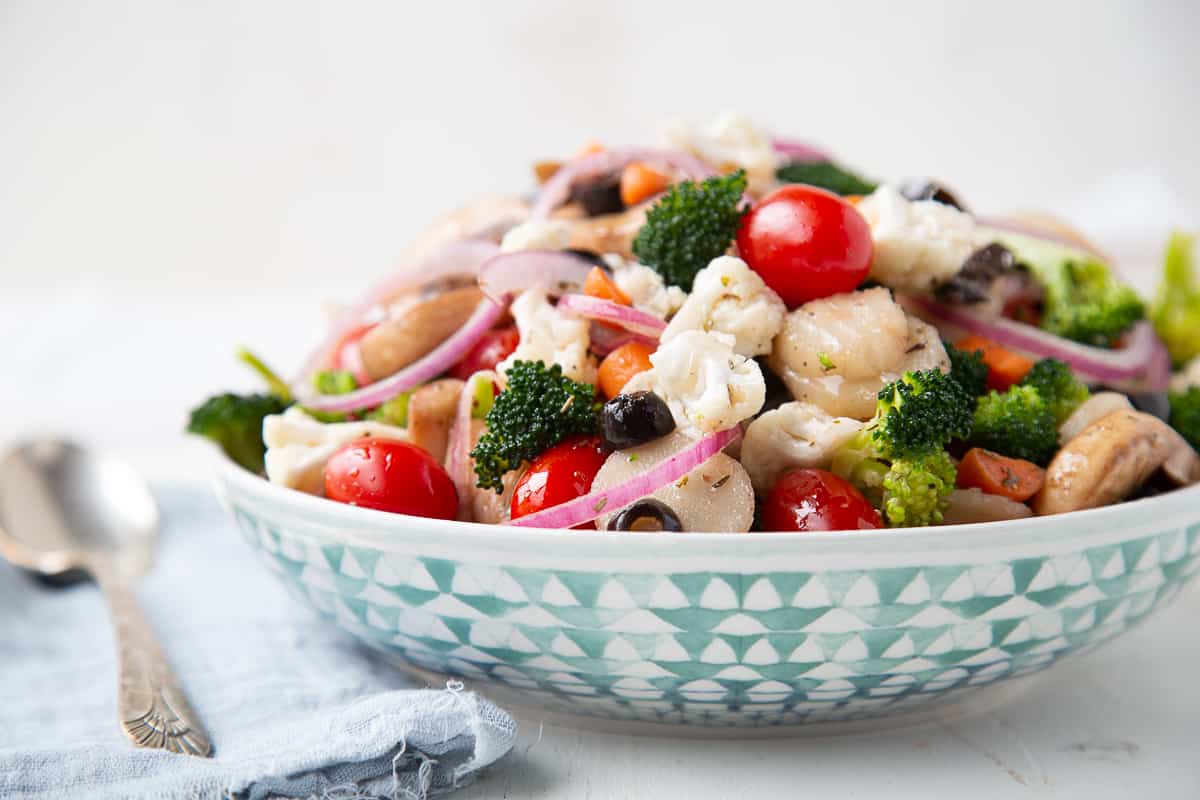 Marinated Vegetable Salad: Frequently Asked Questions
Can I leave out the _____?
Yes! This salad is entirely customizable. If you don't like something, just leave it out, or replace it with another veggie (see above under "customizing the salad" for more ideas).
How far in advance can I make this?
The veggies will soften a little as the salad sits, and the dressing infuses them with even more flavor. As a result, you can make this salad a few days in advance of when you want to eat it.
If I choose to add toppings, when should I add them?
For toppings like nuts and bacon, add those right before you plan to serve the salad. That'll ensure that the toppings stay nice and crunchy.
Olives can be added when you initially make the salad, since they benefit from sitting in the Italian dressing.
How can I make my own Italian seasoning?
You can make your own Italian seasoning with a mixture of dried basil, rosemary, parsley, oregano, thyme, red pepper flakes, and garlic powder. Here's a great recipe for it.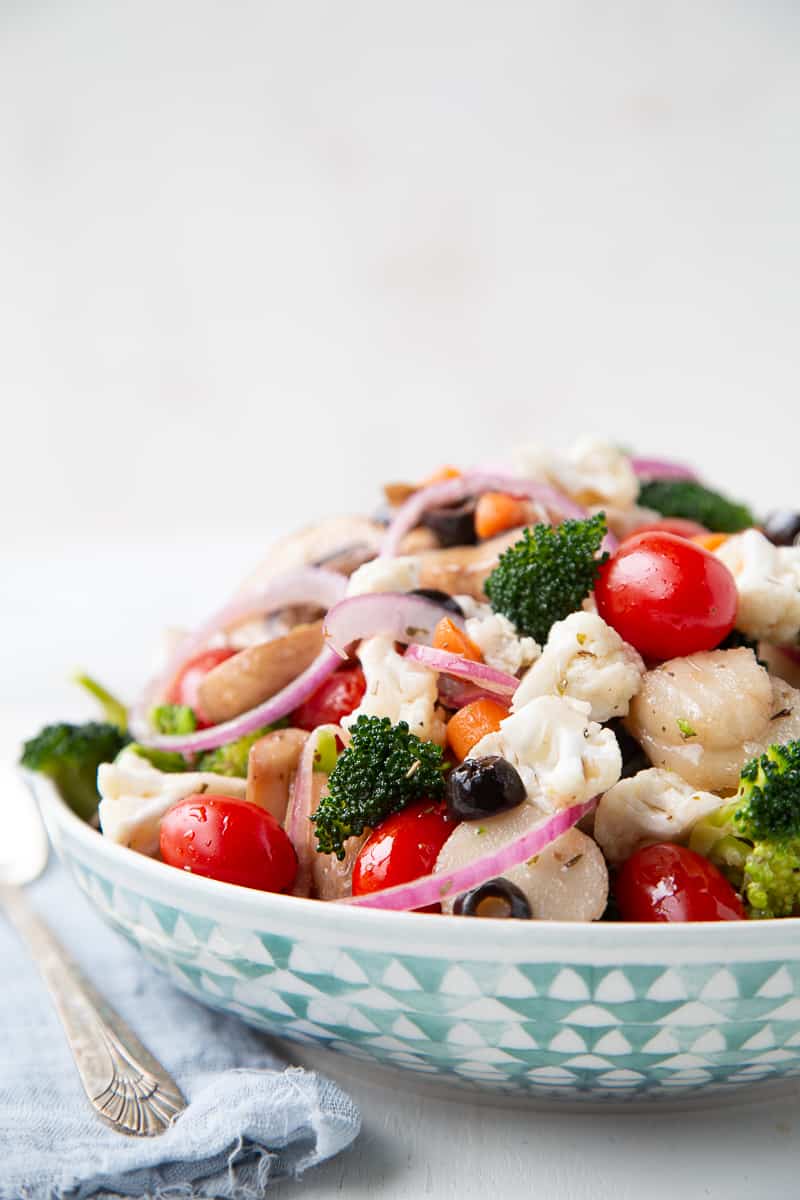 Serving ideas
The salad can be enjoyed cold or at room temperature, which is perfect for a brown bag lunch, an office potluck, a picnic, or another gathering when a refrigerator can be hard to come by.
And, marinated veggies are a nice way to switch up the usual lettuce salad.
As a result, you can substitute this marinated vegetable salad in many places where you would serve a lettuce salad, such as with spaghetti & meatballs, pizza, or with any Italian foods, really!
It's really versatile, and would pair so nicely with many non-Italian main dishes, too.
I personally like serve it with Slow Cooker Beef BBQ or Smothered Steak. It adds some great, fresh flavor to the meal!
If you're on the hunt for more salads, don't miss this 7 Layer Salad. It's an old fashioned dish that's perfect for a potluck!
Have you tried this recipe? Please leave a ⭐️⭐️⭐️⭐️⭐️ rating and/or comment below!
---


---
📖 Recipe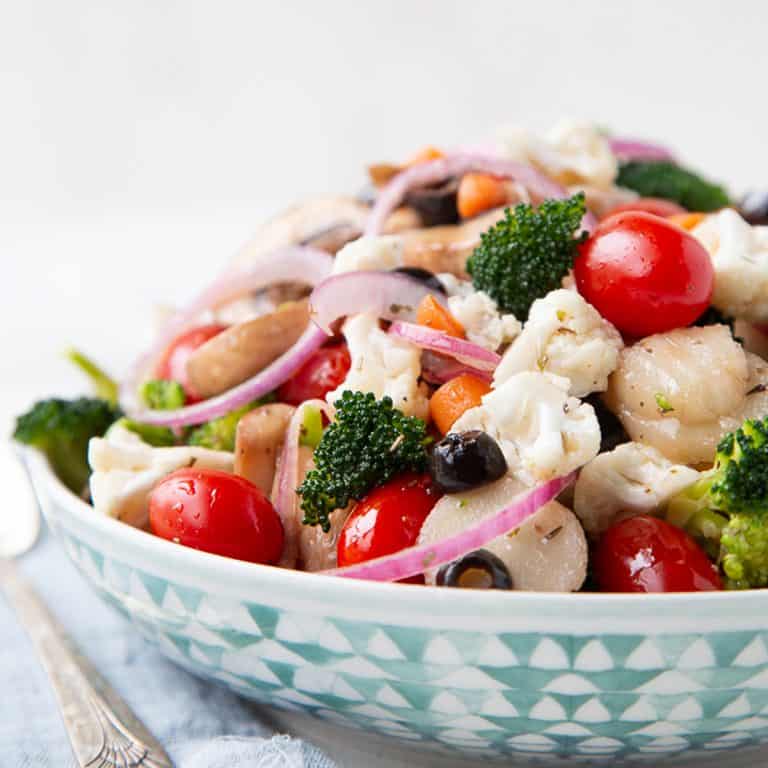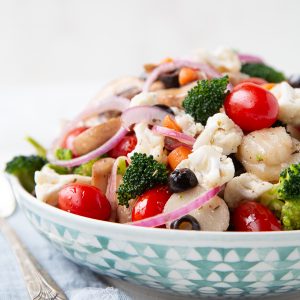 Overnight Vegetable Salad
This easy salad is packed with veggies, which soak up all the flavors of the Italian dressing marinade. It's great for picnics, potlucks, and meal prep!
Ingredients
For the salad:
1

small head broccoli,

cut into bite-size florets

½

small head cauliflower,

cut into bite-size florets

8

oz

cherry tomatoes

1

small red onion,

cut into thin rings

8

oz

fresh mushrooms,

sliced

12

baby carrots,

diced (or substitute 2 large carrots)

1

(8 oz) can water chestnuts,

sliced

1

(4 oz) can pitted black olives,

sliced
For the vinaigrette:
¾

cup

vegetable oil

⅓

cup

red wine vinegar

3

garlic cloves,

finely minced

1½

tablespoons

granulated sugar

2

teaspoons

Italian seasoning

(or use a mixture of dried basil, oregano, thyme, rosemary, and red pepper flakes)

2

teaspoons

worcestershire sauce

1

teaspoon

salt
Instructions
Place broccoli, cauliflower, cherry tomatoes, red onion rings, mushrooms, carrots, water chestnuts, and black olives in a large bowl.

In a mason jar (or another jar with a tight-fitting lid), combine the Mazola® Corn Oil, red wine vinegar, minced garlic, sugar, Italian seasoning, worcestershire sauce, and salt. Place the lid on the jar, seal, and shake to combine.

Pour the vinaigrette over the vegetables and toss to combine. Refrigerate overnight to allow the flavors to blend, then serve. The salad can be refrigerated for up to 4 days.
Notes
To save time, you can purchase water chestnuts and black olives already sliced, in cans. You can also often purchase chopped broccoli and cauliflower from your local grocery store. You may need to chop it more to create bite-size pieces. If you'd like to add toppings, crumbled bacon, hard boiled eggs, or toasted pecans would be delicious! Add them right before serving.
Nutrition
Calories:
195
kcal
Carbohydrates:
12
g
Protein:
3
g
Fat:
16
g
Saturated Fat:
1
g
Sodium:
388
mg
Potassium:
412
mg
Fiber:
3
g
Sugar:
5
g
Vitamin A:
1830
IU
Vitamin C:
63
mg
Calcium:
49
mg
Iron:
1
mg
Related recipes