Rhubarb Muffins with Pecan Streusel are incredibly tender muffins, packed with rhubarb and pecans, and topped with a crunchy streusel. They're perfect for a spring brunch!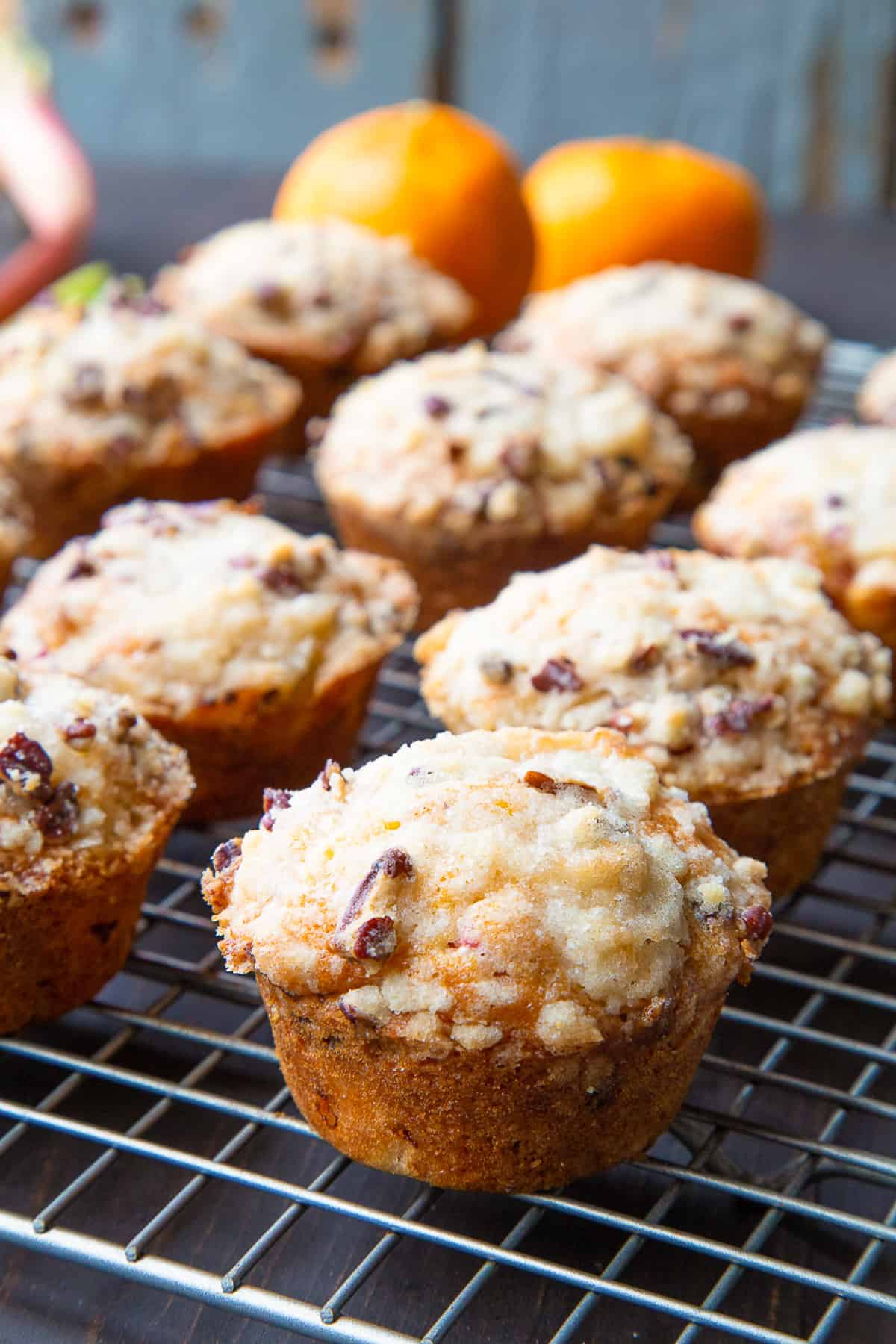 Spring is rhubarb season! I love seeing this pink and red vegetable show up in the grocery store each year.
Rhubarb's peak season is mid-April through June, which is long enough to make a few fun rhubarb treats (like this Rhubarb Cake and Rhubarb Sauce), and short enough to make me miss it the rest of the year.
These Rhubarb Muffins with Pecan Streusel are modeled after a recipe that my grandma clipped from a newspaper many years ago. I found the recipe and tweaked a few things, like adding a crispy pecan streusel to the top. You definitely do not want to skip the streusel!
Orange is classic pairing for rhubarb, and this recipe uses both orange juice and orange zest to amp up the flavor.
Love rhubarb? Don't miss this round-up of 15 Rhubarb Desserts!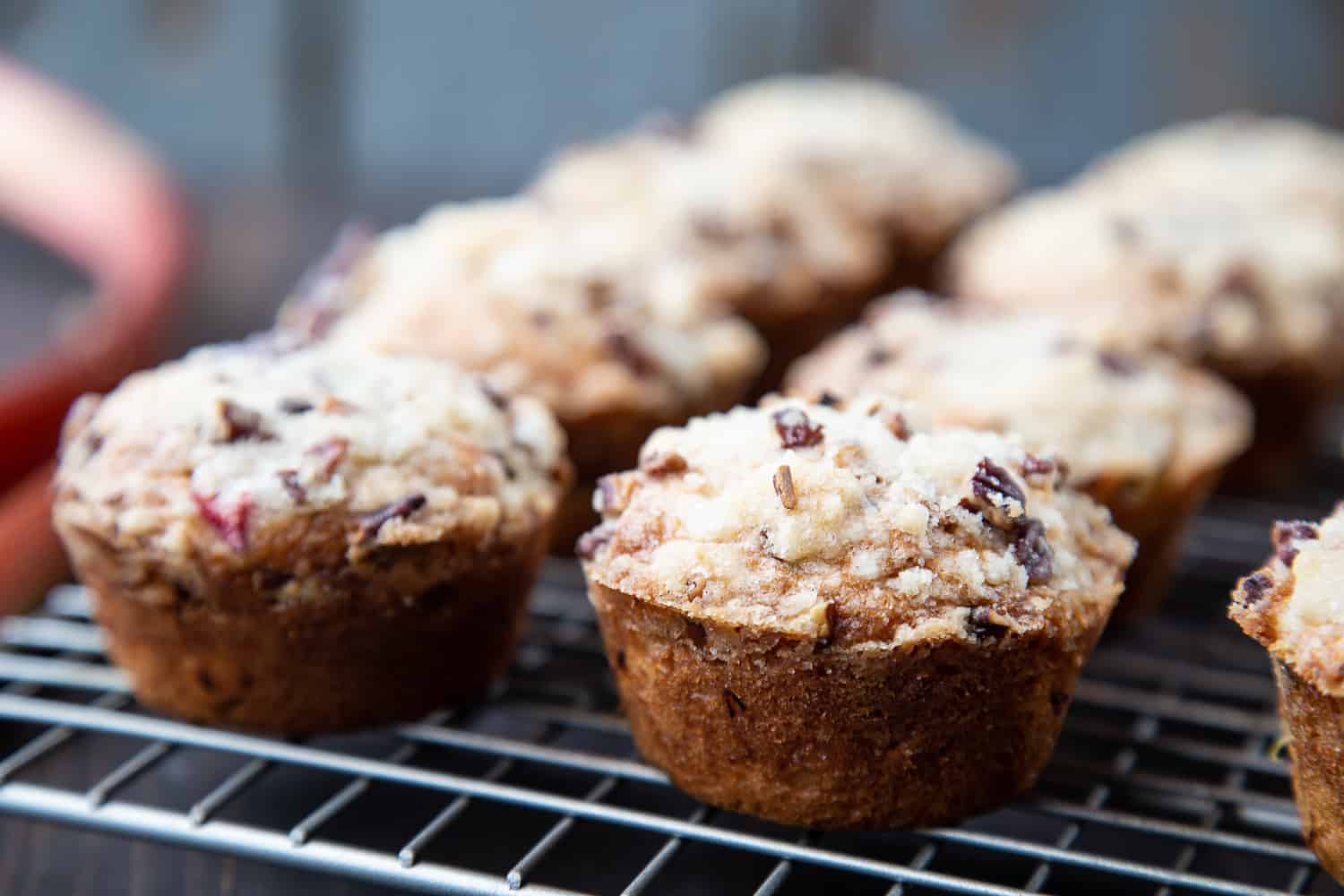 This post contains affiliate links. Affiliate links support Gift of Hospitality at no additional cost to you. I receive a commission if you choose to make a purchase through these links.
Jump to:
How to prepare rhubarb for muffins
First, remove any leaves from the rhubarb and discard them. The leaves are poisonous and rhubarb is typically sold without them, but sometimes you'll find some leaves on the rhubarb sold at farmer's markets, for example.
But don't worry—you would have to eat a LOT of rhubarb leaves (5+ lbs.) to encounter any side effects.
Trim the ends of the rhubarb stalks, and slice any very thick stalks lengthwise down the middle to create a uniform size. Then, chop the rhubarb into one-quarter inch pieces.
Here's what rhubarb looks like when it's all chopped up: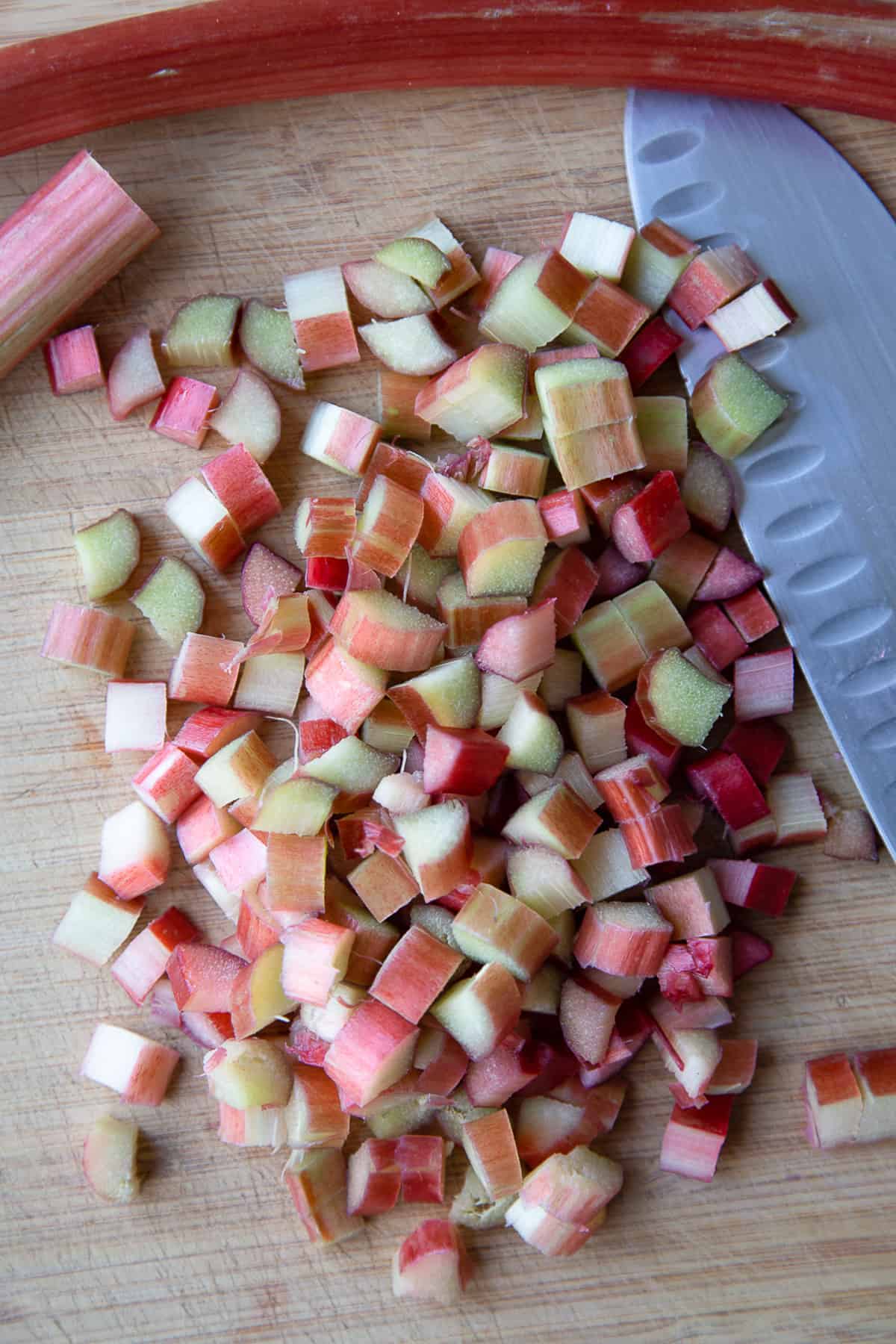 When whole, rhubarb closely resembles celery, though it's a vibrant shade of pink/red instead of green.
It is NOT a fruit that you'll want to eat on its own—it's really sour. You'll most often find rhubarb in desserts such as cakes, pies, tarts, and muffins, with plenty of sugar to contrast the sour flavor.
Ingredients
Flour, sugar, baking powder, baking soda, and salt make up the dry ingredients.
An egg and vegetable oil keep them nice and moist.
A combination of orange juice and orange zest pairs wonderfully with the rhubarb.
Pecans are added to both the muffin batter and the streusel.
You'll need sugar, flour, butter, and chopped pecans for the streusel topping.
How to make rhubarb muffins
The muffin recipe is pretty basic. Despite having only ¼ cup of oil, the muffins are really tender and soft, which is the perfect contrast for the crispy streusel on top.
To start, combine the flour, baking powder, baking soda, and salt in a large bowl, and whisk to combine.
Then, whisk together the egg, vegetable oil, orange zest, orange juice, and ¾ cup sugar.
Fold the flour mixture into the egg mixture with a spatula, being careful not to over mix the batter (over mixing can make the muffins tough). Then, fold in the pecans.
Scoop the batter into a greased 12-cup muffin tin.
When scooping muffins or cookie dough, I use a ¼ cup ice cream scoop
. It makes transferring the batter to the muffin tin so much neater. It also assists in getting a consistent amount in each well of the muffin tin.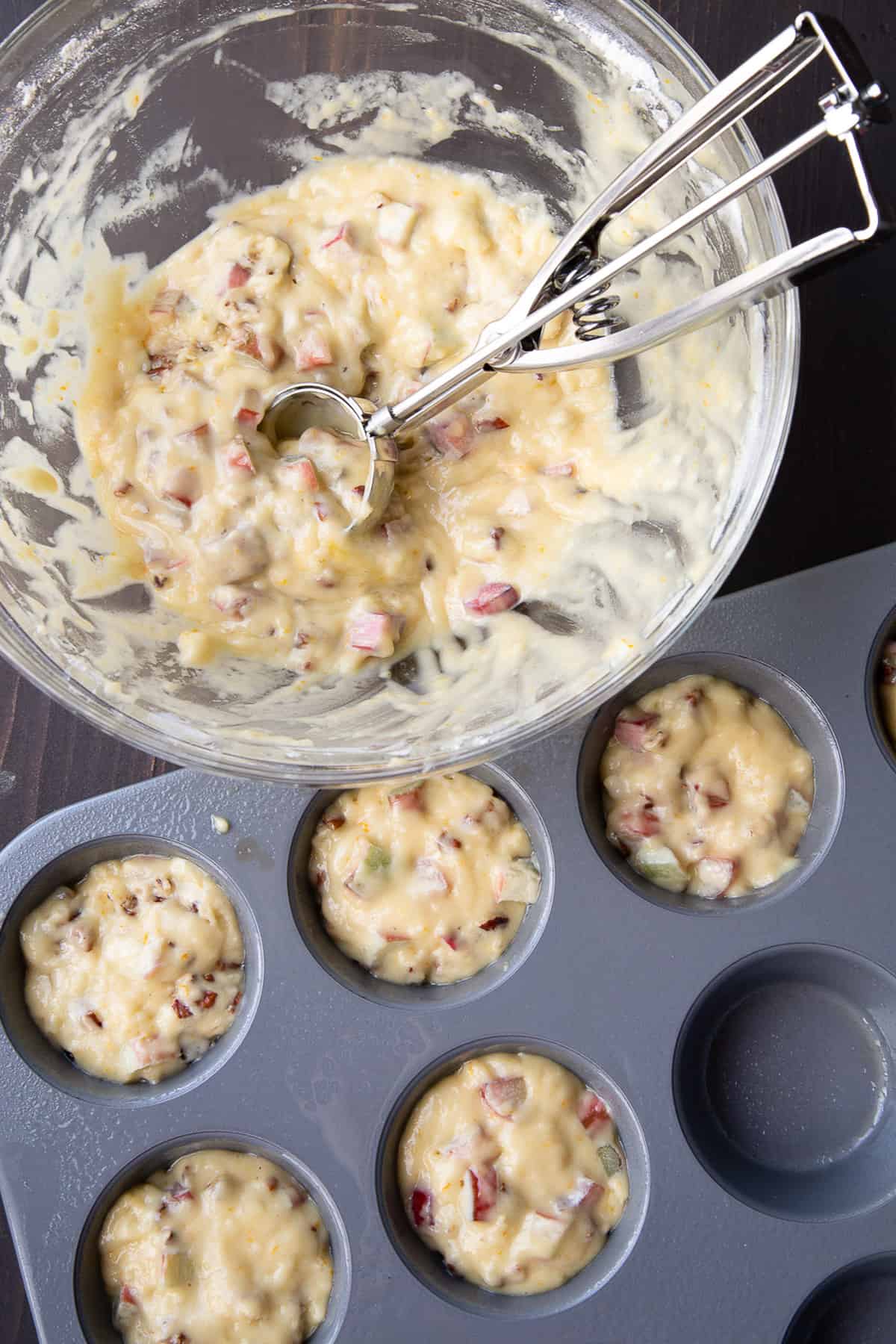 How to make streusel
The key to a crispy, crunchy streusel is to start with cold butter, straight from the refrigerator.
Place the flour and sugar in a medium bowl. Cut the cold butter into small cubes (this makes it easier to incorporate it). Add the butter to the flour and sugar mixture.
Use your thumb, index, and middle fingers to squeeze the butter cubes into the flour mixture. Keep going until the flour mixture is hanging onto most of the butter. Lumps are a good thing here—that's what creates the "crunch"!
Assembling the muffins
Sprinkle the streusel evenly over the muffins, and bake at 375°F for 20–25 minutes.
The Rhubarb Muffins should be golden on top, and a toothpick should come out clean.
After you remove them from the oven, you'll want to let them cool for just a few minutes before removing them from the pan. Removing them promptly ensures that the streusel is warm enough that it won't stick to the pan.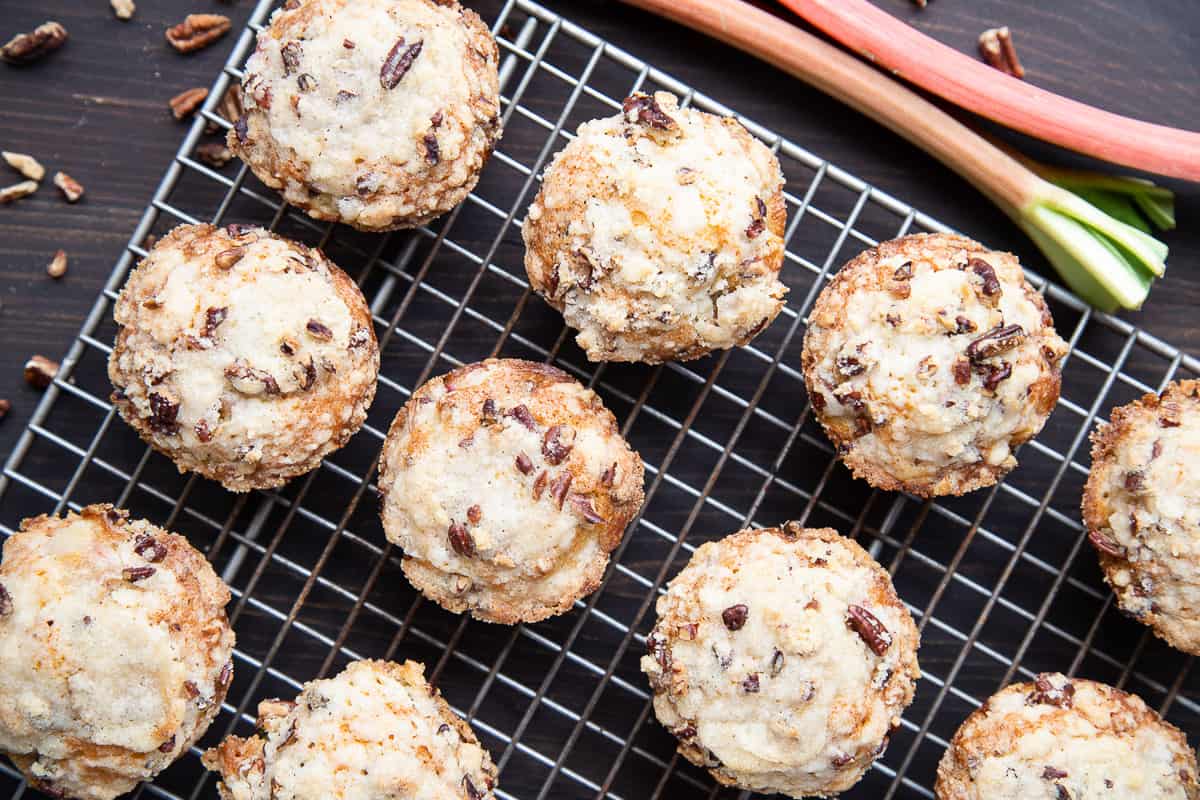 Frequently Asked Questions
Can I freeze rhubarb muffins?
Freeze baked rhubarb muffins in a plastic freezer bag or freezer-safe container. They will keep in the freezer for approximately 2 months. To defrost, let the muffins sit at room temperature for at least 4 hours.
How long do rhubarb muffins last?
Rhubarb muffins can be kept in an air-tight container on the countertop for 2–3 days, or in the refrigerator for 6–7 days.
What's the best way to warm up muffins for eating?
To enjoy warm muffins, place them back into a muffin tin, and place in a 350°F oven for 5 minutes. Alternatively, microwave individual muffins for 10–15 seconds, or until warm throughout.
Serving suggestions
I'm usually all for slathering butter on a muffin, but truthfully these Rhubarb Muffins with Pecan Streusel don't need a single thing. They're best served slightly warm.
If you make them ahead of time, just pop them back in a preheated oven for 5 minutes or until warm.
The muffins would be amazing with Praline Candied Bacon, DIY Italian Breakfast Sausage, and a Peach Apricot Bellini!
They're also a perfect pairing for Asparagus, Ham & Gruyere Quiche for a spring-inspired brunch.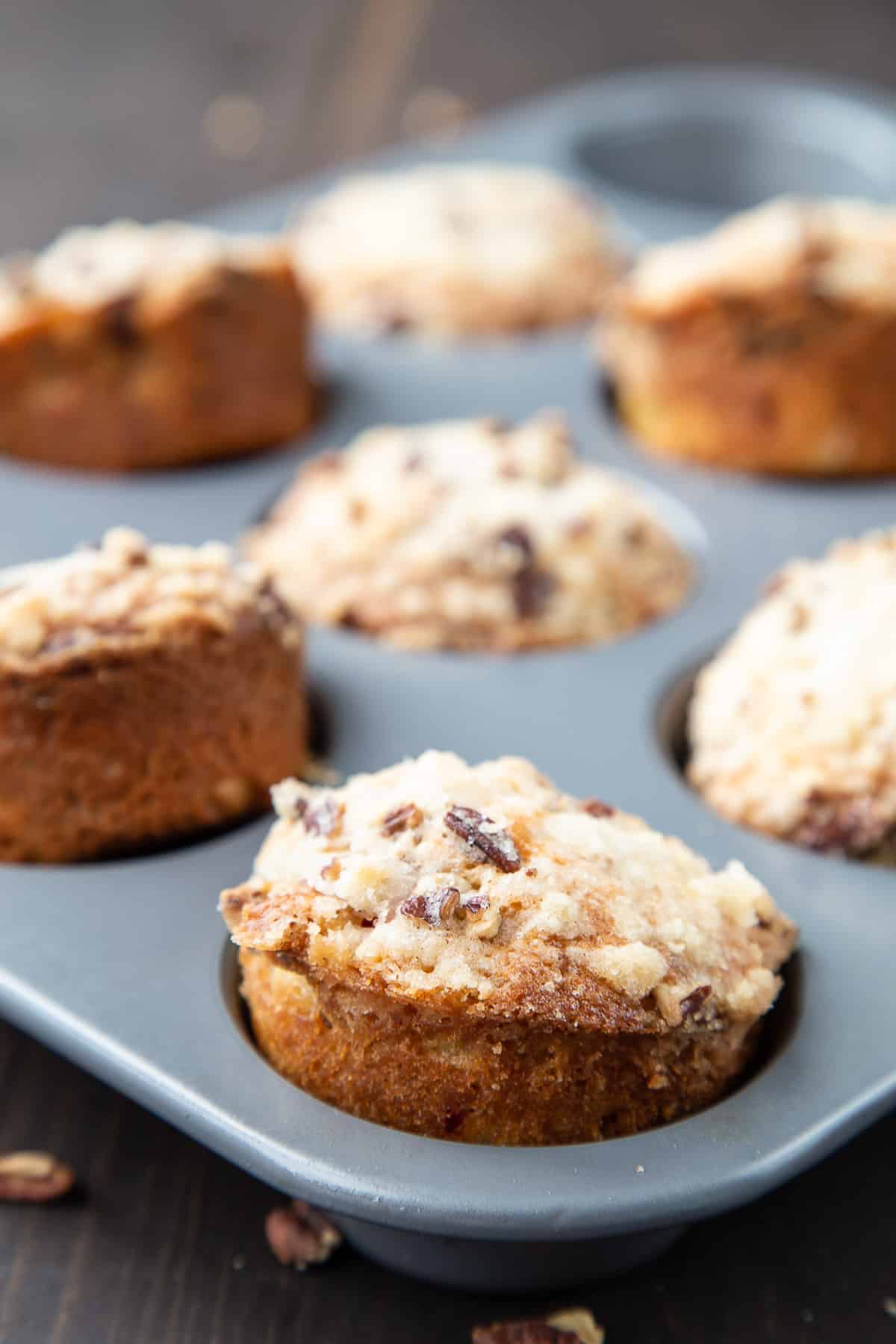 Have you tried this recipe? Please leave a ⭐️⭐️⭐️⭐️⭐️ rating and/or comment below!


📖 Recipe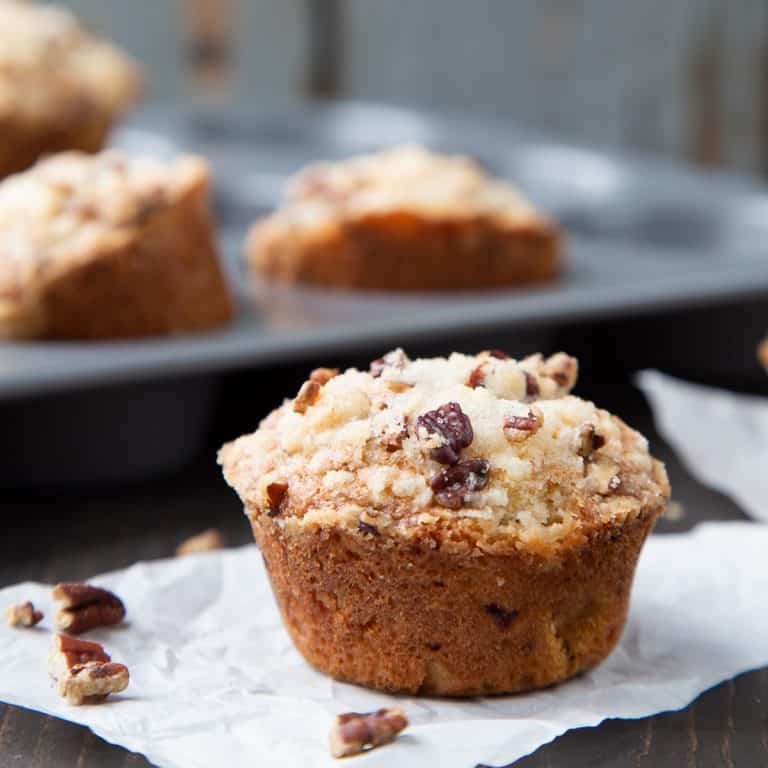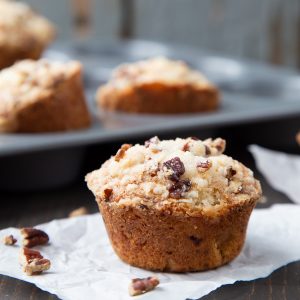 Rhubarb Muffins with Pecan Streusel
These Rhubarb Muffins are SO tender despite being made with only ¼ cup of oil! Don't miss the crispy streusel on the top—a must for contrasting with the soft and tender interior of the muffin.
Ingredients
For the muffins:
2

cups

all-purpose flour

1½

teaspoons

baking powder

1

teaspoon

salt

½

teaspoon

baking soda

1

egg

¼

cup

vegetable oil

2

teaspoons

orange zest

(from 1 large orange)

¾

cup

orange juice

¾

cup

sugar

1¼

cup

chopped rhubarb

½

cup

chopped pecans
For the streusel:
¼

cup

sugar

3

tablespoons

flour

3

tablespoons

cold butter

¼

cup

chopped pecans
Instructions
For the muffins:
Preheat oven to 375°F.

In a large bowl, whisk together 2 cups flour, baking powder, salt, and baking soda.

In another large bowl, whisk together the egg, vegetable oil, orange zest, orange juice, and ¾ cup sugar. Gently stir in the flour mixture. Fold in the rhubarb and chopped pecans.
For the streusel:
In a medium bowl, whisk together ¼ cup sugar and 3 tablespoons flour. Slice the butter into small cubes and work it into the sugar/flour mixture with your fingertips until the butter is the size of peas. Fold in the chopped pecans.

Spray a nonstick 12-cup muffin pan with nonstick cooking spray. Divide the batter evenly among the muffin wells, until they are ¾ full. Sprinkle the batter with the streusel topping.

Bake for 20–25 minutes (I baked them for 23 minutes), or until lightly brown on top. Let sit in the pan for 5 minutes before removing the muffins from the pan.
Notes
Make sure the butter for the streusel is very cold (straight out of the refrigerator)—it creates the crunchiest streusel!
Nutrition
Serving:
1
muffin
Calories:
274
kcal
Carbohydrates:
37
g
Protein:
4
g
Fat:
13
g
Saturated Fat:
5
g
Cholesterol:
14
mg
Sodium:
332
mg
Potassium:
123
mg
Fiber:
2
g
Sugar:
18
g
Vitamin A:
189
IU
Vitamin C:
9
mg
Calcium:
53
mg
Iron:
1
mg
Related recipes