If you want to taste the ginger in your ginger ale, this recipe is for you! It's made with just 4 ingredients and takes 10 minutes of hands-on time. Start now and you'll be sipping Homemade Ginger Ale in no time!
I'm super underwhelmed by store-bought ginger ale. It has only the faintest hint of ginger flavor.
If I'm drinking something called "Ginger Ale", I want lots of fresh ginger flavor!
This 4-Ingredient Homemade Ginger Ale recipe fits the bill. It has that fresh ginger flavor, and a gentle sweetness to offset the spiciness of the ginger.
It's perfect for a warm afternoon on the patio (just like my Homemade Orange Julius), or as an ingredient for a cocktail made with ginger ale.
This post contains affiliate links. Affiliate links support Gift of Hospitality at no additional cost to you. I receive a commission if you choose to make a purchase through these links.
Jump to:
Ingredients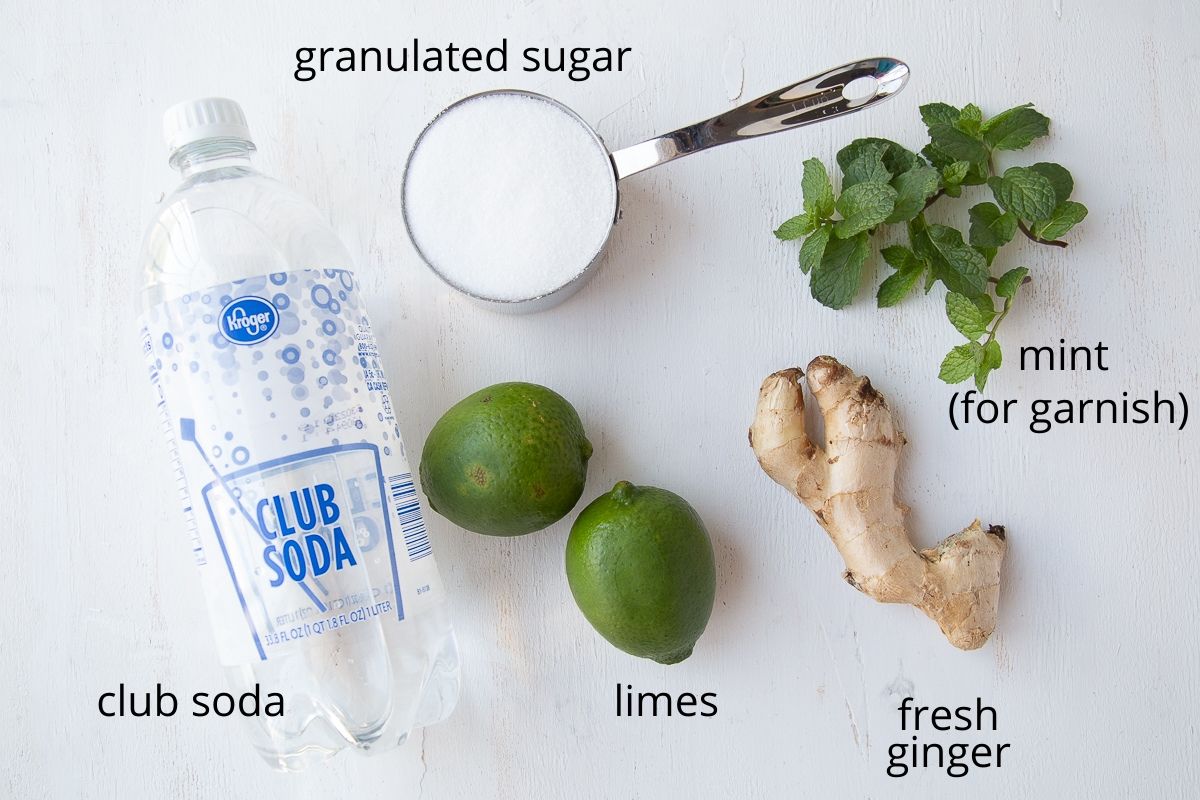 Fresh ginger is essential to this recipe. You can find it in the produce section of the grocery store, usually near the potatoes and onions. Keep any extra ginger in your freezer for another batch of ginger ale, or for grating into other dishes.
You'll be combining the sugar with water and the ginger to make a simple syrup.
A small amount of fresh lime juice complements the sweetness of the simple syrup.
Club soda

has just the right amount of carbonation for this. Don't substitute sparkling water. It has fewer bubbles and the soda will taste flat.
How to make homemade ginger ale
First, peel the ginger. I use a knife for this (just cut away the peel). Some people use a spoon to scrape off the peel. That works too! Do whatever is easiest for you.
It doesn't have to be perfect because we will be straining the mixture anyway. Then, cut the ginger into half inch coins.
Bring the sugar, water, and ginger to a boil. Lower the heat, and simmer for 10 minutes.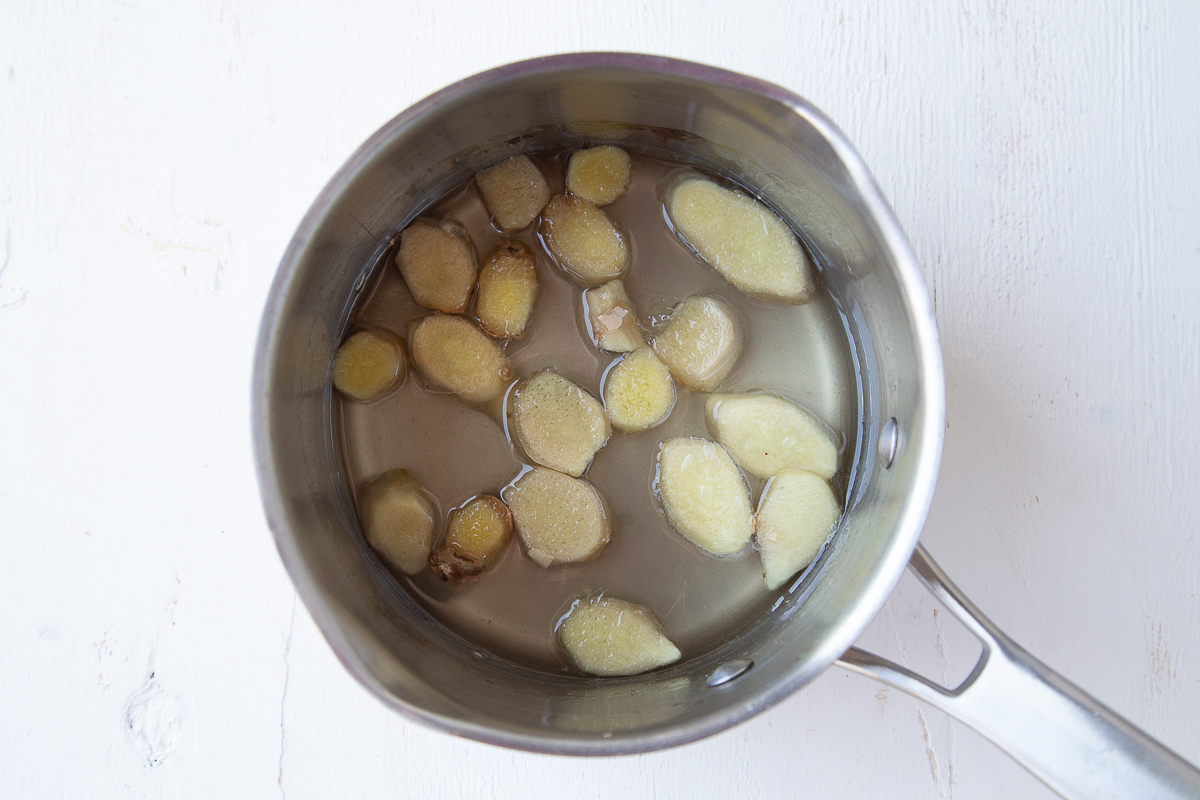 Take off the heat and let the mixture sit for 20 minutes. You just made ginger simple syrup!
Strain the simple syrup using a mesh colander. Discard the ginger coins. Let the mixture cool completely.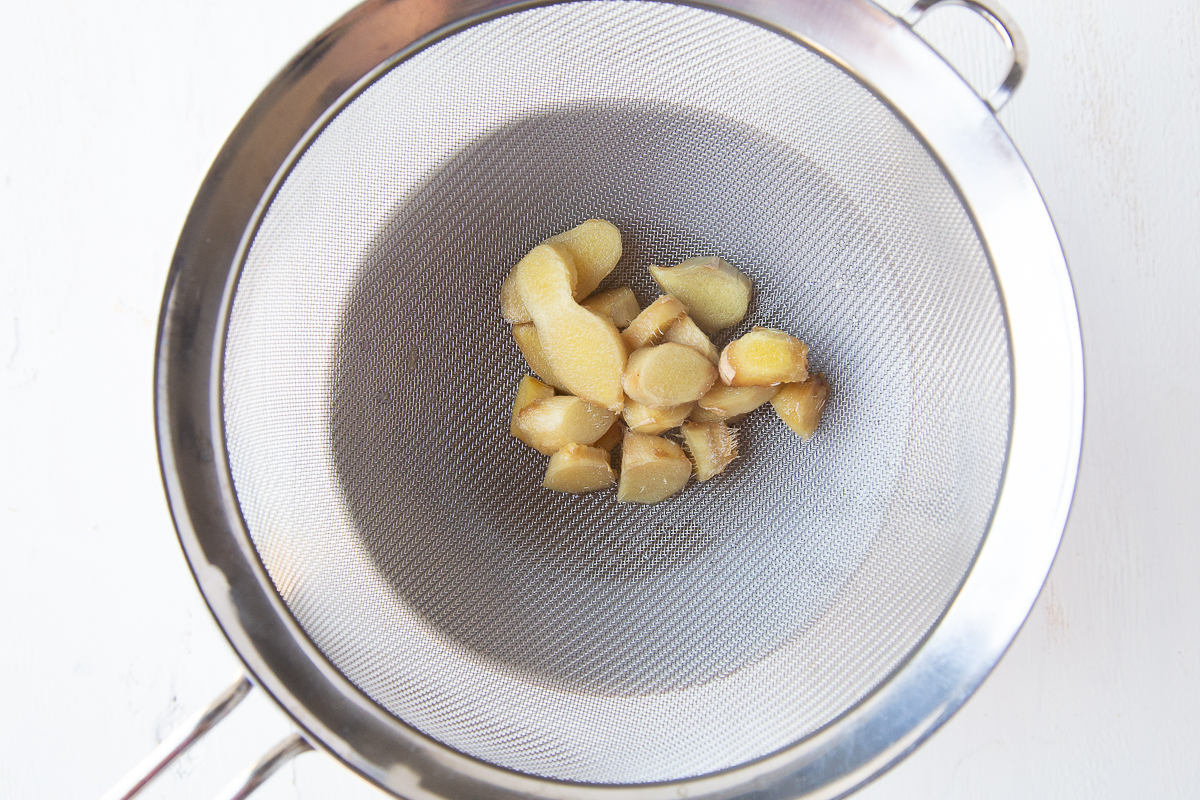 Pour 2–3 tablespoons of the simple syrup into a tall glass. Stir in 1.5 teaspoons of lime juice.
Pour 8 ounces of club soda on top. Stir gently with a spoon. Fill the glass with ice and serve with fresh mint, if desired.
Make it ahead
Homemade Ginger Ale is best served right after assembling it. However, you can prepare two of the steps ahead of time:
Make the ginger simple syrup and refrigerate
Squeeze the limes and refrigerate
Then, when it's time to serve the drink, you just need to stir everything together.
Frequently Asked Questions
Why is this ginger ale not the same color as store-bought ginger ale?
Commercially made ginger ale has color added. We're using just a few simple ingredients for this, so it won't be that same tan color. But I can promise you, it tastes so much better.
Can I make this sweeter?
Yep! Just add more simple syrup. Experiment with the ratio of simple syrup to club soda to find your desired taste.
What do I do with the leftover simple syrup?
Put it in an airtight jar in the refrigerator. It will keep for a few months.
Can I make this into a cocktail?
You sure can! A shot of vodka + lime garnish makes a tasty vodka ginger ale. A shot of dark rum + lime garnish will create a twist on a Dark and Stormy (which is traditionally made with ginger beer).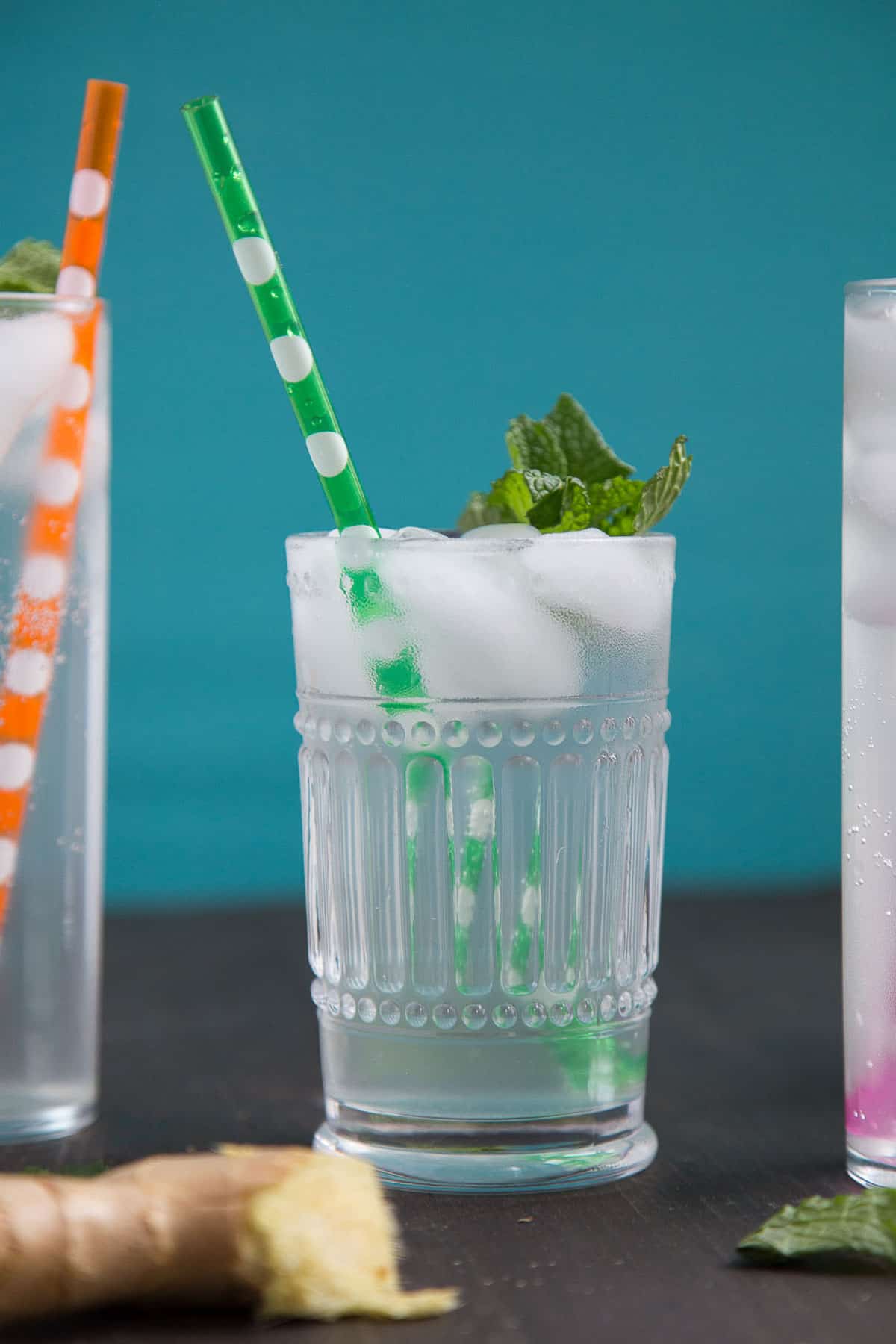 How long can you store homemade ginger ale?
Once the ginger ale has been made, it only lasts an hour or two before the carbonation disappears. I recommend stirring the ingredients together right before you plan to serve it.
You can, however, store the ginger simple syrup in the refrigerator for up to one month.
More refreshing beverages
Need more drink inspiration?
Hibiscus Iced Tea (non-alcoholic) and Fresh Mango Mojitos (alcoholic) are two of my favorites.
2-Ingredient Raspberry Lemonade is another great one!
📖 Recipe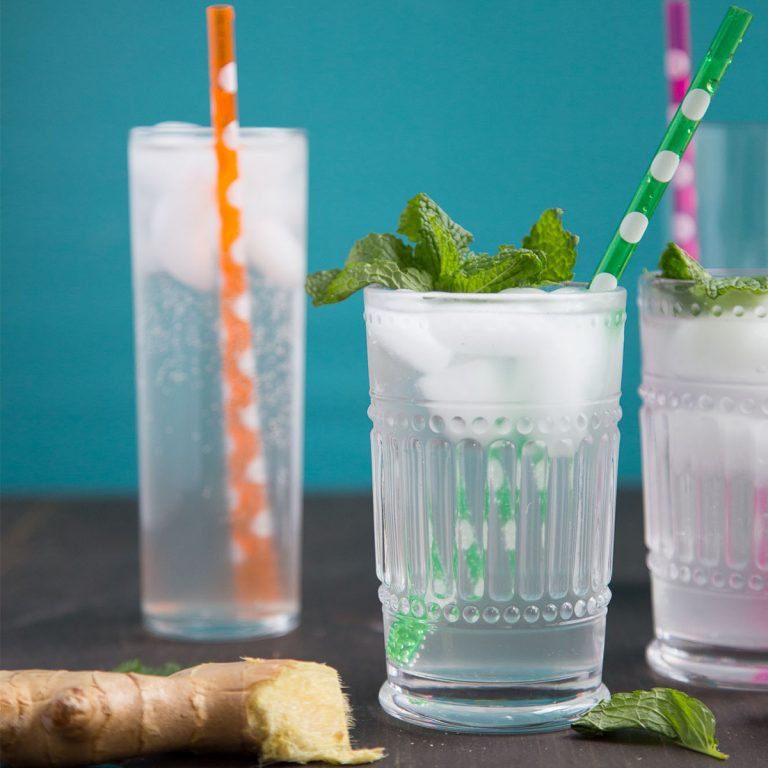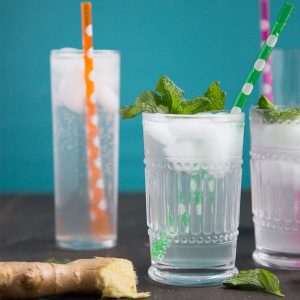 4-Ingredient Homemade Ginger Ale
Crisp, cool, and refreshing, this homemade ginger ale is perfect for a warm day. And it's made with just 4 ingredients!
Ingredients
⅔

cup

sugar

⅔

cup

water

1

medium-sized knob fresh ginger,

peeled and sliced into ¼ inch coins (about ½ cup)

2

ounces

(¼ cup) fresh lime juice (from about 2 limes)

2

(1-liter) bottles club soda, chilled in the refrigerator

To garnish: fresh mint
Instructions
Bring sugar and water to a boil in a small saucepan over medium high heat. Add the ginger and reduce heat to low. Simmer for 10 minutes. Remove from the heat and let cool for 20 minutes.

Strain the ginger syrup into a bowl and transfer to a mason jar or a similar jar with a lid. Discard the ginger coins. Refrigerate until ready to use.

Pour 2 tablespoons of the ginger syrup and 1.5 teaspoons of lime juice into a tall glass. Pour 8 ounces (1 cup) of club soda over the top. Stir gently to combine. Add ice and serve with mint garnish, if desired.

Repeat the process for each glass of ginger ale that you make (this recipe makes 8 servings).
Notes
You can store any leftover ginger simple syrup in an airtight container in the refrigerator for up to 2 months. You can peel the ginger with either a knife (just cut it off) or a spoon (scrape the edge of the spoon along the peel, and it will come off). Making this for a crowd? Instead of making individual glasses, place the simple syrup, club soda, and lime juice in a big pitcher, and stir to combine.
Nutrition
Serving:
1
glass
Calories:
113
kcal
Carbohydrates:
30
g
Protein:
0
g
Fat:
0
g
Saturated Fat:
0
g
Polyunsaturated Fat:
0
g
Trans Fat:
0
g
Cholesterol:
0
mg
Sodium:
0
mg
Fiber:
0
g
Sugar:
30
g
Related recipes