This easy Strawberry Pie with Jello is packed with fresh strawberries in a flaky pastry crust. It's delicious year-round, though I love it in the summer when strawberries are really ripe!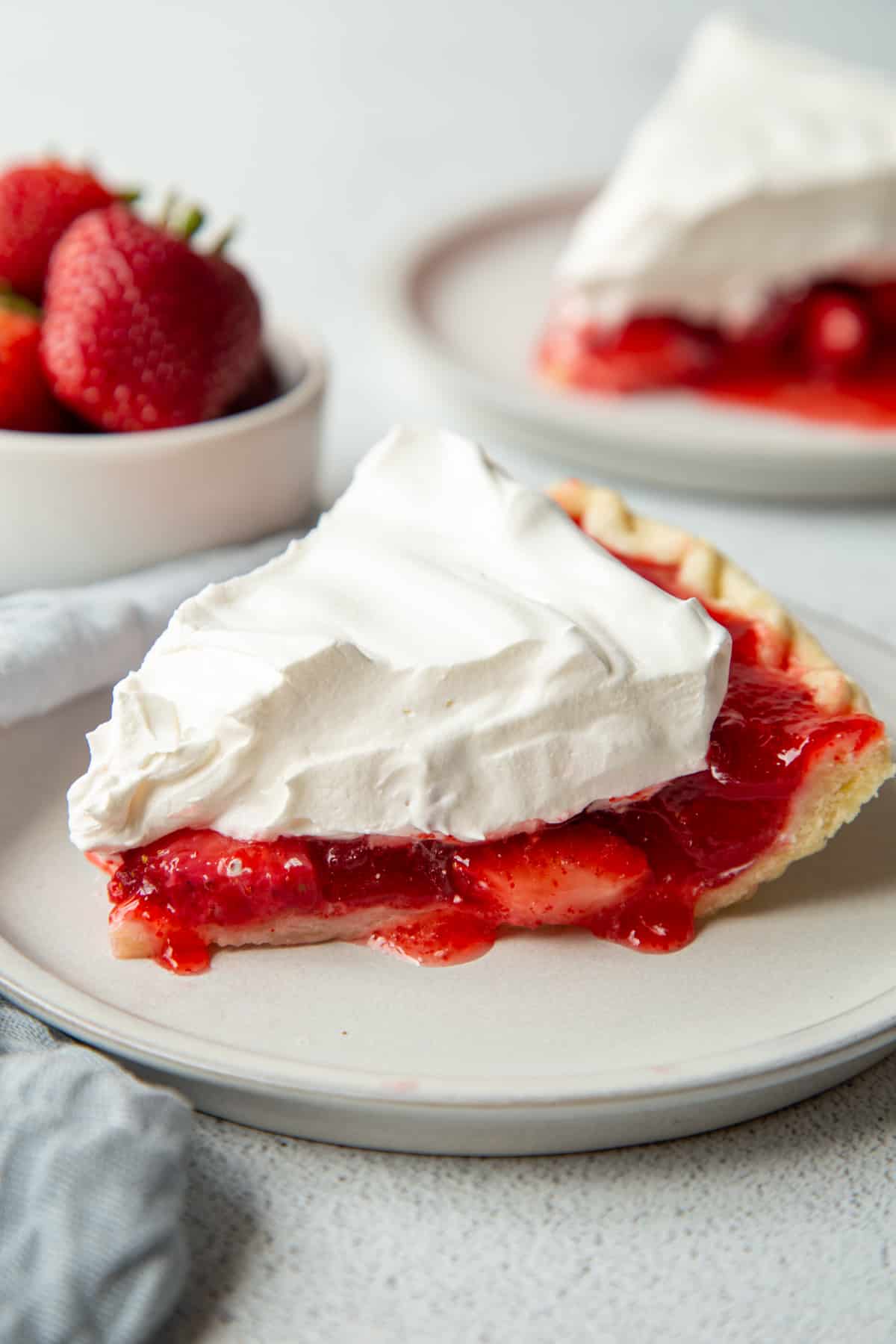 This fresh strawberry pie, also known as glazed strawberry pie, is a classic. I've spotted it in recipes books dating back to the 1980s, though I suspect it was served as far back as the 1960s, too.
Strawberry Pie with Jello makes use of fresh, in-season strawberries, which are layered into a flaky pie crust and suspended in strawberry gelatin. Then, the whole pie gets piled high with whipped cream or Cool Whip.
It's similar to No-Bake Raspberry Pie, which also lets the flavor of the fruit shine through.
Strawberry Pie is popular at a variety of chain restaurants such as Perkins, Shoney's, and Bob Evans, but dare I say that this homemade version is even better.
I love it paired with a pastry crust, though you can easily substitute a graham cracker crust or even an Oreo crust if you prefer.
This post contains affiliate links. Affiliate links support Gift of Hospitality at no additional cost to you. I receive a commission if you choose to make a purchase through these links.
Jump to:
Top tips for making fresh strawberry pie
Use ripe, in-season strawberries for best results.
Leave enough time for the pie to firm up in the refrigerator (at least 4 hours).
Want nice, clean slices? Use a sharp knife and wipe the knife off after every cut.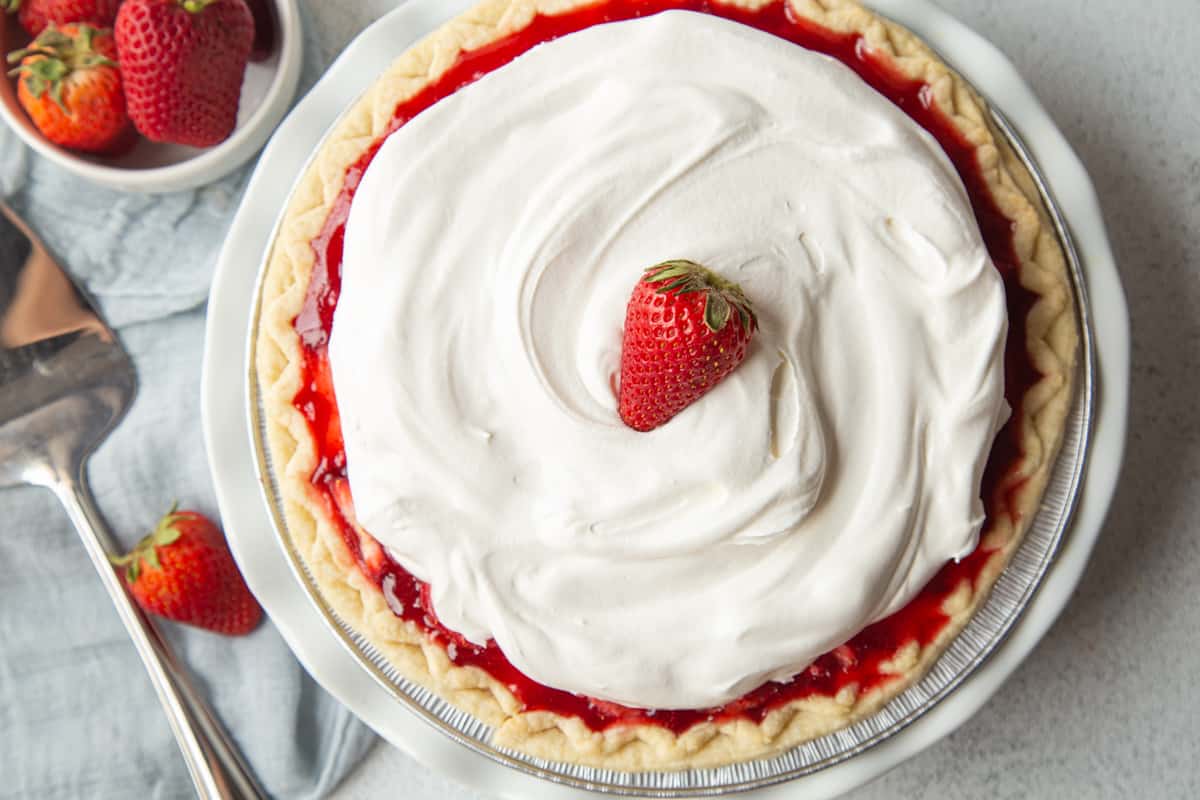 Sliced vs. whole strawberries—which is better?
My grandma made this pie one year for Easter. She used whole strawberries and she was not happy when the pie wouldn't slice neatly!
So while you can make this pie with whole berries (and it looks really pretty that way!), beware that a pie with whole strawberries is more difficult to slice than a pie made with sliced berries.
Ingredients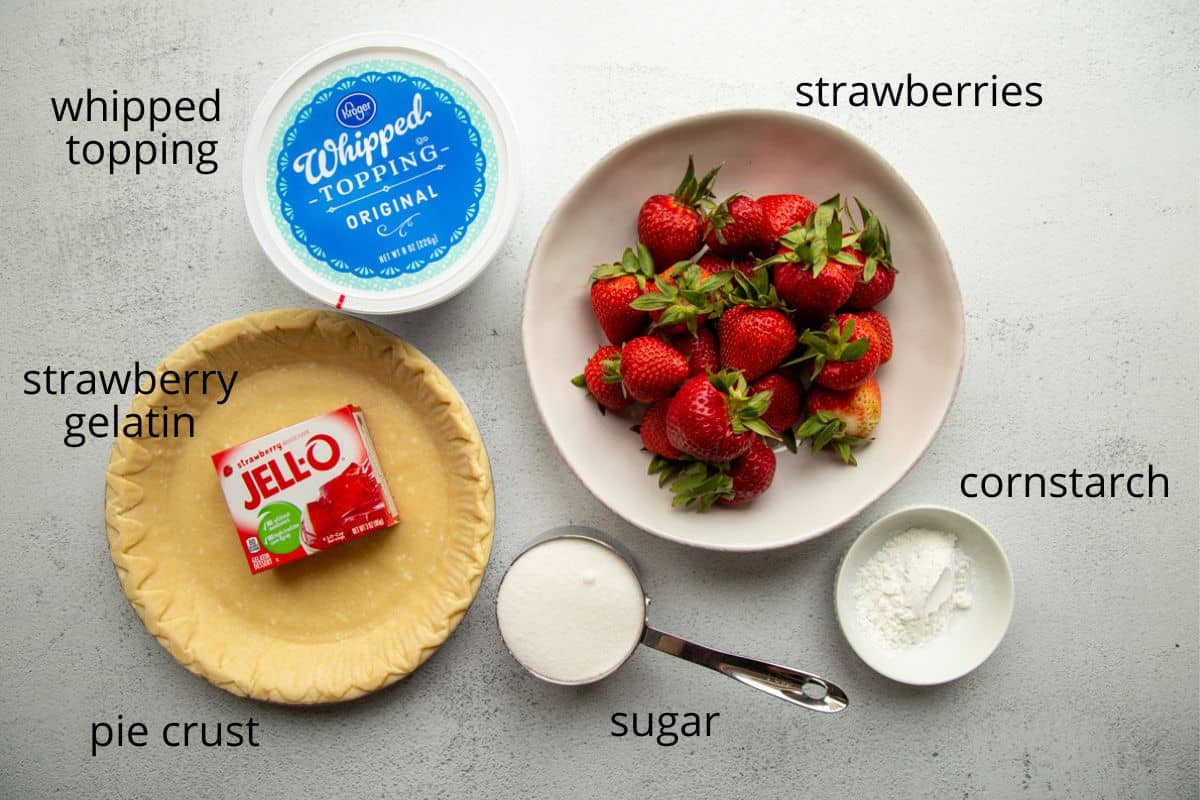 You'll need 1–1½ quarts of strawberries to make 3–4 cups of sliced strawberries.
Cornstarch and strawberry gelatin are the thickened agents for the strawberry glaze.
Sugar keeps it sweet—this is a pie, after all! I used a full cup, but you can use ½ cup if you prefer a less-sweet pie.
We're keeping it easy with a frozen pie crust. Feel free to substitute a refrigerated pie crust or a homemade pie crust instead.
Whipped topping (such as Cool Whip) goes on top. Or use homemade whipped cream if you'd like!
How to make Strawberry Pie with Jello and Cool Whip
First, bake the pie crust according to package directions, and let cool.
Next, slice the strawberries into thin slices (about ¼-inch thick).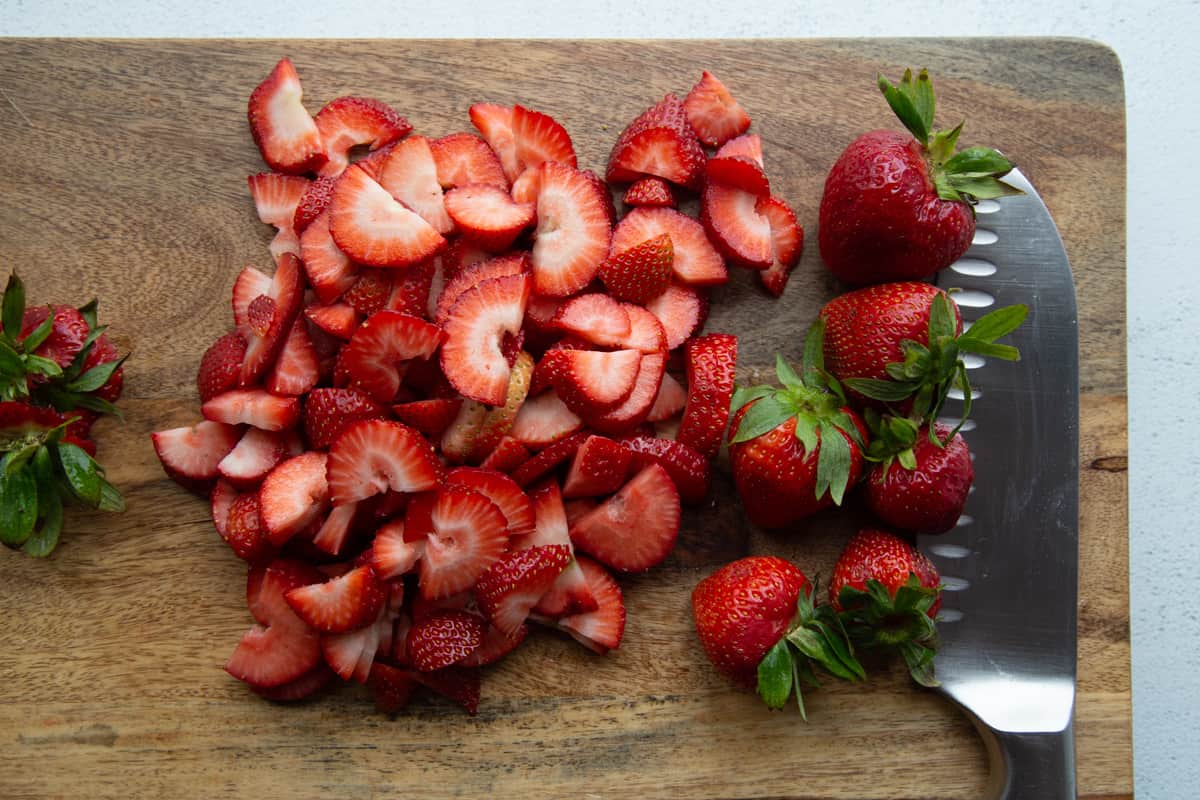 For large strawberries, I cut them in half first, then lay the flat side down on a cutting board and cut into ¼-inch slices.
Pour the sliced strawberries into the cooled crust. For a regular pie shell, it should be roughly even with the top of the crust, but can mound a little in the center. For deep dish pie shells, it won't quite go to the top and that's ok!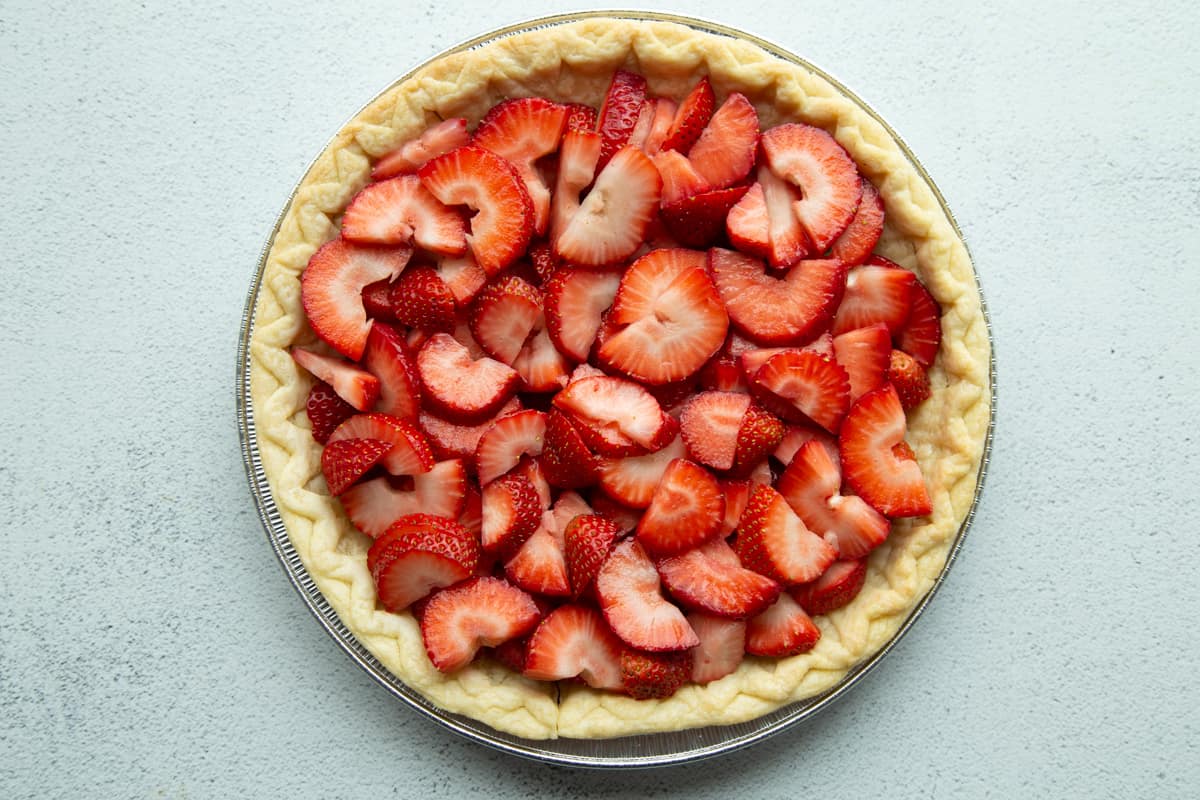 Next, place the water, sugar, and cornstarch in a small saucepan. Bring to a full boil, then take off the heat and whisk in the strawberry gelatin.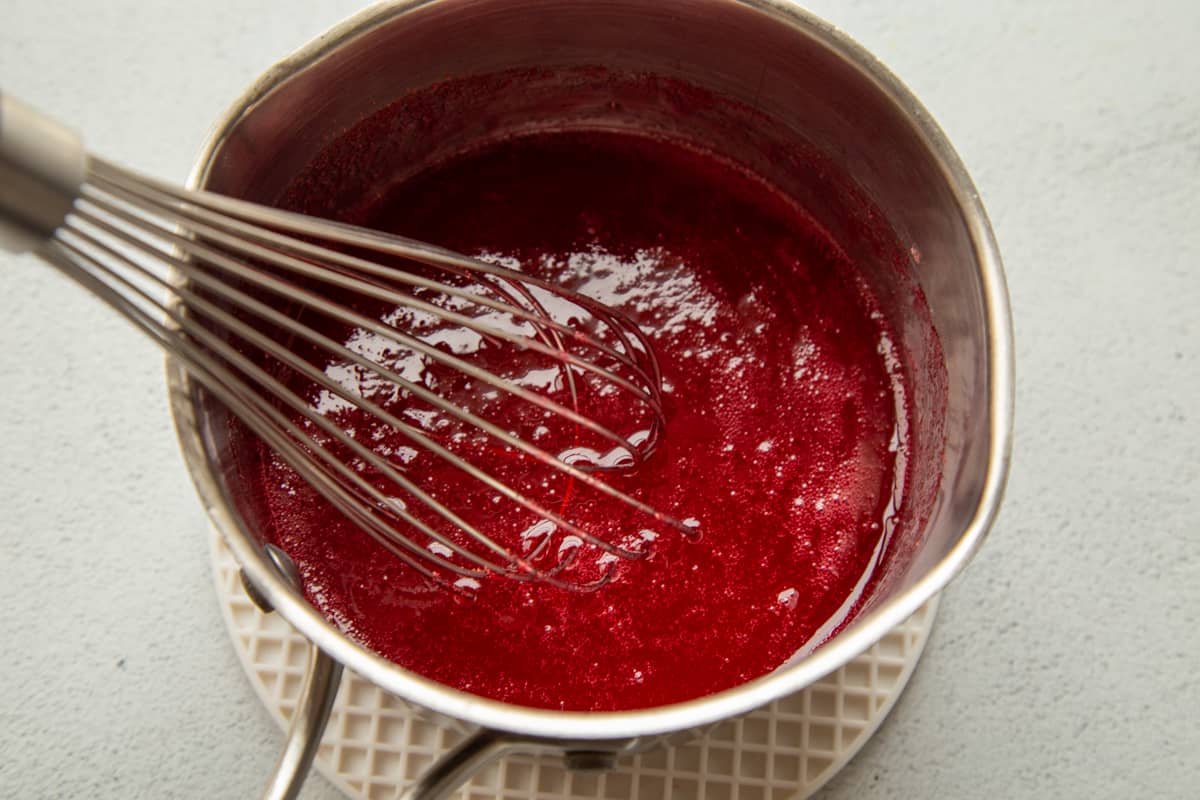 Pour the mixture over the strawberries in the pie, giving it time to seep into all the nooks and crannies created by the sliced strawberries.
You may not need all of the gelatin mixture for a regular sized pie crust—just fill to the top edge of the crust.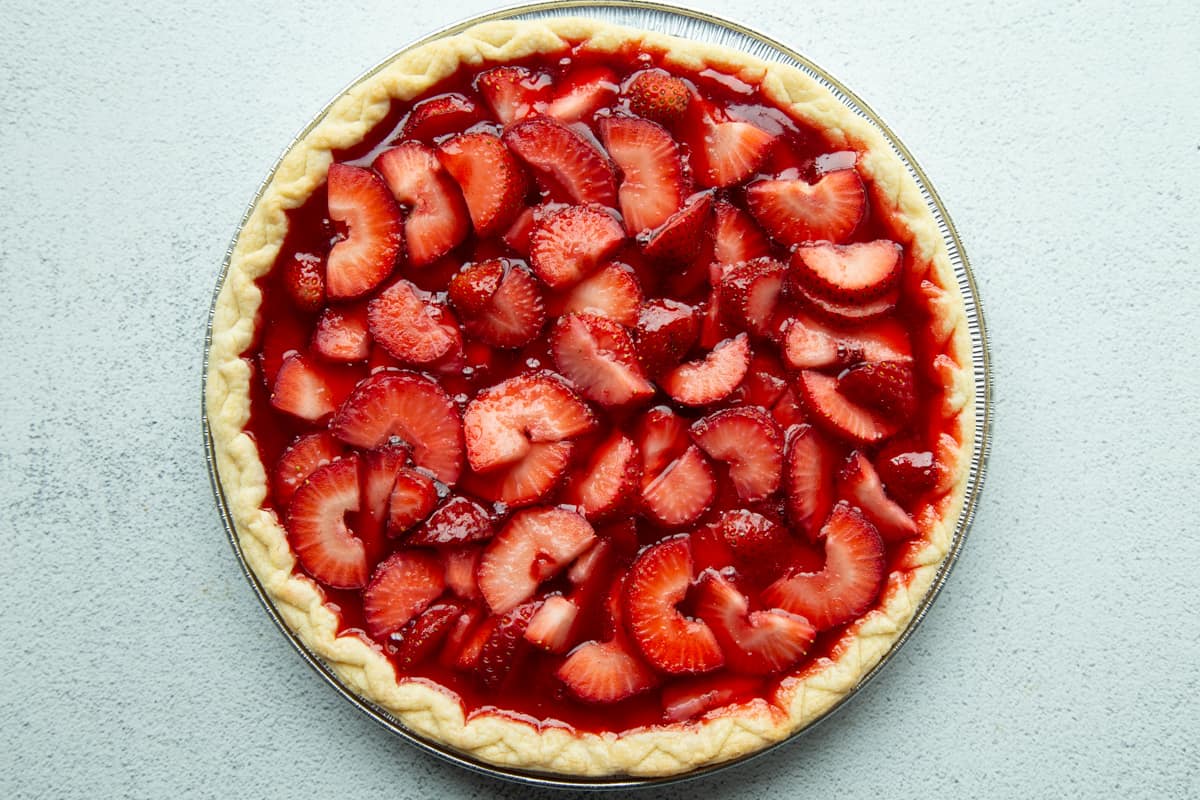 Transfer the pie to the refrigerator and let set for at least 6 hours (or overnight). Top it with the whipped cream or whipped topping, and the Fresh Strawberry Pie with Jello is complete!
Can I make strawberry pie with jello ahead of time?
Strawberry Pie is a great make-ahead pie! You can prepare the pie up to one day in advance, but don't add the whipped cream. Add the whipped cream just before you plan to serve it.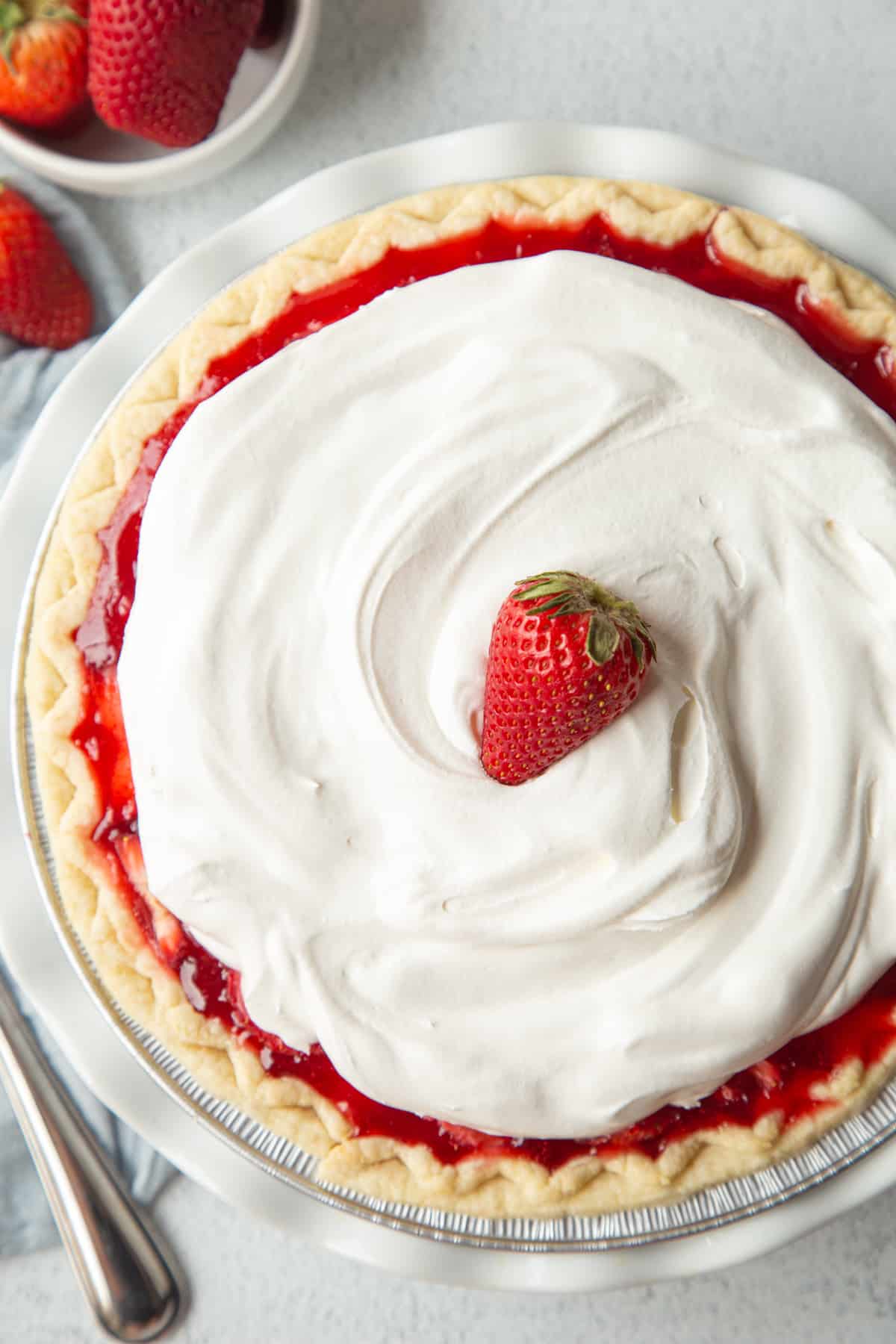 How to store strawberry pie with jello
Strawberry pie with jello should be stored in the refrigerator. It will keep for several days, though if you use real whipped cream, the whipped cream may deflate and become runny after a day or two.
Variations
Here are a few ideas to change up the pie:
Substitute the pastry crust for a graham cracker crust OR Oreo crust
Make your own pie crust (here's a great tutorial on how to blind bake a pie crust)
Dial back the sugar (you can add anywhere from ½–1 cup)
Make this recipe in a deep dish pie crust (add another cup of strawberries)
Use homemade whipped cream in place of the whipped topping (you'll need 1 cup of heavy cream whipped with 1 tablespoon powdered sugar and ¼ teaspoon vanilla)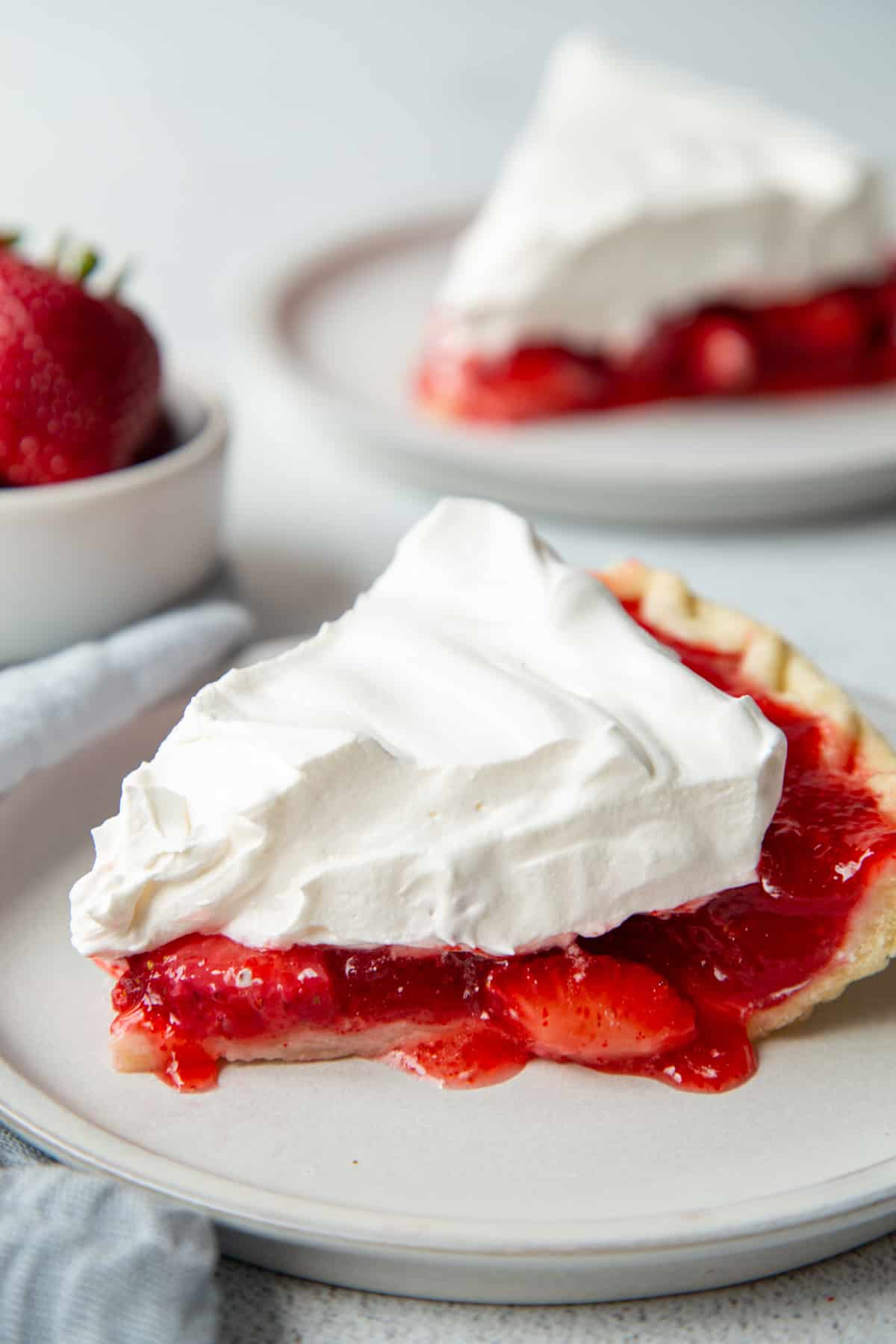 Frequently Asked Questions
Why is the gelatin runny?
The combination of cornstarch and strawberry gelatin combine to create a thick glaze for the strawberries. It may be a little runny, but should not be overly runny.

If your completed pie is very runny, here are a two reasons why: 1) it did not chill for a full 6 hours OR 2) the cornstarch mixture didn't come to a full boil. If it's the former, let the pie continue chilling until set.
Can I freeze strawberry pie with jello?
You can freeze the pie for up to 3 months. However, the defrosting process will cause the gelatin mixture to become a bit runny.
Can I use less sugar?
Yes! You can successfully use anywhere between ½ cup and 1 cup of sugar.
Can I use whole strawberries instead of slicing them?
You can use whole strawberries for this pie. However, I have found that while the whole pie is very beautiful, it's difficult to slice neatly.
More strawberry recipes
Have you tried this recipe? Please leave a ⭐️⭐️⭐️⭐️⭐️ rating and/or comment below!


📖 Recipe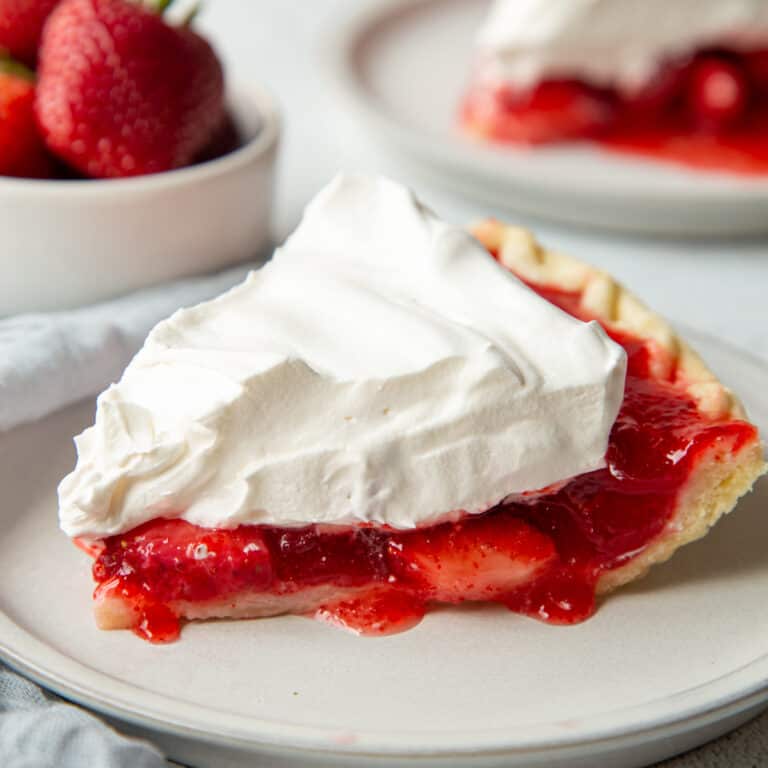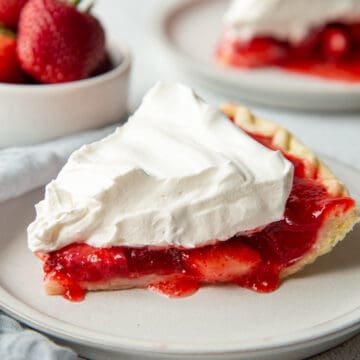 Strawberry Pie with Jello
This fresh strawberry pie with jello and whipped topping is a delightful spring or summer dessert!
Ingredients
1

frozen pie shell

3–4

cups sliced strawberries

(about 1–1½ quarts)

1

cup

sugar

¾

cup

water

3

tablespoons

cornstarch

1

(3 oz) package strawberry Jello

8

oz

whipped topping
Instructions
Bake pie shell according to package directions. Let cool.

Place the strawberries into the bottom of the cooked pie shell. The strawberries should mound just a little over the top of the pie crust.

Place the sugar, water, and cornstarch in a small saucepan. Bring to a boil. Remove from the heat and whisk in the strawberry Jell-O. Gently pour over the berries in the pie shell.

Refrigerate for 4–6 hours, or until firm.

Top with whipped topping or whipped cream.
Notes
You can use a refrigerated pie crust in place of the frozen pie shell. Bake it according to package directions. Want to use real whipped cream instead of whipped topping? Whip 1 cup of heavy cream with 1 tablespoon of powdered sugar and ¼ teaspoon vanilla extract until soft peaks form. You can keep the strawberries whole instead of slicing them, but beware that the pie may not cut as nicely. Store any leftover pie in the refrigerator.
Nutrition
Calories:
364
kcal
Carbohydrates:
65
g
Protein:
4
g
Fat:
11
g
Saturated Fat:
5
g
Polyunsaturated Fat:
1
g
Monounsaturated Fat:
3
g
Cholesterol:
1
mg
Sodium:
175
mg
Potassium:
235
mg
Fiber:
3
g
Sugar:
47
g
Vitamin A:
35
IU
Vitamin C:
70
mg
Calcium:
45
mg
Iron:
1
mg
More pie recipes