Vegetarian Spaghetti Squash Lasagna is a lighter, veggie-packed spin on a typical lasagna. Serve it with garlic bread for a comforting dinner!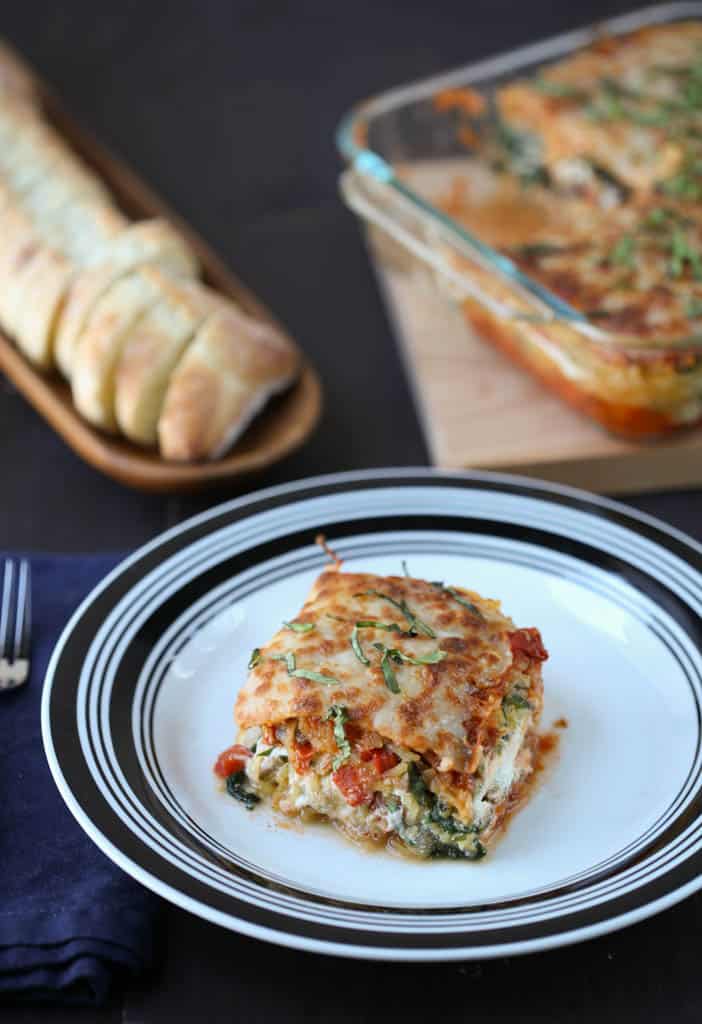 Instead of noodles, roasted spaghetti squash is the star of this lasagna. It bookends layers of gooey cheese, sautéed veggies, and marinara sauce to create a Vegetarian Spaghetti Squash Lasagna that's full of Italian flavor. And it's just a little more virtuous than a pasta-laden lasagna.
It's a little bit more time-intensive than my usual recipes, but it's a great weekend cooking project!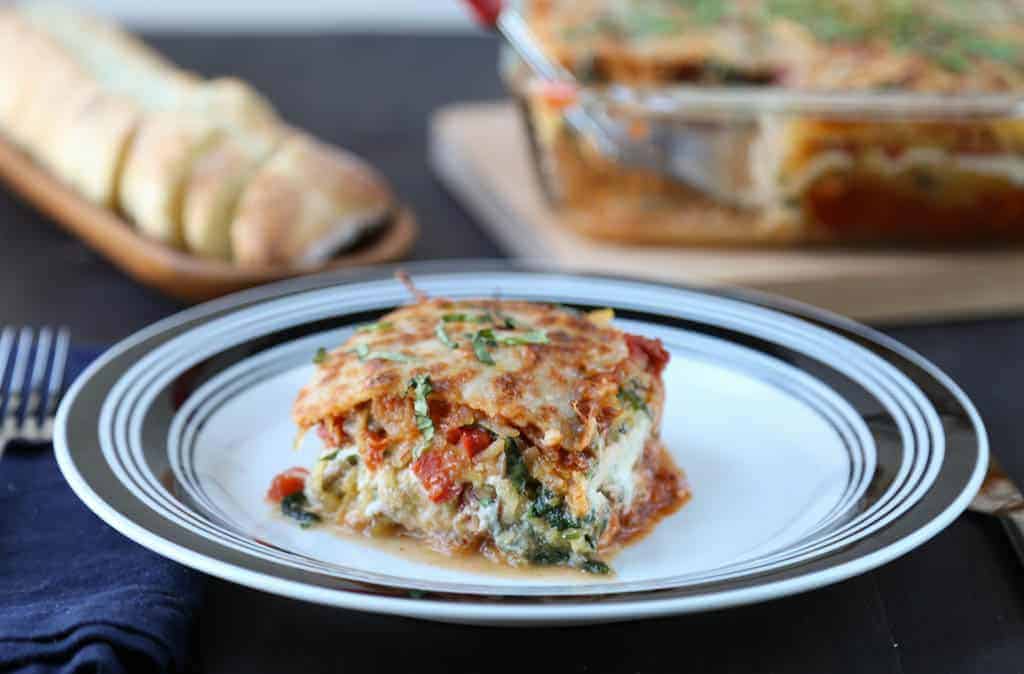 Ingredients
One medium spaghetti squash is the base of this recipe—no pasta required!
The veggie layer is packed with shallots, mushrooms, red pepper, and spinach
A mixture of ricotta and shredded Italian cheese make it extra cheesy and delicious
How to make spaghetti squash lasagna
Start by roasting a whole spaghetti squash. I prefer to roast it whole to seal in moisture and flavor (more surface area = more area to dry out).
It's also a lot easier to cut when it's cooked! Depending on the size of the squash, it can take 60–75 minutes to roast.
Since the oven will be on for awhile, this is the perfect time to make some roasted garlic! This recipe for Roasted Garlic Mashed Cauliflower will give you the how-to. You don't need it in the lasagna, but it's delicious slathered on some bread to enjoy on the side.
After the squash is cooked and cooled slightly, it's easy to take a spoon and remove the seeds. They'll slide right out. I used a fork to slide down the squash to remove the spaghetti-like strands.
One important note: you'll need to remove most of the moisture from the squash so the lasagna isn't soupy. To do this, pile the squash into a clean tea towel and wring it over the sink until no more water escapes.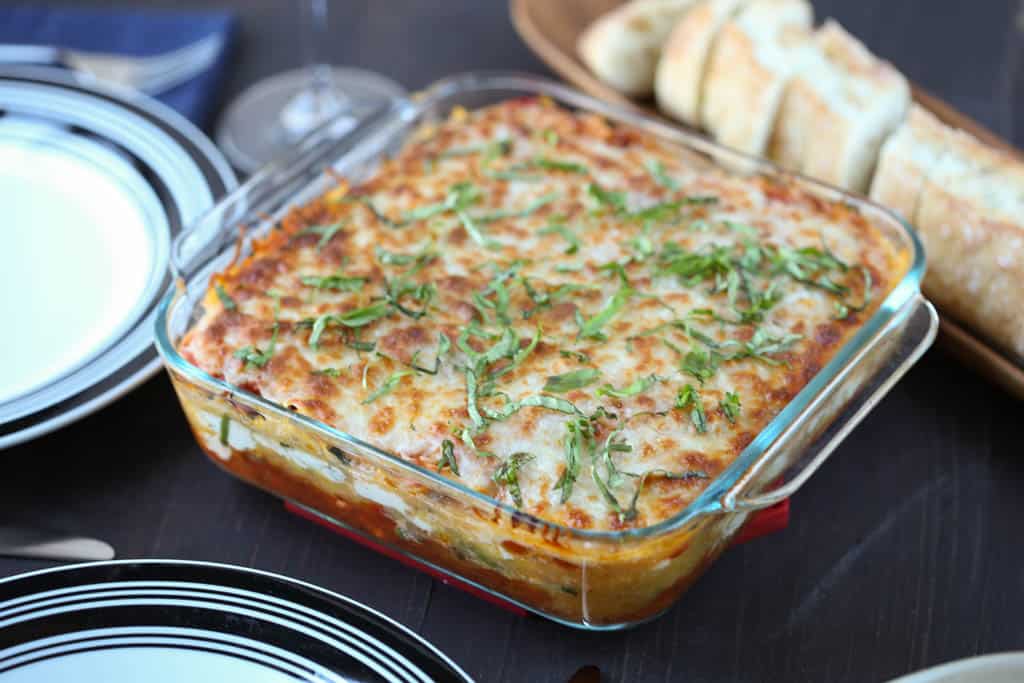 The next layer is the ricotta. I seasoned it with fresh basil, then mixed in ½ cup of Italian blend cheese and ¼ cup milk to loosen it up a bit. This is typically where you would see an egg instead of the milk in lasagna recipes. I choose milk to keep it truly vegetarian, but you could use an egg if you'd like!
The vegetable layer is a mixture of shallots, mushrooms, red peppers, and spinach.
Those happen to be my favorite veggies, but you could substitute other vegetables if you'd like. Diced zucchini, green peppers, and carrots would be nice additions, too.
The trick is to make sure that the liquid has cooked out of the vegetables so they don't water down the lasagna.
Assembling the lasagna
When it's time to assemble the lasagna, put everything in front of you and get to work!
I used a small offset spatula
to spread the ricotta. An offset spatula is a staple in my kitchen—it's perfect for spreading sauces, frosting, and even stubborn brownie dough that doesn't want to move into the corners of a pan.
For the lasagna, I used an 8×8 inch Pyrex glass dish
, and the ingredients filled the entire dish. It was so full that I stuck a few toothpicks into the cheese at the top so the foil wouldn't stick. If you're feeling fancy, any shape 2-quart baking dish would work, too!
Despite my best efforts to make the instructions easy to read, it's sometimes hard to distinguish the order of ingredients when there are so many layers. So, here's a list of the order!
1) ½ cup tomato sauce
2) ⅓ of the spaghetti squash
3) ½ of the ricotta
4) ½ of the vegetables
5) ⅓ of the spaghetti squash
6) ½ of the ricotta
7) ½ of the vegetables
8) ⅓ of the spaghetti squash
9) The rest of the shredded Italian blend cheese
I would normally serve this vegetarian spaghetti squash lasagna with a salad, but since this one is full of vegetables, I opted for potatoes instead! Perfectly Crispy Garlic Potatoes are seriously a game changer for roasted potatoes.
Along with sliced french bread, this lasagna is a hearty and comforting dinner.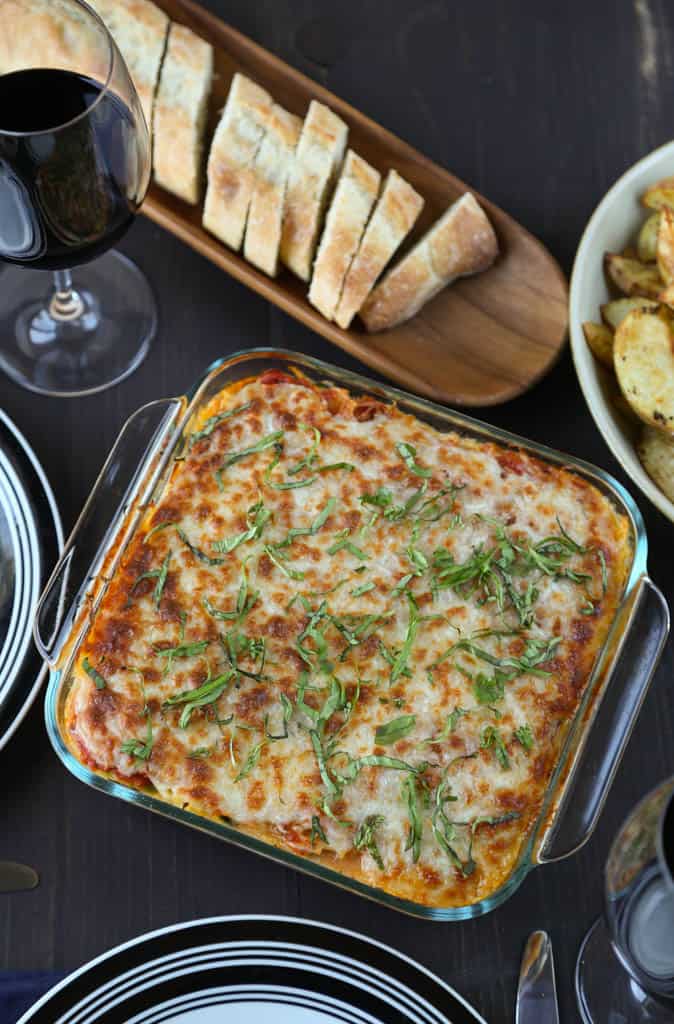 If you make this recipe, please leave me a comment below, or tag me on Instagram or Pinterest. I love hearing from you!
📖 Recipe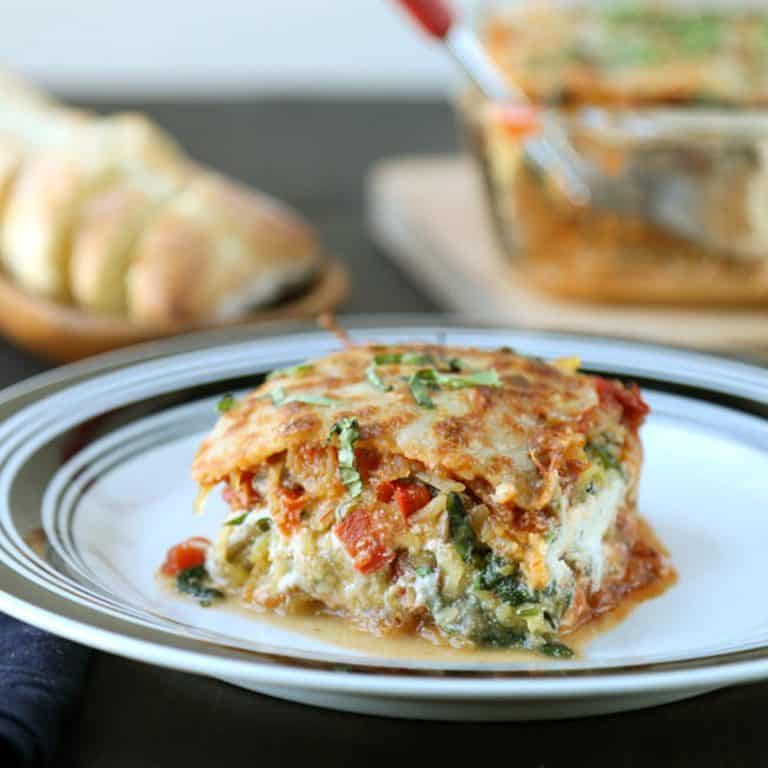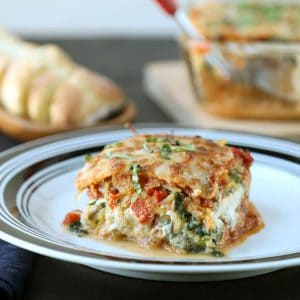 Vegetarian Spaghetti Squash Lasagna
A lighter, veggie-packed spin on a typical lasagna.
Ingredients
1

medium spaghetti squash

1

tablespoon

olive oil

1

shallot,

minced

10

oz

button mushrooms,

chopped

1

red pepper,

cut into a ½ inch dice

1

(6 oz) bag baby spinach

½

teaspoon

dried oregano

½

teaspoon

red pepper flakes

1

teaspoon

kosher salt,

divided

15

oz

ricotta

¼

cup

milk

1

oz

fresh basil,

cut into a chiffonade

1¼

cups

marinara sauce

(I used Trader Joe's tomato basil marinara sauce)

1½

cups

shredded Italian blend cheese,

divided
Instructions
Preheat the oven to 375°F.

Poke holes in the spaghetti squash with a fork. Place on a baking sheet and bake for 60–75 minutes, or until soft to the touch. Remove from the oven, cut in half, and allow to cool.

Meanwhile, heat the olive oil in a large sauté pan over medium heat. Add the shallot and mushrooms. Cook, stirring occasionally, until the mushrooms are soft and have released their liquid.

Add the red pepper and cook for 3–4 minutes more, until the pepper is soft. Add the spinach and cook, stirring occasionally, until the spinach is wilted.

Stir in ½ teaspoon oregano, ½ teaspoon red pepper flakes, and ¼ teaspoon salt.

Remove the seeds from the squash. Run a fork lengthwise along the squash to remove the spaghetti-like strands.

Place the squash in a clean tea towel. Wring any excess water from the strands (keep wringing until no more water escapes) and place into a bowl. Season with ½ teaspoon salt and toss until combined.

Combine the ricotta, ½ cup of the Italian blend cheese, milk, basil, and remaining ¼ teaspoon salt in a medium bowl. Stir until combined.

Raise the temperature of the oven to 400°F.

To assemble, grease an 8x8 inch baking dish. Pour ½ cup of marinara sauce into the bottom. Top with ⅓ of the squash. Spread ½ of the ricotta mixture on top, followed by ½ of the vegetables.

Repeat steps by topping with another ⅓ of the squash, the remaining ricotta, and the remaining vegetables.

Top with the final ⅓ of the squash, then pour the remaining marinara sauce over the top. Sprinkle the remaining Italian blend cheese. Place several toothpicks in the top of the lasagna and cover with foil. This will prevent the cheese from sticking to the foil. Bake for 30 minutes.

Remove the foil and turn on the broiler. Broil for 6–8 minutes, or until the cheese is golden brown in spots.

Remove from the oven and let cool for 10 minutes. Garnish with additional fresh basil, slice, and serve.
Notes
Tip: Use a small offset spatula
to spread the ricotta. It's a multi-use tool that's also great for spreading frosting and spreading stubborn brownie batter into the corners of a pan!
Nutrition
Calories:
309
kcal
Carbohydrates:
21
g
Protein:
19
g
Fat:
18
g
Saturated Fat:
10
g
Cholesterol:
55
mg
Sodium:
950
mg
Potassium:
819
mg
Fiber:
5
g
Sugar:
10
g
Vitamin A:
4460
IU
Vitamin C:
42
mg
Calcium:
459
mg
Iron:
3
mg
This post contains affiliate links. Thank you for reading GiftofHospitality.com and helping me to provide quality content.