These easy Garlic Potatoes get perfectly crispy—in the oven! They're an irresistible side dish that's easy enough for a weeknight dinner.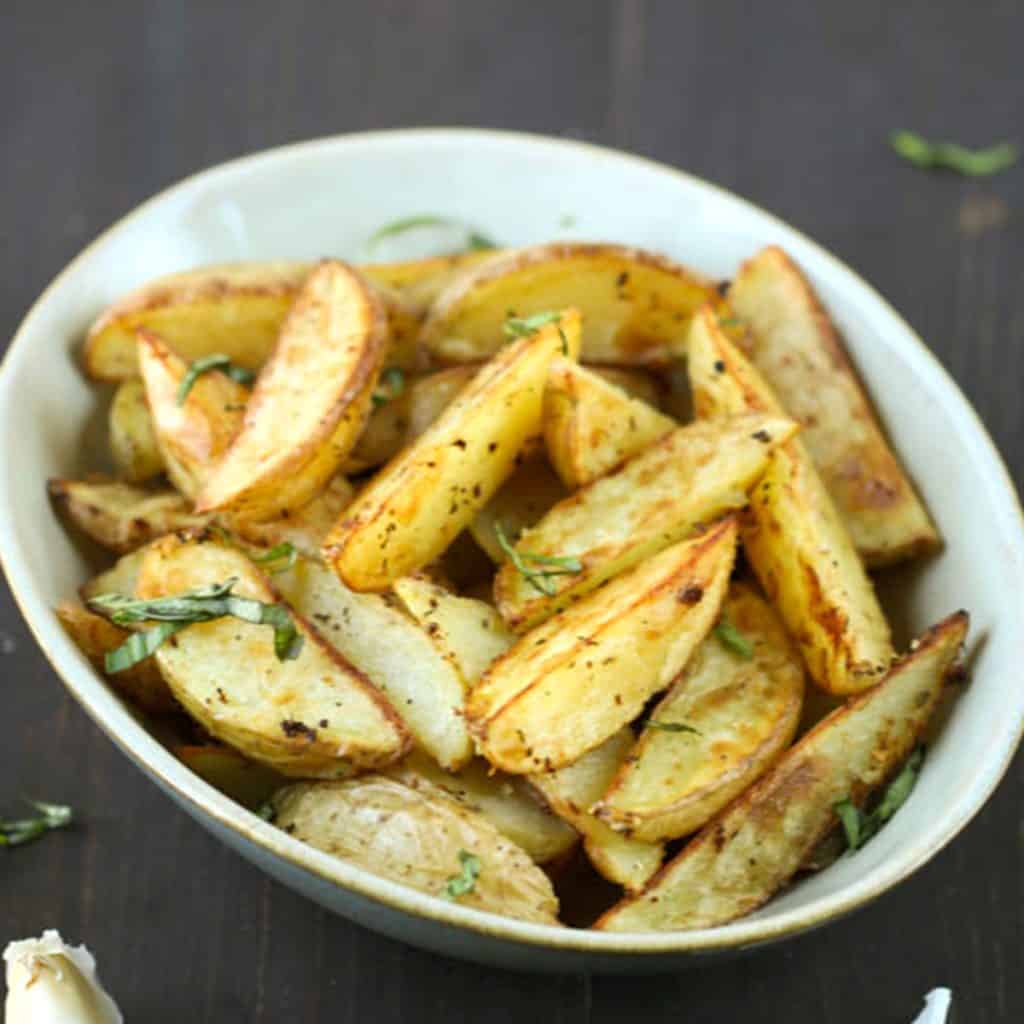 I'm beyond excited for this recipe. I've cracked the code to perfectly crispy potatoes! These Crispy Garlic Potatoes have been elevated to the position of best potato dish in our house. So what makes them so crispy? Read on!
In general, we like our food brown and crispy. That's why toast tastes better than untoasted bread. It's also why roasted vegetables are more appetizing than steamed vegetables. We like our steaks with grill marks, and our scallops with light brown and crispy tops.
The secret: a Maillard reaction
All of this browning and crisping is the result of a chemical reaction called a Maillard reaction. In short, it occurs when amino acids and sugars are introduced to heat. But low heat won't do. High heat (over 350°F, and sometimes more) is what you'll need to create a browned crust, a seared edge, or a crisp top.
To coat the potatoes, I used a mixture of butter and olive oil. The smoke point of olive oil is 410°F. The smoke point of butter is 350°F. The mixture of the two makes ensures that the potatoes get perfectly crispy at 400°F—hot enough to create crunch but not so hot that the potatoes burn before they are done on the inside. Butter also adds a delicious flavor to the potatoes, too.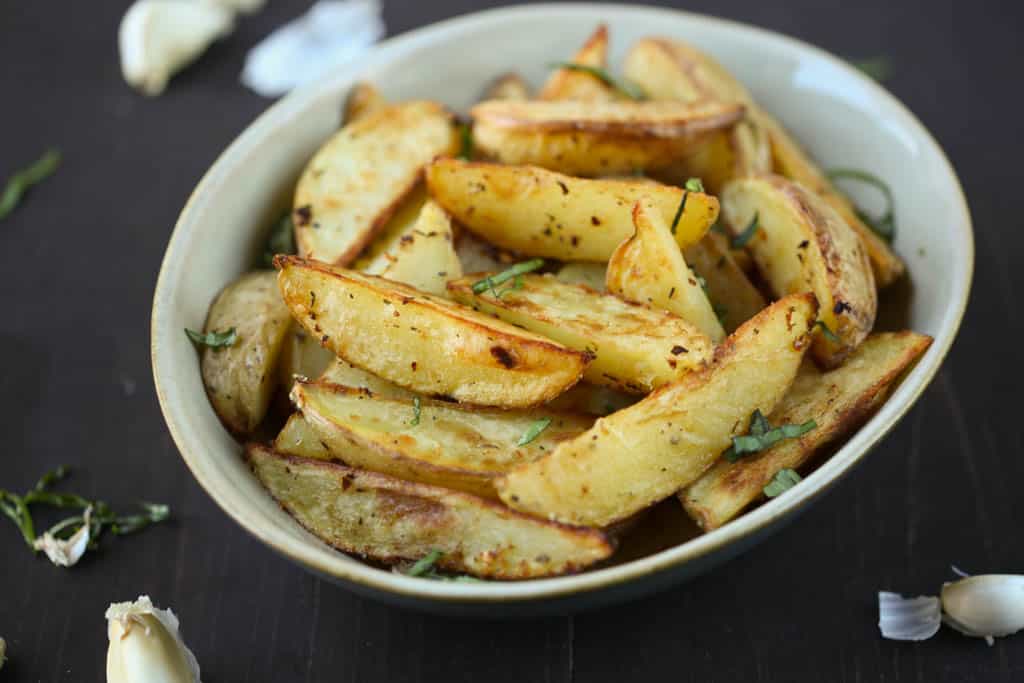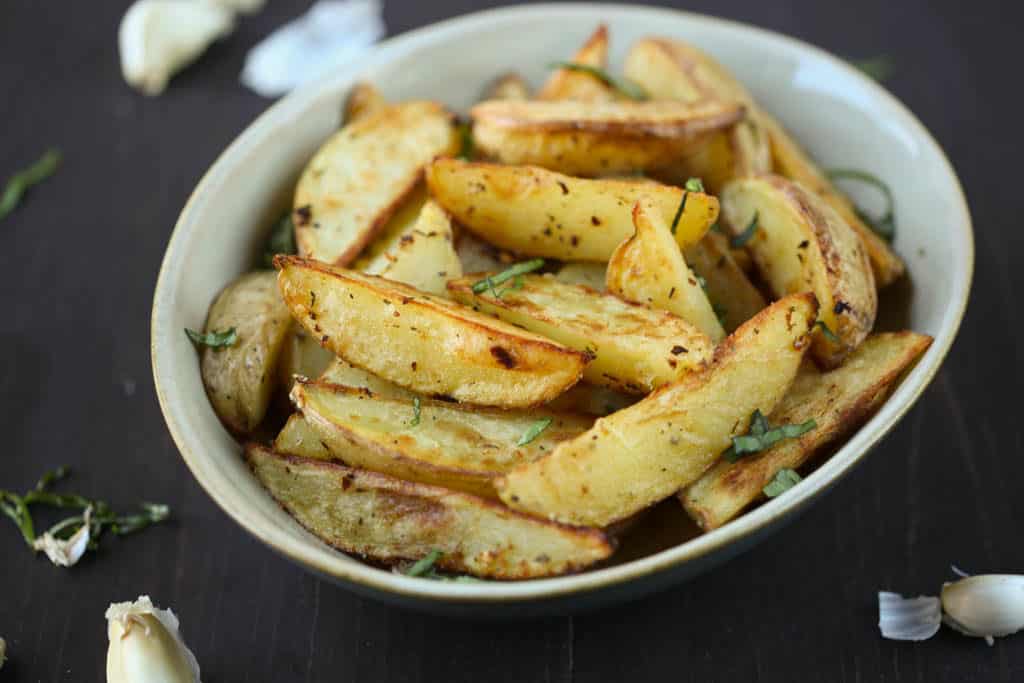 This post contains affiliate links. Affiliate links support Gift of Hospitality at no additional cost to you. I receive a commission if you choose to make a purchase through these links.
Jump to:
How to make crispy oven potatoes
Start by cranking up the oven to 400°F. The high heat ensures a crispy result, provided that you don't crowd the potatoes on the pan.
Leave at least ½ of an inch between each potato slice to ensure the potatoes become Crispy Garlic Potatoes instead of Steamed Garlic Potatoes.
I find that a 18×13 inch half sheet pan
(also sometimes called a jellyroll pan) with a small edge is best for this—it's big enough to fit all of the potatoes but it'll still fit in a standard size oven.
I used Yukon Gold potatoes here. The moisture level is somewhere in between a russet potato (which are drier and best for mashing) and a red potato (which is moister and holds its shape well—making it great for potato salad). The skin of the Yukon Golds crisps up nicely and the inside has a just-right level of moisture.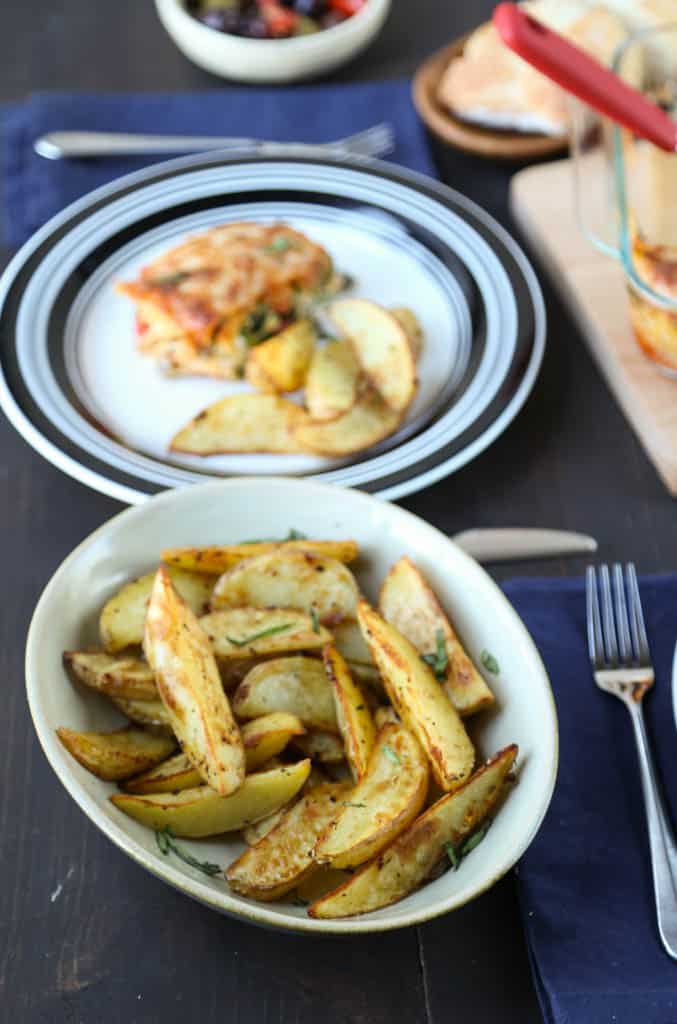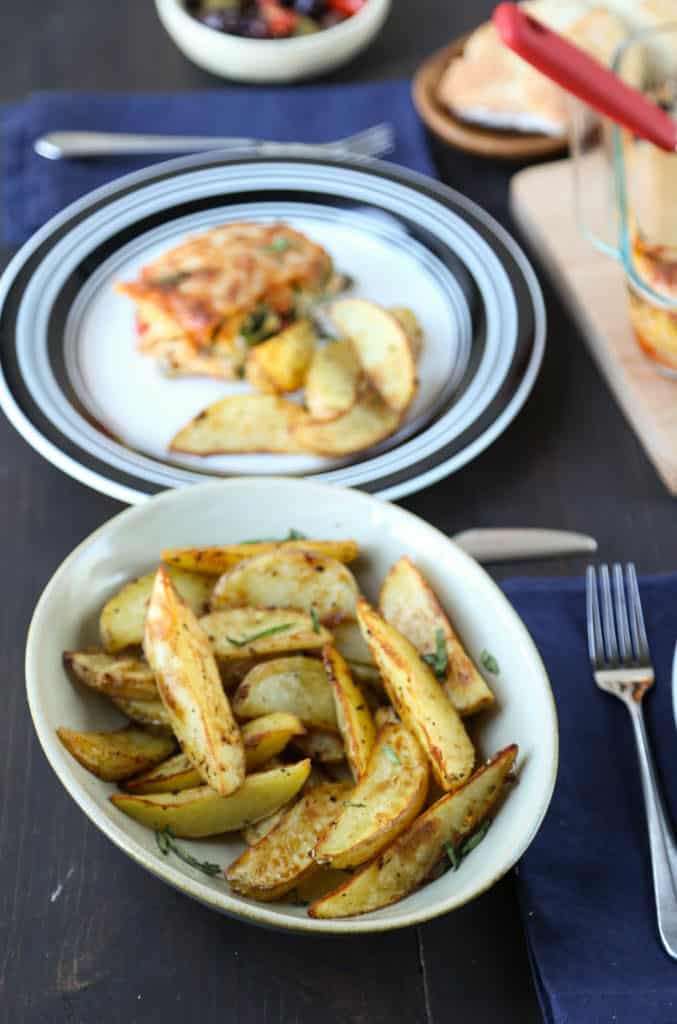 Potato seasonings
To jazz them up, season the potatoes with grated garlic and Italian seasoning.
The key to adding garlic without burning it is to grate the garlic on a microplane first (here's the one I use
). I find that larger pieces of garlic will burn, which will result in a bitter taste. But the grated garlic is fine enough to be rubbed into the potatoes, and it doesn't burn.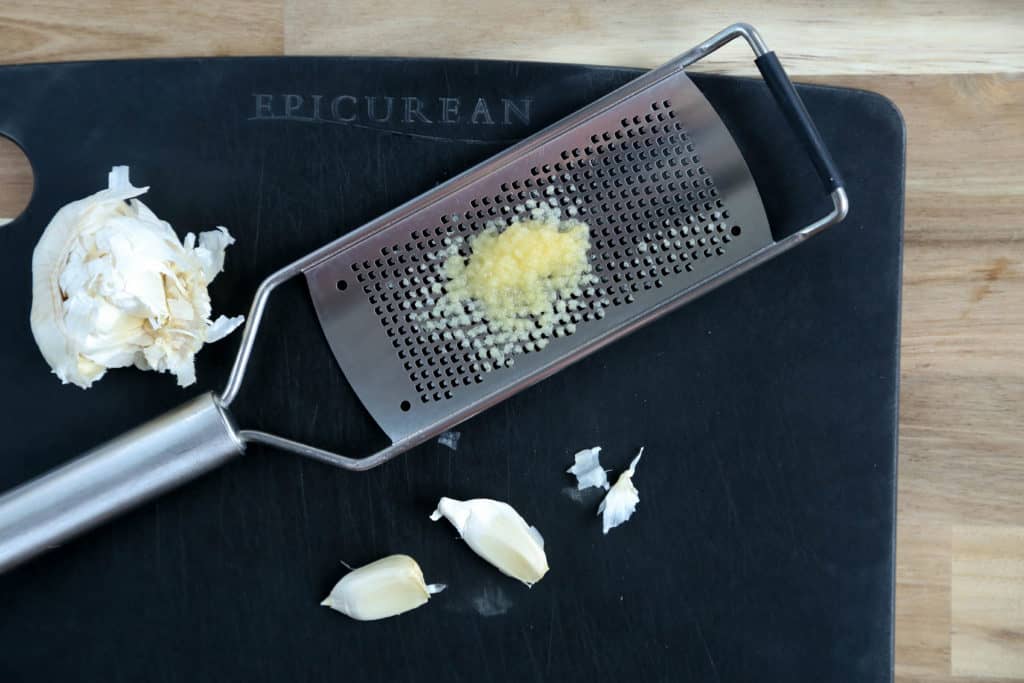 This technique works great with garlic roasted broccoli, too!
I also seasoned the Crispy Garlic Potatoes with a teaspoon of Italian seasoning. To be honest, I don't even have a bottle of it. I usually make my own blend with the following: dried rosemary, dried oregano, dried basil, dried thyme, and red pepper flakes.
I happen to like rosemary and oregano the best, so I go heavier on those, and lighter on the others. My recipe is roughly ½ teaspoon rosemary, ¼ teaspoon oregano, pinch of basil, pinch of thyme, and a pinch of red pepper flakes. But if you have a bottle of Italian seasoning, that's probably easier. 🙂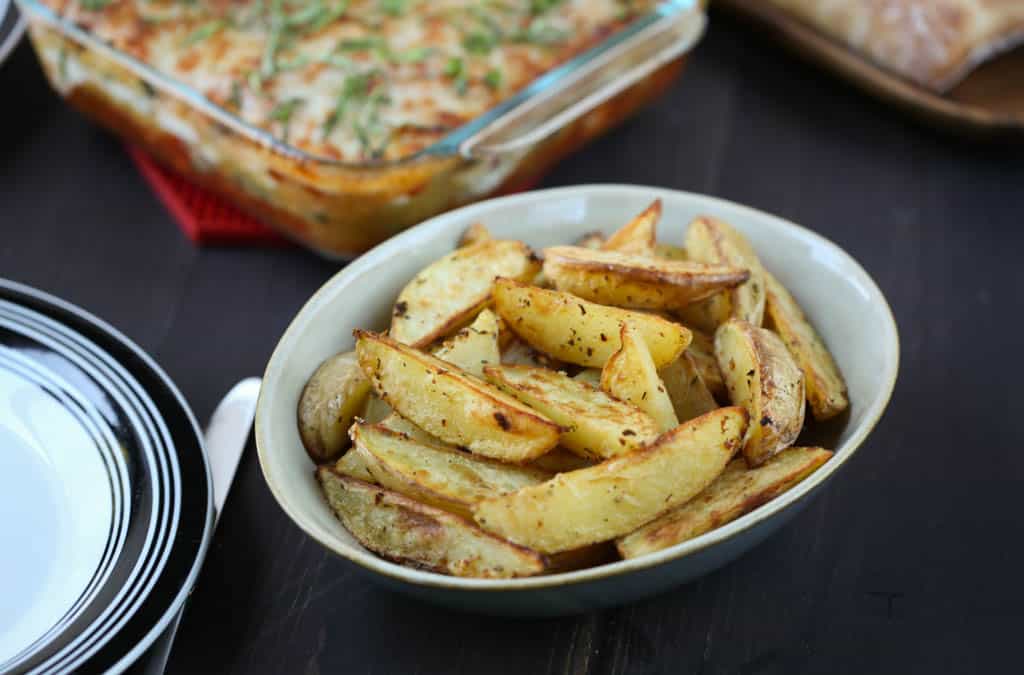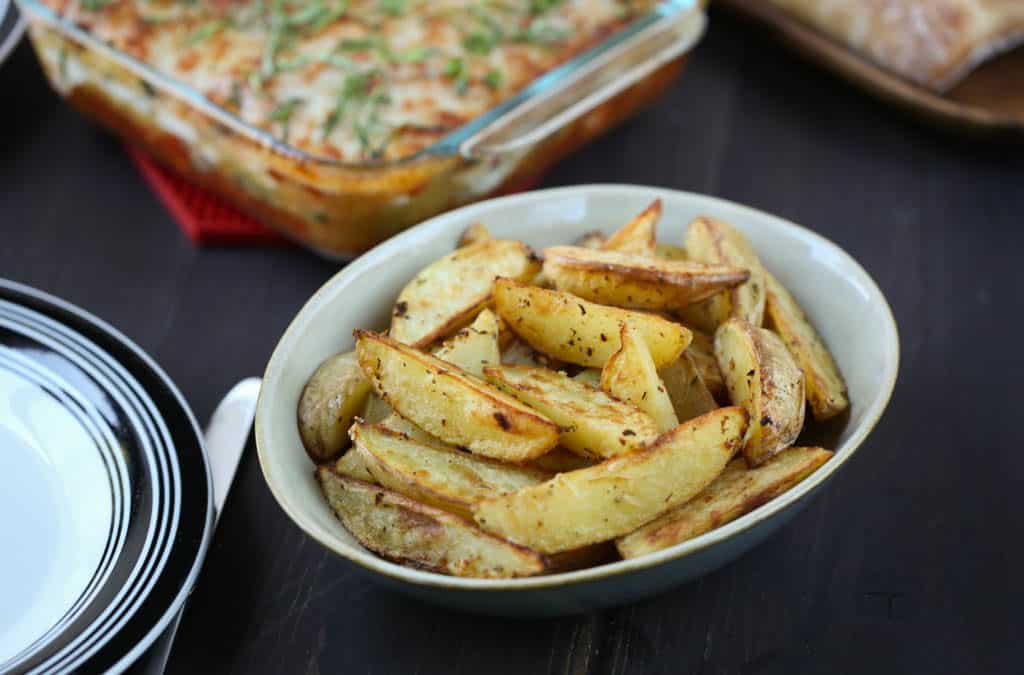 Serving the potatoes
Crispy Garlic Potatoes are best served right after they are made. They can be reheated in the oven for approximately 5–6 minutes at 400°F, but they're not quite as crispy as when they are fresh out of the oven.
The good news is, they are so delicious that I bet all of the potatoes will get eaten with no leftovers!
The potatoes make a great side dish for steak, chicken, or salmon. I particularly love them with these Crock Pot Pork Chops or Bacon Cheddar Meatloaf.
They would also be great with these 5-ingredient Grilled Pork Chops with Honey Soy Glaze!
Have you tried this recipe? Please leave a ⭐️⭐️⭐️⭐️⭐️ rating and/or comment below!
---


---
📖 Recipe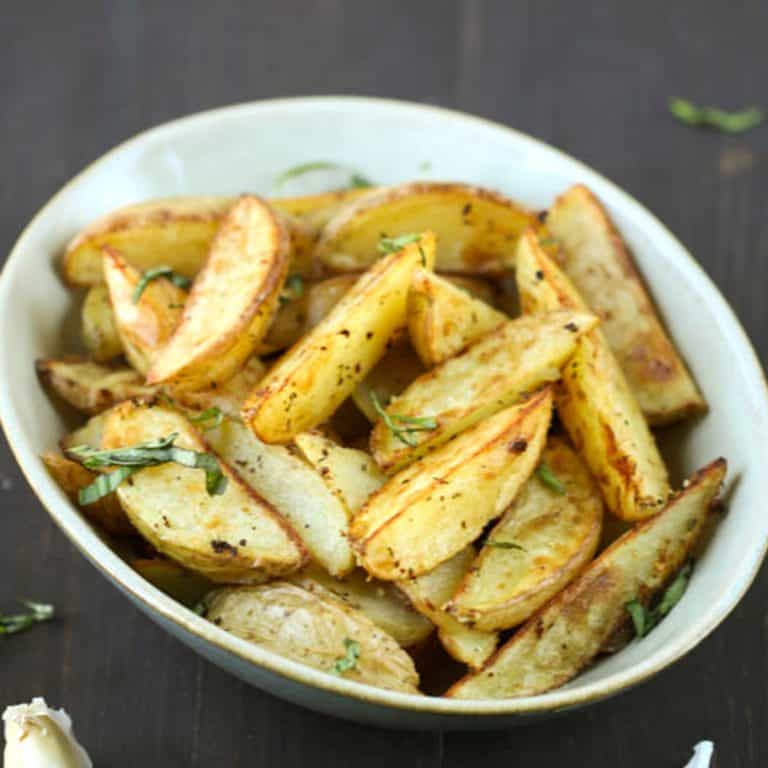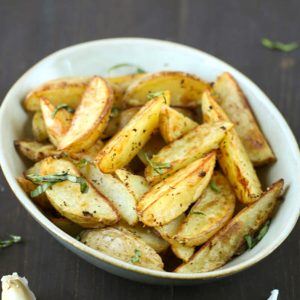 Crispy Garlic Potatoes
These oven potatoes are seriously crispy!
Ingredients
2

lbs

Yukon Gold potatoes

2

tablespoons

butter

2

tablespoons

olive oil

3

cloves

garlic, grated on a microplane

1

teaspoon

Italian seasoning

½–¾

teaspoon

kosher salt
Instructions
Preheat oven to 400°F.

Cut each potatoes in half, then in half again. Slice the quarters in half. You'll have 8 pieces per potato.

Place the butter in a small microwave-safe dish. Microwave on high until melted, about 20–30 seconds. Stir in the olive oil, grated garlic, Italian seasoning, and salt (to taste).

Place the potato slices on a sheet pan with a small rim. Pour the butter and olive oil mixture over the top. Toss gently with your hands. Spread the potato slices evenly on the baking sheet, leaving space between each slice (this will ensure that the potatoes get crispy—crowding the potatoes will make them steam instead of crisp up).

Bake for 20 minutes. Toss the potatoes and return to the oven for another 15–20 minutes, or until the potato slices are crispy and cooked through. Serve immediately.
Notes
Tip: grate the garlic finely on a microplane (here's the one I use
) so it doesn't burn in the oven!
Nutrition
Calories:
288
kcal
Carbohydrates:
40
g
Protein:
5
g
Fat:
13
g
Saturated Fat:
5
g
Cholesterol:
15
mg
Sodium:
305
mg
Potassium:
955
mg
Fiber:
5
g
Sugar:
2
g
Vitamin A:
175
IU
Vitamin C:
45
mg
Calcium:
35
mg
Iron:
2
mg
Related recipes