This old fashioned recipe for Easy Creamed Corn Casserole with Jiffy mix is the perfect side dish for a holiday meal, or any special meal! It's super easy to make—just stir everything together and bake.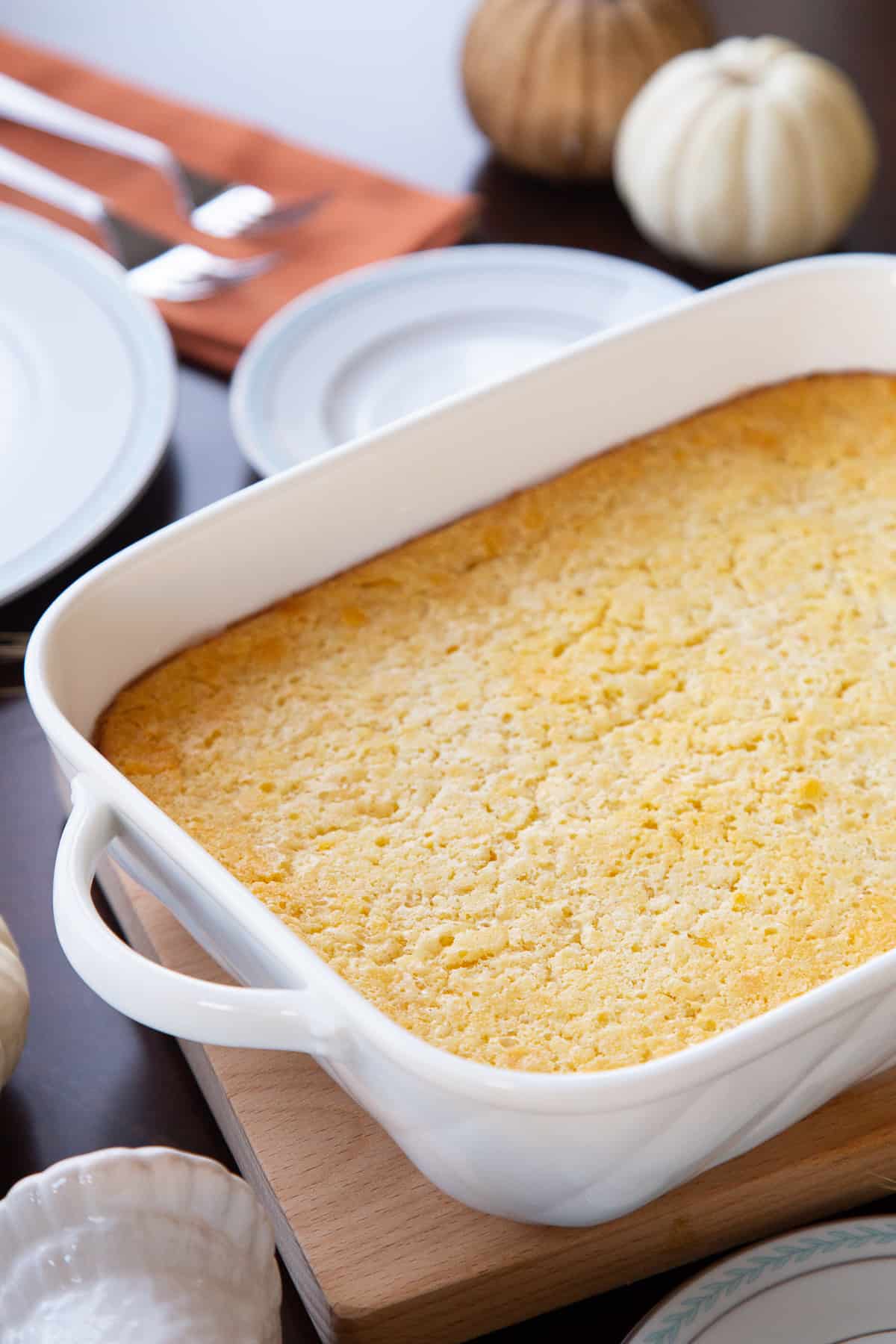 Easy Creamed Corn Casserole has been on my family's holiday menus for years. It's a side dish that everyone loves, and it pairs perfectly with turkey, beef, or ham.
This year, I'm serving it for Thanksgiving along with my Grandma's Sweet Potato Casserole, Green Bean Casserole, and this Cranberry Jell-O Salad.
I love how easy it is to make, which is especially important when you have other things to cook (ahem, really delicious but time-intensive turkey breast).
The recipe's key ingredient is a box of Jiffy corn mix. Along with two varieties of canned corn, eggs, sour cream, and butter, it transforms into a cross between cornbread and a corn soufflé.
The best part is, you put everything in a bowl, stir, and then bake it. Super simple!
Origin of corn casserole
Corn casserole is also known as corn pudding, particularly in the South. It's believed that the dish originated with Native Americans, who cooked corn and water together to create corn pone.
Native Americans likely introduced corn to English settlers, who put their own spin on corn pone by adding milk, eggs, and butter. You can read more about the interesting history of corn in America here.
Jiffy mix was invented in 1887, and while the origins of baking it into a corn casserole are unknown, it's fair to say that the dish has been around for generations.
A number of variations exist, including this Cheesy Corn Casserole, made with cream cheese and Swiss. It's like eating mac & cheese but with corn instead of pasta!
Ingredients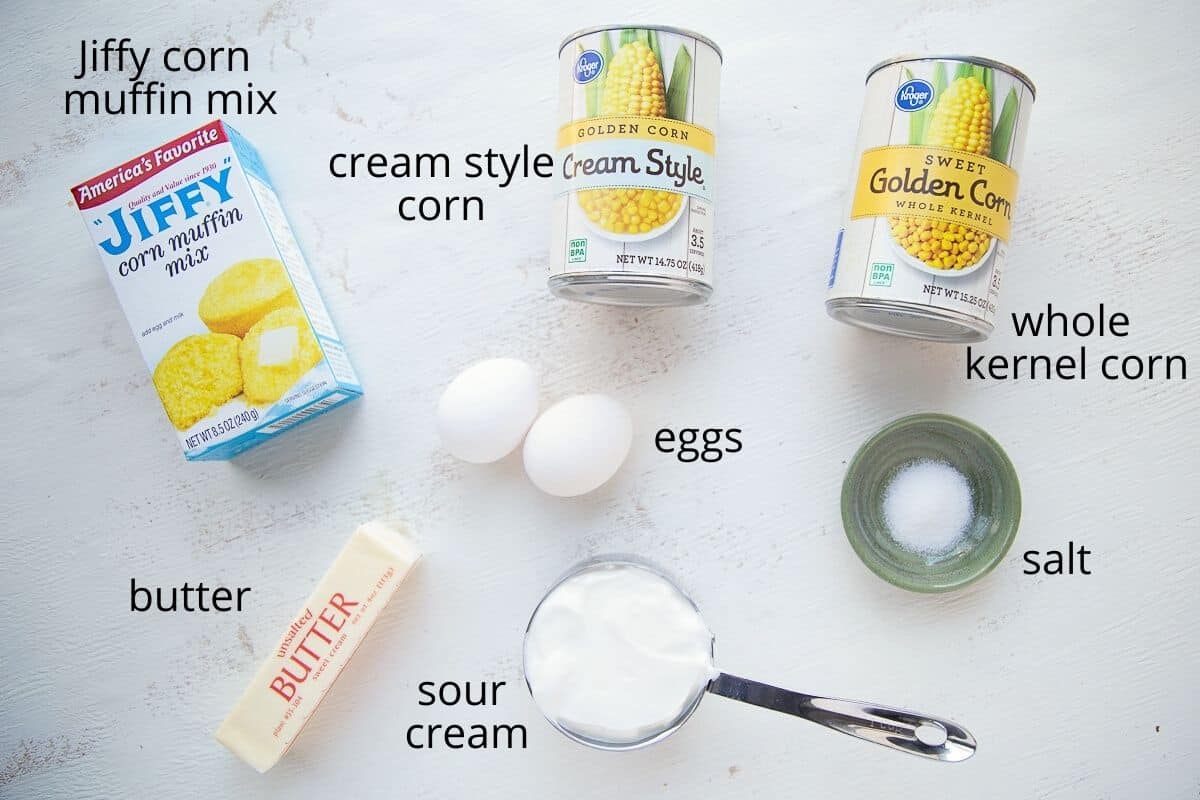 A box of Jiffy corn muffin mix is the secret ingredient here—it makes it so easy!
You'll need both whole kernel corn and cream-style corn (one can of each).
Sour cream keeps it moist and tender. I recommend using full fat sour cream.
It wouldn't be a casserole without butter, would it?
How to make easy creamed corn casserole with Jiffy mix
First, preheat the oven to 350°F. Then, grease or butter a 13×9 inch oven-safe baking dish.
Next, whisk together the Jiffy corn muffin mix, butter, salt, and eggs.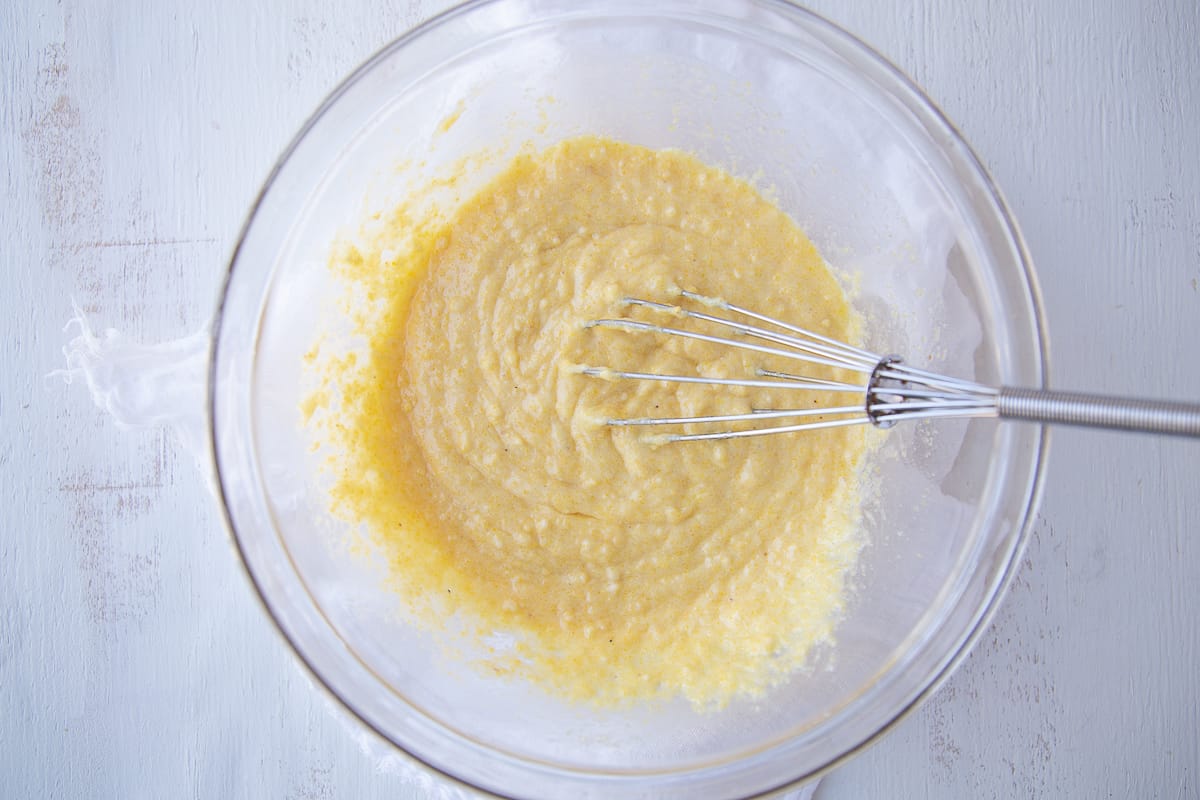 Then, use a spatula to fold in the drained whole kernel corn, the cream-style corn, and the sour cream.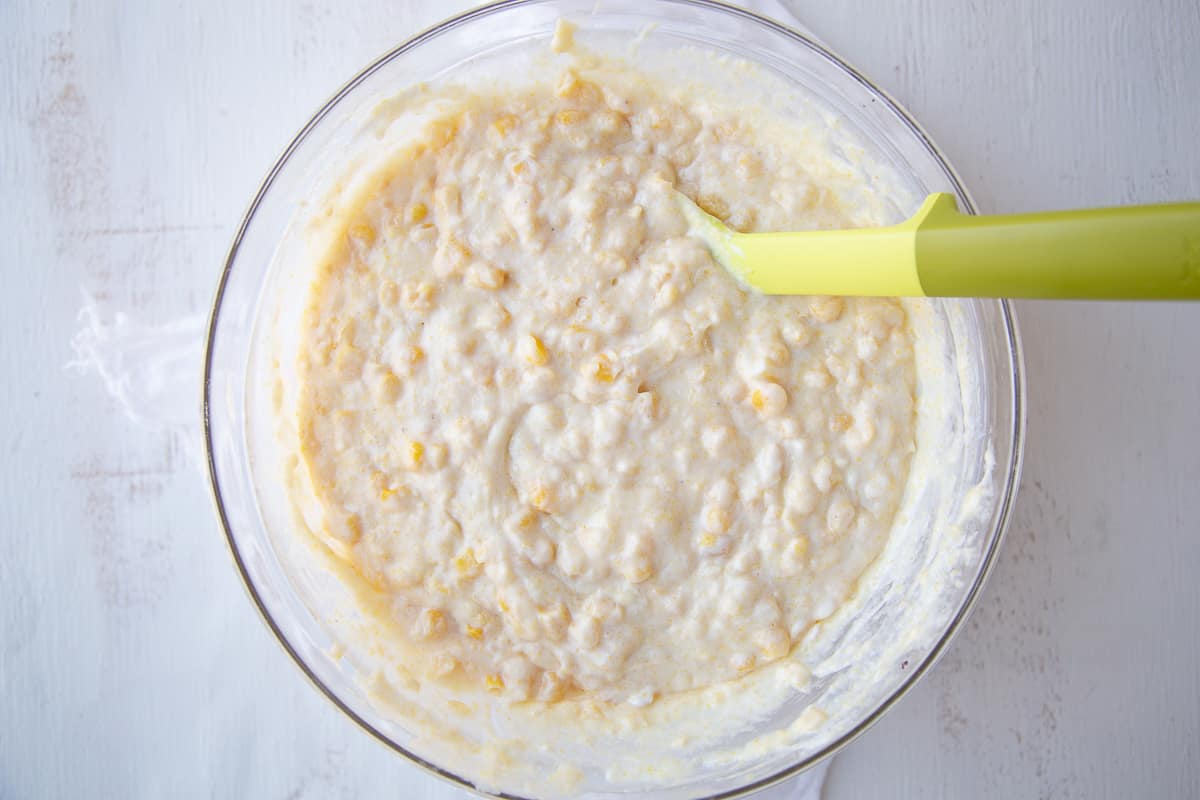 Pour the batter into the baking dish, and bake for 40–45 minutes. The center should no longer jiggle in the middle when you wiggle it, and the top will be beginning to brown lightly on the edges.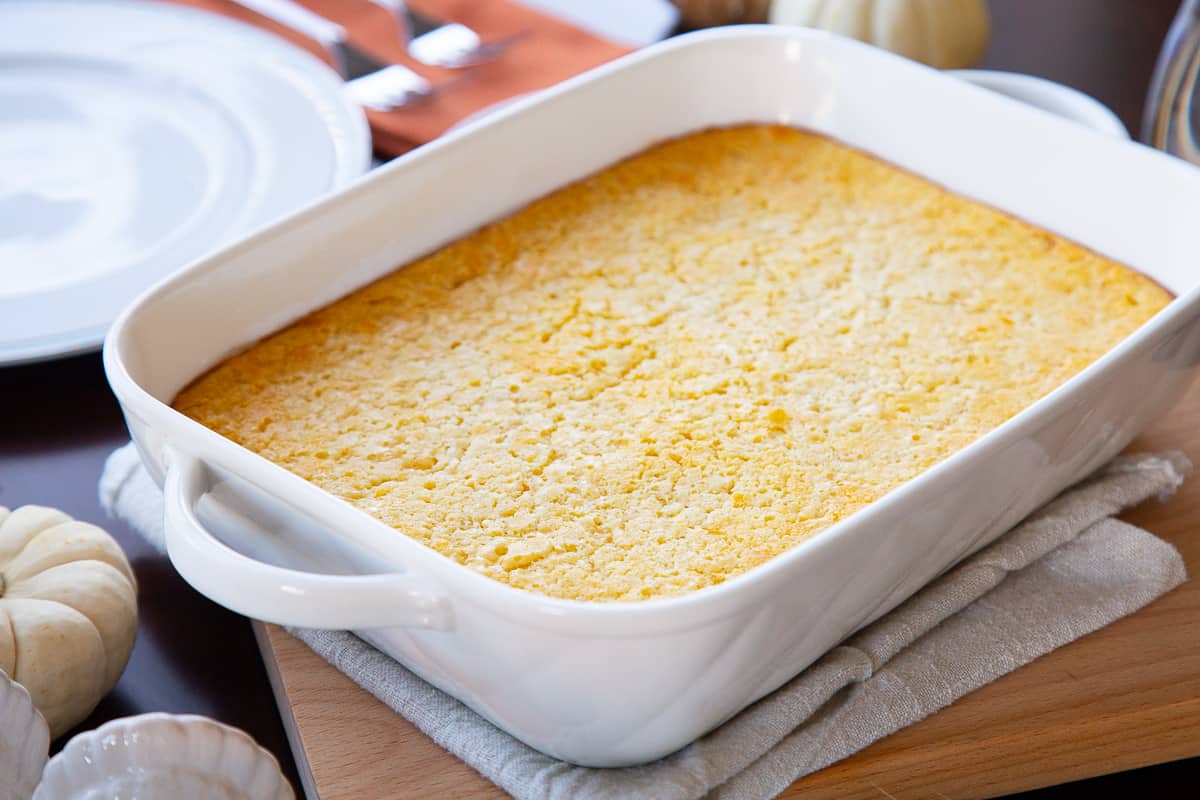 Can I make corn casserole in advance?
You can make corn casserole up to 1 day in advance. Prepare the casserole as directed, but instead of baking it, cover it with plastic wrap or foil, and place it in the refrigerator.
When you're ready to bake it, preheat the oven and bake according to recipe directions (you may need to add another 5 minutes because it will be cold from the refrigerator).
Storing and reheating
Store any leftover creamed corn casserole in the refrigerator in a covered dish. It can be reheated either in the microwave, or in the oven.
To reheat it in the oven, preheat the oven to 350°F. Bake the casserole for 12–15 minutes, or until warm throughout.
Frequently Asked Questions
Can I use frozen corn instead of canned corn kernels?
Substitute 1½ cups of frozen corn (defrosted) in place of the canned corn.
Can I use another size dish?
At holiday time, 13×9 inch dishes are hot commodities! If you don't have a 13×9 inch dish, you can use a slightly smaller dish for this, such as an 11×9 inch dish. A lot of decorative casserole dishes are often about that size. You could also use two 8×8 inch dishes (divide the batter evenly between them).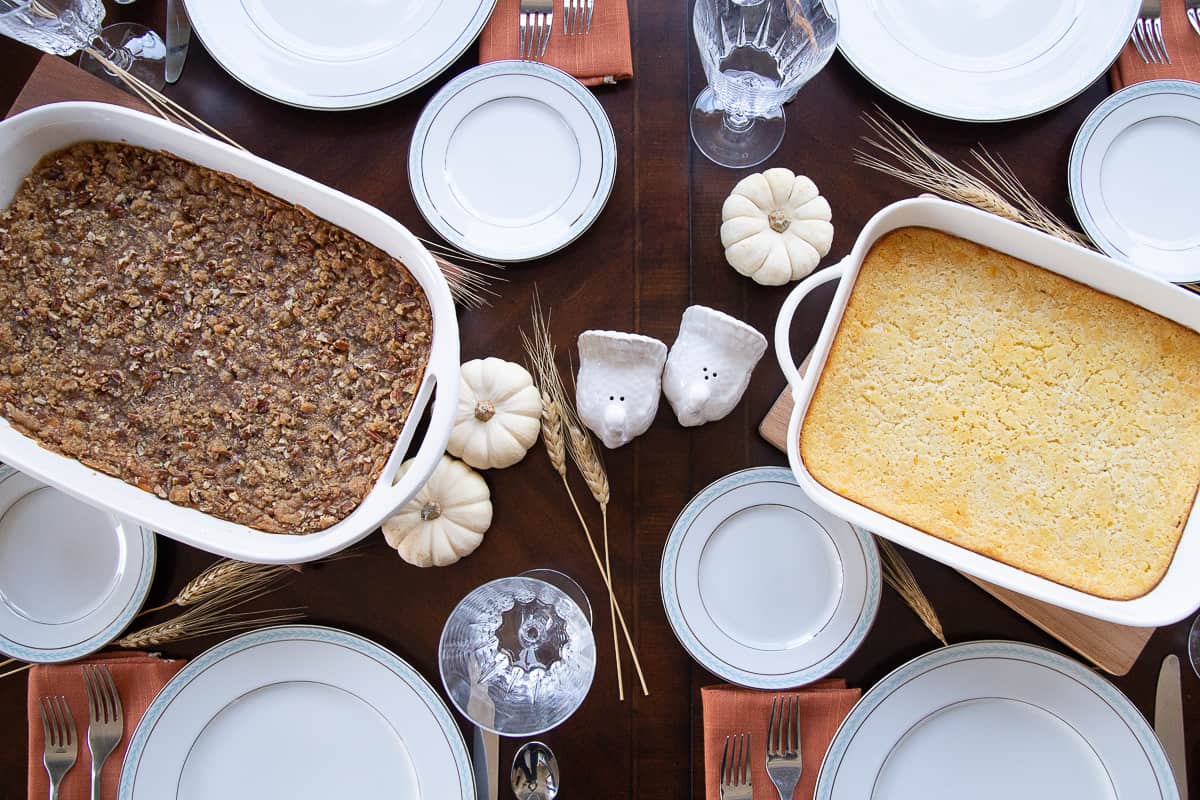 Corn casserole freezing instructions
Before baking: To freeze corn casserole before baking, prepare and bake the casserole as directed. Let it cool completely. Cover the casserole dish with a layer of plastic wrap, followed by a layer of foil. Freeze for up to 1 month.
Defrost the casserole in the refrigerator for 24 hours. Then, bake in a 350°F oven for 18–22 minutes, or until warm throughout.
After baking: You can also freeze slices of the casserole after baking. To do so, wrap slices in plastic wrap, and place in a resealable freezer bag. Freeze for 1–2 months.
Defrost in the refrigerator overnight, and then heat in the microwave or oven until warmed through.
More holiday side dishes
In my opinion, side dishes are the best part of a holiday! Maybe the pie, too. But many side dishes only get made a few times per year, so they're extra special when a holiday rolls around.
For a starter, Cream of Corn Soup is velvety and rich, without being too filling.
In addition to the Creamed Corn Casserole, Sweet Potato Casserole is a must-have on my table. Mashed Potato Casserole is another potato dish that everyone loves.
At Thanksgiving time, this Sourdough Stuffing is irresistible—it's soft on the bottom and crunchy on top. It happens to be vegetarian and even vegan if you have guests with special diets.
For the veggies, these Italian Green Beans add a gorgeous pop of color to the table. They're made on the stovetop, saving precious room in the oven for the rest of the meal. Or if you're a traditionalist, this 4-ingredient Easy Green Bean Casserole always gets rave reviews, as does this Easy Broccoli Casserole.
For the fruit, Cranberry Jell-O Salad is packed with cranberries and apples, and it's gorgeous to boot.
And if you're on the hunt for yet another corn dish, this Scalloped Corn with Bacon is so satisfying!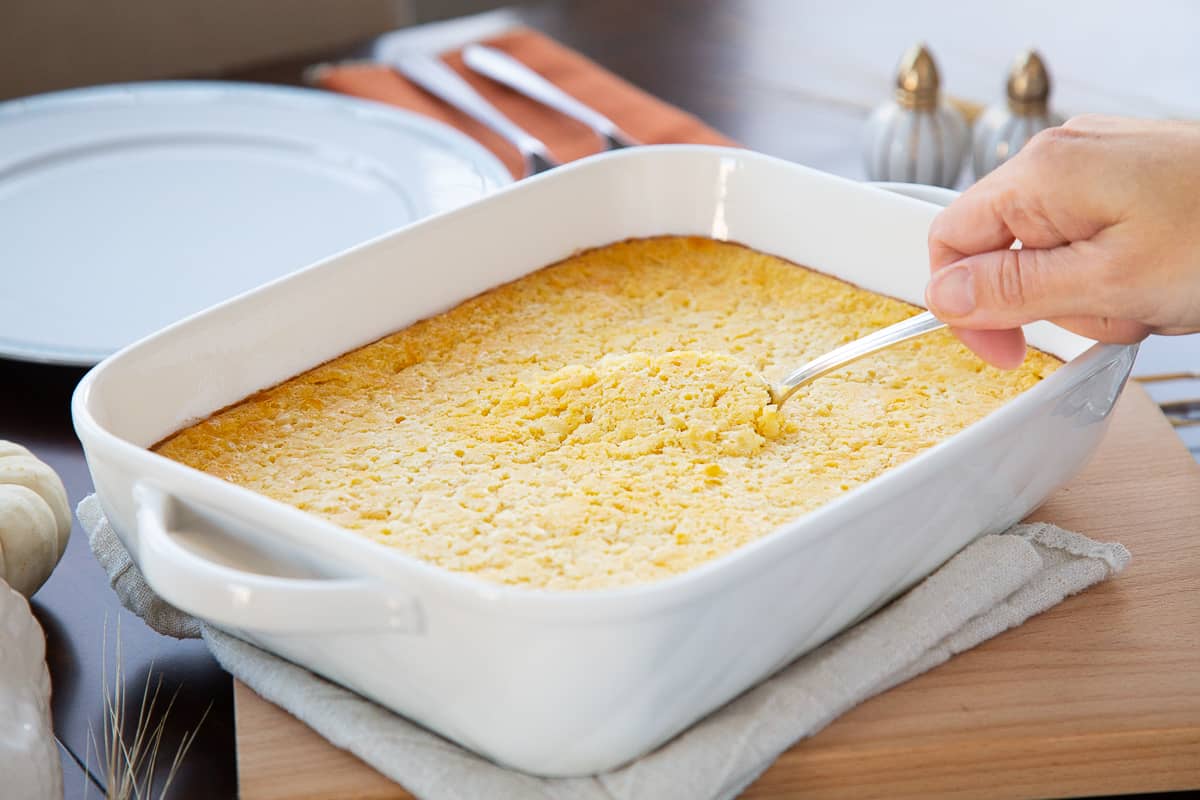 Have you tried this recipe? Please leave a ⭐️⭐️⭐️⭐️⭐️ rating and/or comment below!


📖 Recipe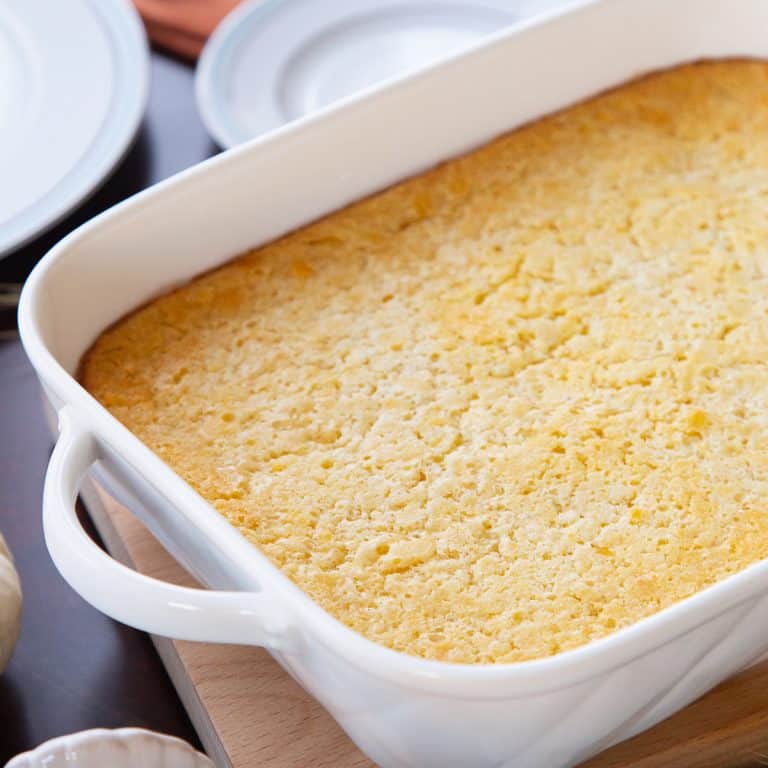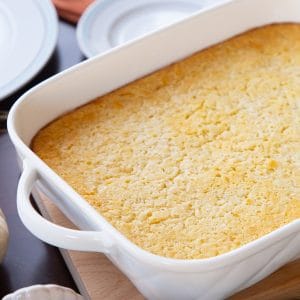 Easy Creamed Corn Casserole
This old fashioned casserole is so easy to make—just stir everything together and bake!
Ingredients
1

(8.5 oz) box Jiffy corn muffin mix

2

eggs

½

cup

(1 stick) butter,

melted

1

(15 oz) can whole kernel corn,

drained

1

(15 oz) can cream style corn

1

cup

sour cream

1

teaspoon

salt
Instructions
Preheat oven to 350°F. Grease a 13×9 inch pan with cooking spray or butter.

Whisk together the corn muffin mix, butter, eggs, and salt.

Stir in drained corn kernels, cream style corn, and sour cream.

Pour the mixture into the greased 13×9 baking dish. Bake for 45–50 minutes, or until the center no longer jiggles when shaken, and the casserole is beginning to brown slightly on top. Serve immediately.
Notes
You can use a slightly smaller dish, such as an 11×9 inch pan, with good results. The casserole will be taller with a smaller dish. But a 13×9 inch pan, as written in the instructions, works great too!
You can substitute 1

½

cups of frozen corn (defrost it first) for the canned corn.
Make it ahead: prepare the casserole as directed but don't bake it. Instead, cover it with plastic wrap or foil, and refrigerate for up to 24 hours. When you're ready to bake it, preheat the oven and bake as directed. You may need to add an additional 5 minutes because the casserole is cold.
Nutrition
Calories:
363
kcal
Carbohydrates:
37
g
Protein:
6
g
Fat:
22
g
Saturated Fat:
12
g
Cholesterol:
87
mg
Sodium:
798
mg
Potassium:
207
mg
Fiber:
3
g
Sugar:
10
g
Vitamin A:
684
IU
Vitamin C:
3
mg
Calcium:
60
mg
Iron:
1
mg
Related recipes