This Easy Vegan Stuffing is the perfect mix of soft on the bottom and crispy on top. And it's made without eggs so it's allergy-friendly and vegan!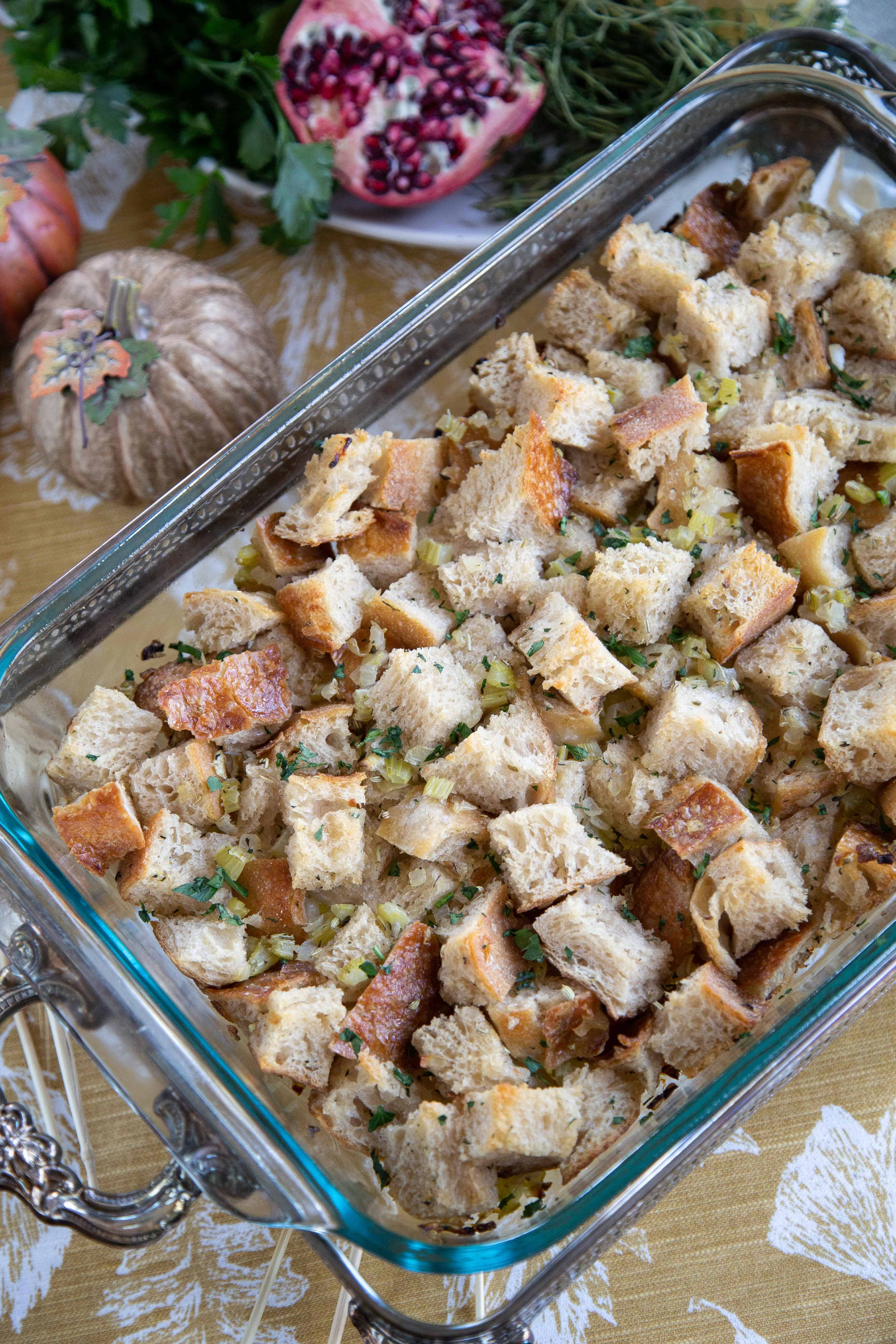 Stuffing is a fixture on many Thanksgiving tables, and I wanted a way for my vegetarian and vegan friends to enjoy it, too. This easy Vegan Stuffing is the answer, and everyone loved it!
Traditional stuffing is made with eggs, butter, and chicken stock. This recipe is made without eggs, vegetable stock, and either vegan butter or olive oil.
I initially created this recipe to share at a Friendsgiving. The hosts had invited a few international students, one of which was vegetarian.
It was her first American Thanksgiving and she left raving about it (which made me so happy!). She explained how American movies are popular in her home country (India), and she loved how everyone sitting at the table eating dinner was similar to the scenes she had seen in the movies. I just love that. 🙂
Since this was her first Thanksgiving, I wanted to make sure she could try as many of the dishes as possible. I was in charge of stuffing, so I created this recipe without the eggs so she could enjoy it.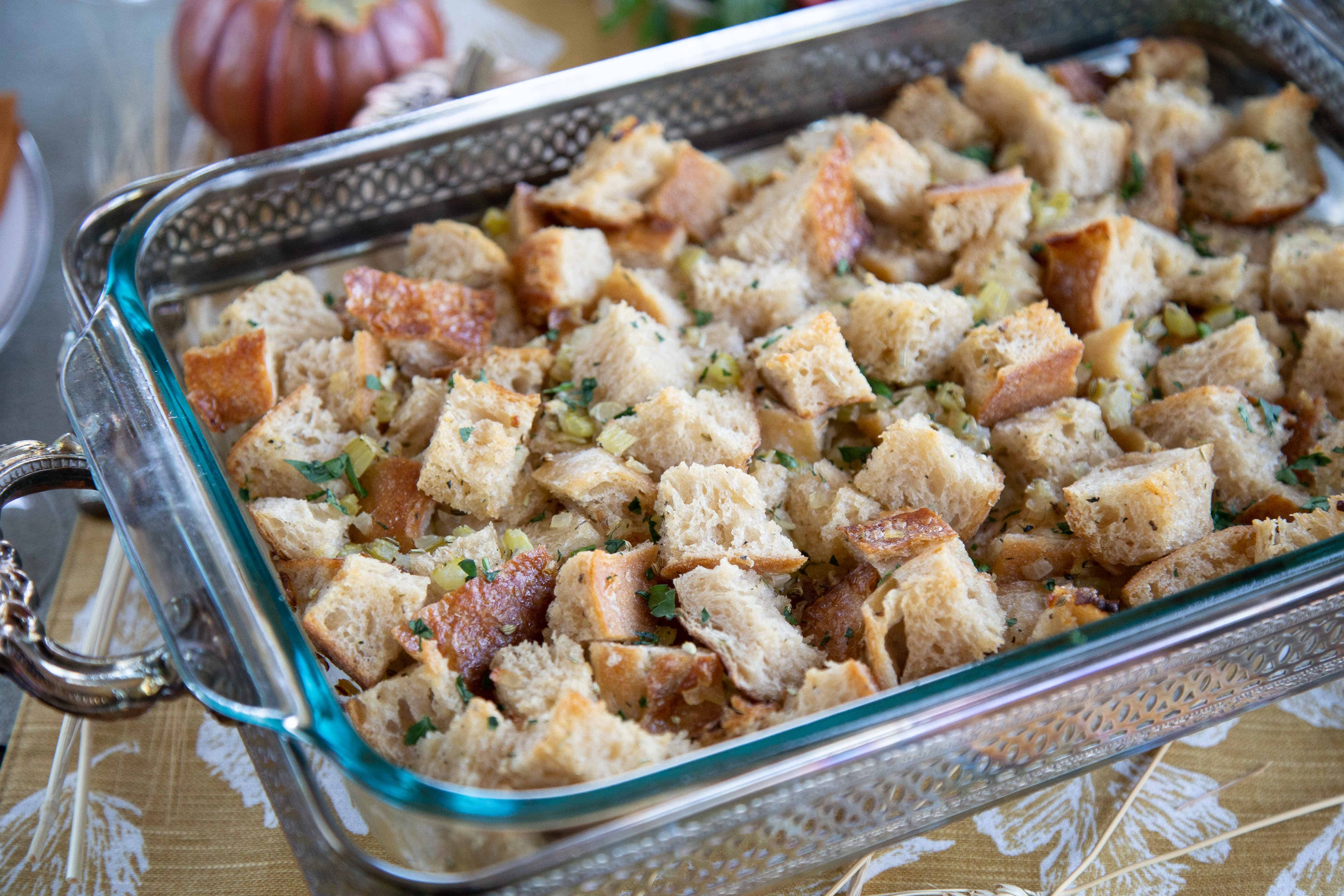 Ingredients
You'll need a 1-pound loaf of sourdough bread. Check the label to ensure that it's vegan (most sourdoughs are vegan).
Chopped onions and celery add lots of savory flavor.
Thyme, fennel seeds, and dried rosemary complement the onions and celery and enhance the flavor of the dish.
Vegetable stock (I used low sodium) brings the stuffing together.
How to make vegan stuffing
1. Cut a 1-pound loaf of sourdough bread into ¾ inch cubes. Bake for 20 minutes in a 350°F oven, or until the bread is hard to the touch.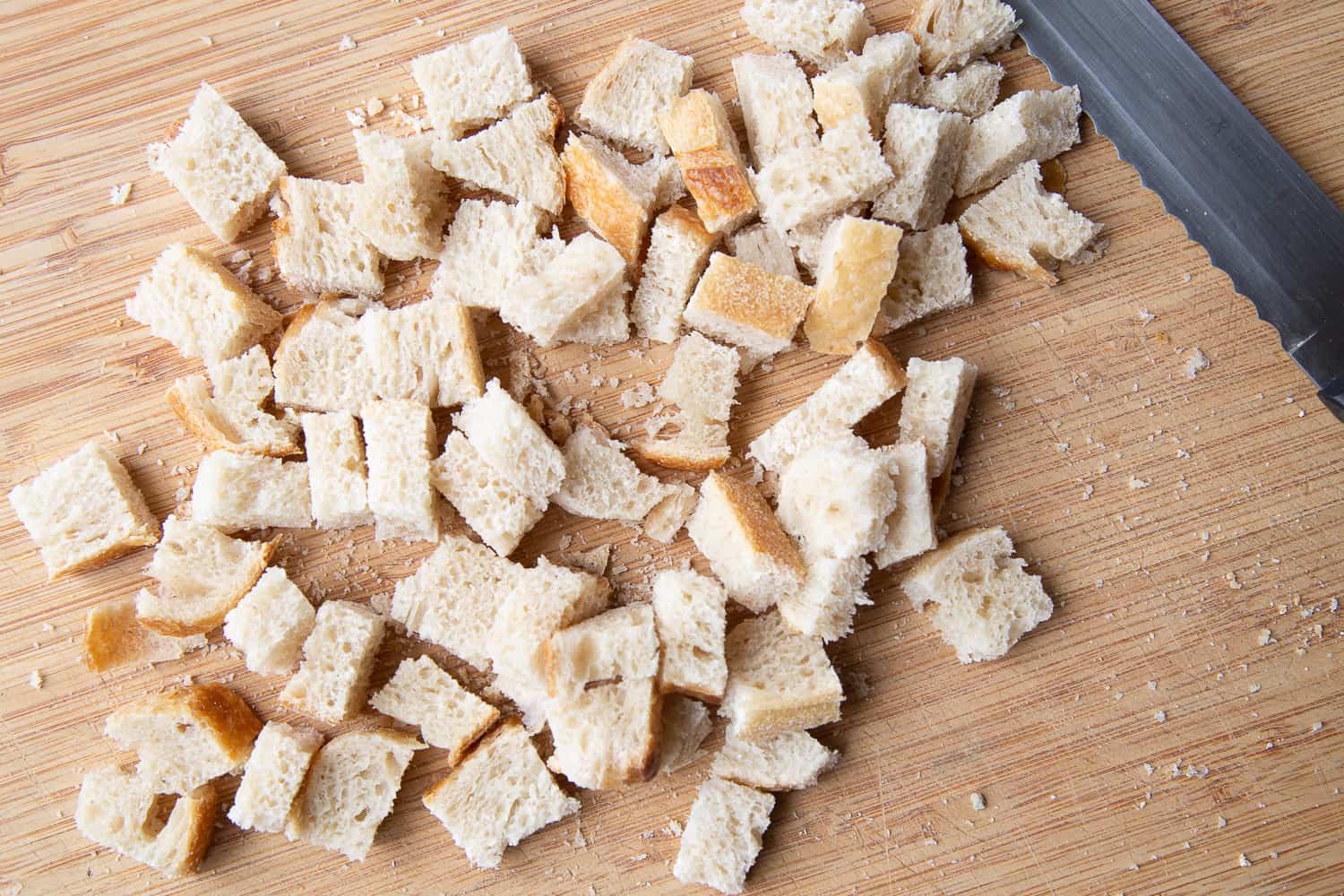 You can do step #1 up to two days in advance, which will save some time and dishes on Thanksgiving Day. Drying the bread allows it to soak up the vegetable stock as it cooks.
2. Sauté the celery and onion in either vegan butter or olive oil. Then, add the thyme, fennel seeds, dried rosemary, and salt.
The fennel seeds give it an almost meat-like flavor (which is fitting since fennel is the predominant spice in many sausages), which will make the meat eaters happy!
3. Place the bread in a large bowl, and pour the celery and onion mixture over the top. Pour in the vegetable stock and toss gently with your hands or a spatula.
4. Place the bread mixture in a 13×9 inch baking dish and bake for 35–40 minutes.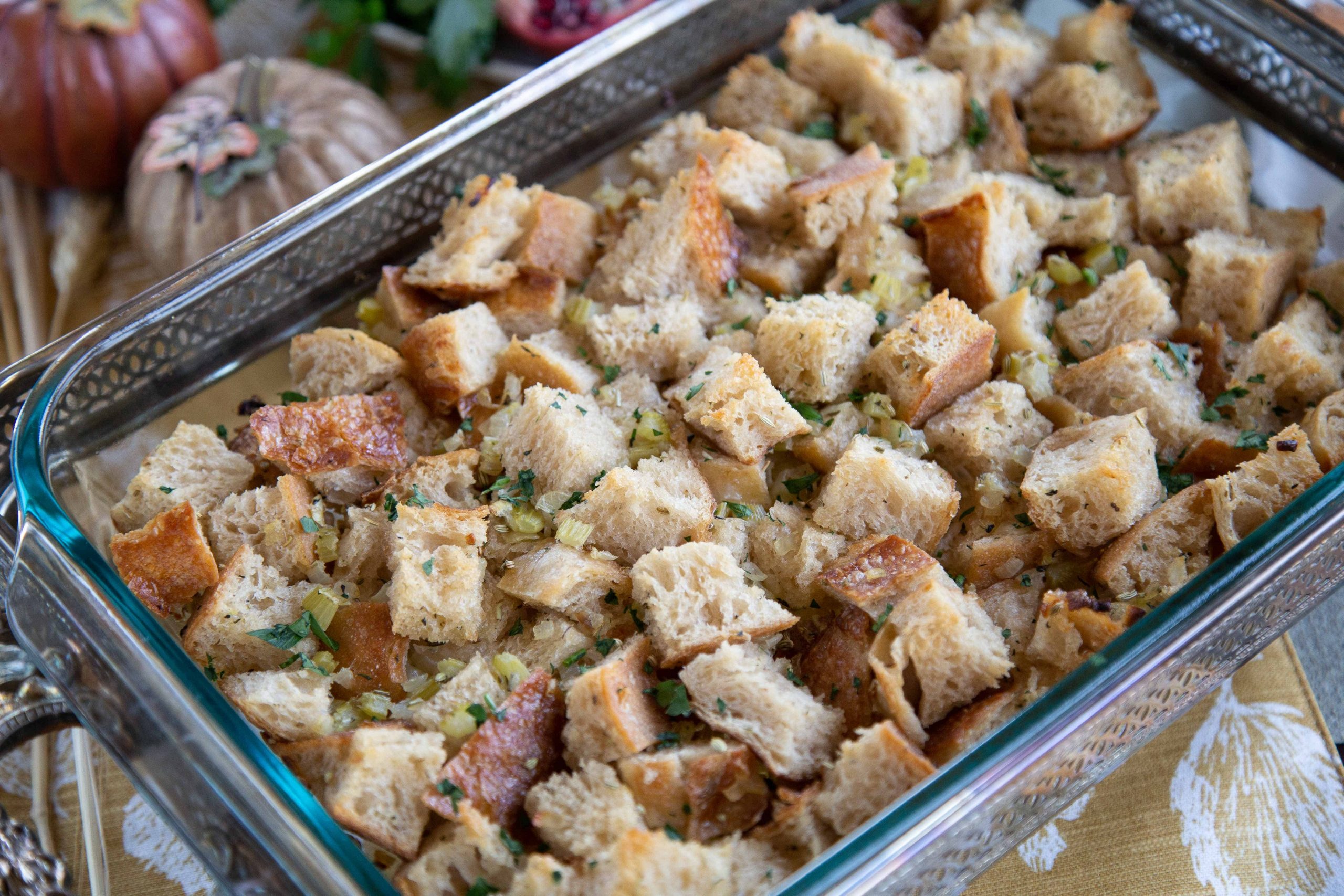 It is best served right out of the oven.
Timing Thanksgiving dishes
This stuffing bakes for 35–40 minutes at 350°F. Many turkeys roast at 350°F, too, but you might not have the oven space for both (plus any other side dishes).
I recommend putting the stuffing into the oven immediately after you take the turkey out. The turkey will need to rest for about 15–20 minutes before carving it. Then carving it will take another 15–20 minutes (depending on how fast you carve).
So the stuffing will be done right when the turkey is ready to be served.
More Thanksgiving recipe ideas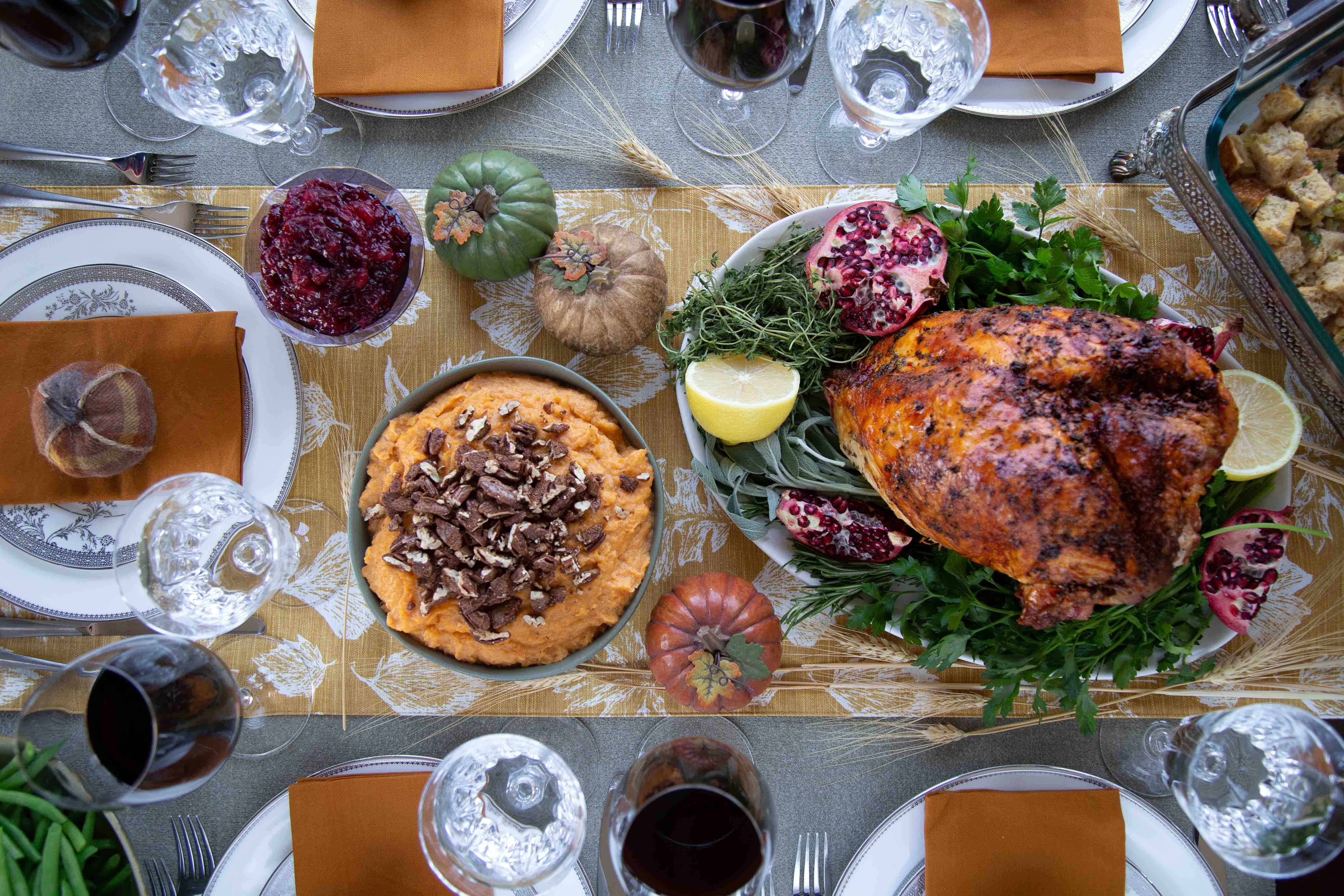 For this spread, I served the vegan stuffing with:
Lemon Herb Roasted Turkey Breast
Mashed Sweet Potatoes with Spiced Pecans
Apple Cranberry Sauce
You can find even more Thanksgiving recipes on this page, too!
If you make this recipe, please leave me a comment below, or tag me on Instagram or Pinterest. I love hearing from you!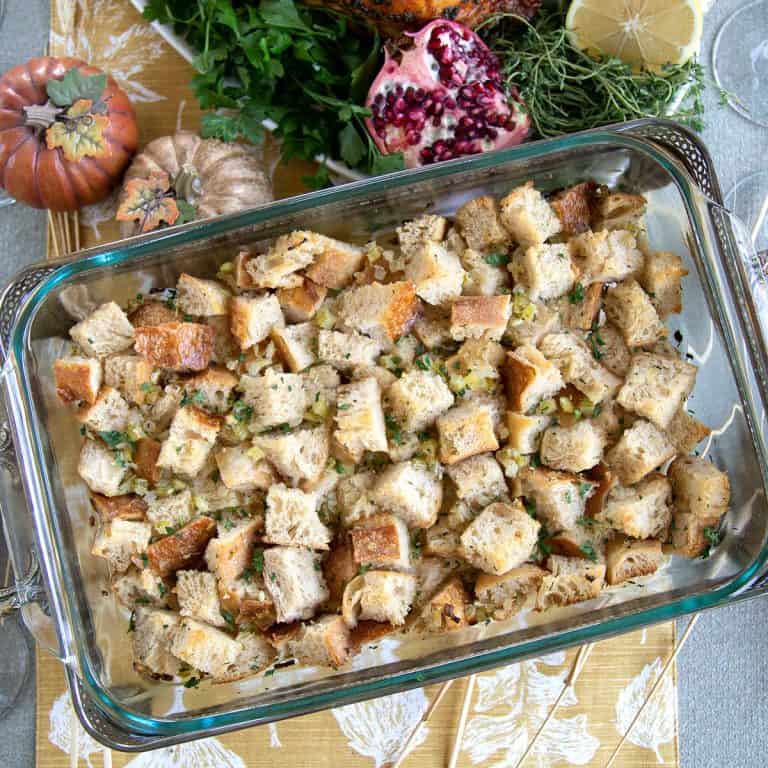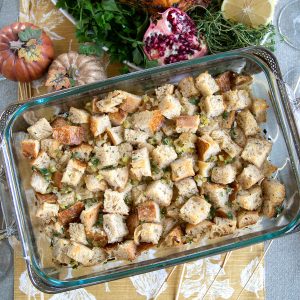 Vegan Stuffing with Sourdough Bread
There are no eggs to be found in this simple-to-make stuffing. The assortment of herbs and fennel seed punches up the flavor and complements the sourdough bread nicely.
Ingredients
1

lb

loaf sourdough bread

6

tablespoons

unsalted vegan butter OR olive oil

1

small yellow onion,

finely diced

2

stalks celery,

finely diced

1

teaspoon

fresh thyme leaves,

chopped (or substitute ½ teaspoon dried thyme)

1

teaspoon

fennel seeds

½

teaspoon

dried rosemary

½

teaspoon

kosher salt

2½

cups

low-sodium vegetable stock
Instructions
Preheat oven to 350°F. Cut the bread into 1-inch cubes (does not have to be perfect—rustic is good!). Place in a single layer on a large baking sheet. Bake for 20 minutes, or until the bread cubes are dry to the touch. You can do this up to 2 days ahead.

Melt the butter in a medium sauté pan over medium heat. Add the diced onion and celery. Cook, stirring occasionally, until the celery is soft and the onion is translucent, about 4–5 minutes. Stir in the thyme, fennel seeds, rosemary, and salt.

Increase oven temperature to 375°F. Grease a 13x9 inch baking dish with cooking spray or butter. Place the dried bread cubes in a large bowl. Add the onion and celery mixture, and pour the stock over the top. Toss gently to combine (I use my hands).

Pour the bread mixture into the greased baking dish. Bake for 35–40 minutes, or until the top is toasted. Garnish with fresh parsley, if desired, and serve immediately.
Notes
Earth Balance makes a great tasting vegan butter. You can also use olive oil, canola oil, or vegetable oil instead of the vegan butter.
Nutrition
Calories:
325
kcal
Carbohydrates:
44
g
Protein:
9
g
Fat:
13
g
Saturated Fat:
8
g
Cholesterol:
30
mg
Sodium:
585
mg
Potassium:
114
mg
Fiber:
2
g
Sugar:
2
g
Vitamin A:
366
IU
Vitamin C:
2
mg
Calcium:
43
mg
Iron:
3
mg