This Cuban-inspired recipe is perfect for grilling! You just need six ingredients to create this tender skirt steak with a flavorful chimichurri sauce.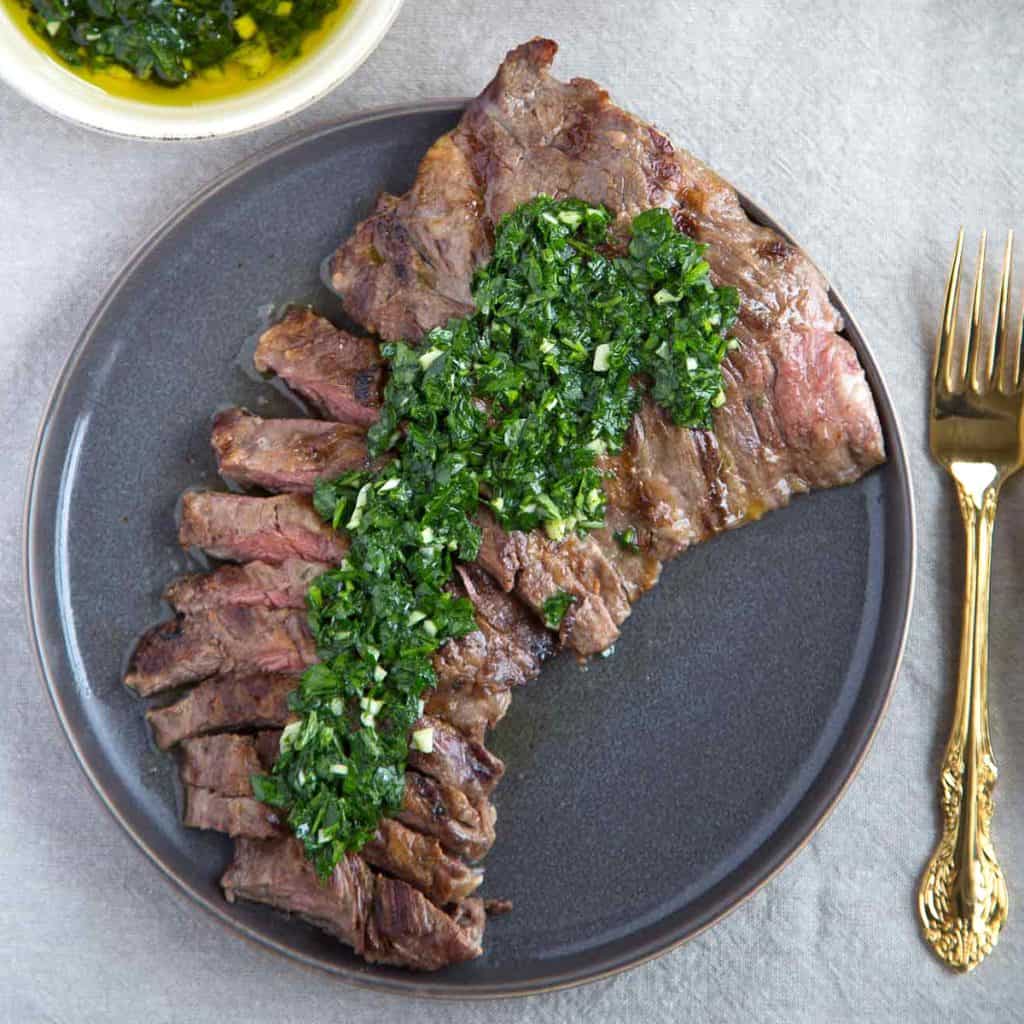 Last weekend, six of us sat down to a meal of Cuban Skirt Steak with Chimichurri Sauce. It's six ingredients, uncomplicated, and really delicious—a winning recipe for a low key dinner party.
I also make this recipe frequently for weeknight dinners, because it's so quick and easy to make—you just need 20 minutes.
The inspiration for the recipe comes from Havana, a Cuban restaurant in West Palm Beach. Their Bistec Especial Havana—grilled skirt steak topped with chimichurri—was incredible, and I knew I had to re-create it at home. I also re-created their Cuban black beans and rice!
The end result is so close to the original, and one that I have my menu rotation for my own family. Everyone who tries it, loves it!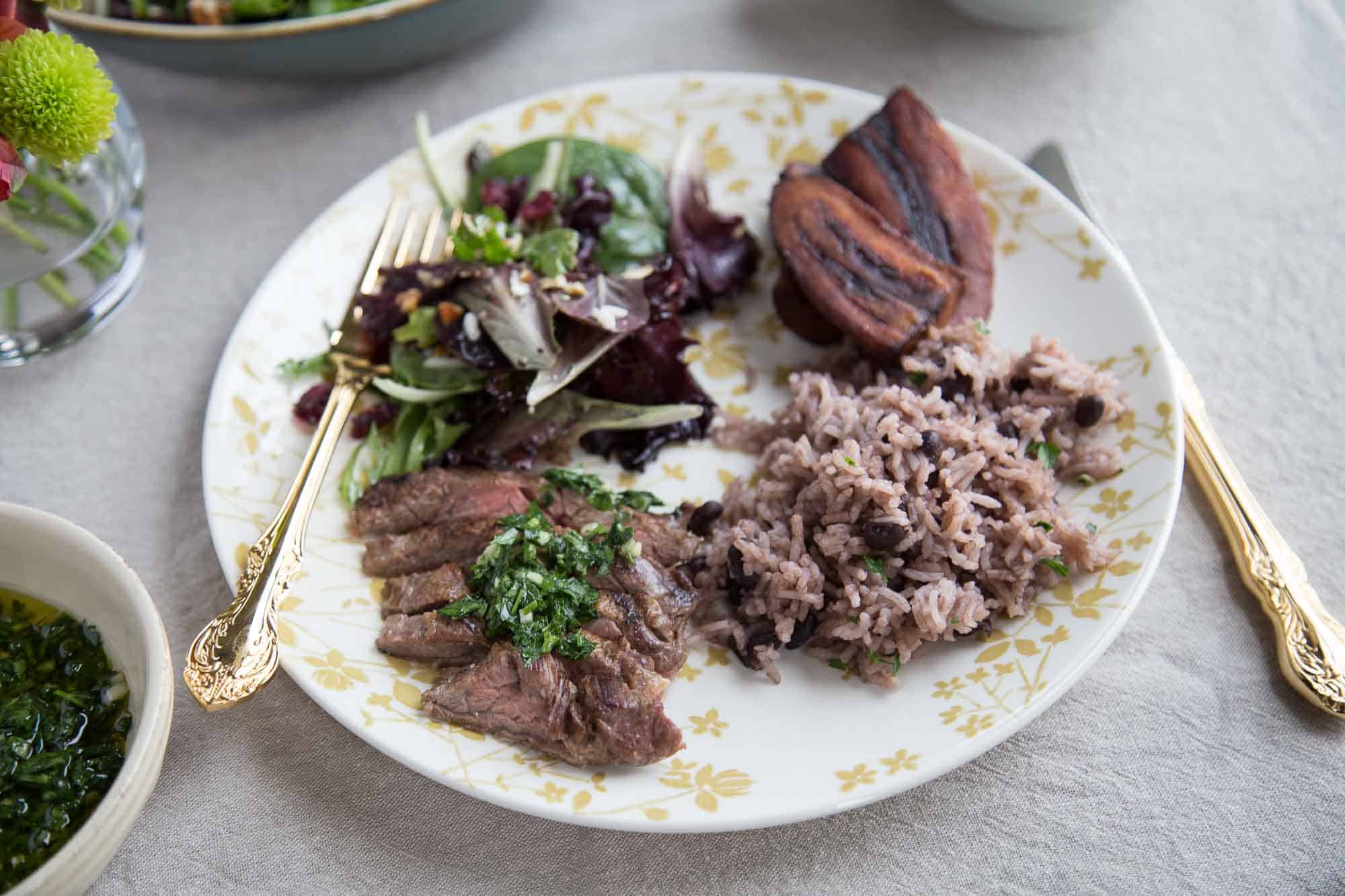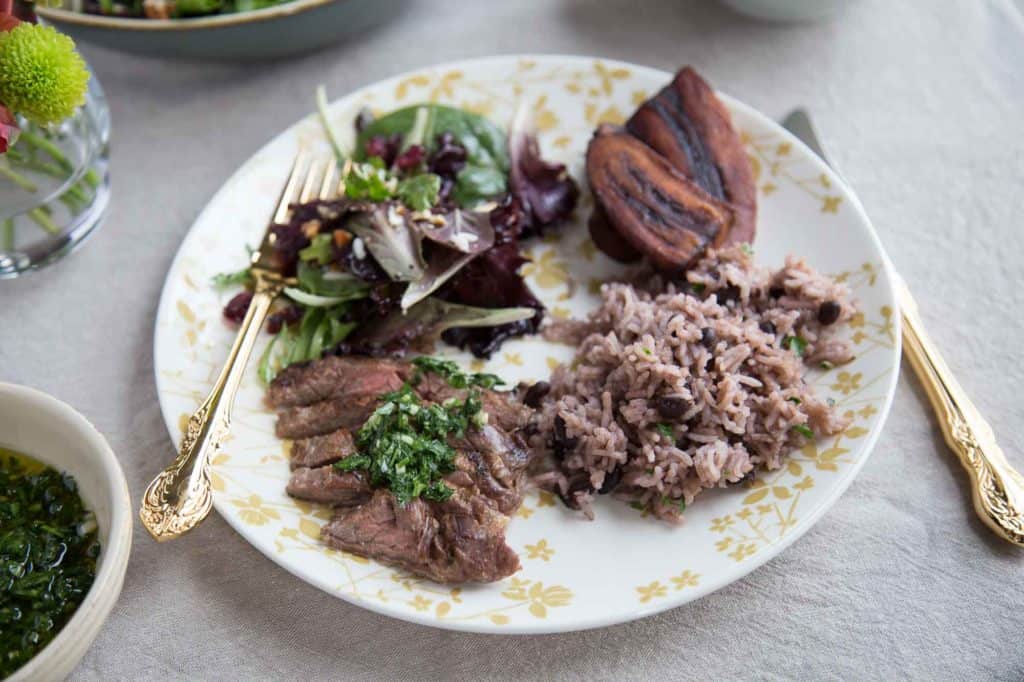 This post contains affiliate links. Affiliate links support Gift of Hospitality at no additional cost to you. I receive a commission if you choose to make a purchase through these links.
Jump to:
Buying skirt steak
Skirt steak is one of my favorite steaks to grill. It's a thin cut that's packed with flavor, and it cooks in minutes. I found it at my local grocery store for $9/lb, and the butcher recommended inside skirt steak, which is more tender than outside skirt steak.
I estimate about 8 oz of skirt steak per person, so that's $4.50 per person on steak. The rest of the meal was low-cost (rice, beans, plantains, salad), so the all-in cost was about $6–$7/person. Not cheap, but not too bad for serving steak!
What is chimichurri sauce?
Chimichurri sauce is an uncooked sauce made with fresh parsley, olive oil, garlic, and red wine vinegar. It's popular in Argentina and Uruguay, and was adopted into Cuban cuisine.
It has a bright, fresh flavor that perfectly complements grilled meat.
The chimichurri sauce recipe calls for four cloves of raw garlic that don't get cooked. To avoid breath that'll scare away vampires, I take the edge off the garlic by letting it sit in red wine vinegar for 5 minutes.
The sharpness of the garlic diminishes nicely thanks to the acid, and you're left with garlic flavor instead of the oftentimes harsh flavor of raw garlic. This technique works well with recipes that call for raw onions or shallots, too!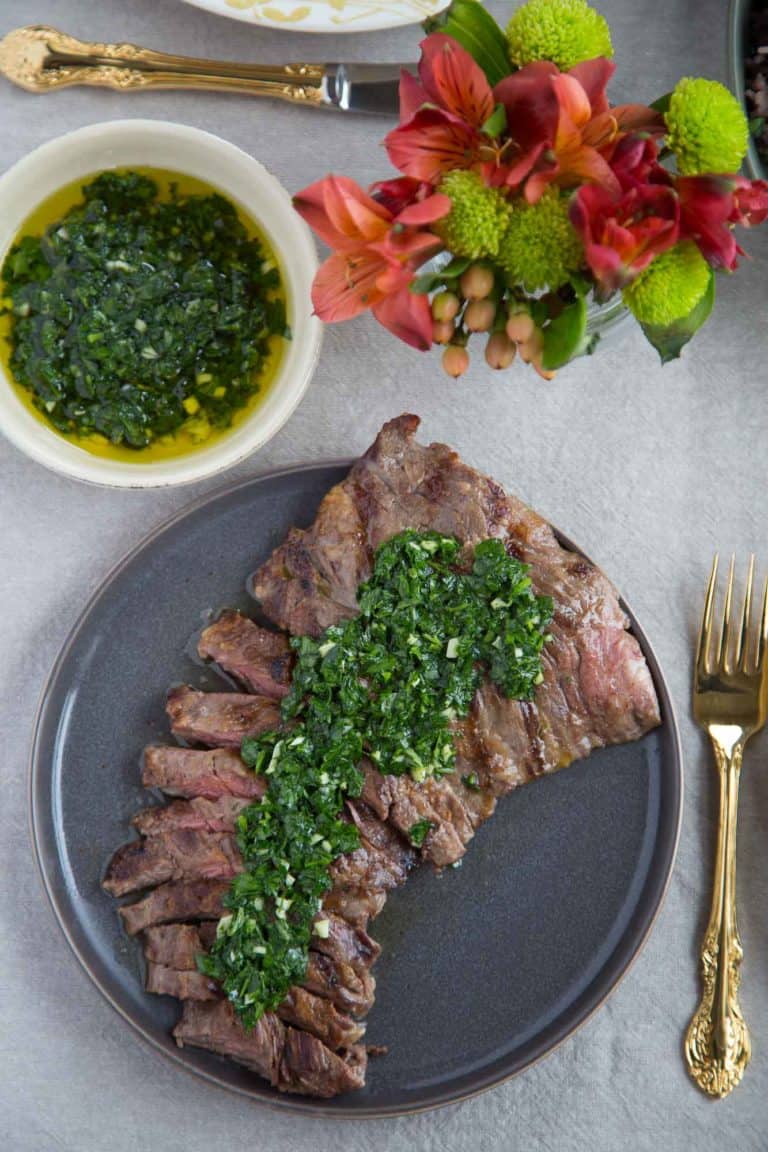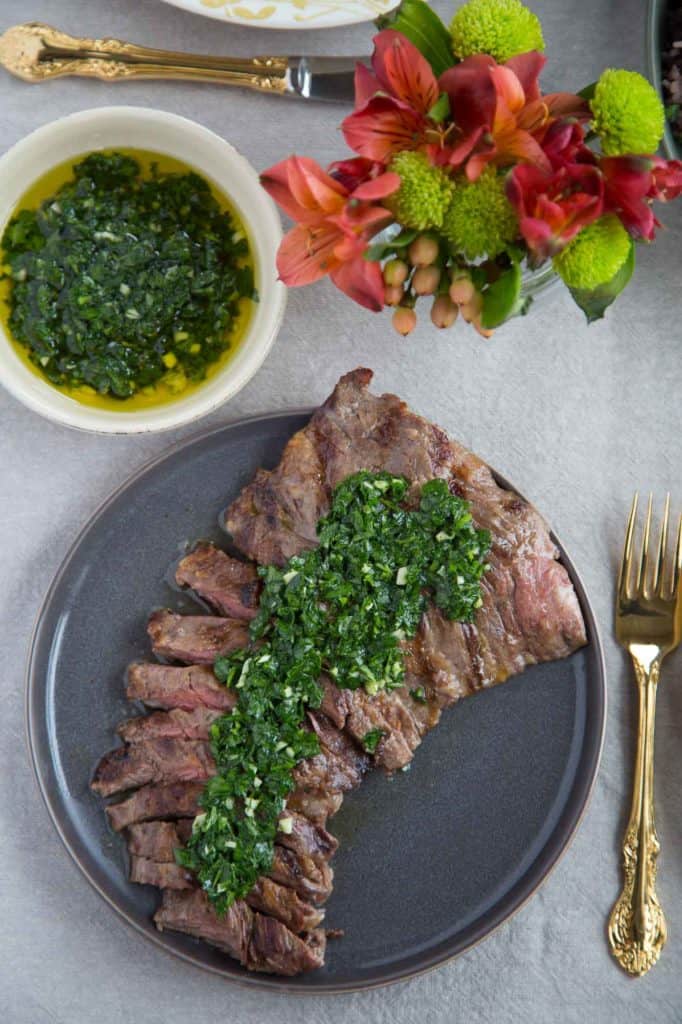 Ingredients
Skirt steak is the base of this recipe. I like to purchase inside skirt steak, which is more tender than outside skirt steak. You can also use flank steak.
Fresh parsley forms the base of the chimichurri. I use flat leaf parsley.
Four cloves of garlic add tons of flavor. Soak the minced cloves in red wine vinegar to take away some of the fresh garlic "bite"!
Extra virgin olive oil and salt round out the recipe.
How to make chimichurri
Start by gathering the ingredients: fresh parsley, olive oil, garlic, red wine vinegar, and salt.
Finely chop the garlic (or use a garlic press) and place in a medium bowl. Pour the red wine vinegar over the top. Let the mixture sit while you chop the parsley—the vinegar will mellow the "bite" of the fresh garlic.
Finely chop the parsley and place in the bowl with the garlic. Pour the olive oil over the top, and season with salt. Let the mixture sit while you grill the steak.
Tips for grilling skirt steak
Medium-high heat is essential for grilling skirt steak. Since it's a thin cut of meat, it cooks quickly, and you want nice grill marks on the outside.
As the grill heats to medium-high, pat the steak dry with paper towels. Any liquid on the steak can produce steam, which inhibits the steak from getting good grill marks.
Season the steak on both sides with salt and pepper.
Place the steak on the grill, cover, and let it sit for 2–3 minutes. Do not move it! Then, carefully flip the steak, cover, and grill for 2–3 minutes more. At medium-high heat, those time frames will usually cook the steak to medium.
Take the steak off the grill, cover, and let it sit for 5 minutes before slicing. This helps the juices redistribute in the meat, so they don't run out all over the cutting board.
Slice the steak against the grain into half-inch pieces. Then, top with the chimichurri.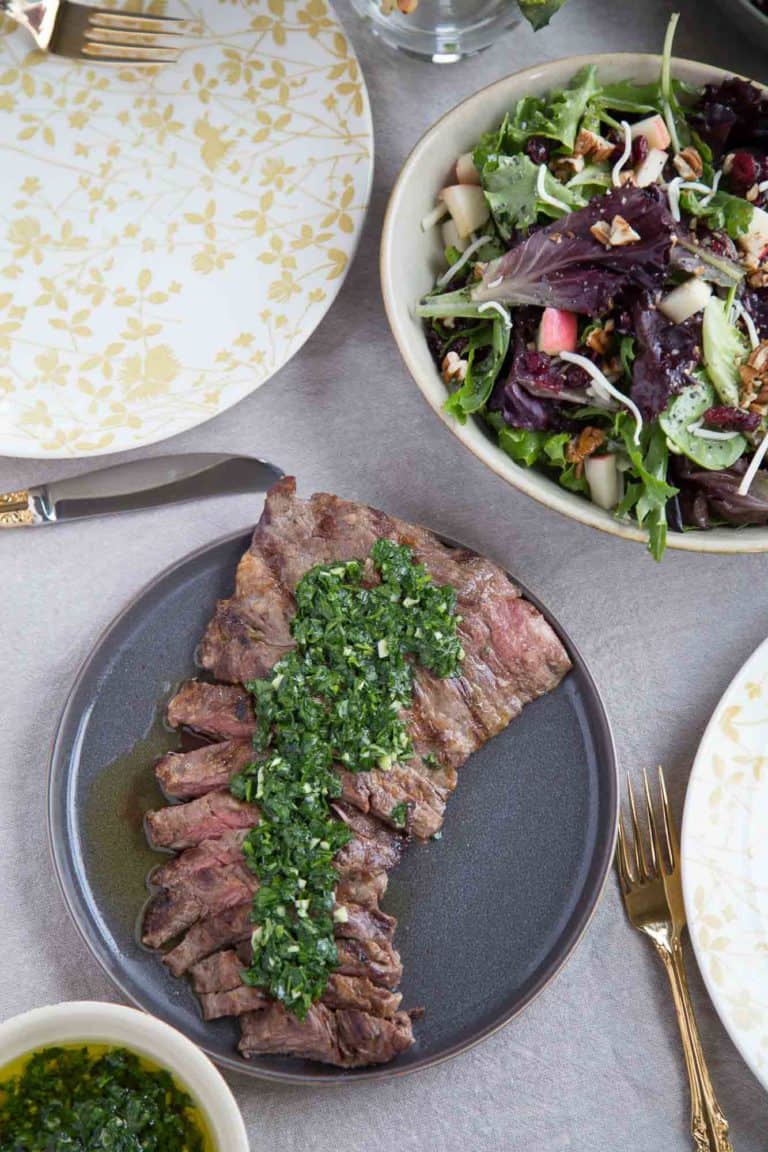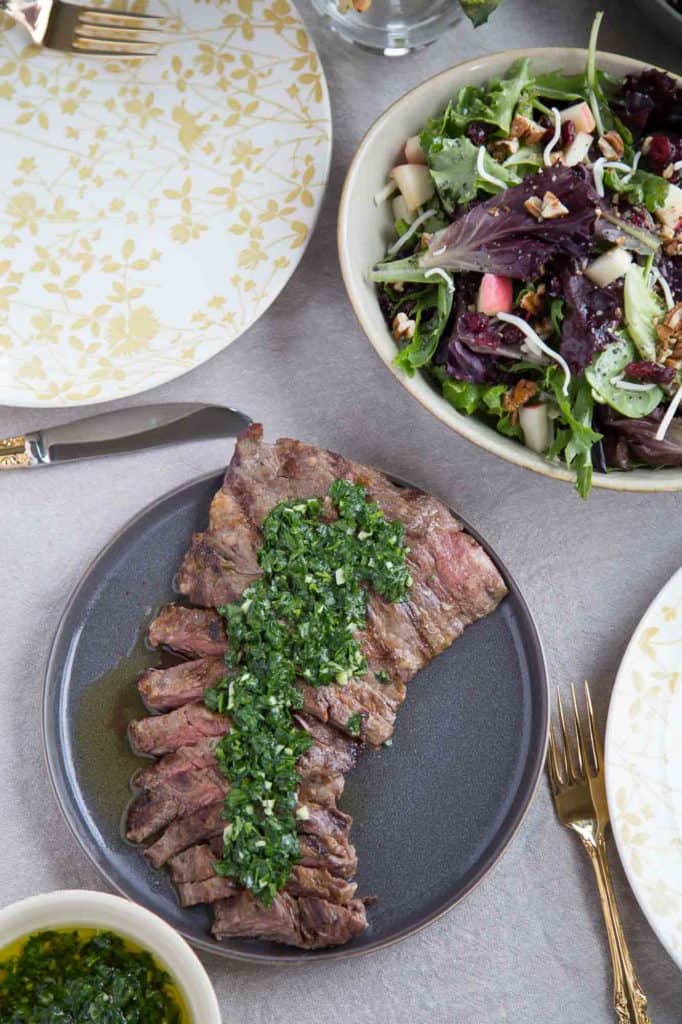 Serving suggestions
I served the Cuban Skirt Steak with Chimichurri Sauce with my take on Cuban black beans and rice, fried plantains, and what I call Church Lady Salad. It's a leafy green salad topped with apples, pecans, and a poppyseed dressing.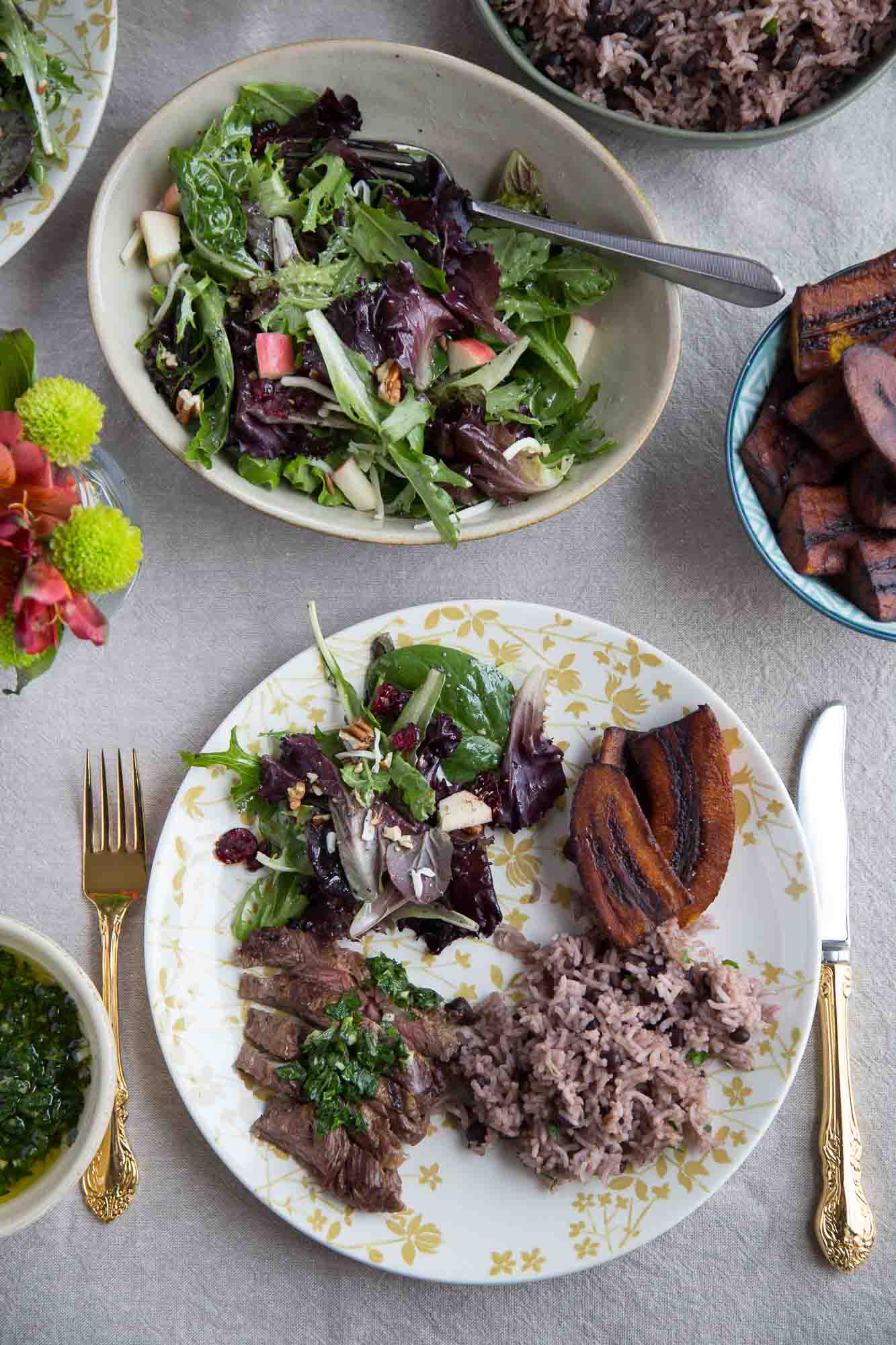 A conversation starter for dinner
My guests know to be prepared for dinner table conversation starters, so I asked them this one: "If you could pass along any family tradition, what would it be?".
We heard stories of mariachi birthday songs in Mexico and a Korean new year's tradition that involved kids getting a chunk of cash from their elders.
And mine? It would be that our family get-togethers and holidays would include open invitations to friends or acquaintances, perhaps people who are far from home or without family of their own to celebrate with.
My parents' table was always open to unexpected guests, and they've hosted many guests at our family dinners over the years. I hope to continue the tradition.
Have you tried this recipe? Please leave a ⭐️⭐️⭐️⭐️⭐️ rating and/or comment below!
---


---
📖 Recipe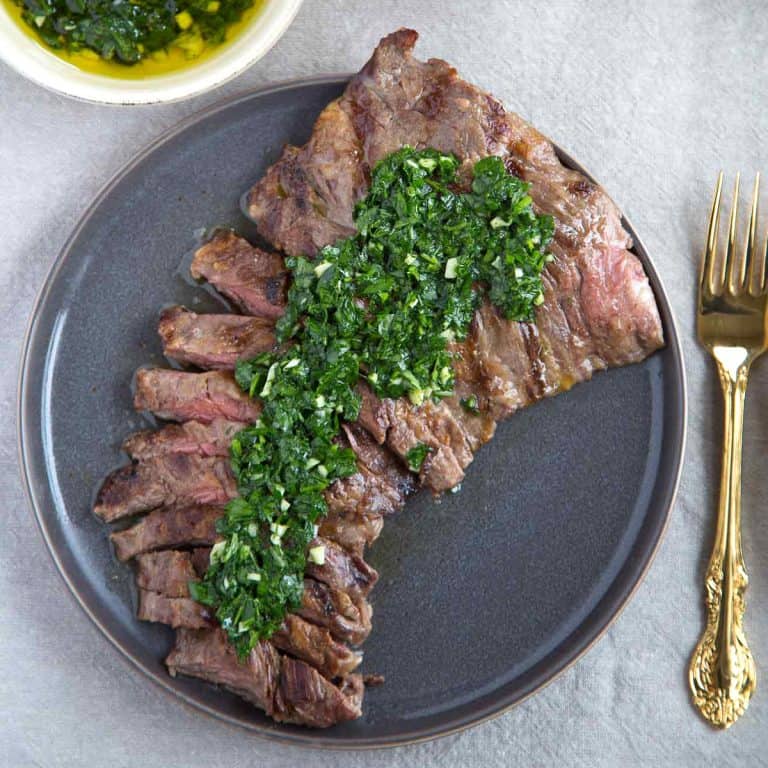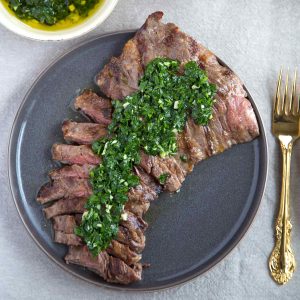 Cuban Skirt Steak with Chimichurri Sauce
A quick, no-fuss dinner that's ideally suited for company or dinner at home with the family!
Ingredients
3

lbs

skirt steak

4

garlic cloves,

minced

1

teaspoon

red wine vinegar

¾

cup

chopped fresh parsley

½

cup

extra virgin olive oil

1¾

teaspoons

kosher salt,

divided
Instructions
Preheat a grill over medium high heat.

Sprinkle the skirt steak on both sides with 1½ teaspoons kosher salt.

Combine the garlic and red wine vinegar in a small bowl. Let sit for 5 minutes to mellow the flavors of the garlic.

Add the parsley, olive oil, and ¼ teaspoon salt. Stir to combine.

Grill the skirt steak for 2–3 minutes per side for medium, or until cooked to your liking.

Remove and let sit for 5 minutes.

Slice the steak on a bias against the grain.

Transfer to a serving platter and top with half of the chimichurri sauce. Serve with the remaining chimichurri sauce.
Nutrition
Calories:
510
kcal
Carbohydrates:
1
g
Protein:
49
g
Fat:
35
g
Saturated Fat:
9
g
Cholesterol:
143
mg
Sodium:
833
mg
Potassium:
704
mg
Fiber:
1
g
Sugar:
1
g
Vitamin A:
650
IU
Vitamin C:
10
mg
Calcium:
24
mg
Iron:
5
mg
Related recipes