If you like spicy, this is the sauce for you! You just need three ingredients, five minutes, and a blender to make it.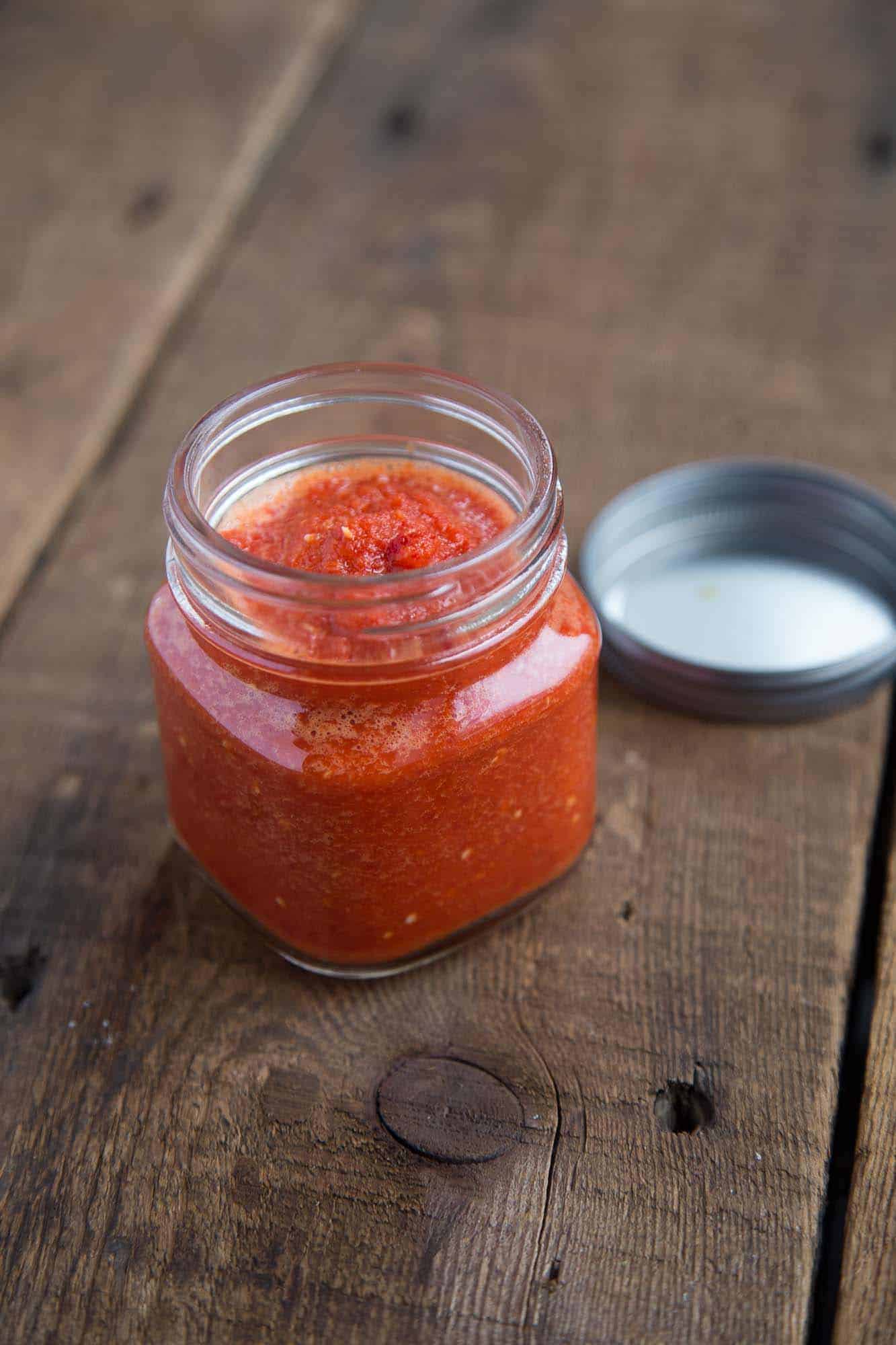 Pili Pili is a hot sauce made from scotch bonnet peppers. Just how hot is it? REALLY hot.
The recipe comes from my Congolese grandmother-in-law, who grew up in the Democratic Republic of the Congo (which was formerly Zaire). She spent most of her adult life there before moving to Canada.
So if anyone asks, this recipe came from "Koko". 🙂
What does Pili Pili mean?
Pili Pili, also known as Peri Peri, can mean either "pepper pepper" or "spicy spicy". It is used in both Swahili and Lingala languages.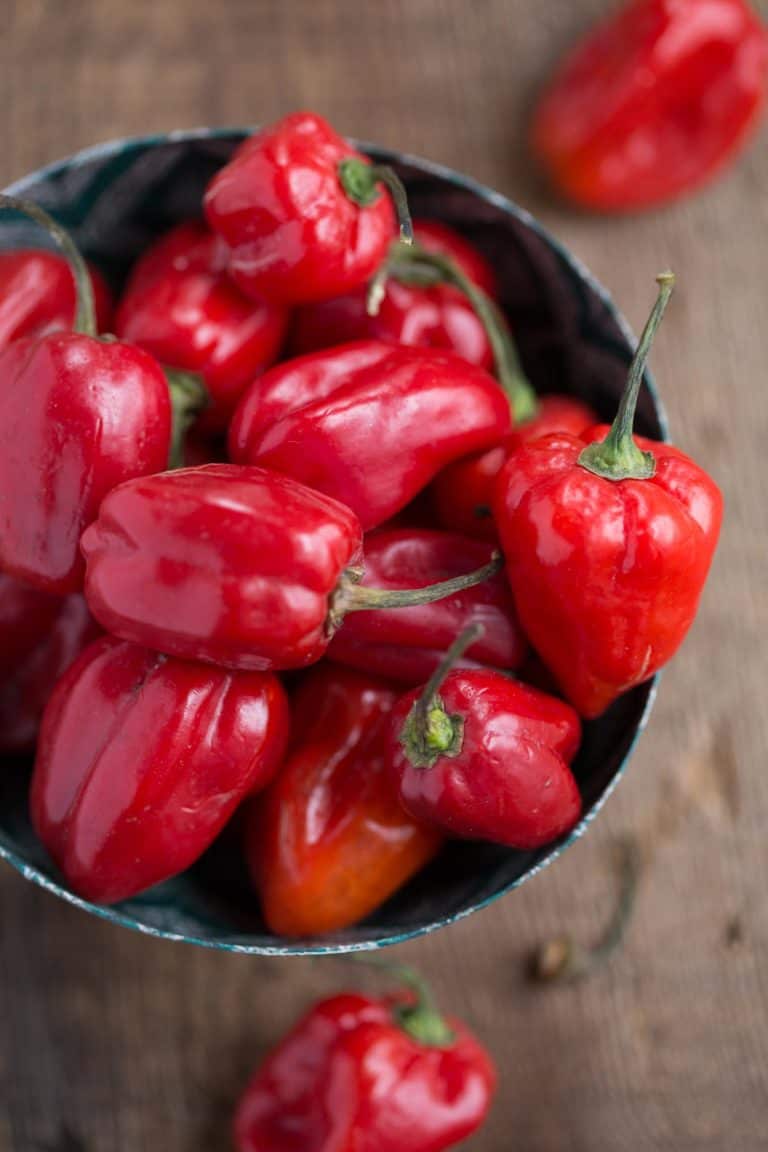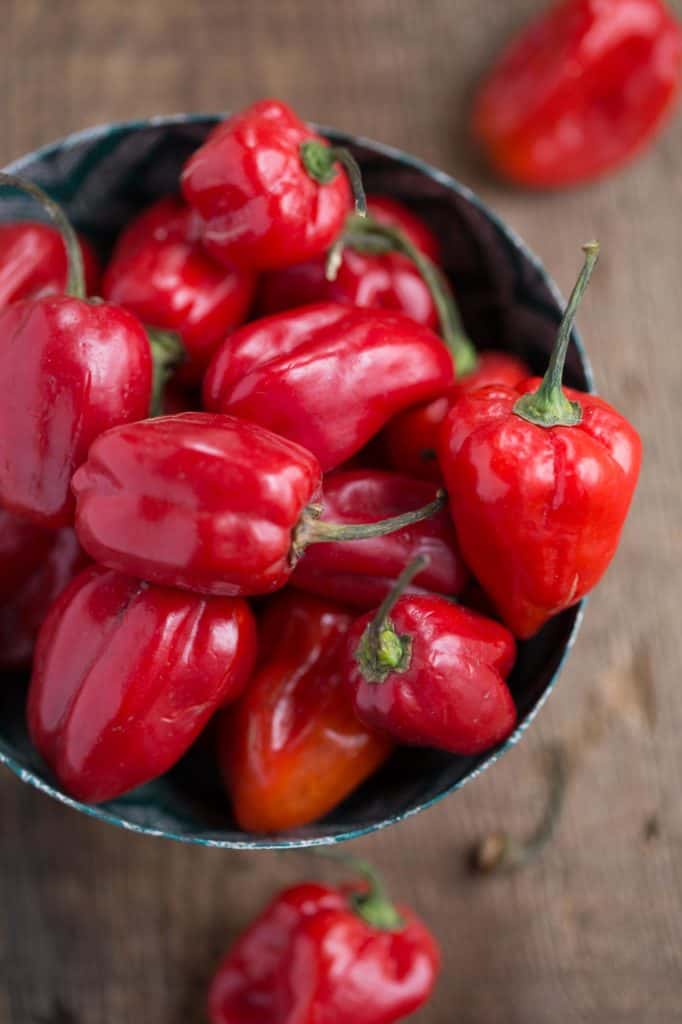 How hot is a scotch bonnet pepper?
Very hot. A scotch bonnet pepper has a rating of 100,000–350,000 Scoville units. As a comparison, a jalapeño pepper is rated 2,500–8,000 Scoville units.
Basically, scotch bonnet peppers are hotter than blazes, and you need a full half pound of them, seeds and all, for Pili Pili.
I can't even smell Pili Pili without my eyes watering, yet my husband happily spoons it into his mouth at nearly every meal.
Ingredients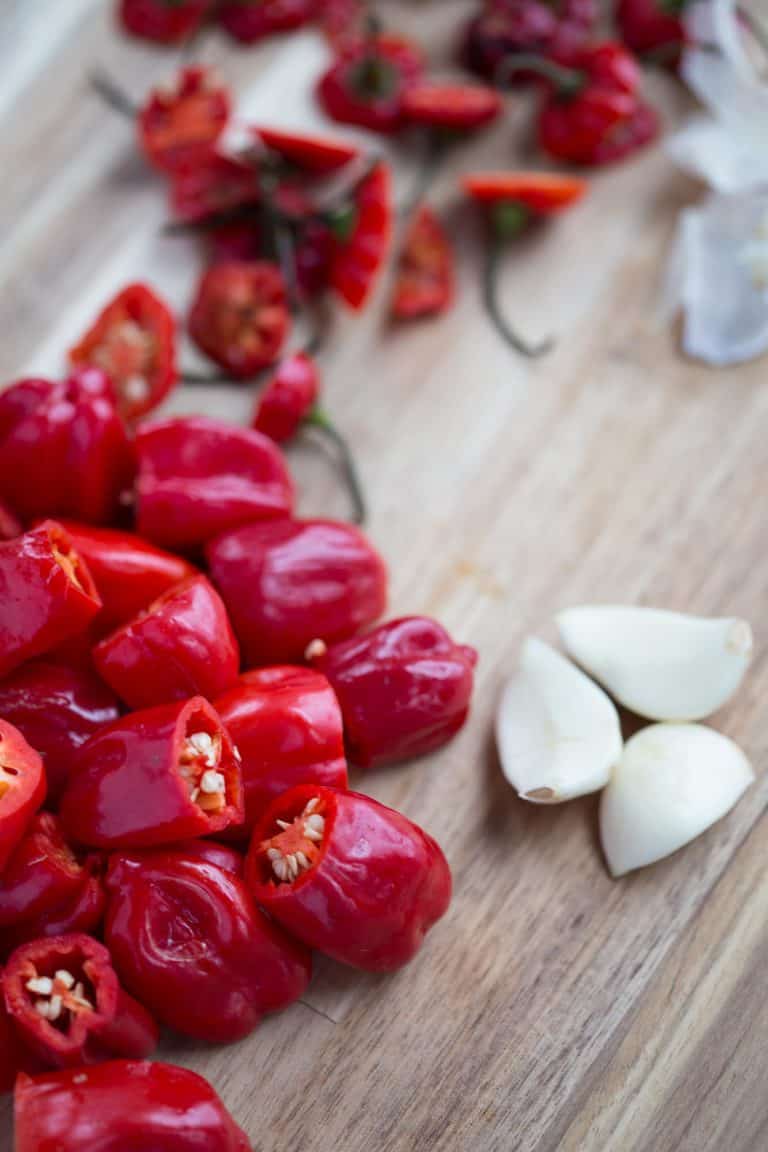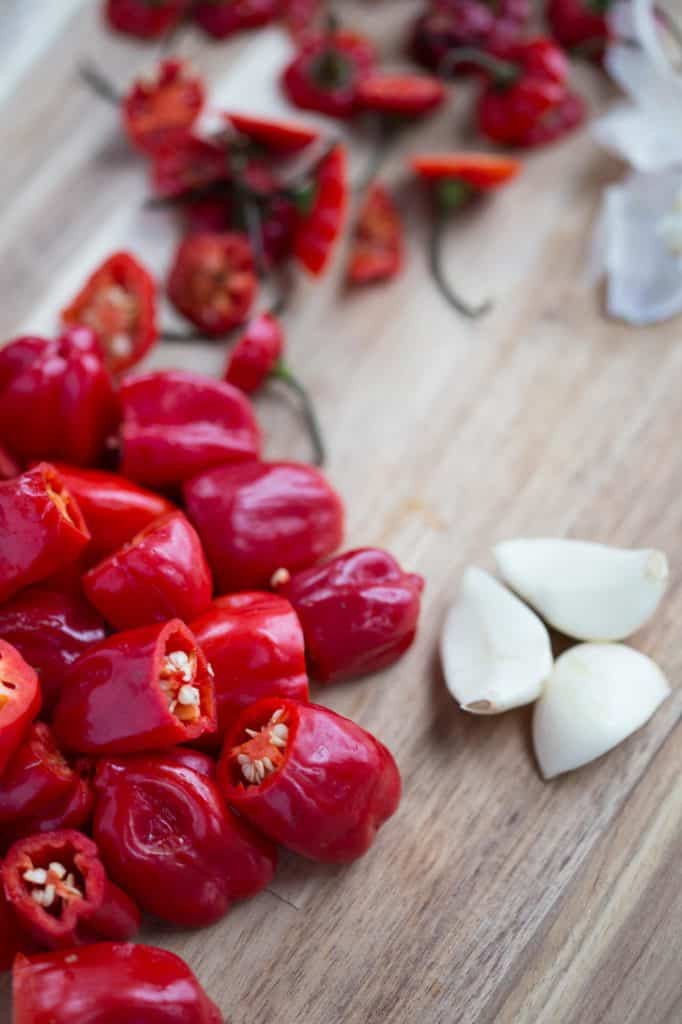 Scotch bonnet peppers are also sold as Jamaican peppers. You can find them in many international food markets.
Garlic adds even more flavor.
You'll also need a little salt and water to blend the sauce.
How to make Pili Pili
First, rinse the peppers and remove the stem from each pepper. You don't need a knife for this. Just pluck the stem off with your fingers.
Put the peppers, garlic, water, and salt in a blender (this is the one I use
).
Blend on high until the mixture is combined, but a still a little chunky.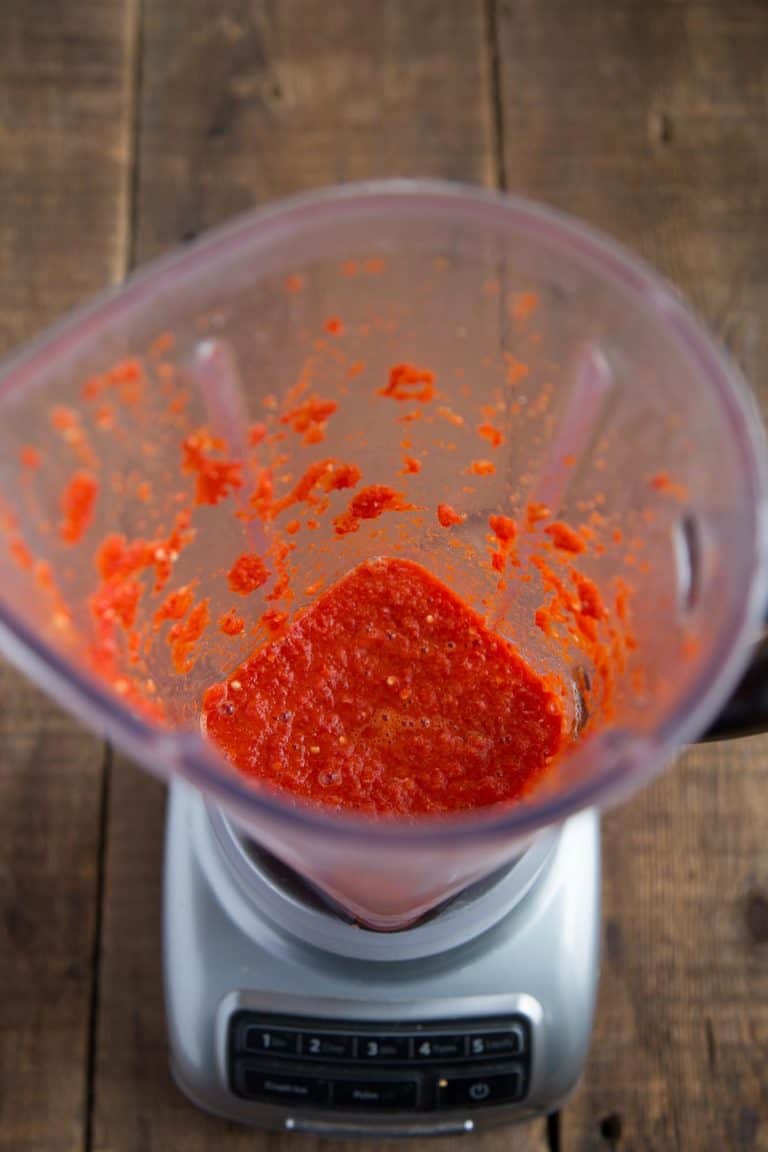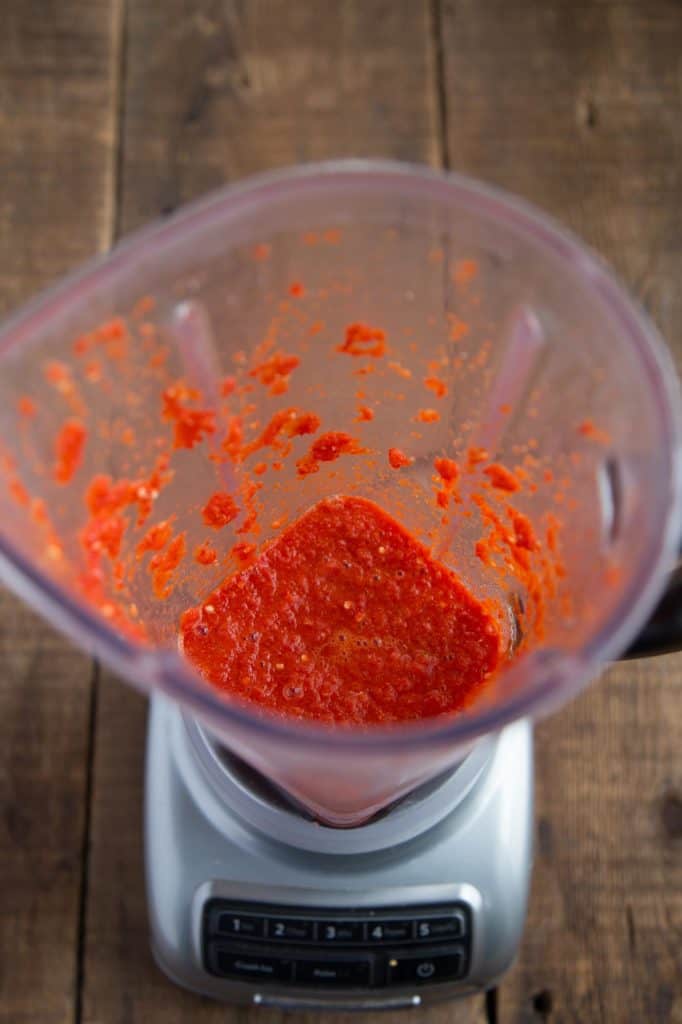 Carefully remove the lid from the blender. Stand back when you do this. Wear a mask if you have one. Seriously—blending the peppers causes the oils to release and they will waft from the blender.
Whatever you do, do NOT stick your face near the blender and breathe in. Trust me. I tried it, hoping to catch a whiff of spice, and let's just say that there was a lot of sneezing after I ran out of the kitchen. 🙂
Pour the Pili Pili into a resealable container (I use a small glass mason jar) and store it in the refrigerator until you're ready to use it.
FAQs
Should I wear gloves when making this hot sauce?
You certainly can, especially if you think you may touch the hot sauce. If you have a mask, wear it while blending the peppers. It is VERY pungent and the spice can cause watery eyes, coughing, sneezing, etc., right after it's blended.
Can I freeze Pili Pili?
Yes! Store it in an airtight container and freeze for up to three months. To defrost, place it in the refrigerator for about 24 hours.
What do I serve with Pili Pili?
It's traditionally served with Congolese stews, which are tomato-based and made with either fish, chicken, pork, goat, or beef.
My husband will put a teaspoon of it on the side of his plate, and put a bit of Pili Pili onto every bite.
But honestly, it pairs nicely with whatever you'd like to spice up. Try it on eggs, sandwiches, burgers, tacos, jambalaya, or even meatloaf!
If you're in search of another African recipe, don't miss these African Beignets! They're made with self-rising flour so they don't require yeast. So easy and SO good.
📖 Recipe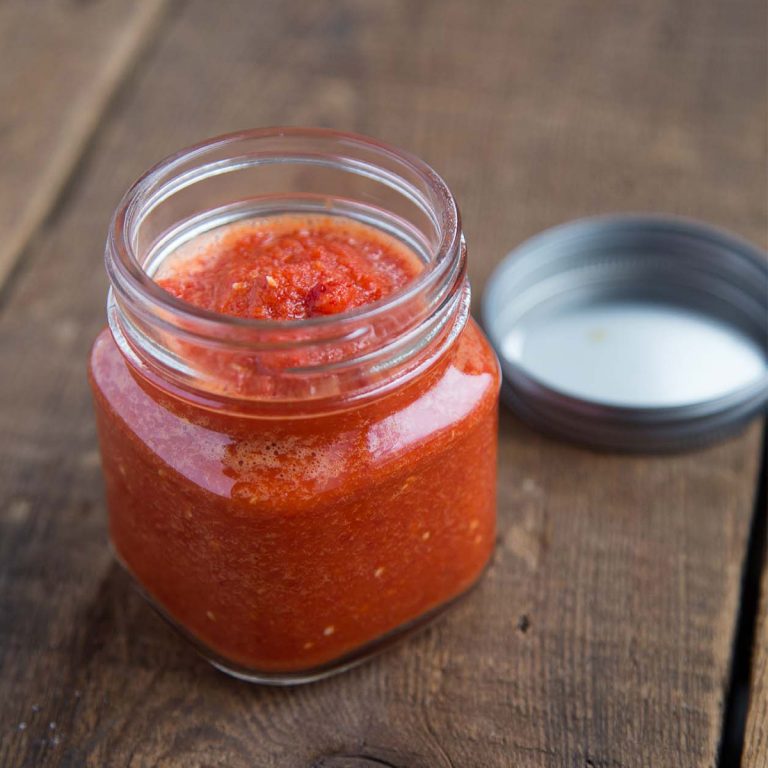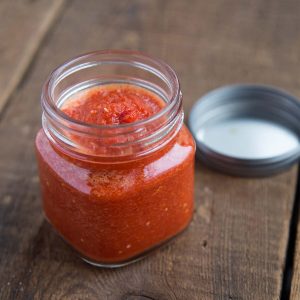 Pili Pili Recipe (African Hot Sauce)
A SUPER spicy hot sauce from my Congolese grandmother-in-law.
Ingredients
½

lb

red scotch bonnet peppers

(also known as Jamaican peppers)

3

garlic cloves

¼

cup

water

¼

teaspoon

sea salt
Instructions
Remove stems from the peppers.

Place the peppers, garlic, water, and salt in a blender. Cover and blend on high until the mixture is mostly smooth, but still has small pieces of peppers.

Transfer to a storage container and serve a small spoonful with your favorite dish!
Notes
You can find scotch bonnet peppers at many international food markets. The market that I visited sells African and Hispanic foods. Pili Pili will keep in the refrigerator in an airtight container for up to one month. You can also freeze Pili Pili in an airtight container for up to three months.
Nutrition
Calories:
5
kcal
Carbohydrates:
1
g
Protein:
1
g
Fat:
1
g
Saturated Fat:
1
g
Sodium:
30
mg
Potassium:
37
mg
Fiber:
1
g
Sugar:
1
g
Vitamin A:
108
IU
Vitamin C:
16
mg
Calcium:
2
mg
Iron:
1
mg