Fire Glazed Ham is a show-stopping centerpiece for your Easter table. It has an irresistible crisp crust made with brown sugar and honey that everyone will love.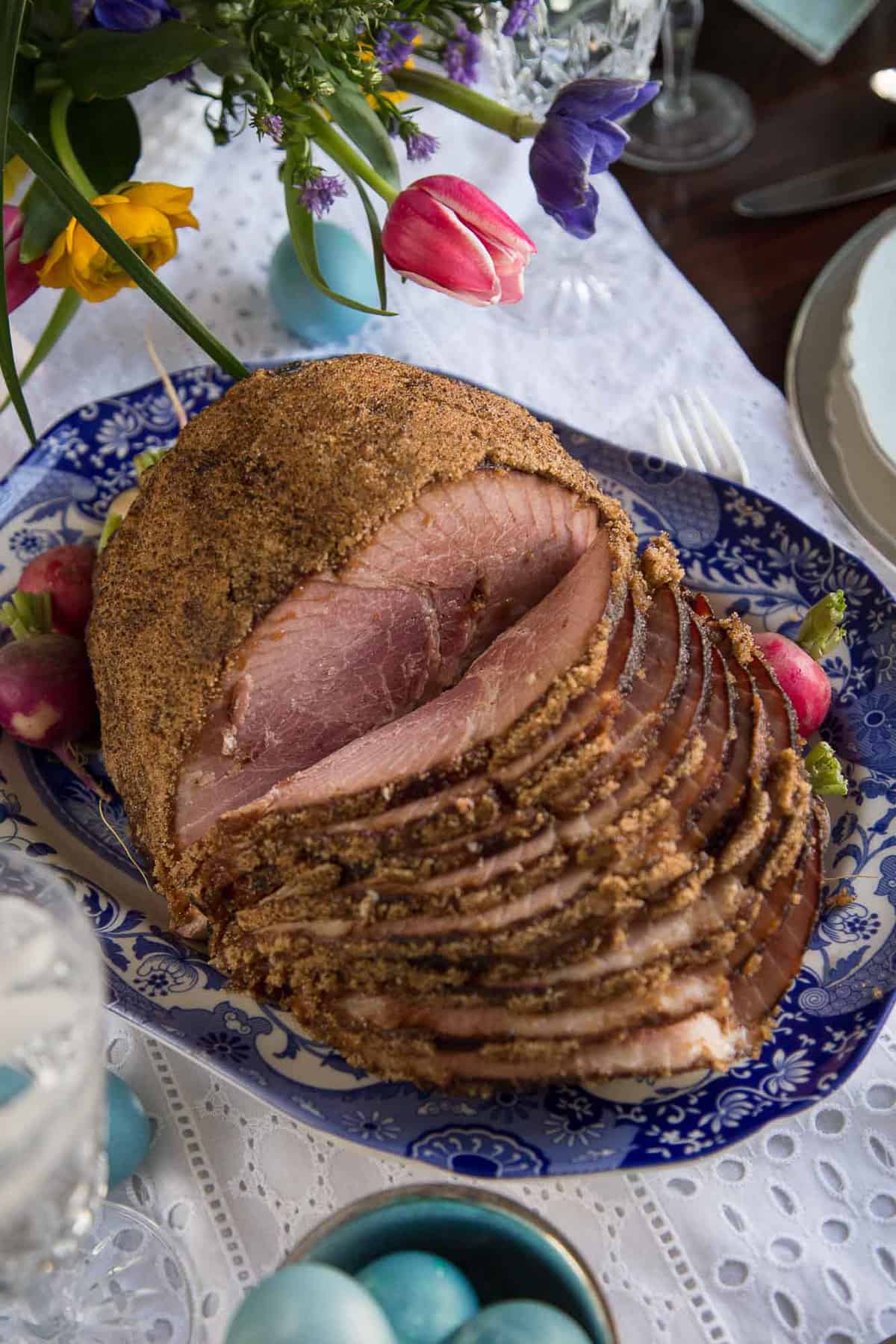 When guests arrive, the scent of dinner cooking inevitably beckons them to the kitchen. It's also where all the action is. I think that's why cooking shows are so popular—people love to watch what's going on in the kitchen!
And I love to give guests some theatre while they're waiting for dinner. So for this year's Easter table, I got out my creme brulee torch to create a Fire Glazed Ham.
I know that not everyone owns a creme brulee torch. But they are relatively inexpensive. This culinary butane torch
is available for purchase on Amazon.
I bought some butane
to fuel the torch, and it came out to just under $25 for both, including tax. And the torch is small enough to stow in a drawer until your next fire-fueled project. 🙂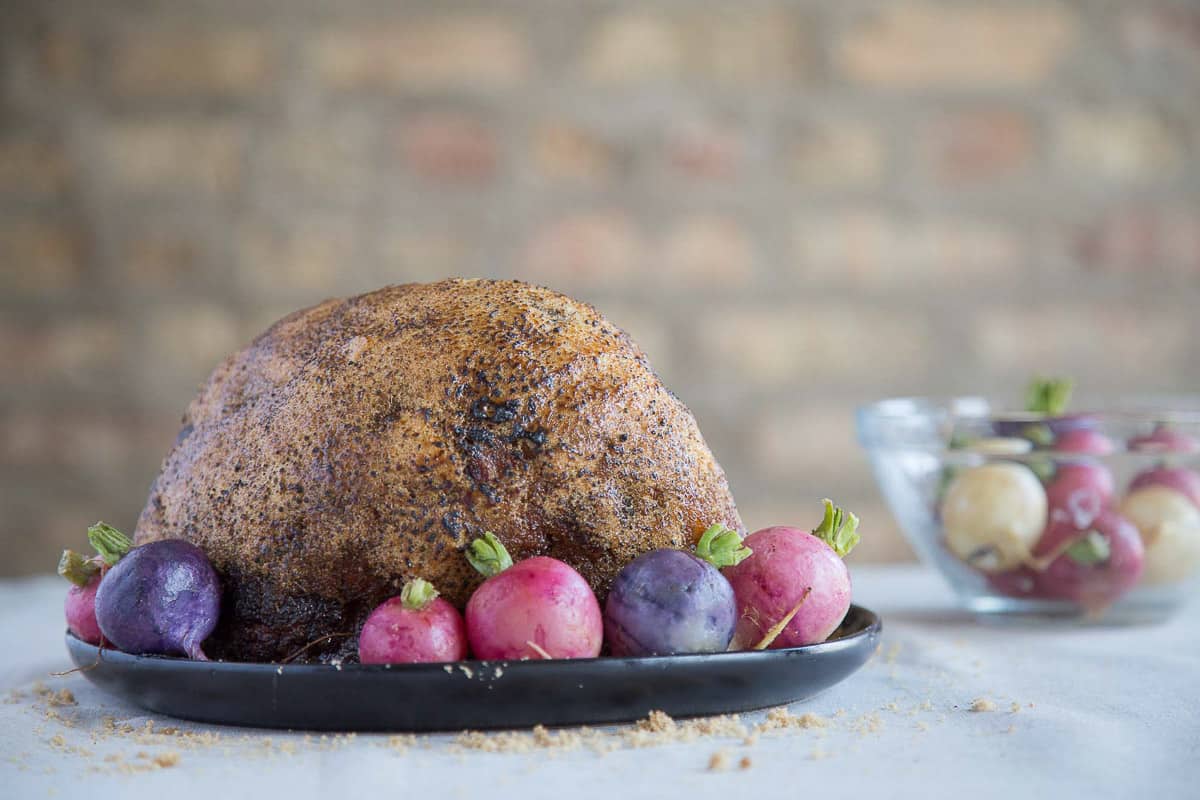 Fire glazing is a fun way to add a little action to your Easter dinner. It'll take you about 10 minutes with a torch, so do this while the sides (like these Scalloped Potatoes and Ham) are finishing up in the oven!
Need an easier ham recipe? Don't miss my 3-Ingredient Brown Sugar Glazed Ham!
This post contains affiliate links. Affiliate links support Gift of Hospitality at no additional cost to you. I receive a commission if you choose to make a purchase through these link.
Jump to:
Ingredients
I chose a spiral sliced ham so I don't have to slice it myself. A whole ham works here, too.
A layer of honey goes on top of the ham, which helps the brown sugar layer stick.
Cinnamon and cloves add a warm spice to the ham.
How to fire glaze a ham
First, decide if you'd like to serve the ham warm or at room temperature. If you'd like to serve it warm, follow the instructions on the package for warming the ham.
Then, place the ham on a heat-proof platter (NOT a wooden cutting board) and brush the outside with honey.
Combine the brown sugar, cinnamon, and cloves, and sprinkle those over the honey. You may need to cup your hands and press it on in order to apply the brown sugar to the sides. Make sure it's coated all over!
Then comes the fire glazing! Start in a well-ventilated area away from anything flammable. A kitchen counter is perfect.
Light the torch and move it slowly over the brown sugar mixture until it caramelizes. Don't hang out too long in any one place or the sugar will burn and turn black instead of deep brown.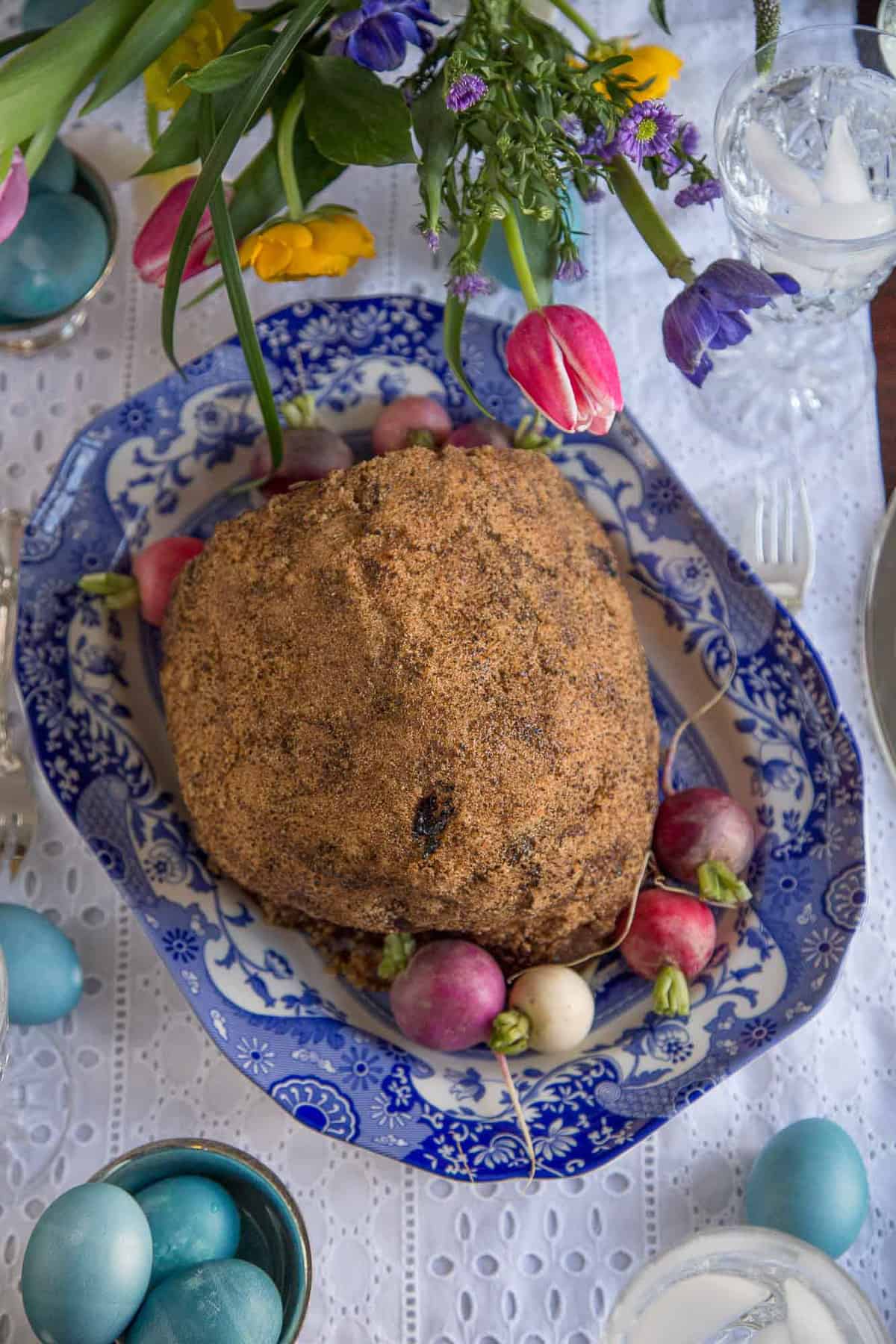 The end result is a sweet, crisp, caramelized shell of brown sugar and spices covering the ham. It's irresistible and was a hit with my guests.
I garnished the Fire Glazed Ham with rainbow radishes that I tossed with melted butter and roasted for 15 minutes in a 400°F oven. Rainbow radishes are often available at Whole Foods Market or at regular grocery stores in the spring.
To see the whole process, check out the video on Instagram or Facebook!
Frequently Asked Questions
Can I use agave instead of honey?
Yes! You can substitute an equal amount of agave nectar for the honey.
Can I use the broiler instead of a butane torch?
I haven't tried fire glazing the ham under the broiler. I suspect that the crust will not be as evenly browned as when using a torch.
How long does it take to fire glaze the ham?
It took me 10–15 minutes to fire glaze the ham. If you're busy in the kitchen with other side dishes, give this job to another adult or let everyone take a turn with the torch—it's surprisingly fun!
Serving suggestions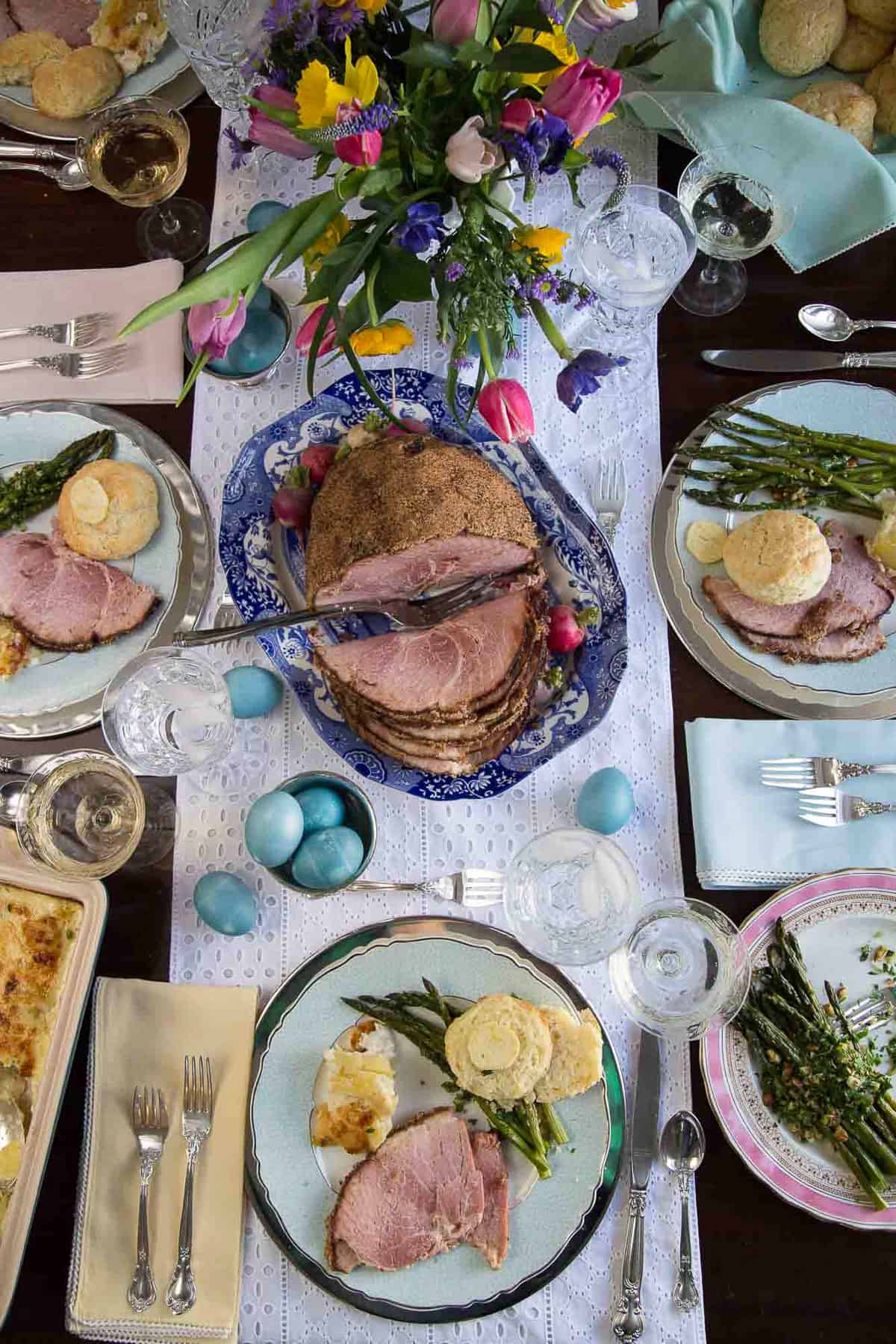 The Fire Glazed Ham was the centerpiece for a classic Easter brunch. My friend Kelley of Haviland Events did the table setting—isn't it spectacular? She has an eye for creating beautiful tablescapes that welcome guests warmly with their charm and whimsy. The bunny plates and table runner are from Williams Sonoma and the china is from Kelley's collection.
In addition to the ham, I served Gruyere and Thyme Scalloped Potatoes—they were the perfect pairing. I also love these Brown Sugar Glazed Carrots as another side dish.
Be sure to check out the Fire Glazed Ham video on Instagram or Facebook for a better look at the process!
Have you tried this recipe? Please leave a ⭐️⭐️⭐️⭐️⭐️ rating and/or comment below!
---


---
📖 Recipe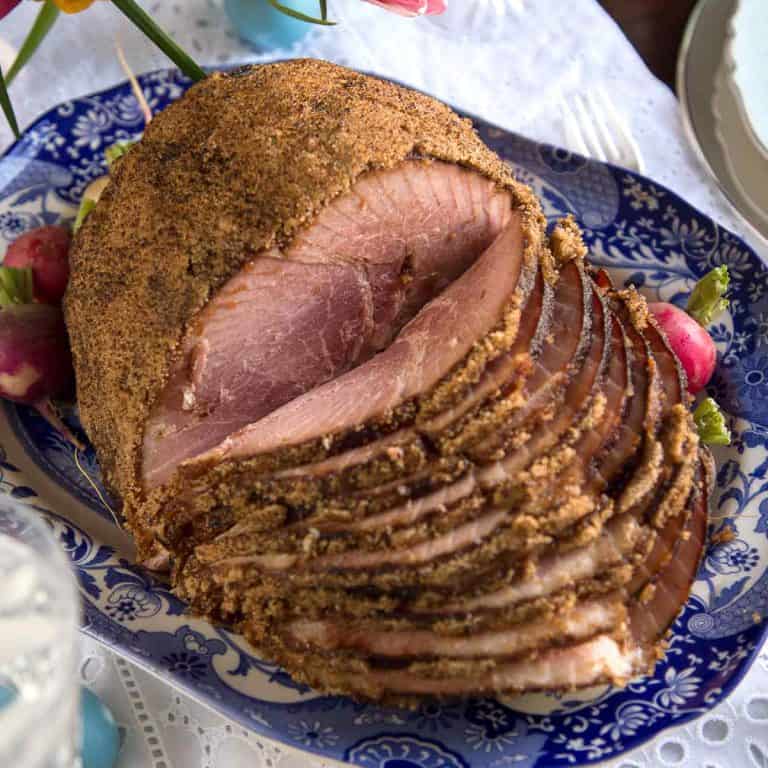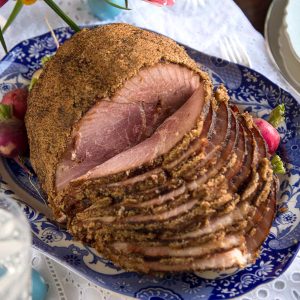 Fire Glazed Easter Ham
A show-stopping centerpiece for your Easter table: a spiral sliced ham coated with honey, brown sugar, and spices, and fire glazed to perfection.
Equipment
Special tools needed: creme brulee torch
Ingredients
5–6

lb

spiral-sliced ham

⅓

cup

honey

2

cups

light brown sugar

1

teaspoon

cinnamon

½

teaspoon

cloves

For garnish: roasted rainbow radishes
Instructions
Heat the ham according to package instructions. Let cool for 30 minutes. If you prefer to serve the ham at room temperature, let it rest outside of the refrigerator for 2 hours before beginning. A ham straight out of the refrigerator is fine, too! The caramelization process does not heat the inside of the ham at all.

Place ham on a flat work surface.

In a medium bowl, combine the brown sugar, cinnamon, and cloves. Mix to combine.

Drizzle the honey over the ham. Use a pastry brush to coat the entire outside of the ham with the honey.

Use your hands to apply the brown sugar mixture in a thin, even layer to the ham (the honey will help it stick). You may not use all of the brown sugar mixture.

Carefully use a creme brulee torch to caramelize the sugar on top of the ham, moving the torch constantly as you go.

Work your way around the entire ham until all of the sugar is caramelized. Serve immediately.
Notes
You'll need a Culinary Butane Torch
and Butane
. You can get both for under $25.
Nutrition
Calories:
540
kcal
Carbohydrates:
53
g
Protein:
43
g
Fat:
17
g
Saturated Fat:
4
g
Cholesterol:
166
mg
Sodium:
2632
mg
Potassium:
702
mg
Fiber:
1
g
Sugar:
52
g
Vitamin C:
53
mg
Calcium:
52
mg
Iron:
2
mg
Related recipes