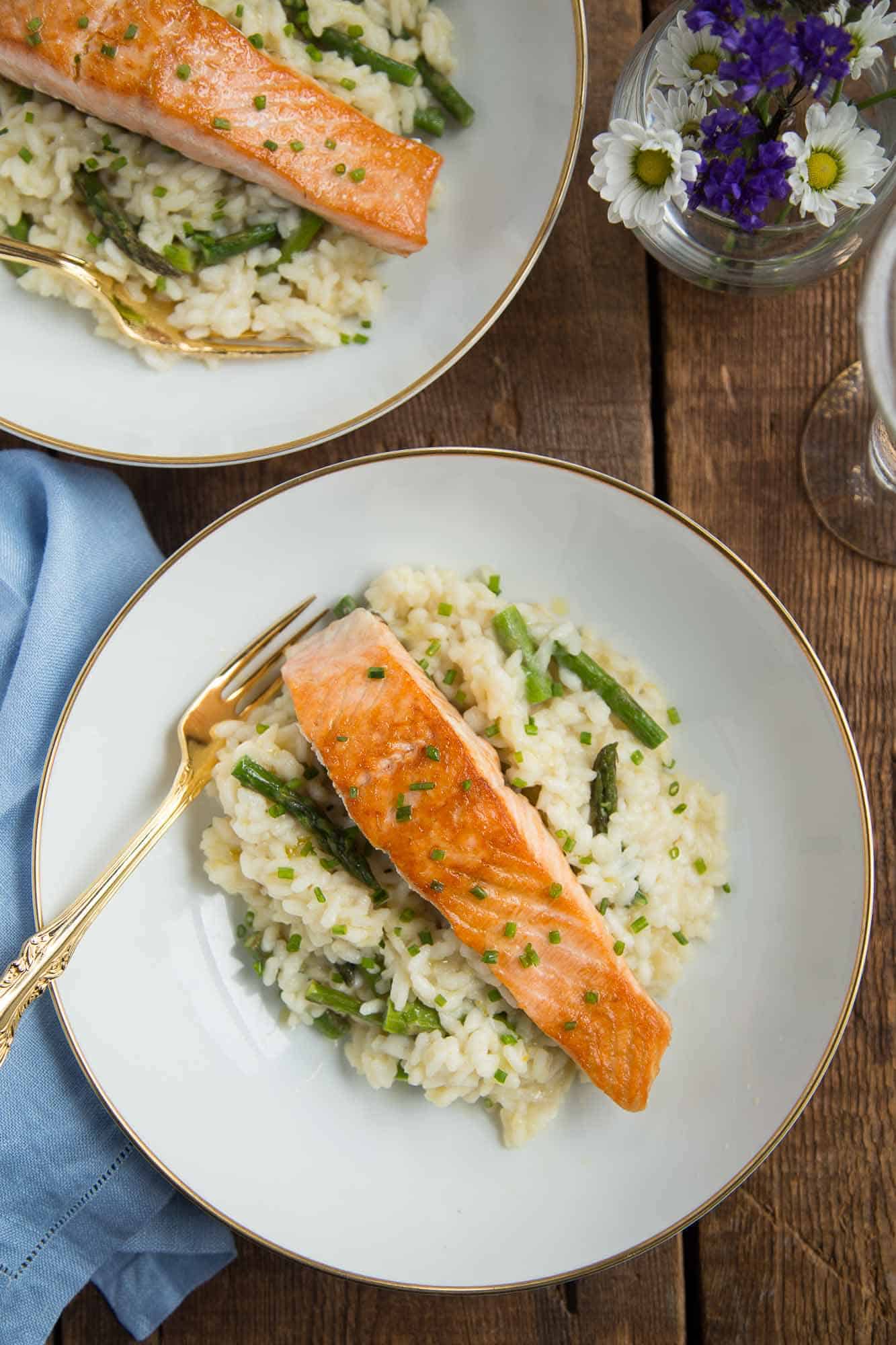 It's easy to think of hospitality as hosting and entertaining. Its definition is "the friendly and generous reception of guests", so that's often what it looks like. But I can't bear to save the wedding china until we have guests. And so I brought it out—but not my wedding china. I served Meyer Lemon and Asparagus Risotto with Seared Salmon on my Great Aunt Mabel's wedding china, which dates back to the 1930s.
I just barely remember Aunt Mabel. She passed away when I was in elementary school. But man, would I have loved to be invited to a holiday at her house. She had SO many pieces of wedding china—I don't even know what some dishes are supposed to hold!
The pattern is a white background with a gold rim, and each piece has a gold hand-painted sprig of bamboo (fitting, as the china was made in Japan). To accompany the china, she had gold silverware, glasses with golden flecks, and large gold serving platters to match. I would love to have seen the 1950s Christmas dinner table set with these dishes!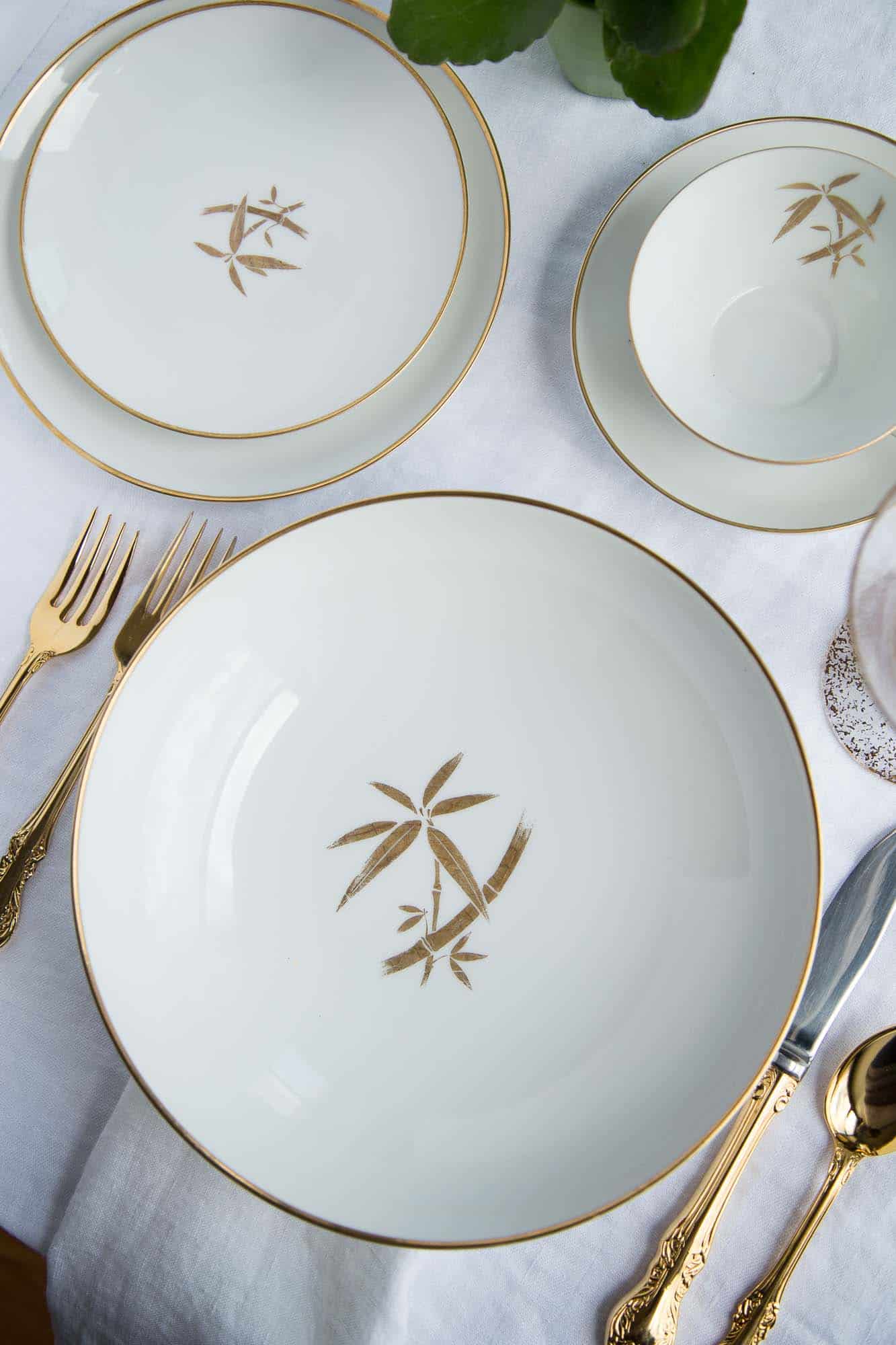 I pulled out the china on a recent Tuesday evening for date night with my husband, Longe. We shoot for date night once per week, sometimes heading out for an event or dinner. But mostly, date night is at home. I'll cook something out of the ordinary that I know he'll like, and we'll ask the questions that I highlighted in this post (scroll to nearly the end for them!). I cook things out of the ordinary all the time, I'm just not always sure that he'll like it. 🙂 But on date night, I shoot for something that I know he'll enjoy.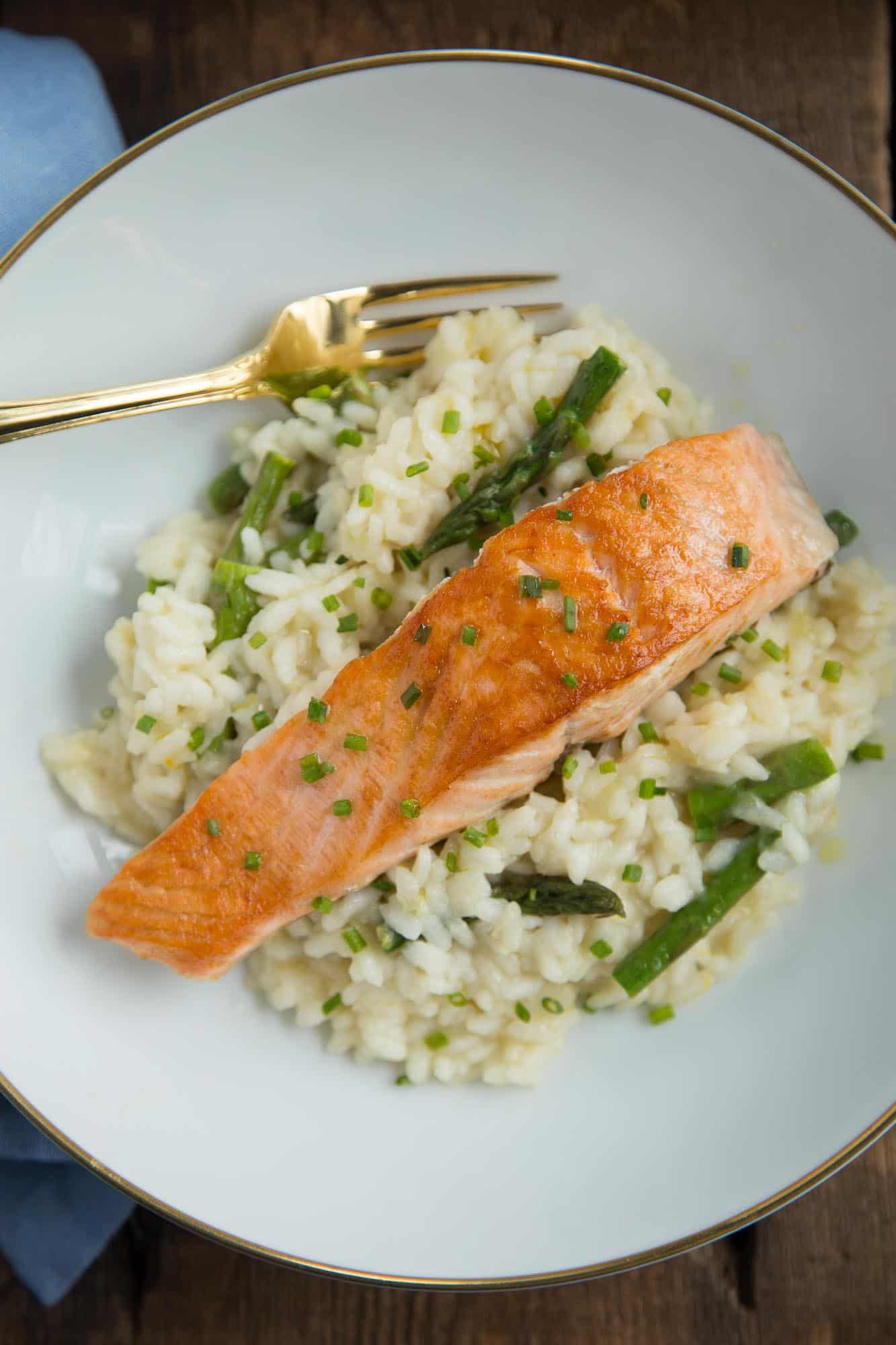 I pulled out the wedding china to make date night seem not-so-ordinary. We ate the Meyer Lemon and Asparagus Risotto on the china with Aunt Mabel's gold silverware, and drank out of her goblets with golden flecks. It felt special, and it got me thinking about how hospitality really starts at home.
Why wait for guests to pull out the china?
Why pull out the "good" towels only for company?
Why not buy fresh flowers to liven up your living room, instead of waiting for guests to enjoy them?
I want to create an atmosphere that my husband enjoys coming home to, and that I enjoy living and working in. I want to use the "good" dishes and towels. I want to cook fancy food for the two of us. I want to be generous with the time that it takes to make my husband dinner and create an inviting atmosphere for him. Thankfully, he is generous with doing the dishes. And cleaning the bathrooms! He's a keeper.
Now onto the risotto! I learned to make risotto from an Italian woman living in Cleveland, Ohio. She runs her own nationally accredited cooking school (Loretta Paganini School of Cooking) and also teaches classes for the public. I attended her class on risotto years ago and she got me hooked.
Despite what you've heard, it's not as time intensive as you think. You don't need to stand and stir every single second. But you do need to be in the kitchen and stir every so often. 🙂
The key to making this Meyer Lemon and Asparagus Risotto is to keep the rice covered with broth. You want the pan looking like this almost the entire time that it cooks: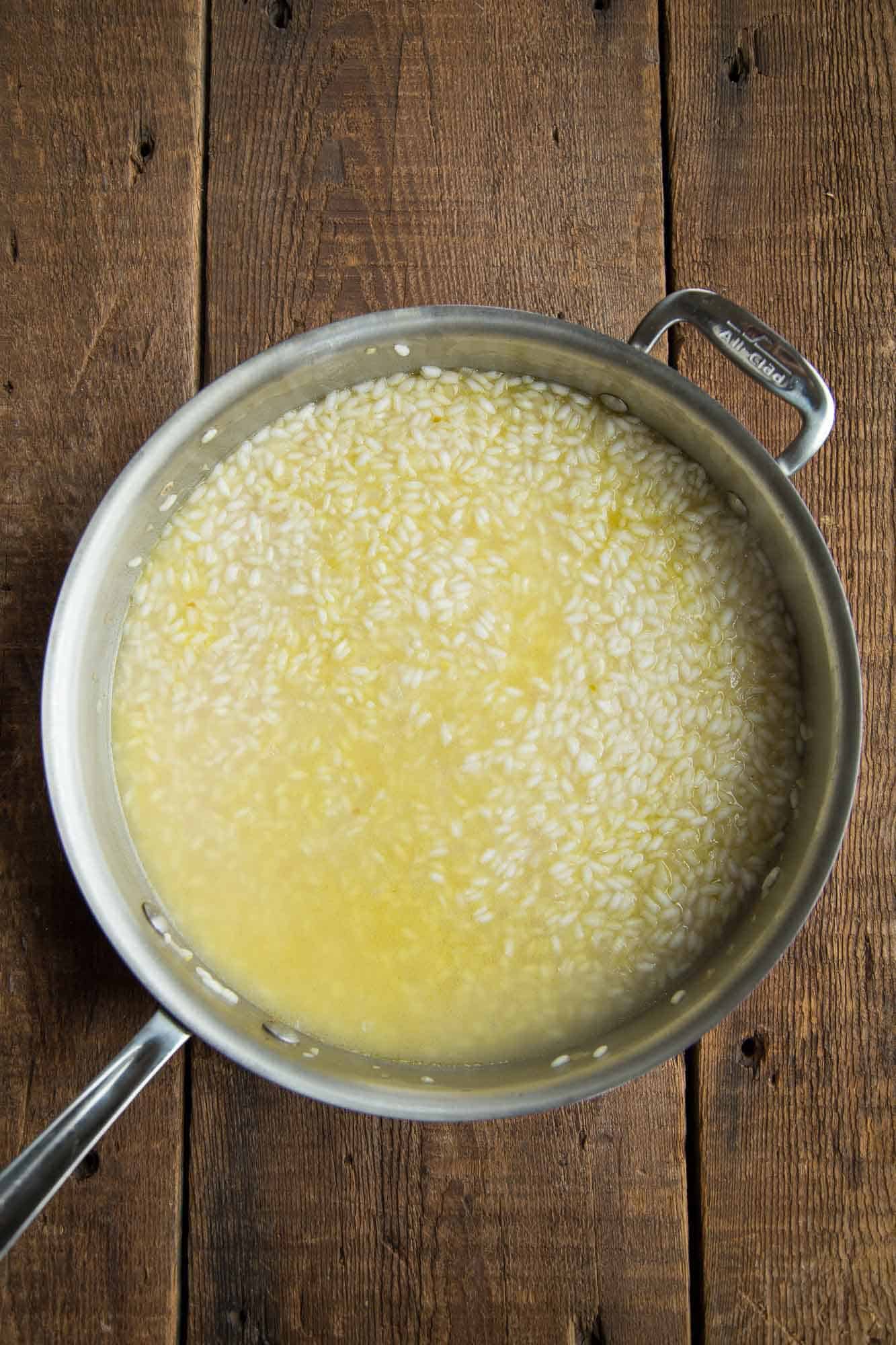 You'll stir and add more broth as it cooks, and then repeat that process until the broth is incorporated and the rice is al dente. The final step is to add Parmigiano Reggiano cheese to make it extra creamy.
I topped this Meyer Lemon and Asparagus Risotto with a piece of seared salmon. You could also top it with jumbo shrimp, or a chicken breast, or serve it as-is.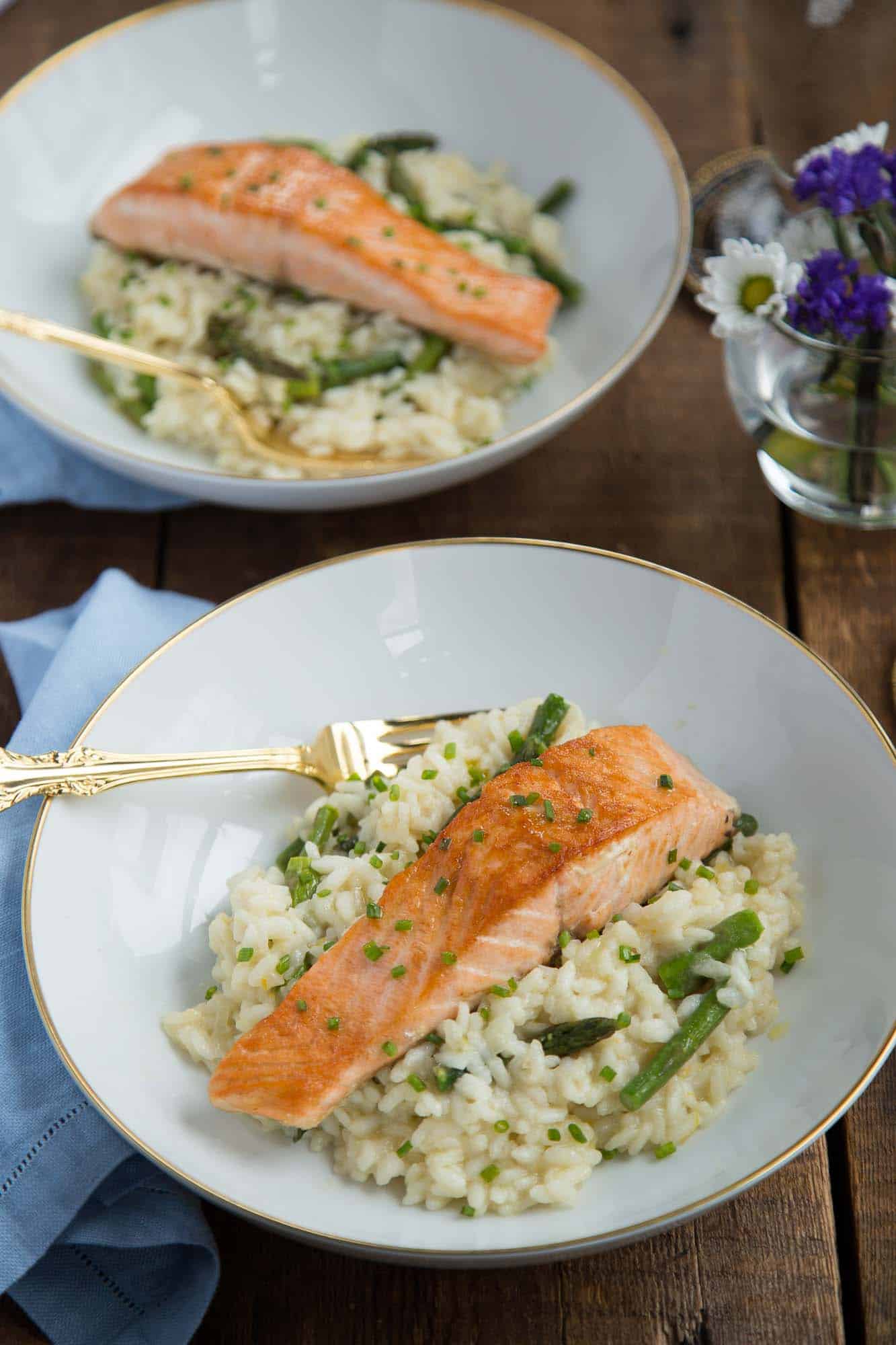 If you like salmon, don't miss this Roasted Salmon with Mango & Avocado Salsa from the archives! And if you love risotto, this recipe for Zucchini Risotto with Feta and Herbs is perfect for a summer evening!
📖 Recipe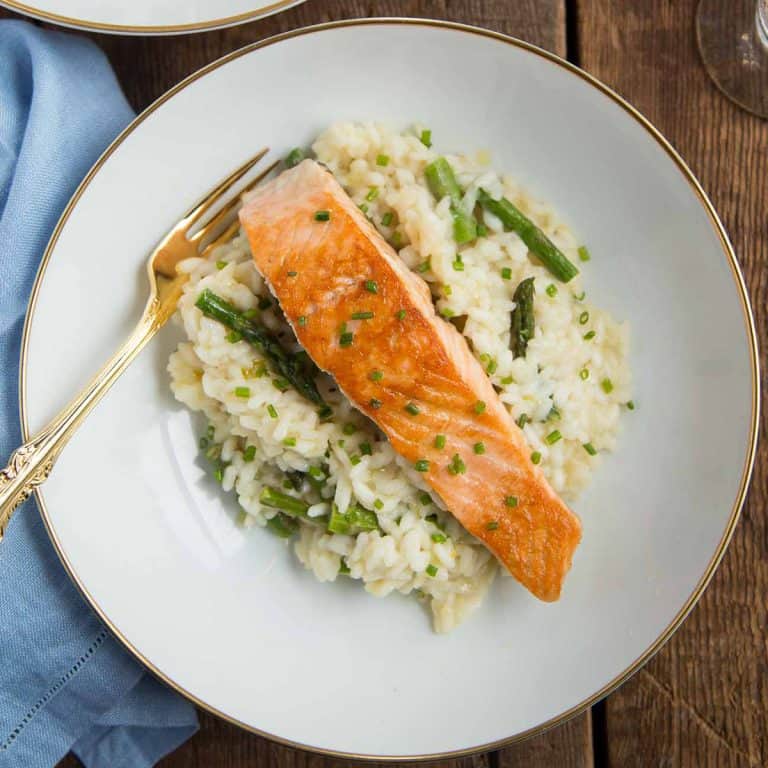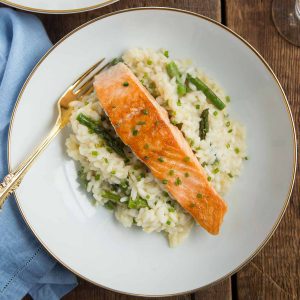 Meyer Lemon & Asparagus Risotto with Seared Salmon
Enjoy a date night in with this flavorful recipe that's a meal all in one—entrée, vegetable, and rice!
Ingredients
4

tablespoons

olive oil,

divided

2

small shallots,

finely chopped

1½

cups

arborio rice

½

cup

white wine

(I used Pinot Grigio)

4

cups

low sodium vegetable or chicken stock

½

lb

asparagus

½

cup

finely shredded Parmigiano Reggiano

1

meyer lemon,

zested (or substitute 1 regular lemon)

2

(6 oz) fresh salmon fillets

Kosher salt

Fresh ground black pepper

For garnish: chopped fresh chives
Instructions
Preheat the oven to 400°F.

Place the vegetable or chicken stock in a small saucepan over medium heat. Bring to a simmer and then lower the heat to keep warm.

Meanwhile, heat 2 tablespoons olive oil a large sauté pan over medium heat. Add the shallots. Cook, stirring occasionally, until translucent, about 2–3 minutes.

Add the arborio rice and stir to coat the rice. Add the white wine, and cook until almost evaporated, about 2 minutes.

Meanwhile, trim the asparagus and cut it into 1½ inch pieces. Toss the asparagus pieces with 1 tablespoon of olive oil and season with salt and pepper. Roast for 12–15 minutes, or until tender but still bright green. Squeeze half of the meyer lemon over the asparagus (zest it first!).

Add several ladles of warm stock to the sauté pan with the rice, adding enough stock to just cover the rice with liquid. Cook, stirring occasionally, until the puddles of stock have disappeared (the rice should still be surrounded by liquid).

Add another ladle or two of stock, until the rice is just covered again. Repeat, stirring occasionally, until all of the stock has been added to the rice and the rice is al dente. Continue cooking until almost all of the stock has been soaked up by the rice.

Stir in the Parmigiano Reggiano and the meyer lemon zest. Taste before seasoning with salt. (I used low sodium stock and ended up adding 1 teaspoon of kosher salt to the rice.) The total cooking time for the rice ranges from 20 to 30 minutes.

While the rice is cooking, heat the remaining 1 tablespoon of olive oil in a nonstick skillet over medium heat.

Season the salmon with salt and pepper. When the oil is hot, add the fish, skin side up. Cook until golden brown on the bottom, about 3–4 minutes.

Flip and continue cooking until the fish is cooked through to your liking, another 3–4 minutes.

Squeeze the other half of the meyer lemon over the top of the salmon.

To serve, divide the risotto among two plates. Top with the salmon and sprinkle with chopped chives. Serve immediately.
Nutrition
Calories:
1206
kcal
Carbohydrates:
126
g
Protein:
56
g
Fat:
47
g
Saturated Fat:
10
g
Cholesterol:
116
mg
Sodium:
464
mg
Potassium:
1250
mg
Fiber:
7
g
Sugar:
3
g
Vitamin A:
1142
IU
Vitamin C:
6
mg
Calcium:
330
mg
Iron:
11
mg