These easy Zucchini Muffins are the perfect sweet treat for breakfast or an afternoon snack. Shredded coconut and walnuts add an irresistible crunch!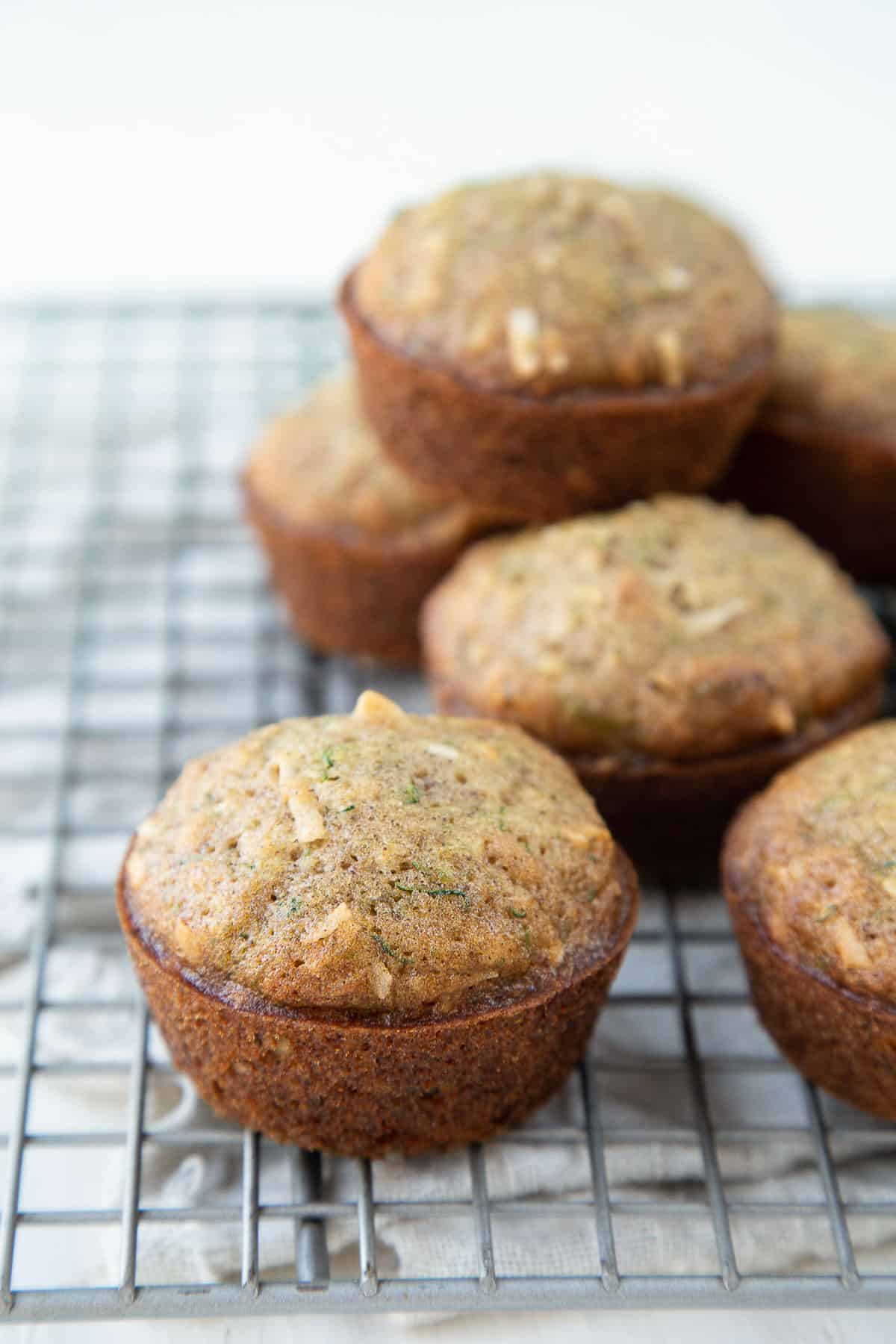 Grandma's recipes are often the best recipes, aren't they?
This recipe for Zucchini Muffins with Walnuts and Coconut comes from my Grandma Verie. My mom lost most of her recipes to a basement flood several years ago, but I had snagged this one prior and kept it in my own recipe book.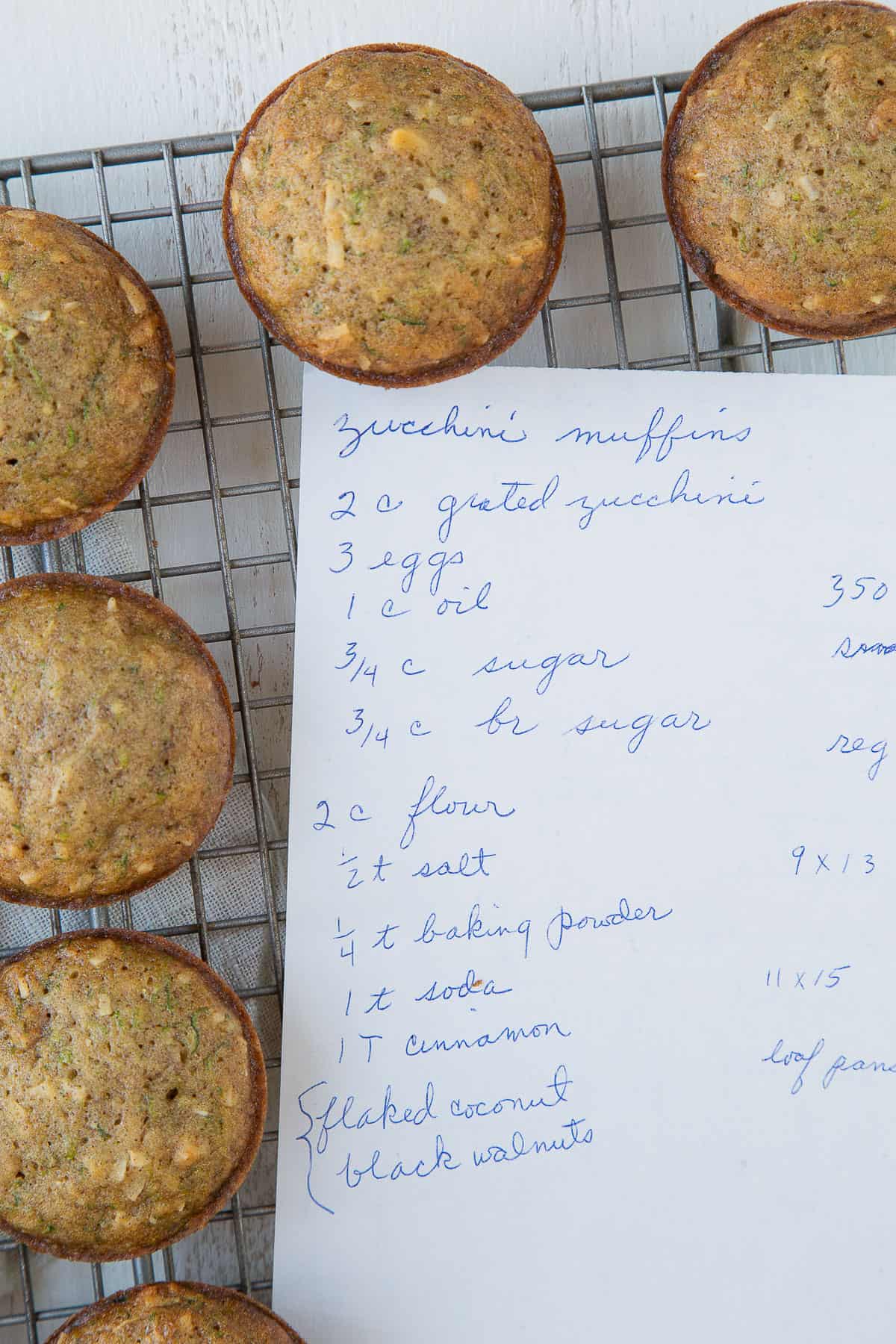 It was written on a piece of notebook paper. On the back of that paper lives a recipe for Boiled Cookies (which are no-bake chocolate cookies with peanut butter).
I'm not sure of the recipe's origins, but it creates super moist, tender muffins with lots of crunch.
The muffins are relatively sweet and are packed with two medium zucchini, flaked coconut, and chopped walnuts. Along with a cup of coffee or tea, they are the perfect treat.
Have lots of zucchini? Don't miss this Zucchini Banana Bread or my Chocolate Chip Zucchini Cake!
This post contains affiliate links. Affiliate links support Gift of Hospitality at no additional cost to you. I receive a commission if you choose to make a purchase through these link.
Top tips
Be sure to press all of the liquid out of the zucchini. It doesn't have to be perfect, but get as much out as you can.
Gently stir the batter just until mixed. Over-mixing causes touch, chewy muffins.
See below for variations, like adding chocolate chips!
Ingredients
The dry ingredients include flour, sugar, brown sugar, salt, baking powder, baking soda, and cinnamon.
The wet ingredients include oil and eggs.
The mix-ins are zucchini, walnuts, and shredded coconut.
How to make zucchini muffins with walnuts and coconut
Start by grating the zucchini finely. Place it in a mesh colander and press down on it using a spatula. You could also use a wooden spoon, or even your hands.
The goal is to press as much liquid out of the zucchini as possible.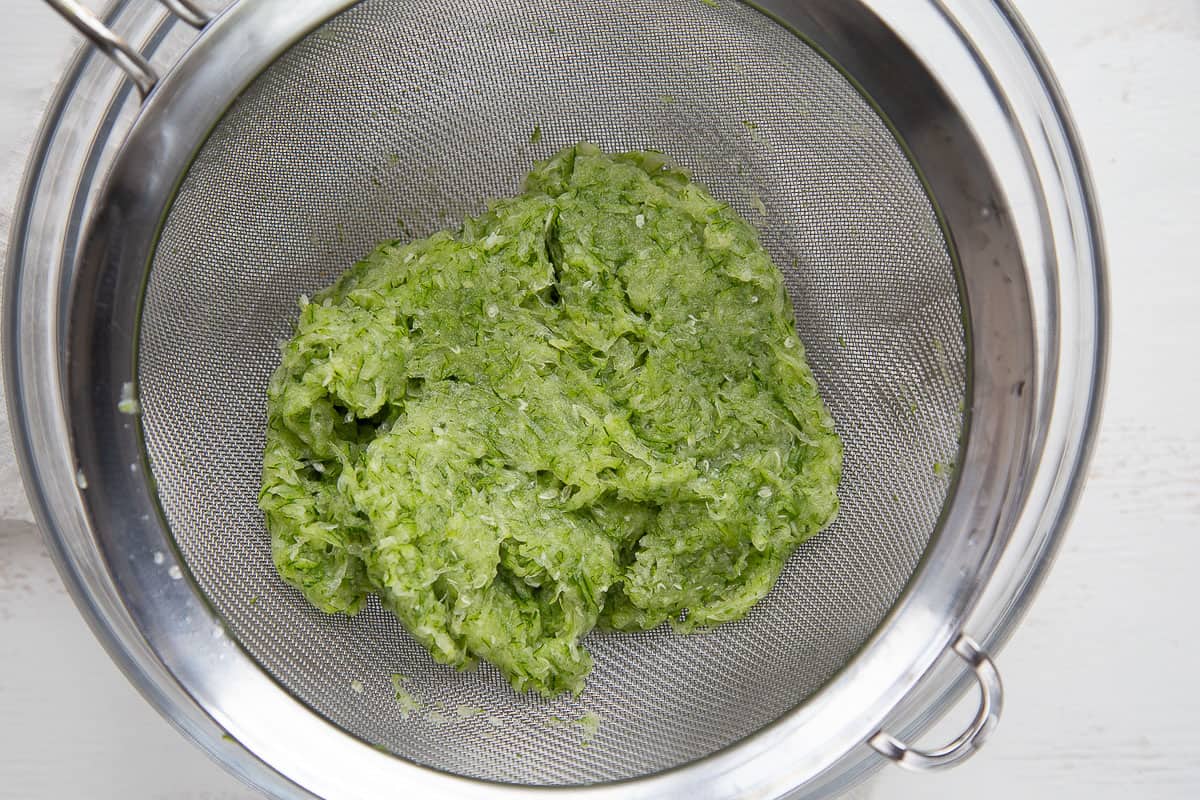 Squeezing the zucchini ensures that the batter doesn't end up soupy. Once the zucchini does not release any liquid when pressed, it is ready for the batter.
Then, place the drained zucchini in a large bowl with the eggs, canola oil, granulated sugar, and brown sugar. Whisk to combine. Stir in the coconut and walnuts.
Next, stir in the flour, salt, baking powder, baking soda, and cinnamon.
Then, fill 18 muffin cups with the batter.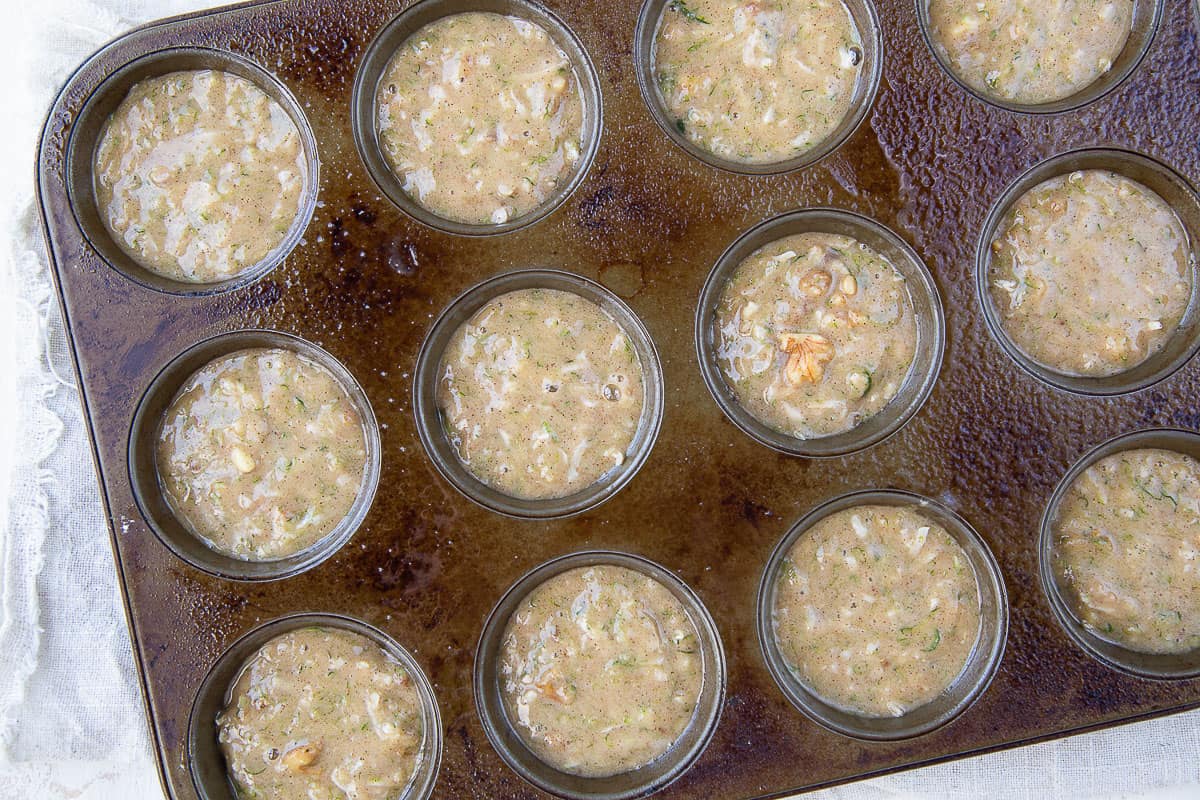 I find that muffins rise the best when the muffin cups are not too full. I filled each muffin cup two-thirds full. If you fill them much more, the tops of the muffins don't rise properly and you're left with flat muffins.
Bake the muffins for 18–20 minutes at 350°F, or until lightly golden on top.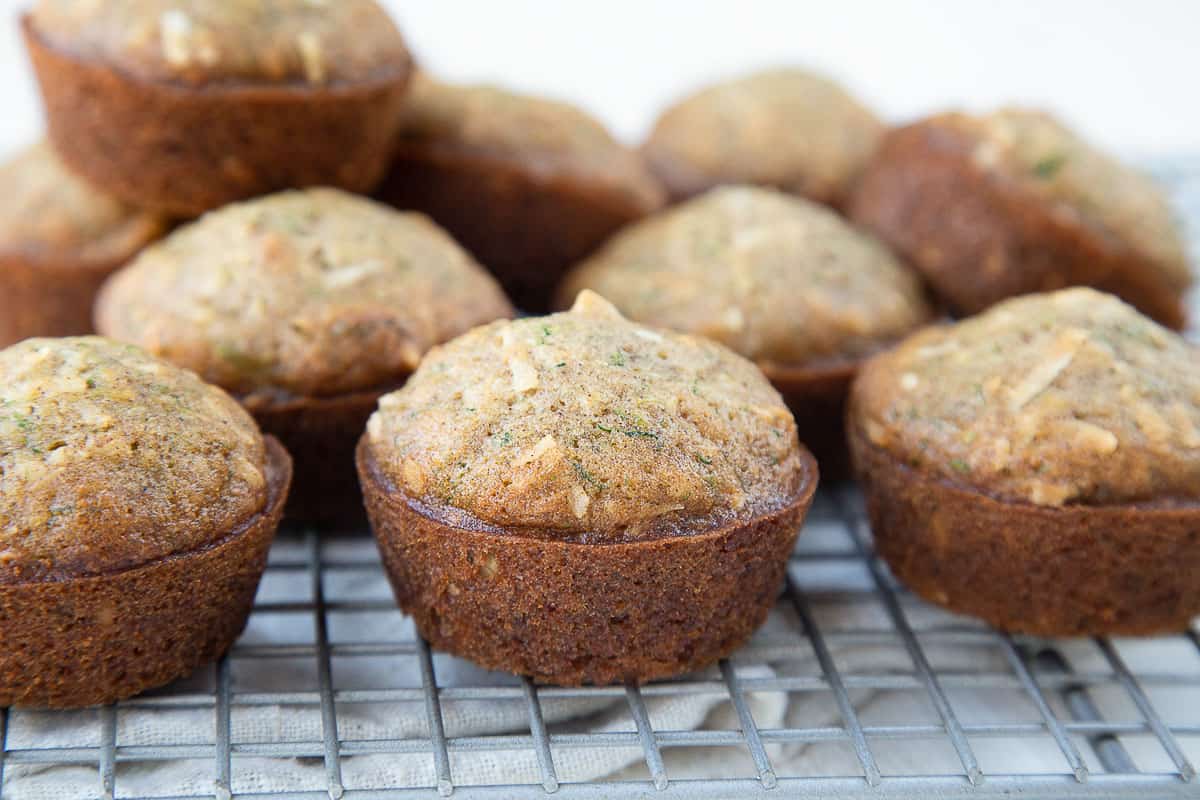 The star of the recipe is the coconut and walnuts. Zucchini doesn't have much flavor, so it's really just an ingredient used for moisture and texture (and maybe a little bit of green color).
This allows for the coconut and walnuts to really stand out, complemented by the cinnamon in the batter.
Can I freeze zucchini muffins?
To freeze zucchini muffins, place the muffins in a single layer in a freezer-safe dish or in a resealable freezer bag. Freeze for up to 2 months. Defrost at room temperature.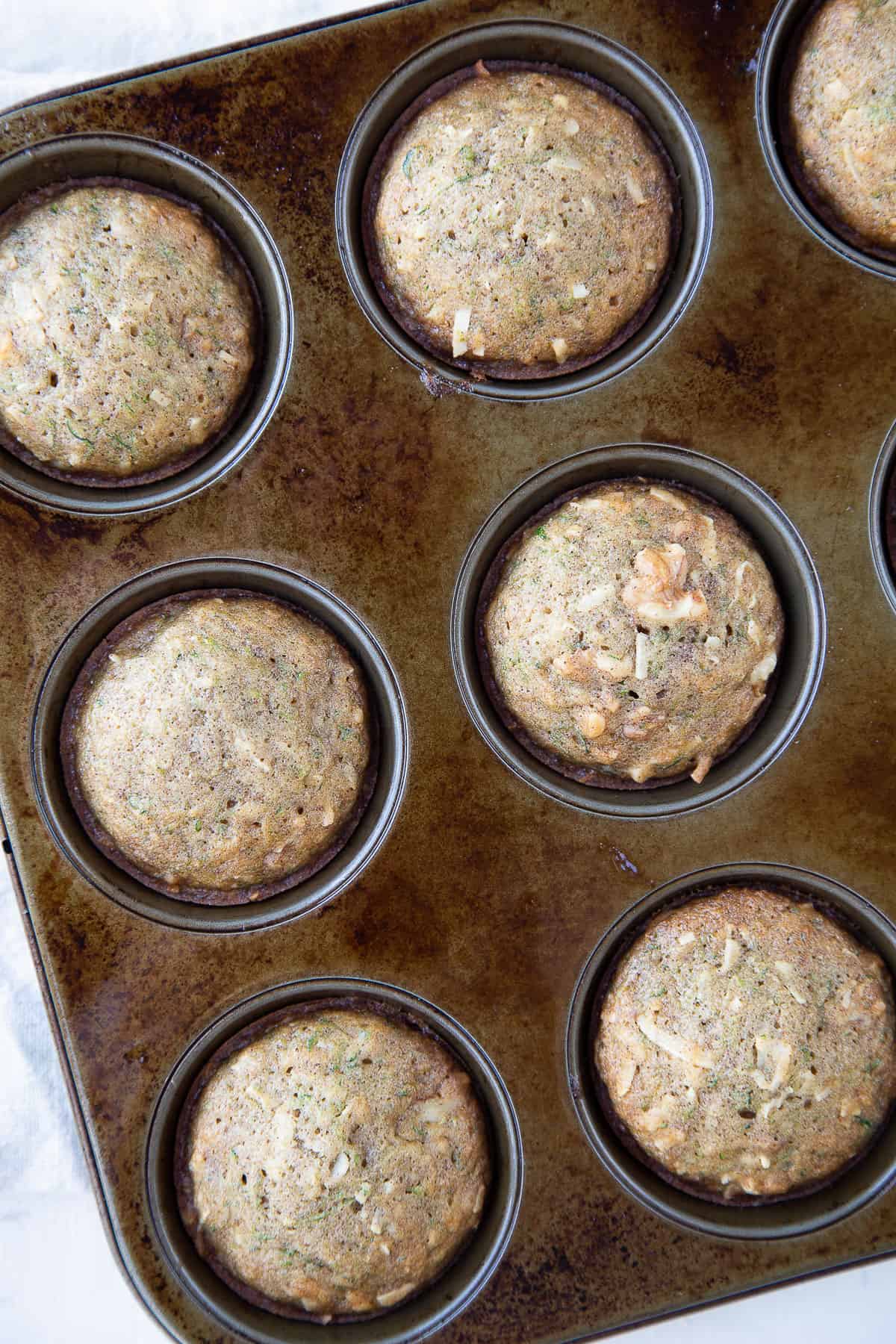 Frequently Asked Questions
Should I peel zucchini before baking?
There is no need to peel zucchini before baking with it. The skin is very tender and will melt right into whatever you're baking. The skin does add a little bit of green color. So if you're trying to disguise that there is zucchini in the dish, then you can peel it first.
Can I leave out the coconut?
Yes! You can just leave it out, or add more walnuts instead of the coconut.
Why are my muffins flat on top?
There are several reasons that muffins may be flat on top. Check the expiration dates on your leaveners, such as baking powder or baking soda. Replace any that are expired.
Another reason is that the muffin tin may be filled too much. The muffin batter should come two-thirds of the way up. Any higher and the muffins could end up flat on top.
How do I store zucchini muffins?
Store them in an airtight container at room temperature. They will last for 5–6 days.
Variations
You can substitute any number of ingredients for the coconut and walnuts (or both). Here are a few ideas:
Chocolate chips
Mini chocolate chips
Chopped pecans
Fresh blueberries
Dried cherries or cranberries
Poppy seeds (1–2 tablespoons)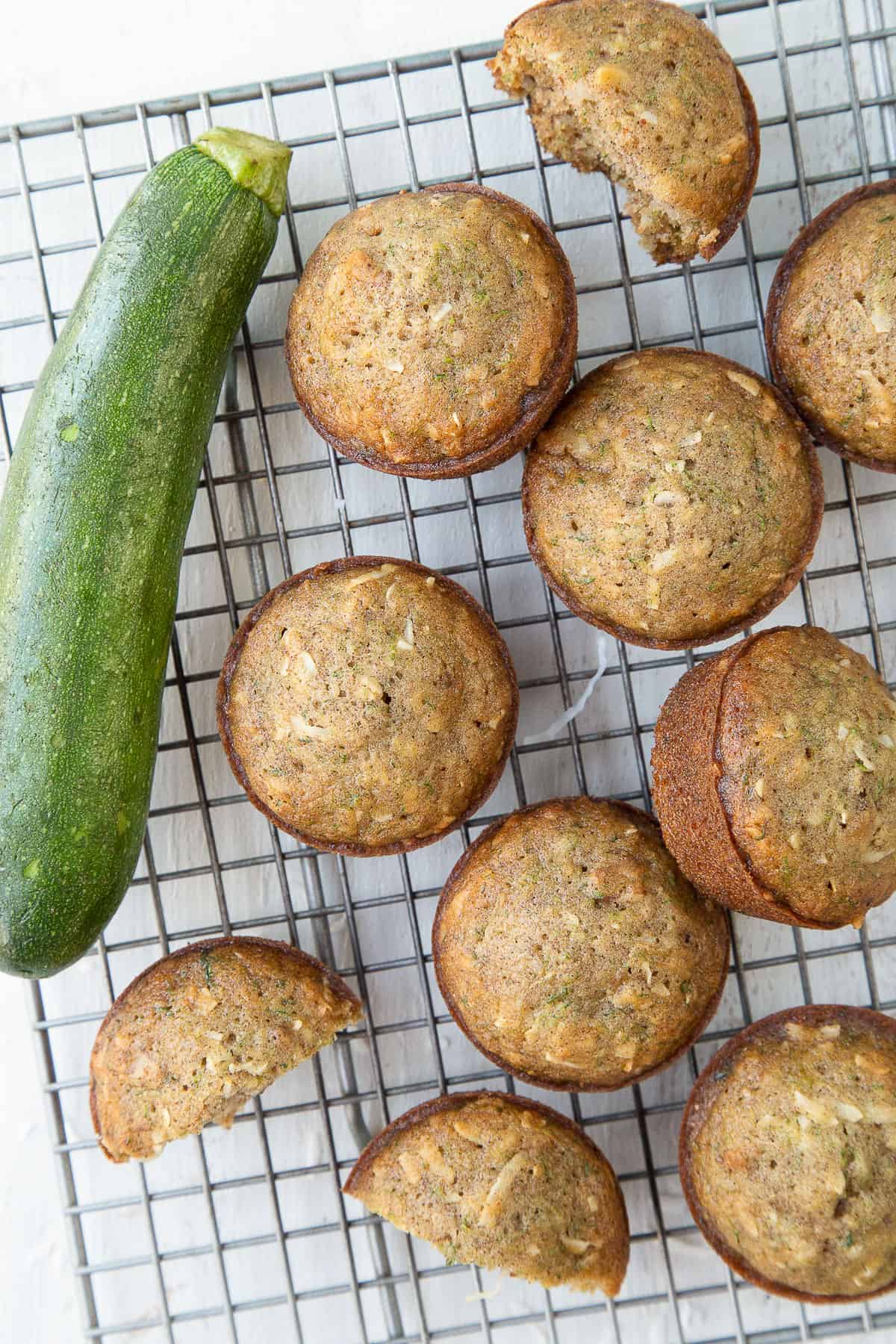 These Zucchini Muffins are soft and tender, with a lightly crisp exterior and a perfectly domed top. I love them halved, warmed up slightly, and with a pat of butter on top!
You can find more of Grandma's recipes here:
Grandma's Cocoa Drops
Grandma's Do Re Mi Cookies
Grandma's Boiled Cookies (No Bake Chocolate Cookies)
Have you tried this recipe? Please leave a ⭐️⭐️⭐️⭐️⭐️ rating and/or comment below!


📖 Recipe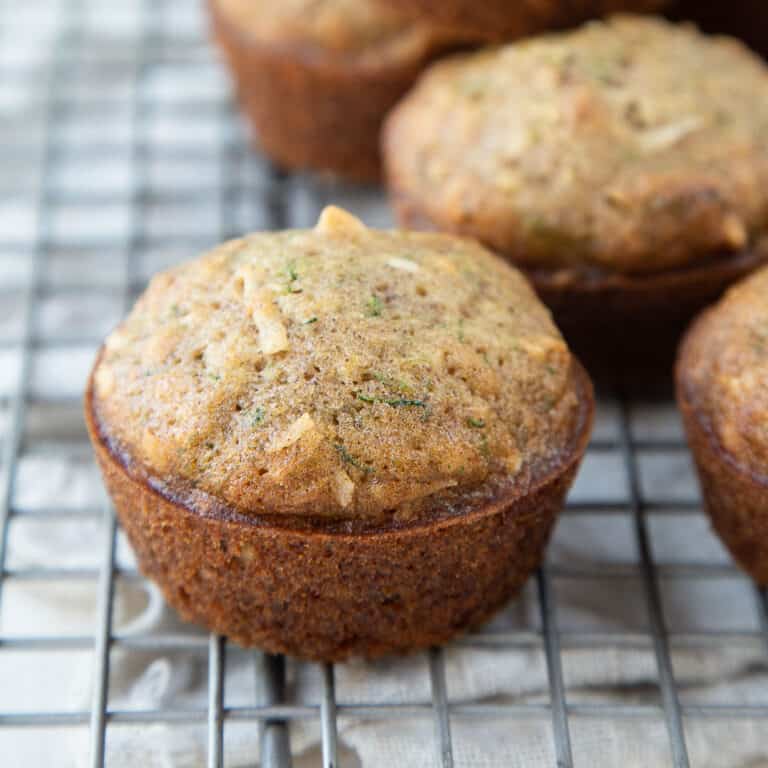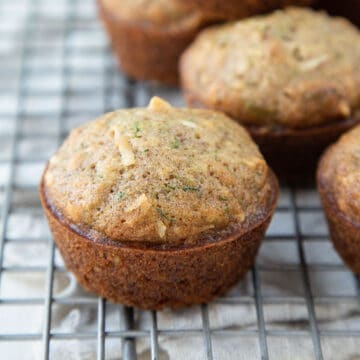 Grandma's Zucchini Muffins with Walnuts and Coconut
This recipe for Grandma's Zucchini Muffins is straight from grandma's handwritten recipe! They're light and fluffy, and full of shredded coconut and chopped walnuts.
Ingredients
2

cups

grated zucchini

3

eggs

1

cup

canola oil or vegetable oil

¾

cup

granulated sugar

¾

cup

brown sugar

2

cups

flour

½

teaspoon

sea salt

¼

teaspoon

baking powder

1

teaspoon

baking soda

3

teaspoons

ground cinnamon

1

cup

unsweetened flaked coconut

½

cup

chopped walnuts
Instructions
Preheat oven to 350°F. Spray two 12-cup muffin tins with cooking spray.

Place grated zucchini in a mesh colander. Squeeze the water out of the zucchini either with a spatula or with clean hands until water is no longer released when squeezed.

Place the drained zucchini in a large bowl with the eggs, canola oil, granulated sugar, and brown sugar. Whisk to combine.

Add the flour, sea salt, baking powder, baking soda, and cinnamon. Stir gently with a spatula until just combined. Stir in the coconut and walnuts.

Use an ice cream scoop to fill each cup of the muffin tins two-thirds full. I got 18 muffins out of this recipe, so you may not use all of the muffin cups.

Bake for 18–20 minutes, or until golden brown on top. Let cool for 10 minutes in the pan. Run a butter knife gently around the muffins to release them from the pan. Place the muffins on a wire rack until cool.
Notes
You do not need to peel the zucchini before shredding it. Take care not to over-mix the batter, which can make the muffins chewy. Substitute pecans or chocolate chips for the walnuts and coconut if you'd like. The muffins can be frozen for up to 2 months. Place them in a freezer safe container or resealable freezer bag. Defrost at room temperature.
Nutrition
Calories:
201
kcal
Carbohydrates:
32
g
Protein:
3
g
Fat:
7
g
Saturated Fat:
4
g
Cholesterol:
27
mg
Sodium:
148
mg
Potassium:
124
mg
Fiber:
2
g
Sugar:
20
g
Vitamin A:
75
IU
Vitamin C:
3
mg
Calcium:
28
mg
Iron:
1
mg
Related recipes