Italian Chopped Salad is a show-stopper of a salad. With nine salad ingredients and a tangy red wine vinaigrette, it's packed with flavor, texture, and looks beautiful, too!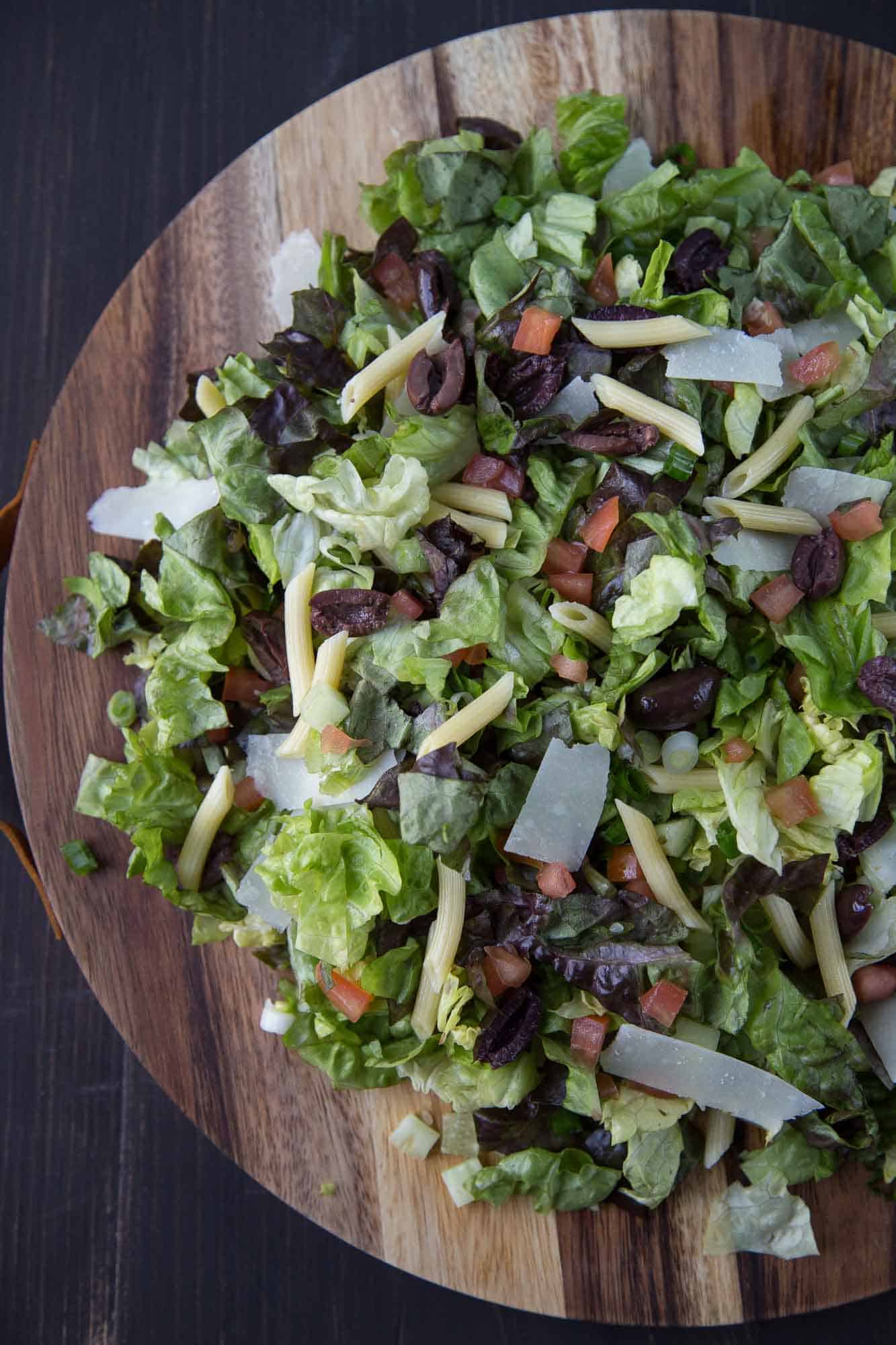 This Italian Chopped Salad with Red Wine Vinaigrette admittedly has a LOT going on. Crunchy lettuce, sweet tomatoes, refreshing cucumbers, briny olives, crispy bacon, salty parmesan, cooked pasta, zesty green onions, crispy bacon, and a homemade red wine vinaigrette—phew!
I promise you that this salad is worth it, though! Get everything out, start chopping, and you'll have a beautiful, flavorful homemade chopped salad that easily rivals a restaurant version.
I love making it for guests, or for a family pizza night at home. It pairs wonderfully with a variety of dishes (like baked ziti), and it's even hearty enough on its own for a light lunch or dinner. Chopped cooked chicken or hard boiled eggs would be a good addition to make it a little more filling, too!
Salad ingredients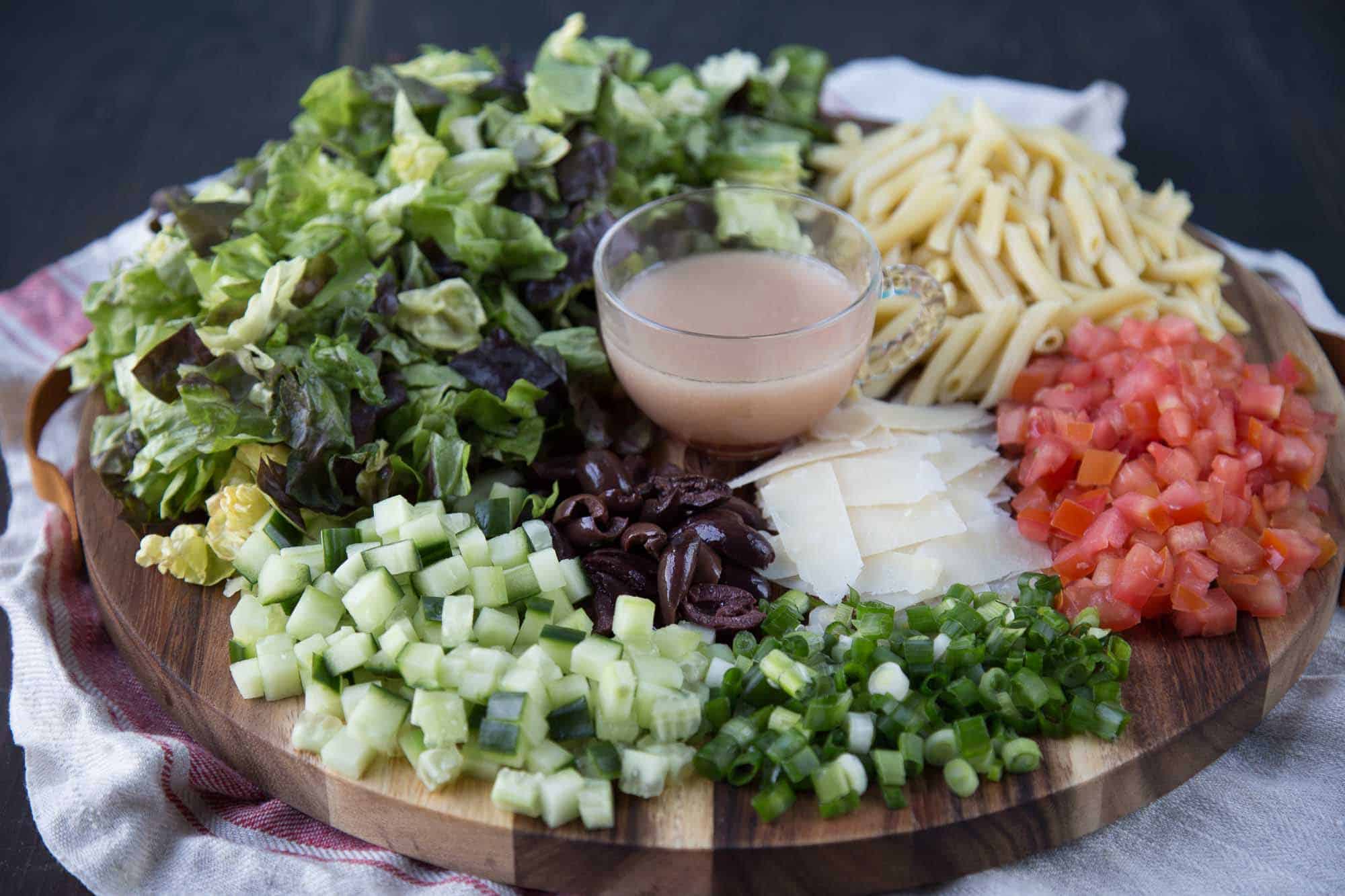 Lettuce is the backbone of the salad. Red leaf lettuce, green leaf lettuce, or romaine (or a mix of any of these) work really well for this.
Use your favorite tomatoes. I gravitate toward roma tomatoes, but beefsteak, grape, cherry, or tomatoes on the vine are all great.
Cucumbers add lots of refreshing crunch. I used a seedless cucumber to make it easier.
Olives contribute a briny bite. Use your favorite variety.
Cooked pasta is a bit unexpected, but it's such a wonderful addition since it makes the salad a little more hearty. Use a miniature variety, such as miniature penne, ditalini, or miniature bow ties.
It's not a chopped salad without cheese! I shaved parmesan (Parmigiano Reggiano—the good stuff!) with a vegetable peeler to get strips. Many grocery stores also sell shaved parmesan in little plastic tubs.
Green onions add an onion-y kick.
Crispy, crumbled bacon tops it all off!
Making a homemade red wine vinaigrette
Start by making the homemade vinaigrette for this salad. I like to keep several of these salad dressing mixer bottles
on hand for this. You could also use a mason jar, or anything with a tight-fitting lid.
Place 2 tablespoons red wine vinegar, 1 teaspoon Dijon mustard, 1 teaspoon honey, ½ teaspoon salt, and ⅓ cup extra virgin olive oil in a jar, place the lid on, and shake it up. I usually shake it carefully over the kitchen sink—you just never know when the lid isn't on tight! 🙂
Set the dressing aside, and then start on the rest of the salad.
How to make chopped salad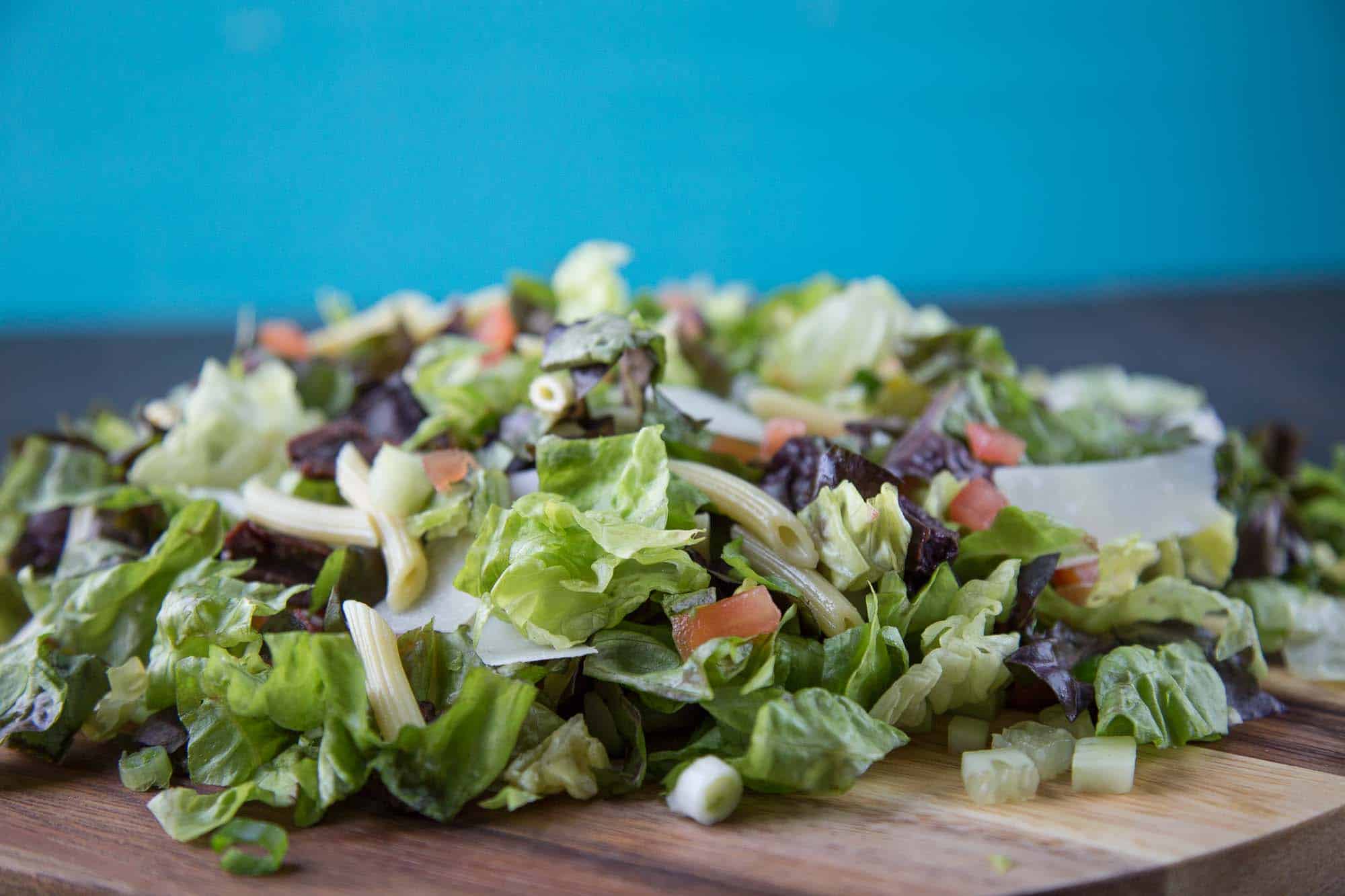 Get everything out and place it in front of you. This step really does save time—you can just chop one thing and then move onto the next.
1. Start by bringing a small pot of water to a boil. Add the pasta and cook according the package directions. Drain and reserve.
2. Place the bacon in a skillet and cook until crisp.
3. While the pasta and bacon are cooking, shake the vinaigrette ingredients together in a jar with a tight-fitting lid.
4. Tear the lettuce into bite-size pieces. Avoid chopping the lettuce with a knife, since it bruises the tender lettuce and the edges will turn brown quickly. Place the lettuce in a large bowl or on a serving platter.
5. Chop the tomatoes and cucumbers.
6. Halve the olives (and take the pits out, if they are pitted).
7. Slice the green onions.
8. When the bacon has finished cooking, chop or crumble it into small pieces.
9. Shave the parmesan with a vegetable peeler, if it's not already shaved.
10. Top the lettuce with the tomatoes, cucumber, olives, green onions, bacon, and parmesan. Pour half of the vinaigrette over the salad. Taste and add additional vinaigrette as necessary.
FAQs
Can I use a store-bought vinaigrette instead?
Definitely! Choose a red wine vinaigrette and start by adding ⅓ of it to the salad. Taste and add more to your preferences.
Can I leave out an ingredient?
This is your salad, so if you don't like olives for example, leave them out. Similarly, if you really want to add chopped hard boiled eggs or cooked chicken, then do it! This salad is completely customizable to your tastes. The ingredients listed provide a nice variety of taste and texture, but are no means all necessary to making this really delicious.
Can I use grated parmesan instead of shaved parmesan?
Absolutely!
Can I make this gluten-free?
Substitute a gluten-free pasta for the regular pasta to make this recipe gluten-free.
Can I make this dairy-free?
Leave out the parmesan cheese, or substitute a dairy-free parmesan (such as Follow Your Heart brand) to make this recipe gluten-free.
Serving suggestions
Chopped salad pairs wonderfully with Slow Cooker Italian Beef Sandwiches. The sandwiches are made in the slow cooker, so there's plenty of time to make the salad while it cooks!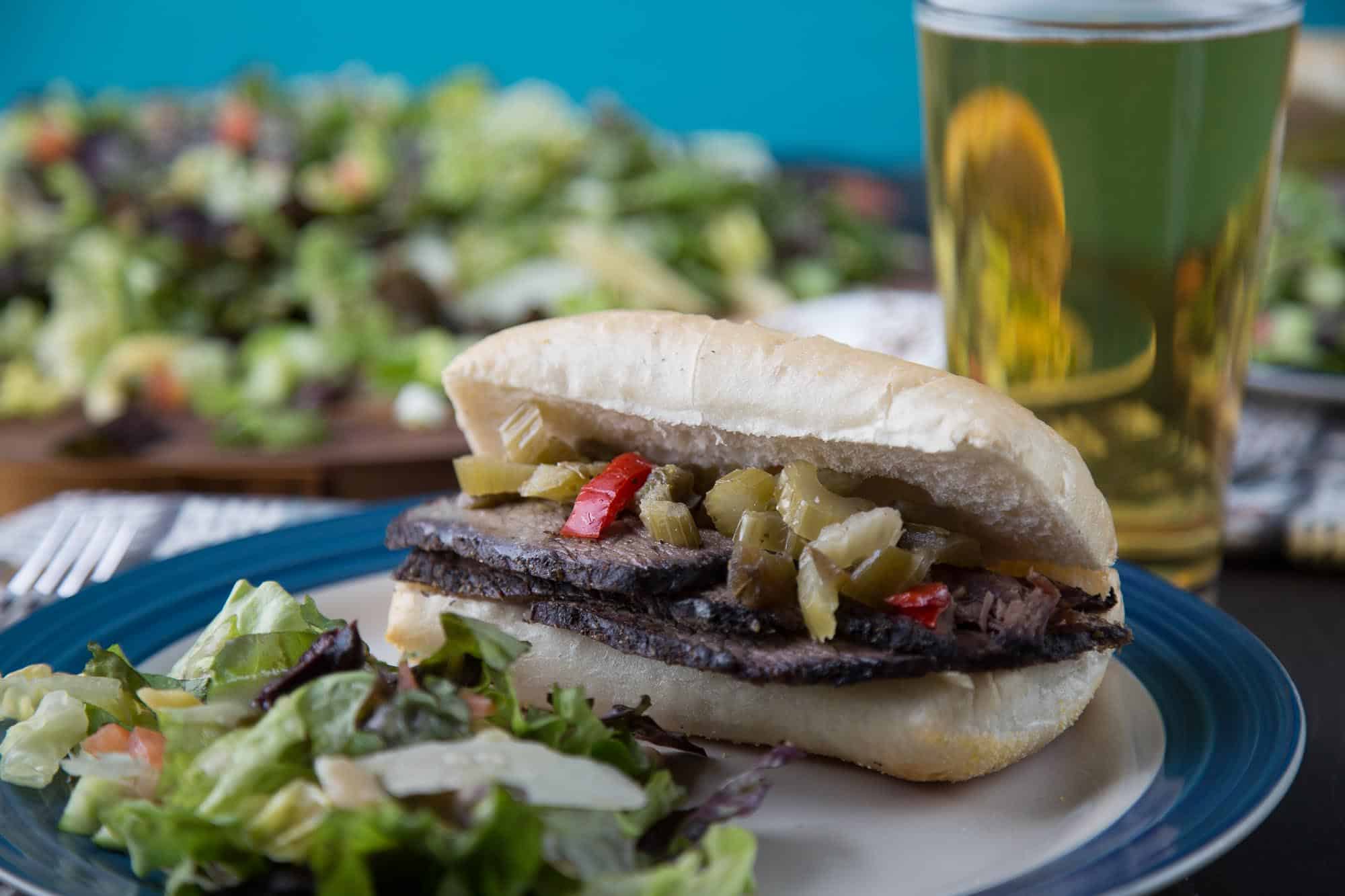 Both the sandwiches are the salad are perfect for a cozy afternoon indoors. The beef can hang out in a slow cooker set to "warm" for several hours, and the salad (without the vinaigrette) can hang out on the countertop. Just add the vinaigrette right before serving, toast the bread for the sandwiches, and you're ready to eat!
The salad also pairs nicely with pizza or pasta. And since it features Italian flavors, the salad would be a great side dish for Italian Stuffed Peppers.
If you make this recipe, please leave me a comment below, or tag me on Instagram or Pinterest. I love hearing from you!
📖 Recipe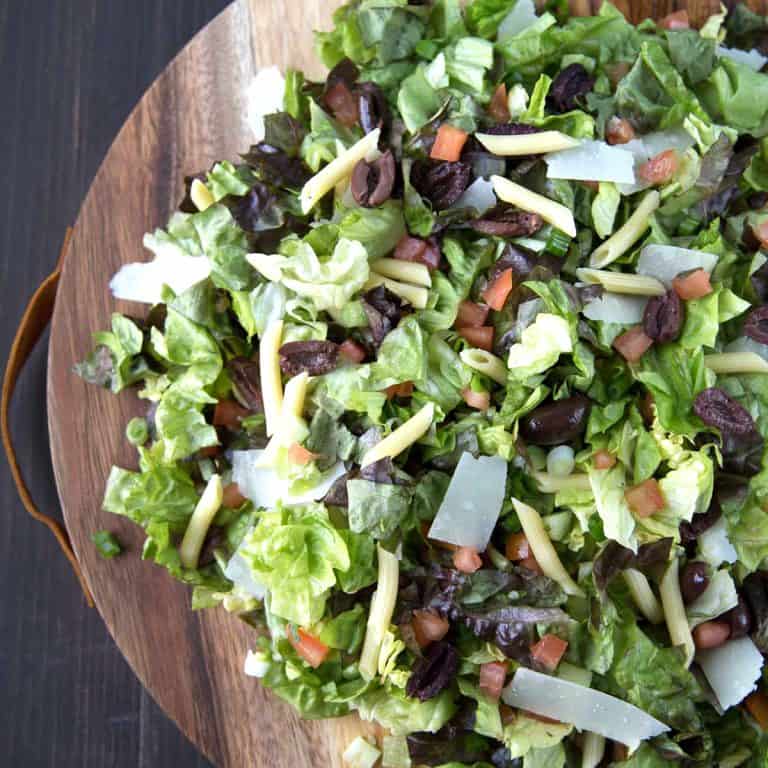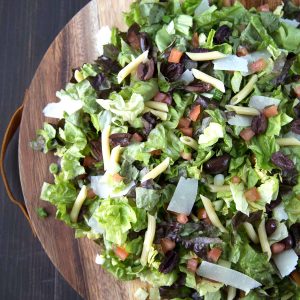 Italian Chopped Salad with Red Wine Vinaigrette
A classic Italian salad, with a homemade vinaigrette that you'll make again and again!
Ingredients
For the salad:
1

head green or red leaf lettuce,

torn into small pieces

2

roma tomatoes,

cut into a small dice

½

seedless cucumber,

cut into a small dice

⅓

cup

kalamata olives,

halved

½

cup

miniature pasta, such as mini penne, mini bow ties, or ditalini

⅓

cup

shaved Parmigiano Reggiano

2

green onions,

sliced thinly

Optional: 3 slices bacon,

cooked and crumbled
For the red wine vinaigrette:
2

tablespoons

red wine vinegar

1

teaspoon

Dijon mustard

1

teaspoon

honey

½

teaspoon

salt

⅓

cup

extra virgin olive oil
Instructions
Place a small pot of water over high heat. Add the pasta and cook according to package directions. Drain and let cool.

Combine all salad ingredients in a large bowl.

Place the red wine vinaigrette ingredients in a jar with a tight-fitting lid. Shake to combine.

Pour half of the vinaigrette over the salad ingredients. Toss to combine.

Add the remaining vinaigrette as desired. Serve immediately.
Notes
Want to add more protein? Add 1 cup of cooked and diced chicken breast, or 4 chopped hard boiled eggs. Many grocery stores sell shaved parmesan in plastic tubs. Look for it in the specialty cheese section, or shave a block of parmesan using a vegetable peeler. You can also use grated parmesan if neither of these options is available.
Nutrition
Calories:
177
kcal
Carbohydrates:
8
g
Protein:
3
g
Fat:
15
g
Saturated Fat:
3
g
Cholesterol:
5
mg
Sodium:
408
mg
Potassium:
110
mg
Fiber:
1
g
Sugar:
2
g
Vitamin A:
328
IU
Vitamin C:
4
mg
Calcium:
74
mg
Iron:
1
mg