This easy Corn Flake Candy recipe is a quick way to make candy at home—no candy thermometer required! Drop it by spoonfuls for a quick treat, or shape it into wreaths for the holidays.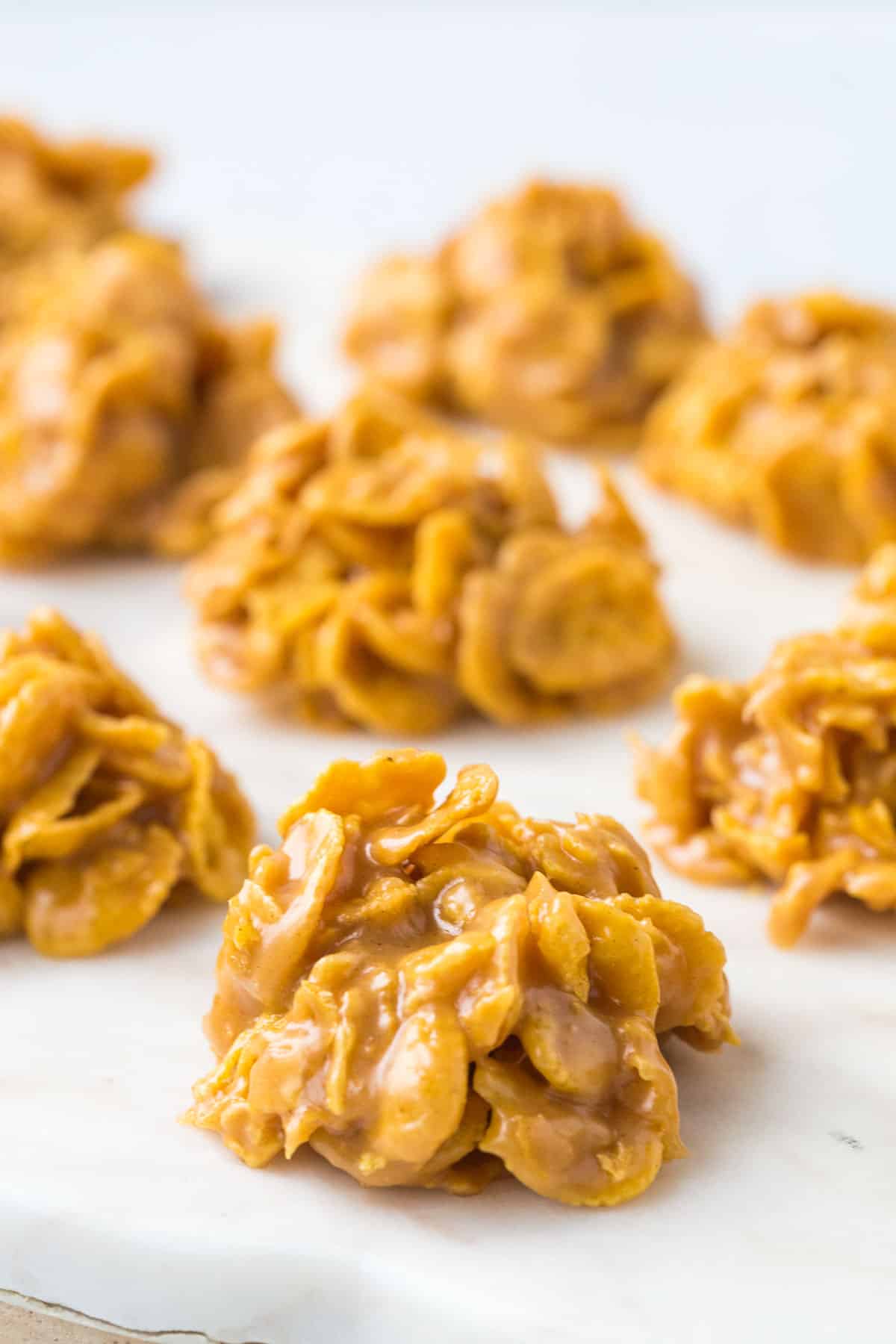 I love an easy sweet treat, and this recipe for No-Bake Corn Flake Candy definitely qualifies as easy!
It has just four ingredients, and takes 10 minutes to make. After the candy sets up (about 20 minutes), it's ready to eat!
You'll need corn flakes, peanut butter, sugar, and corn syrup (the recipe is really similar to No-Bake Special K Bars, but with no chocolate).
You can drop the candy by spoonfuls to create little peanut butter corn flake candy clusters, OR you can dye the mixture green and shape into wreaths.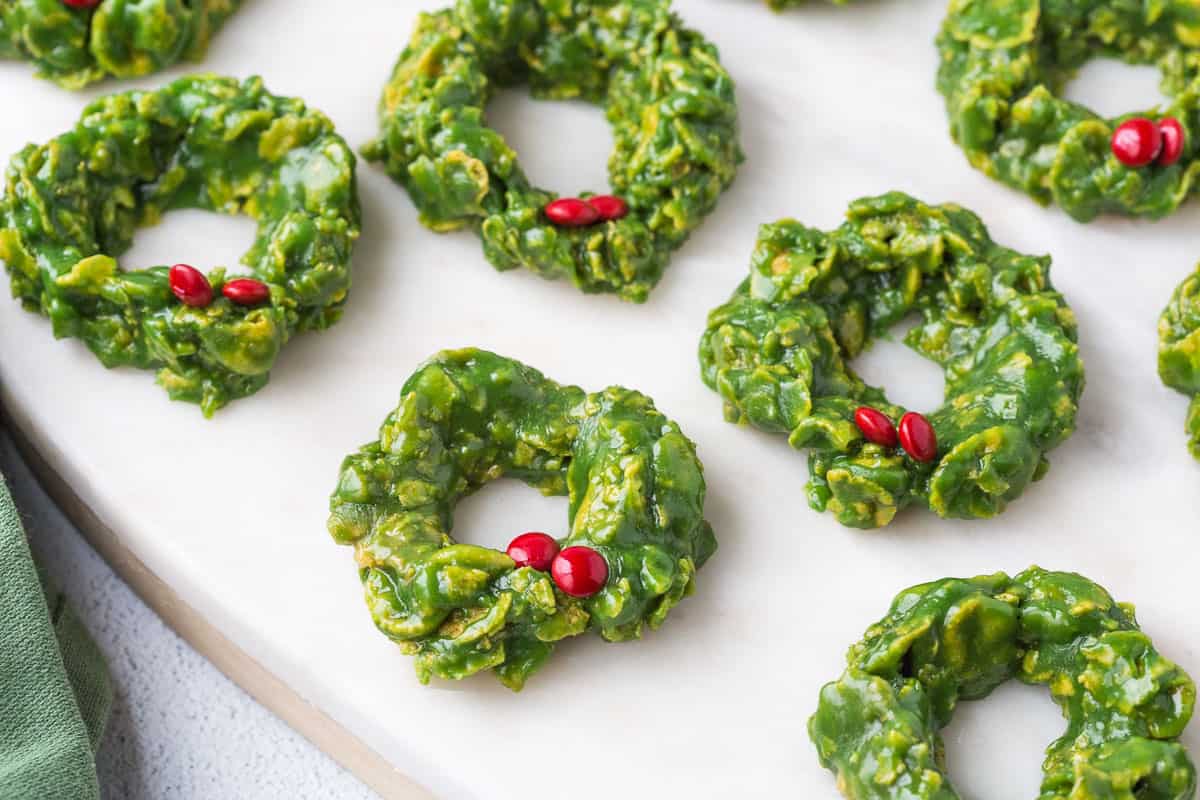 Whichever you choose, you and your family/guests will love these sweet, Southern, no-bake treats!
Also, if you love peanut butter desserts, don't miss my Old Fashioned Peanut Butter Fudge!
This post contains affiliate links. Affiliate links support Gift of Hospitality at no additional cost to you. I receive a commission if you choose to make a purchase through these links.
Jump to:
Top tips
You'll need to work quickly as the candy sets up quickly. Make sure you have a sheet pan lined and ready to go before starting.
Use a regular creamy peanut butter (not natural).
Gel food coloring works best for dying the wreaths without using tons of liquid food coloring.
If you have some leftover corn flakes, check out my old fashioned Corn Flake Cookies!
Ingredients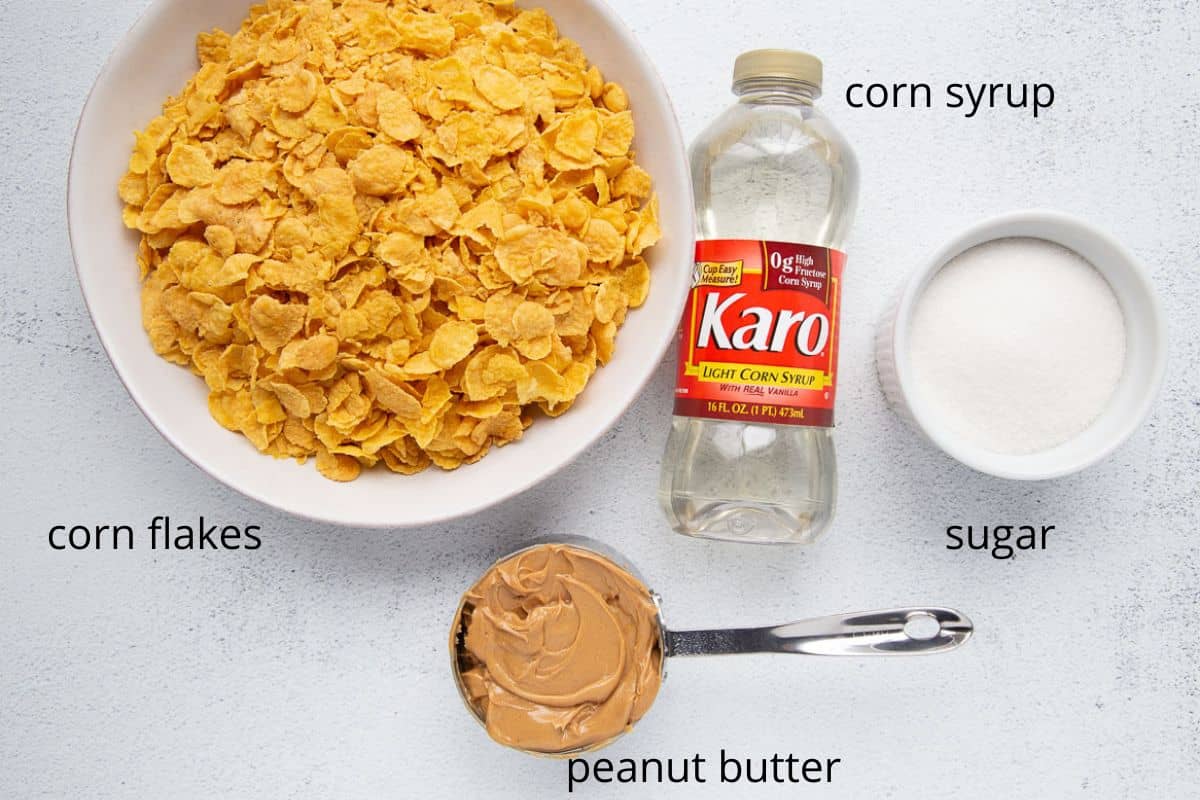 Corn flakes make the base of this recipe. Any brand is fine.
Use regular creamy peanut butter (not natural).
Sugar and corn syrup combine to form the sweet, gooey mixture to hold everything together.
How to make peanut butter corn flake candy
Start by lining two baking sheets with parchment paper, wax paper, or a silicone mat.
Then, place the corn syrup and sugar in a saucepan over medium heat.
Cook JUST until it reaches a boil, and the sugar is dissolved.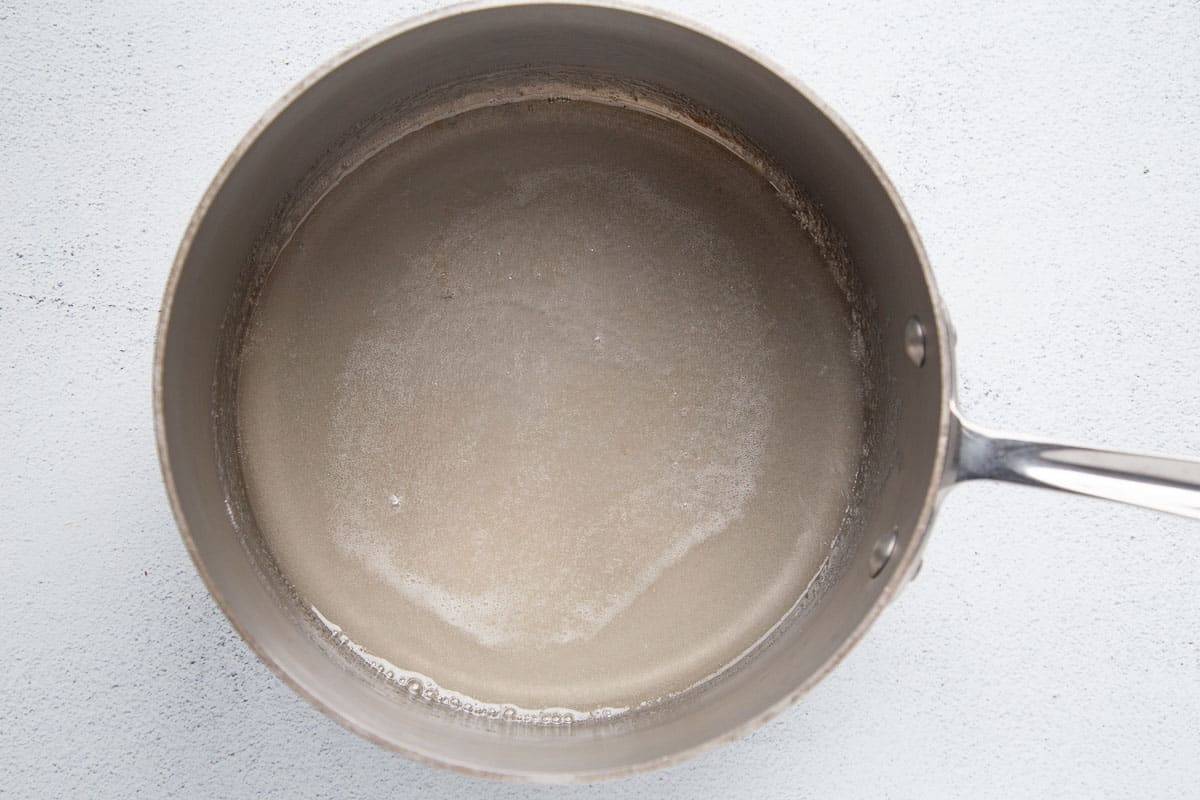 Remove from the heat and stir in the peanut butter until the mixture is smooth.
Then, quickly stir in the corn flakes.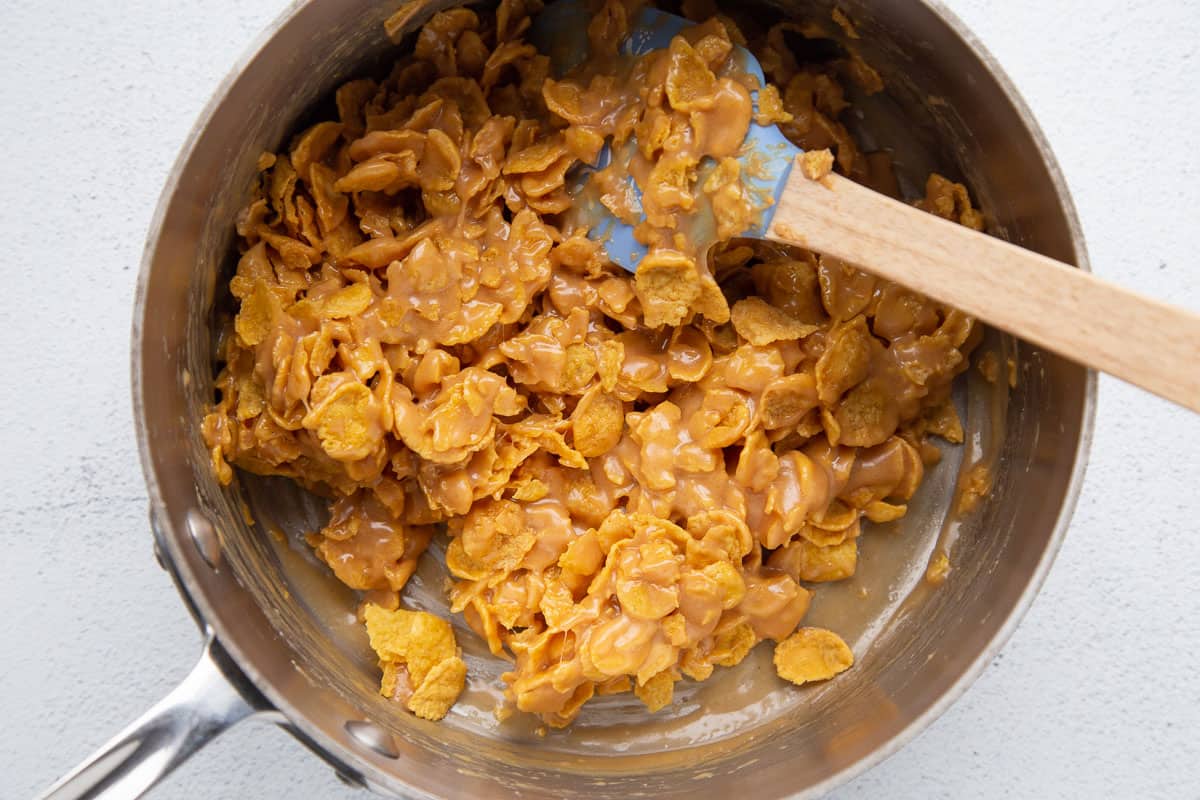 Quickly drop onto the prepared baking sheets. You'll get about 24 pieces if each piece is about 2 tablespoons.
Let the corn flake candy cool until it's at room temperature, about 20 minutes.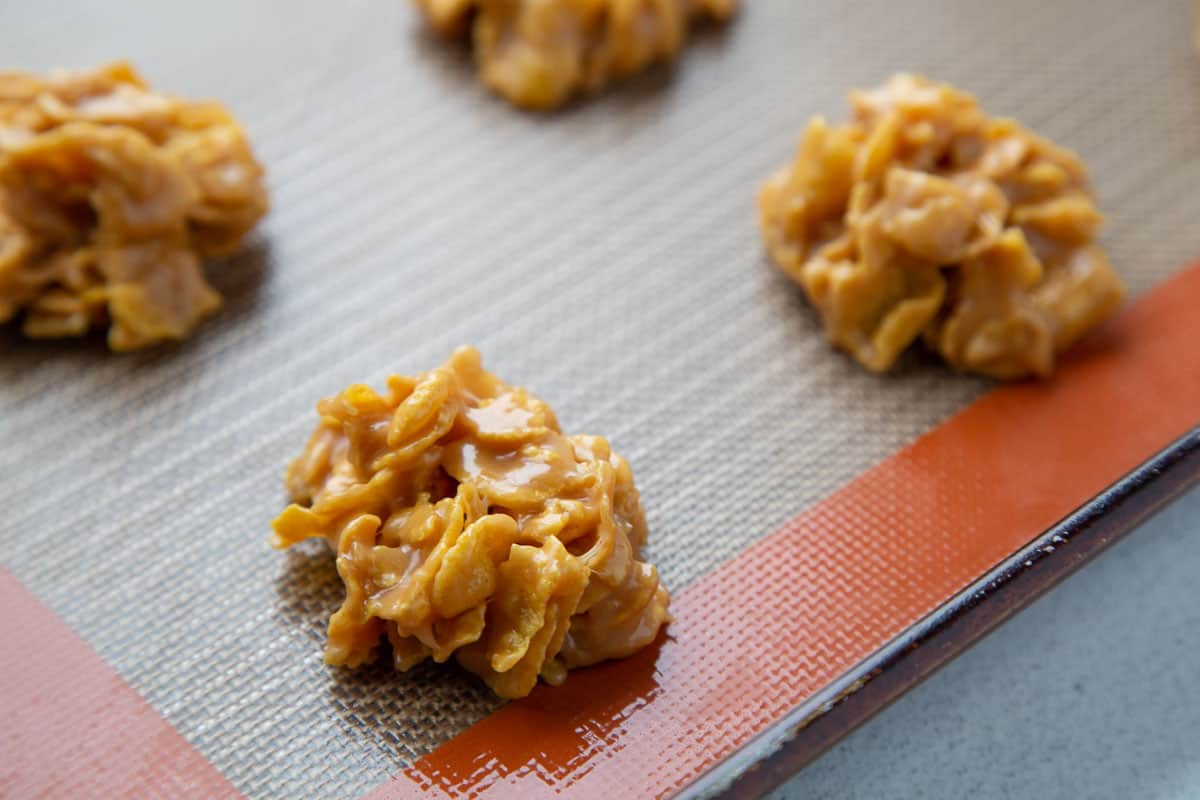 How to make corn flake Christmas wreaths
To make wreaths, follow the instructions as written, but add several drops of gel food coloring with the peanut butter to get your desired green color.
Drop two-tablespoon sized dollops onto a baking sheet, and use your hands to shape them into wreaths. Press several mini red M&Ms onto the top to create "holly" (do this just after shaping so the M&Ms stick).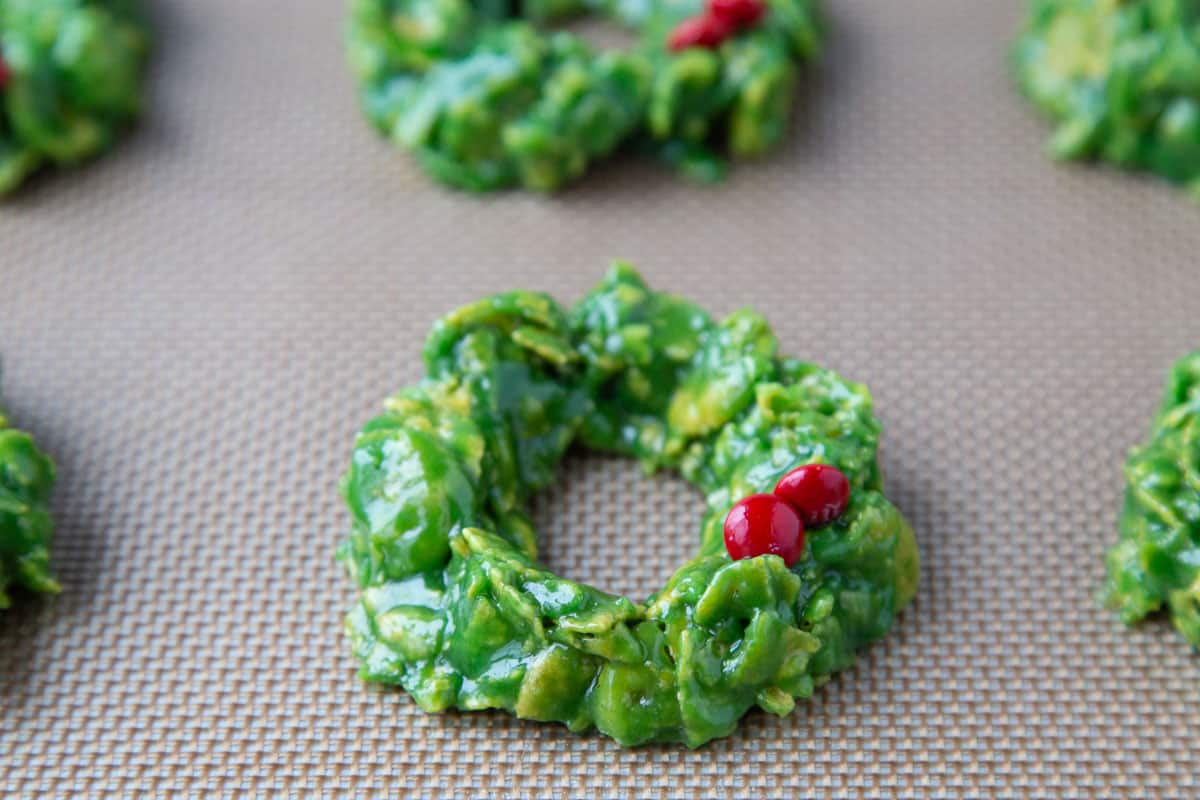 Allow to set for 20 minutes before eating.
Can I make corn flake candy in advance?
When stored in an airtight container, corn flake candy will keep for several weeks. I recommend making it no more than 3 days in advance of serving for the best texture.
You do not need to refrigerate corn flake candy.
Variations
There are a number of ways to make corn flake candy your own, while still keeping it easy! Here are some ideas:
Top the candy with sprinkles just after scooping (before it hardens)
Drizzle the tops of the candy with melted chocolate
Add a teaspoon of vanilla extract along with the peanut butter
Use another cereal such as Chex, Cheerios, Rice Krispies, or Special K in place of the corn flakes
Spread the mixture into a 13×9 inch pan to create bars. Top with melted chocolate (similar to No-Bake Special K Bars).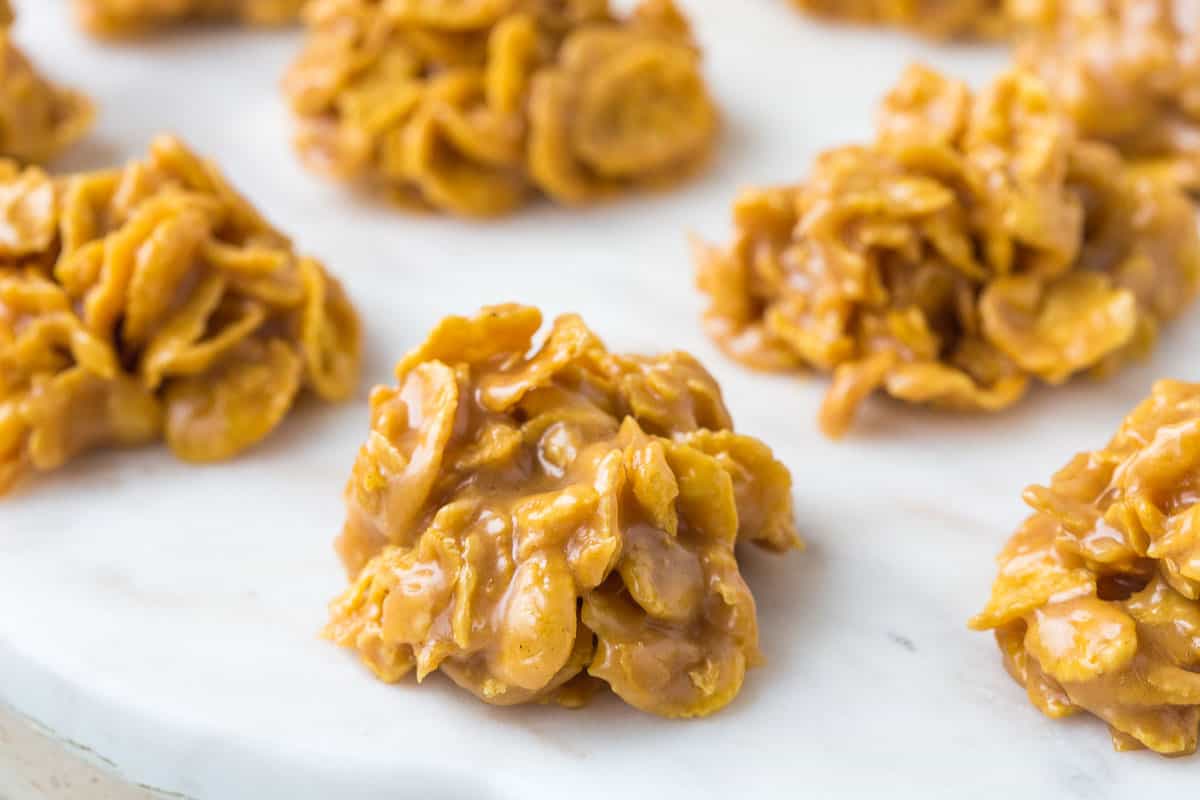 Frequently Asked Questions
Why is my corn flake candy gooey?
If the candy is too gooey, two things could have gone wrong: 1) the mixture didn't reach a boil or 2) there aren't enough corn flakes to hold it together.
Why is my corn flake candy hard?
Corn flake candy can become hard if it's boiled for too long. Take the corn syrup mixture off the heat immediately after it starts boiling.
How long does corn flake candy last?
Corn flake candy will last for several weeks at room temperature in a covered container. It's best served within one week though for freshness.
Can I make these gluten-free?
You can make gluten-free corn flake candy by using gluten-free corn flakes. Check any other labels to make sure they don't contain gluten as well.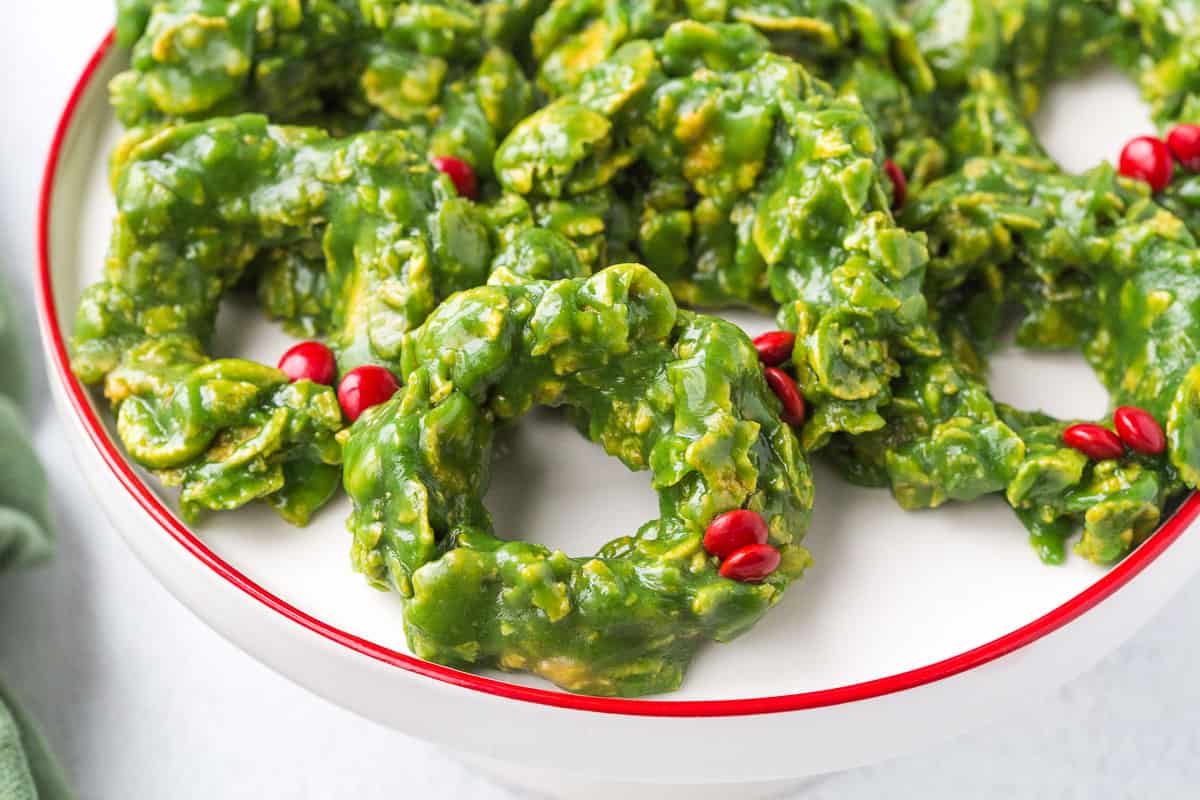 More old fashioned desserts
Have you tried this recipe? Please leave a ⭐️⭐️⭐️⭐️⭐️ rating and/or comment below!


📖 Recipe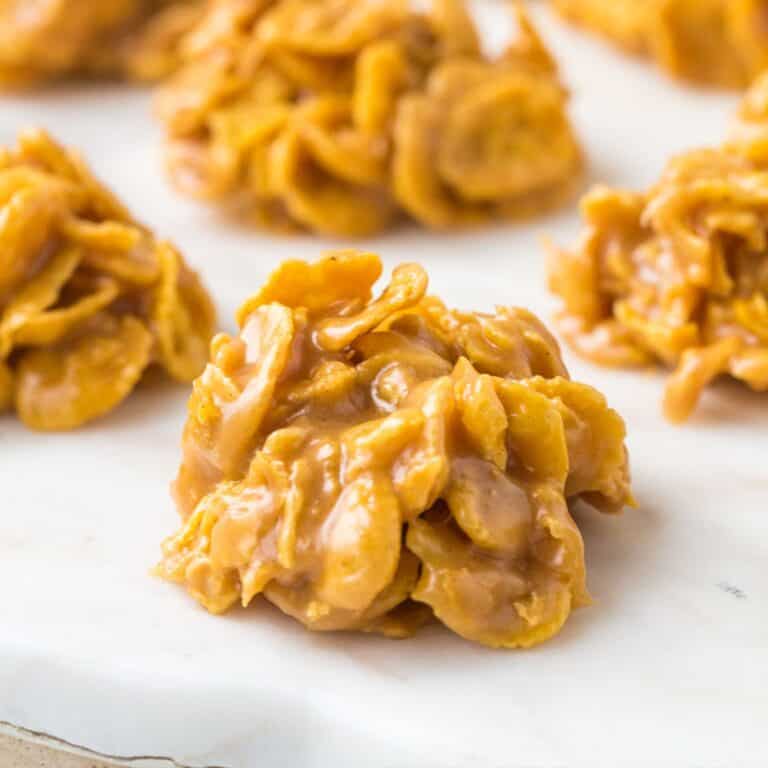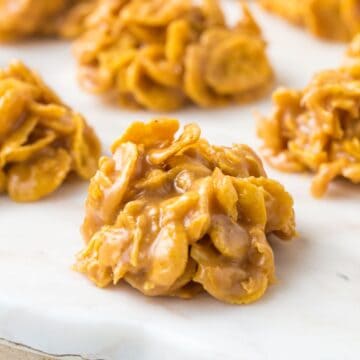 Corn Flake Candy
You just need four ingredients for these easy no-bake treats!
Ingredients
1

cup

light corn syrup

1

cup

granulated sugar

1

cup

creamy peanut butter

(not natural)

5

cups

corn flakes
Instructions
Line a sheet pan with wax paper or parchment paper.

Place corn syrup and sugar in a saucepan over medium heat. Cook, stirring frequently, JUST until the mixture reaches a boil and the sugar is dissolved, about 4–5 minutes.

Take off the heat and stir in the peanut butter.

Place the corn flakes in a large bowl, and pour the peanut butter mixture over the top. Stir quickly to combine, then drop by spoonfuls onto the parchment or wax paper. Cool to room temperature—the candy will set as it cools.
To make wreaths:
Add 4–5 drops green food coloring to the hot sugar mixture, along wit the peanut butter. Proceed with the recipe as directed, but use two spoons or your fingers to form the clusters into wreath shapes. Decorate the wreaths with mini red M&Ms before they cool completely.
Notes
If you want to add sprinkles on top, add them as you drop the candy, before it sets. You can also drizzle the tops with melted chocolate. You can substitute Chex, Cheerios, Rice Krispies, or Special K in place of the corn flakes. You can make these into bars by pressing the mixture into a parchment-lined 13×9 inch pan. Let cool and cut into bars. These will keep in an airtight container at room temperature for one week. You can also freeze them in a resealable freezer bag for up to one month.
Nutrition
Calories:
157
kcal
Carbohydrates:
27
g
Protein:
3
g
Fat:
6
g
Saturated Fat:
1
g
Polyunsaturated Fat:
1
g
Monounsaturated Fat:
3
g
Sodium:
98
mg
Potassium:
71
mg
Fiber:
1
g
Sugar:
21
g
Vitamin A:
104
IU
Vitamin C:
1
mg
Calcium:
7
mg
Iron:
2
mg
Related recipes