Make this iconic Chicago sandwich in your slow cooker! The meat is tender and juicy, and perfect for piling on a big squishy roll.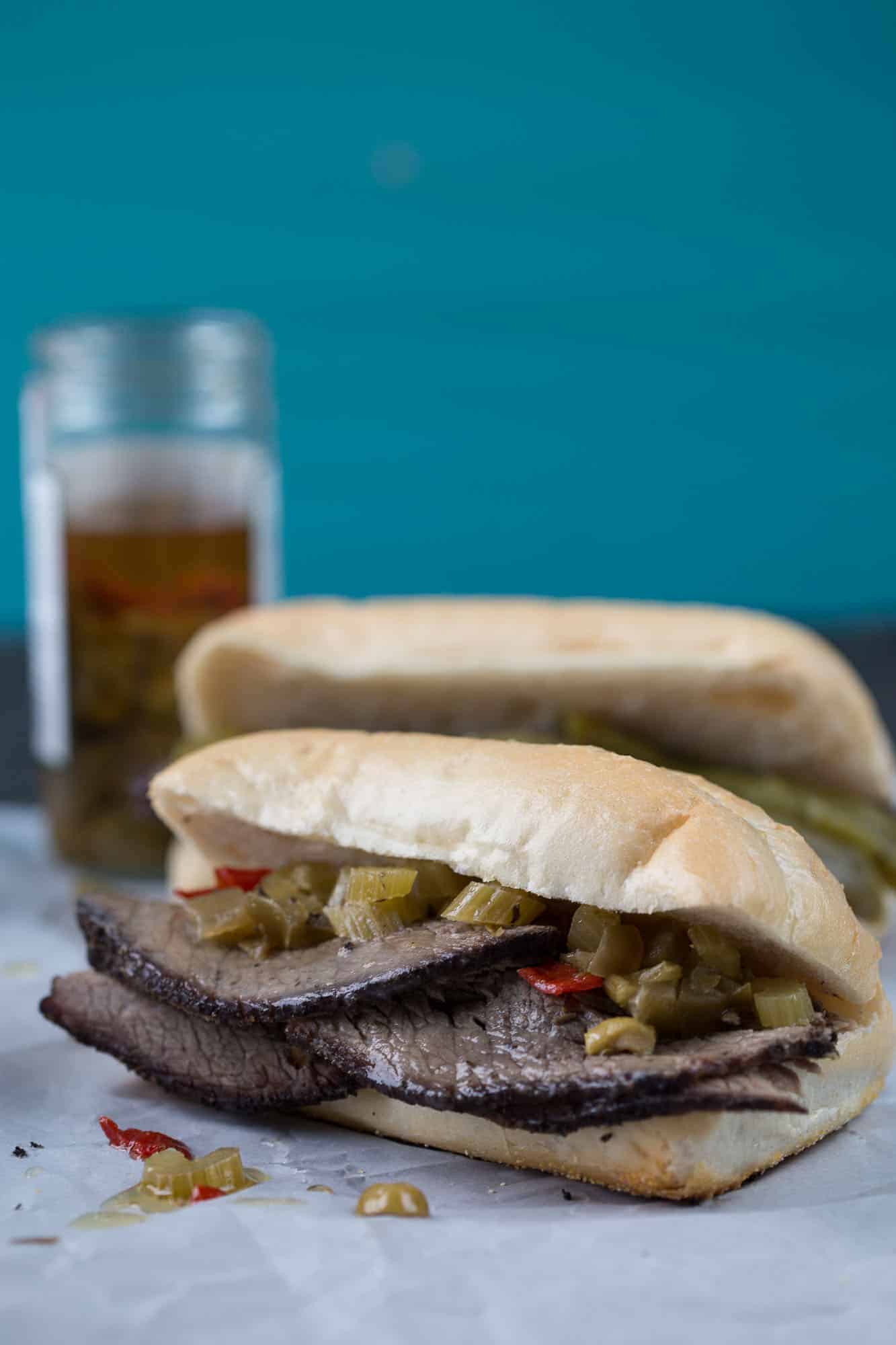 Slow Cooker Italian Beef Sandwiches are an easy-to-make version of a classic Chicago sandwich. The beef is tender and dripping with juice, the rolls are soft and squishy, and the peppers are to your liking—mild or spicy.
It starts with a sirloin tip roast, and a slow cooker is the perfect cooking method. The meat is quite lean, and with the broth at the bottom, the slow cooker basically steams the meat until it's done. It results in a moist, tender roast.
Portillo's, an iconic, always-busy sandwich shop in Chicago and its suburbs, is known for its Italian beef sandwiches. They are served piping hot on the softest French bread, and presented with gravy (au jus) for dipping.
When ordering, there are two options for the sandwich: with homemade roasted sweet peppers, or with spoonfuls of spicy giardiniera.
You can also order it "dry" (with very little juice) or "dipped", where they dunk the entire sandwich in the gravy.
We're creating those options here, with green peppers cooked in the au jus, a side of spicy giardiniera for the spice lovers, and lots of au jus for dipping.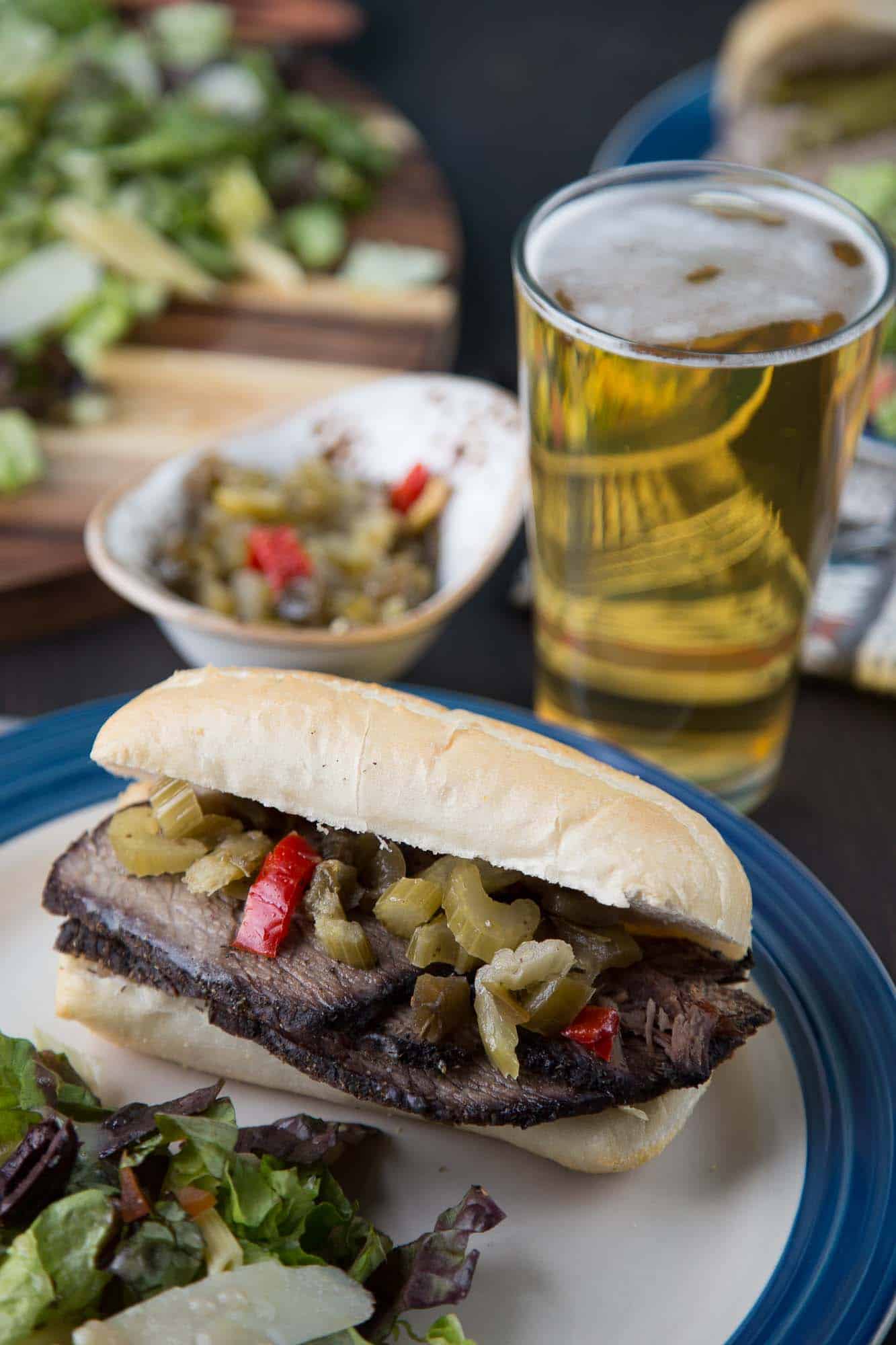 Origin of Italian beef sandwiches
According to my copy of The Chicago Food Encyclopedia
, Italian beef sandwiches became popular in the 1920s.
They were served at "peanut weddings"—weddings where Italian American families rented out a big hall and made their own food for the event: roasted peanuts and sandwiches with wet roasted Italian beef.
Since there were often hundreds of people in attendance, the hosts would take the beef to a local bakery to cook it in their large-capacity ovens. And the same bakery would supply the bread for the sandwiches.
Soon after, beef stands emerged on Taylor Street on Chicago's near southwest side. After World War II, they became even more prolific.
They now dot numerous Chicago neighborhoods, offering sandwiches, french fries, and in Portillo's case, an entirely un-Italian treat called the Chocolate Cake Shake. It's a milkshake with an entire slice of chocolate cake blended into it. And it's delicious.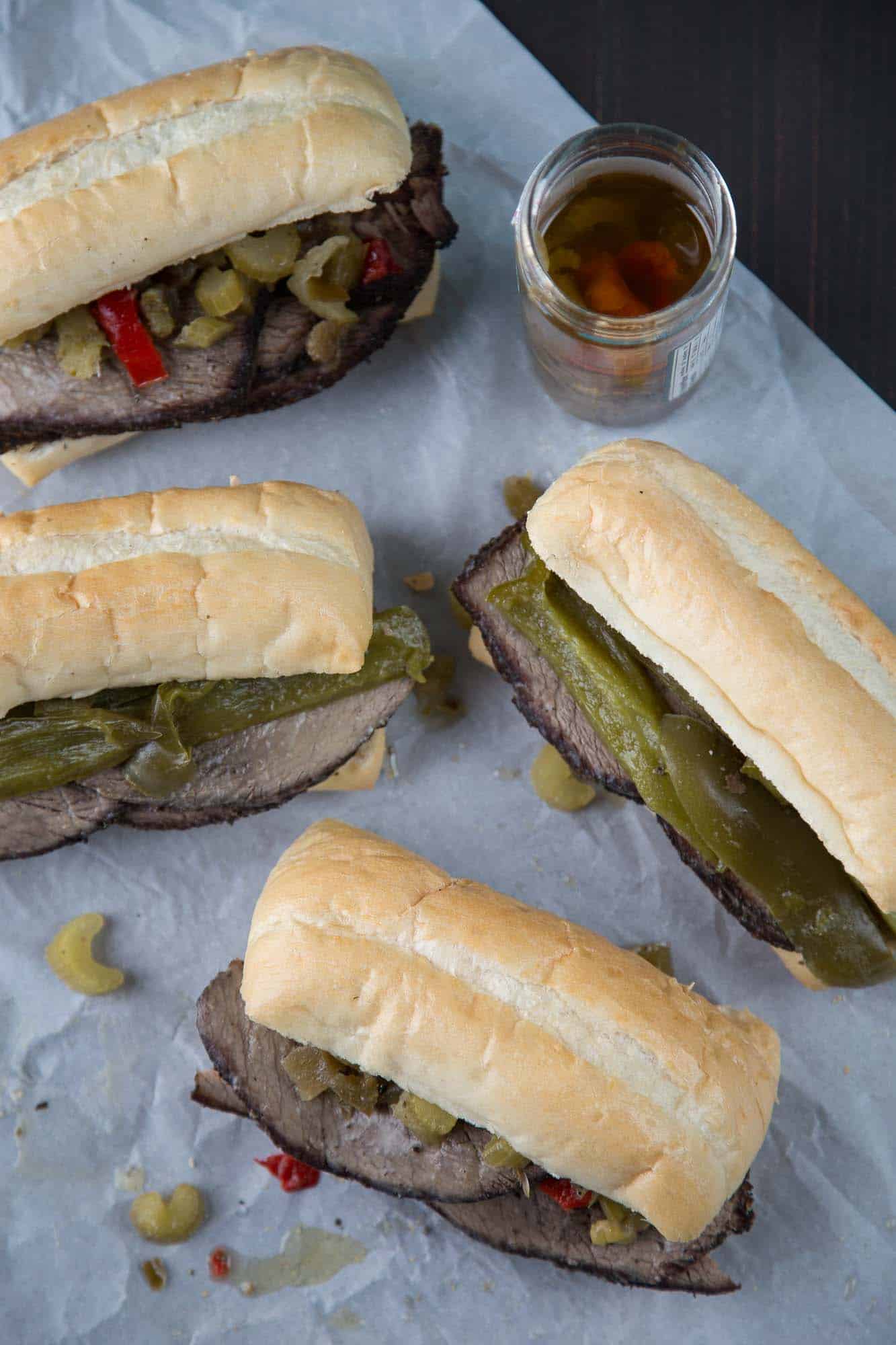 What is a sirloin tip roast?
A sirloin tip roast is a lean cut, from the front end of the rear leg. It is flavorful, but due to its lean nature, it is best when braised. It also makes great kabobs (like these Italian Marinated Steak Kabobs).
Ingredients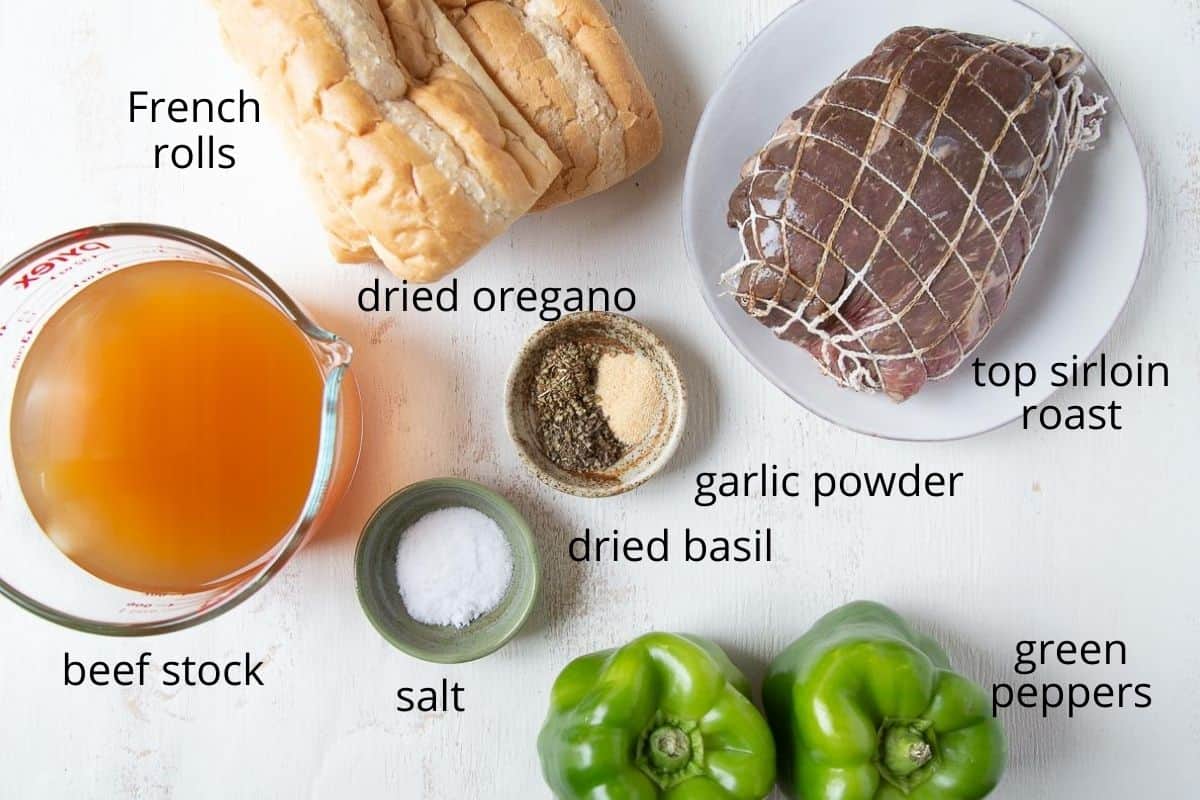 Look for a sirloin tip roast in the meat department, in the beef section. They often have a netting on them, which holds the meat together when cooking.
Soft and squishy French rolls are best for soaking up the au jus.
Use green peppers if you like a mild sandwich, otherwise, use spicy giardiniera.
Dried basil, dried oregano, and garlic powder flavor the roast and the au jus.
Beef stock or veggie stock acts as the braising liquid, and it also ensures there's lot of au jus for dipping.
How to make Italian beef sandwiches in a slow cooker
Combine the dried basil, dried oregano, garlic powder, and salt in a small bowl.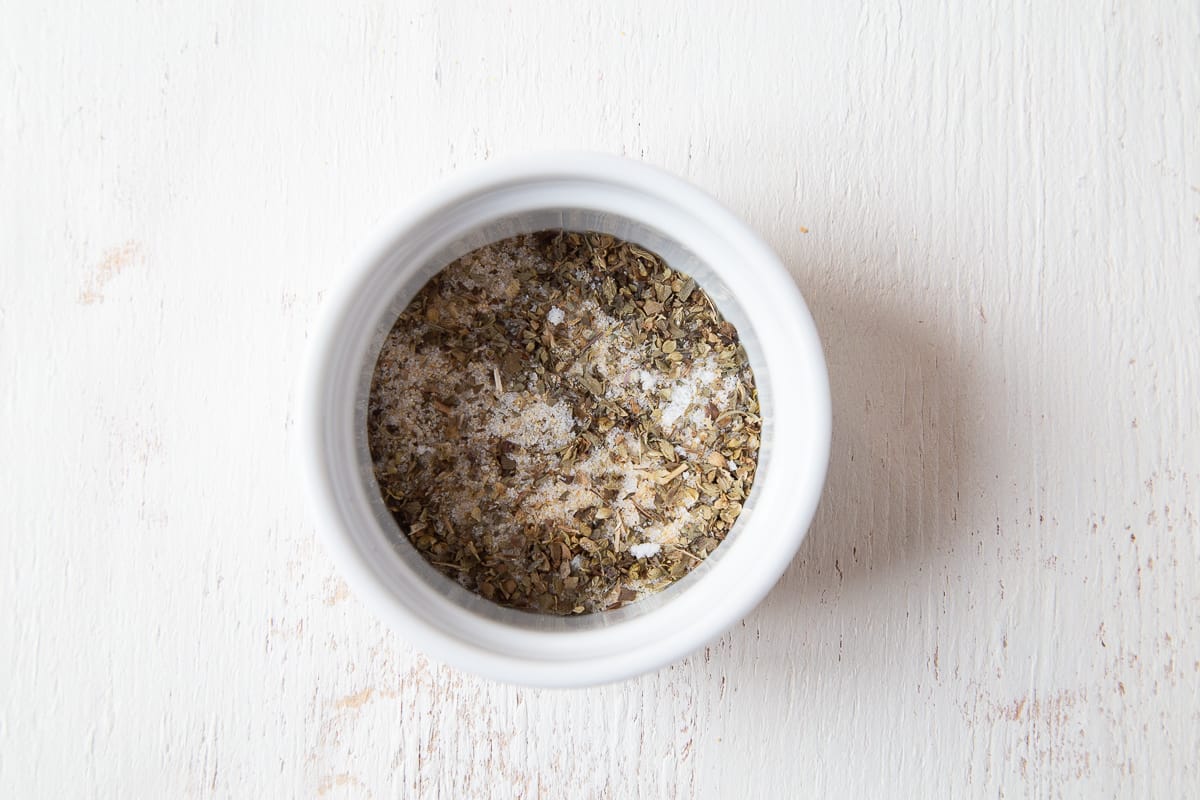 Place the stock and the sirloin tip roast in a slow cooker. Sprinkle the herb and salt mixture over the top.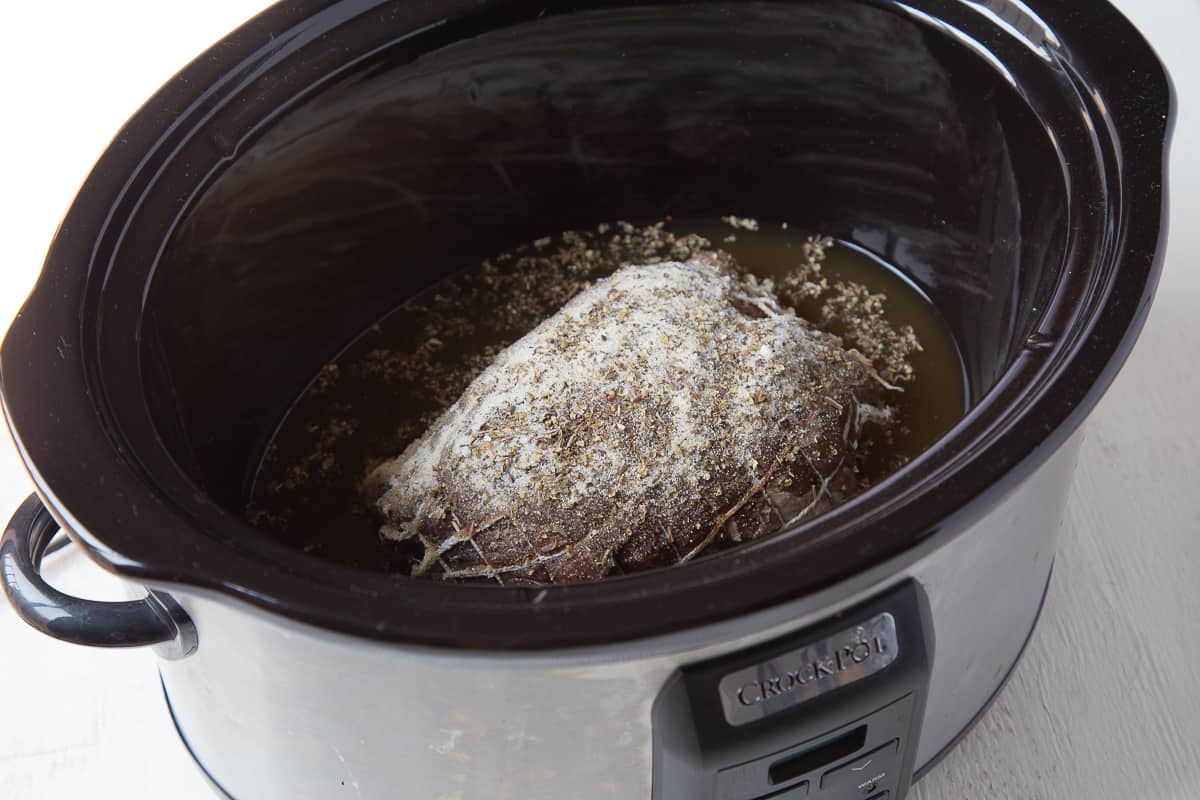 Cook on high for 3–4 hours or on low for 4–6 hours.
Cut each green pepper into large strips, roughly 8–10 slices per pepper.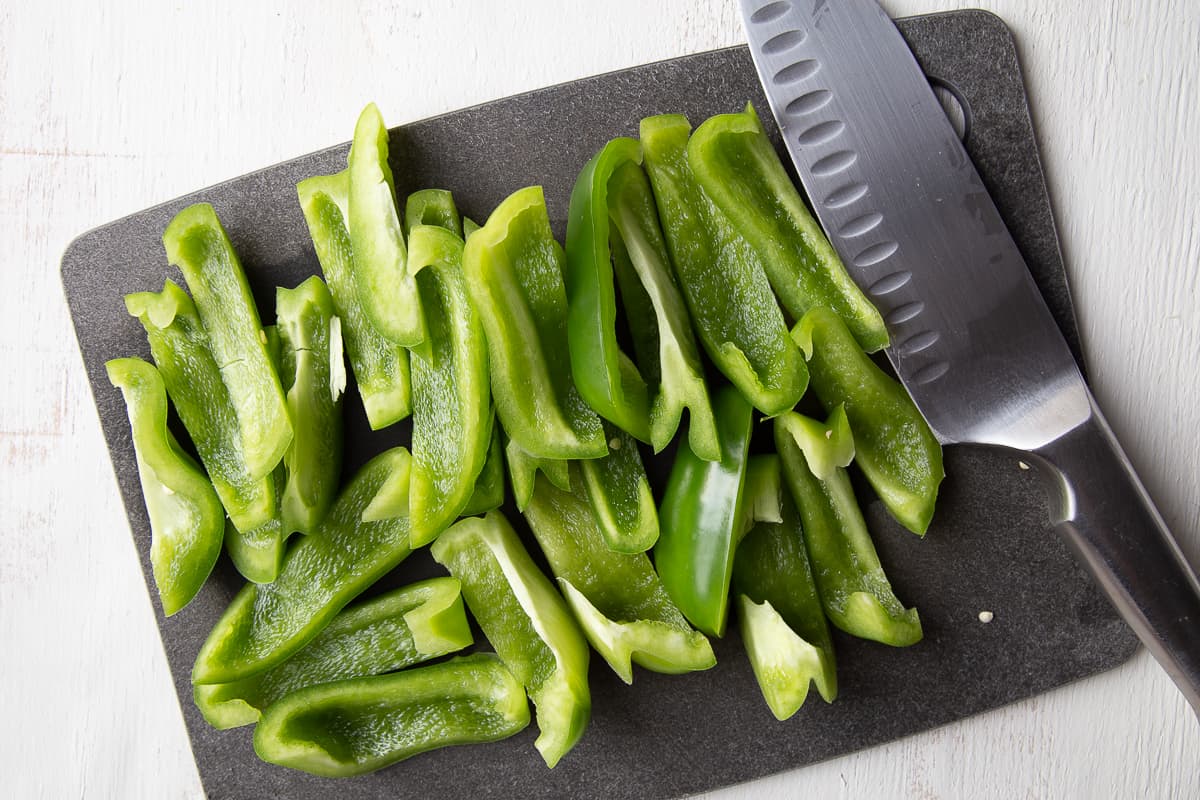 30 minutes before the roast is done, add the peppers to the slow cooker.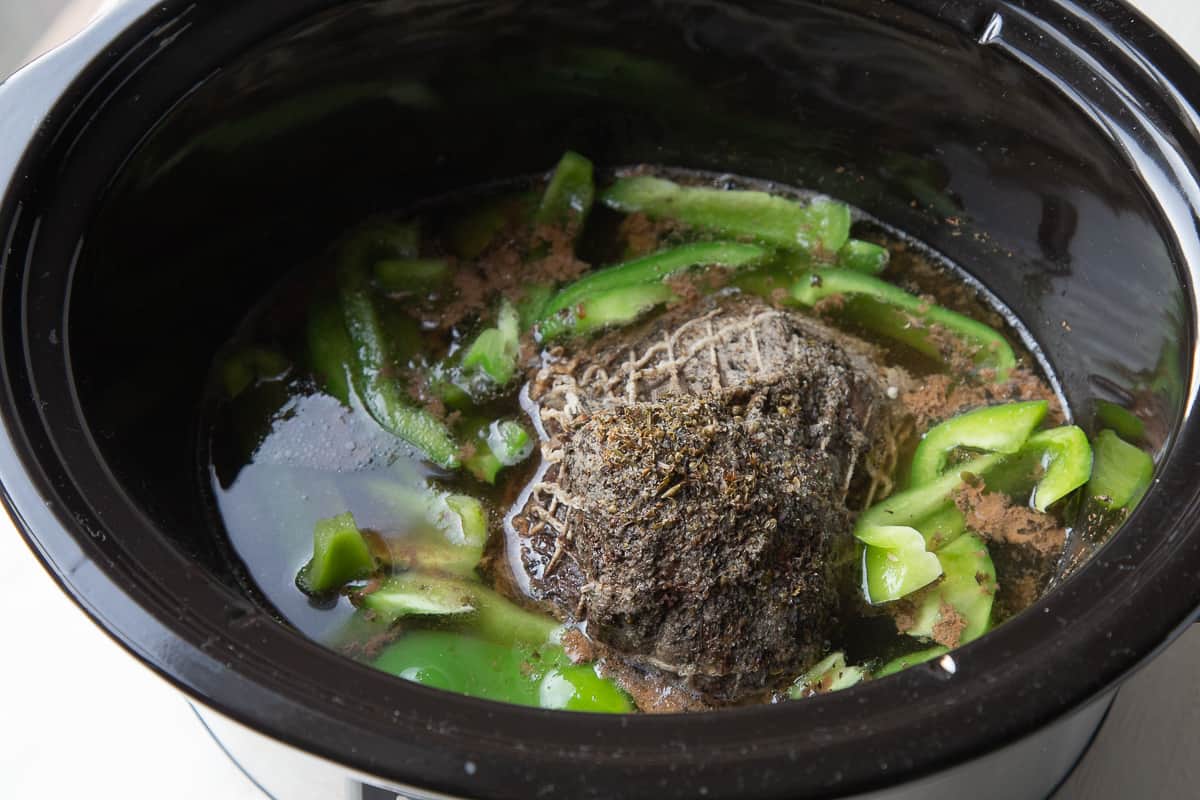 Remove the roast and place it on a cutting board. Let sit for 10 minutes, then remove the netting (if the roast has netting on it) and slice the roast into very thin slices.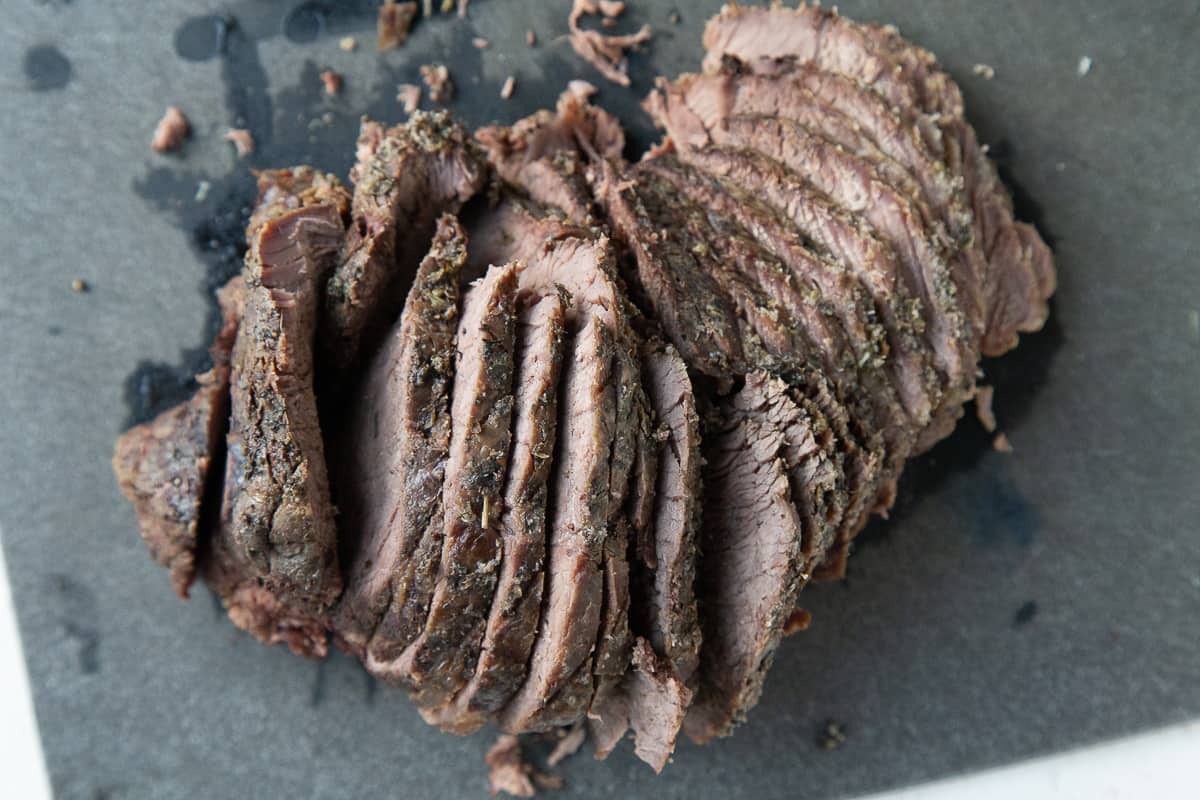 Without a commercial deli slicer, it'll be difficult to get it into paper thin slices like the restaurants do. It doesn't have to be perfect, but get it as thin as you can using a sharp knife. (I love my Furi Santoku knife
).
Slow cooker troubleshooting
A word about slow cookers (also known as crock pots): the newer models run HOT. I had a slow cooker that was about 10 years old. I could consistently cook a roast for 4–6 hours on low or 8–10 hours on high.
We got a new slow cooker for our wedding, and suddenly roasts are done after 4 hours on low. Apparently slow cooker manufacturers were worried about meat being at an unsafe temperature for hours at a time, so they cranked up the settings by 20°F of so in recent years.
So just a word to the wise—know your slow cooker!
FAQs
Why does a sirloin tip roast have netting on it? Should I remove it before cooking?
The netting on a roast holds the meat together when cooking. Remove the netting AFTER the roast has finished cooking, before slicing the roast.
Can I make Italian beef sandwiches ahead?
If you are serving the Italian beef sandwiches within a few hours of cooking, slice the beef and place it back into the au jus in the slow cooker. Turn the slow cooker to warm. The beef will be at the perfect temperature for serving.
What to serve with Italian beef sandwiches
These hearty sandwiches are perfect for a crowd. The beef can be held in the slow cooker for hours after you've sliced it (set the slow cooker to warm), making it ideal for a cozy afternoon with family or friends.
Serve the sandwiches straight from the slow cooker, in big, soft French rolls (I use Turano brand). Top them with either the sweet green peppers, or with spicy giardiniera. Serve them with a small cup of au jus for dipping the sandwich. Small ramekins are perfect for this.
Classic Chopped Salad is the perfect side dish, along with a pint of beer.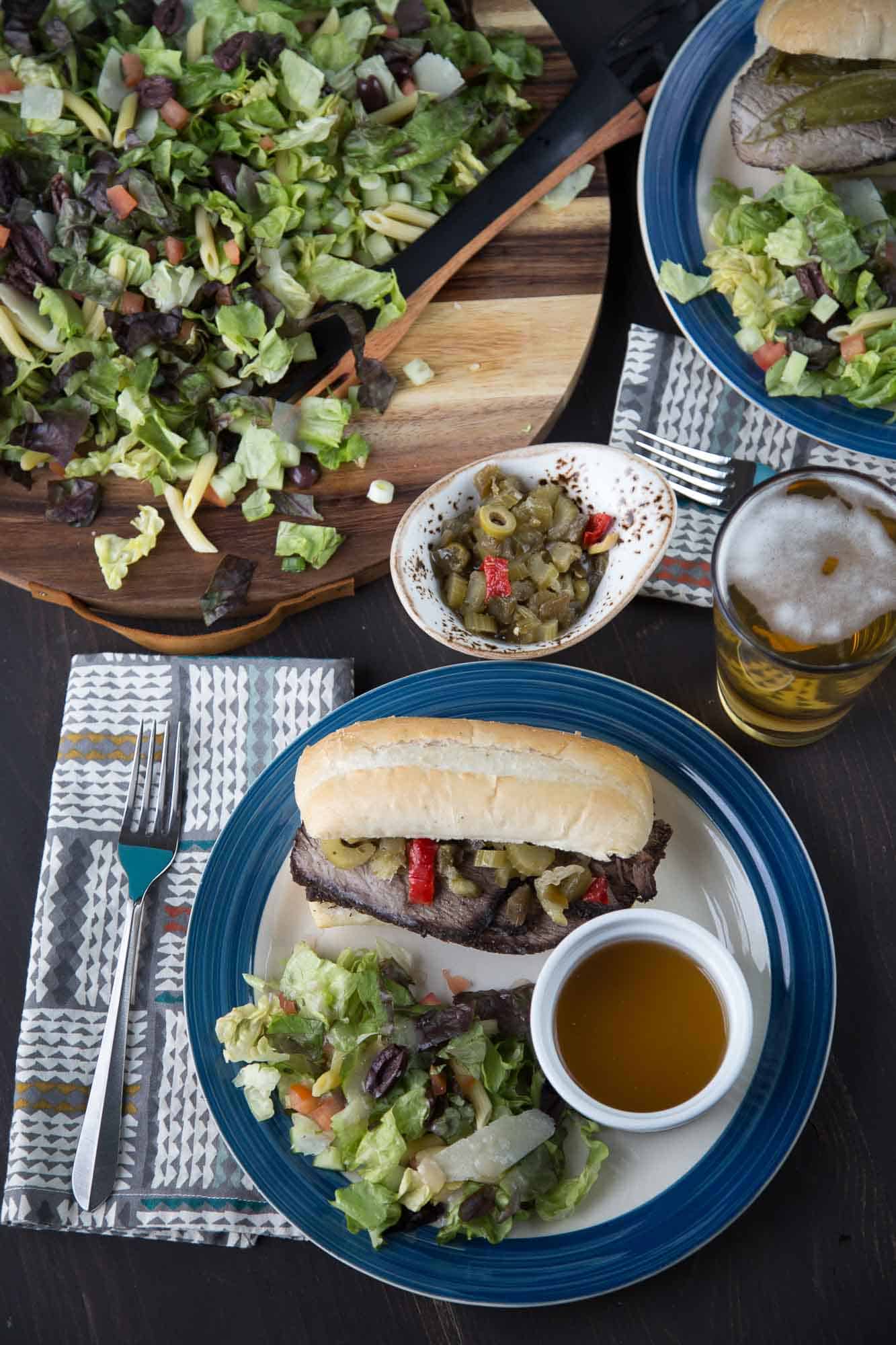 And while we're talking beef in the slow cooker, don't miss this Slow Cooker Smothered Steak. It's super easy and so good.
If you make this recipe, please leave me a comment below, or tag me on Instagram or Pinterest. I love hearing from you!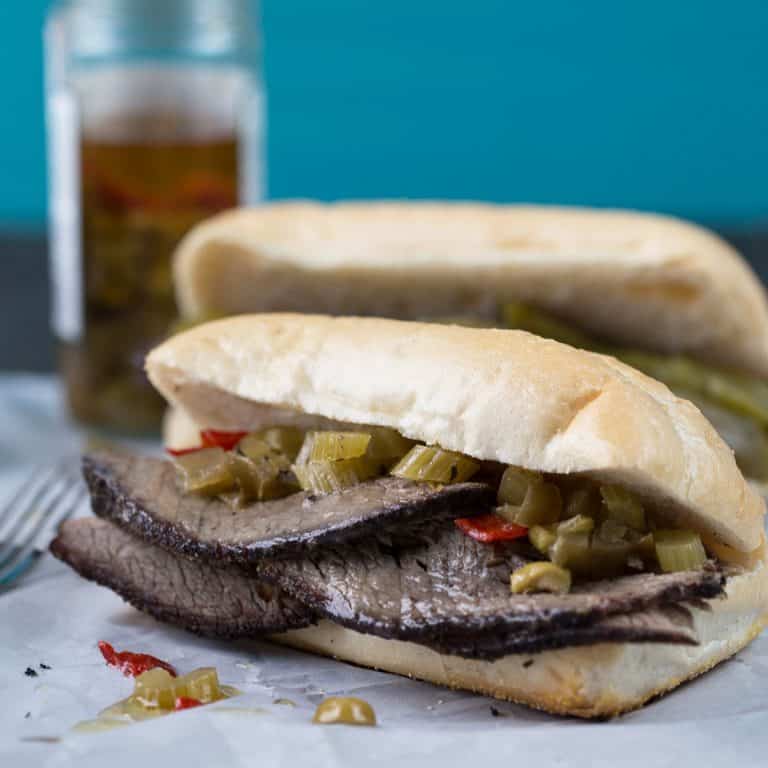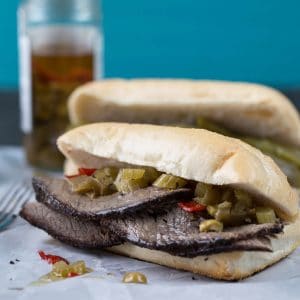 Slow Cooker Italian Beef Sandwiches
Let your slow cooker do the work for you! These Chicago-style Italian Beef Sandwiches are perfect for a weeknight dinner.
Ingredients
2.5–3

lb

sirloin tip roast

1

tablespoon

kosher salt

1

teaspoon

dried basil

1

teaspoon

dried oregano

1

teaspoon

garlic powder

3

cups

beef broth

2

green bell peppers

1

10oz jar hot giardiniera

6

French rolls,

sliced in half
Instructions
In a small bowl, combine the kosher salt, basil, oregano, and garlic powder.

Unwrap the roast and sprinkle on all sides with the herb mixture. Place the roast and beef broth in a slow cooker.

Set to low and cook for 3–4 hours on high or 4–6 hours on low. (I have a newer slow cooker, which cooks things quickly. Mine was done after 4 hours on low.)

Meanwhile, seed the peppers. Cut each pepper into 6–8 slices vertically. 30 minutes before the roast is done, add the sliced bell peppers to the slow cooker.

Remove the roast. Leave the bell peppers in the slow cooker and set the slow cooker to warm.

Let the roast cool for 30 minutes, then slice the roast into ⅛ inch thin slices, or however thin you can cut it with a sharp knife.

When ready to serve, remove the green bell peppers from the slow cooker. Strain the liquid into a bowl. Divide the liquid among ramekins or small dishes for dipping the sandwiches.

Divide the beef evenly among the French rolls. Pour a tablespoon of the liquid (au jus) on top of each of the beef sandwiches.

Top with either the green bell peppers (if you prefer it sweet) or the giardiniera (if you prefer it spicy). Serve immediately with extra au jus for dipping.
Notes
If your sirloin tip roast has netting on it, keep the netting on until after the roast is cooking. If not serving immediately, you can place the sliced beef back into the slow cooker with the au jus. Set the slow cooker to warm until ready to serve.
Nutrition
Calories:
488
kcal
Carbohydrates:
57
g
Protein:
53
g
Fat:
18
g
Saturated Fat:
2
g
Cholesterol:
119
mg
Sodium:
3080
mg
Potassium:
952
mg
Fiber:
2
g
Sugar:
1
g
Vitamin A:
147
IU
Vitamin C:
36
mg
Calcium:
64
mg
Iron:
3
mg
This post contains affiliate links. Thank you for reading GiftofHospitality.com and helping me to provide quality content.