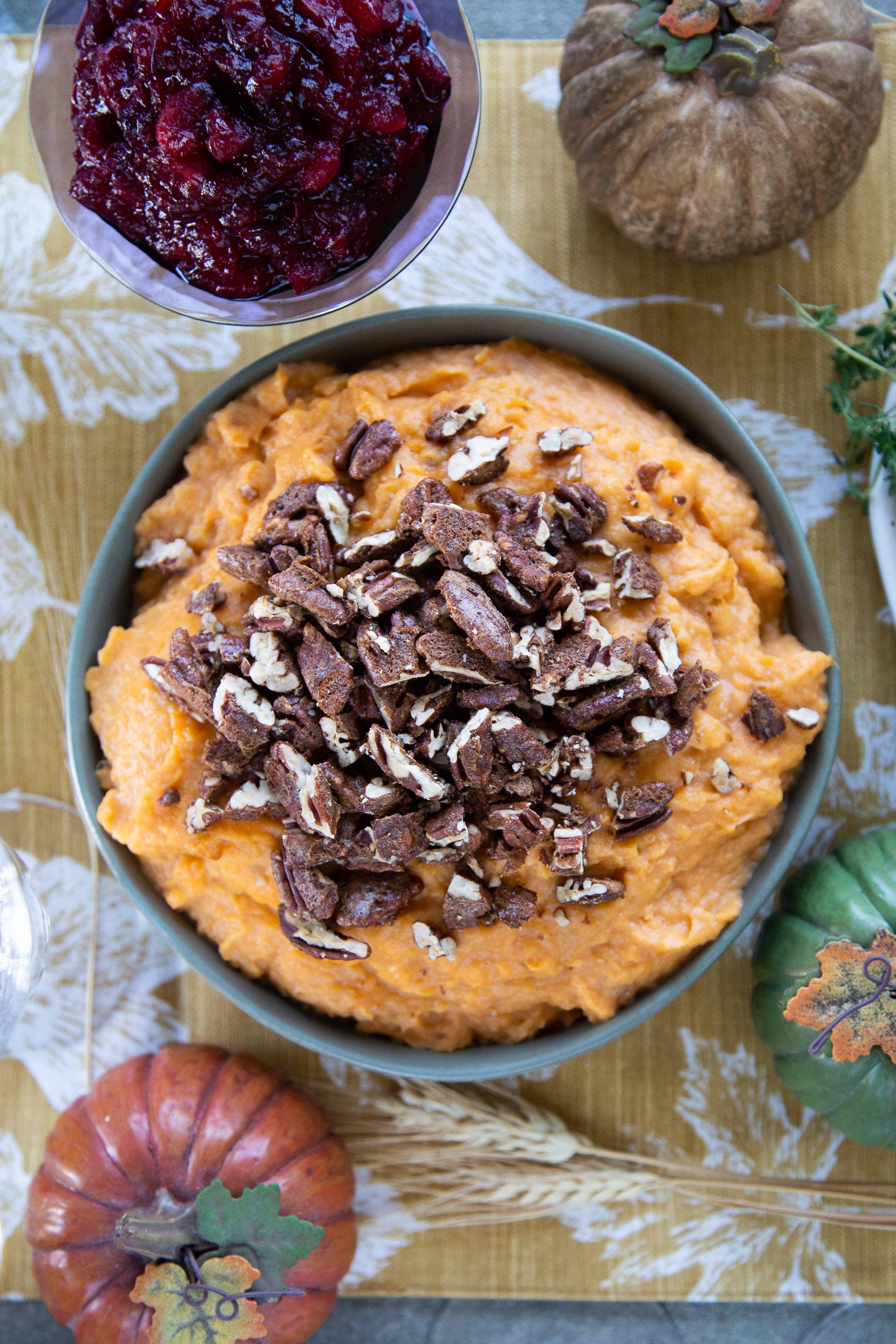 This recipe for lightly-sweet mashed potatoes really lets the flavor of the sweet potatoes shine through. They're topped with spiced pecans—the same spiced nuts that you get at the fair! The combination is irresistible, and it's much less sweet than a typical sweet potato casserole.
My Grandma's recipe for sweet potato casserole calls for 2⅓ cups of sugar—a mix of granulated white sugar and brown sugar. For comparison, pumpkin pie has ¾ cup of sugar in it, and that's served for dessert! Even pecan pie has less sugar in it than a sweet potato casserole.
So while Grandma's recipe has its place at the table, I wanted to find a way to serve sweet potatoes without so much sugar, but make them holiday-worthy. And I wanted to highlight the naturally sweet flavor of the potatoes without drowning it out with sugar.
The result is these Mashed Sweet Potatoes with Spiced Pecans!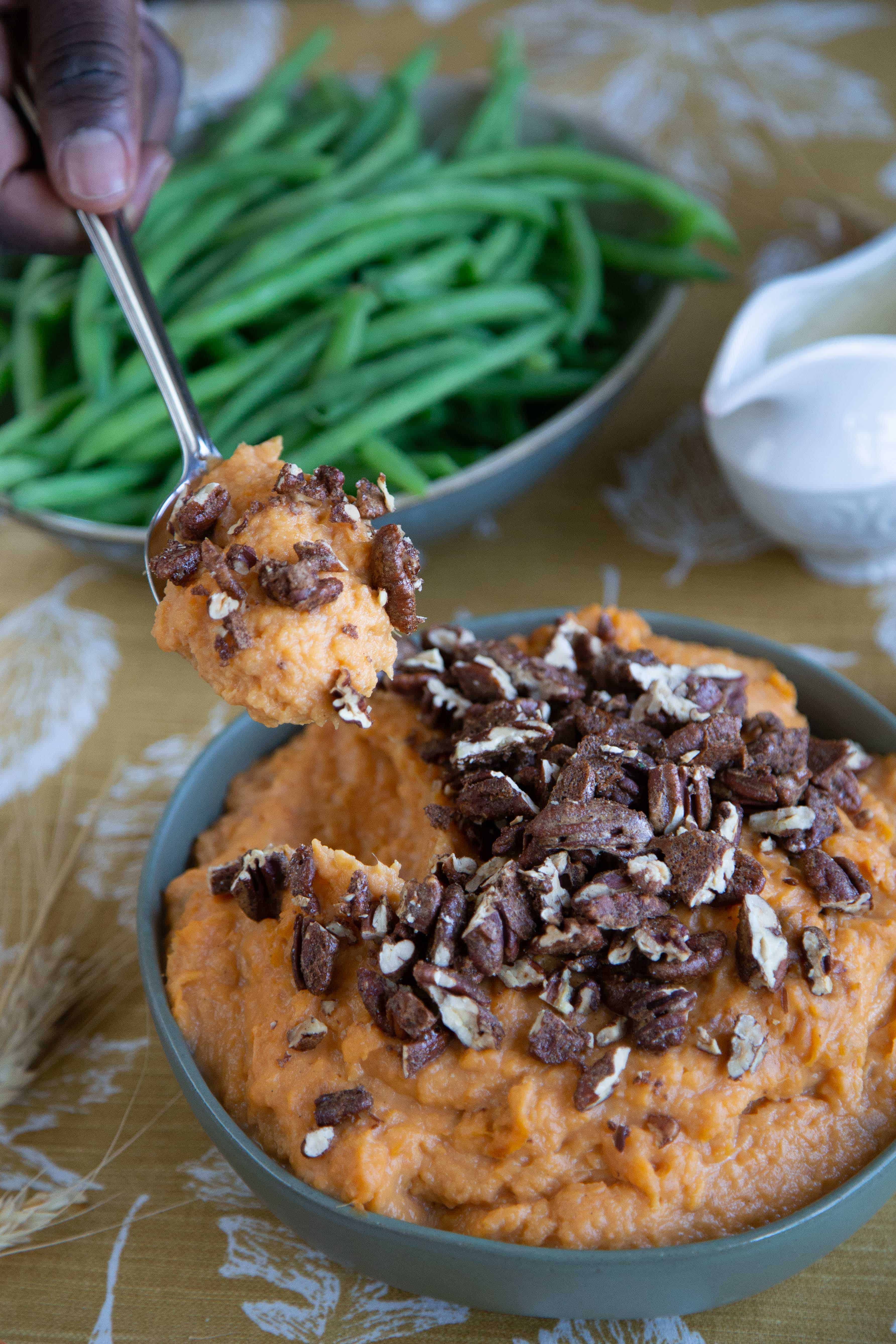 The sweet potatoes are boiled and mashed with a mixture of butter, half & half, vanilla, and just ⅓ cup of maple syrup. They're lightly sweet, letting the sweet potatoes themselves shine through.
The star of this dish might just be the spiced pecans though. You know those spiced nuts that you get at the fair that smell so heavenly that you can't stay away? These are it!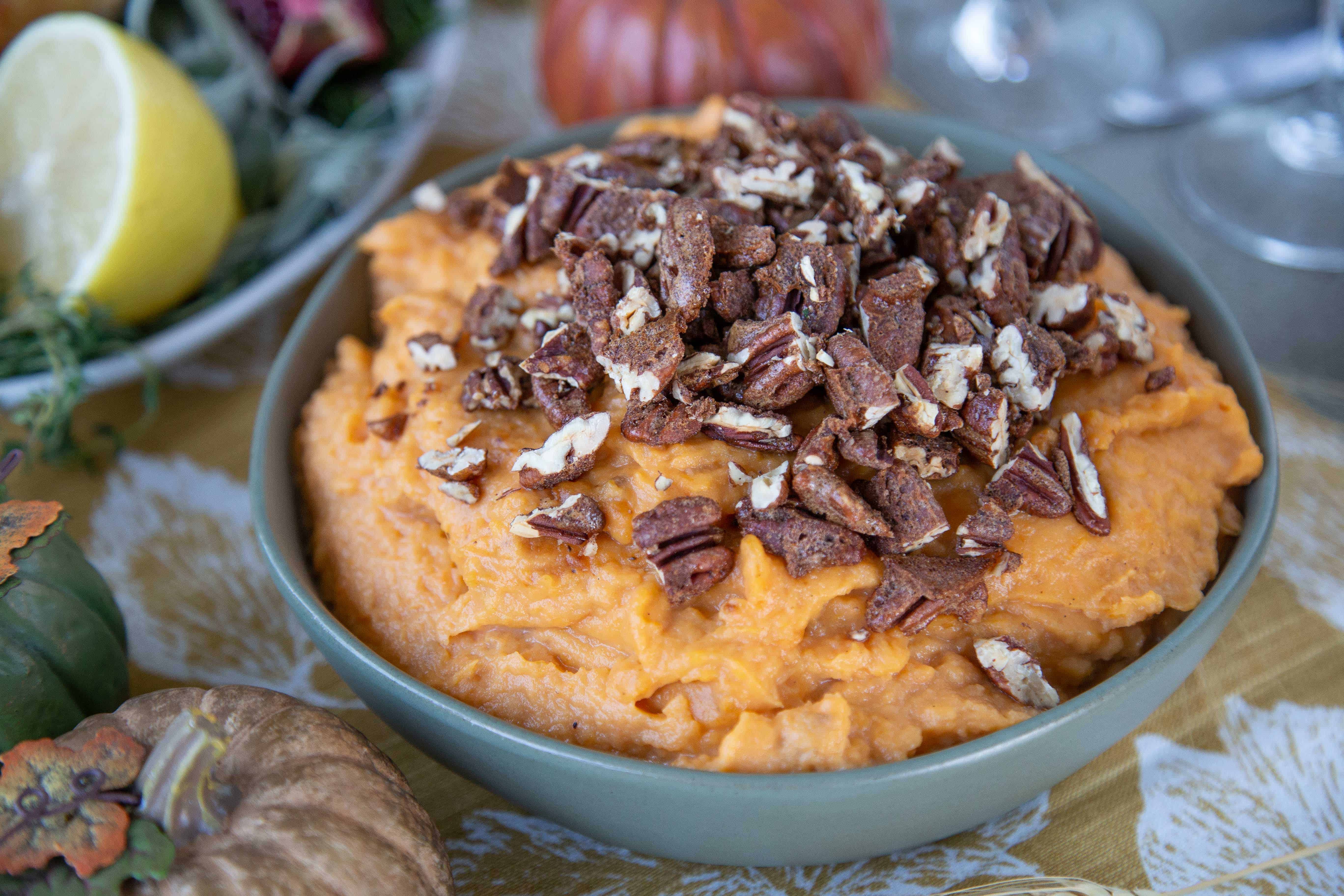 The spiced pecans are flavored with ⅓ cup brown sugar (I used dark brown sugar, but you could use light brown sugar), vanilla, cinnamon, and cloves. An egg white, whisked until frothy, is responsible for getting the sweet spiced mixture to adhere to the pecans. The whole mixture is baked until the pecans are toasted.
The pecans smell SO amazing when they are toasting in the oven. The recipe calls for a generous amount of pecans for the amount of sweet potatoes, so don't be afraid of sneaking a few spiced pecans. 🙂
The pecans will harden as they cool, so don't be alarmed if they seem wet and slightly soft when they get out of the oven.
Oh, and the sugar content? ⅔ cup for the entire recipe. Less than a pumpkin pie!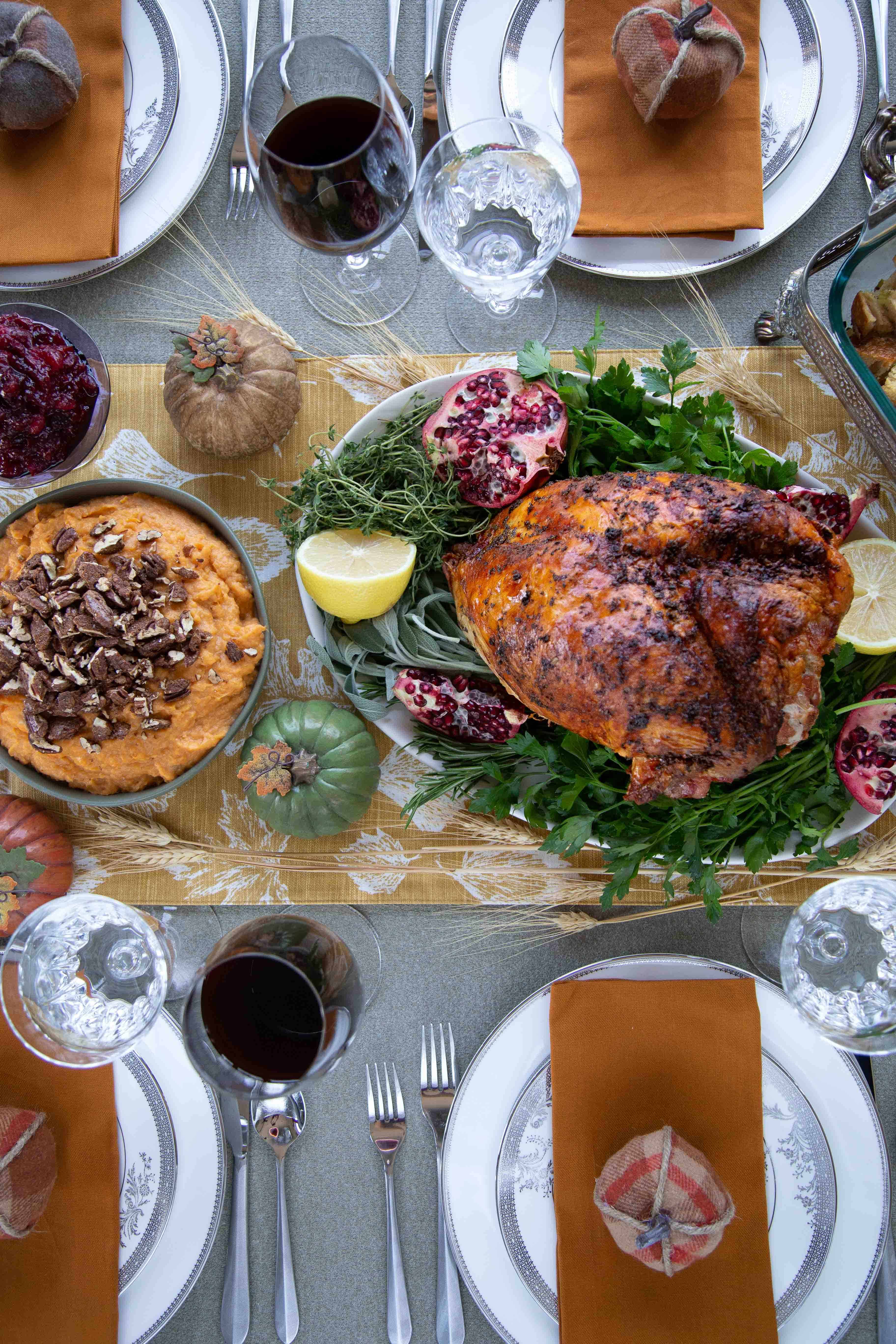 I served the Mashed Sweet Potatoes with Spiced Pecans as part of a Thanksgiving dinner. Here's what else I served:
Lemon Herb Roasted Turkey Breast
Easy Vegetarian Stuffing
Apple Cranberry Sauce
📖 Recipe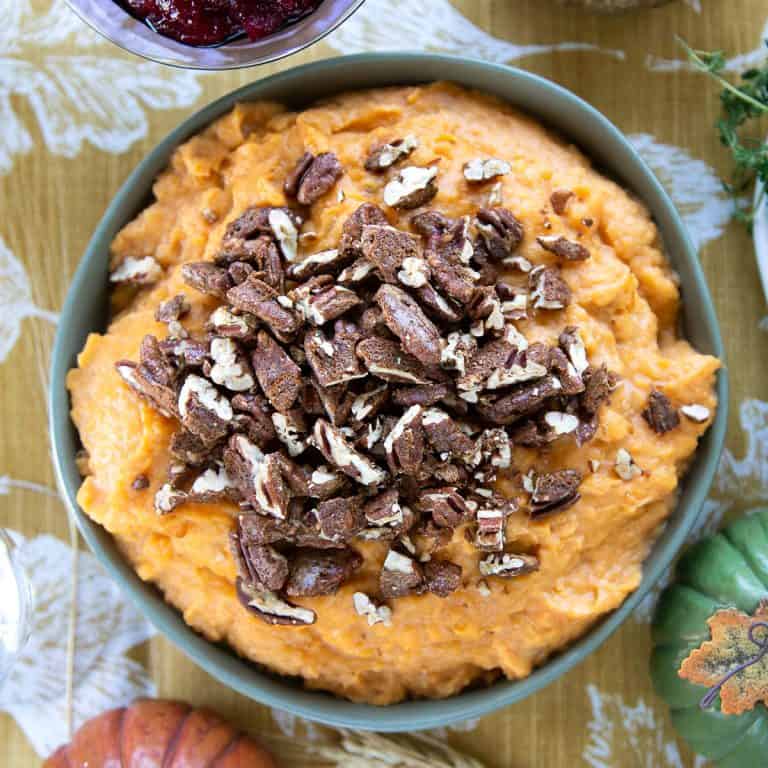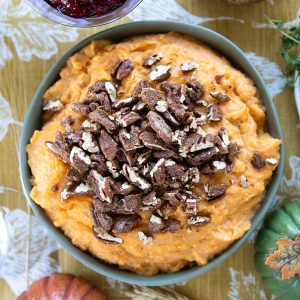 Mashed Sweet Potatoes with Spiced Pecans
Unlike most recipes, these sweet potatoes don't have more sugar in them than the pumpkin pie. The dish is still sweet, but not cloying, and instead it allows the sweet potatoes to shine, punctuated by toasted, spiced pecans on top.
Ingredients
For the sweet potatoes:
3

lbs

sweet potatoes,

peeled and cut into 2-inch pieces

⅓

cup

maple syrup

4

tablespoons

butter,

melted

1½

cups

half and half,

warmed slightly in the microwave

1

teaspoon

vanilla extract
For the spiced pecans:
2

cups

pecan halves

1

egg white

1

teaspoon

vanilla

⅓

cup

dark brown sugar

1½

teaspoons

cinnamon

¼

teaspoon

cloves

¼

teaspoon

nutmeg

¼

teaspoon

kosher salt
Instructions
Preheat oven to 300°F. In a large bowl, whisk the egg white for 20 seconds or until frothy. Whisk in the vanilla, brown sugar, cinnamon, cloves, nutmeg, and salt. Add the pecan halves and stir gently until coated.

Spread in a single layer on a large sheet pan fitted with parchment paper or a silicone baking pat. Bake for 30 minutes, stirring halfway through. Gently break up any clumps of pecans and let cool completely (they will harden as they cool).

Meanwhile, place the sweet potatoes in a large saucepan. Cover with water and place on the stove over high heat. Bring to boil, then reduce to a simmer and cook for 20 minutes, or until the sweet potatoes are tender when pierced with a fork.

Drain the potatoes and add to the bowl of a stand mixer fitted with a paddle attachment. Add the maple syrup, melted butter, warmed half & half, and vanilla. Mix on low until the potatoes are mashed, about 1–2 minutes.

Transfer the potatoes to a serving dish and top with the spiced pecans. Serve immediately.
Notes
Both the sweet potatoes and the pecans can be made 1–2 days ahead. To reheat the sweet potatoes, place in a large saucepan over medium-low heat, and cook, stirring occasionally, until warm throughout. Store spiced pecans in a zip-top bag (once they are cool) until ready to use. Top the sweet potatoes with the pecans only when you are ready to serve them.
Nutrition
Calories:
672
kcal
Carbohydrates:
78
g
Protein:
9
g
Fat:
38
g
Saturated Fat:
11
g
Cholesterol:
42
mg
Sodium:
261
mg
Potassium:
1043
mg
Fiber:
10
g
Sugar:
34
g
Vitamin A:
32641
IU
Vitamin C:
6
mg
Calcium:
192
mg
Iron:
2
mg