This Mexican rice tastes exactly like it does at Mexican restaurants! The recipe is from a friend who grew up in Mexico, and it's perfect for pairing with Mexican food of all kinds.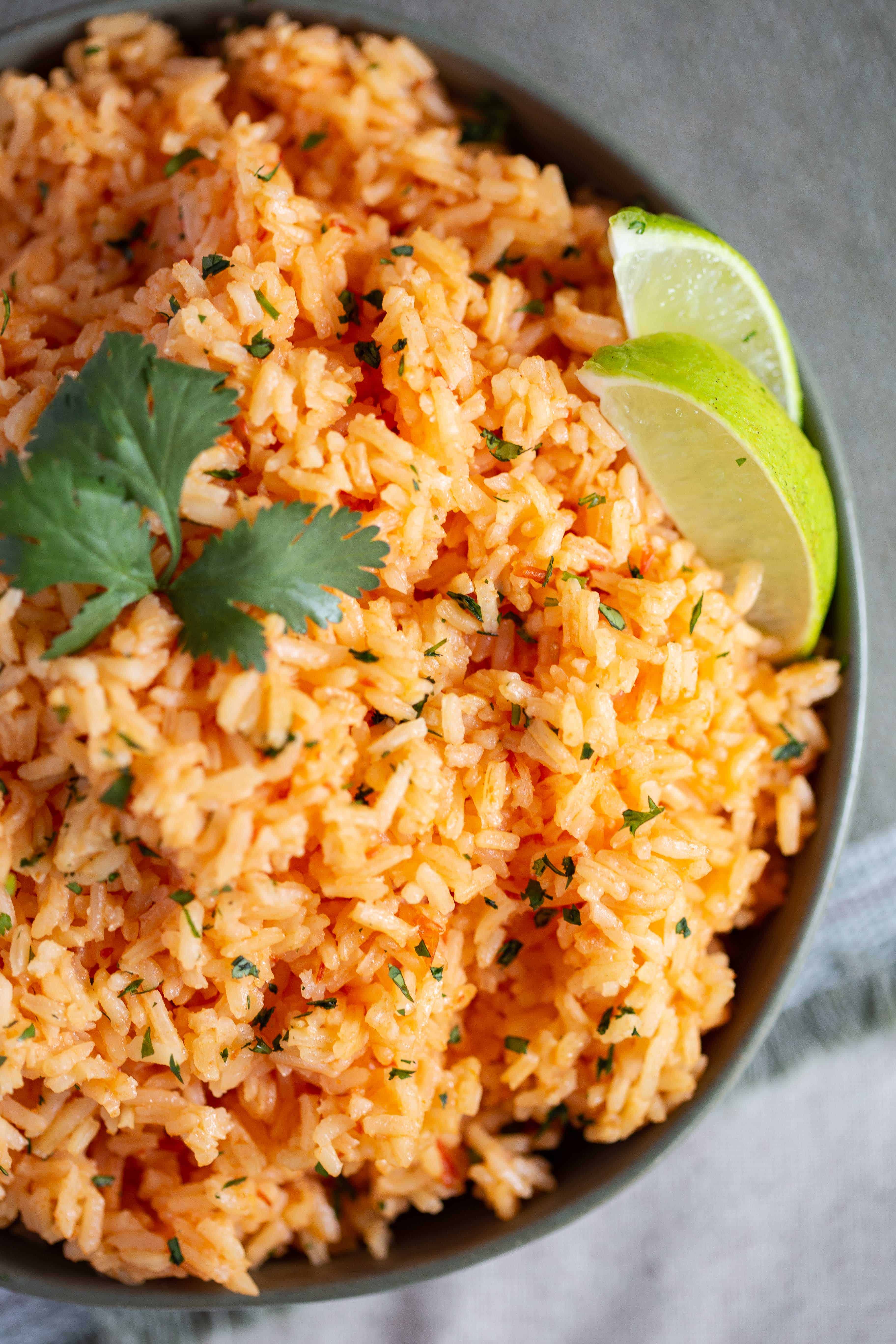 Authentic Mexican Rice is the perfect side dish for tacos, burritos, enchiladas, and more. It's light and fluffy, with a gorgeous orange hue and lots of savory flavor.
I can't take credit for the recipe. My friend and former co-worker, Jessica, gave it to me several years ago after I basically begged her for it. She grew up in Mexico and moved here as a teenager. She also gave me the secrets to the best red pozole!
There are two secrets to the rice: a tomato & garlic sauce made in the blender, and a packet of Goya seasoning—the one that says "con culantro y achiote" (coriando and annato).
Read on for how to make it, or view it in slide version here!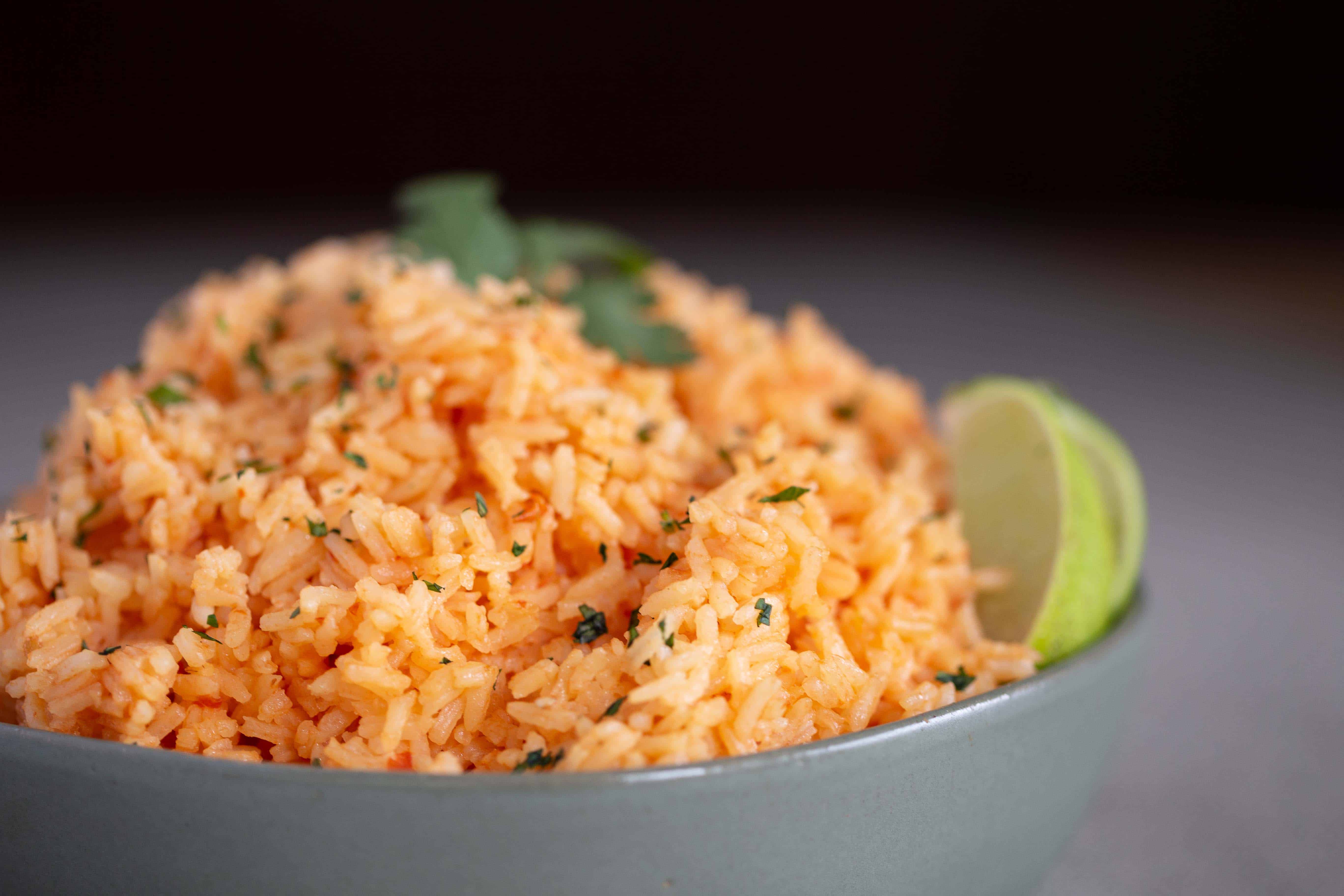 Ingredients
Long-grain white rice works best for this—it makes the fluffiest rice
The rice will toast in canola oil before cooking
Roma tomatoes and garlic come together to create a sauce to cook the rice in
Half a packet of Goya con Culantro y Achiote creates the perfect seasoning (find it in the international foods aisle of any major grocery store)
How to make authentic Mexican rice
Place 2 roma tomatoes, 3 cloves of garlic, and ¾ cup water in a blender.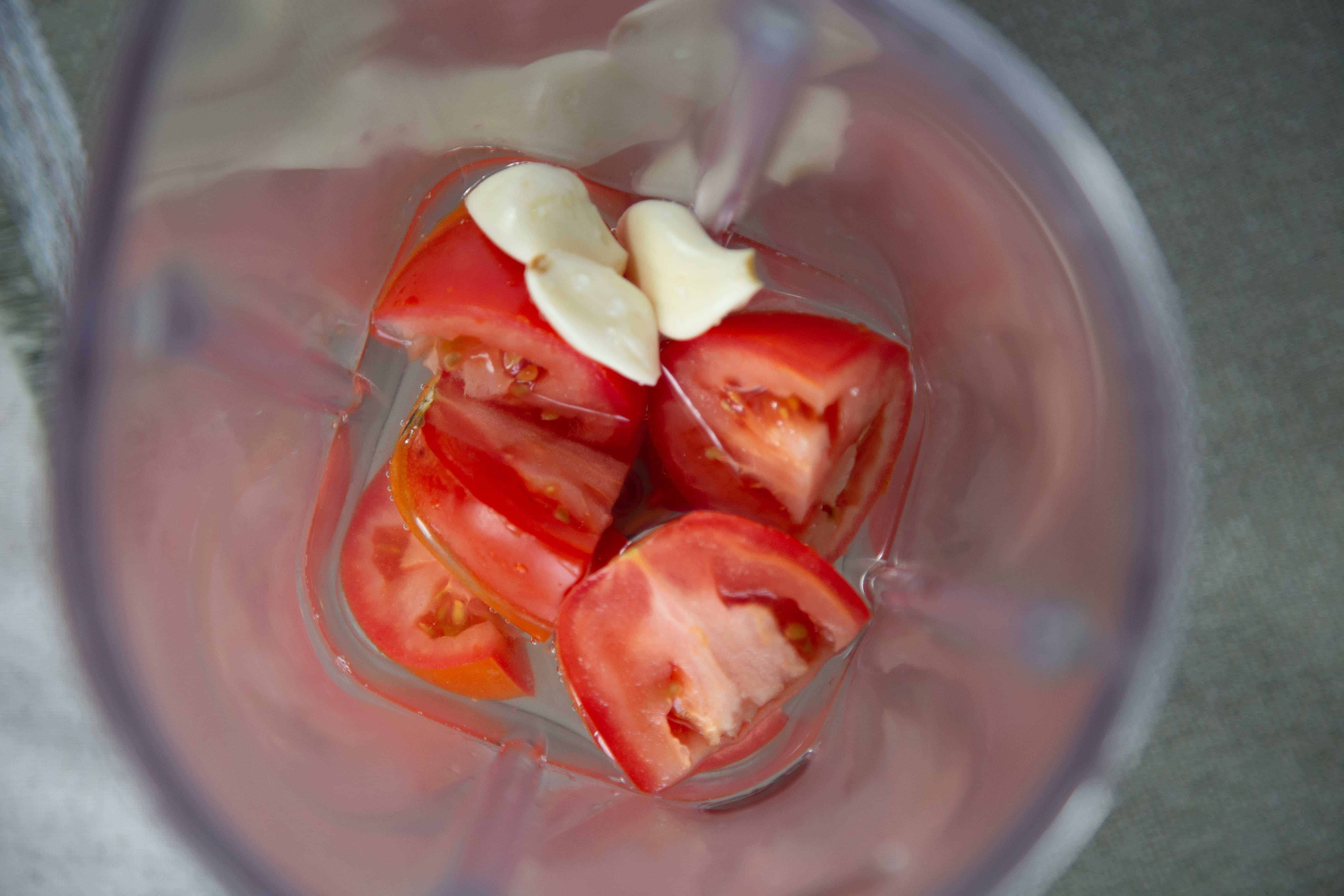 Blend on high until smooth.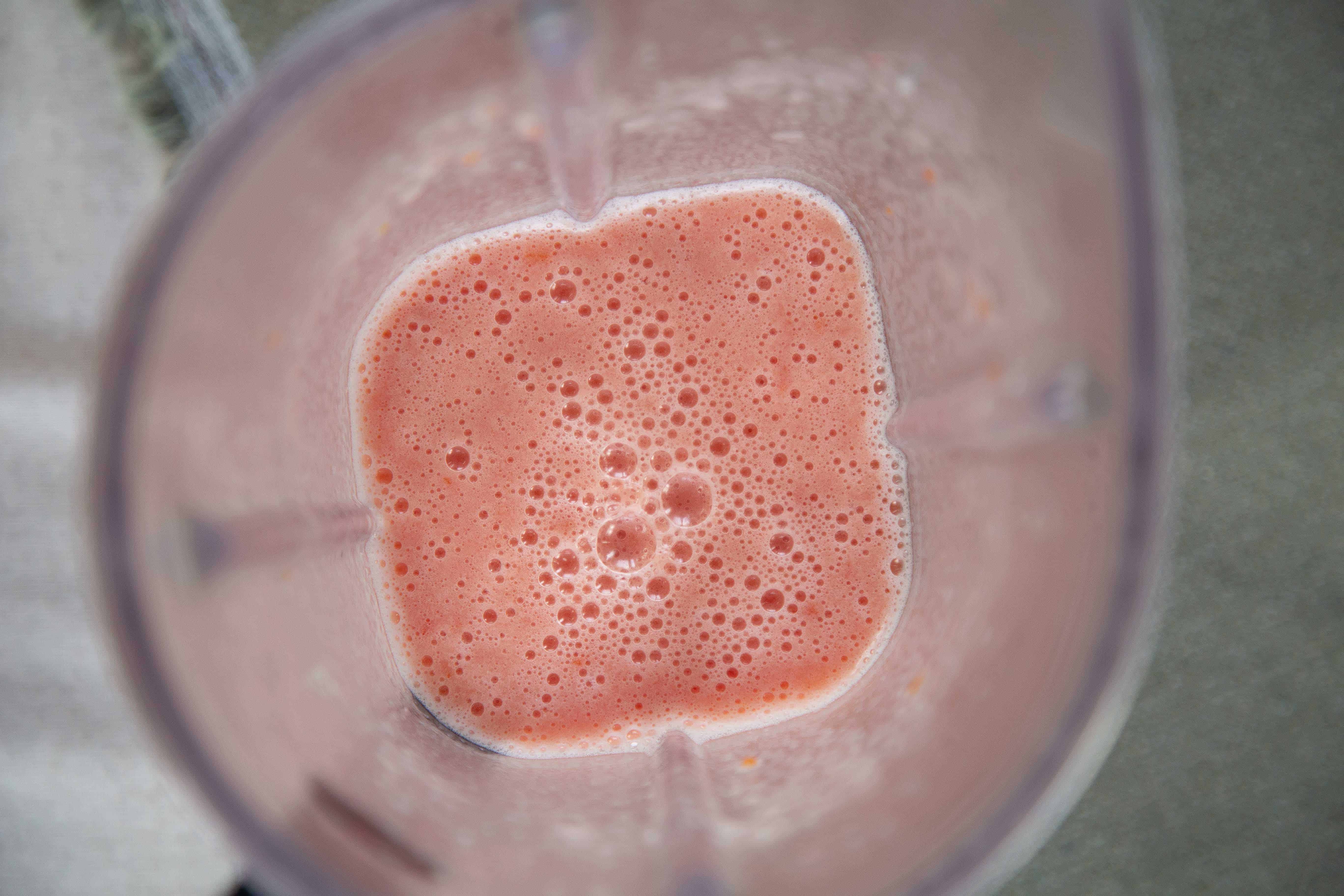 Next, sauté the rice in hot oil for a minute. Then, add the tomato mixture and 3 cups of water.
Here's the secret to authentic Mexican rice: ½ teaspoon of Goya culantro y achiote seasoning, which is about ½ of the packet. While it's tempting to just dump the whole packet in, my friend said not to use the whole packet for 2 cups of rice. I'm just following instructions!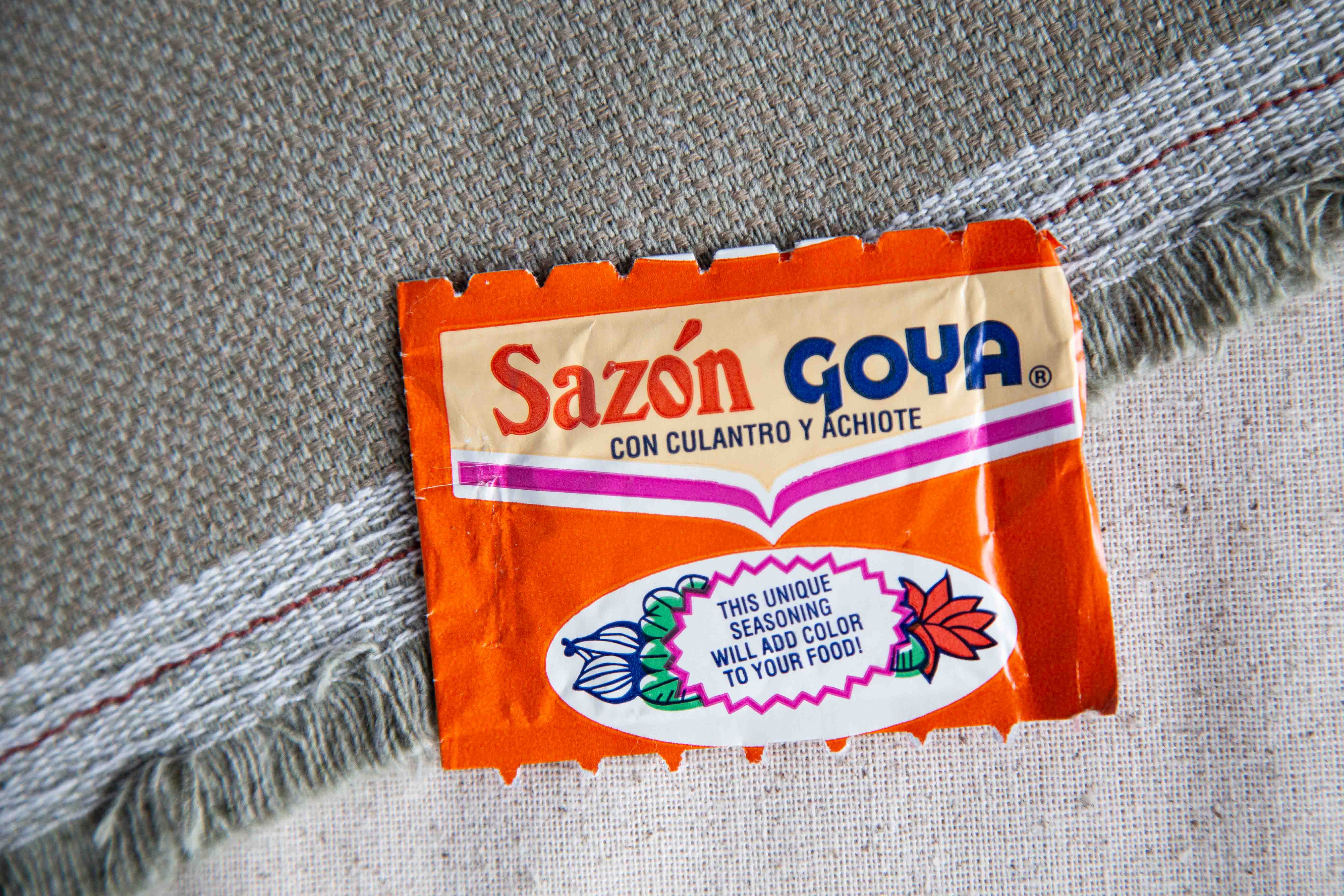 You can find the seasoning packets in the international foods aisle of your grocery store. They usually come 8 packets per box, but sometimes you can find smaller quantities. Look for the orange box that says "con culantro y achiote".
Add the seasoning, then bring the liquid to a boil. Cover the pot, reduce the heat to low, and cook for 20 minutes.
After 20 minutes, take the pot off the stove and let it sit (covered) for 5 minutes. Remove the lid and fluff with a fork.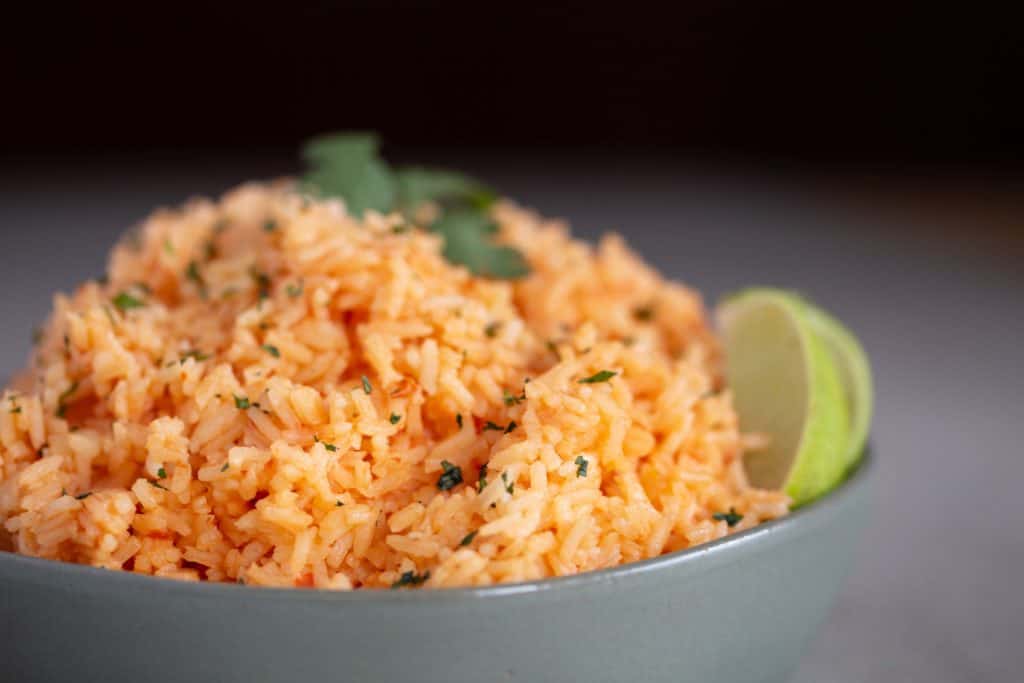 FAQs
How can I reheat rice?
Place 4 cups cooked rice in a large casserole dish. Pour ¼ cup water over the rice and cover the dish. Place in a 350°F oven and heat for 10–15 minutes, or until warm throughout.
Can I make this recipe without a blender?
You can use a food processor to combine the garlic and tomatoes if you do not have a blender.
How do I make the rice fluffy?
The key to fluffy rice is using a fork to gently fluff it after cooking.
What to serve with Mexican rice
Mexican rice is a great accompaniment to tacos, burritos, fajitas, a taco salad, and more.
I love serving them with Easy Cheesy Chicken Enchiladas. The rice and enchiladas, along with a salad, are a great meal to take to someone who has just had a baby, been in the hospital, or gone through another big life transition. They both can be easily transported in foil pans and easily reheated.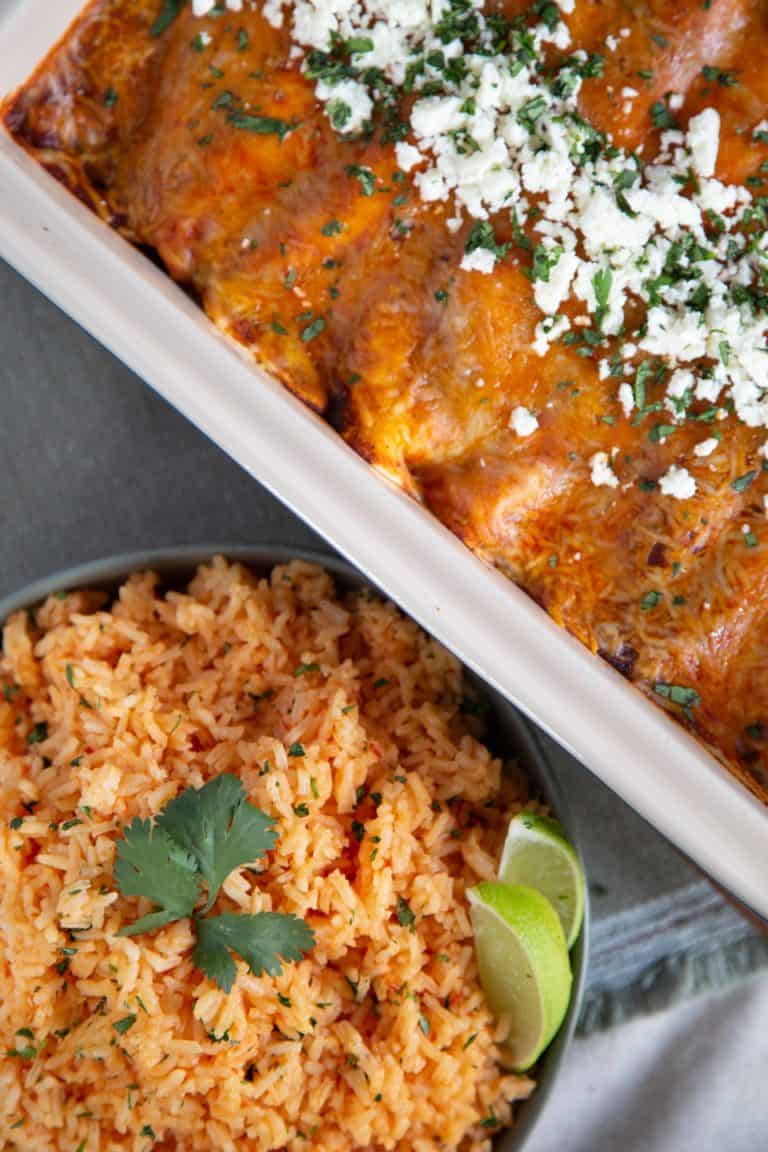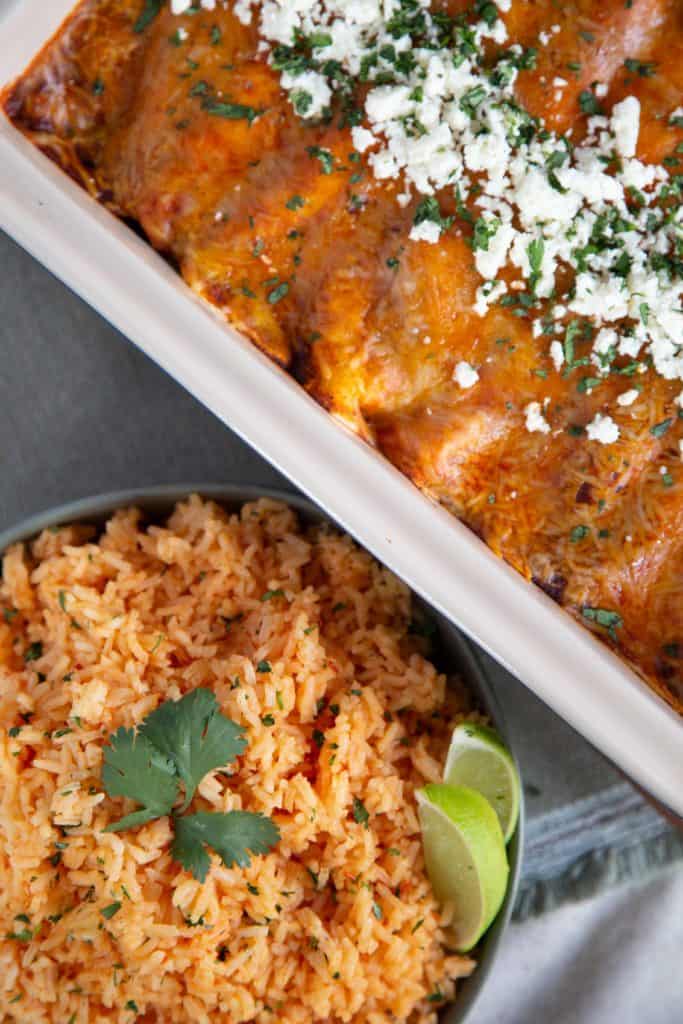 If you make this recipe, please leave me a comment below, or tag me on Instagram or Pinterest. I love hearing from you!
📖 Recipe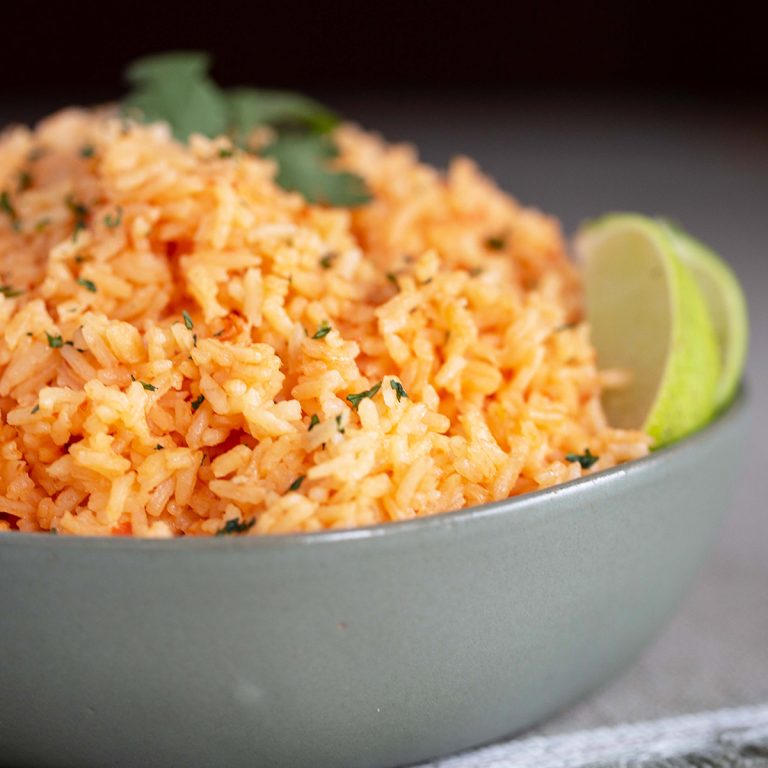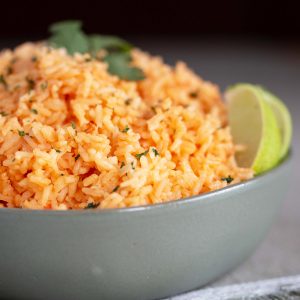 Authentic Mexican Rice
An easy-to-make, authentic recipe for Mexican rice that tastes like it does at a Mexican restaurant!
Ingredients
2

small roma tomatoes

3

cloves

garlic,

peeled

2

tablespoons

canola oil

2

cups

long-grain white rice

1

teaspoon

kosher salt

½

teaspoon

Goya seasoning con culantro y achiote

the orange one; about ½ of a packet

For garnish: fresh chopped cilantro, lime wedges
Instructions
Roughly chop the roma tomatoes. Place the tomatoes, the garlic cloves, and ¾ cup of water in a blender. Blend on high until smooth.

Pour the tomato mixture into a measuring cup. You should have about 1 cup.

Heat the oil in a large saucepan over medium heat. Add the rice and cook, stirring occasionally, for 1 minute.

Add 1 cup of the tomato mixture, 3 cups of water, salt, and Goya seasoning. (If you have more than 1 cup of the tomato mixture, reduce the water slightly so that you add 4 cups of liquid total to the saucepan.) Stir to combine.

Bring mixture to a boil and then cover and reduce heat to low. Cook for 20 minutes. Remove from the heat and let sit for 5 minutes. Fluff with a fork, stirring in any of the tomato mixture on the top of the rice, and serve.
Nutrition
Calories:
275
kcal
Carbohydrates:
51
g
Protein:
5
g
Fat:
5
g
Saturated Fat:
1
g
Sodium:
586
mg
Potassium:
126
mg
Fiber:
1
g
Sugar:
1
g
Vitamin A:
172
IU
Vitamin C:
3
mg
Calcium:
22
mg
Iron:
1
mg