This Easy Red Pozole (or Posole) is a hearty, flavorful soup that's full of pork and hominy in red-orange chile broth. It's a one-pot meal that is pure comfort food!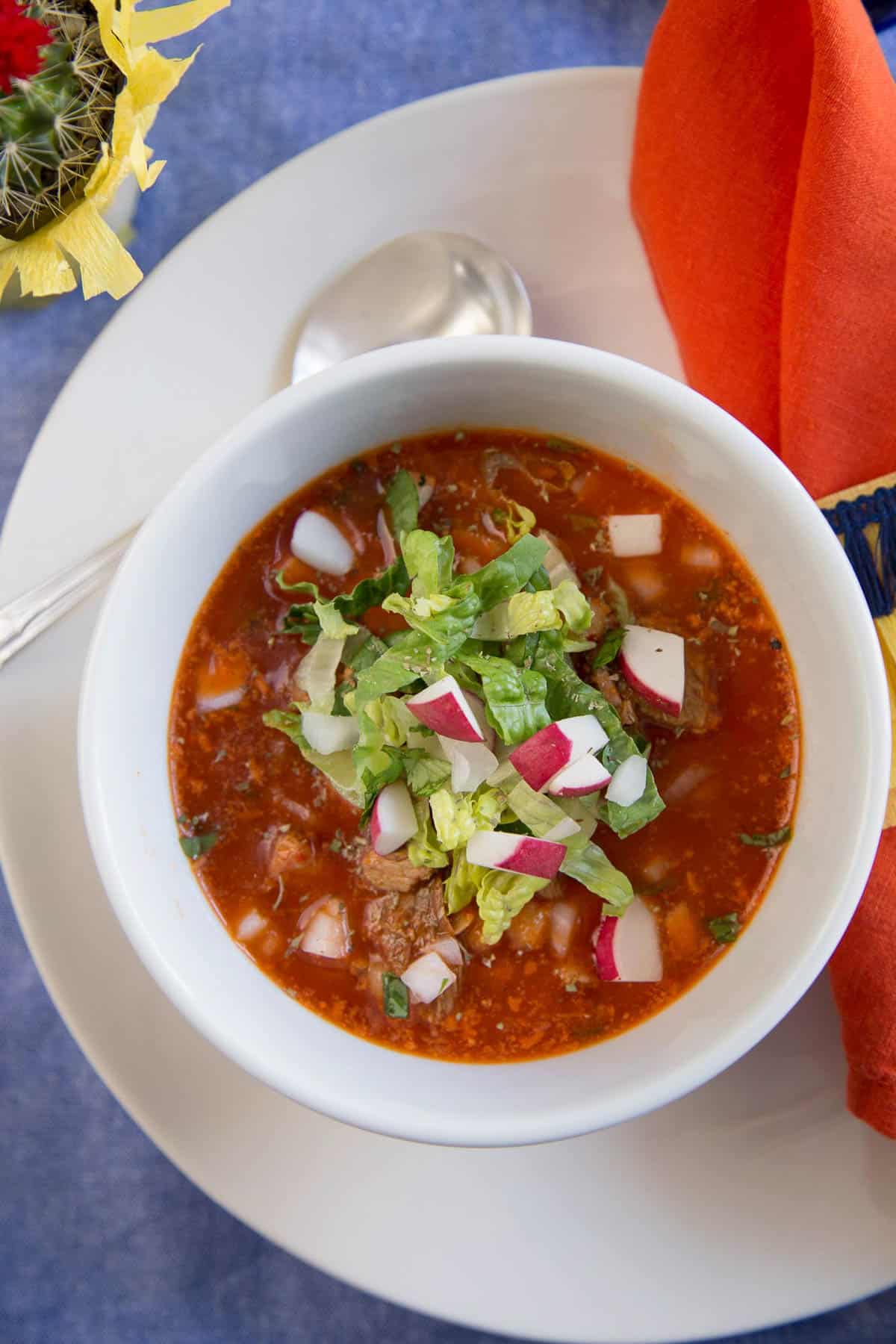 Easy Red Pozole (also called Posole Rojo or Pozole Rojo) is a hearty Mexican stew that can feed a crowd!
I got the recipe from my former co-worker, Jessica. She moved to the U.S. from Mexico as a child, and she makes pozole for big family get-togethers.
She was kind enough to bring the leftovers to work one day. One taste and I was HOOKED. The pozole was warm and comforting, mildly spiced, with tender chunks of pork and canned hominy in a red sauce, topped with all kinds of fresh garnishes.
The real star of the soup is the red sauce. The base is pork stock, which you make by cooking the pork shoulder in water with onion and garlic. Then you add guajillo chiles that have been soaked (to soften them) and blended with oregano, cumin, and a little of the hominy.
It creates a red pork pozole that's warm but not spicy, slightly thickened from the canned hominy, and packed with savory flavor.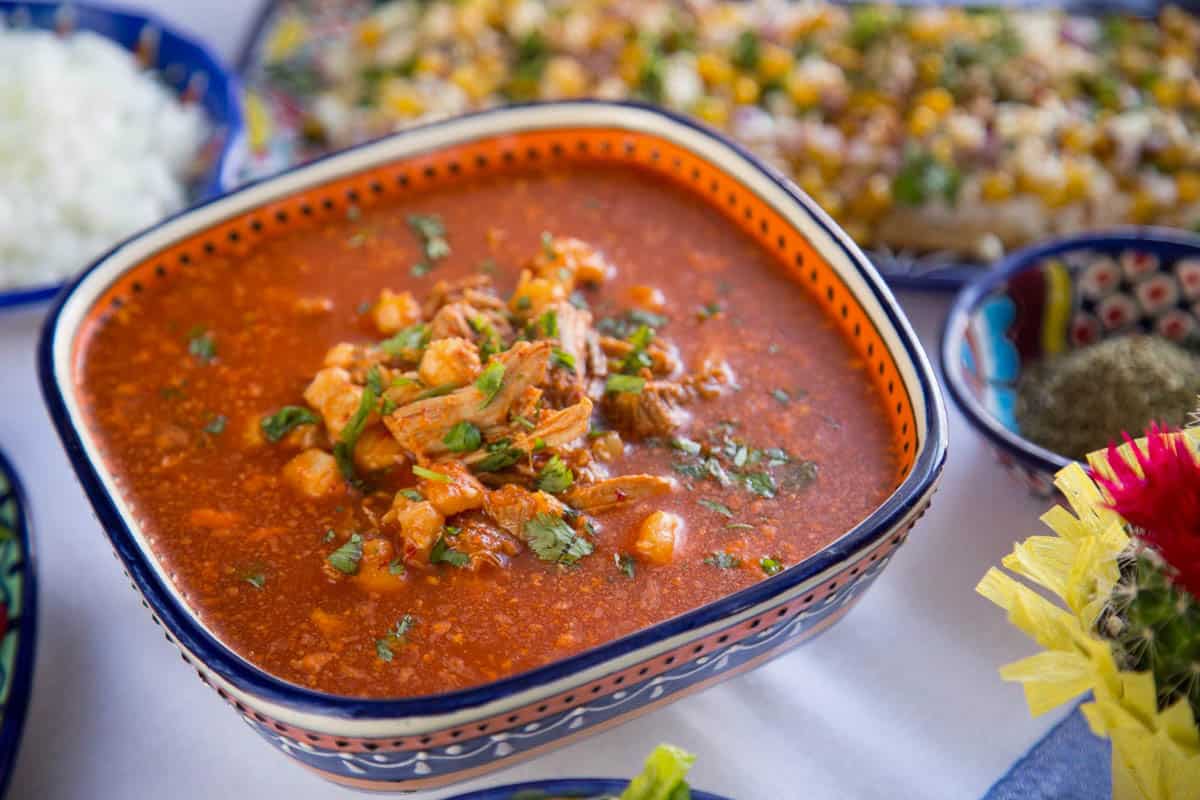 This post contains affiliate links. Affiliate links support Gift of Hospitality at no additional cost to you. I receive a commission if you choose to make a purchase through these links.
Jump to:
Jessica explained that her Mexican-American family makes pozole for large family parties and celebrations. It stretches far among hungry relatives and friends, and it's simple to make.
She uses pork necks, but I chose pork shoulder instead. It makes the dish a little more hearty with the extra meat. But if you can find pork necks, you can definitely use those!
Ingredients
Pork shoulder flavors the broth and makes the pozole extra hearty.
Canned hominy is basically puffed-up, juicy, slightly salty corn kernels. It's sold in cans and can be found in the international food aisle of most grocery stores.
Onion and garlic add lots of savory flavor to the broth.
Dried guajillo peppers can be found in some major grocery stores, but in most cases, you will need to visit an international foods store or Mexican grocery store to find them. You can also find dried guajillo peppers on Amazon.
Oregano and cumin add more great flavor to the pozole.
Garnishes make the soup so fun to eat! Chopped radishes, romaine lettuce, and crushed tortilla chips are my favorites—they add lots of crunch!
How to make Mexican red pozole with pork
1. Cut the pork shoulder into 1-inch pieces. This helps it cook quicker, and you don't have to chop/shred it later.
2. Then place the pork shoulder, a quartered onion, 5 cloves of garlic, and 2 teaspoons salt in a large stock pot. Cover with water, and cook for 2–3 hours, or until the pork falls apart when you shred it with a fork.
3. Remove the onion, garlic, and the bone from the pork shoulder (if the pork shoulder has a bone). Reserve one cup of hominy, then add the rest to the pozole. Let cook for 30 minutes.
4. Meanwhile, place the dried guajillo peppers in a large bowl and cover with boiling water. Cover the bowl and let sit for 20 minutes to soften the peppers. Drain the water, remove the stems from the peppers, and cut the peppers open with a sharp knife. Remove the seeds and membranes from the peppers and discard.
5. Place the softened peppers, 5 cloves of garlic, oregano, cumin, 3 teaspoons salt, and 1 cup of water in a blender. Blend until smooth. Add the reserved 1 cup of hominy and continue to blend until smooth. Add the mixture to the pozole. Simmer for 30 minutes.
6. While the pozole is simmering, prepare the toppings.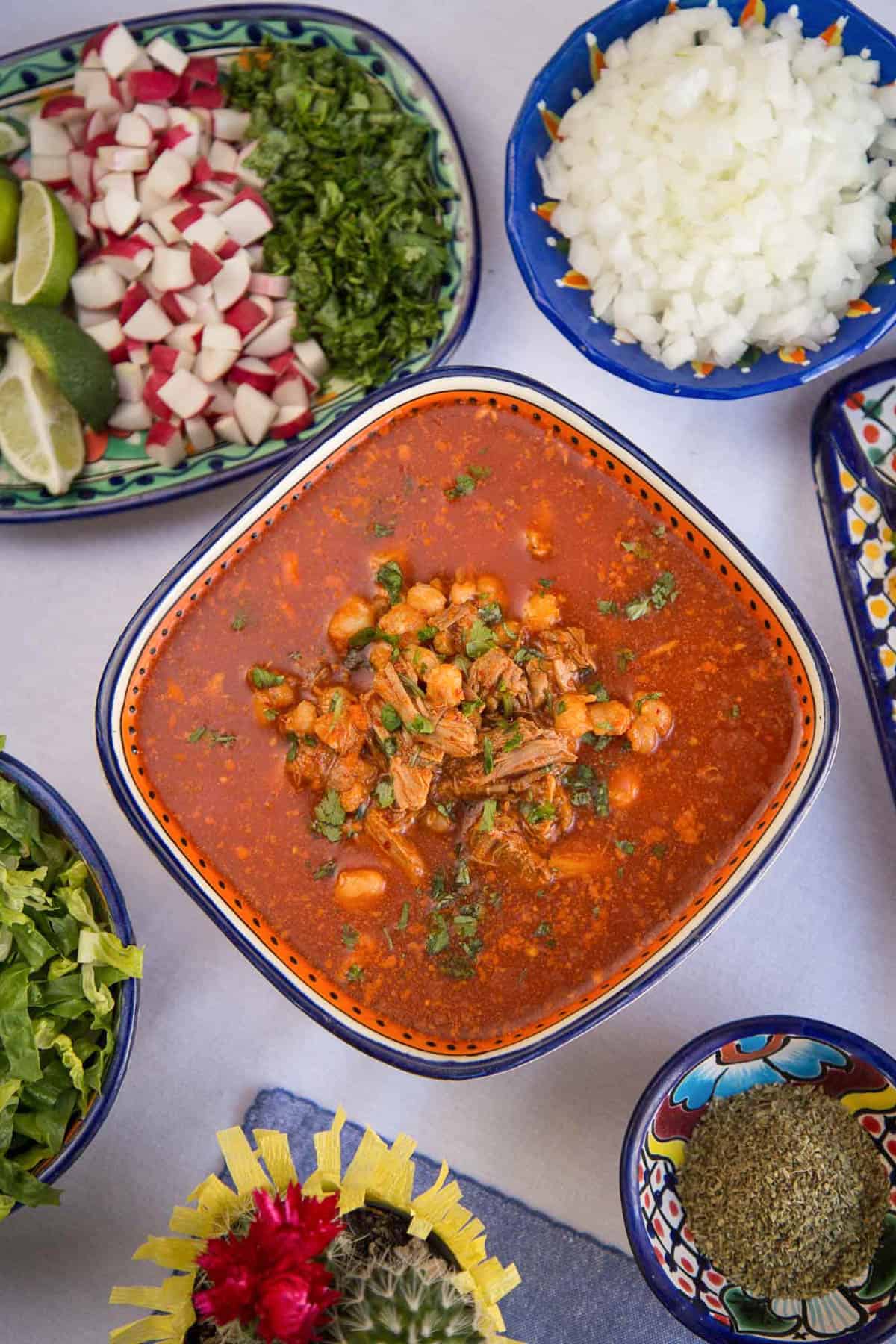 Toppings for red pozole
Toppings add color, texture, and lots of flavor to pozole. Choose as many as you like!
Chopped radishes
Shredded lettuce or shredded cabbage
Lightly crushed tortilla chips
Finely diced white onion
Chopped cilantro
Dried oregano
Lime wedges to squeeze for lime juice
Frequently Asked Questions
What makes pozole red?
Dried chile peppers makes pozole red. The peppers are rehydrated with water, then blended to create a richly colored red sauce.
What's the difference between red and green pozole?
Green pozole (pozole verde) is made with tomatillos and poblano peppers. Red pozole (pozole rojo) is made with dried guajillo or ancho chiles.
What type of chiles are best for pozole?
Guajillo chiles are traditionally used in red pozole. You can find them at many international food stores. You can also find dried guajillo peppers
on Amazon. Some recipes also use ancho chiles.
What's the best kind of pork for pozole?
Pork shoulder or pork necks are both traditionally used for pozole.
Can you freeze pozole?
You can freeze pozole by transferring the cooled soup to a freezer-safe container or resealable freezer storage bag. Cover the container or seal the bag, and freeze for up to 3 months. To defrost, let it sit in the refrigerator overnight and heat on the stovetop. Alternatively, run warm water over the pozole to loosen it from the container, and place the frozen pozole in a large pan. Cook over medium heat until the pozole is warm.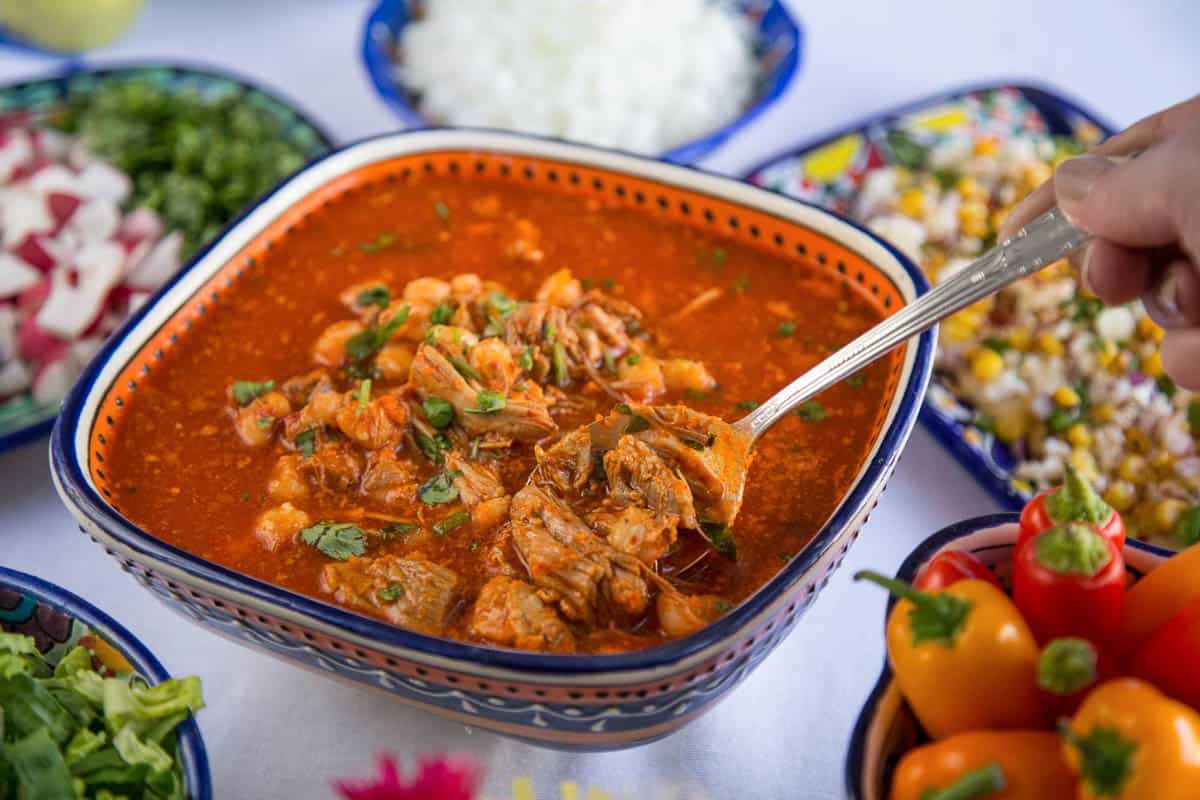 Storage and reheating
Store any leftovers red pozole in the refrigerator for up to 5 days. You can also freeze pozole for up to 3 months.
To reheat, you can either microwave it, or reheat it on the stovetop.
What to serve with red pozole
Easy Red Pozole is perfect for a crowd. I got about 12 servings from this recipe.
I served it with Lightened Up Elote Corn Dip and a Hibiscus Iced Tea. Along with tortilla chips, it was the perfect Cinco de Mayo feast!
Have you tried this recipe? Please leave a ⭐️⭐️⭐️⭐️⭐️ rating and/or comment below!


📖 Recipe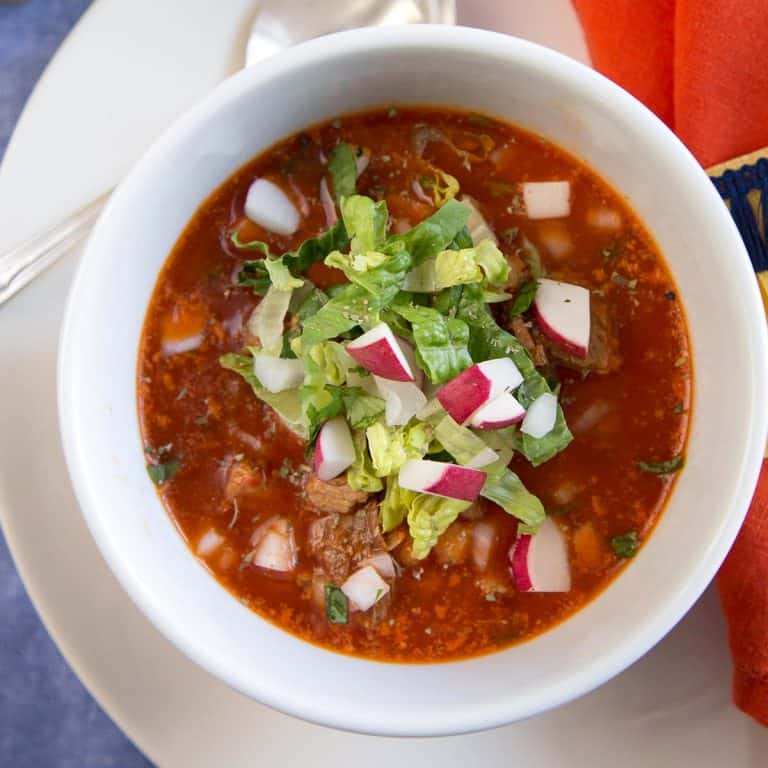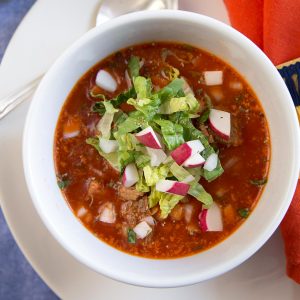 Easy Red Pozole
This comforting Mexican stew is perfect for a chilly day!
Ingredients
3½

lbs

pork shoulder,

cut into 1 inch chunks

1

large yellow onion,

quartered

10

cloves

garlic,

peeled and smashed, divided

2

(29 oz) cans hominy, drained

3

oz

dried guajillo peppers

2

teaspoons

oregano

2

teaspoons

cumin

5

teaspoons

kosher salt

For garnish:

chopped radishes, chopped cilantro, finely diced white onion, tortilla chips, shredded romaine lettuce, oregano, lime wedges
Instructions
Place the pork shoulder in a large stock pot or dutch oven. If your pork shoulder has a bone, add that too.

Add the onion, 5 of the smashed garlic cloves, and 2 teaspoons salt.

Add water until it reaches 1 inch above the pork. Bring to a boil, then reduce to a simmer. Simmer on low until the meat is tender, about 2–3 hours.

Remove the onion, garlic cloves, and bone (if you added it).

Add the hominy, reserving 1 cup for later use. Cook for 30 minutes more.

Meanwhile, place the peppers in a medium bowl. Pour 5 cups of boiling water over the top and cover. Let sit for 20 minutes. Drain the peppers.

Remove the stems and cut the peppers open. Remove the seeds and membranes.

Place peppers, remaining 5 cloves of garlic, 2 teaspoons oregano, 2 teaspoons cumin, and 3 teaspoons salt in a blender. Pour 1 cup water over the top. Blend on high until almost smooth.

Add the remaining 1 cup hominy and blend until completely smooth.

Pour the pepper mixture into the pot with the pork. Stir to combine. Simmer for 30 minutes.

Serve in big bowls with chopped radishes, chopped cilantro, finely diced white onion, tortilla chips, shredded romaine lettuce, and lime wedges on the side.
Notes
You can use dried ancho chiles in place of the guajillo chiles. Or you can use a mixture of the two.
Nutrition
Calories:
228
kcal
Carbohydrates:
22
g
Protein:
18
g
Fat:
7
g
Saturated Fat:
2
g
Cholesterol:
54
mg
Sodium:
1504
mg
Potassium:
321
mg
Fiber:
4
g
Sugar:
3
g
Vitamin A:
15
IU
Vitamin C:
2
mg
Calcium:
40
mg
Iron:
2
mg
Related recipes