These easy Sheet Pan Fajitas with Chicken and Steak are perfect for a weeknight dinner, but they're special enough to serve to guests, too. They cook on one pan, so clean-up is a breeze!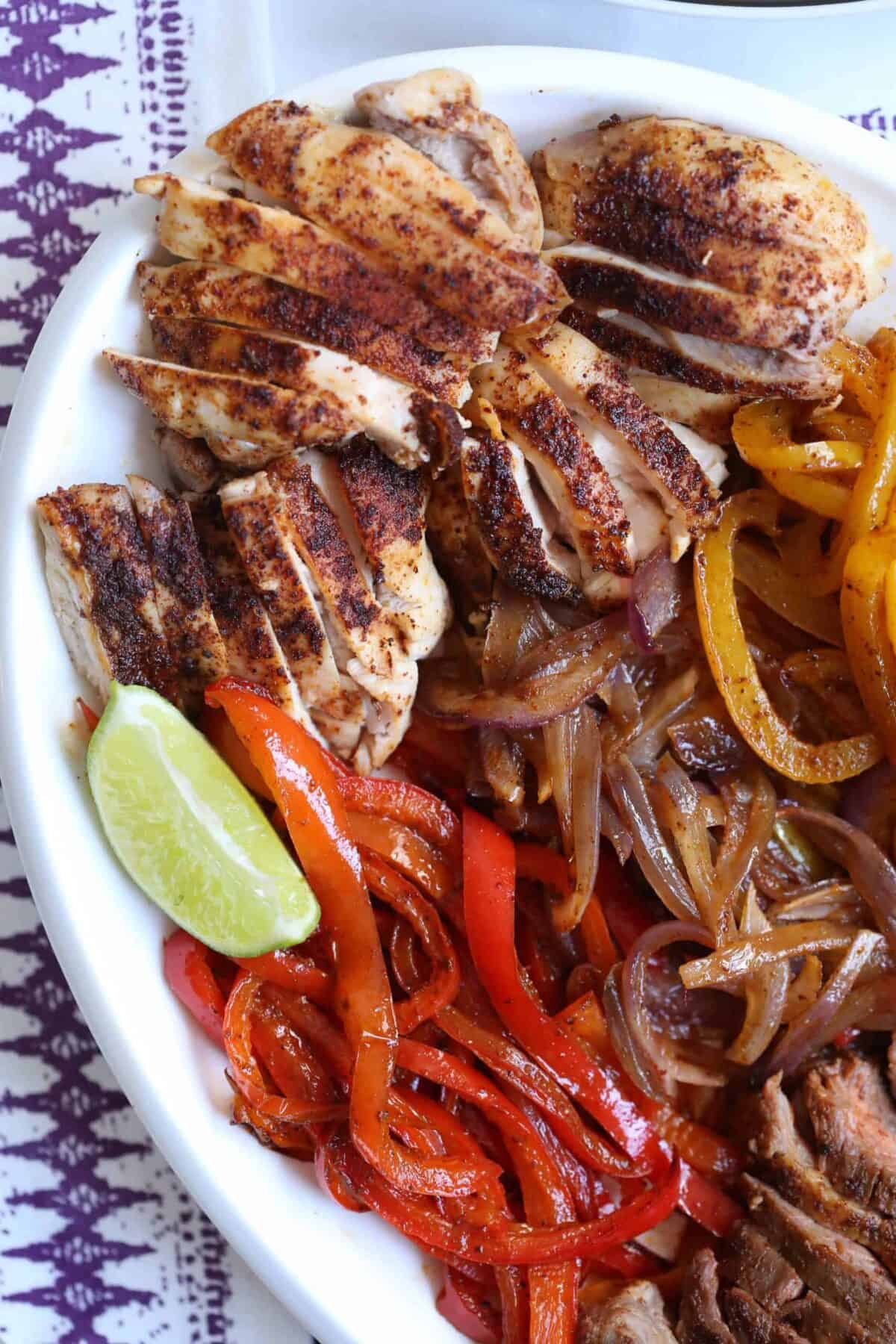 I serve Sheet Pan Fajitas with Chicken and Steak at least every other week at our house. They're easy to make, they cook in 30 minutes in the oven, and everything is cooked on a single sheet pan.
And best of all, there's only one pan to wash after dinner!
Sheet pan cooking tips
1) An actual sheet pan is gigantic (26 inches by 13 inches, to be exact). They are typically used in commercial kitchens. For home kitchen use, a sheet pan refers to a half sheet pan, which measures 18 inches by 13 inches. Anything that is approximately this size will work for this recipe. I love my half sheet pan
from USA Pan. I've had it for a number of years and it has never warped in a hot oven.
2) A silicone mat helps immensely with clean-up. These mats
fit well on a half sheet pan. When it's time to clean up, just put the silicone mat in the dishwasher.
3) The key to sheet pan cooking is in the size of whatever you're making. In this case, the whole pan bakes for 30 minutes, so I tailor the size of each ingredient accordingly.
Ingredients
Flank steak is lean and can be cut into nice thin slices for the fajitas.
Boneless skinless chicken thighs cook perfectly in 30 minutes.
I used red and yellow bell peppers. Use whatever color of bell peppers that you like!
A red onion will get tender and caramelized while cooking.
The recipe below includes instructions for a homemade fajita seasoning. If you prefer, use a store-bought fajita seasoning instead.
How to make sheet pan fajitas with chicken and steak
The goal is to cut the meat and vegetables so that everything cooks perfectly in 30 minutes.
For the meat, leave the flank steak whole, and remove the boneless skinless chicken thighs from the packaging. You can keep the chicken thighs all curled up.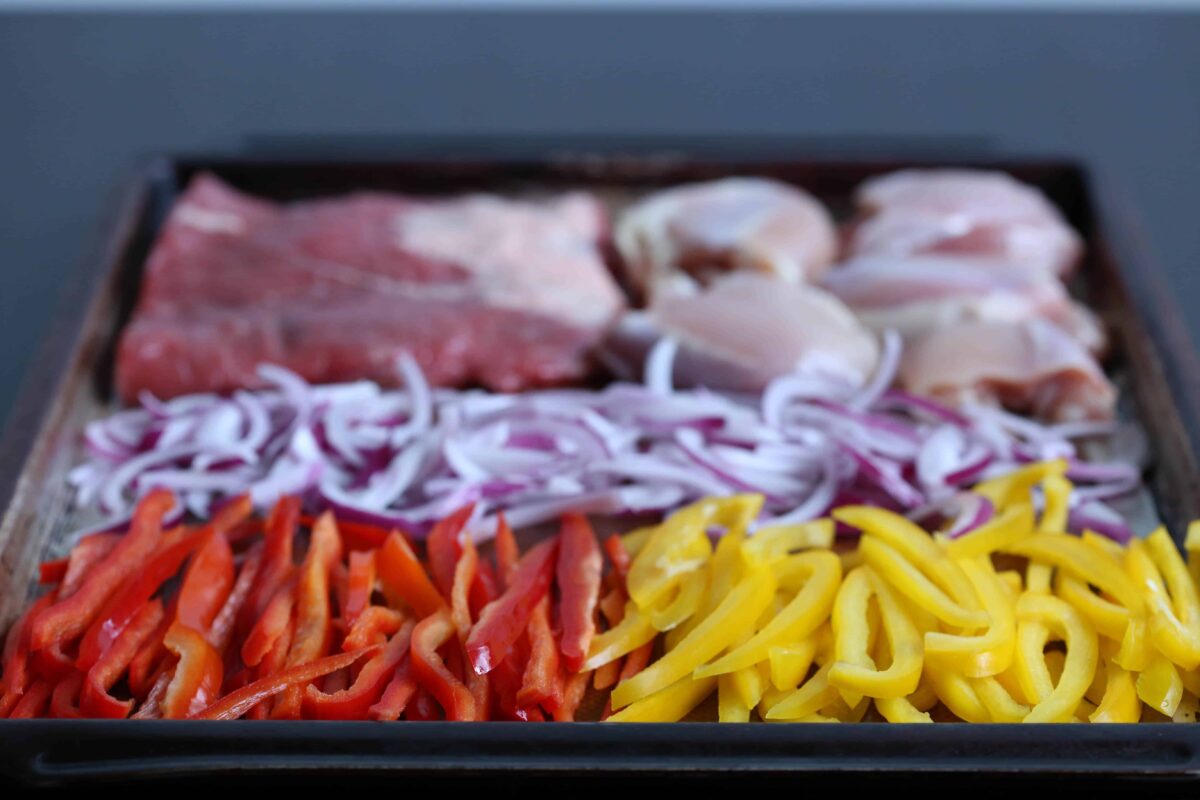 For the veggies, I chose red and yellow bell peppers, but orange or green would be great too. Slice them thinly. Slicing them thinly is key so they are melt-in-your-mouth tender after 30 minutes.
Slice the red onion to the same thickness. They will turn out tender and caramelized in the oven.
After slicing everything, season the fajitas with fajita seasoning.
If you don't keep a stocked spice rack, you could grab a packet of fajita seasoning mix at the grocery store. You can usually find them either near the spices or in the Mexican foods aisle.
If you're making the recipe as shown (with the homemade seasoning), don't skip the sugar! It balances all of the seasonings nicely and creates a light caramelized crust on everything.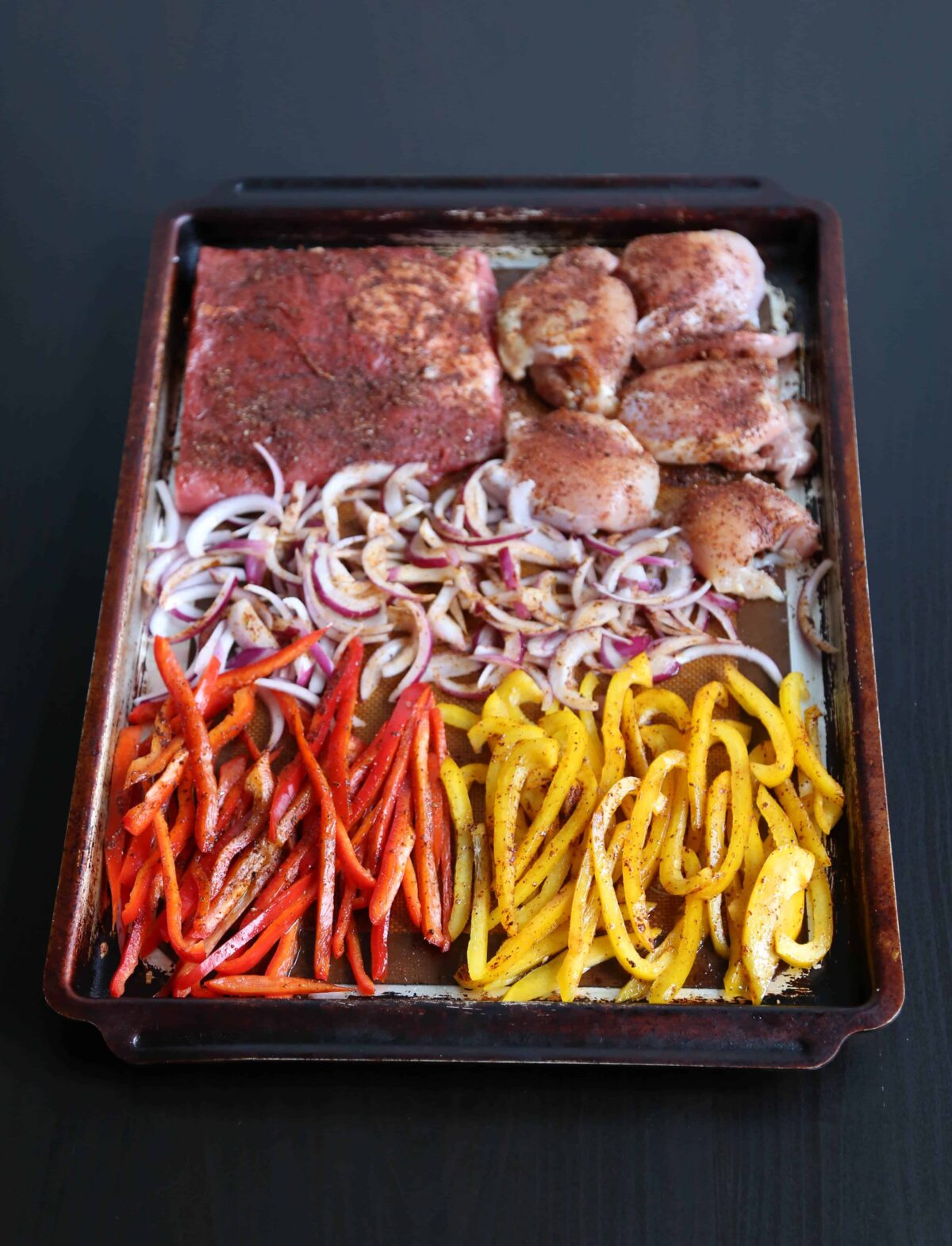 Here's the best part about sheet pan meals: you stick the whole pan in the oven and walk away. And these Sheet Pan Fajitas are no exception!
However, I take out the steak mid-way through cooking for two reasons:
1) so it doesn't overcook
2) so it has time to rest before slicing.
If you slice it as soon as it comes out of the oven, you'll have steak juice all over the cutting board and the countertop.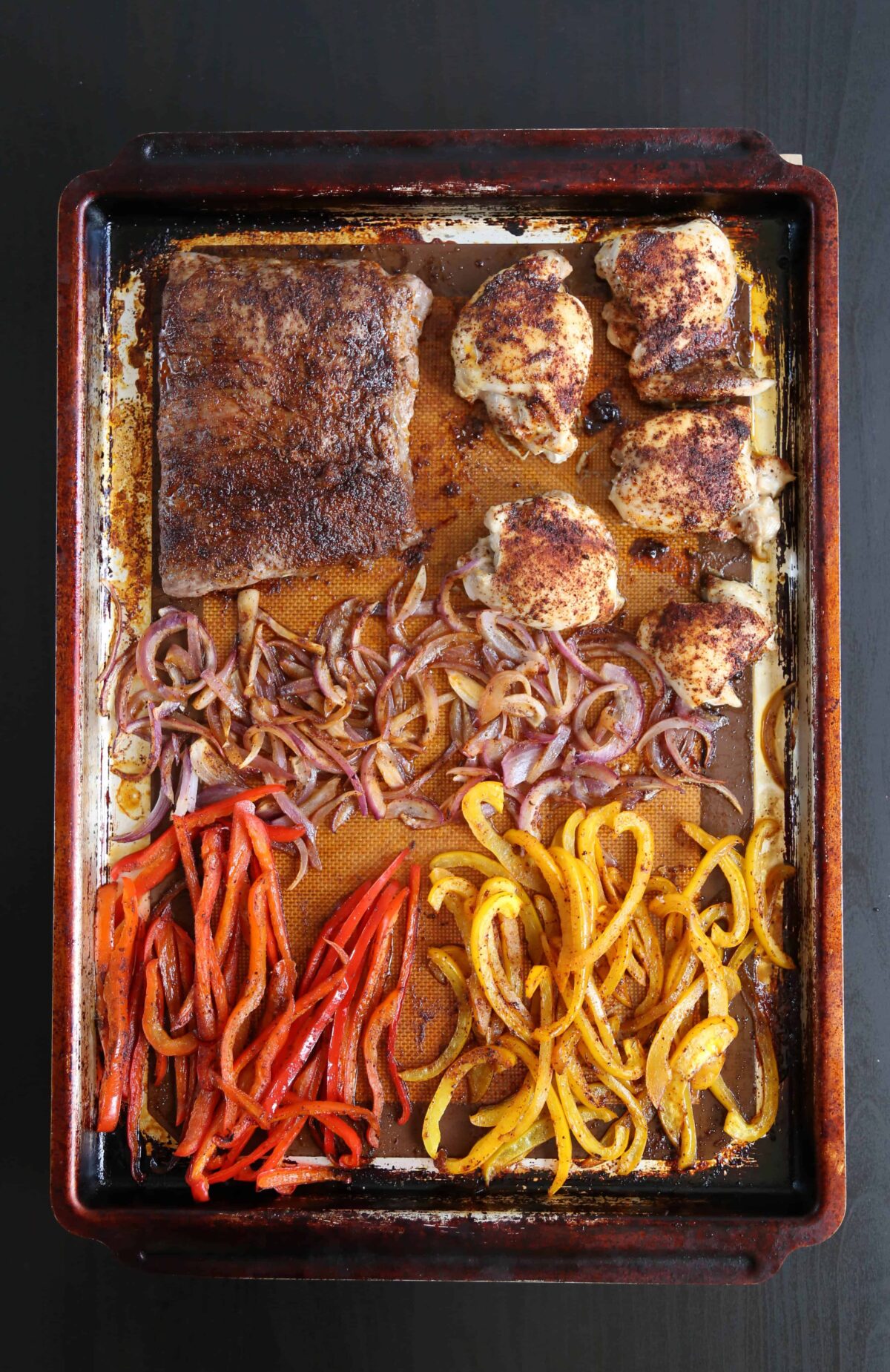 Serving the fajitas
Fajitas are traditionally served on flour tortillas. But if you prefer corn tortillas, use those! For a lighter version, serve the meat and veggies over lettuce (like romaine or green leaf lettuce).
Popular toppings for fajitas include guacamole and pico de gallo. I always include a lime for squeezing over the top. Add cheese, sour cream, and lettuce, if you wish.
For the side, this Authentic Mexican Rice is delicious—it tastes just like it does at Mexican restaurants. Corn on the cob sprinkled with lime juice and chili seasoning is another great option.
And Hibiscus Iced Tea (Agua de Jamaica) is the perfect beverage!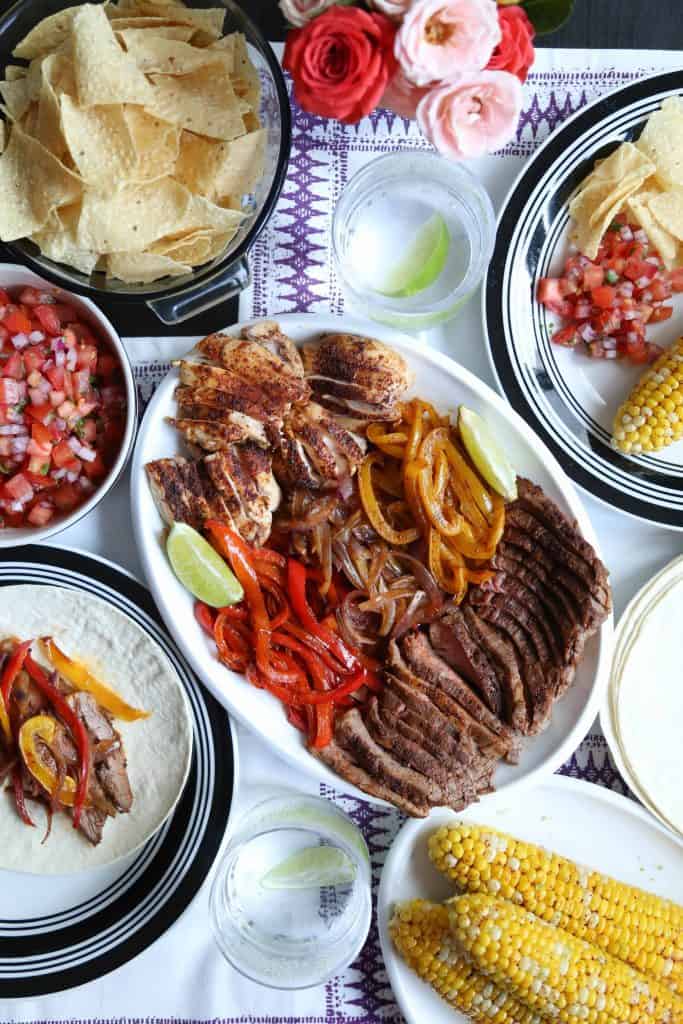 How to make pico de gallo
Here's a simple recipe:
4 roma tomatoes
½ of a red onion (use the other half from the fajitas!)
¼ cup chopped cilantro
Juice from half of a lime
¼ teaspoon sea salt
Chop the tomatoes and red onion into a small dice and then mix everything together.
I usually drain it before serving as the salt draws water out of the tomatoes and the bottom ends up looking like tomato juice.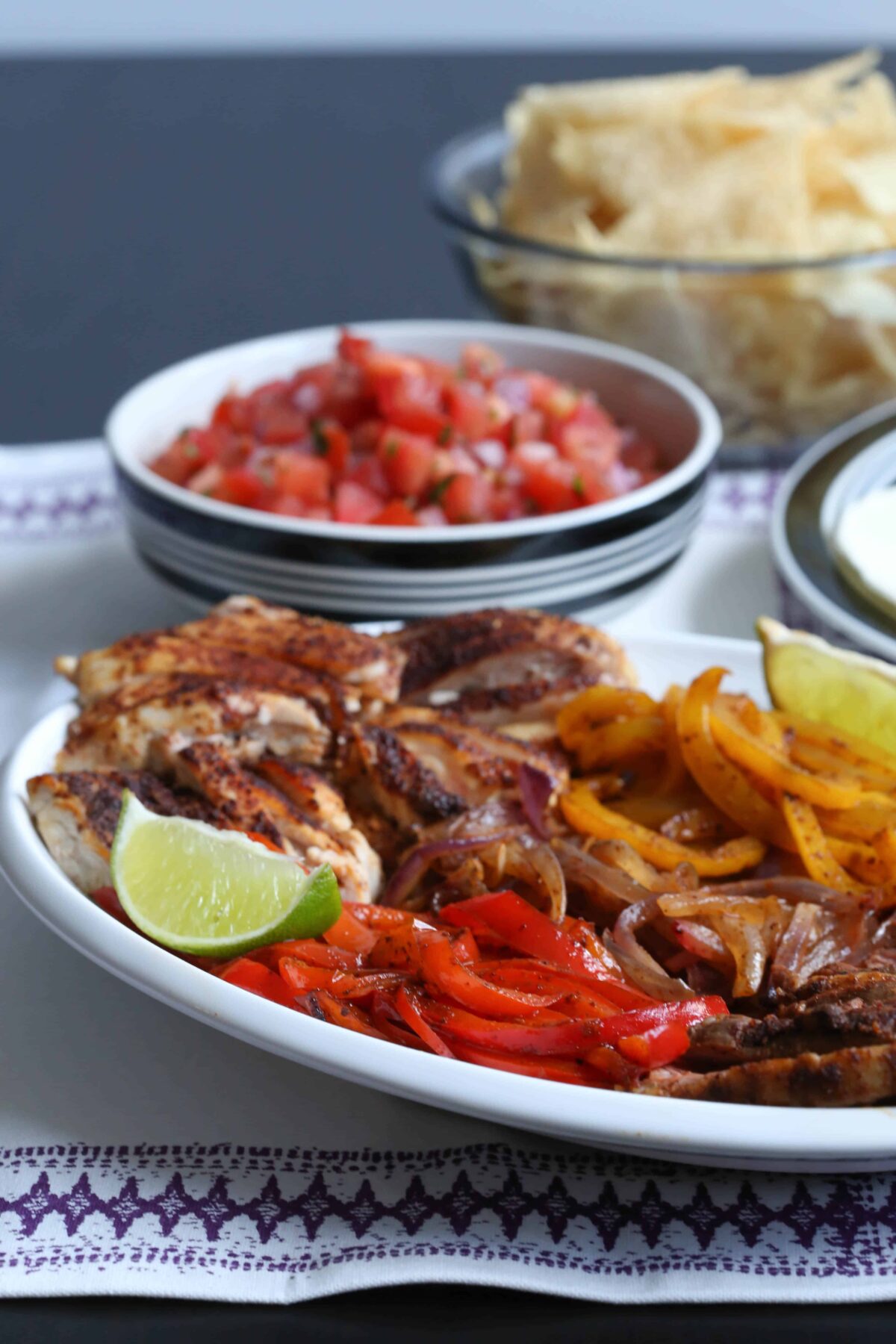 Adapting fajitas for special diets
Sheet Pan Fajitas can easily be adapted for special diets. They are already dairy-free, and they can be made gluten-free by serving them with corn tortillas.
If you use a store-bought fajita seasoning, check the package for any potential allergens if you are serving gluten-free or dairy-free guests.
Frequently Asked Questions
Can I make these with just chicken or just steak?
Yes! Substitute the same amount of chicken or steak for whichever one you are replacing.
Can I use taco seasoning instead of fajita seasoning?
The taste isn't exactly the same, but you can use a store-bought or homemade taco seasoning instead. Add a few extra squeezes of lime to give it more fajita-like flavor.
How can I make fajitas gluten-free?
Serve them with corn tortillas. Most fajitas (the meat and the vegetables) are already gluten-free. If you are using a store-bought fajita seasoning, check the package to ensure that it doesn't contain gluten.
Have you tried this recipe? Please leave a ⭐️⭐️⭐️⭐️⭐️ rating and/or comment below!
📖 Recipe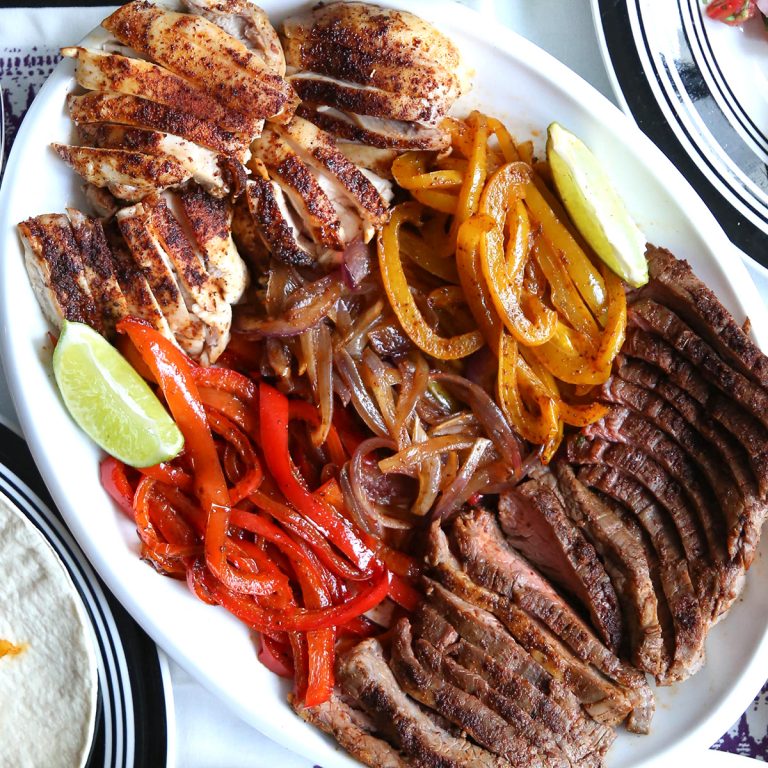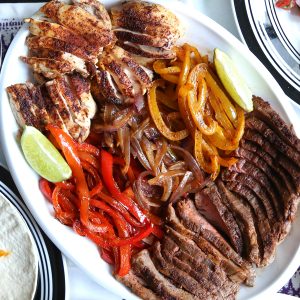 Sheet Pan Steak and Chicken Fajitas
This recipe makes dinner clean-up a breeze. Serve the fajitas with tortillas or over a leafy green salad!
Ingredients
For the fajitas
¾

lb

flank steak

1

lb

boneless skinless chicken thighs

1

red bell pepper

1

yellow bell pepper

½

red onion

2

tablespoons

olive oil
For the fajita seasoning
2

teaspoons

chili powder

1

teaspoon

cumin

1

teaspoon

paprika

1

teaspoon

brown sugar

½

teaspoon

oregano

½

teaspoon

onion powder

1½

teaspoons

kosher salt

To serve: pico de gallo, flour or corn tortillas
Instructions
Preheat the oven to 375°F.

Place flank steak and chicken thighs on a large sheet pan.

Slice the bell peppers and red onion into very thin strips. Place on the sheet pan and drizzle everything with the olive oil.

In a small bowl, combine the chili powder, cumin, paprika, brown sugar, oregano, onion powder, and kosher salt. Sprinkle evenly over the meat, peppers, and onion, flipping the meat so that it gets seasoned on both sides.

Place the sheet pan in the oven and bake for 15–20 minutes, or until the flank steak is done to your liking. I baked it for 17 minutes for medium. Remove the flank steak, place on a cutting board, and cover with foil. Place the sheet pan back into the oven for 10–15 more minutes (total cooking time should be 30 minutes), or until the chicken thighs are cooked through and the peppers are tender.

Slice the chicken thighs and flank steak. Serve with pico de gallo and tortillas.
Notes
You can buy a pre-made fajita seasoning packet instead of using the seasonings listed here. You can usually find them in the spice aisle or in the Mexican foods aisle. Nutrition facts include the meat, veggies, olive oil, and seasonings. They do not include pico de gallo or tortillas. Make these gluten-free by serving the meat and veggies with corn tortillas.
Nutrition
Calories:
232
kcal
Carbohydrates:
5
g
Protein:
27
g
Fat:
11
g
Saturated Fat:
3
g
Cholesterol:
106
mg
Sodium:
692
mg
Potassium:
502
mg
Fiber:
1
g
Sugar:
2
g
Vitamin A:
1041
IU
Vitamin C:
62
mg
Calcium:
31
mg
Iron:
2
mg
Related recipes