Chicken Salad with Grapes is the perfect easy lunch. The combination of grapes, celery, and cashews add an irresistible crunch!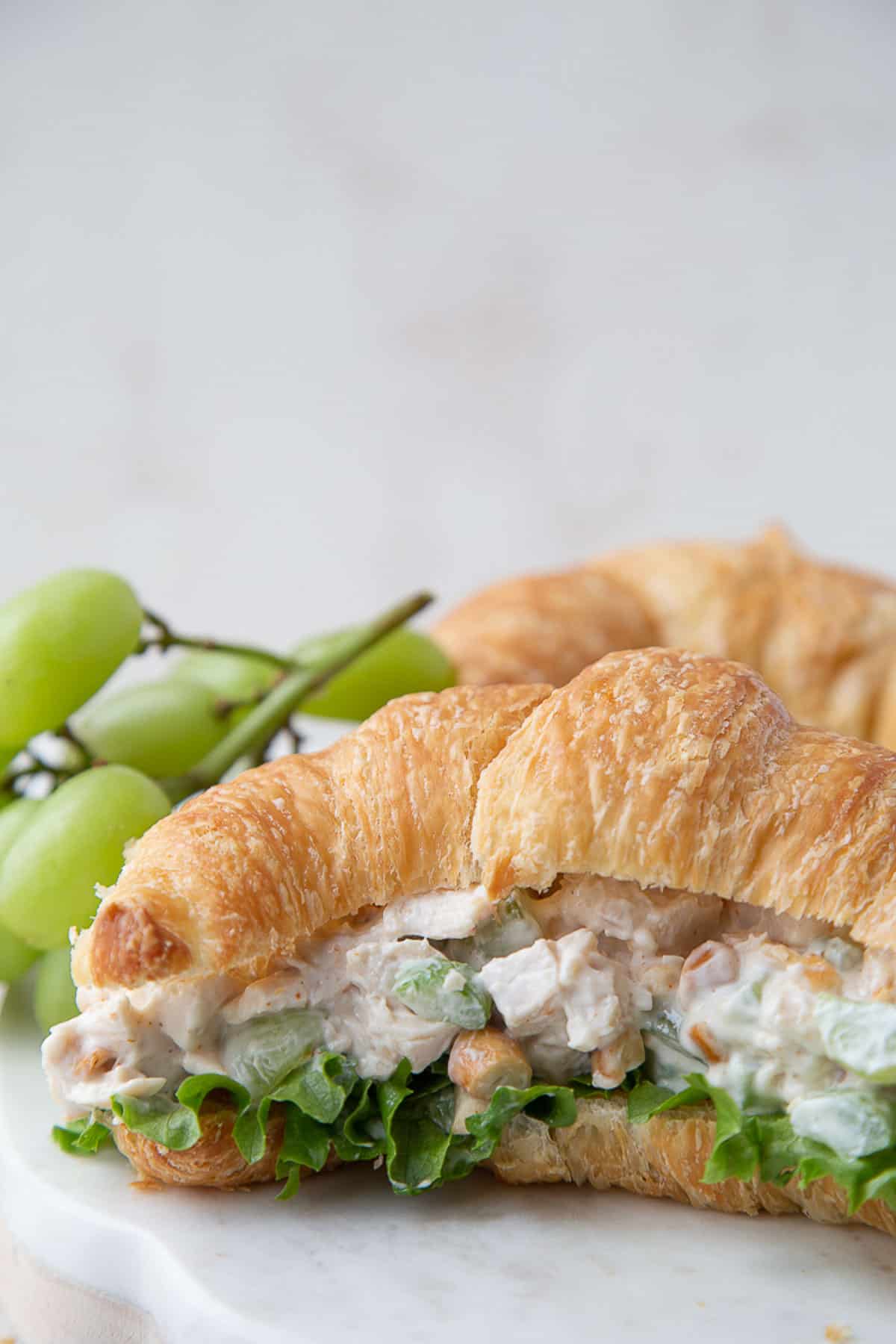 If you like chicken salad, you have to try this Chicken Salad with Grapes and Cashews!
It has lots of crunch, thanks to the celery, grapes, and cashews. And the curry powder adds the perfect amount of seasoning to make it flavorful.
I love serving it on croissants. If you're making this for a get-together and you have a Costco nearby, they have a great deal on croissants—12 for $5! Otherwise, your local grocery store will have croissants in the bakery.
The chicken salad also works great on your favorite sandwich bread, or in this recipe for Chicken Salad in Puff Pastry Cups. I love making the puff pastry cups for special events, like a bridal shower, baby shower, or fancy happy hour. And this salad is perfect for filling it.
This post contains affiliate links. Affiliate links support Gift of Hospitality at no additional cost to you. I receive a commission if you choose to make a purchase through these links.
Jump to:
Top tips
You can swap full-fat plain Greek yogurt for the mayonnaise in any chicken salad recipe. Make sure that the yogurt says "plain" and NOT "vanilla".
Use unsalted, roasted nuts when adding them to chicken salad. This recipe calls for cashews, but walnuts or almonds are delicious, too!
You can use green grapes or red grapes for this recipe.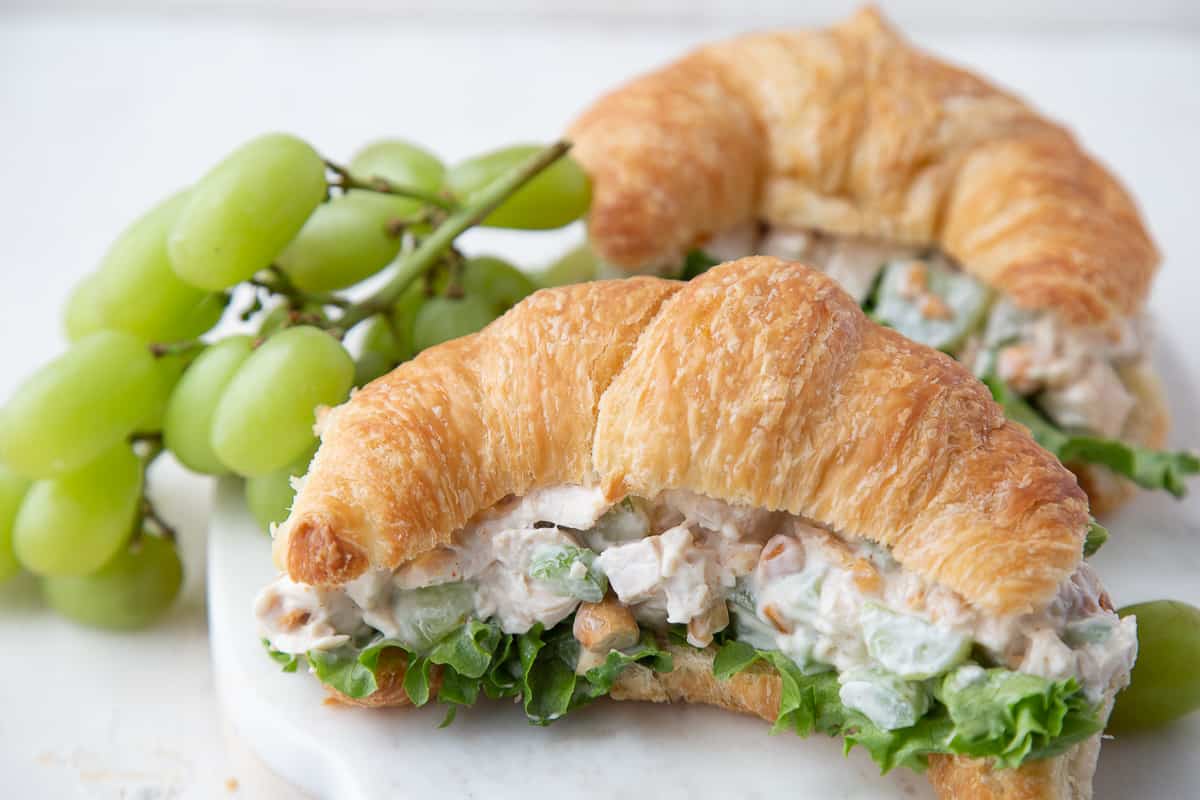 The best chicken for chicken salad
Cooked and chopped chicken breast is traditional in chicken salad. You can either purchase pre-cooked chicken, or cook it yourself. Here are a few options:
use chicken breast from a rotisserie chicken
poach, bake, or grill raw chicken breast
use pre-cooked, sliced chicken breast from the grocery store (Trader Joe's has cooked and sliced chicken breast called "Just Chicken" that is already cooked, for example)
If you are cooking chicken breast from raw, here is a great tutorial on how to poach chicken (you can omit the seasonings—they aren't necessary here).
If you're using a rotisserie chicken, make sure to remove the skin before you start chopping.
Whichever type of chicken that you use, you'll want to chop it into roughly half-inch size pieces for the salad.
Ingredients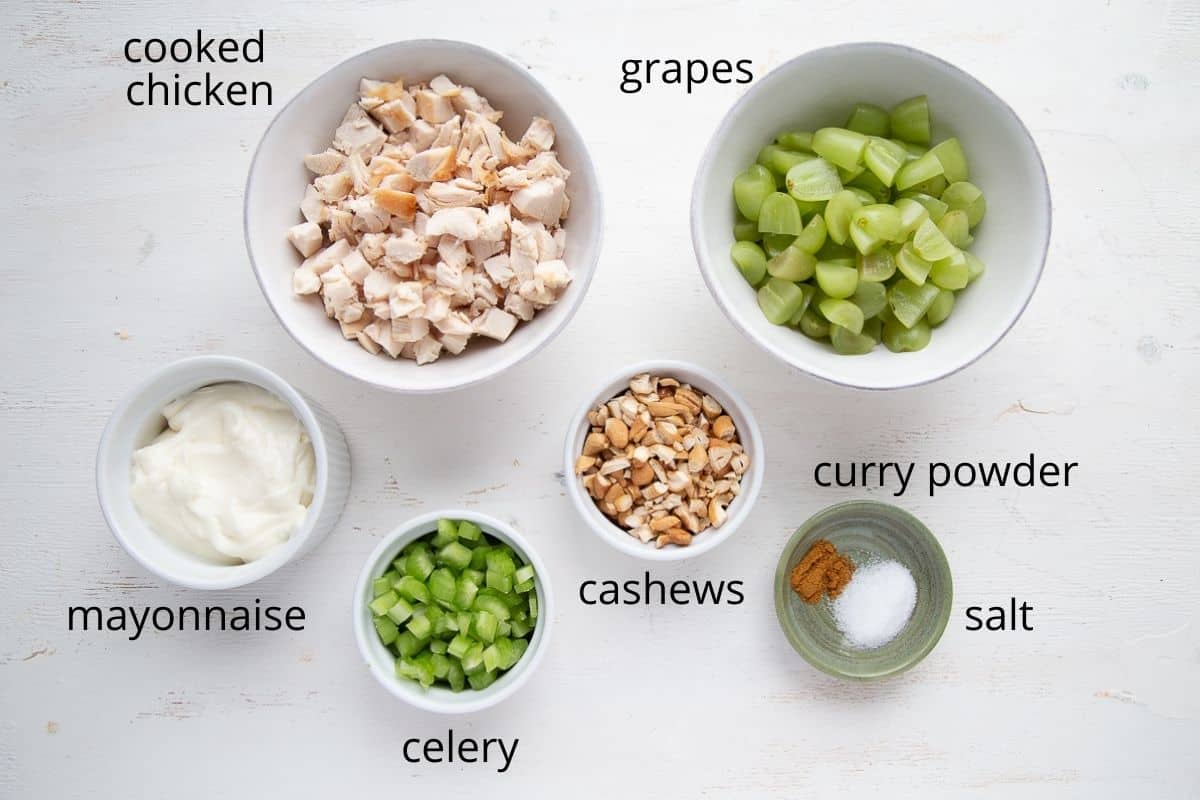 The base of this recipe is cooked and chopped chicken breast. You can poach or bake raw chicken breast, or use the chicken breast from a rotisserie chicken.
Grapes add a juicy crunch! You can choose green or red grapes.
Cashews and celery add even more crunch and texture to the salad. I used roasted, unsalted cashews.
Mayonnaise holds it all together. You can use regular or low-fat. Or you can even substitute greek yogurt instead!
Curry powder and salt season the salad to perfection.
How to make chicken salad with grapes and cashews
This recipe starts with cooked and chopped chicken breast. Make sure that the chicken is cooked all the way through, and chop it into bite-size pieces.
Next, halve the grapes and chop the cashews and celery. Combine the chicken, grapes, cashews, celery, salt, and curry powder in a large bowl.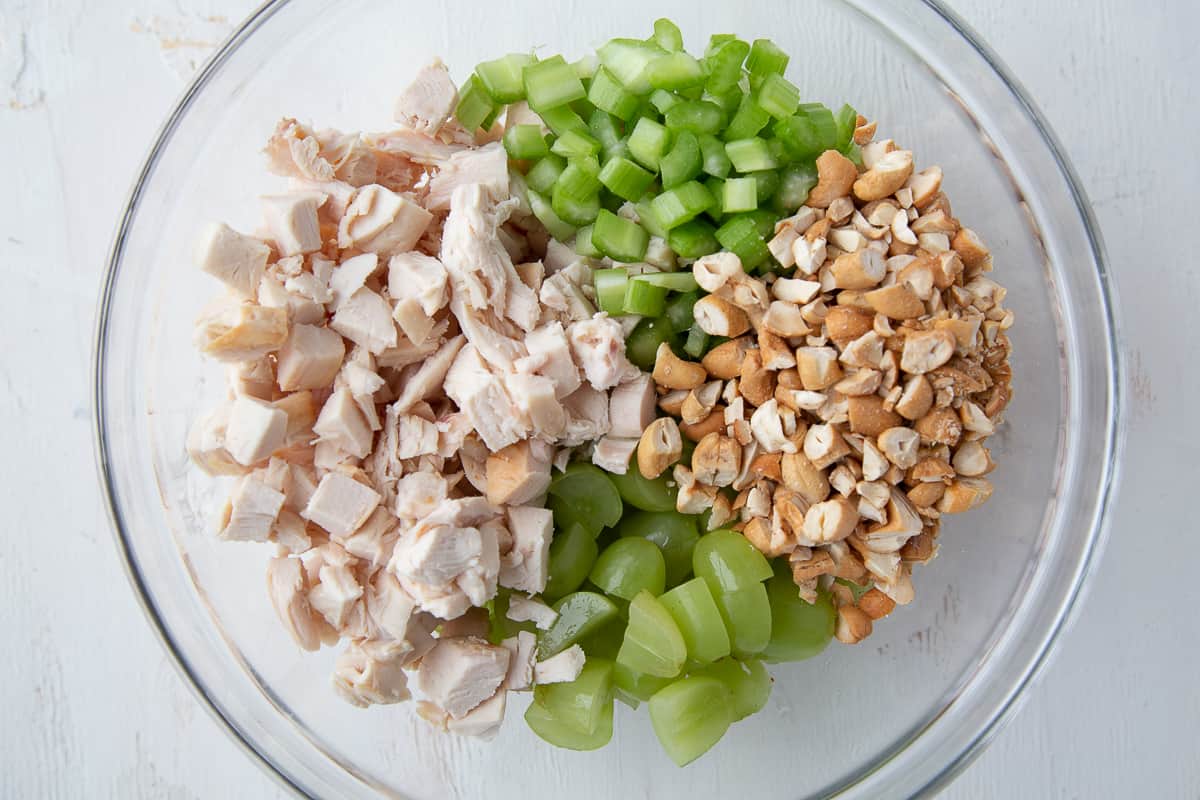 Fold the mayonnaise into the chicken mixture with a spatula.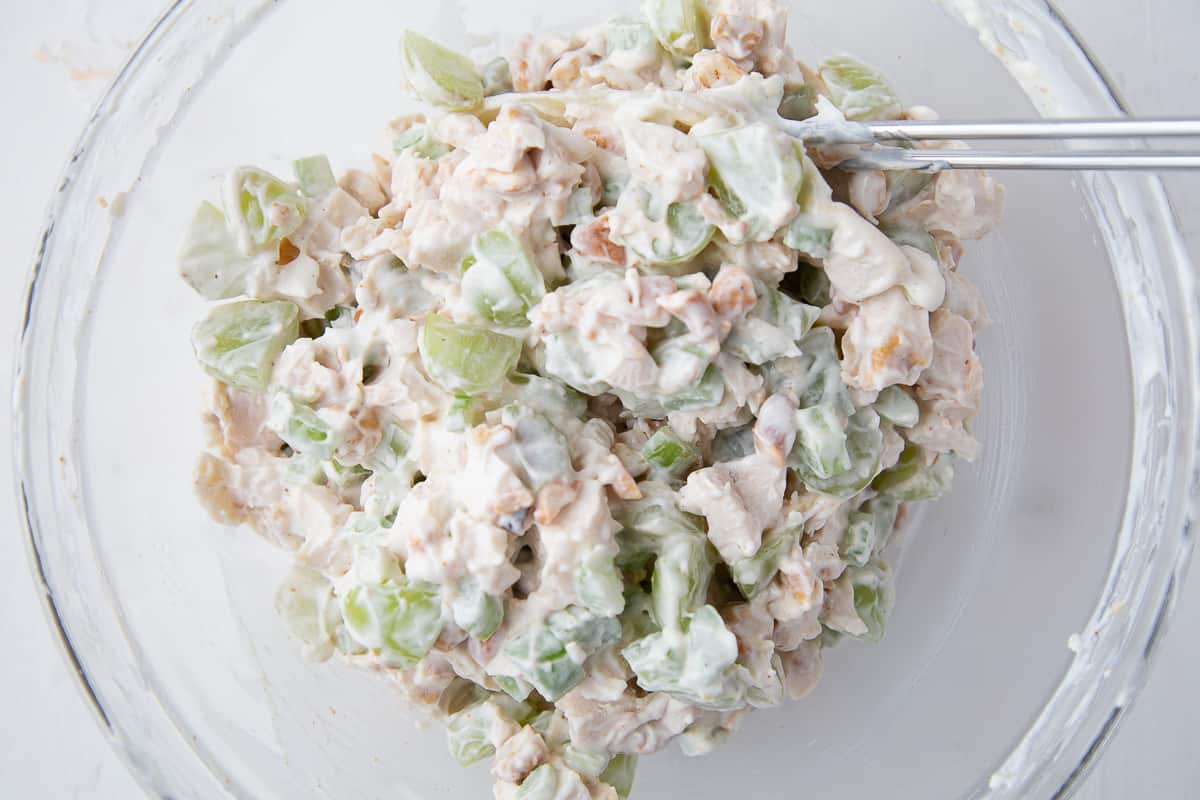 Now the chicken salad is ready to serve! You can serve it right away, or refrigerate it for up to 8 hours before serving.
Make it ahead
Chicken Salad with Grapes and Cashews is best served on the day that it's made. If it sits too long in the refrigerator, it can get watery.
You can make it up to 8 hours in advance of serving. Store it, tightly covered, in the refrigerator until you're ready to serve it.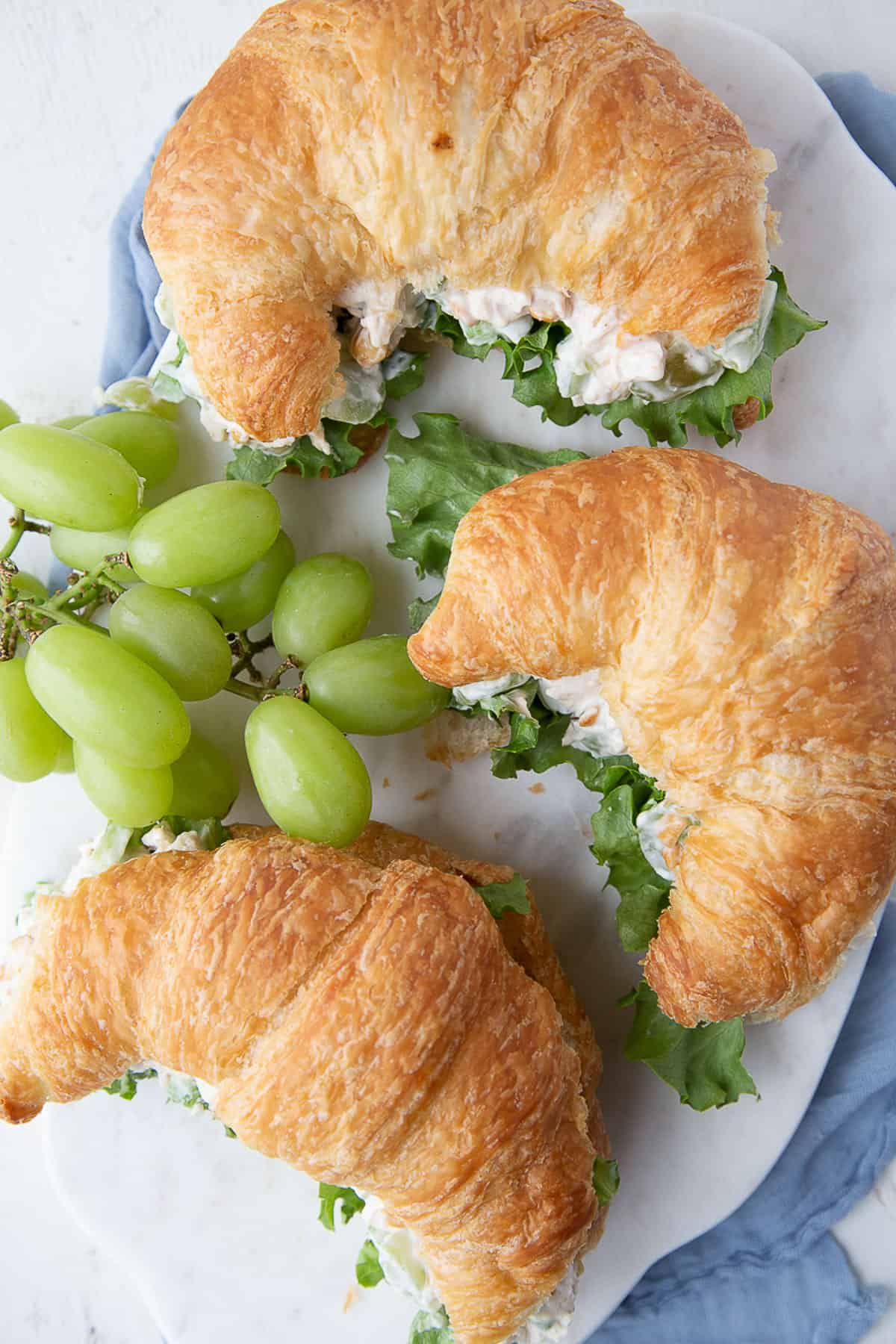 Can I freeze chicken salad?
Chicken salad does not freeze well—the mayonnaise will separate as it defrosts, making the salad watery. Keep chicken salad in the refrigerator until you're ready to enjoy it.
Frequently Asked Questions
What's the best bread for serving chicken salad?
Croissants, sourdough bread, and multigrain bread are all great choices for enjoying chicken salad.
Do I need to chop the grapes for chicken salad?
If you purchase very small grapes, you don't need to cut them in half. However, most grapes will need to be halved so they aren't too large for the salad. To easily cut grapes in half, place them on a round plastic lid (such as from a Cool-Whip container), and place another round plastic lid on top. Hold your hand over the top lid to hold the grapes in place, and hold a sharp knife horizontally to slice the grapes in half between the lids.
Can I use low-fat mayonnaise for chicken salad?
Substitute an equal amount of low-fat mayonnaise for regular mayonnaise in any chicken salad recipe. It won't be quite as rich, but it will still be delicious.
Can I make this without the nuts?
Yes! Just leave out the cashews if you prefer. Or, you can substitute another nut such as chopped almonds, pecans, or walnuts.
How long does chicken salad last?
Chicken salad can sit out for 2–3 hours at room temperature. It will last several days in the refrigerator, but may start to get watery as the days go by.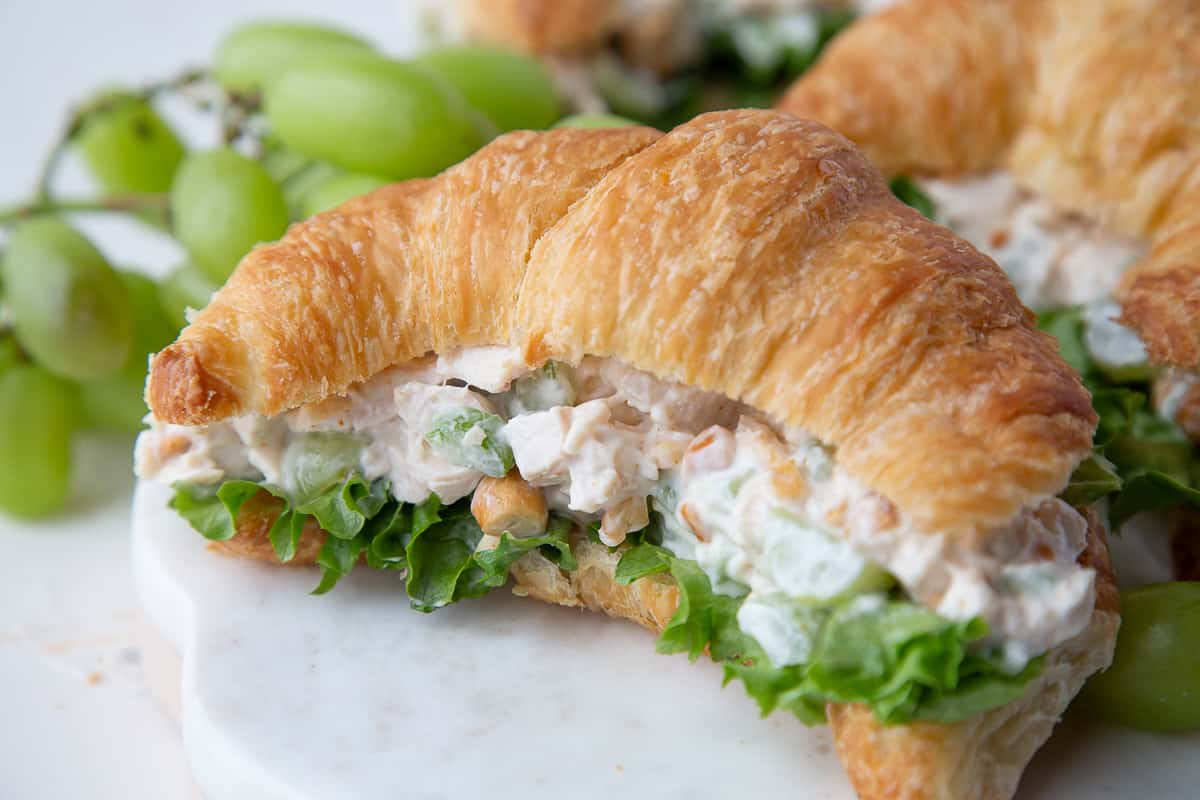 Variations
Here are a few ideas to make it your own!
Use red grapes or green grapes
Replace the cashews with chopped almonds, walnuts, or pecans
Use low-fat mayo or even Greek yogurt in place of the full-fat mayo
Add a few sliced green onions to the salad
Add 2 teaspoons of Dijon mustard to the mayo
Serving suggestions
A simple bed of green leaf lettuce is perfect for adding color to a chicken salad sandwich.
If you'd like, you can also add sliced tomatoes or thinly sliced red onion.
The chicken salad is best served on the day that it is made. The grapes can release liquid into the salad as it sits, making the salad watery after a day or two in the refrigerator.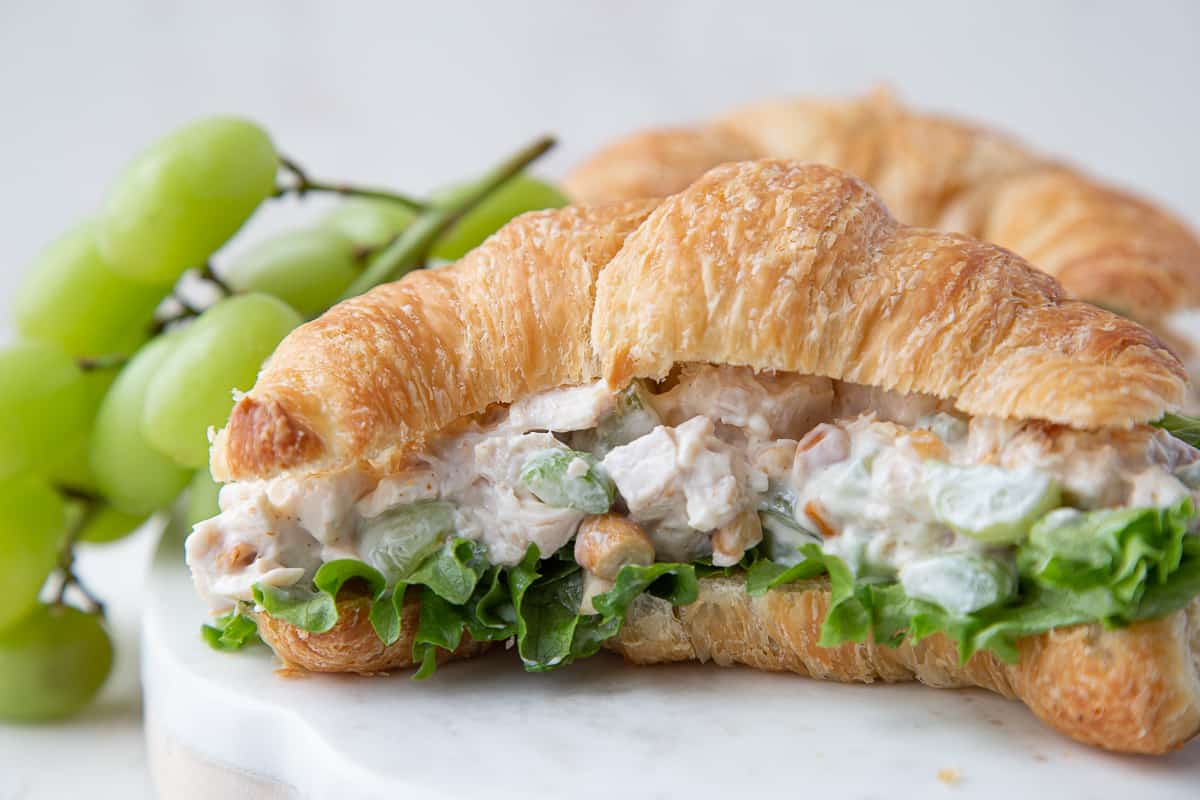 More chicken salad recipes
Have you tried this recipe? Please leave a ⭐️⭐️⭐️⭐️⭐️ rating and/or comment below!


📖 Recipe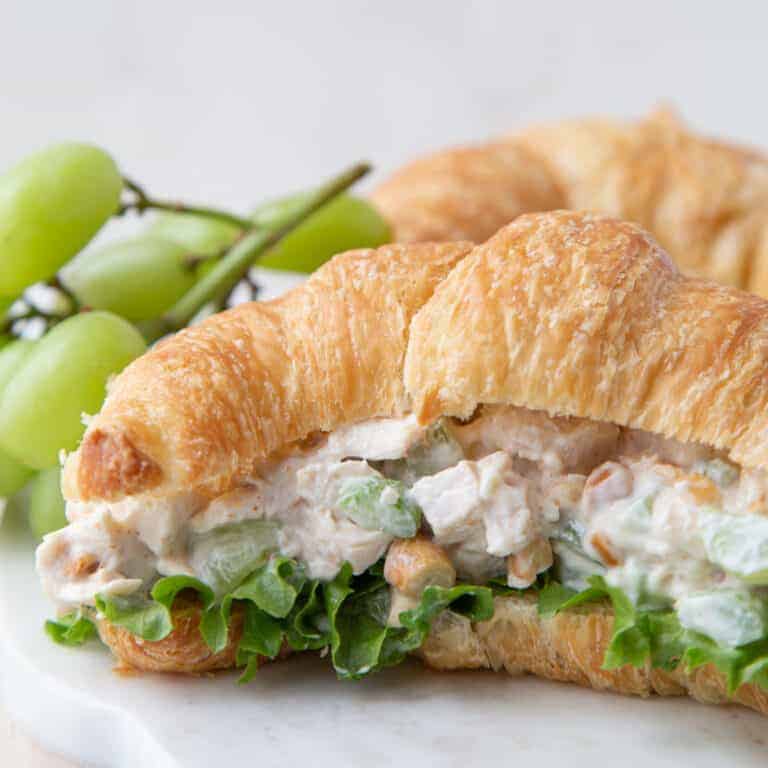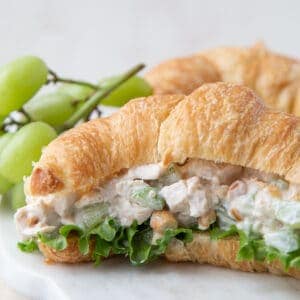 Chicken Salad with Grapes and Cashews
This easy-to-make chicken salad is packed with grapes, cashews, and celery for lots of crunch!
Ingredients
2

cups

cooked and chopped chicken breast

3

stalks celery,

finely chopped

2

cups

green grapes,

halved

¾

cup

unsalted cashews,

chopped

1¼

cup

mayonnaise

¼

teaspoon

curry powder

1

teaspoon

salt

To serve: croissants, green leaf lettuce
Instructions
Place the chicken, celery, grapes, cashews, curry powder, and salt in a large bowl. Toss to combine. Stir in the mayonnaise.

Cut croissants in half lengthwise. Place a leaf of green leaf lettuce on the bottom of each croissant half and top with chicken salad. Place the remaining croissant half on top. Serve immediately.
Notes
You can use either pre-cooked chicken from the store (such as rotisserie chicken) or cook chicken breasts from raw. You can make the salad up to 8 hours in advance of serving it. Do not freeze the salad—the mayonnaise with separate. Use roasted cashews if you can find them! If you use salted cashews, reduce the salt to one-half teaspoon and taste the salad for seasoning, adding more as needed. You can also substitute chopped almonds, pecans, or walnuts.
Nutrition
Calories:
219
kcal
Carbohydrates:
14
g
Protein:
11
g
Fat:
14
g
Saturated Fat:
2
g
Trans Fat:
1
g
Cholesterol:
30
mg
Sodium:
598
mg
Potassium:
306
mg
Fiber:
1
g
Sugar:
8
g
Vitamin A:
68
IU
Vitamin C:
2
mg
Calcium:
13
mg
Iron:
1
mg
Related recipes