Snickers Salad is a sweet Jell-O salad that's made with Snickers bars, apples, and peanuts. It's a delicious side dish or dessert!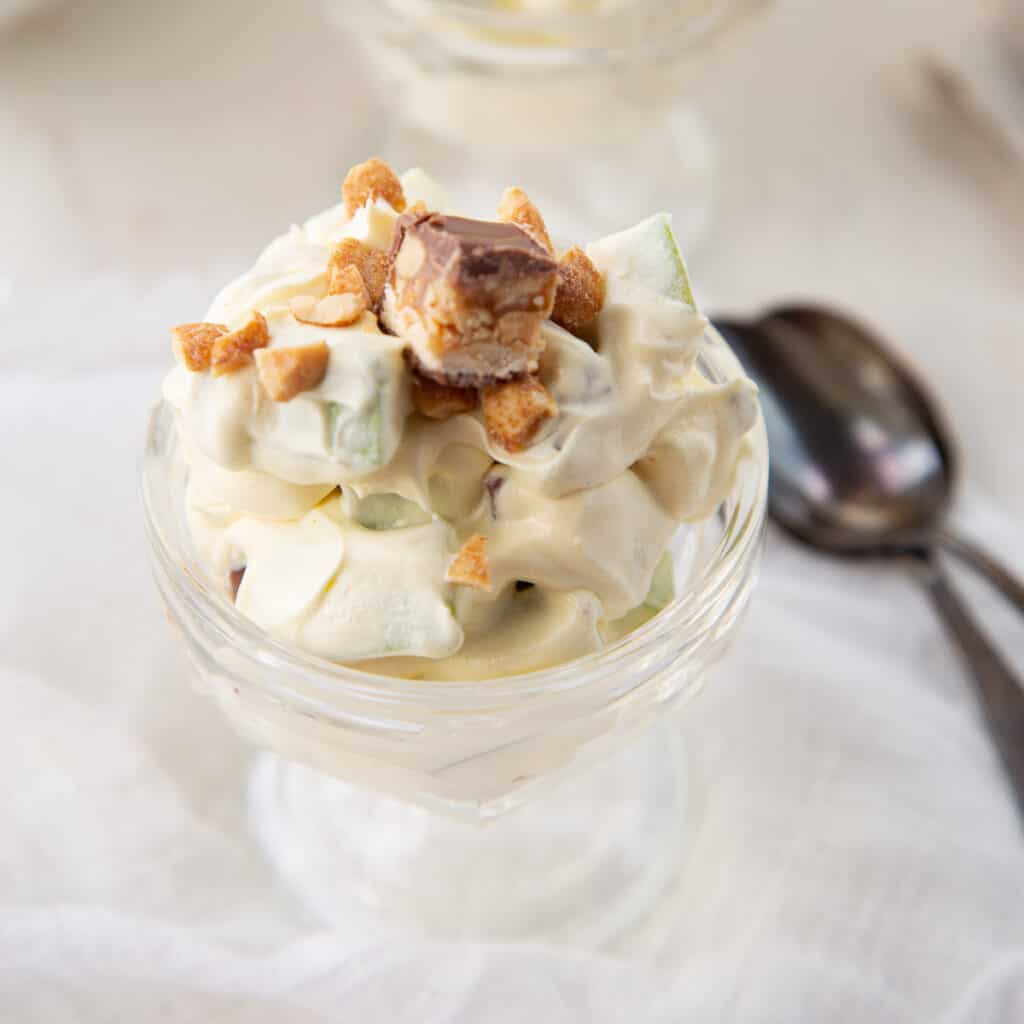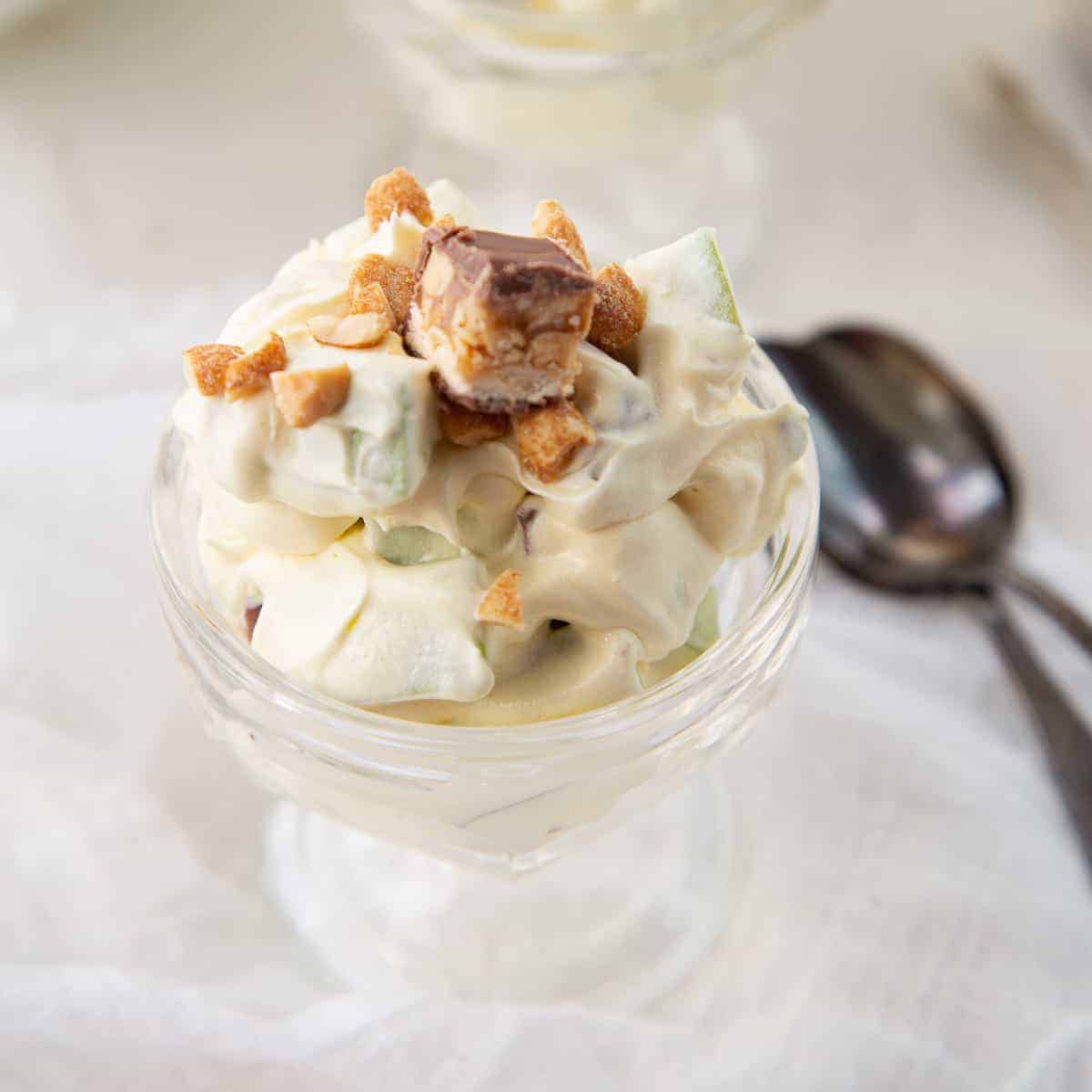 A salad…made with Snickers bars?! Whether it's technically a "salad" is up to you, but it's been called a salad for decades, so I'm rolling with it.
I was introduced to Snickers Salad in the 90s at a church potluck. As a middle schooler, I couldn't believe my luck—I got to eat Snickers bars for dinner! I made it for Easter dinner this year and everyone was raving about it. It was exactly how they remembered it from the 90s.
Now back to the salad itself! Snickers Salad is a delightful combination of Snickers bars, apples, and peanuts in a sweet vanilla custard.
It's similar to Pistachio Salad or Taffy Apple Salad, which are two other old fashioned "salads" with fruit and whipped topping. 5 Cup Salad (Ambrosia), Orange Dreamsicle Salad, and Easy Cherry Salad are a few others that fall in this category!
And since it's a "salad", you can serve it as a side dish OR dessert! 🙂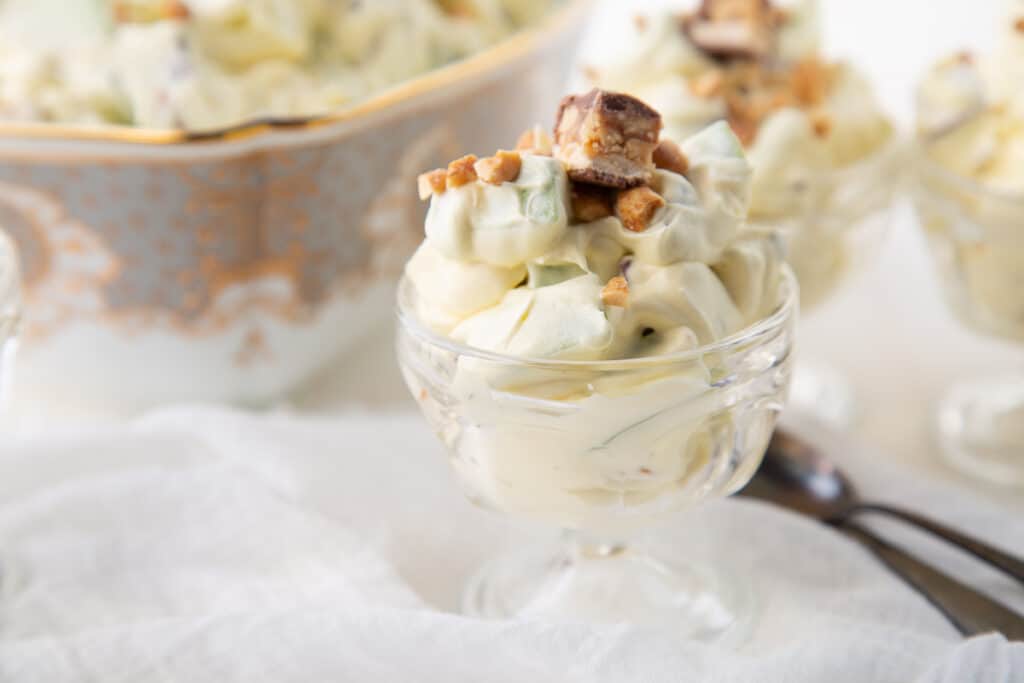 Jump to:
This post contains affiliate links. Affiliate links support Gift of Hospitality at no additional cost to you. I receive a commission if you choose to make a purchase through these link.
Ingredients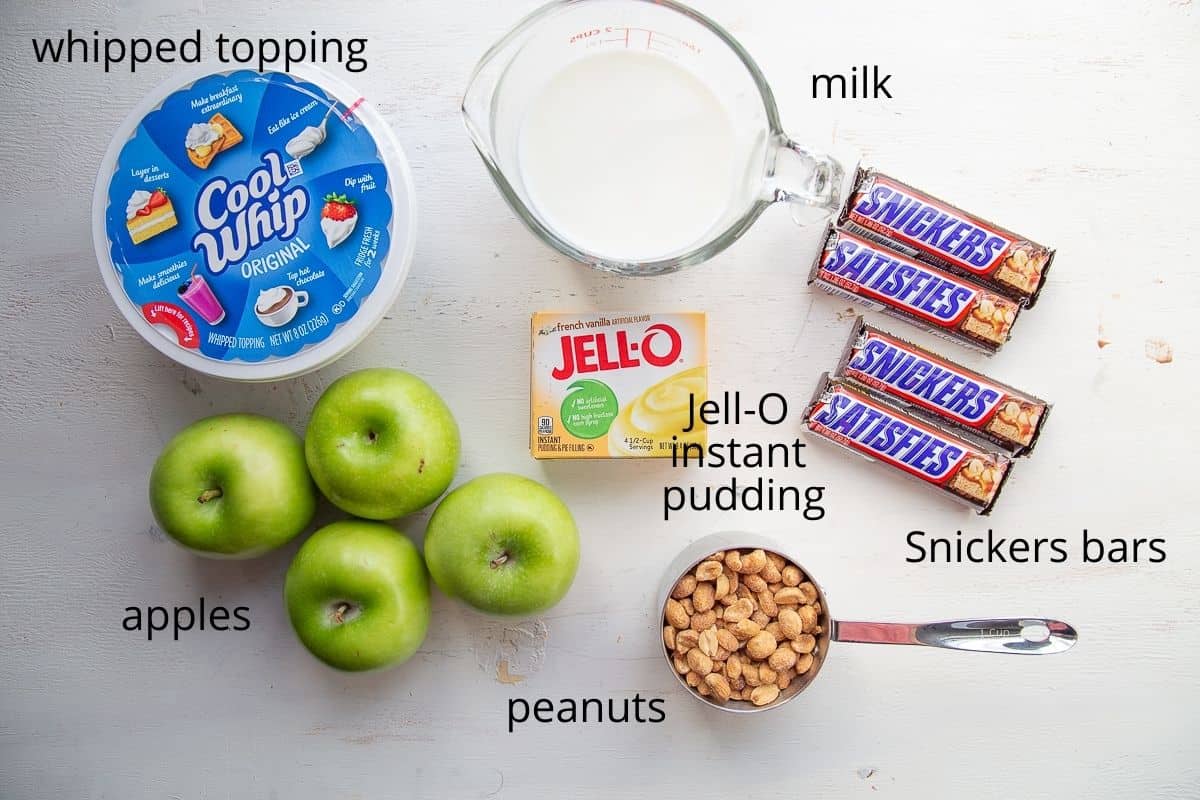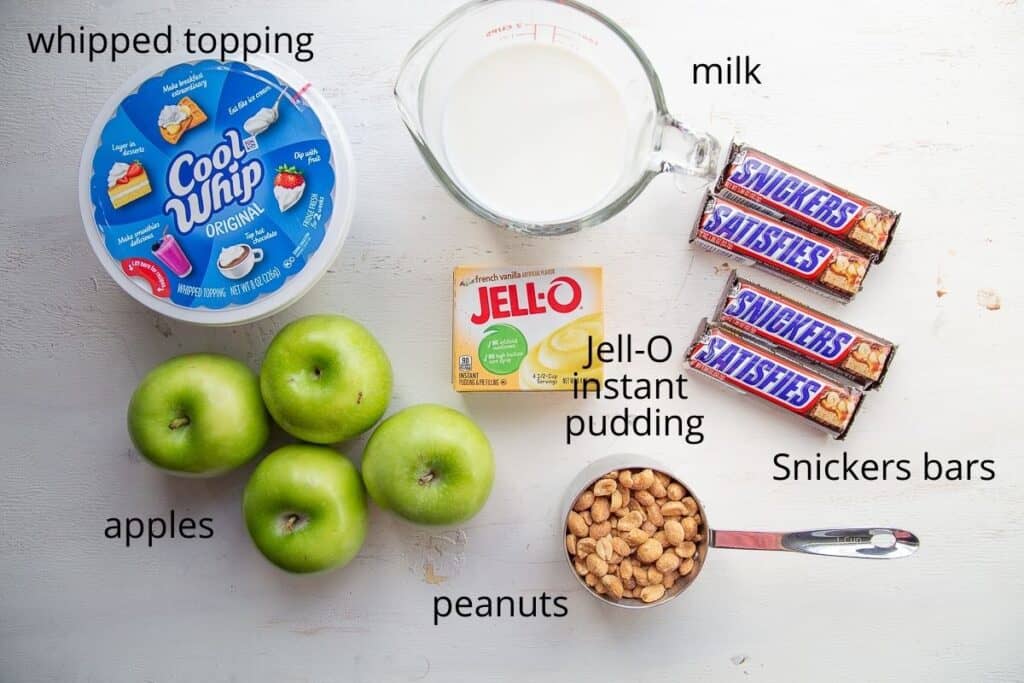 Snickers bars are the star of the salad! You'll need four full-sized bars, or 10 fun-sized bars.
Since the salad is sweet, I like using tart apples, such as Granny Smith.
Peanuts add lots of crunch! You can use salted or unsalted.
Vanilla Jell-O pudding gets mixed with milk and whipped topping (such as Cool Whip) to form a delicious custard to hold the fruit, peanuts, and Snickers.
How to make Snickers salad
Start by chopping the apples and the Snickers bars into half-inch pieces.
Then, pour the milk into a large mixing bowl. Whisk in the Jell-O pudding mix, then fold in the whipped topping with a spatula.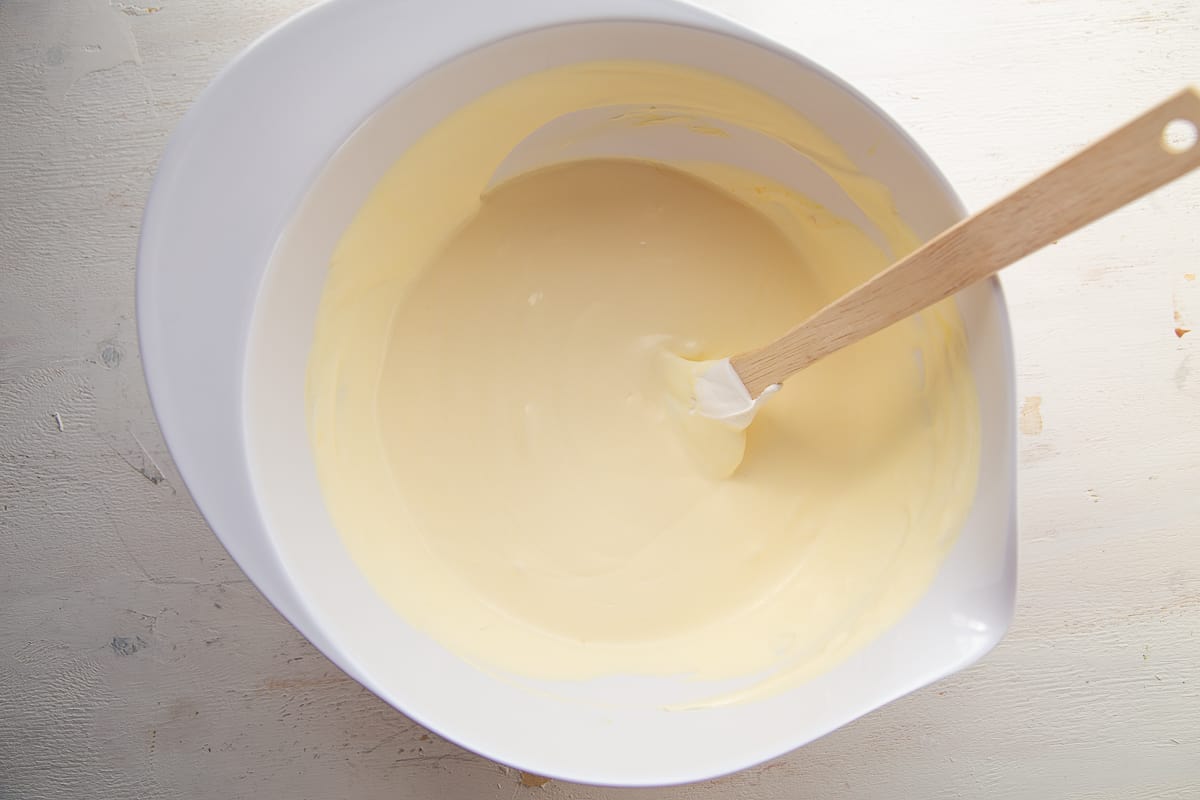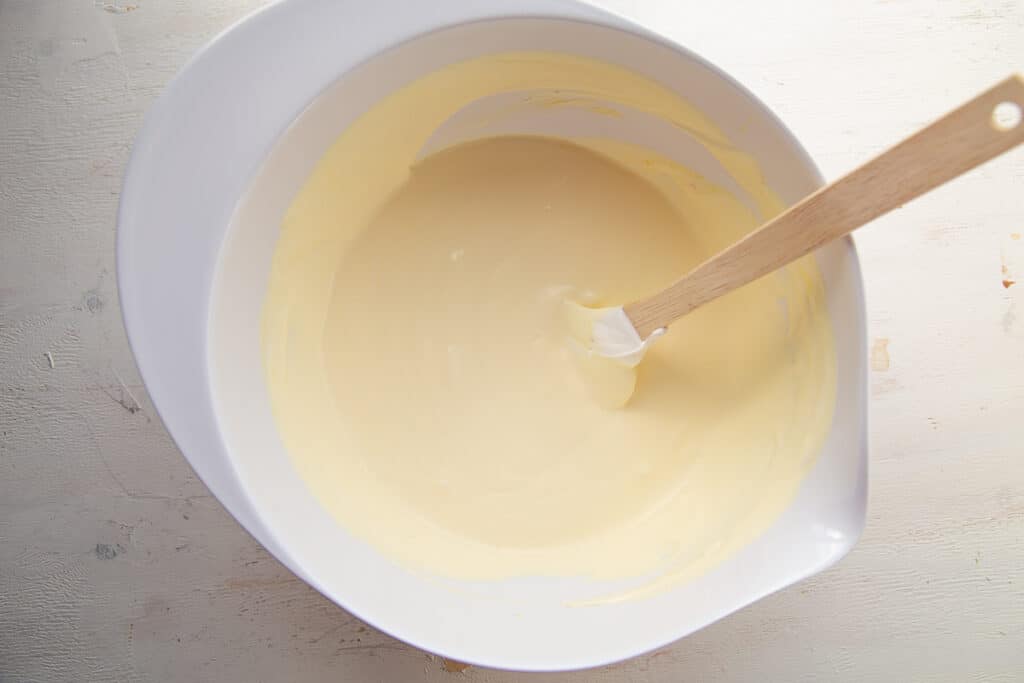 Then, fold in the chopped Snickers, chopped apples, and peanuts (you do not need to chop the peanuts).
Refrigerate the salad for at least one hour, or up to eight hours before serving.
When ready to serve, place the salad into a large serving dish, or individual serving dishes.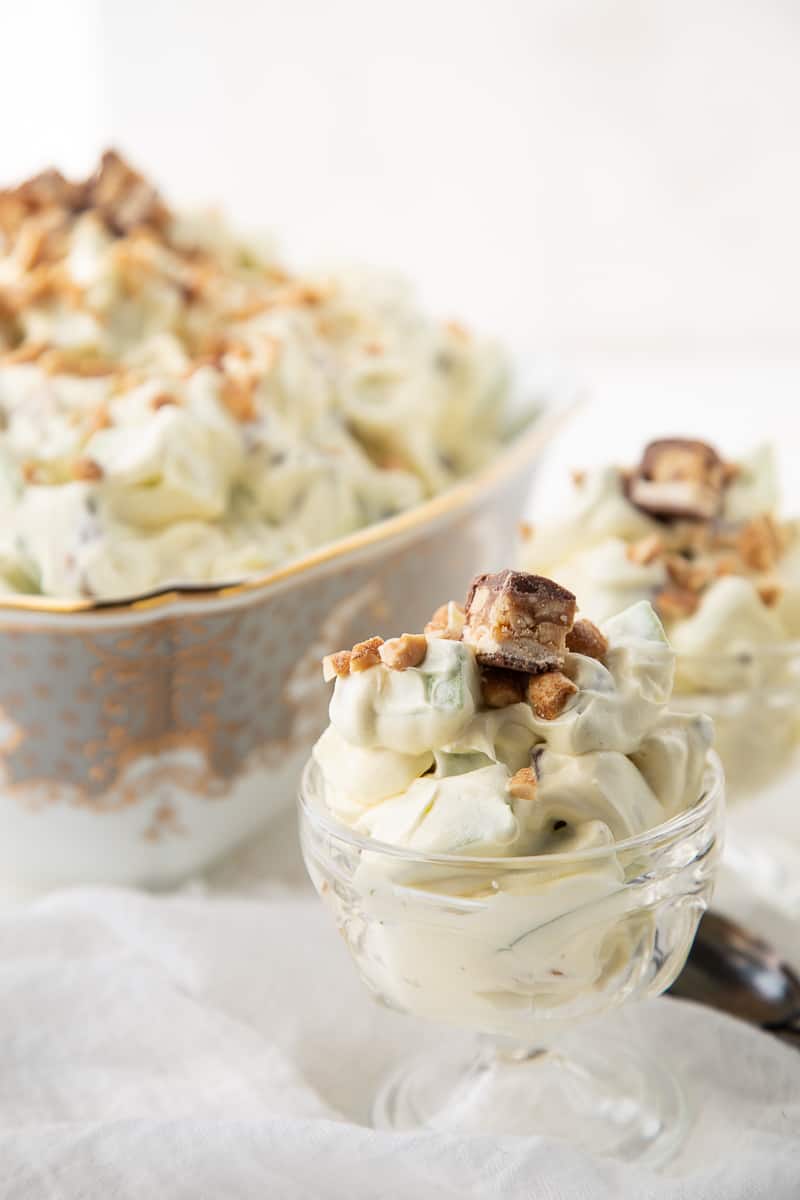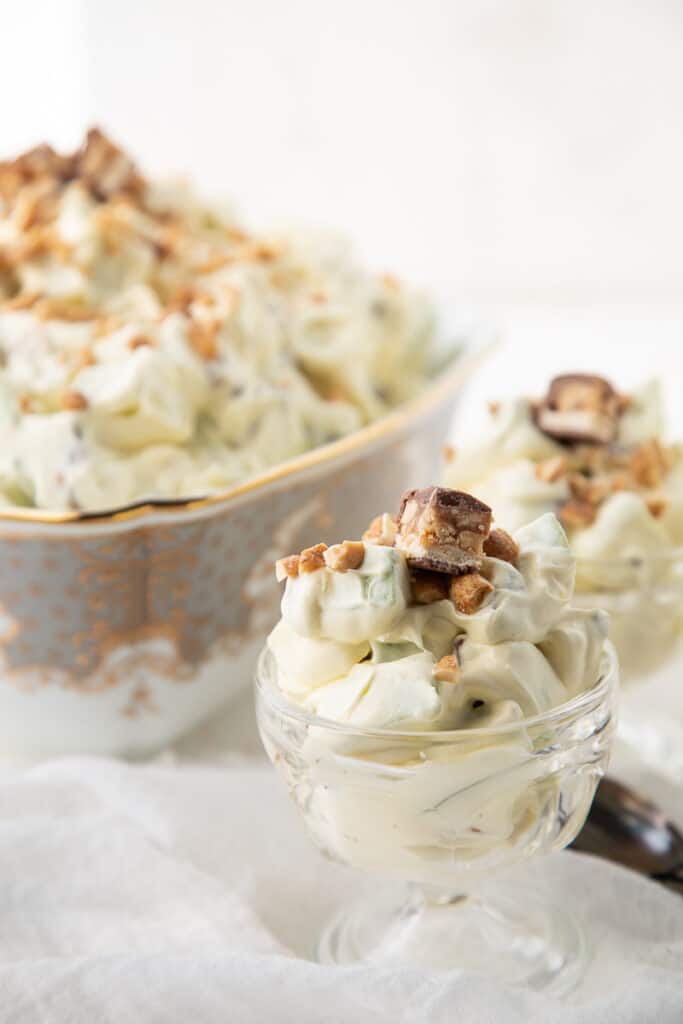 FAQs
How many fun-sized Snickers are in a full-sized Snickers bar?
There are 2.5 fun-sized Snickers in a full-sized Snickers bar. For this recipe, you can substitute 10 fun-sized Snickers for the 4 full-sized bars. Or you can substitute 20 Snickers miniatures for the full-sized bars.
Can I use another flavor of Jell-O pudding?
You can make this recipe with vanilla, french vanilla, or butterscotch Jell-O pudding. Make sure that the box says "instant" pudding—you do NOT want the "cook and serve" variety.
What types of apples can I use for Snickers salad?
Tart apples are best for Snickers salad. Granny Smith, Braeburn, or Pink Lady are all good choices.
Do I need to peel the apples for Snickers salad?
You do not need to peel the apples for this salad. In fact, I like the crunch that the peel adds!
Variations
Since this salad is popular in various parts of the country (especially the Midwest), there are a number of variations on it. Let me know if you try any of these!
Use butterscotch pudding mix in place of the vanilla pudding mix
Add 1 cup of sliced bananas
Add 1 cup of halved grapes
Drizzle the finished salad with caramel sauce
Stir in 1 cup of mini marshmallows
Serving tips
Snickers Salad is best served when it's chilled, though it can sit out at room temperature for 1–2 hours and it's still delicious.
The salad can last up to 8 hours in the refrigerator. I don't recommend waiting any longer to serve it after that, since the apples can make it watery.
I love bringing it to a potluck, especially since I was introduced to it at a potluck! It's also great for a spring or summer cookout.
I suggest saving a few pieces of Snickers bars and a few peanuts (chopped) for the top, so everyone can tell what's in the salad.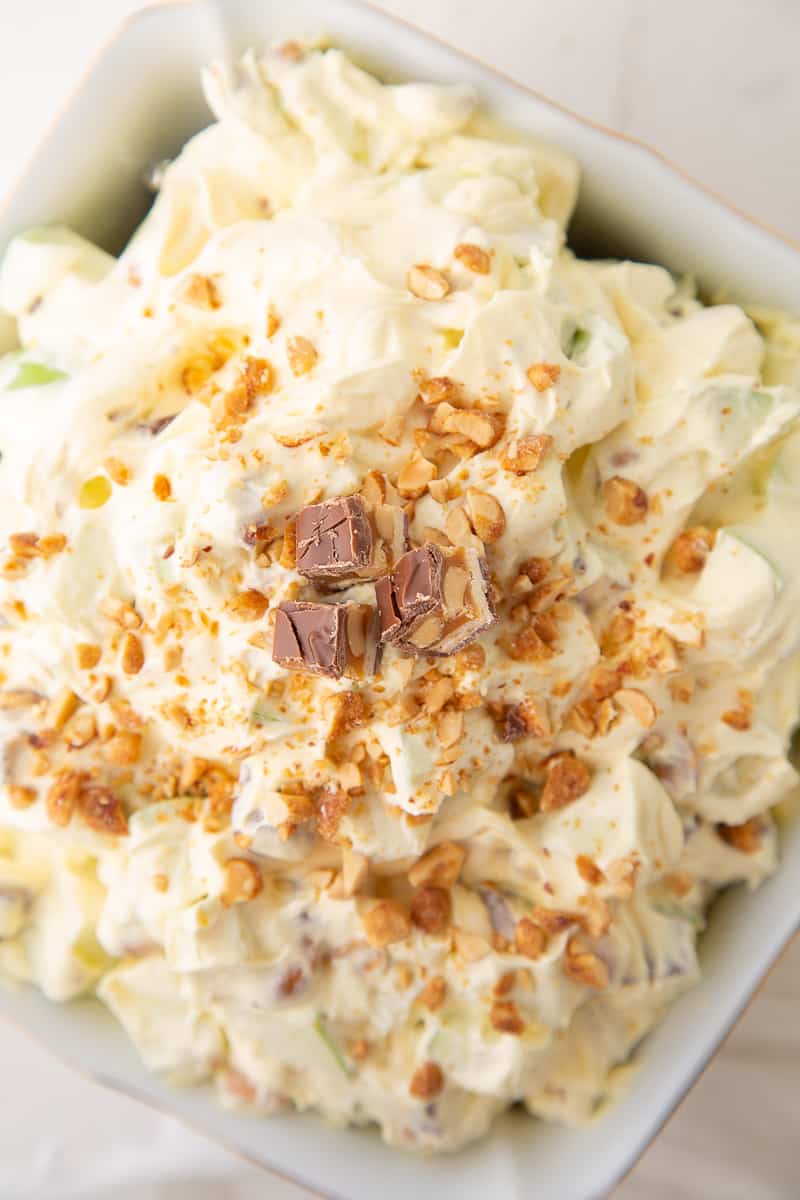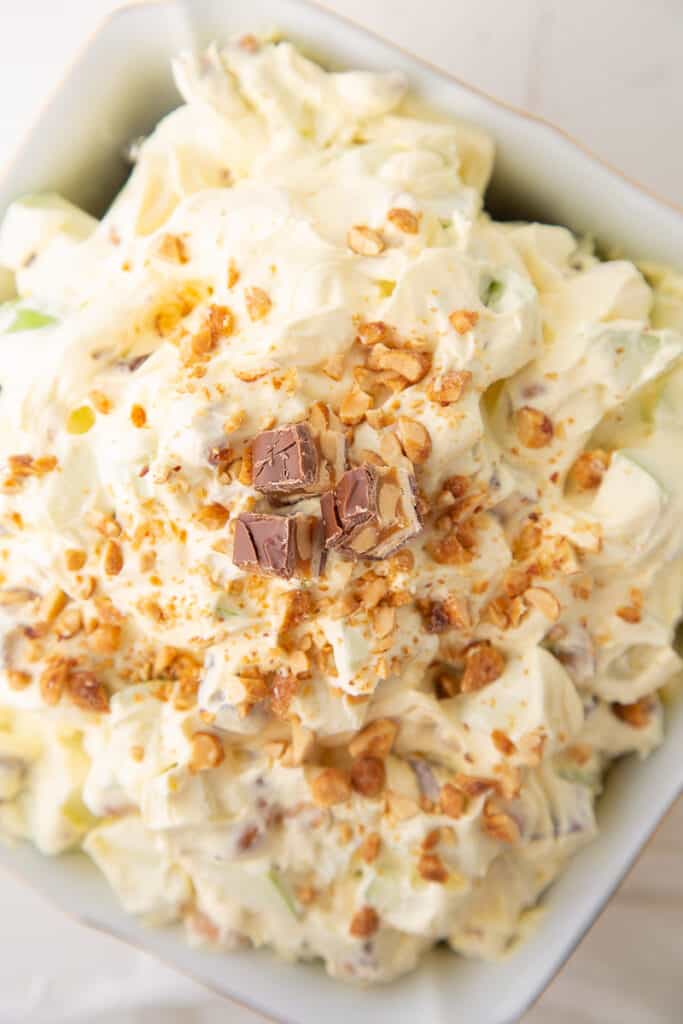 Have you tried this recipe? Please leave a ⭐️⭐️⭐️⭐️⭐️ rating and/or comment below!
---


---
📖 Recipe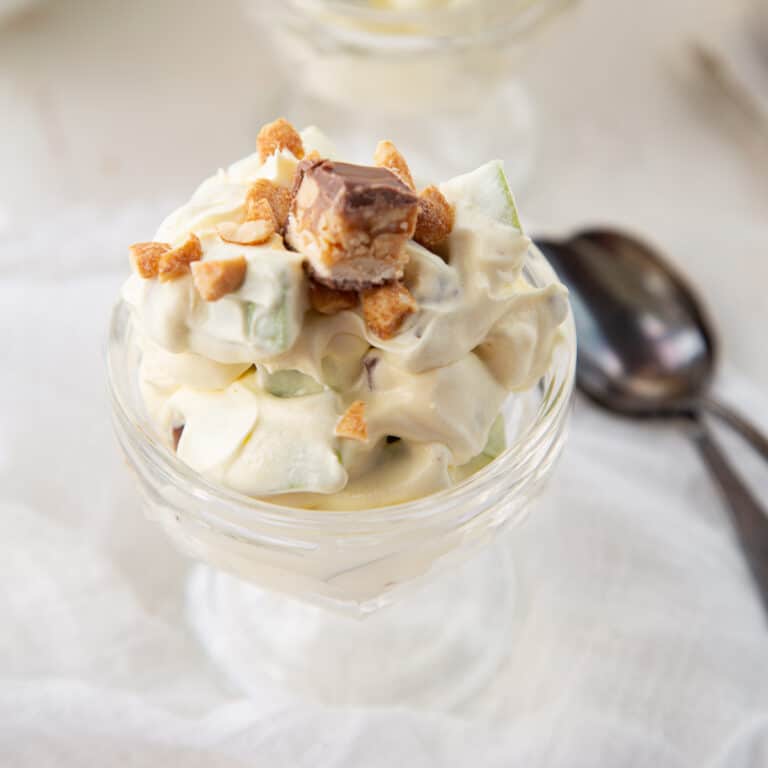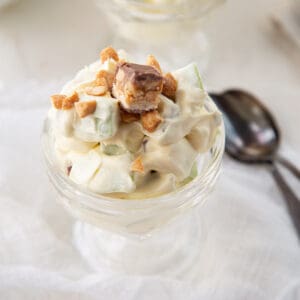 Snickers Salad
This sweet "salad" is the perfect addition to a potluck or cookout!
Ingredients
1½

cups

milk

1

(3.4 oz) box Jell-O instant vanilla pudding mix

1

(8 oz) container whipped topping (such as Cool-Whip), thawed

4

full-size Snickers bars

4

Granny Smith apples

1

cup

roasted peanuts,

divided
Instructions
In a large bowl, whisk together the milk and vanilla pudding mix. Fold in the whipped topping.

Chop the Snickers bars and apples into ½ inch pieces. Fold the chopped Snickers and apple pieces into the pudding mixture. Fold in ¾ cup of the peanuts. Cover a refrigerate for at least 1 hour, or up to 8 hours.

Finely chop the remaining peanuts.

Transfer the Snickers Salad to a serving bowl, and top with the finely chopped peanuts.
Notes
You can substitute 10 fun-sized Snickers or 20 Snickers minis for the full-sized bars. You can use vanilla, french vanilla, or butterscotch Jell-O pudding mix for this recipe. Make sure that it says "instant" and NOT "cook and serve" on the box.
Nutrition
Calories:
431
kcal
Carbohydrates:
54
g
Protein:
9
g
Fat:
21
g
Saturated Fat:
8
g
Trans Fat:
1
g
Cholesterol:
9
mg
Sodium:
187
mg
Potassium:
401
mg
Fiber:
4
g
Sugar:
43
g
Vitamin A:
190
IU
Vitamin C:
4
mg
Calcium:
114
mg
Iron:
1
mg
Related recipes