Greek Salad with Feta is short in ingredients but big on flavor! It's the perfect easy side dish that you can make in just 15 minutes.
Sometimes simple is best. This Greek Salad with Feta has big chunks of tomatoes, cucumbers, a few slices of red onion, feta, olives, and a simple dressing of red wine vinegar and olive oil.
It's easy to make, and it's the perfect side dish for grilled chicken, kabobs, burgers and more.
What's in a Greek salad?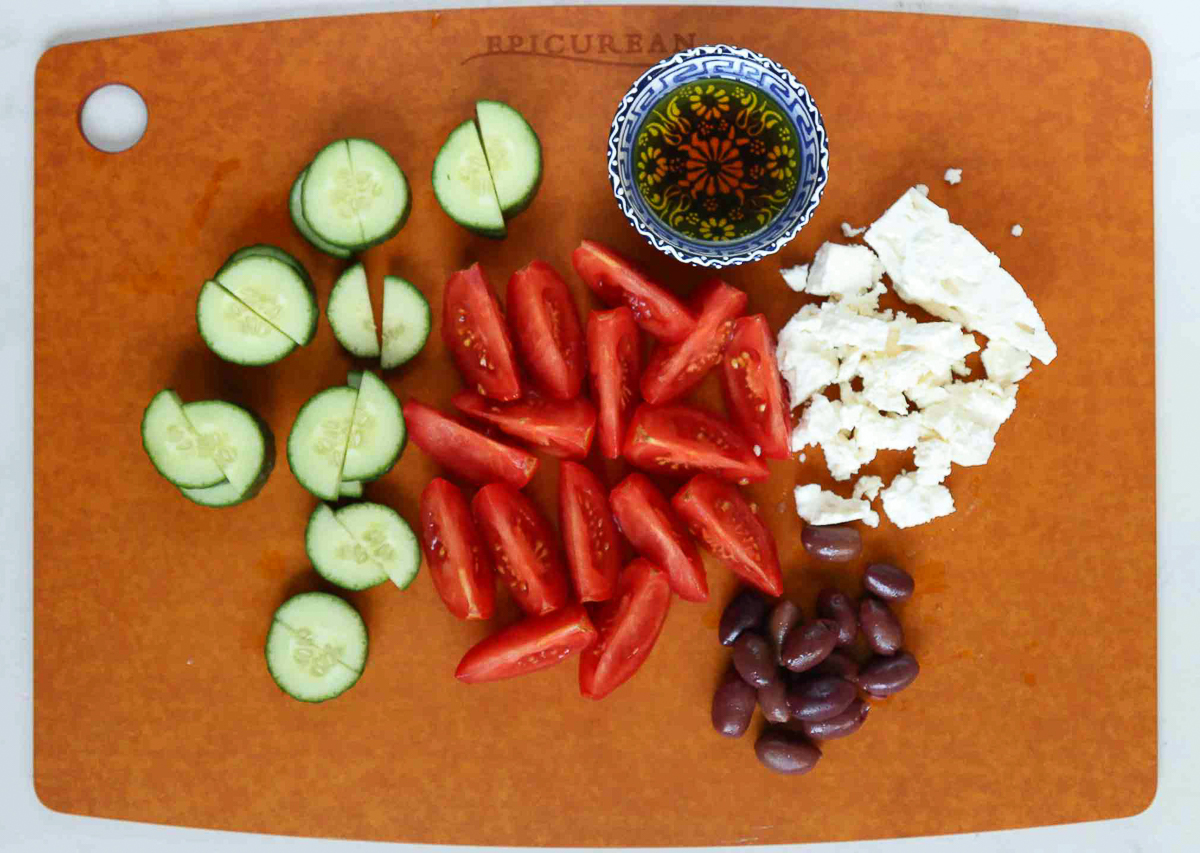 Tomatoes on the vine are the base of the salad (heirloom tomatoes would be good, too)
Seedless cucumbers add lots of crunch
Slices of red onion lend a zip to the salad
The creaminess of crumbled feta complements the fresh ingredients nicely
Kalamata olives add a fruity, briny flavor and gorgeous deep purple color
The vinaigrette just has three ingredients: olive oil, red wine vinegar, and salt
A note on seedless cucumbers
You'll find seedless cucumbers in the produce section, wrapped up in a piece of plastic shrink wrap. While it may seem silly to wrap something that already has skin, the shrink wrap prevents the cucumber from losing moisture, which ultimately keeps it fresher for a longer period of time.
The best part about seedless cucumbers is that you don't have to go to the hassle of removing the seeds with a spoon—just give it a quick rinse and start chopping.
How to make Greek Salad with Feta
Slice a cucumber lengthwise, then cut into ¼ inch half moons. Then, use a serrated knife to cut the tomatoes into 8 sections each.
Slice the red onion into thin slices. I like a nice thin sliver that melts into the red wine vinegar dressing and even starts to turn a little purple as it sits (that's just the acid reacting with the onion).
I get the thinnest slices by first cutting the onion in half and then chopping off both ends. Then I carefully slice tiny slivers of the onion. But if you'd like your onion diced or in a larger chunk, by all means do what you like!
Whisk together the olive oil, red wine vinegar, and salt in a small bowl to create the vinaigrette.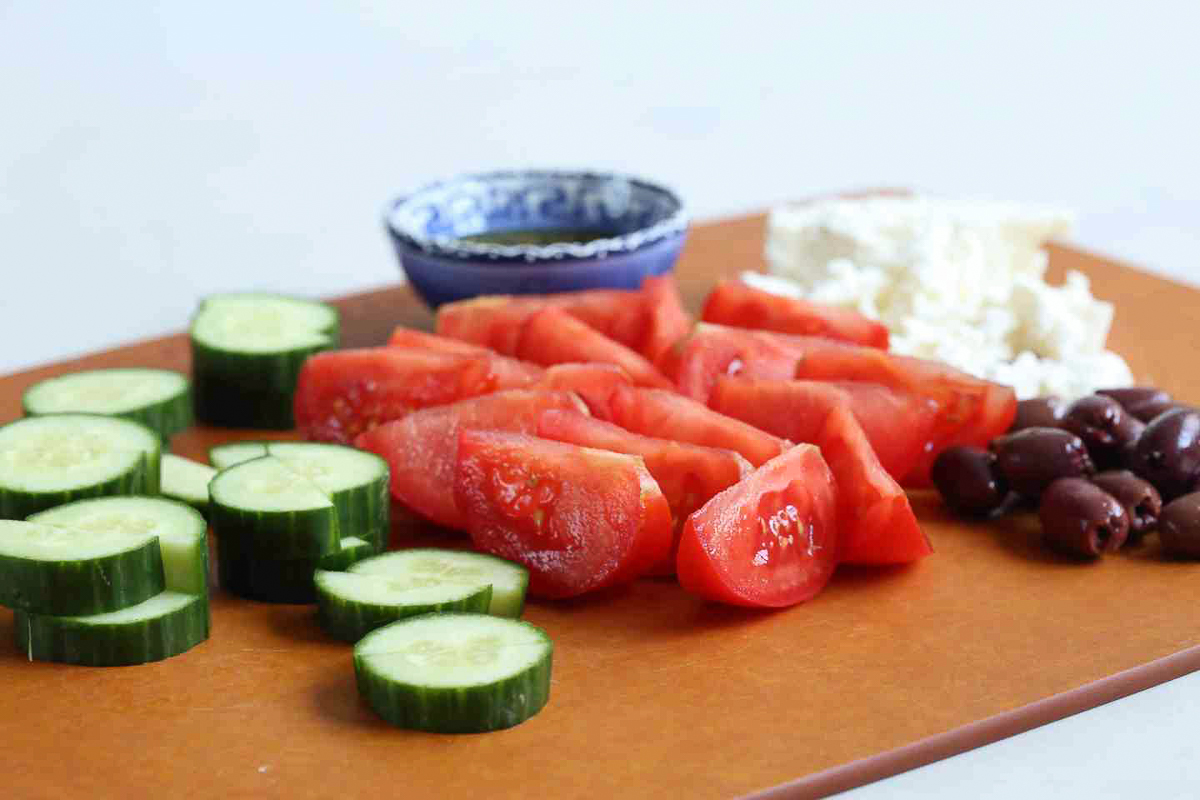 Place the tomatoes, cucumbers, and red onions on a serving platter. Drizzle the vinaigrette over the top. Top with the crumbled feta and kalamata olives.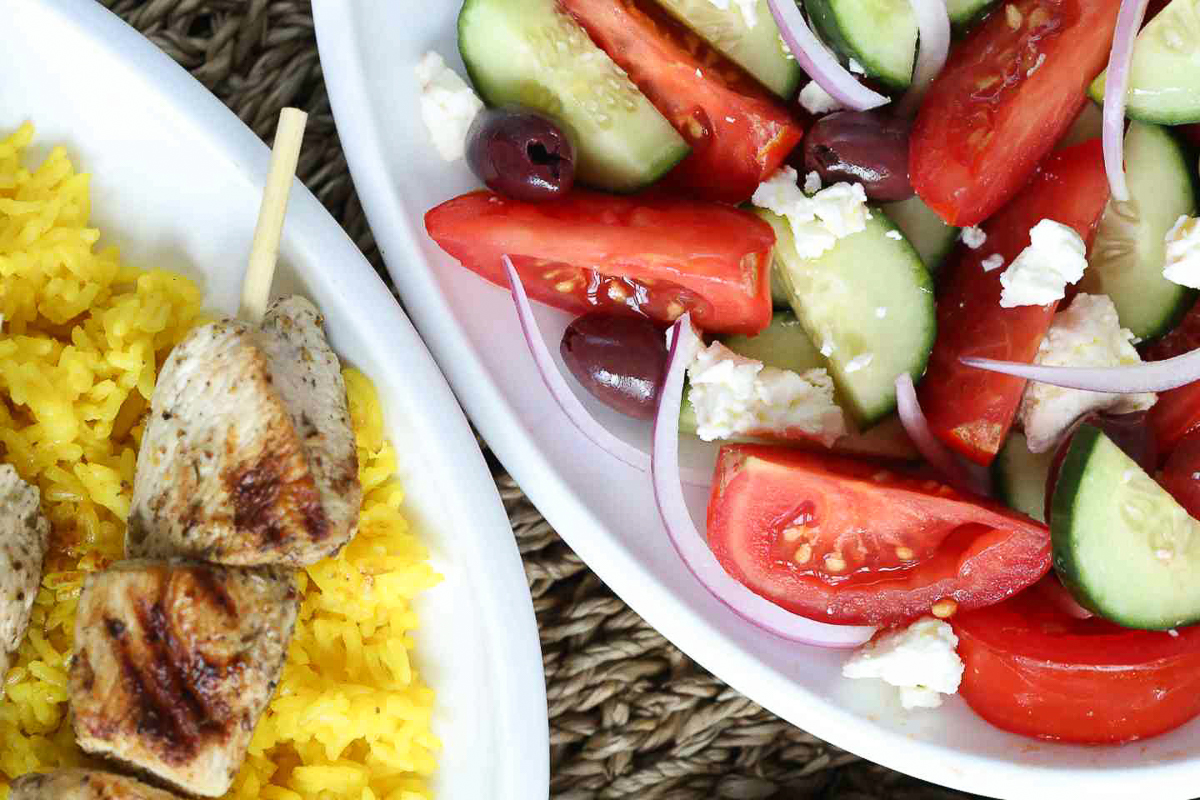 Feta: blocks or crumbles?
Feta does indeed make this salad "betta". I love the salty, tangy creaminess it adds to the salad.
I recommend buying feta in blocks instead of chunks.
This way, you can make the feta into whatever size chunks you'd like.
The leftovers also keep longer in the refrigerator that way, since there's less surface area. I store it in the brine that comes with the feta.
About the olives
As for the olives, they're traditional but not essential. So if you don't like olives, leave them out!
Kalamata olives have a gorgeous deep purple color and slightly fruity flavor. They're full of heart-healthy fats, just like olive oil, and they add a richness to all of the fresh fruits and veggies in this salad.
Frequently Asked Questions
What type of vinegar is best for Greek salad?
Red wine vinegar, white wine vinegar, or even champagne vinegar can be used to make a vinaigrette for Greek salad.
Can I use another type of tomato?
You can use virtually any kind of tomato here (maybe not the green ones, though). Grape tomatoes, cherry tomatoes, beefsteak tomatoes, heirloom tomatoes—they would all be delicious.
Can I leave out the olives?
Sure. They are a love-them or hate-them kind of thing, so don't let that stop you from making this salad. The feta adds a nice briny bite anyway. Speaking of, if you skip the olives, just add a little more feta!
Can I make Greek Salad with Feta ahead of time?
Since the salt will draw moisture out of the tomatoes (making the salad watery), you should assemble the salad right before serving. You can, however, chop all of the ingredients ahead of time. Store everything in covered containers in the refrigerator. When you're ready to serve the salad, toss everything together and enjoy!
What to serve with Greek salad
Greek Salad with Feta goes perfectly with grilled kabobs, grilled chicken, grilled pork chops—really anything grilled! I always serve Greek salad with Chicken Souvlaki with Golden Rice.
Both the souvlaki and this salad were inspired by our honeymoon to Greece (specifically, Crete). The flavors of the food were so fresh, and we adored getting to know a bit of Greek culture through its food. I have yet to try to replicate the baklava, but it's on my list of things to re-create!
This recipe is easy to duplicate for a crowd, or to scale down to serve 2 people instead (just halve the recipe).
Have you tried this recipe? Please leave a ⭐️⭐️⭐️⭐️⭐️ rating and/or comment below!
---


---
📖 Recipe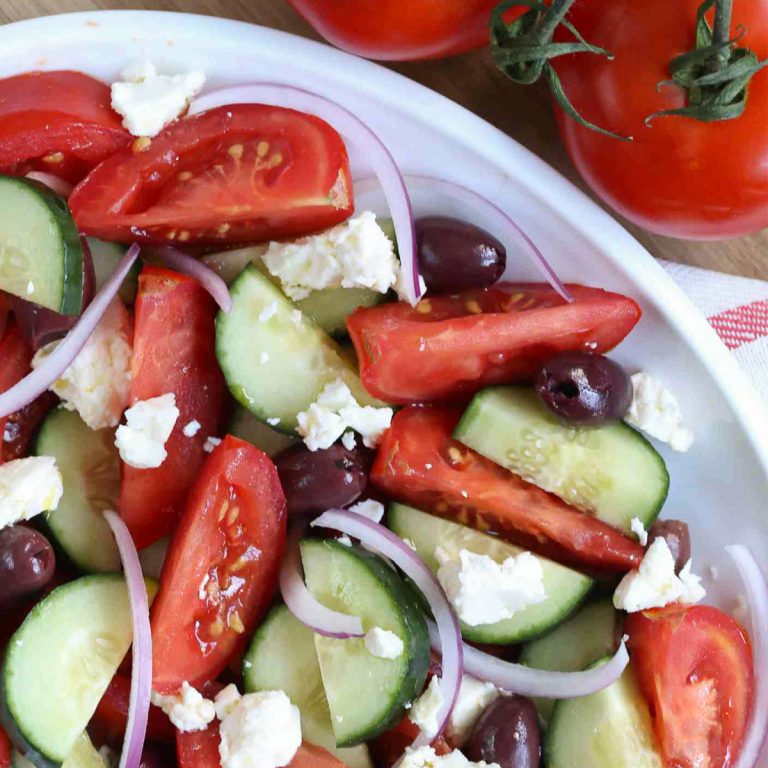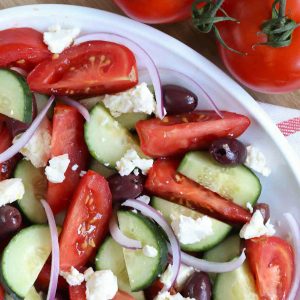 Greek Salad with Feta
You can make this fresh and flavorful salad in just 15 minutes!
Ingredients
1

seedless cucumber

4

tomatoes on the vine

1

small red onion

3

teaspoons

red wine vinegar

2

tablespoons

extra virgin olive oil

¼

teaspoon

salt

2

oz

feta,

block or crumbled

¼

cup

pitted kalamata olives
Instructions
Chop the cucumber into ¼ inch rounds and then slice each round in half to create a half moon shape.

Using a serrated knife, cut each tomato into 8 sections. Cut the red onion into thin slices.

Combine the red wine vinegar, olive oil, and salt in a small bowl. Whisk to combine.

Place the cucumber slices, tomato slices, and red onion slices on a serving platter. Crumble the feta into bite size pieces if it's not already crumbled. Top with the feta and olives.

Drizzle with the vinegar and oil and then serve.
Notes
If you buy a block of feta instead of crumbles, the leftovers will last longer in the refrigerator. And you can also control the size of the crumbles! Gently slice the tomatoes with a serrated knife to avoid squishing them. You can substitute white wine vinegar for the red wine vinegar, if you wish!
Nutrition
Serving:
1
/4 of the recipe
Calories:
167
kcal
Carbohydrates:
13
g
Protein:
4
g
Fat:
12
g
Saturated Fat:
3
g
Cholesterol:
13
mg
Sodium:
447
mg
Potassium:
582
mg
Fiber:
3
g
Sugar:
8
g
Vitamin A:
1688
IU
Vitamin C:
29
mg
Calcium:
111
mg
Iron:
1
mg
Related recipes