Italian Marinated Mushrooms are a simple appetizer or fun addition to an antipasto platter! They're easy to make and packed with Italian flavor.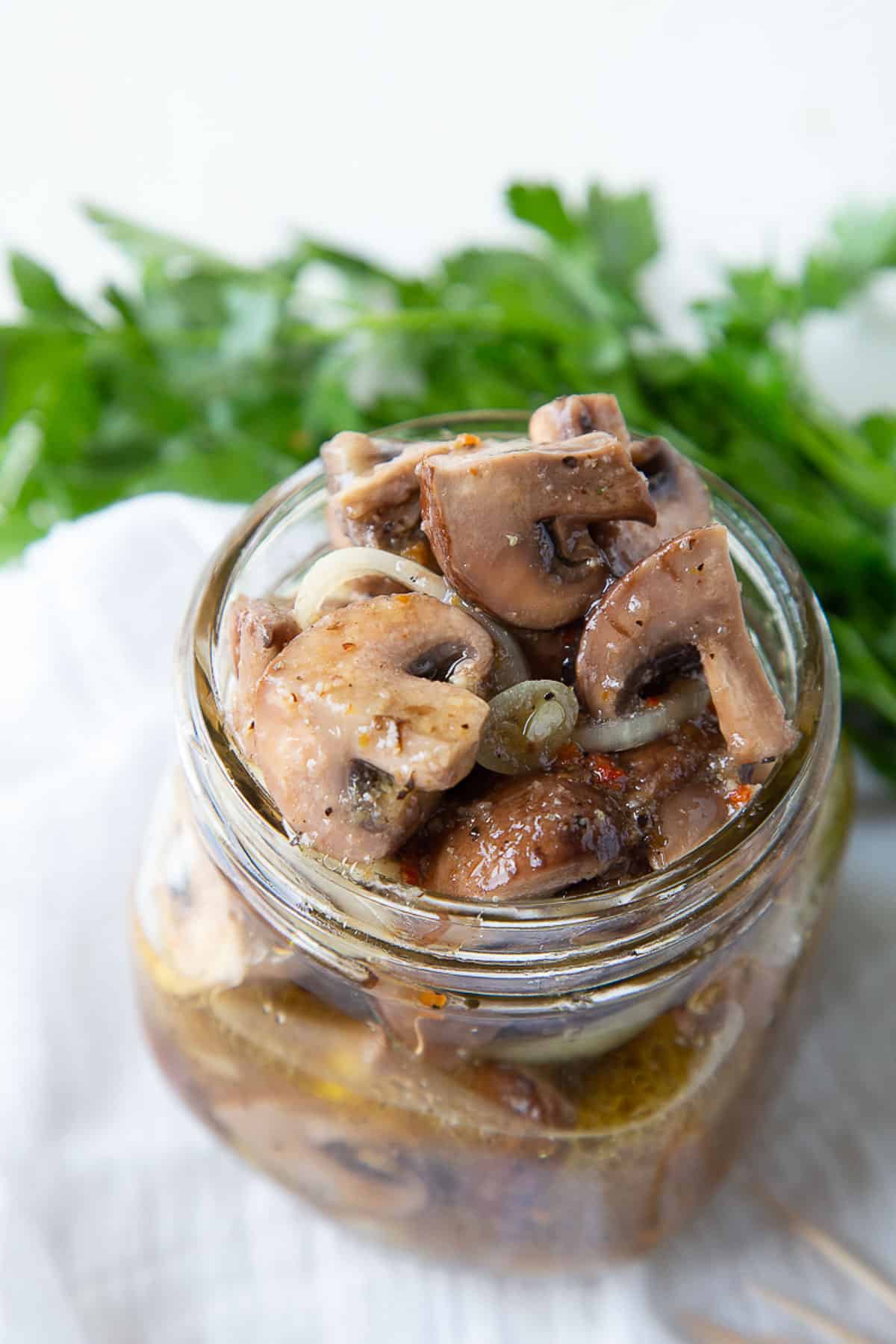 Mushrooms—love them or hate them? If you're reading this, I'm guessing that you fall into the "love them" camp. Me too.
And I can't get enough of these easy Italian Marinated Mushrooms. They're made with just a few ingredients, including a simple shortcut ingredient: two packets of Good Seasons Italian dressing mix.
After you assemble the ingredients, you just let them sit overnight in the refrigerator for marinated mushroom perfection.
I love serving them as an appetizer, or nestled among cheese and crackers in an simple cheese board or antipasto platter. Read on for how to make them!
This post contains affiliate links. Affiliate links support Gift of Hospitality at no additional cost to you. I receive a commission if you choose to make a purchase through these links.
Jump to:
Top tips
Plan ahead: the mushrooms will need at least 8 hours in the fridge to marinate.
Clean the mushrooms by brushing the dirt off with a wet paper towel. Don't run them under water, which will make them soggy.
You can easily halve this recipe if you don't think you'll eat a pound of mushrooms in a week.
Ingredients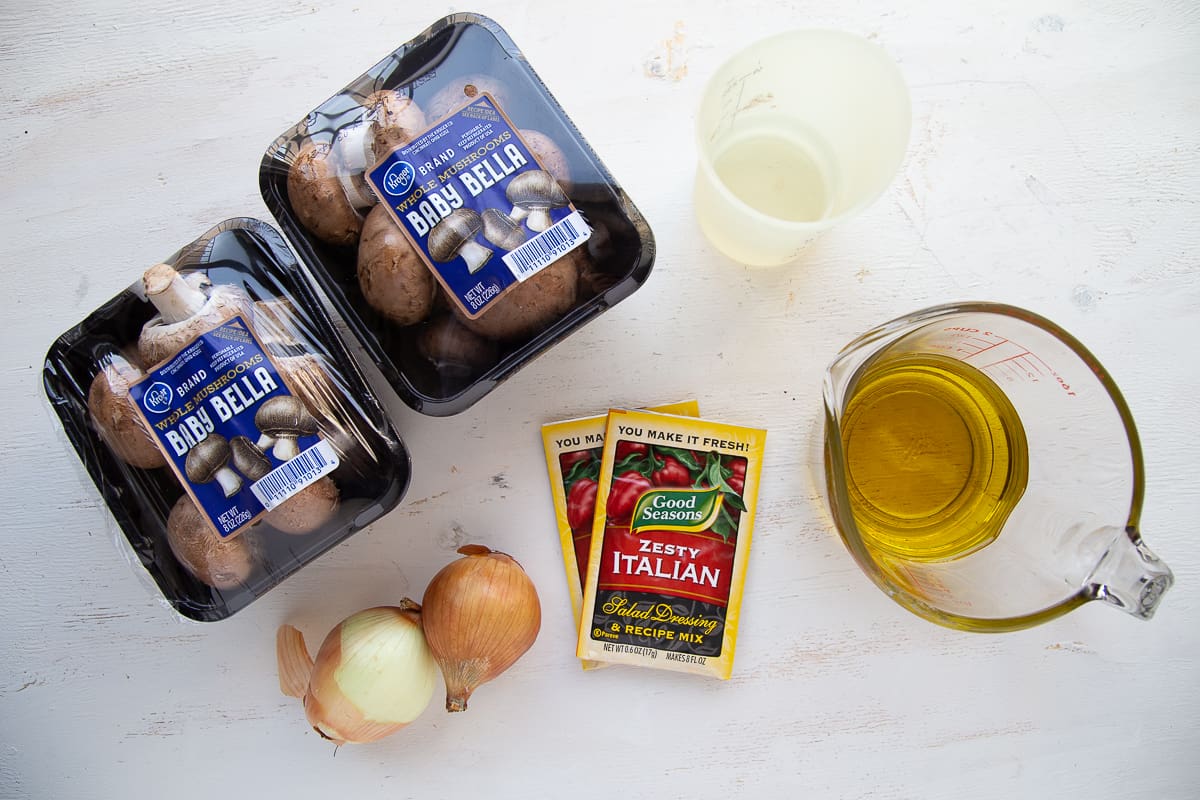 I like using baby bella mushrooms for this recipe. You can also use white mushrooms, which are sometimes called button mushrooms.
Yellow onions add flavor to the marinade, and they're delicious to eat after marinating, too.
Good Seasoned Italian salad dressing mix has herbs, spices, and veggies to flavor the mushrooms. We'll use two packets here.
Olive oil and vinegar complete the liquid marinade. You can use vegetable oil or canola oil if you prefer.
How to clean mushrooms
To clean mushrooms, take a damp cloth and gently brush any dirt off the mushrooms.
That's it! You don't want to run the mushrooms under water, since that will make them soggy.
For this recipe, you'll also want to either halve or quarter the mushrooms, depending on how big they are. They should be bite-size after cutting.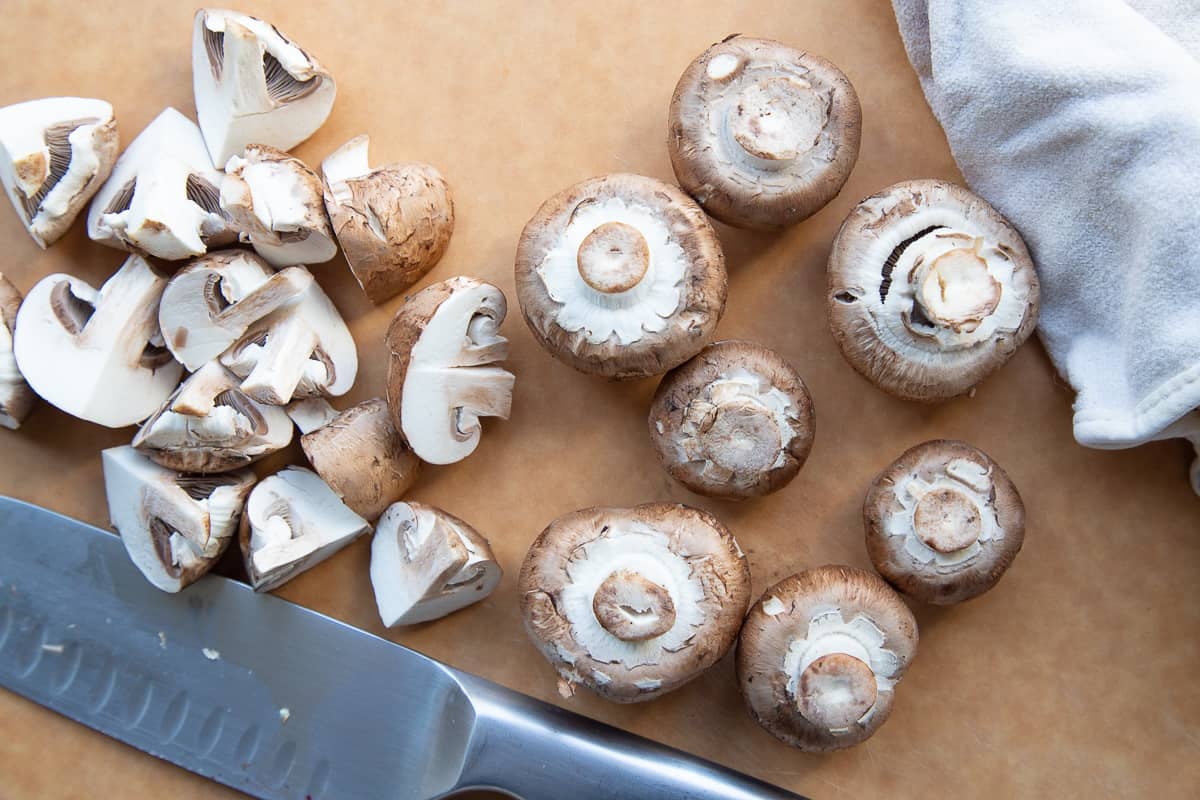 Making the vinaigrette
To make the vinaigrette, gently whisk together the olive oil, white vinegar, water, salt, and Italian dressing mix.
Two packets of dressing mix adds the perfect amount of flavor.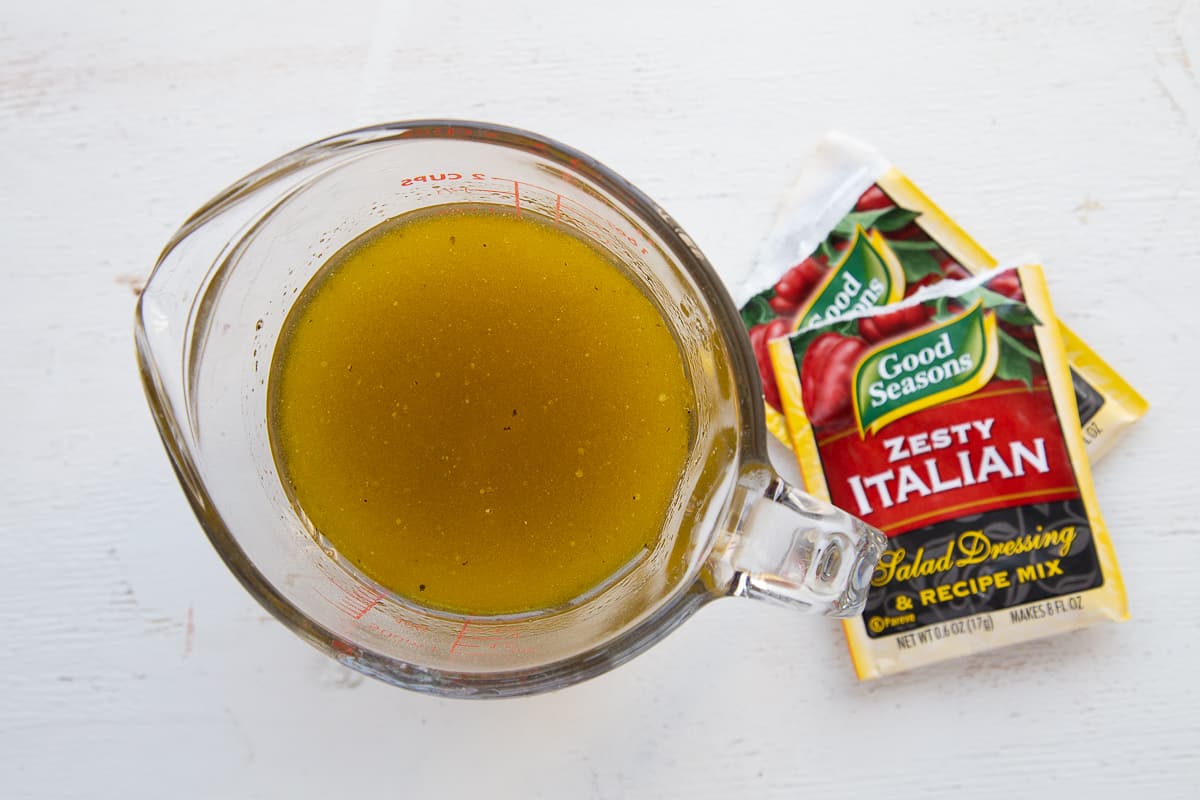 If you don't have olive oil, you can use canola oil or vegetable oil instead.
If you don't have white vinegar, you can use white wine vinegar, apple cider vinegar, or champagne vinegar for this recipe.
How to make Italian marinated mushrooms
After cleaning and slicing the mushrooms into halves or quarters, place them into a large bowl. I suggest using a glass storage bowl with a lid to make it easier to store them.
Slice the onion into thin slices, and add those to the mushrooms.
Pour the prepared vinaigrette over the top and toss gently to coat.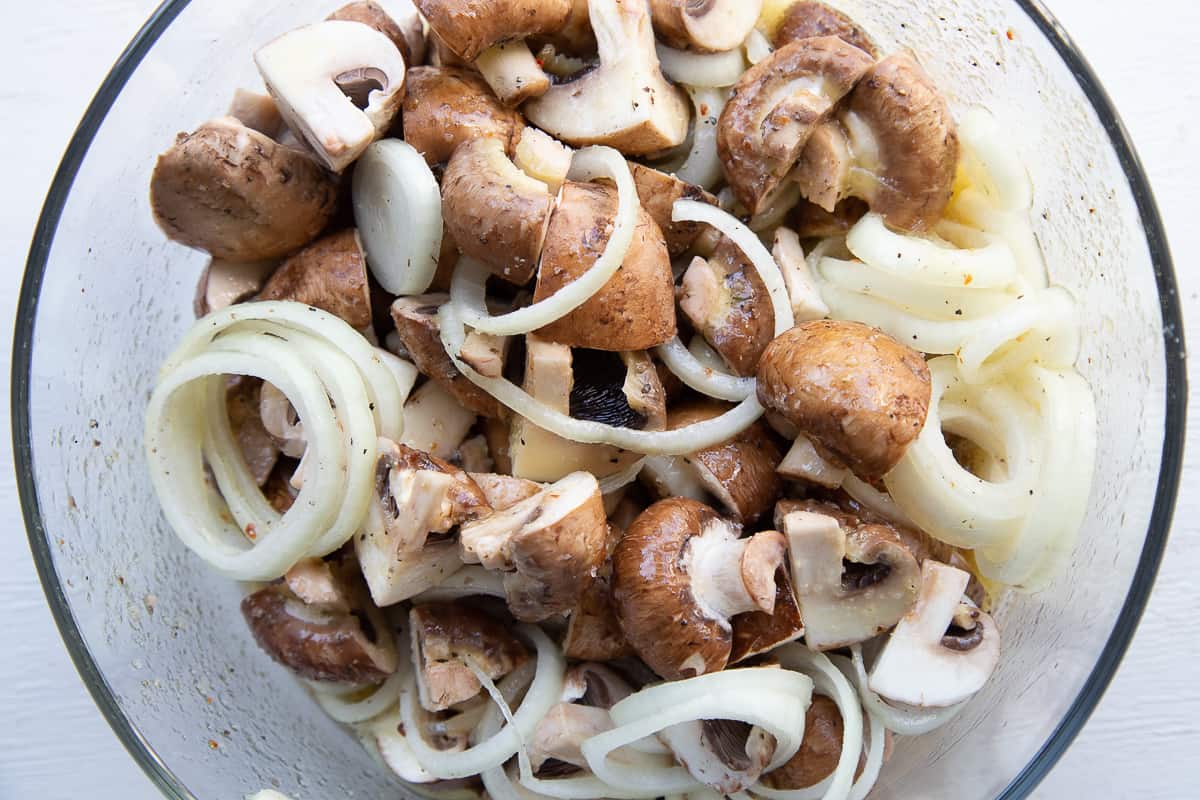 Cover the bowl and place in the refrigerator for at least 8 hours, or overnight. Shake the bowl occasionally if you can.
After 8 hours, the mushrooms and onions will have absorbed some of the marinade and will have reduced in size.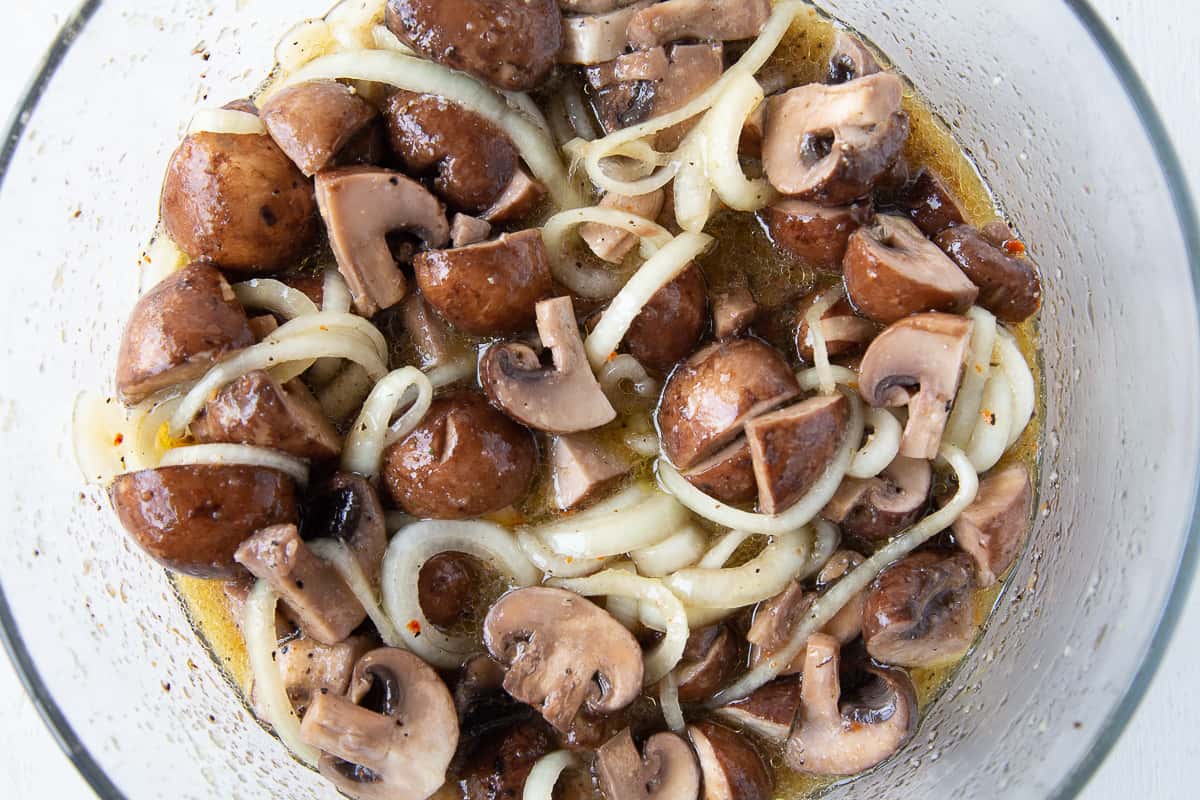 Now they are ready to serve!
Can I make marinated mushrooms ahead of time?
Marinated Mushrooms are designed to be made ahead! You can make them up to several days in advance of serving.
They need at least 8 hours in the refrigerator before they're ready to serve, so plan accordingly!
Frequently Asked Questions
What can I substitute for the olive oil?
Vegetable oil, canola oil, or corn oil can be substituted for olive oil.
What can I substitute for white vinegar?
Apple cider vinegar, white wine vinegar, or champagne vinegar can be substituted for white vinegar.
How can I use leftover marinade?
Leftover marinade makes a great dressing for pasta salad, or as a vinaigrette for a leafy green salad.
How can I make this gluten-free?
Good Seasons dressing mix contains wheat from soy sauce. To make this recipe gluten-free, look for a dressing mix that doesn't contain wheat, or make your own using a homemade dressing mix (use the dry ingredients from the only, and follow the instructions below to create the vinaigrette).
How long can you marinate mushrooms?
Marinated mushrooms will keep in the refrigerator for up to one week.
Can you freeze marinated mushrooms?
Unfortunately freezing and defrosting will negatively affect the texture of the mushrooms. I don't recommend freezing this recipe.
How to serve marinated mushrooms
I like transferring the mushrooms and onions to ceramic dishes for serving.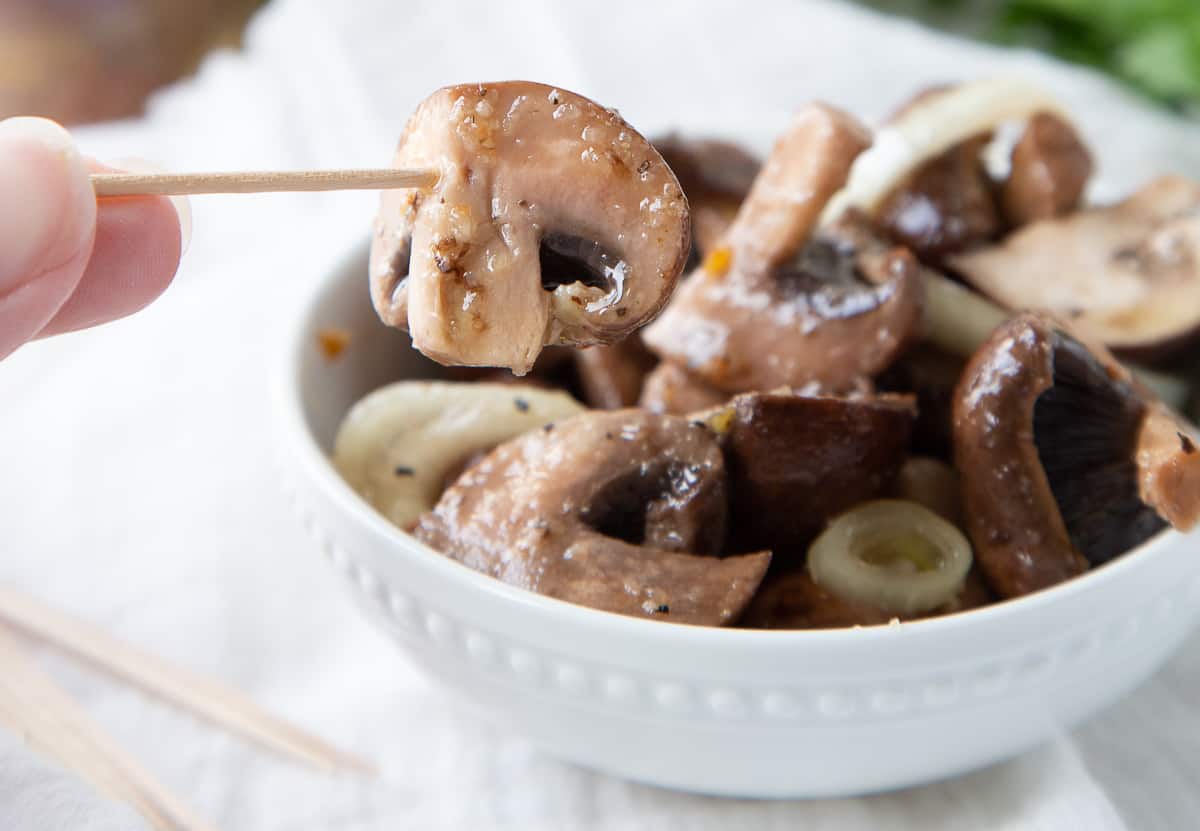 If you are serving them as an appetizer, place some toothpicks on the side, which makes them easy for people to pick up.
Here are a few additional serving suggestions for marinated mushrooms:
on their own as an appetizer or side dish
on top of a green salad
in a pasta salad
as a pizza topping
on a cheese/charcuterie board (here's a simple how-to for creating one) or antipasto platter
on toast or crackers (chop finely first)
Store any leftover mushrooms in glass jars in the refrigerator. They will keep for up to one week.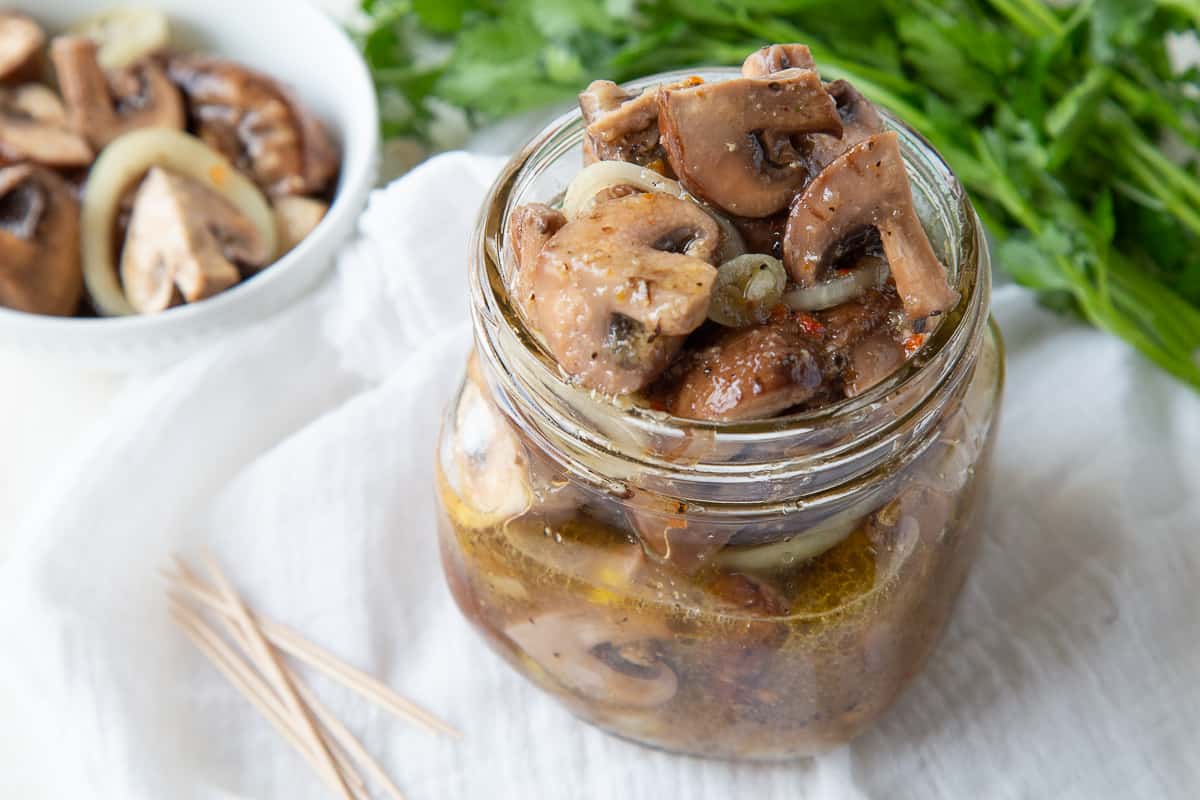 More mushroom recipes
Have you tried this recipe? Please leave a ⭐️⭐️⭐️⭐️⭐️ rating and/or comment below!


📖 Recipe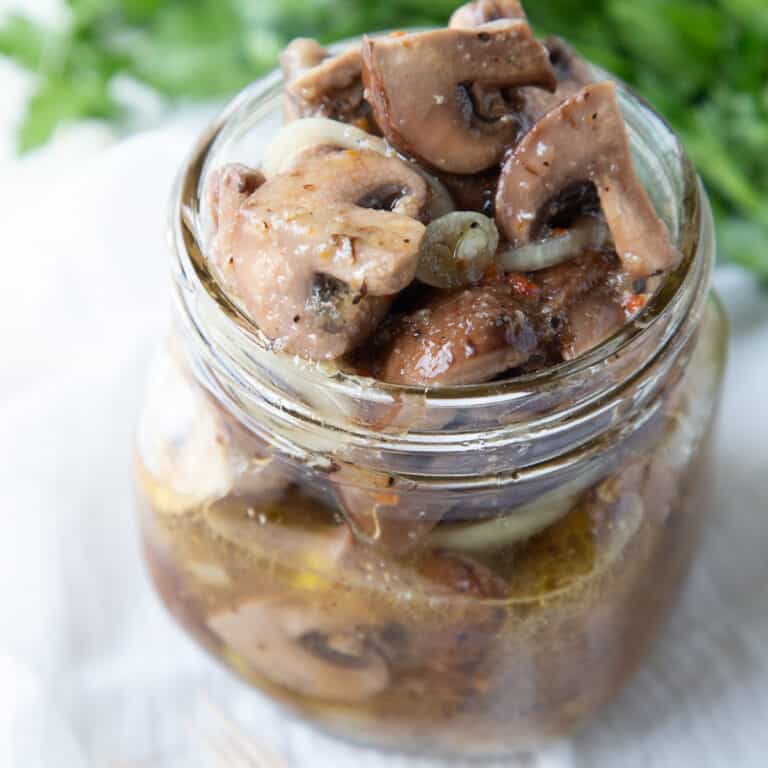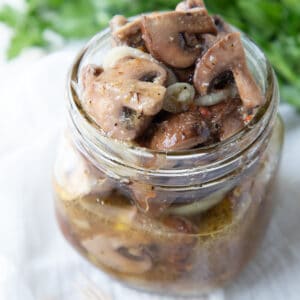 Marinated Mushrooms
These Italian marinated mushrooms are an easy appetizer or side dish. They're packed with flavor and the perfect balance of savory and tangy.
Ingredients
2

(8 oz) packages baby bella mushrooms

2

small yellow onions

2

(0.7 oz) packets Good Seasons Italian dressing mix

⅔

cup

olive oil

⅓

cup

white vinegar

¼

cup

water

½

teaspoon

salt
Instructions
Clean dirt off mushrooms with a damp rag or paper towel. Cut large mushrooms into quarters and smaller mushrooms in half.

Peel onions and slice into thin rings. Place the mushrooms and onions in a dish with a lid (such as a plastic or glass dish that you use for leftovers).

In a medium bowl, whisk together the Italian dressing mix, olive oil, vinegar, water, and salt.

Pour over the mushrooms and onions, cover the dish with a lid, and shake gently to coat. Place in the refrigerator, and allow to marinate for at least 8 hours.
Notes
If serving as an appetizer or on a cheese board, serve with toothpicks. Leftover marinade can be used as salad dressing or for pasta salad. The mushrooms will keep in the refrigerator for up to one week.
Nutrition
Calories:
139
kcal
Carbohydrates:
2
g
Protein:
1
g
Fat:
14
g
Saturated Fat:
2
g
Polyunsaturated Fat:
2
g
Monounsaturated Fat:
11
g
Sodium:
139
mg
Potassium:
50
mg
Fiber:
1
g
Sugar:
1
g
Vitamin A:
1
IU
Vitamin C:
2
mg
Calcium:
7
mg
Iron:
1
mg
Related recipes