Greek Chicken Souvlaki are an easy yet impressive main dish. With a side of creamy tzatziki, they're the perfect meal from the grill.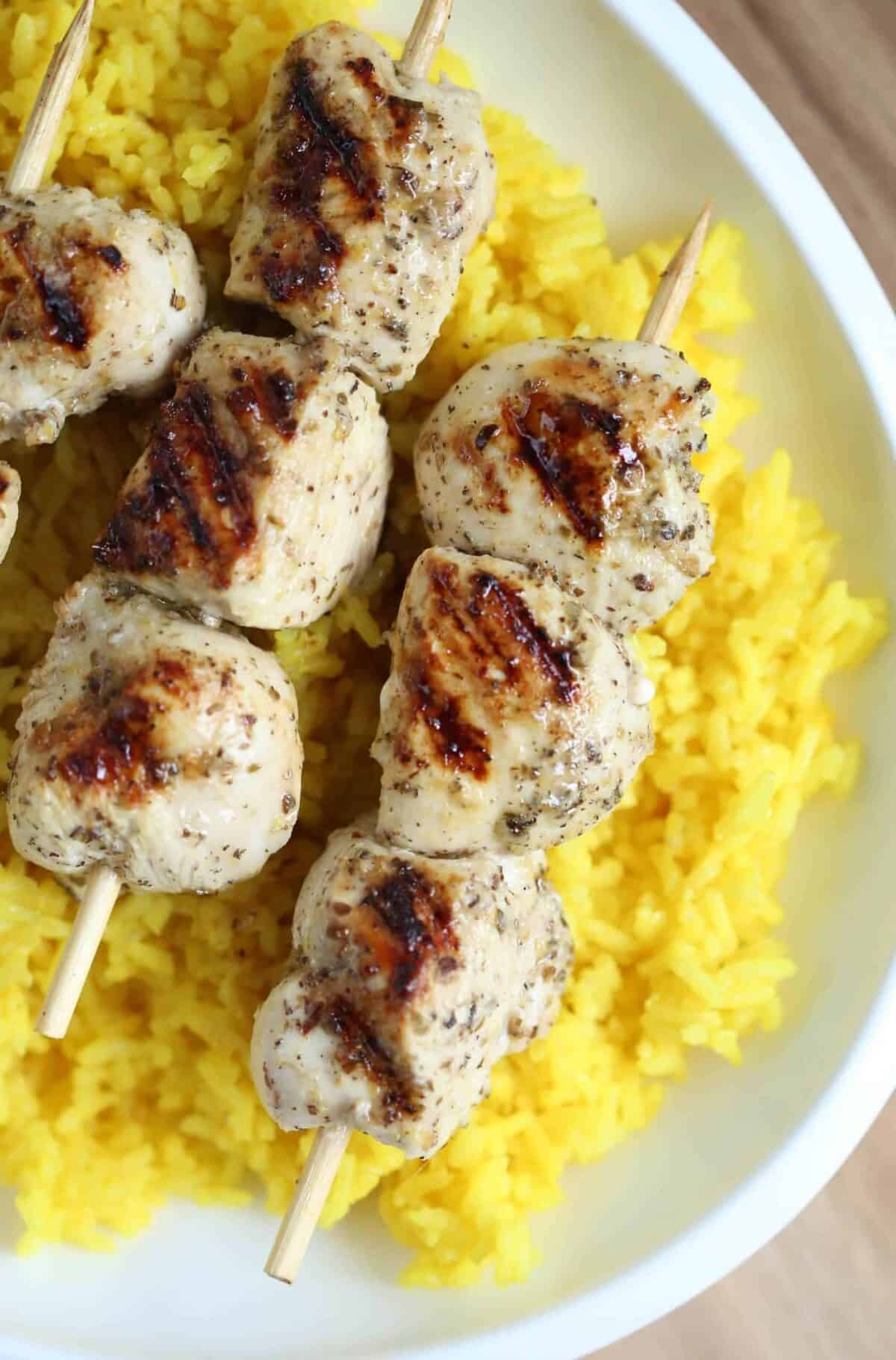 This is, hands down, the recipe that I make the most often. Greek Chicken Souvlaki is a great dinner on the grill, and it's impressive enough for guests.
It can also be made indoors using an indoor grill pan. The meat is SO tender and juicy!
The souvlaki is served on a bed of golden rice (regular rice with turmeric added) with a side of tzatziki, which is a creamy cucumber yogurt sauce.
Along with a Classic Greek Salad, it's a colorful, fresh, and flavorful meal.
Need more weeknight dinner inspiration? Check out my Easy Ranch Chicken!
This post contains affiliate links. Affiliate links support Gift of Hospitality at no additional cost to you. I receive a commission if you choose to make a purchase through these links.
Jump to:
What is souvlaki?
Souvlaki means "little skewer" in Greek. Souvlaki are served throughout Greece using various meats. The most popular are chicken, pork, and lamb.
It's made by marinating meat in a mixture of acid, oil, and seasonings. Then, it's threaded onto skewers and grilled.
Ingredients
For the skewers, you'll need:
chicken breast
lemon juice
olive oil
dried oregano (fresh works, too)
garlic
salt
wooden or metal skewers
For the rice, you'll need:
For the tzatziki, you'll need:
cucumber
Greek yogurt
lemon juice
olive oil
garlic
salt
How to make Greek chicken souvlaki
First, cut the chicken breast into approximately 1-inch cubes. Place in a bowl with a lid, and top with the olive oil, lemon juice, oregano, garlic, and salt. Place the lid on, shake to combine, and refrigerate for at least 2 hours, or up to 12 hours.
Next, get out your skewers. If you're using wooden skewers, soak them in water for at least 20 minutes. I use a tall reusable water bottle for this—it's tall enough to keep the skewers submerged!
The secret to keeping the skewers juicy is placing the cubes of meat close together on the skewer. The more surface area that's available, the drier the meat will get. So, push the meat close together!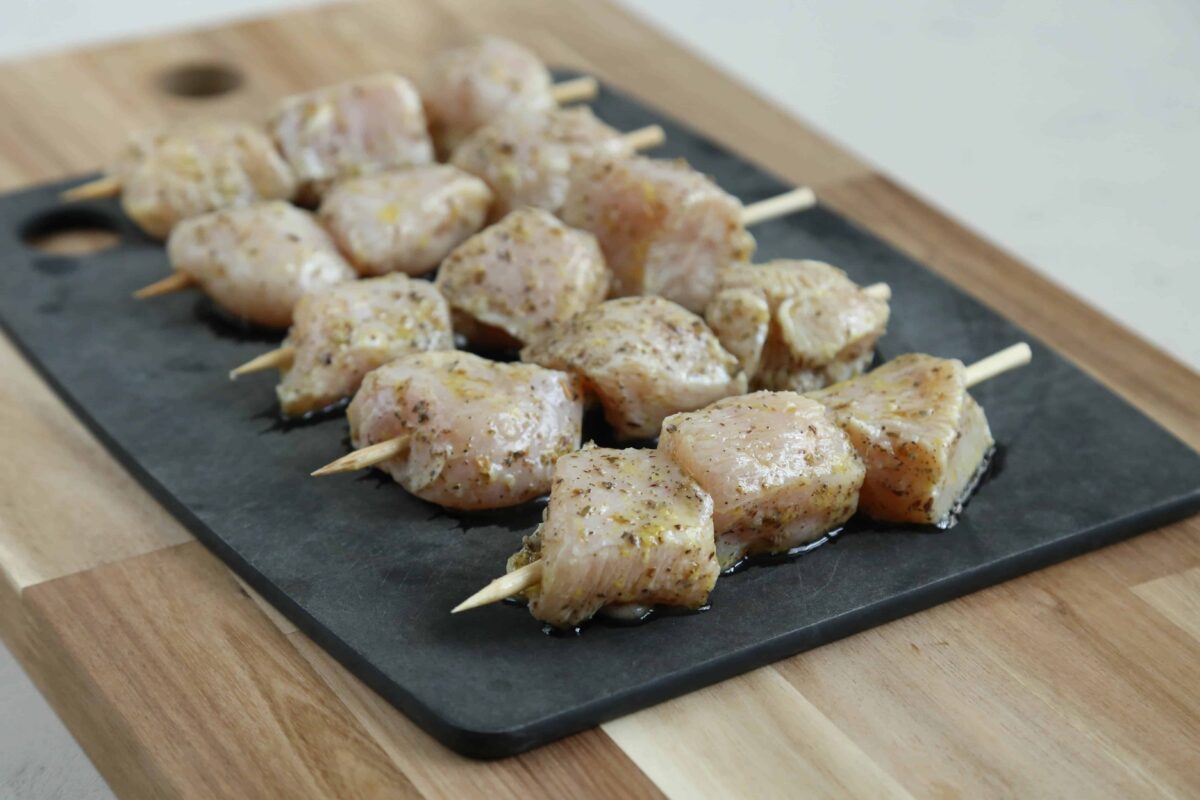 Then, grill the souvlaki either on an outdoor grill or in an indoor grill pan.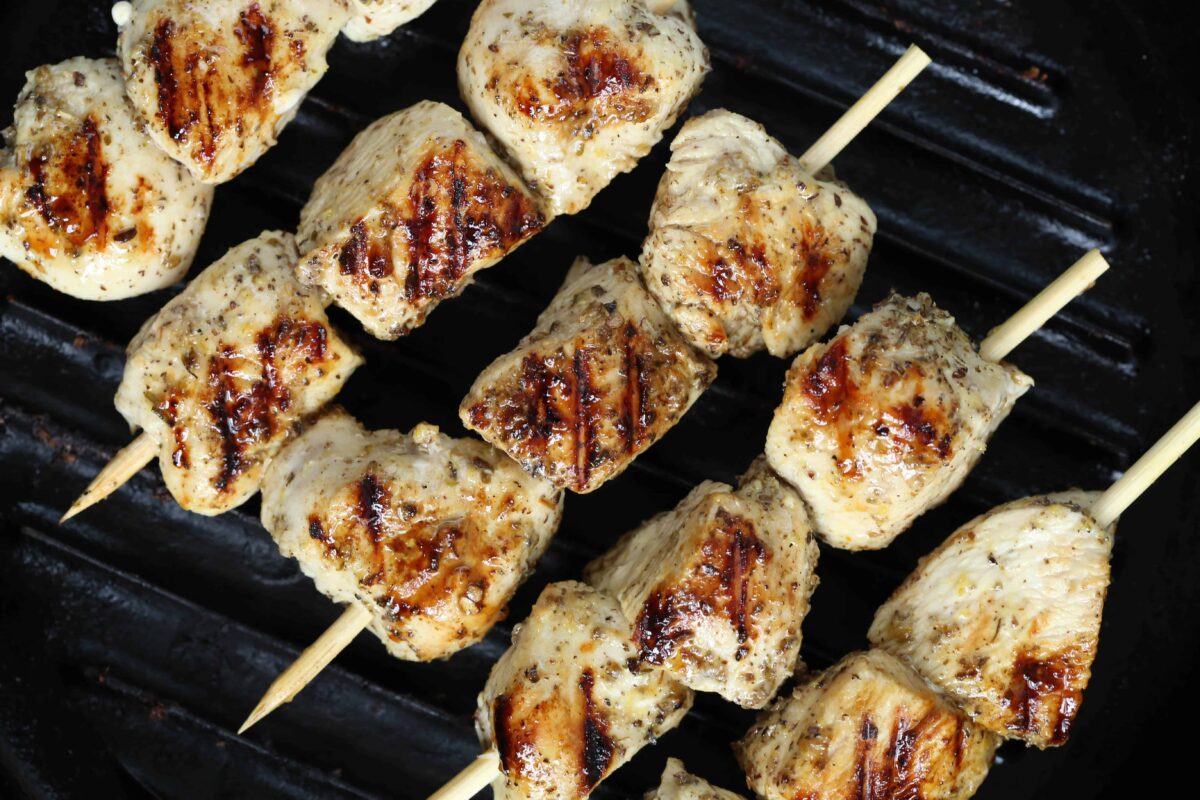 How to make tzatziki
This creamy cucumber sauce is SO refreshing next to the savory grilled meat.
To make it, grate a cucumber and place it in a fine mesh colander
. Use a spatula to press all of the liquid out of it.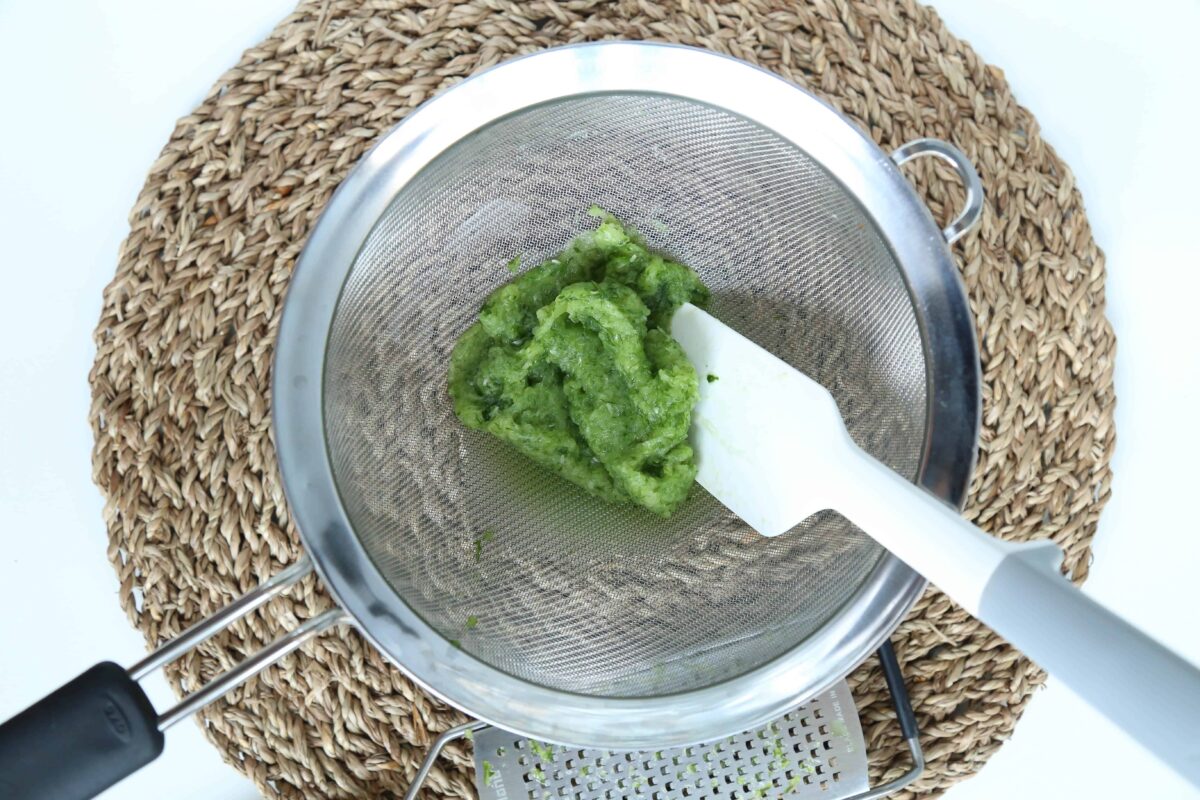 Then, place the cucumber in a medium bowl along with the Greek yogurt, garlic, lemon juice, olive oil, and sea salt. Stir to combine.
Make sure to use full-fat Greek yogurt in this recipe. The tzatziki will be much richer and creamier that way.
Make it ahead
You can marinate the chicken up to 12 hours in advance.
Since the lemon juice can cause the protein in the chicken to break down, I don't recommend marinating it any longer than that.
The tzatziki can be made ahead up to 1 day in advance. Store it in the refrigerator until you're ready to serve it, and give it a stir before transferring it to a serving dish.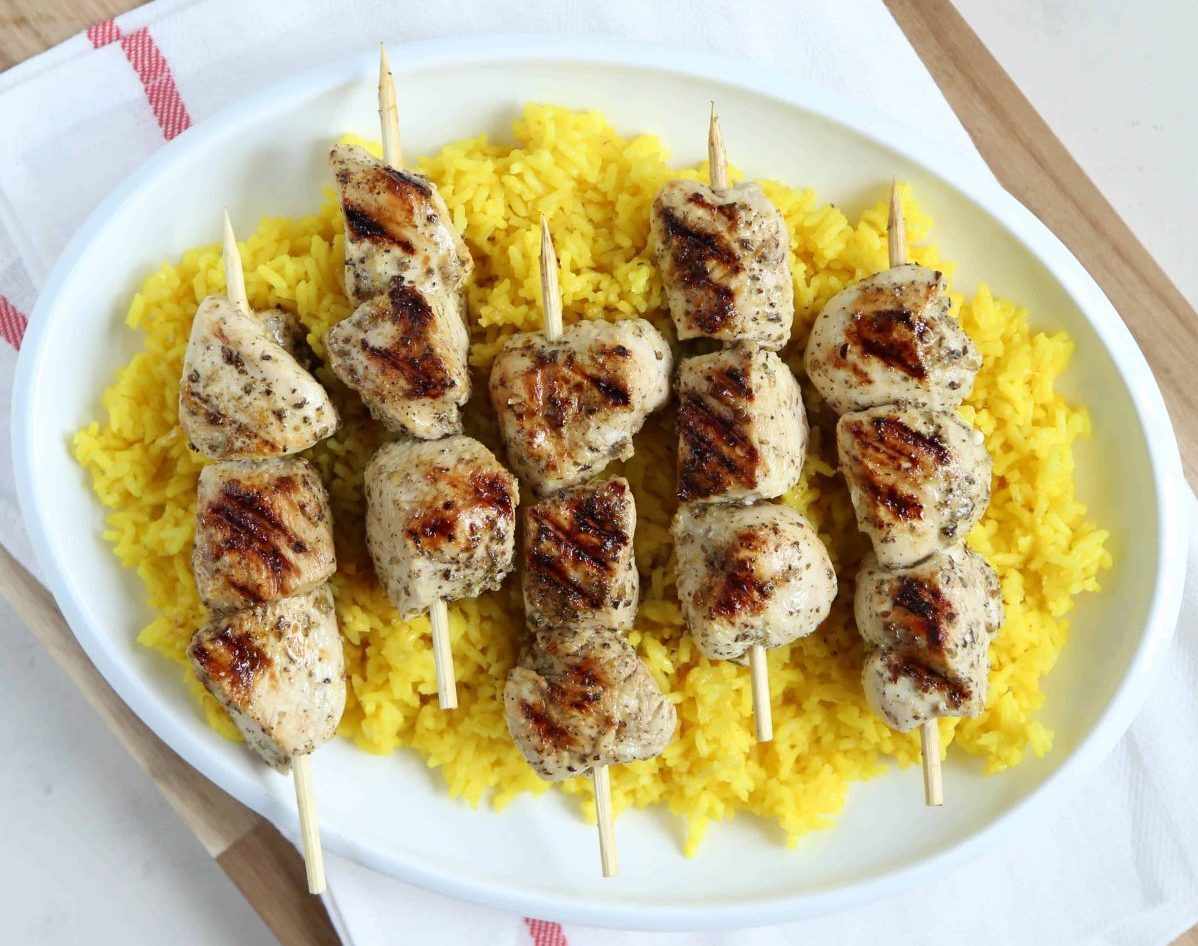 Frequently Asked Questions
Can I make Greek chicken souvlaki with chicken thighs?
Yes, you can use boneless skinless chicken thighs in place of chicken breasts.
Can I make this recipe if I don't have skewers?
Yes! As long as the meat is big enough that it won't fall through the grates on your grill, you can keep the meat loose, or use a vegetable grill pan to grill it. Use tongs to turn it on the grill.
Do I need the tzatziki?
It's a really good addition to this recipe, but it's not essential. The skewers are still delicious without it.
How do I make tzatziki dairy-free?
Use coconut yogurt or soy yogurt instead. It won't be as thick, but it still tastes good.
How to serve souvlaki
Here in the U.S., you'll often be served souvlaki in a pita. It'll be topped with tzatziki, and maybe some tomatoes and onions. However, souvlaki is usually served in Greece with either rice or potatoes.
I find that the golden rice is an easy hands-off side dish to make while you're grilling Greek Chicken Souvlaki. And this Classic Greek Salad with tomatoes and cucumbers is the perfect side dish.
Store any leftover souvlaki in a covered dish in the refrigerator. It will keep for 3–4 days.
Have you tried this recipe? Please leave a ⭐️⭐️⭐️⭐️⭐️ rating and/or comment below!
📖 Recipe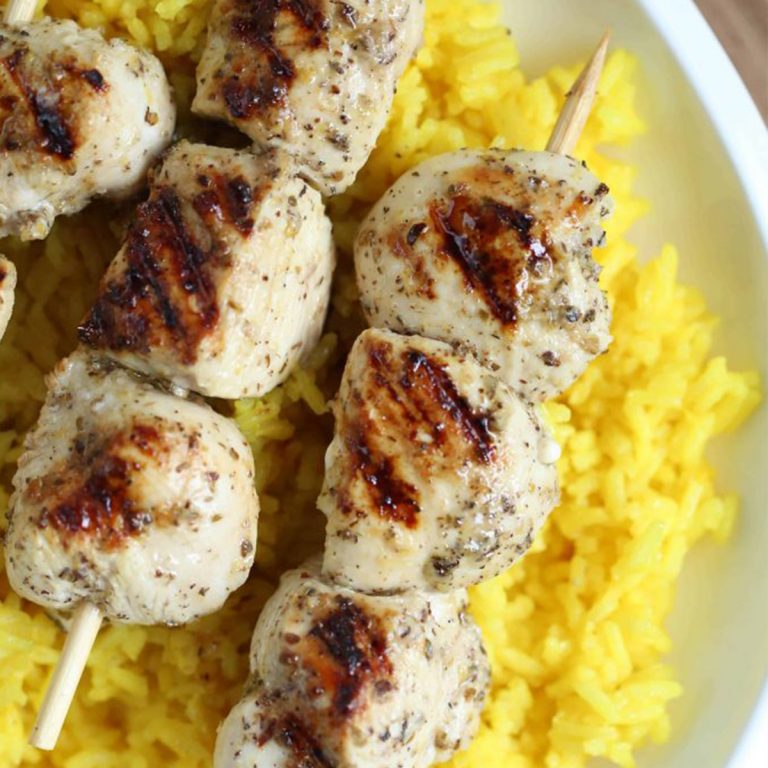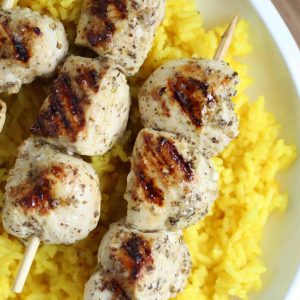 Greek Chicken Souvlaki with Tzatziki
Enjoy the flavors of Greece in these juicy chicken skewers!
Ingredients
For the chicken:
1½

lb

boneless skinless chicken breasts

Juice and zest of one lemon

2

teaspoons

dried oregano

2

cloves

garlic,

minced

3

tablespoons

extra virgin olive oil

1

teaspoon

sea salt

To serve: skewers
For the golden rice:
2

cups

white rice

(I like basmati)

½

teaspoon

turmeric

1

teaspoon

sea salt
For the tzatziki:
1

seedless cucumber

2

(7 oz) containers full fat plain Greek yogurt

2

cloves

garlic,

finely minced

1

tablespoon

lemon juice

1

tablespoon

extra virgin olive oil

¼

teaspoon

sea salt
Instructions
For the chicken:
Cut the chicken breasts into 1 inch cubes. Place in a shallow bowl with the lemon zest and juice, oregano, garlic cloves, olive oil, and 1 teaspoon salt. Refrigerate for at least 2 hours minutes, or up to 12 hours, stirring occasionally.

Place the skewers in a shallow pan of cold water and allow to soak for at least 30 minutes. This will protect them from scorching on the grill.

Preheat a grill or grill pan over medium heat. Thread the chicken onto skewers.

Place on the grill and let cook for 2–3 minutes or until grill marks appear. Flip and continue cooking, turning occasionally, until the chicken is no longer pink in the center, about 10–12 minutes total.
For the rice:
About 10 minutes before you begin grilling the chicken, place 4 cups of water, rice, turmeric, and 1 teaspoon of salt in a medium saucepan over high heat. Bring to a boil, then reduce the heat to low.

Cover and cook until the water is absorbed, typically about 20 minutes though it depends on the style of rice (check the package for exact directions). Remove the lid, fluff with a fork, and set aside.
For the tzatziki:
Grate the cucumber using a box grater. Place the cucumber in a fine mesh sieve or strainer and place over a bowl. Use the back of a spoon or spatula to press the water out of the cucumber. Keep pressing until no more water is released from the cucumber.

Place the grated cucumber, Greek yogurt, garlic, lemon juice, olive oil, and salt in a small bowl. Stir to combine. Refrigerate until ready to serve.
Notes
You may find that the tzatziki separates slightly as it sits. This is normal—those cucumbers always have extra water hiding somewhere! Just give it a stir before serving and you'll be good to go.
Instead of mincing a clove of garlic with a knife, you can grate the garlic on a microplane or rasp grater, which is a fancy word for a handheld grater with smaller holes than a box grater. It creates a garlic purée of sorts so you can avoid any large chunks of garlic in your dish.
This recipe uses gluten free ingredients (one of the reasons I like to serve this to guests, just in case!). You can make it dairy free by choosing a dairy-free yogurt for the tzatziki.
Nutrition
Serving:
1
/4 of the recipe
Calories:
674
kcal
Carbohydrates:
79
g
Protein:
51
g
Fat:
16
g
Saturated Fat:
4
g
Polyunsaturated Fat:
0
g
Trans Fat:
0
g
Cholesterol:
108
mg
Sodium:
371
mg
Fiber:
2
g
Sugar:
3
g
Side dish ideas