Easy Ding Dong Cake is a semi-homemade chocolate cake with cream filling, made in a 13×9 inch pan. And yes, it tastes like a Hostess Ding Dong!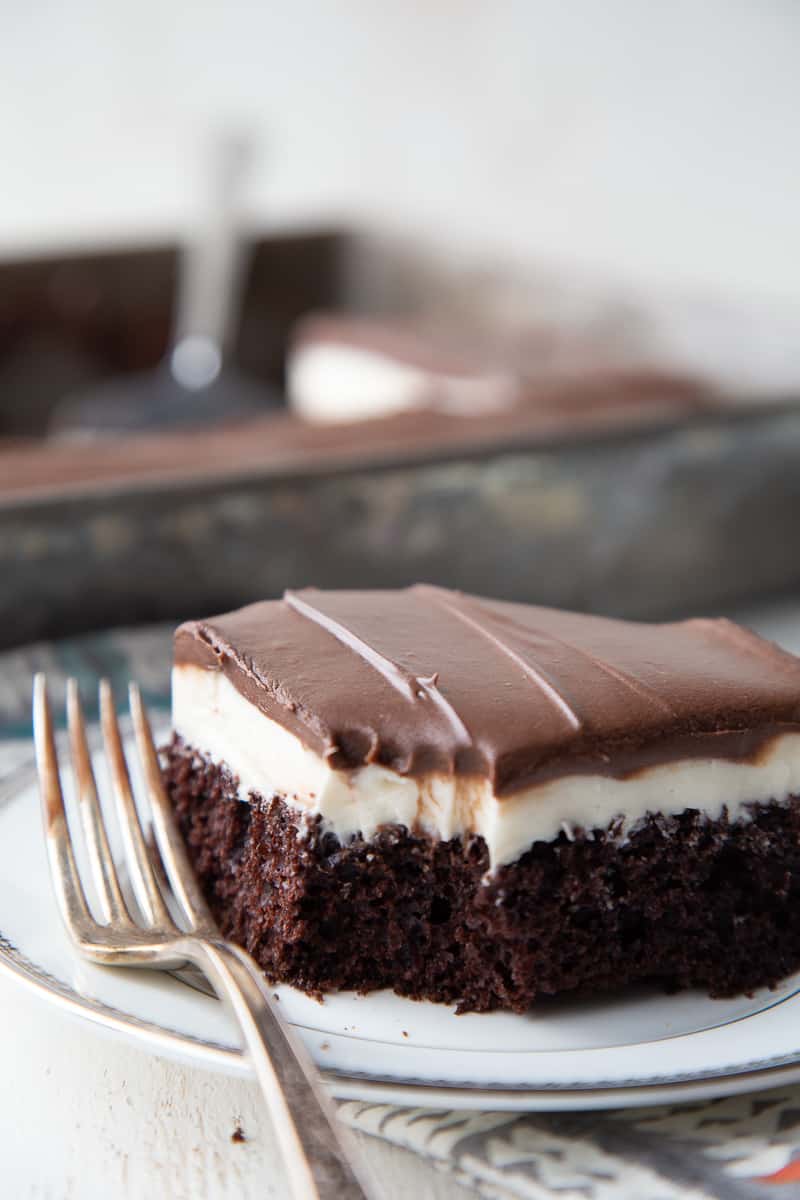 Who doesn't love a gooey slice of chocolate cake? This Easy Ding Dong Cake takes it up a notch, with a layer of chocolate cake, a layer of cream filling, and a rich fudge icing.
The recipe can best be described as semi-homemade—you'll use a store-bought cake mix and a store-bought chocolate fudge icing. These shortcuts make this cake really easy to whip up!
The recipe is from a church cookbook from the 1980s. Hostess Ding Dongs were invented in 1967, and I just love that someone was clamoring to make them at home, in the form of a cake.
And they did not disappoint! The cake really does taste like a Ding Dong.
Read on for how to make it!
This post contains affiliate links. Affiliate links support Gift of Hospitality at no additional cost to you. I receive a commission if you choose to make a purchase through these links.
Ingredients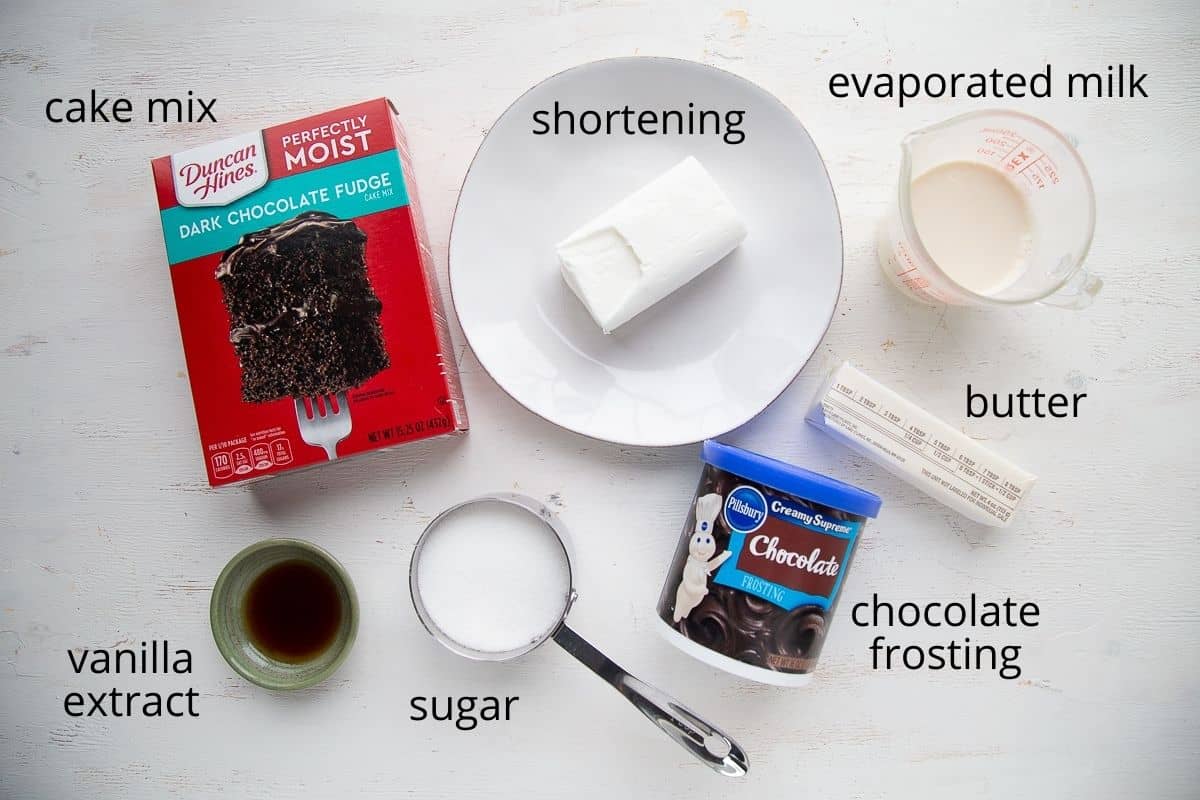 This cake comes together in a snap thanks to a few store-bought helpers.
Chocolate cake mix is the base of this recipe (check the back of the box for additional ingredients needed—you'll be following the directions to make the cake)
The cream layer is made up of shortening, butter, evaporated milk, vanilla extract, and sugar.
The final layer is a simple can of store-bought frosting. Choose a dark chocolate or darker hued chocolate frosting to make it look like a ding dong!
How to make easy ding dong cake
Start by greasing a 13×9 inch pan with cooking spray or butter.
Then, prepare the chocolate cake using the directions from the back of the box. If there are directions to bake the cake at 325°F, use those directions. The lower temperature helps prevent the cake from getting a large dome.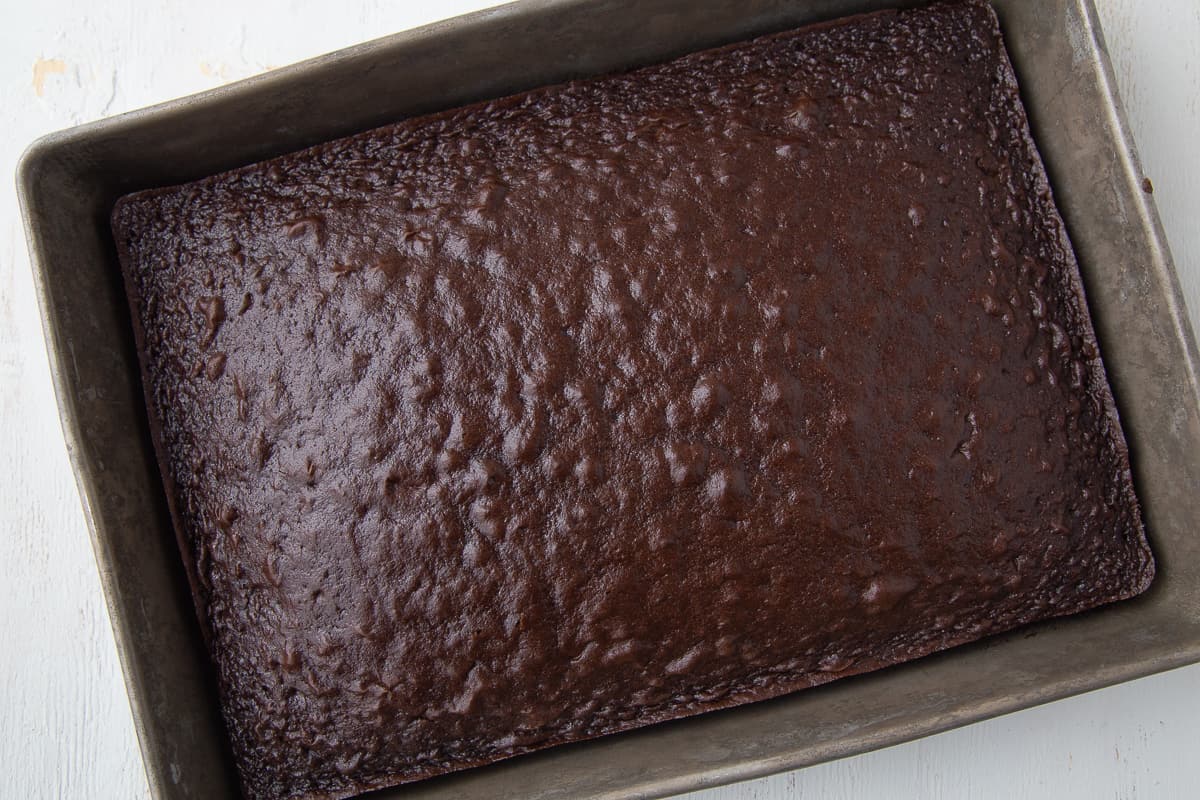 If the cake ends up getting a large dome shape on top, don't worry! You can leave it as-is (it'll still taste great, of course). Or you can use a large serrated knife to slice off the dome (remove the cake from the pan for easiest slicing). Either one is just fine!
Let the cake cool completely before proceeding.
Next, place the shortening, butter, evaporated milk, vanilla, and sugar in the bowl of a stand mixer. Beat on low until combined, then beat for 15 minutes on medium speed, or until the mixture is smooth and creamy.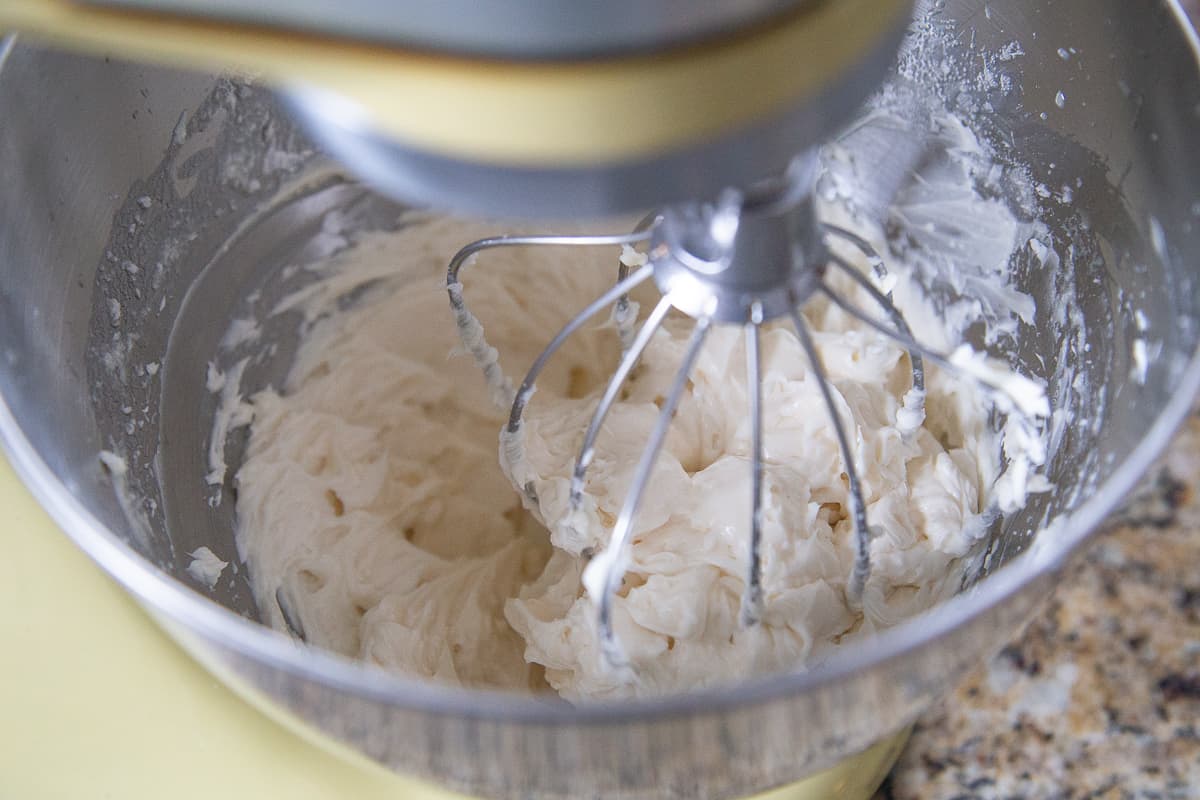 Spread the cream mixture over the completely cooled chocolate cake. I like using an offset spatula for this.
Frosting the ding dong cake
To frost the cake, open the can of frosting and peel off ALL of the foil seal.
We're going to put the can in the microwave, so it's important that there is no foil left on the can. If you can't get it off, just transfer the frosting to a microwave-safe bowl.
Place the can of frosting in the microwave for 30 seconds. Give it a stir, then microwave for 15 seconds more. Stir again—you want a frosting that is just barely pourable.
Pour the frosting over the cream layer, and spread it evenly across the cake.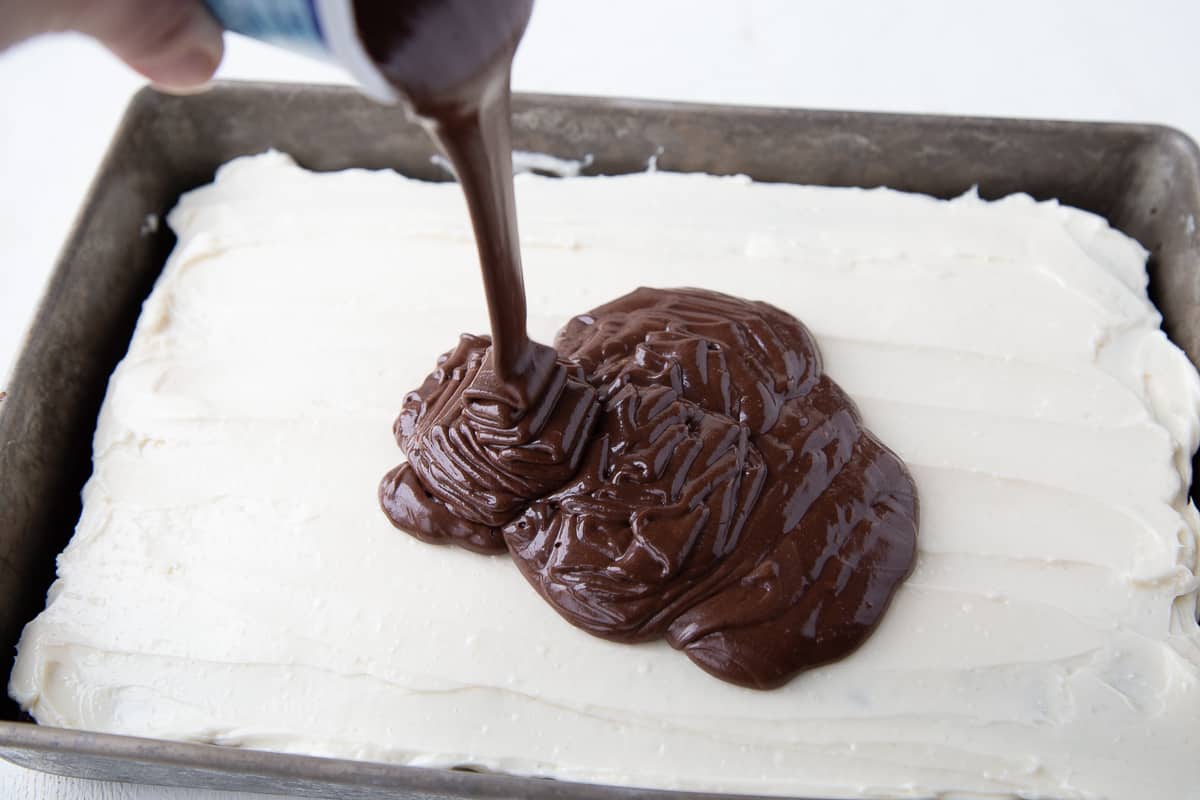 Let the frosting set for about 30 minutes at room temperature. Then, slice the cake and serve!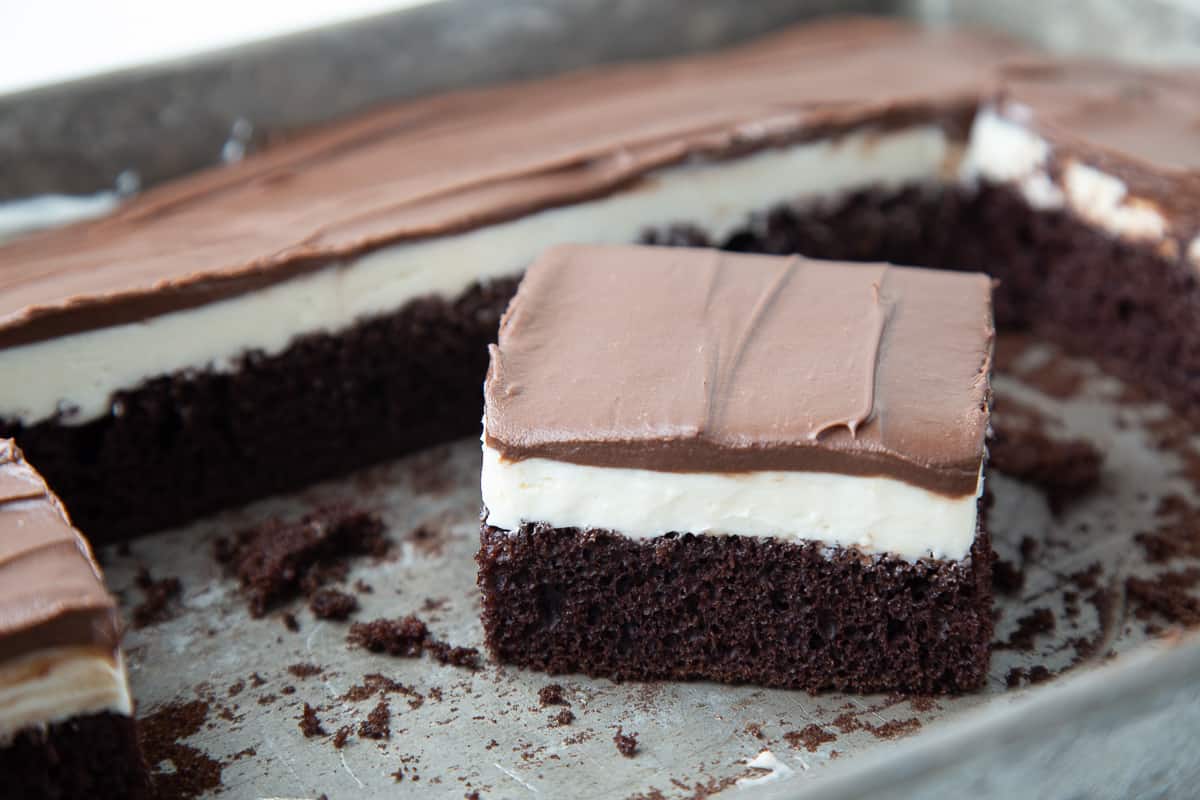 Frequently Asked Questions
Can I use more butter instead of shortening?
For this cake, shortening is the best option. It creates a light and fluffy texture, and is more stable than butter, so it's more sturdy under the chocolate layer. So, I don't recommend substituting butter for the shortening.
What type of chocolate cake mix is best for Ding Dong Cake?
Use a dark chocolate, devil's food, or chocolate fudge cake mix for this cake. All three of those mixes have a darker, more chocolate-y flavor and color, which is similar to a Ding Dong.
What type of chocolate frosting is best for Ding Dong Cake?
Dark chocolate or fudge frosting is best for this cake. Take a look at the color of the frosting on the cans at the grocery store—the photos will show you how dark the frosting will be!
Make it ahead
Ding Dong Cake can be made up to 2 days before you plan to serve it. Once the cake is frosted, cover the pan tightly with aluminum foil, or put a lid on the pan.
Then, place it in the refrigerator for up to one week (it will start to dry out after about 5 days). I recommend making it up to 2 days in advance.
When you're ready to serve it, take it out of the refrigerator one hour before you plan to serve it. The time at room temperature will allow the frosting and cream layer to soften slightly, which is the ideal texture for this cake.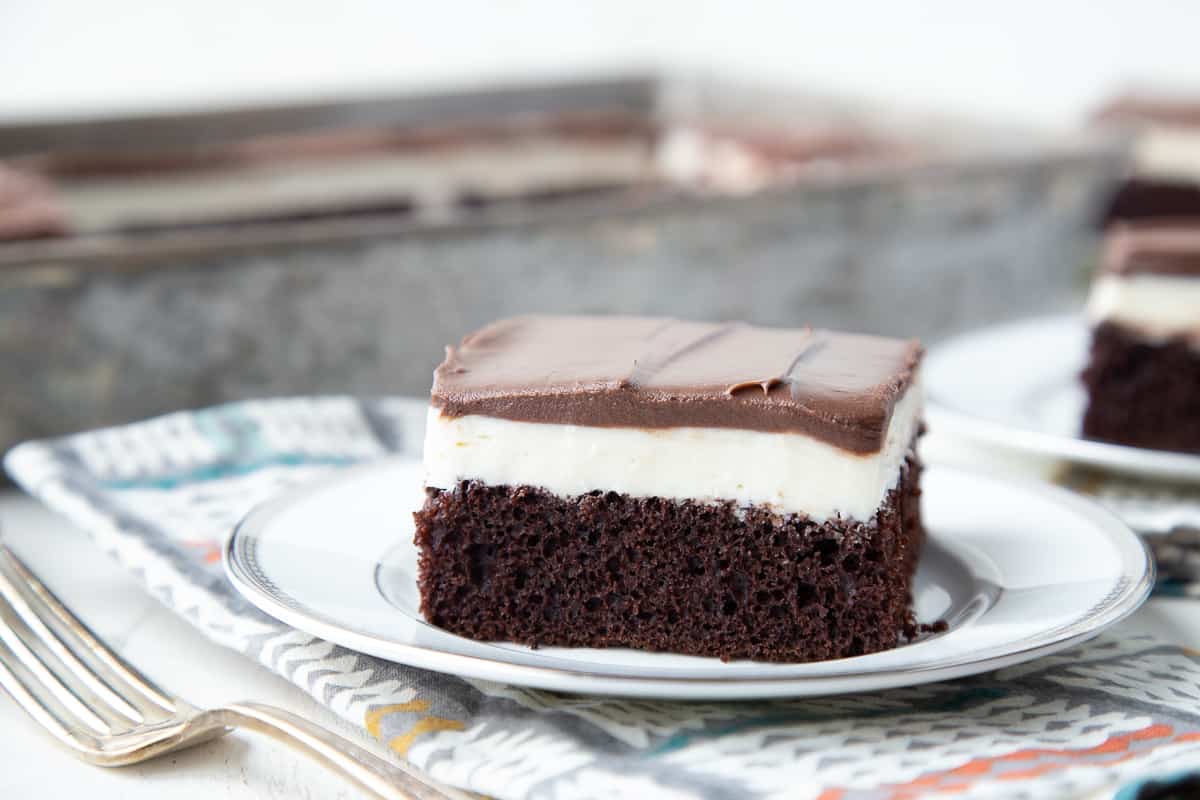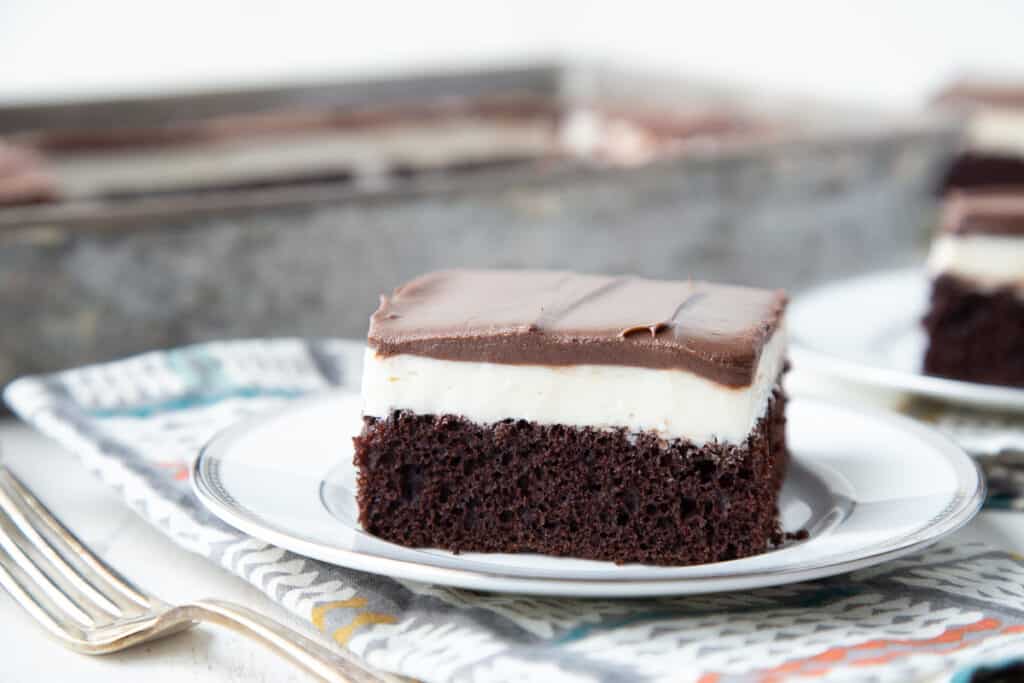 Can I freeze ding dong cake?
Yes! Cut the cake into slices and wrap individually in plastic wrap. Then, place those wrapped pieces in a storage container or freezer bag.
Freeze the cake for up to 2 months. Defrost on the countertop overnight.
More 13×9 inch cake recipes
And if you're on the hunt for another cake made in a 13×9 inch pan, don't miss these gems!
Have you tried this recipe? Please leave a ⭐️⭐️⭐️⭐️⭐️ rating and/or comment below!


📖 Recipe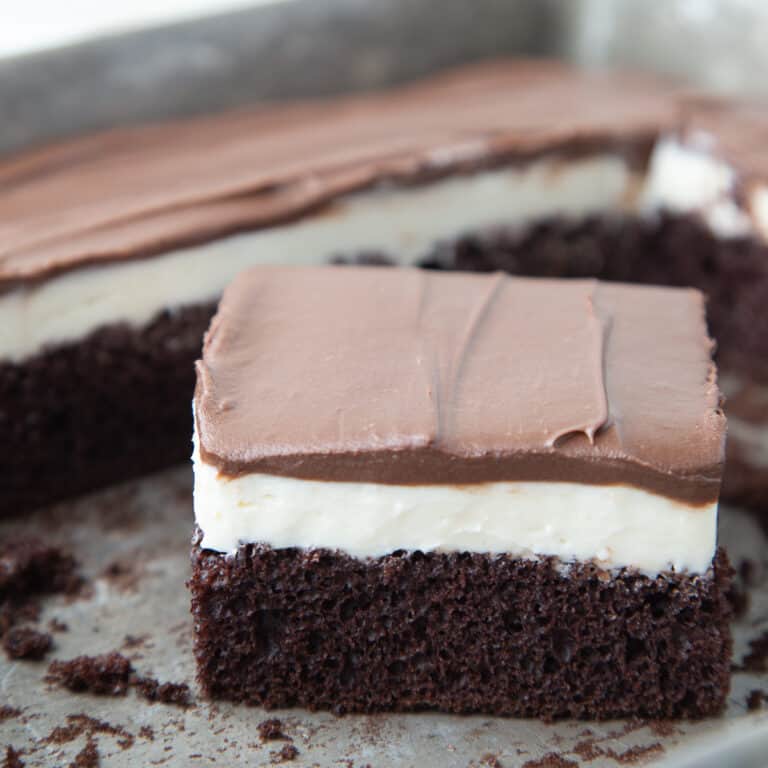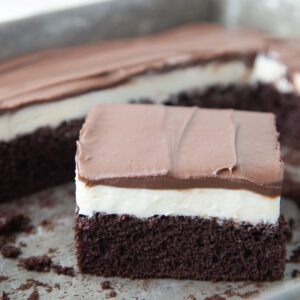 Easy Ding Dong Cake
This semi-homemade chocolate cake really does taste like a Hostess Ding Dong!
Ingredients
1

(15.25 oz) package chocolate fudge cake mix

½

cup

butter,

softened

⅔

cup

shortening

(such as Crisco)

¾

cup

sugar

2

teaspoons

vanilla extract

½

cup

evaporated milk

1

(16 oz) can chocolate fudge frosting
Instructions
Bake the cake mix according to package directions using a 13×9 inch pan at 325°F. The lower temperature will help prevent the cake from doming. Let the cake cool completely.

Once the cake is cool, beat the butter, crisco, sugar, vanilla, and evaporated milk in a stand mixer on high for 15 minutes. The mixture will be smooth and creamy. Spread over cooled cake.

Remove the lid from the frosting can. Remove the foil seal completely (see notes if the foil doesn't come off completely). Place the can of frosting in the microwave for 15 seconds. Stir and microwave for an additional 15 seconds or until the frosting is pourable.

Pour the frosting over the cream layer, and spread into an even layer. Let sit at room temperature until the frosting hards (about 2–3 hours) or refrigerate for 45 minutes. Cut into slices and serve.
Notes
If any portion of the foil seal is still on the frosting can, scoop the frosting into a microwave-safe bowl before microwaving. Foil cannot go in the microwave!
Nutrition
Calories:
428
kcal
Carbohydrates:
51
g
Protein:
3
g
Fat:
26
g
Saturated Fat:
9
g
Trans Fat:
1
g
Cholesterol:
19
mg
Sodium:
300
mg
Potassium:
181
mg
Fiber:
1
g
Sugar:
39
g
Vitamin A:
211
IU
Vitamin C:
1
mg
Calcium:
69
mg
Iron:
2
mg
Related recipes