This Easy Crockpot Apple Butter is the perfect recipe for a cozy fall afternoon—just put everything into the crockpot and let it cook!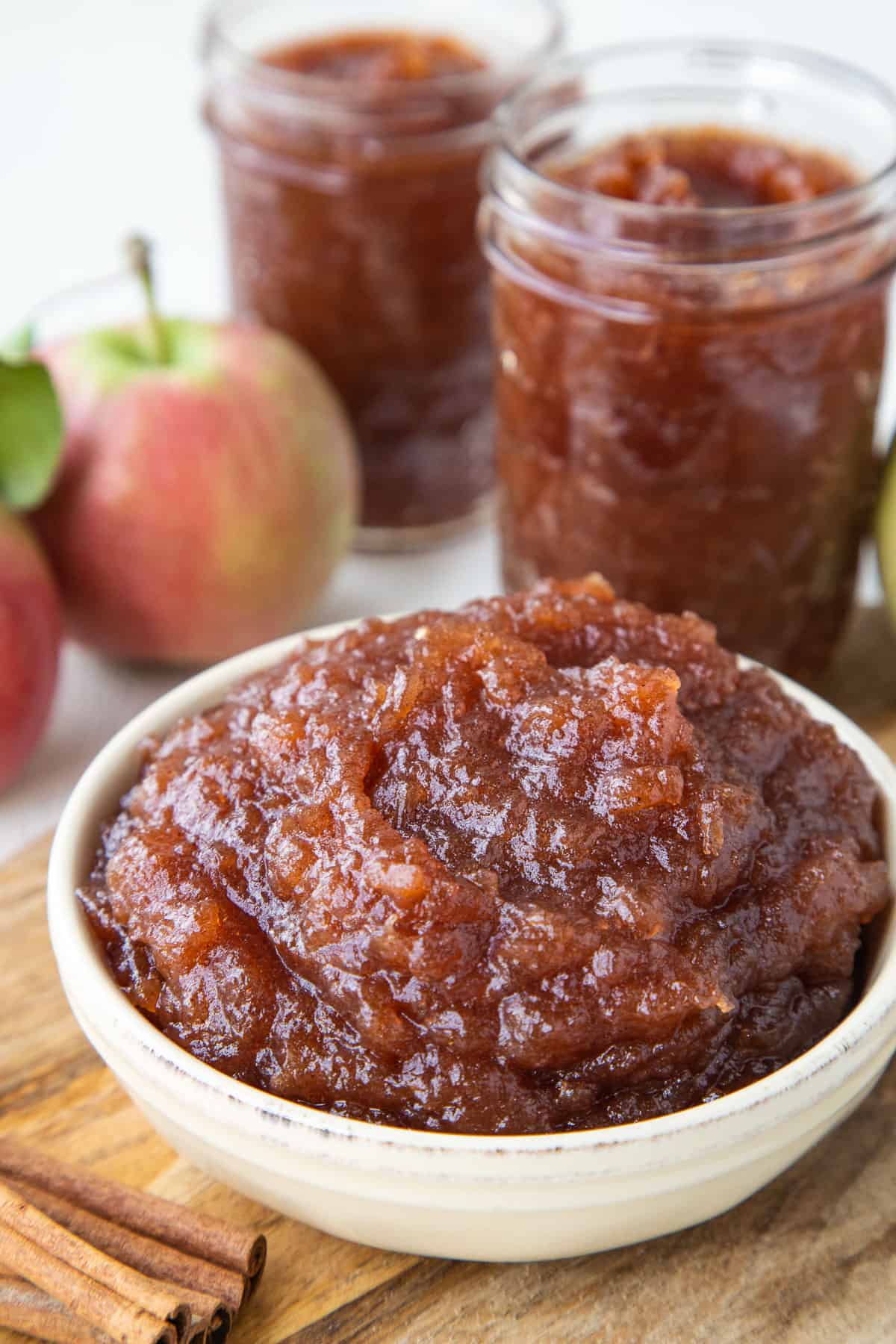 I was always intimidated by homemade apple butter, thinking it would have to cook all day on the stove, and that I'd probably burn it.
Well, this Easy Crockpot Apple Butter recipe proved me wrong! The crockpot does almost all of the work (you'll stir it every hour or so, so it cooks evenly). And the result is a thick, warmly spiced, sweet apple butter that's perfect for spreading on toast, stirring into oatmeal, and more.
The recipe is customizable too. Want a less-sweet apple butter? Reduce the sugar. Love cinnamon? Add an extra teaspoon. This recipe is SO flexible.
This recipe makes six half-pint jars, so you can freeze it for later, or give it as a gift (or both!).
This post contains affiliate links. Affiliate links support Gift of Hospitality at no additional cost to you. I receive a commission if you choose to make a purchase through these links.
Jump to: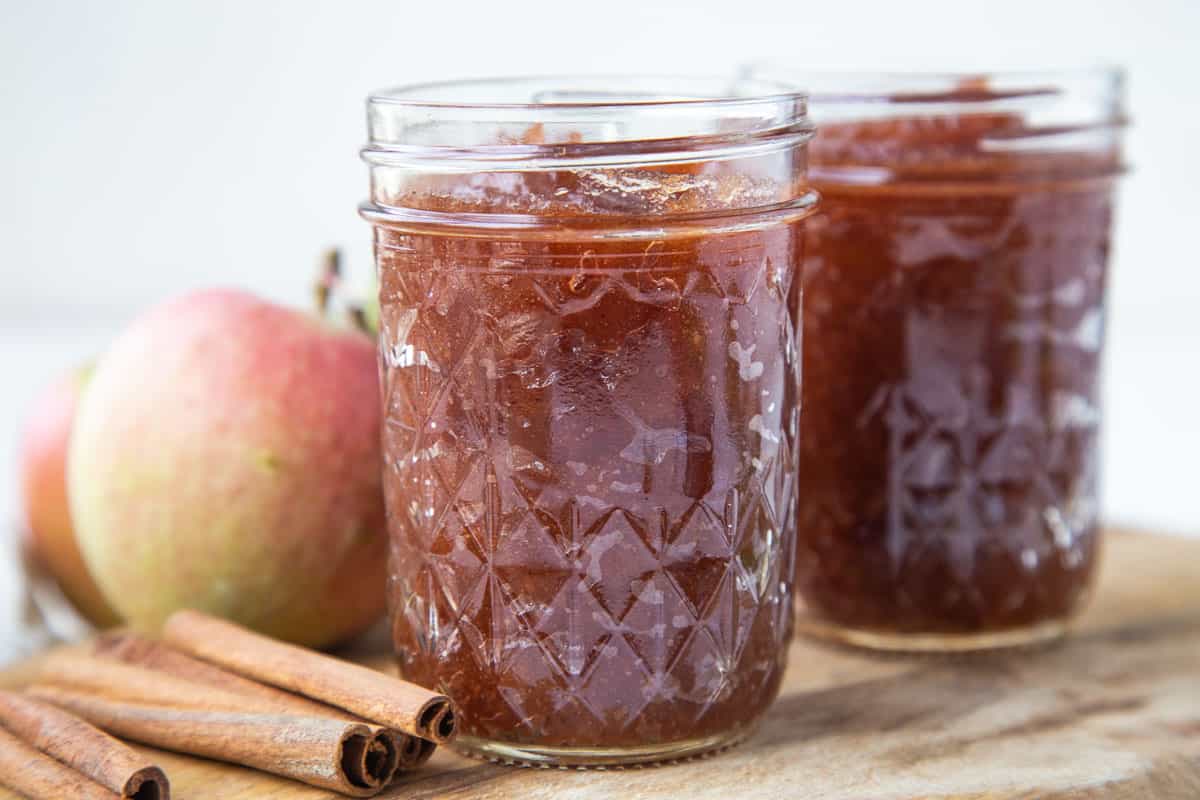 Top tips
I like making apple butter with a variety of apples. Any varieties will work here—use your favorites!
Plan ahead to be home while making the apple butter. You'll need to stir it every hour or so.
You can adjust the sweetness to your preference by using more or less sugar. This recipe is very forgiving; you can use anywhere from 1–4 cups (seriously—the range is wide!). You can also adjust the amount of cinnamon to your liking.
Ingredients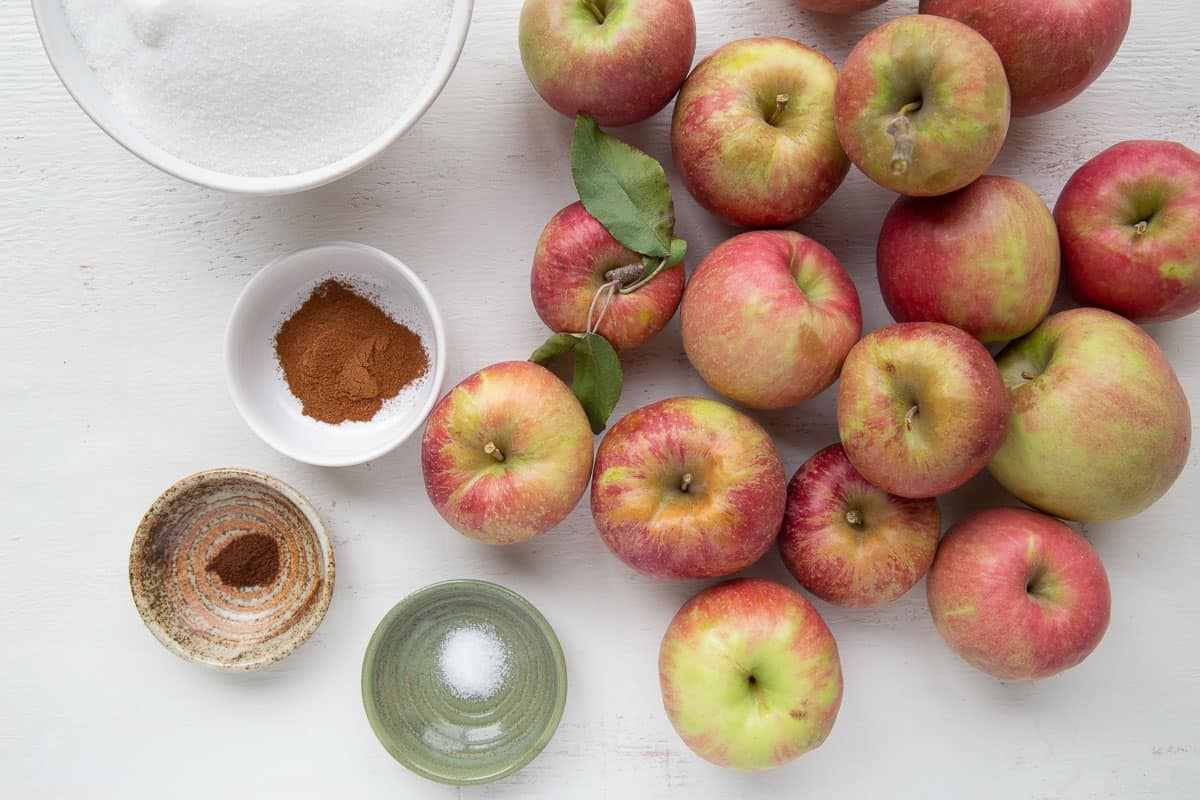 The recipe starts with five pounds of apples. Use your favorites!
The apples cook with white sugar to sweeten it.
Cinnamon and ground cloves lend warm spice to the mixture.
A little bit of salt perfectly complements the sweetness of the apples + sugar.
How to make easy crockpot apple butter
Start with five pounds of apples. I like using a variety (I used Pink Lady and a sweeter variety that wasn't labeled at the apple farm!).
Peel and core the apples. Then, dice them into one inch pieces.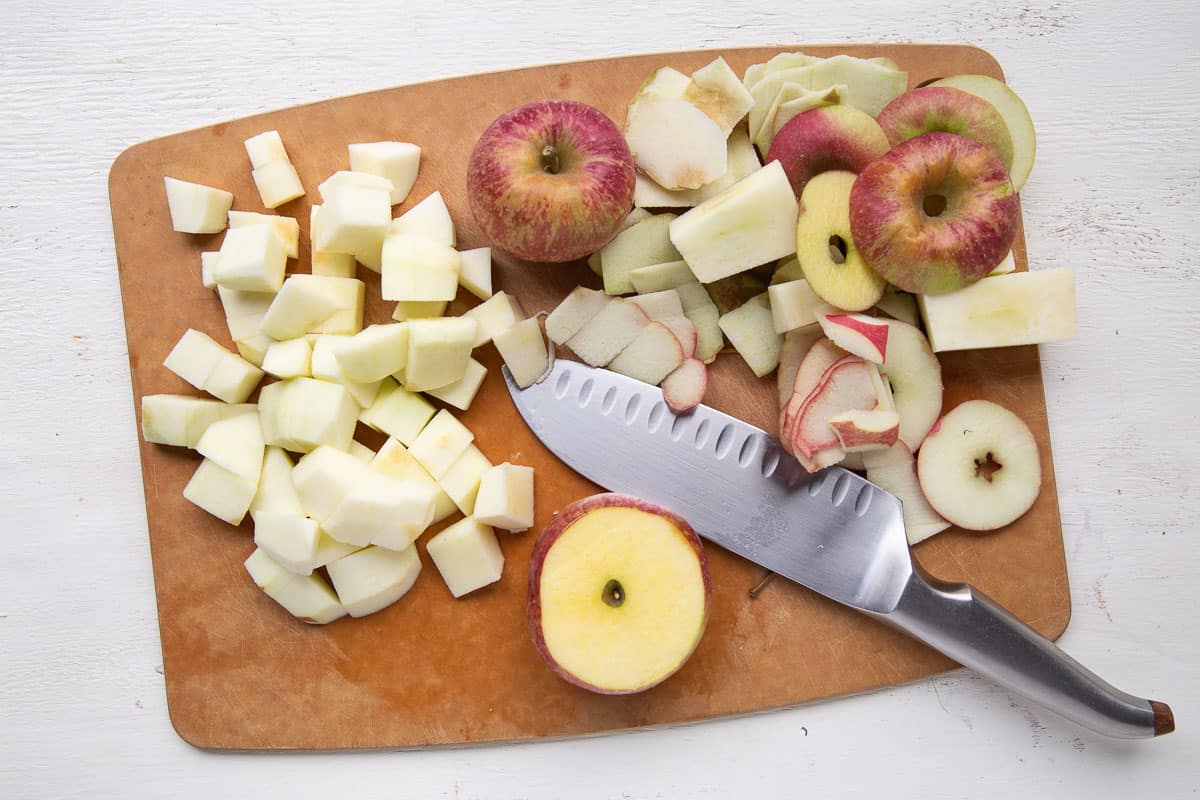 Next, decide on how sweet you'd like the apple butter. You can use anywhere from one to four cups of sugar (I used three cups, which was consistent in sweetness as most jarred apple butters).
Place the diced apples, sugar, cinnamon, cloves, and salt in a crockpot.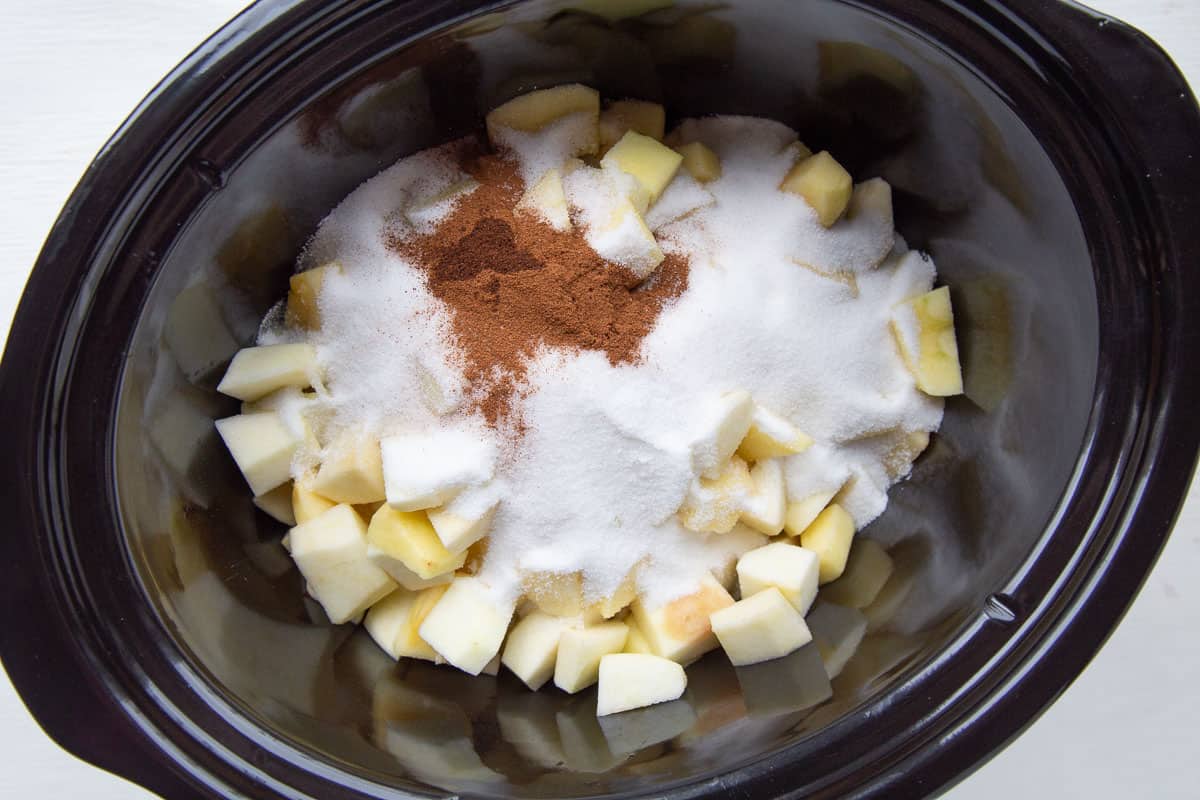 Stir, cover, and cook on high for 5–6 hours, stirring every 1–2 hours. If you have a newer slow cooker, the cooking time will be closer to 5 hours. If it's an older model, it'll be closer to 6 hours (the newer models run warmer).
The apples will break down and become very soft.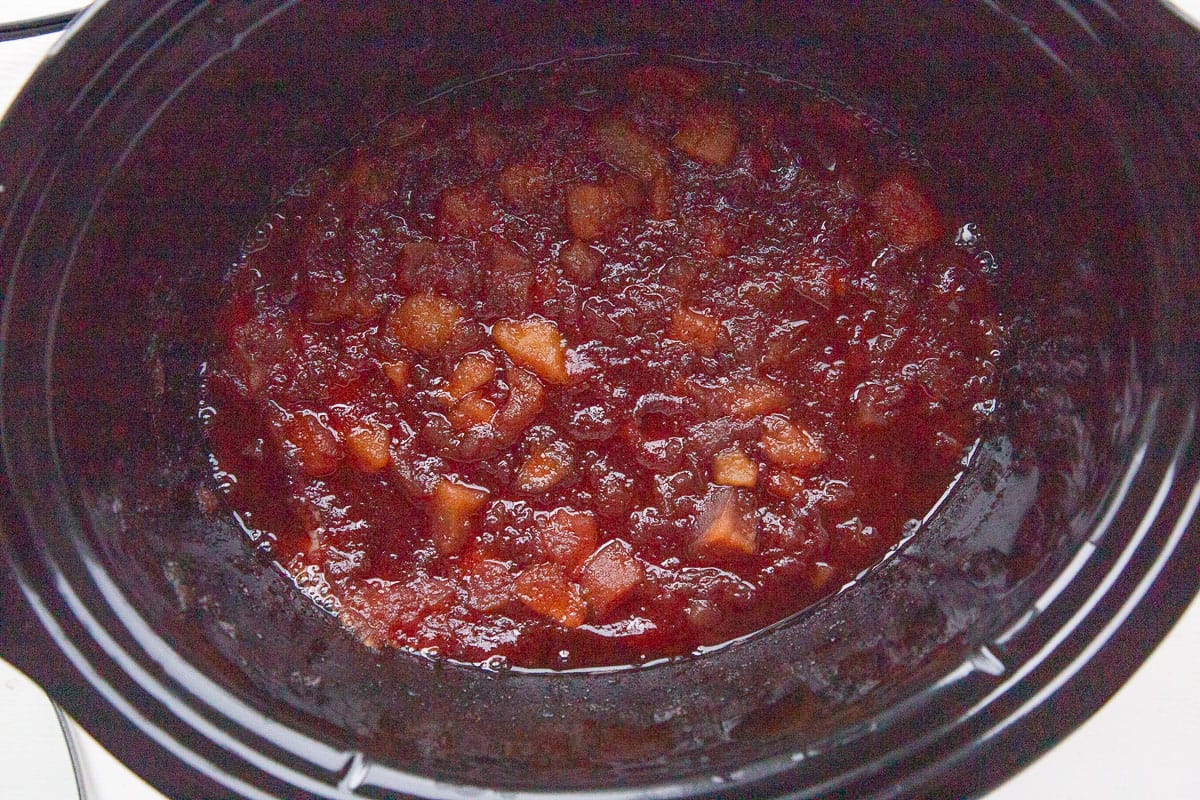 Whisk the apple butter until mostly smooth.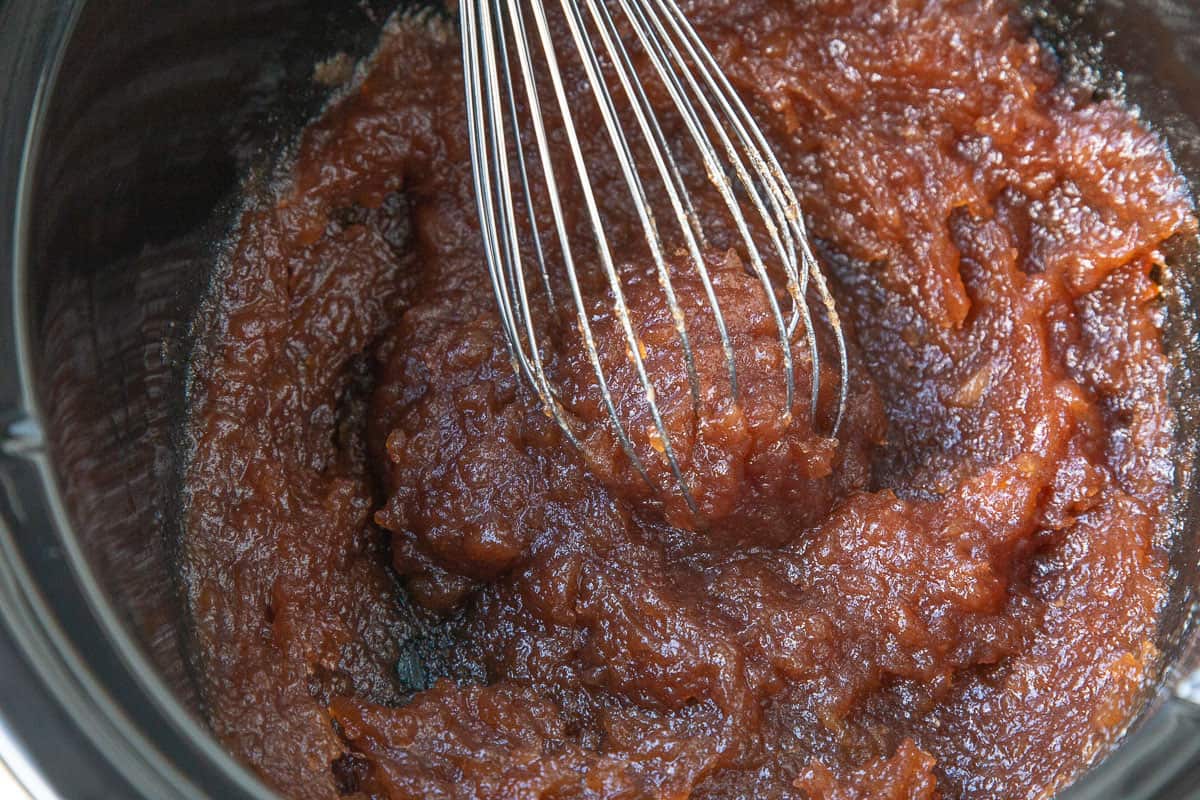 Then, cook the apple butter for an addition 30 minutes on high to allow the mixture to thicken.
Spoon the apple butter into jars and allow it to cool. Cover and refrigerate until you're ready to serve it.
Should I cook apple butter on high or low?
You can cook apple butter on high OR low—it just depends on how much time you have. Apple butter should cook for 5–6 hours on high, or 9–11 hours on low.
In both cases, you'll want to give it more cooking time at the end uncovered to thicken. That'll take about 30 minutes on high or 1 hour on low.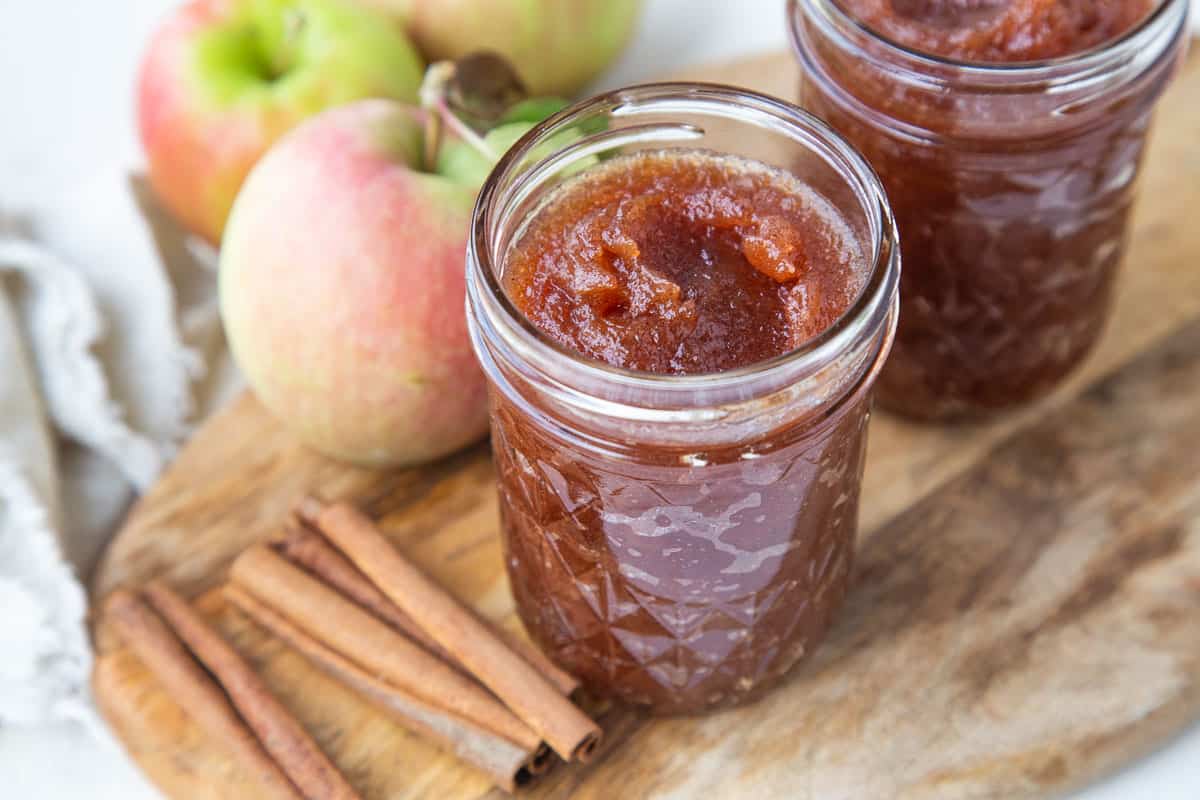 Freezing and canning
Crockpot Apple Butter can be frozen for up to 3 months. Be sure to leave some room in the mason jars or another freezer-safe container for the apple butter to expand when frozen.
Canning apple butter requires a different process entirely. I suggest finding an apple butter recipe specifically for canning if you'd like to do that.
Uses for apple butter
Spread it on toast
Swirl it into oatmeal
Stir it into yogurt
Serve it with pork chops or pork loin
Dollop it on top of ice cream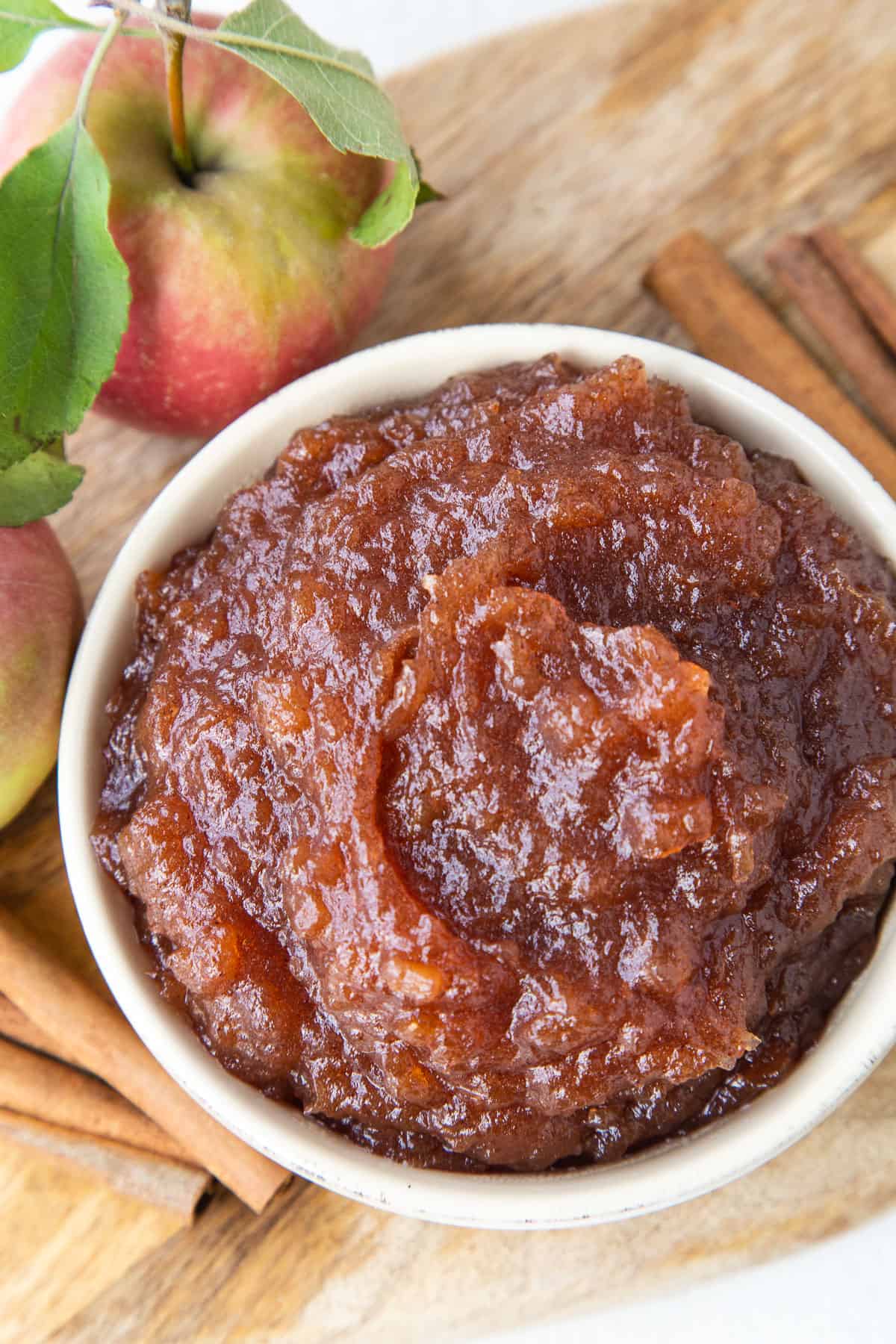 Tips for a smoother apple butter
The instructions here result in an apple butter with a little texture. If you prefer a very smooth, creamier apple butter, you can do one of the following:
Frequently Asked Questions
Does apple butter need to be refrigerated?
Apple butter should be refrigerated in an airtight container. It'll last several weeks in the refrigerator and up to 3 months in the freezer.
Does apple butter thicken as it cools?
Apple butter will thicken slightly as it cools. To thicken it even more, cook it without a lid to allow the water to evaporate.
What's the difference between apple butter and apple sauce?
Apple butter is cooked for much longer than applesauce, resulting in a more concentrated apple flavor. It often contains more sugar than applesauce.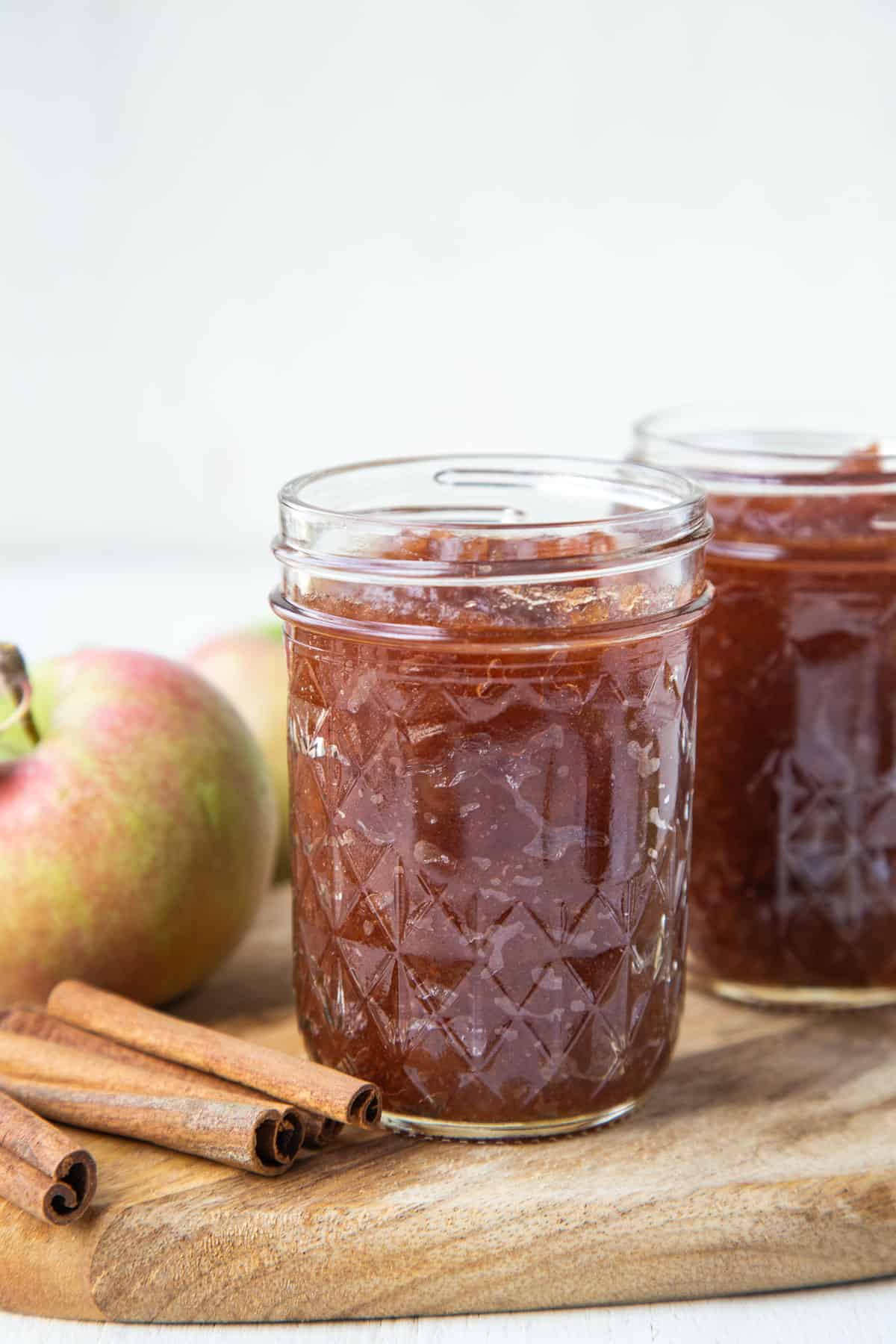 More apple recipes
Have you tried this recipe? Please leave a ⭐️⭐️⭐️⭐️⭐️ rating and/or comment below!


📖 Recipe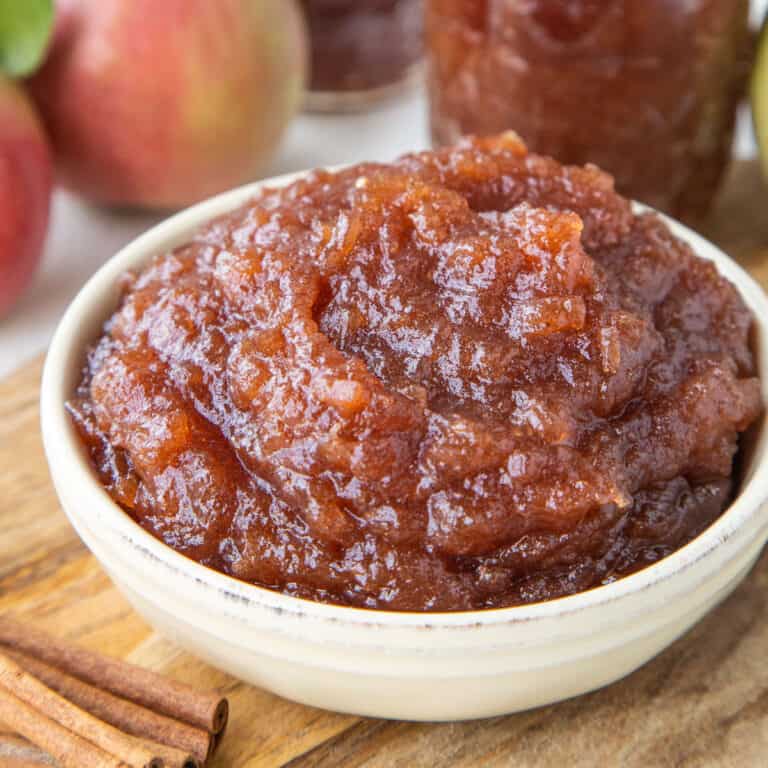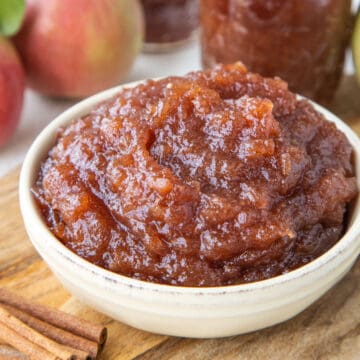 Easy Crockpot Apple Butter
This easy recipe for apple butter is so simple—just place everything into the crockpot and let it cook!
Ingredients
5

lbs

apples

peeled and chopped

2–3

cups

sugar

2

teaspoons

ground cinnamon

¼

teaspoon

ground cloves

¼

teaspoon

salt
Instructions
Place all of the ingredients into a crockpot, and stir to combine. Set to high and cook for 5–6 hours, stirring occasionally. Whisk until mostly smooth.

Uncover and cook on high for 30 minutes longer to allow excess liquid to evaporate.

Let cool slightly, then transfer to mason jars or another freezer-safe container. Leave some room at the top for the mixture to expand in the freezer.

Refrigerate any apple butter that you'll use within 2 weeks, and freeze the remaining apple butter.
Notes
I like using a variety of apples for this recipe. Use your favorite types of apples. The sugar amount can be anywhere between 1 and 4 cups. I used 3 cups for a sweetness that mimics most commercially prepared apple butters. You can add an extra teaspoon of cinnamon if you'd like. Want to cook it on low? Let it cook on low for 9–11 hours, or until the apples fall apart when whisked. Remove the lid and allow it to cook for an additional hour to allow excess liquid to evaporate. This recipe has a little bit of texture to it. If you want a perfectly smooth apple butter, blend it in a blender or with an immersion blender.
Nutrition
Serving:
2
tablespoons
Calories:
57
kcal
Carbohydrates:
15
g
Protein:
0.1
g
Fat:
0.1
g
Saturated Fat:
0.01
g
Polyunsaturated Fat:
0.02
g
Monounsaturated Fat:
0.004
g
Sodium:
13
mg
Potassium:
51
mg
Fiber:
1
g
Sugar:
13
g
Vitamin A:
26
IU
Vitamin C:
2
mg
Calcium:
4
mg
Iron:
0.1
mg
Related recipes