These easy Pepperoni Rolls are made with pizza dough and delicious dunked into marinara sauce. If you can make pizza, you can make these rolls!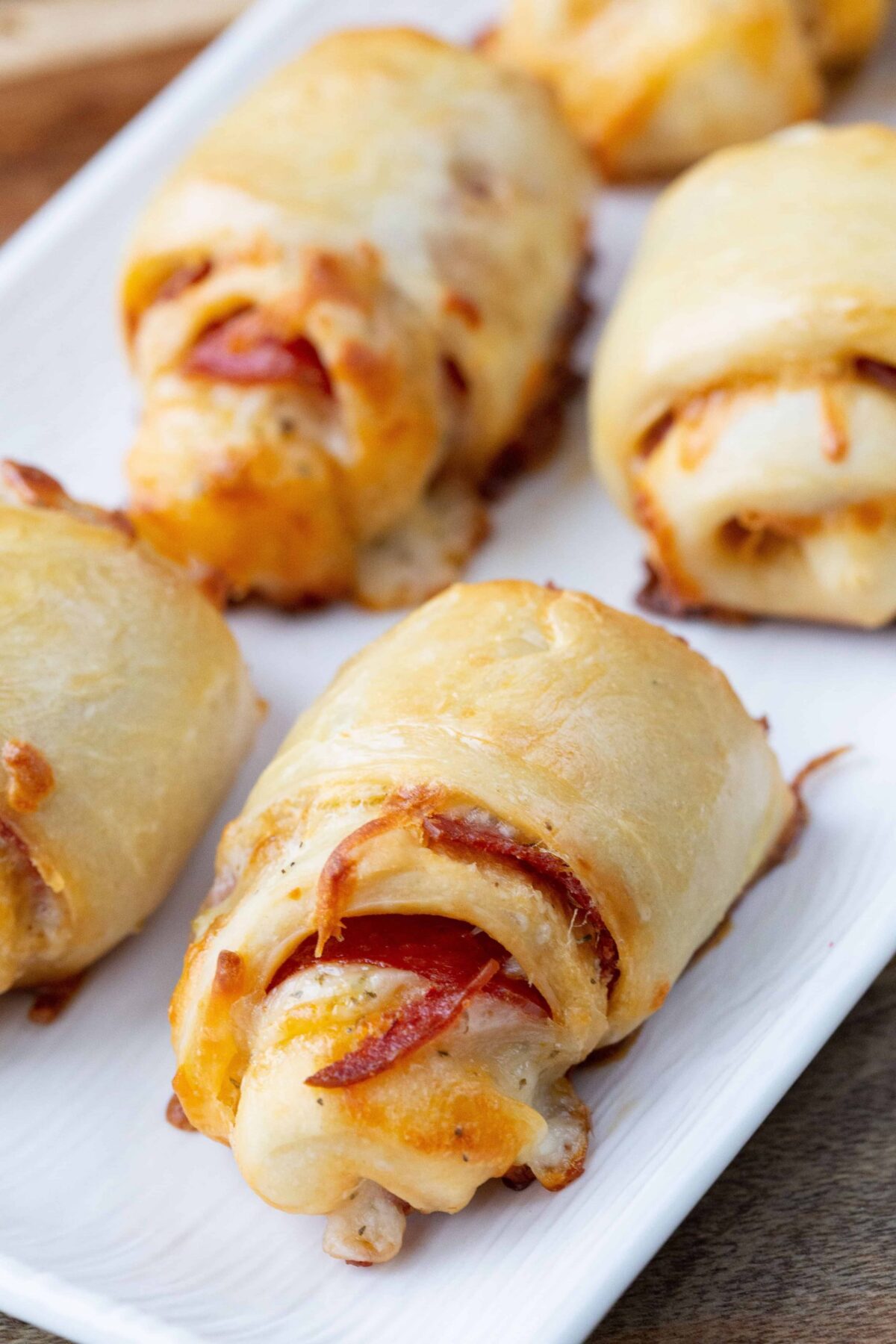 If there is a party snack that everyone will love, this Easy Pepperoni Rolls with Pizza Dough recipe is the one.
They are a fun spin on pizza, and they will be devoured by both kids and adults.
These are on the menu every time that I host a gathering to watch sports. They're as easy to make as pizza, with just one more step: rolling the dough into pinwheels to create their fun shape.
I like serving them hot out of the oven with a cup of marinara sauce for dipping. They are delicious with ranch dressing, too!
I used a store-bought pizza dough to keep this recipe easy, but here's a great recipe for homemade dough if you want to start from scratch.
This post contains affiliate links. Affiliate links support Gift of Hospitality at no additional cost to you. I receive a commission if you choose to make a purchase through these links.
What's a pepperoni roll?
Pepperoni Rolls are a combination of dough, pepperoni, cheese, and tomato sauce, baked to perfection.
They were popularized in West Virginia, where they're also known as a "coal miner's lunch" because the original variation was completely enclosed in bread dough.
This version is not a classic West Virginia version. The main differences is that these are not completely enclosed in dough, and these are made with pizza dough instead of bread dough.
So why should you make this recipe for Pepperoni Rolls instead? They are a LOT more attractive! You can see the pepperoni, sauce, and cheese oozing out, making them so much more delicious looking than an oblong hunk of bread.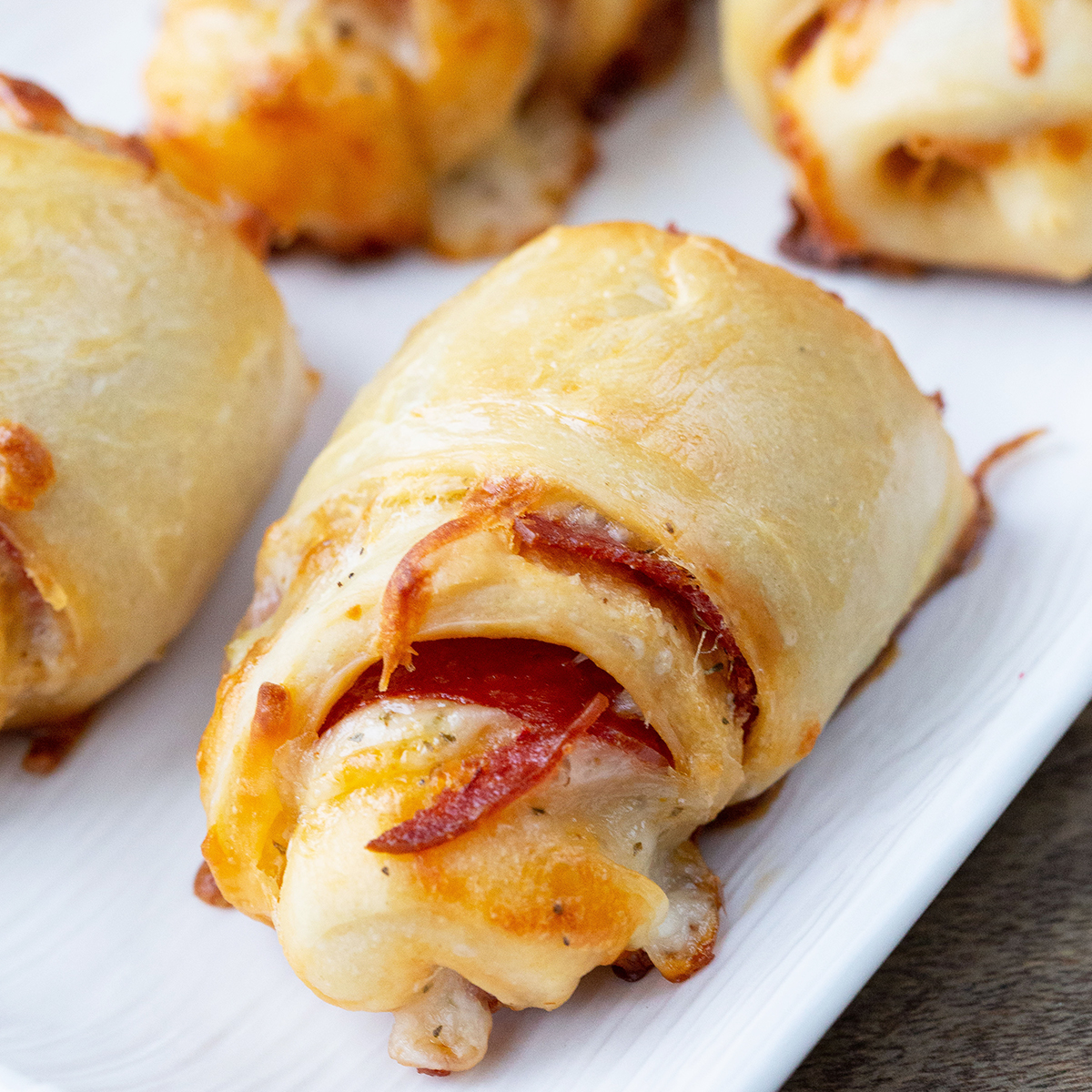 Ingredients
A disk of store-bought pizza dough (pizza dough from a tube also works). I used Trader's Joe's.
Pepperoni, of course!
Mozzarella cheese is traditional for these; an Italian cheese blend would be good, too.
A sprinkle of dried oregano brings out the pizza flavors.
The rolls are delicious dunked into marinara sauce (store-bought is fine!).
Keys to success
The key to working with fresh pizza dough is to let it come to room temperature before rolling out.
Refrigeration makes the gluten in the pizza dough tighten, and it'll snap right back to its original size if you try to roll it out when it's cold.
I let mine sit on the counter for at least an hour before trying to roll it out.
How to make pepperoni rolls with pizza dough
Start with a disk of store-bought pizza dough. You can get this at a variety of grocery stores (I got mine at Trader Joe's) or even from a some pizza shops. I like how thick & fluffy it is, but pizza dough from a tube would work here, too.
Roll the dough into a 16×8 inch rectangle, and cover it with rows of pepperoni.
Then, sprinkle the shredded mozzarella, and top it with dried oregano.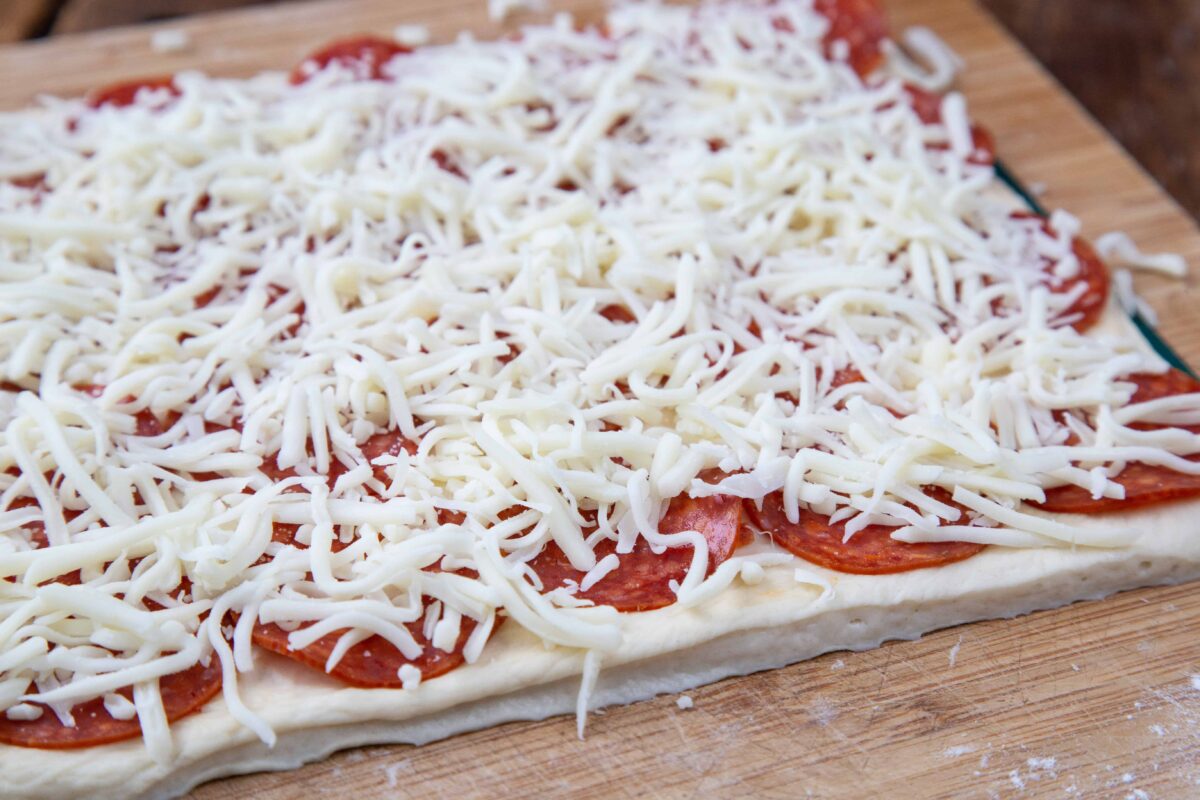 Use a pizza wheel
to cut the rectangle into eight strips.
I used the width of the pepperoni to guide the cuts, though you could make them thinner if you'd like.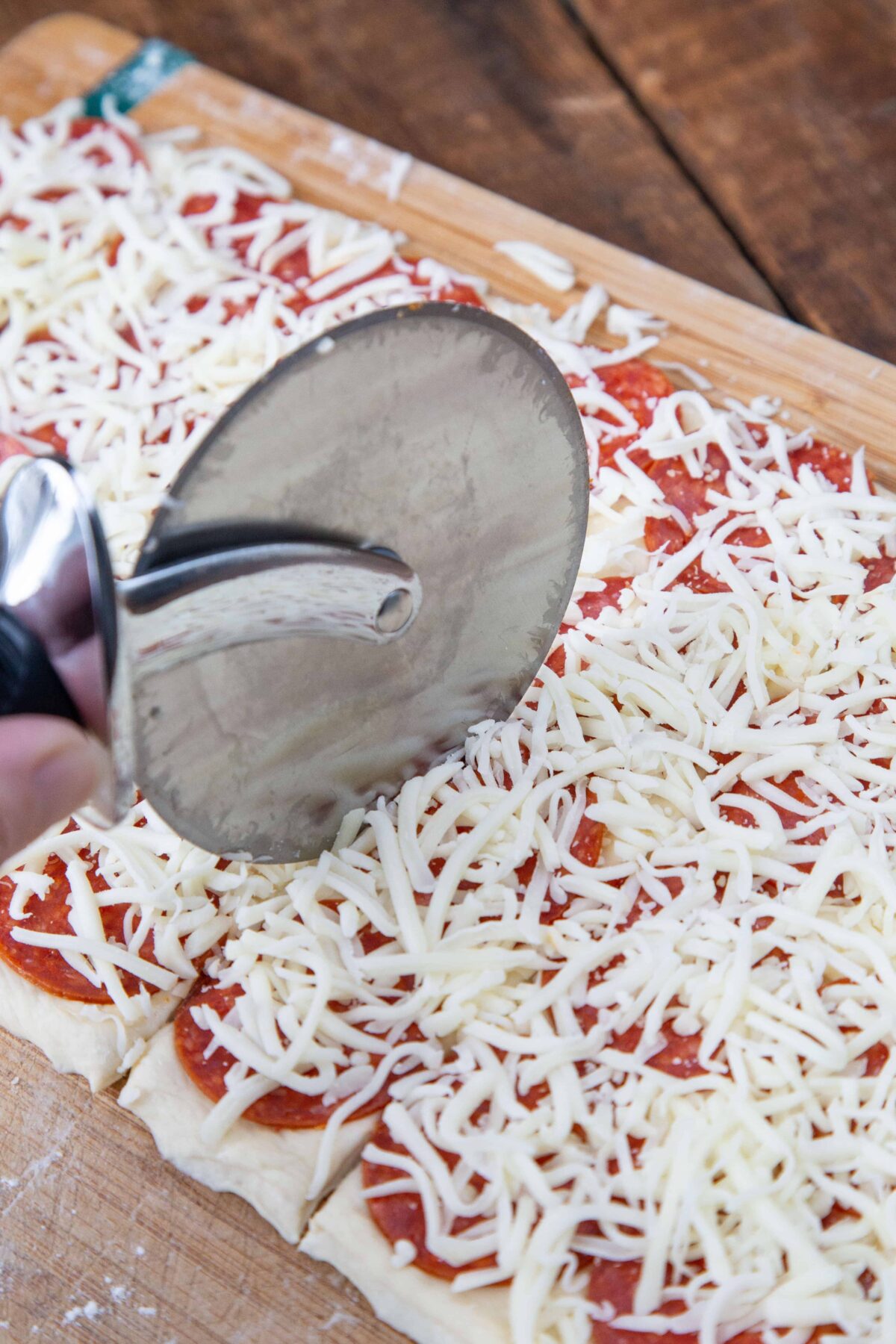 Then, roll up the strips, jelly roll style, to create a pinwheel shape.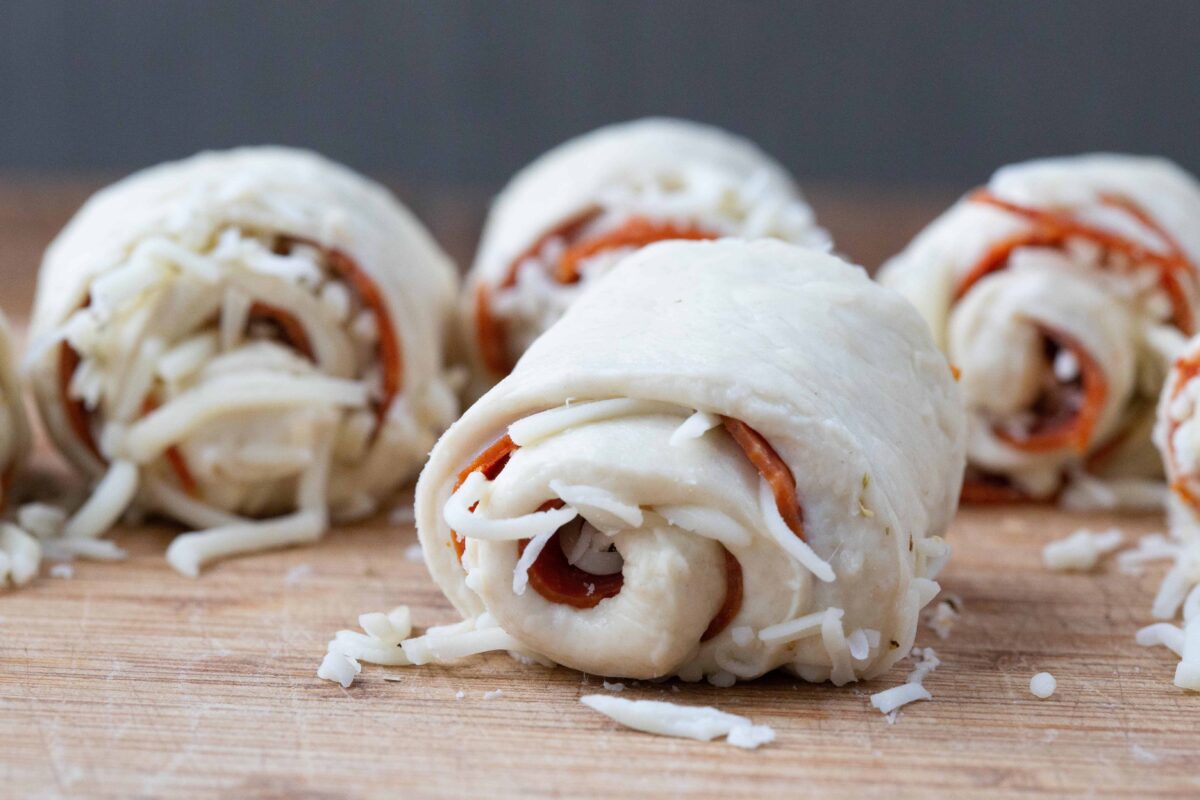 Place the pepperoni rolls onto a sheet pan. Brush each roll with egg to create a shiny top, and bake for 20 minutes.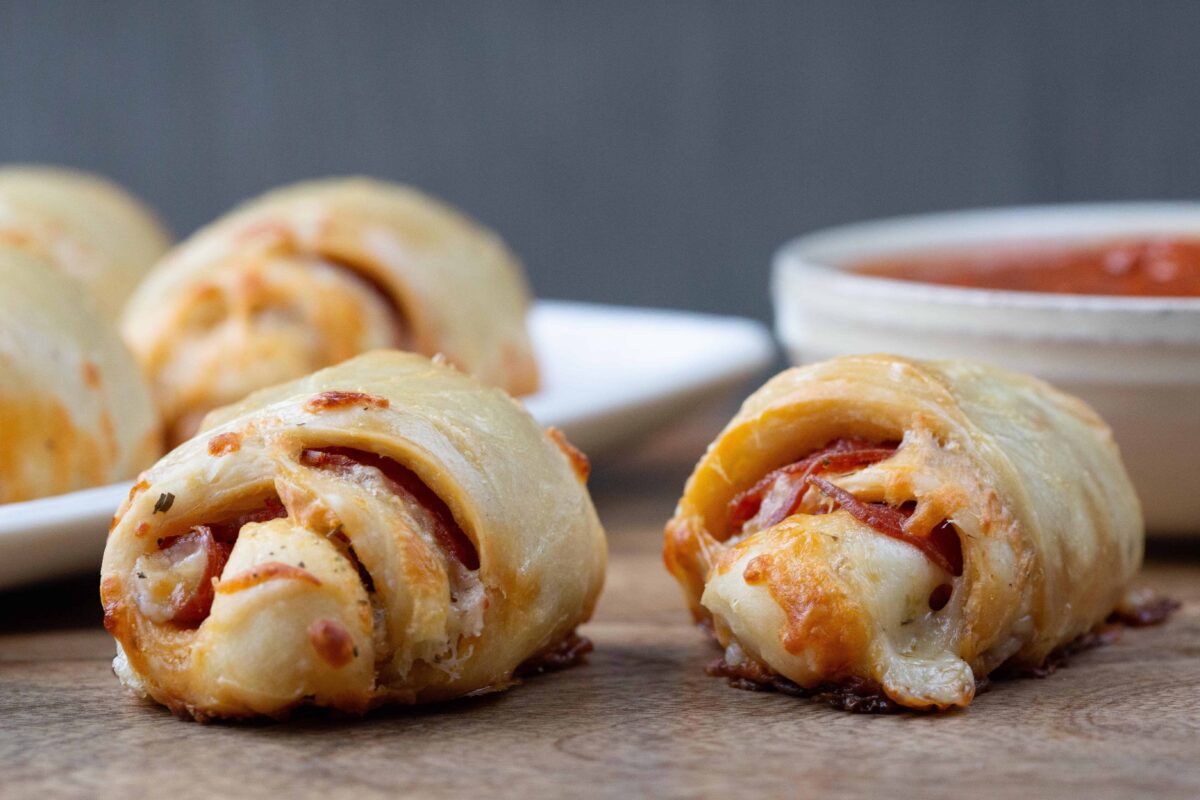 They are best right out of the oven or eaten shortly thereafter, dunked into marinara sauce or ranch on the side.
I serve them while my family and guests are watching sports games at our house, but they'd be a delicious after-school snack, appetizer, or light dinner, too!
Frequently Asked Questions
Can I freeze pepperoni rolls?
To freeze pepperoni rolls, bake them as directed and place in a resealable freezer bag. Freeze for up to 3 minutes. When you're ready to serve them, place them in a single layer on a sheet pan. Place the pan in a 350°F oven for 20–30 minutes (depending on the size of the rolls).
Can I make these with other pizza toppings?
Pepperoni is the best topping for these rolls because it is thin and flat. Most other toppings wouldn't work well (like sausage) because of its size. You could make these with just cheese and skip the pepperoni.
How do I reheat pepperoni rolls?
Preheat oven to 350°F. Place the pepperoni rolls on a sheet pan in a single layer. Bake for 10 minutes for refrigerated rolls, or 20–30 minutes for frozen rolls.
Make it ahead
If you'd like to make Pepperoni Rolls with Pizza Dough ahead of time, follow the recipe through step #5, where you place the rolls on a sheet pan.
Cover the pan tightly with plastic wrap and place it in the refrigerator for up to 24 hours.
When you're ready to serve them, brush the rolls with egg and bake according to the directions. You may need to add 2–3 minutes extra time in the oven because they are cold from the refrigerator.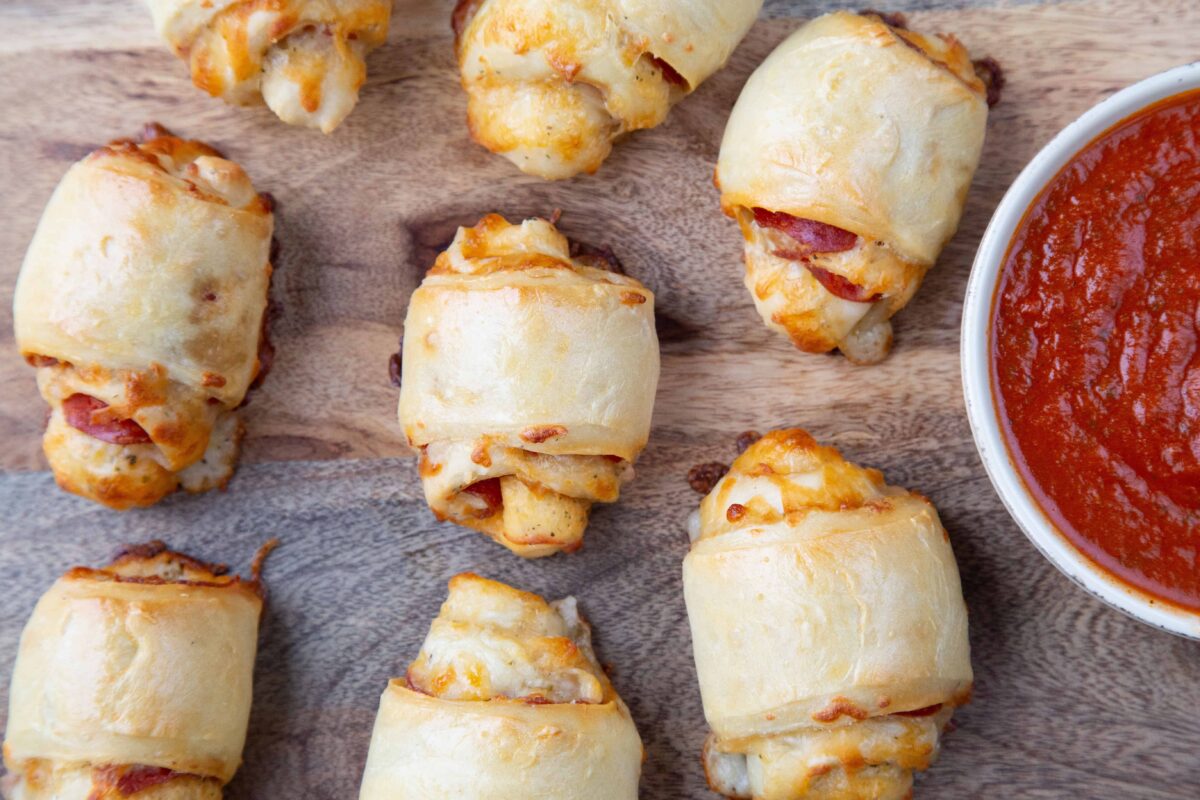 In a pizza making mood? Don't miss this recipe for Cast Iron Skillet Pizza. It's a deep-dish style pizza that your family and guests will love.
Have you tried this recipe? Please leave a ⭐️⭐️⭐️⭐️⭐️ rating and/or comment below!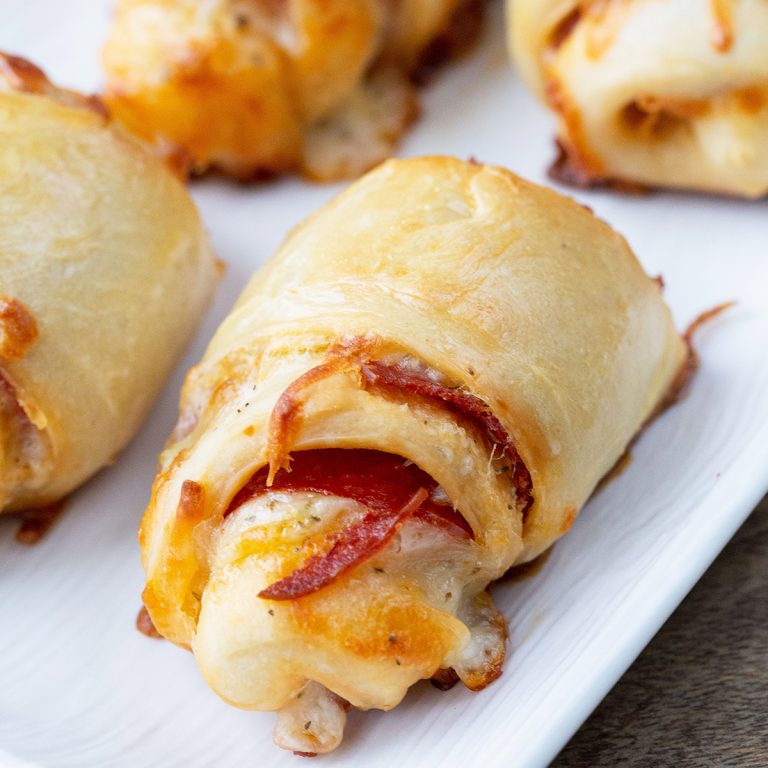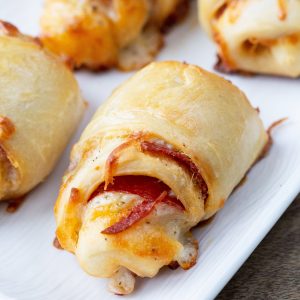 Easy Pepperoni Rolls with Pizza Dough
If your guests like pizza, they will LOVE these Pepperoni Rolls! Serve them as an appetizer, a snack, or for dinner with a big salad.
Ingredients
1

(16 oz) disk prepared pizza dough

(I used Trader Joe's)

5

oz

thinly sliced pepperoni

1¼

cups

shredded mozzarella cheese

¼

teaspoon

dried oregano

1

egg,

beaten

For dipping: marinara sauce
Instructions
Remove dough from the refrigerator and place on the counter for 30 minutes (this will make it easier to roll out).

Lightly dust a large cutting board with flour. Place the dough on the cutting board and roll into a 16 inch long by 8 inch wide rectangle. If the dough resists being rolled out, let it sit for another 15 minutes until it's closer to room temperature. Trim the ends to form a rectangle with straight edges.

Preheat oven to 400°F.

Place the pepperoni in an even layer on top of the dough. Top the pepperoni with the cheese. Sprinkle the oregano on top.

Use a pizza cutter or sharp knife to slice the rectangle into 1½ inch slices (I used the width of the pepperoni as a guide). Roll each slice up tightly lengthwise and place seam-side down on a baking sheet.

Combine the egg with one tablespoon of water in a small bowl. Whisk until the egg and water is combined. Brush the egg wash lightly on top of each roll (you won't use all of the egg).

Bake for 18–20 minutes, or until golden brown. Serve with marinara sauce for dipping.
Notes
Make sure the store-bought dough is at room temperature before rolling it out. Cold dough from the refrigerator will be difficult to roll out. If you're using a tube of store-bought dough instead of a ball of fresh dough, there's no need to bring it to room temperature—the dough in tubes is often already rolled out anyway.
Nutrition
Serving:
1
roll
Calories:
287
kcal
Carbohydrates:
27
g
Protein:
13
g
Fat:
14
g
Saturated Fat:
6
g
Cholesterol:
53
mg
Sodium:
839
mg
Potassium:
70
mg
Fiber:
1
g
Sugar:
4
g
Vitamin A:
148
IU
Vitamin C:
1
mg
Calcium:
95
mg
Iron:
2
mg
Related recipes