Zucchini Risotto is a delicious summer side dish or vegetarian main course. This recipe will show you step-by-step instructions, and no, you don't have to stir it the whole time!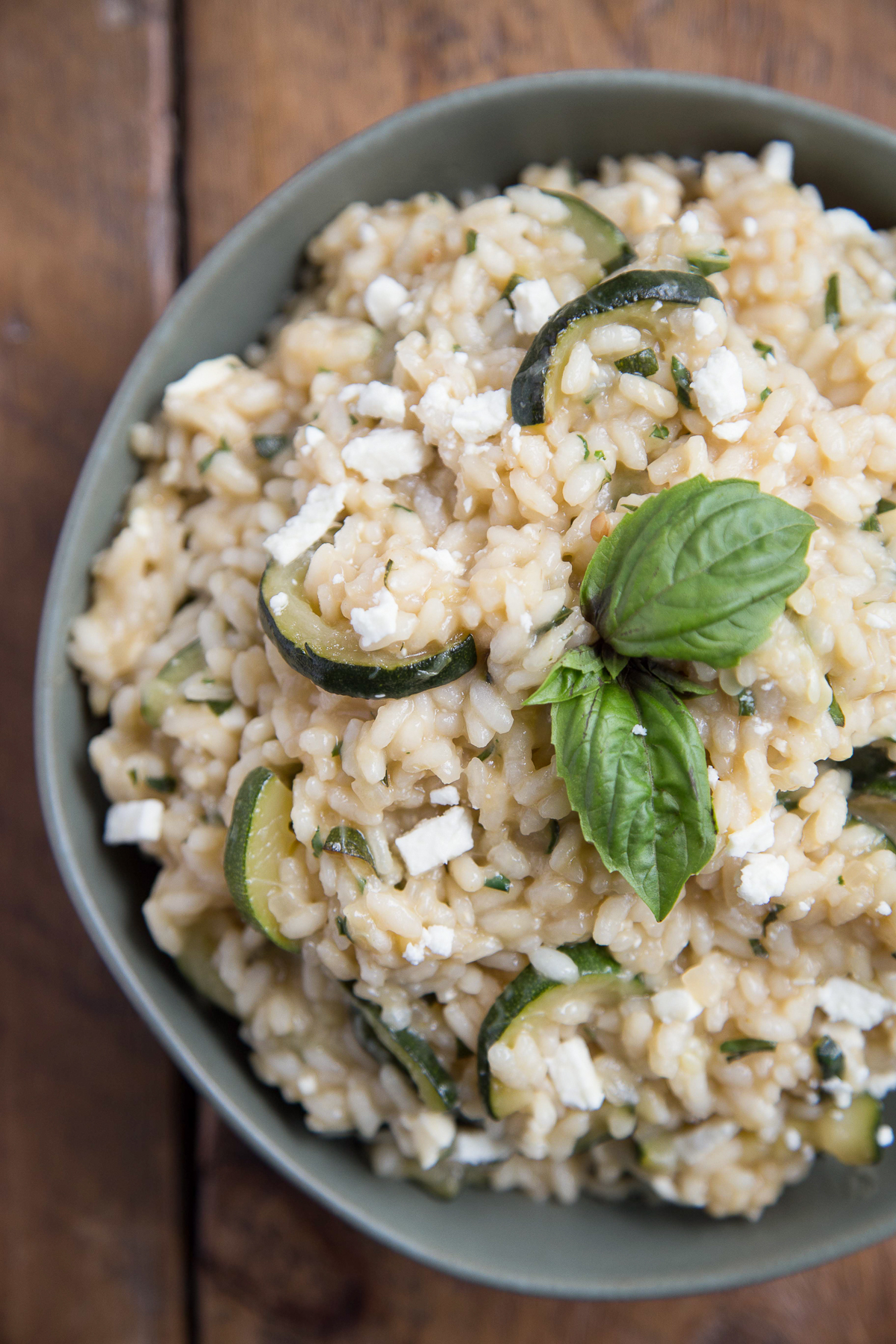 This recipe for Zucchini Risotto with Feta and Herbs is loaded with the flavors of summer: zucchini, fresh basil, and fresh mint.
The salty feta adds the a tangy, creamy kick to the already creamy risotto. I love it as a side dish for grilled chicken, but it would be a hearty vegetarian main dish, too.
Risotto can often get a bad rap for being fussy or time consuming. I promise that it's not. While it takes a bit more effort than say, a pot of rice, it's entirely worth it.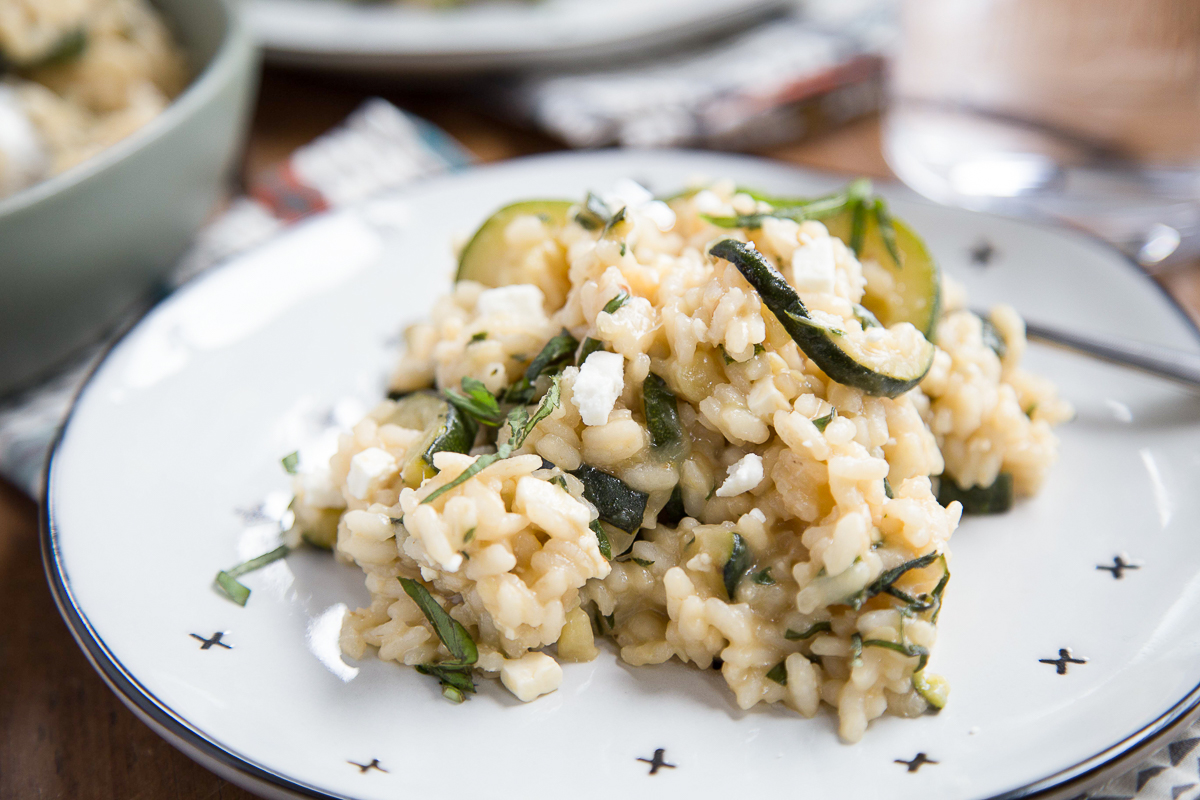 This post contains affiliate links. Affiliate links support Gift of Hospitality at no additional cost to you. I receive a commission if you choose to make a purchase through these links.
Tips for making risotto
The key to creamy risotto is "puddles" of stock in the rice as it is cooking. You don't want the rice to be too dry, nor too wet. Scroll down for a photo!
Use arborio rice or carnaroli rice for the creamiest result.
Use your favorite fresh herbs to complement the zucchini. I like mint and basil.
Ingredients
You'll need two small or one large zucchini. Yellow squash also works.
Shallots add a savory onion-like flavor that complements the other flavors so well.
Fresh mint and fresh basil add lots of herbaceous flavor. Use one or the other if you don't have both (but it's really delicious with both!).
Arborio rice makes the creamiest risotto. Find it in the rice aisle of your local grocery store, typically in a box or a plastic jar.
White wine adds a bit of acidity.
The feta has a tangy bite to it. Use goat cheese as a substitute, if you prefer.
How to make zucchini risotto
Start by sautéeing zucchini in olive oil. Once the zucchini are almost tender, add the finely chopped shallots and sauté those until they are translucent.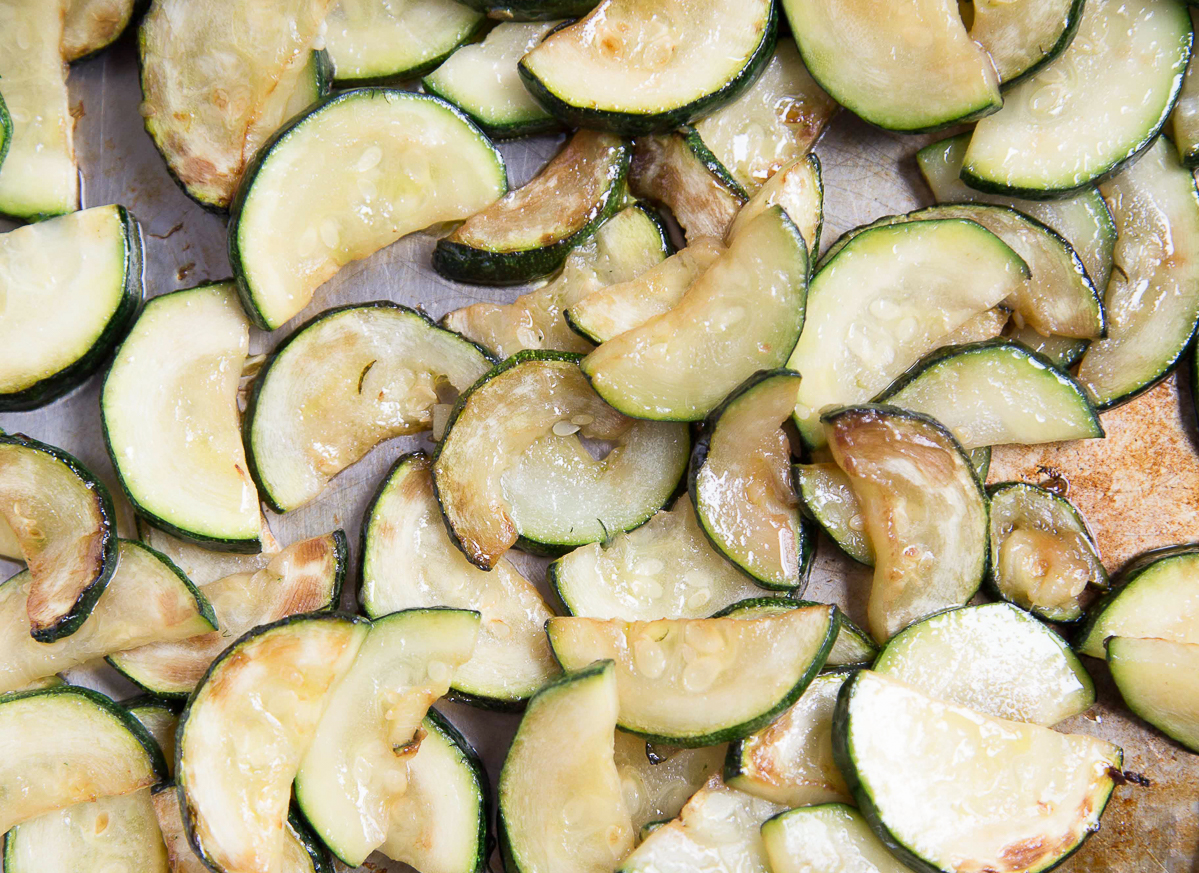 Add the rice and stir it for about a minute, letting the remaining oil soak into the rice. Pour in ½ cup of white wine, and let that cook off (it will essentially evaporate from the heat, but the flavor will still be there.)
Here comes the secret to risotto: add the stock several ladles at a time. As you are adding the stock, you always want to see puddles of stock in the rice.
If it's too wet or too dry, you'll miss out on the starch developing around the rice, which is what creates a creamy risotto.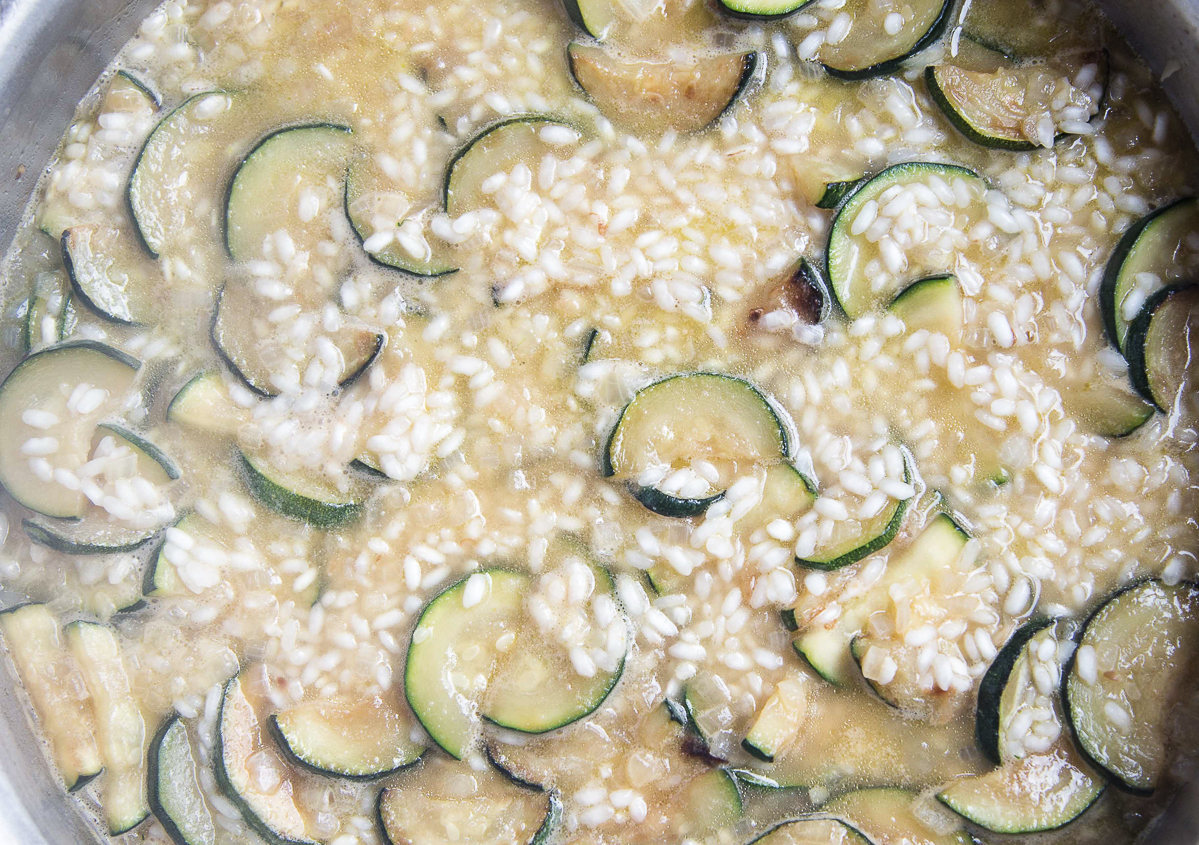 Here's what it should look like as it cooks (note the "puddles" of stock):

I once took a cooking class on risotto from an Italian-born chef, and this was my biggest takeaway. It really works!
While you don't need to stir it constantly, stirring it every 1–2 minutes will also make for a creamy risotto. The rice will be slightly al dente once the last of the stock has soaked into the rice.
The final step is to stir in the herbs and feta. I reserved a little bit of each for garnish.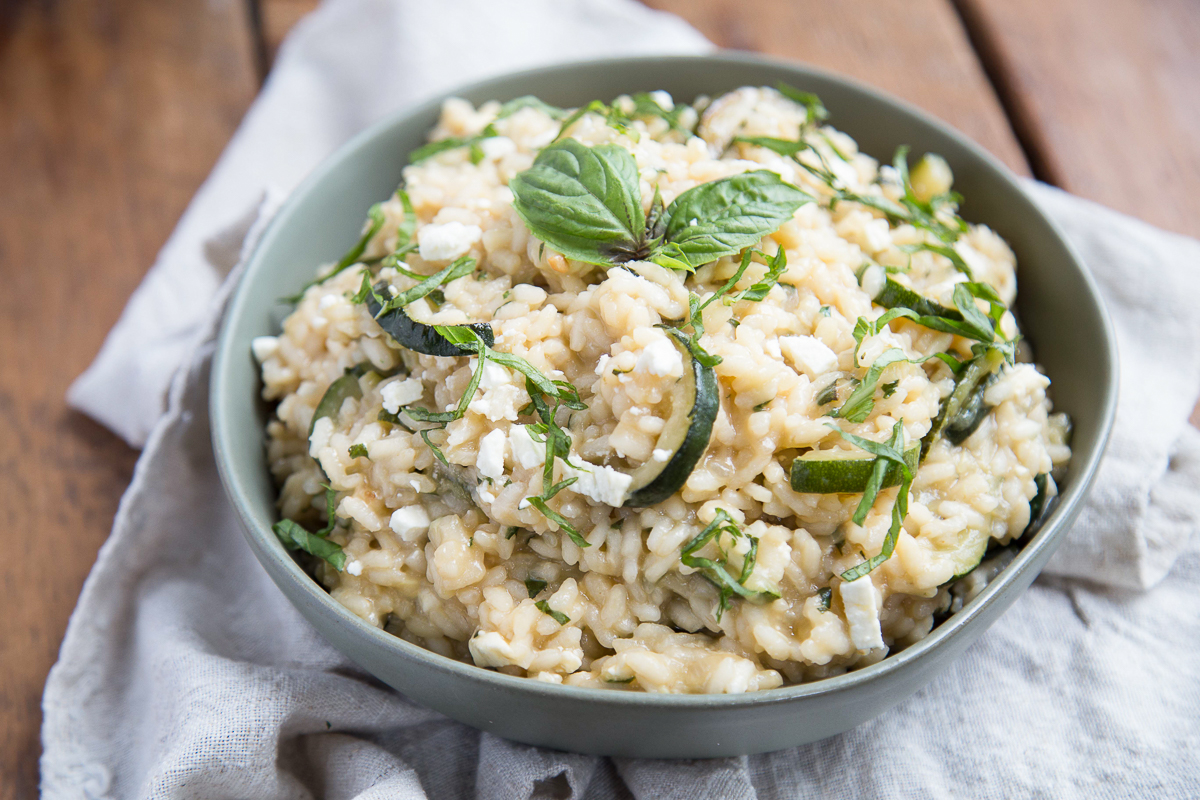 Do I have to stir risotto the whole time?
You don't need to stir it constantly. However, you will need to pay attention to the risotto to add more liquid every few minutes (give it a stir every time you add liquid).
Frequently Asked Questions
How does risotto get creamy without cream?
As the rice cooks, you'll stir the risotto and add more liquid as the rice soaks it up. The process of stirring and adding liquid in stages releases the starches in the rice, which makes risotto creamy.
What's the best type of rice for risotto?
Arborio or carnaroli rice are the best for risotto. You can find either one in your local grocery store, either near the other rice varieties or in the international foods aisle.
Should I rinse risotto rice?
There's no need to rinse rice before cooking it. You want all of those starches to create a creamy risotto.
Why is my risotto crunchy?
It needs more time to cook, and more liquid. Taste the risotto near the end of the cooking time, and add more liquid/time if needed.
Storage and leftovers
Store any leftover risotto in a covered dish in the refrigerator. It'll last up to 5 days. Reheat it either on the stovetop, or in the microwave.
I don't recommend freezing the risotto, since it will change the texture.
Serving zucchini risotto
Zucchini Risotto is one of those dishes that is perfect for guests, or a date night at home. I opted for the latter when I served it, but it's also on my list of recipes to make when vegetarian guests come over.
Here are a few more vegetarian-friendly main dishes that I love:
Red Lentil Dal
Easy Vegetarian Curry with Garlic Butter Naan
Vegetarian Spaghetti Squash Lasagna
Have you tried this recipe? Please leave a ⭐️⭐️⭐️⭐️⭐️ rating and/or comment below!


📖 Recipe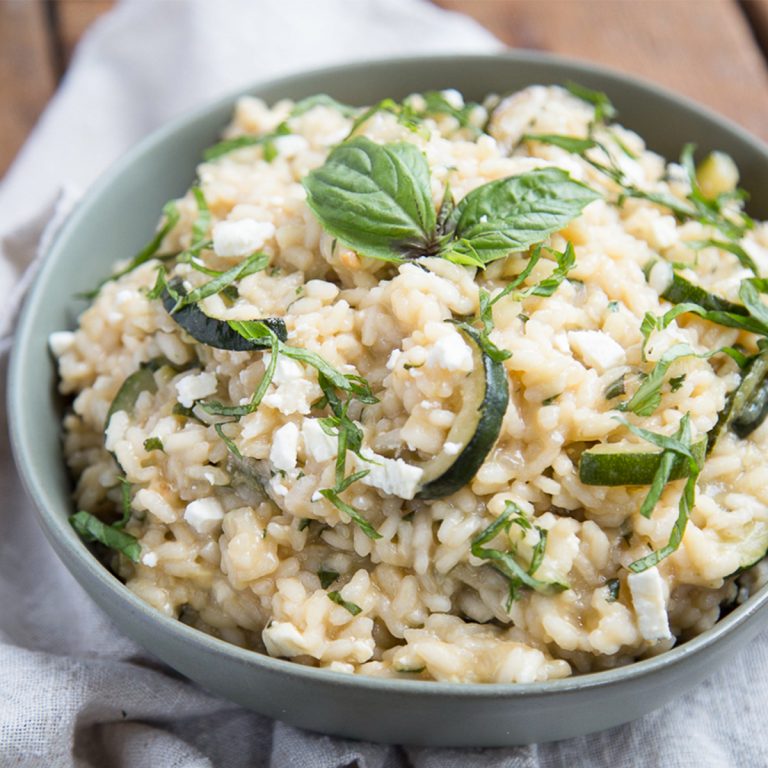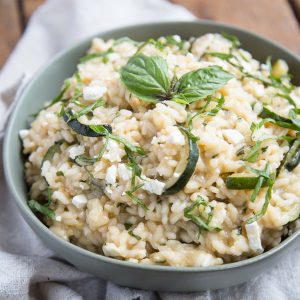 Zucchini Risotto with Basil, Mint, and Feta
This is a hearty vegetarian main dish or side dish that's packed with summer flavor!
Ingredients
2

tablespoons

olive oil

2

small zucchini,

halved lengthwise and sliced into ½ inch thick slices

2

small shallots,

finely chopped

2

cups

arborio rice

½

cup

white wine,

like Pinot Grigio or Sauvignon Blanc

4

cups

(1 quart) vegetable stock + 1 cup water

3

tablespoons

chopped fresh basil

2

tablespoons

chopped fresh mint

1

teaspoon

kosher salt

Fresh ground black pepper to taste

½

cup

crumbled feta,

plus more for garnish
Instructions
Heat vegetable stock and water in a small saucepan until it reaches a simmer.

Meanwhile, heat olive oil in a sauté pan over medium heat. Add the zucchini, and cook until almost tender, stirring occasionally, about 5 minutes. Add the shallot and cook for 2 more minutes.

Add the rice and stir to coat the rice with the remaining oil. Cook for 1 minute. Pour in the white wine and cook until the wine is almost evaporated.

Reduce heat to low. Add 1½ cups of the warm vegetable stock to the sauté pan. Cook, stirring occasionally, until the puddles of stock have disappeared (the rice should still be surrounded by liquid). Add another ladle or two of stock, until the rice is just covered again. Repeat, stirring occasionally, until all of the stock has been added to the rice and the rice is al dente.

Remove from the heat. Stir in the chopped basil, chopped mint, and ½ cup of feta cheese. Transfer to a serving dish and garnish with additional feta. Serve immediately.
Notes
While it's a nice addition, the white wine is not a must. If you don't have it or don't wish to use it, sub ½ cup vegetable stock for the wine. If you're not concerned with the dish being vegetarian, you can use chicken stock instead of vegetable stock. Feta is not always vegetarian, though some vegetarians eat it. If you are serving it to a vegetarian guest, I suggest leaving the feta on the side.
Nutrition
Serving:
1
/4 of the recipe
Calories:
458
kcal
Carbohydrates:
74
g
Protein:
18
g
Fat:
14
g
Saturated Fat:
6
g
Polyunsaturated Fat:
0
g
Trans Fat:
0
g
Cholesterol:
17
mg
Sodium:
1519
mg
Fiber:
6
g
Sugar:
4
g
Related recipes