You just need 10 minutes to create this gorgeous Peach Apricot Bellini. Read on for instructions for how to enjoy them year-round when peaches aren't in season!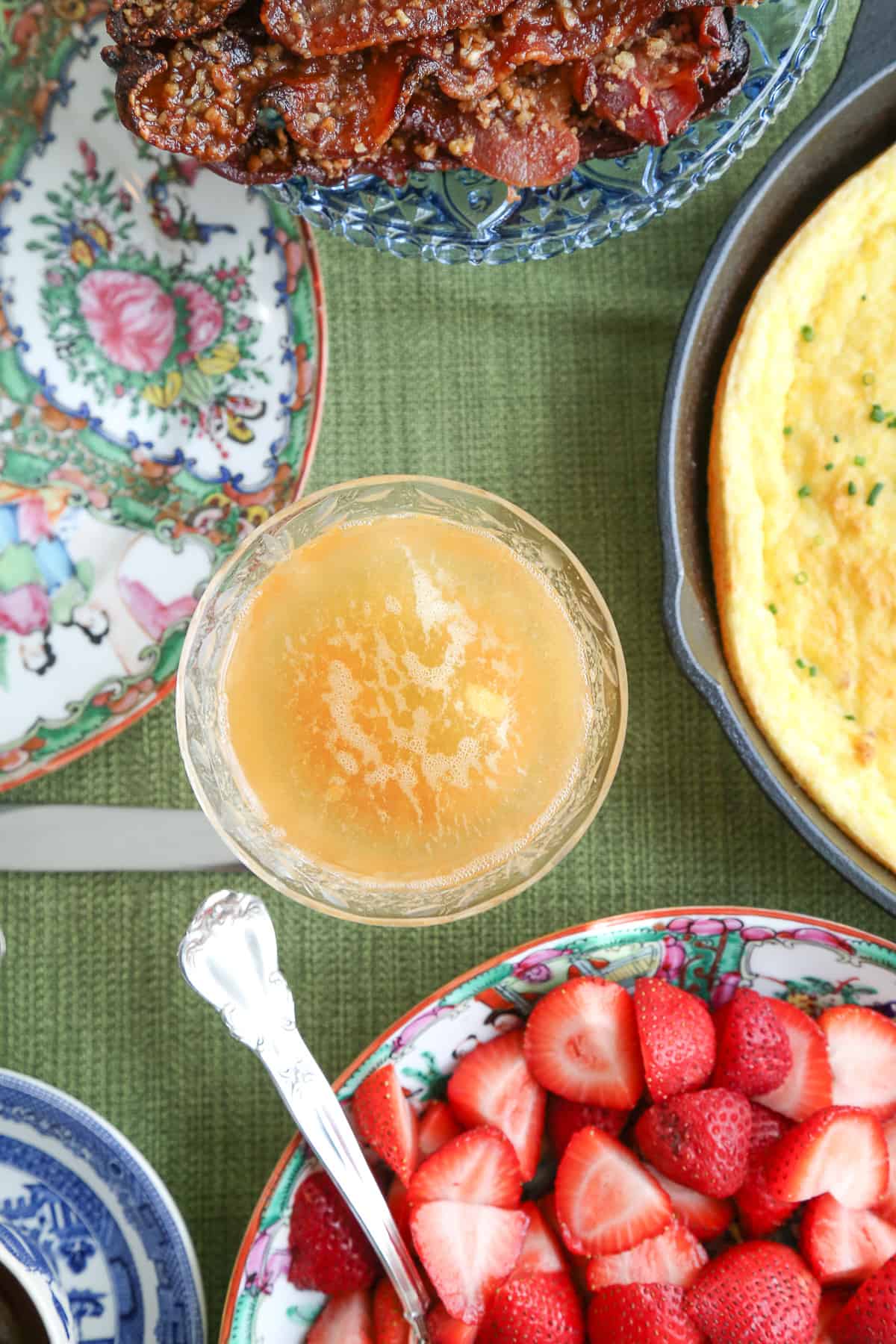 In my eyes, peach season can't last long enough! Peaches just taste like summer, and they're super delicious in a cocktail.
I've figured out how to bring back that taste all year round, even in the middle of winter, with the Peach Apricot Bellini.
What's the origin of a bellini?
The bellini was created in the mid-1900s by Giuseppe Cipriani. He was the founder of Harry's Bar in Venice, Italy, and he created the cocktail during the local four-month-long peach season.
He mixed ripe white peach purée with prosecco to create the light pink drink, using one part purée to two parts prosecco. The beautiful hue reminded him of a color he'd seen in a painting by Giovanni Bellini, and the Bellini cocktail was born.
Bellini ingredients
A ripe peach and a ripe apricot create the fruit purée.
Lemon juice and a little bit of brown sugar enhance the flavor of the fruit.
Prosecco is the bubbly of choice. A dry sparkling wine or cava would work here, too.
I love white peaches, but it's rare to find them ripe and ready to eat in Chicago. The good news is, yellow peaches work perfectly for this. And the addition of the apricot adds a slightly tart flavor that makes these bellinis just a little bit more unique.
How to make a bellini
Remove the pits from the fruit and place them in a food processor. Leave the skins on—we will strain the mixture later. Add the lemon juice and brown sugar, and purée the fruit.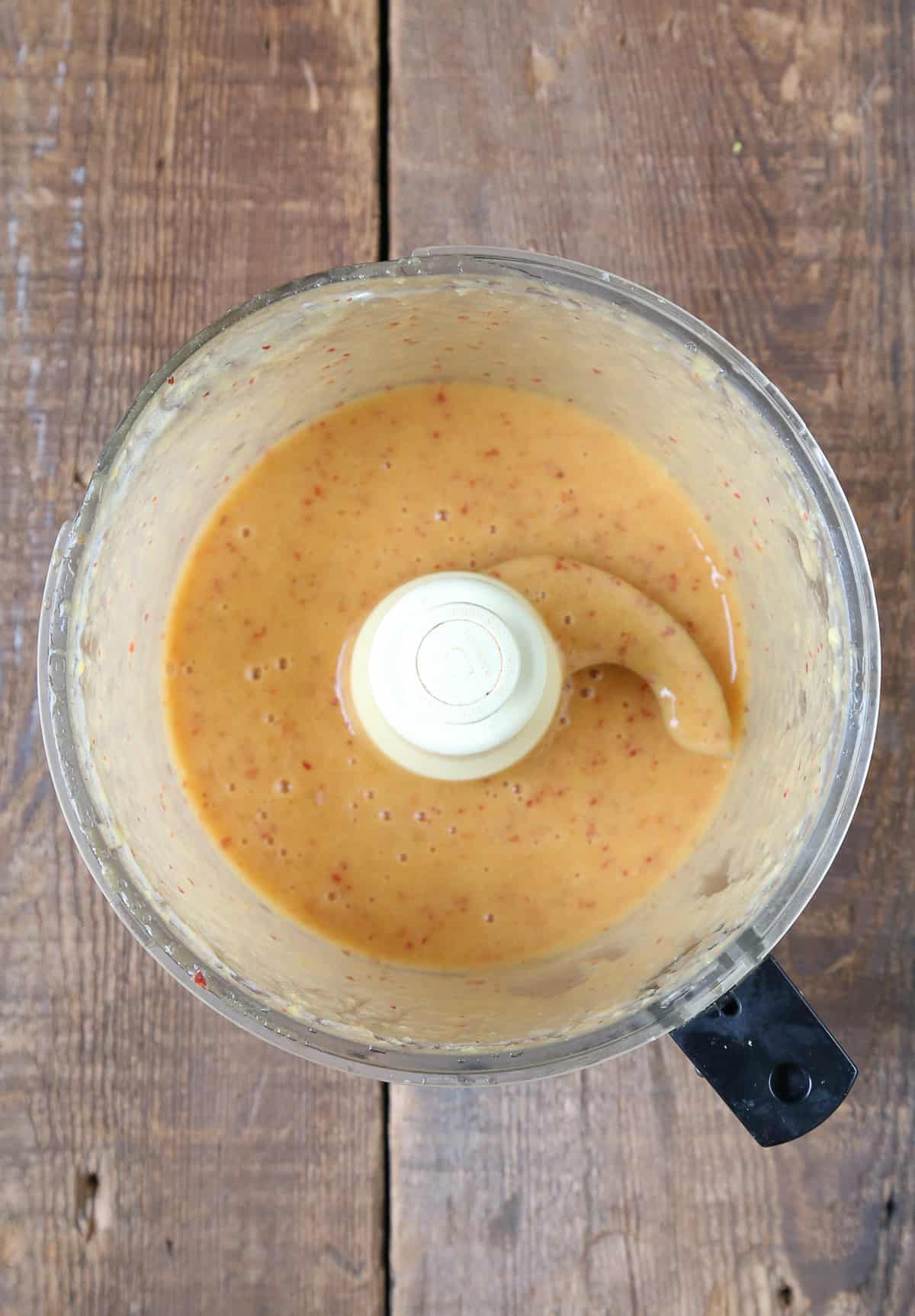 Strain the mixture in a fine mesh sieve. Use a spatula to press down on the liquid if necessary.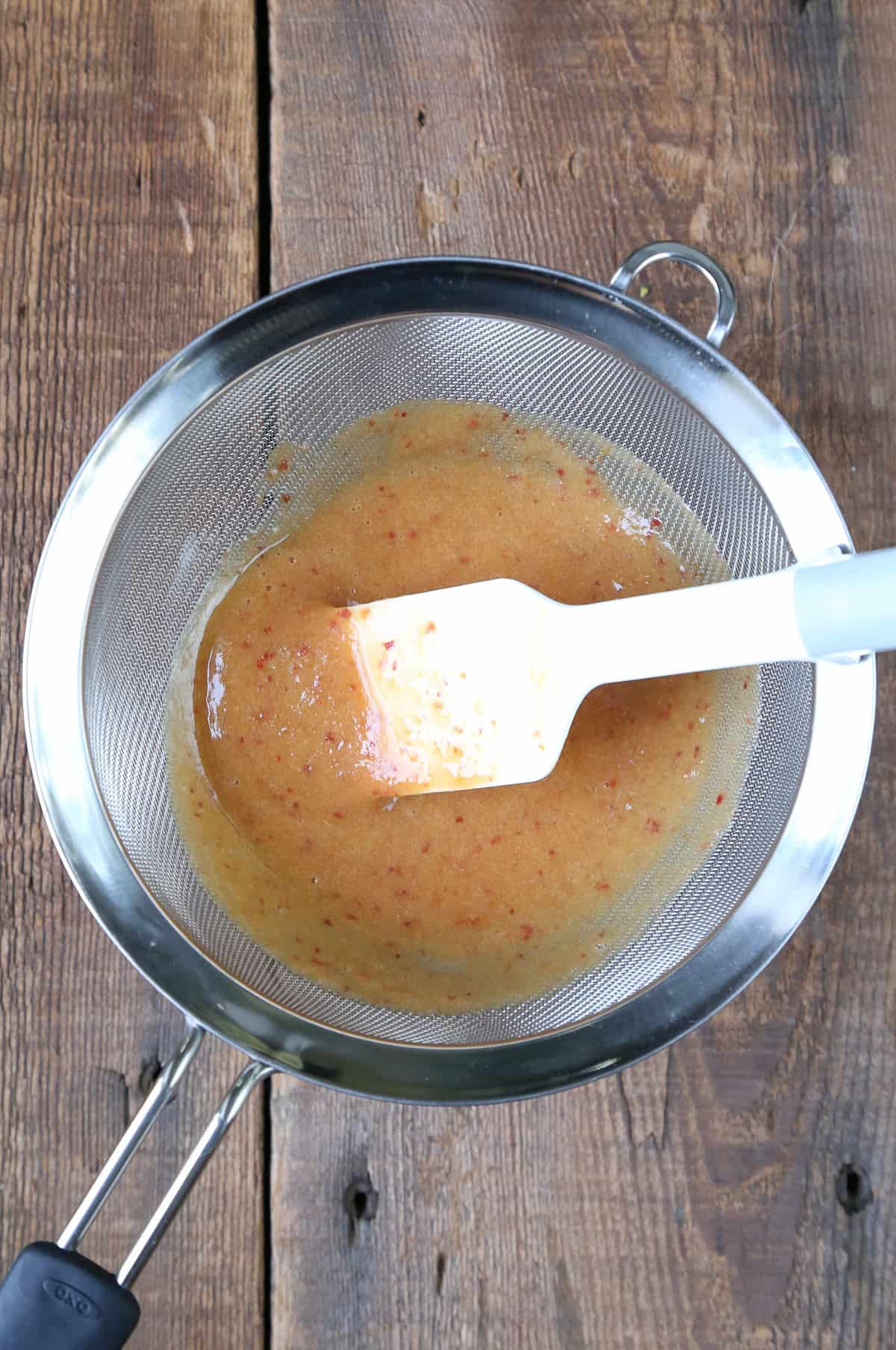 The result is a silky fruit purée that's ready for some cocktail making!
To make the cocktail, spoon one tablespoon of purée into a champagne flute or coupe, then fill the rest with prosecco. If you like a sweeter or fruitier cocktail, then add more purée. That's it! You've just made a Peach Apricot Bellini.
How to freeze fruit purée
The idea of a year-round bellini is from the recipe's creator himself. Giuseppe had wondered, how would he serve the crowds of people hankering for a bellini when peach season was over?
He learned to freeze the puréed fruit so he could delight fans year-round.
To do this, spoon the leftover purée into ice cube trays. Once they're frozen, pop them out and place in a resealable, freezer-safe bag. They'll keep for several months, or at least until you can get your hands on peaches again.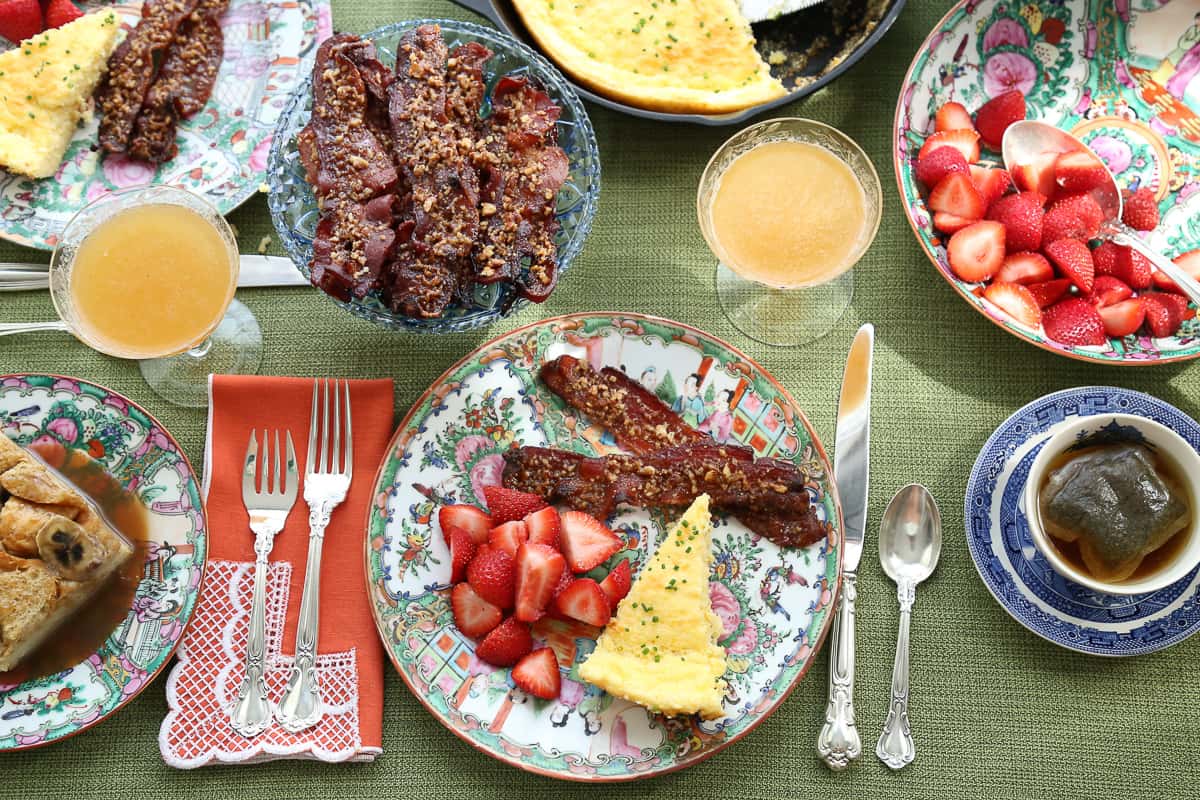 If you're looking to change it up, how about a plum bellini? Or a nectarine apricot bellini? Any stone fruit would work well here, including the white peaches used in the original beverage.
Frequently Asked Questions
What alcohol do I use for bellinis?
Prosecco is traditionally used in a bellini. You can substitute a dry sparkling wine or a cava instead.
Which glass is best for a bellini?
You can use either a coupe or a champagne glass for a bellini.
Can I use a different fruit for a bellini?
White peaches are traditional in a bellini. You can substitute yellow peaches, nectarines, or apricots.
Can I make this without a food processor?
The blade of a food processor is necessary for puréeing the fruit. If you have a high speed blender, you can use that instead. Use a splash of orange juice to get the blender going if needed.
Serving suggestions
There are two glass options for serving a bellini: a champagne glass or a coupe.
I'm partial to a coupe. A coupe was originally used for champagne, but fell out of favor when the champagne flute was shown to release fewer bubbles and keep the drink fizzy for a longer period of time. The coupe is making a comeback thanks to the craft cocktail movement, and it makes such a pretty presentation for this.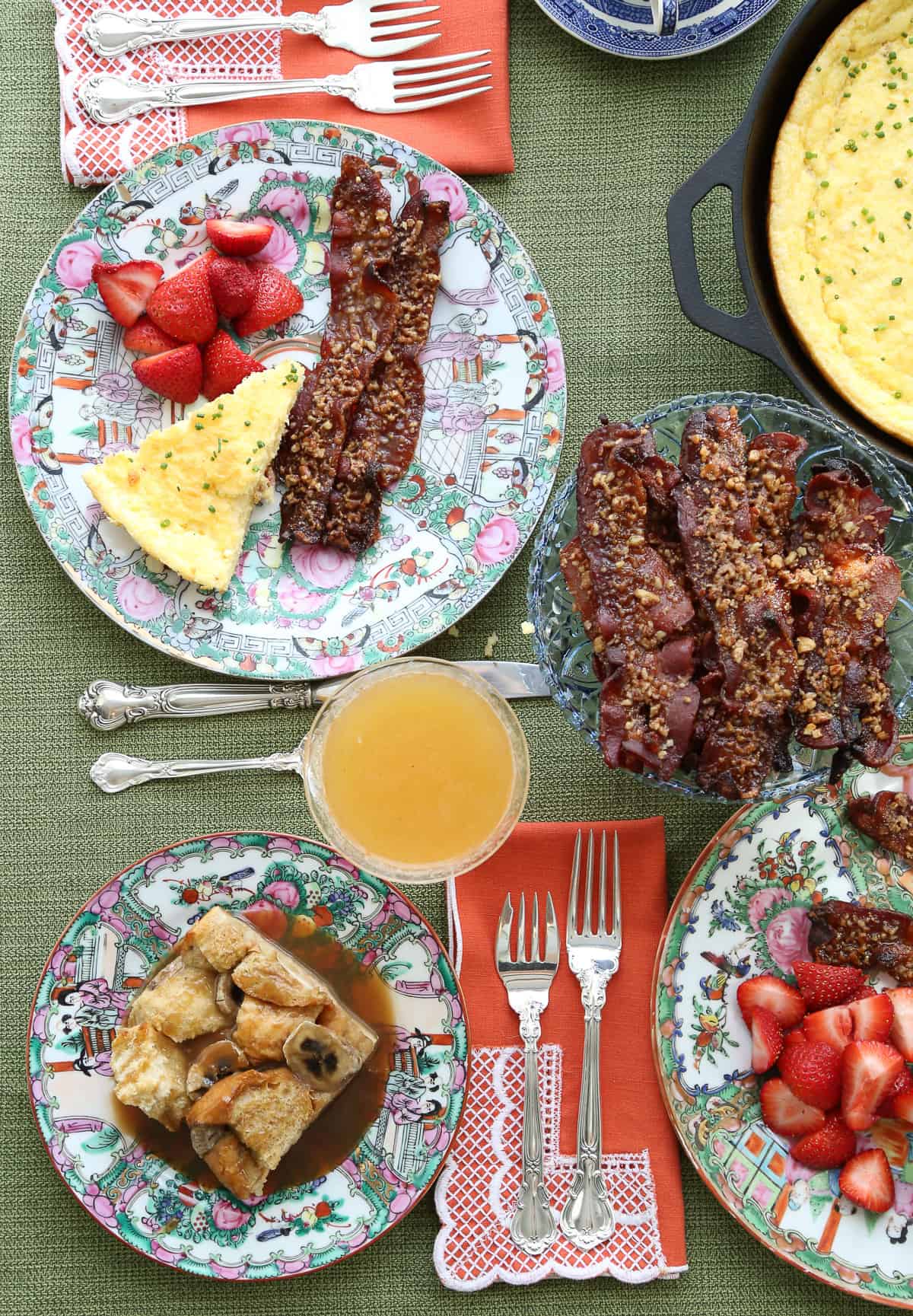 The Peach Apricot Bellini was part of a Southern-themed brunch that I threw with Kelley of Haviland Events.
She supplied the adorable table settings and I supplied the food, and we most definitely had more than one of these festive cocktails as we noshed on our brunch.
The full spread included Bacon Cheddar Spoon Bread, Banana Bread French Toast Casserole, and Praline Candied Bacon, topped off with these Peach Apricot Bellinis.
Have you tried this recipe? Please leave a ⭐️⭐️⭐️⭐️⭐️ rating and/or comment below!


📖 Recipe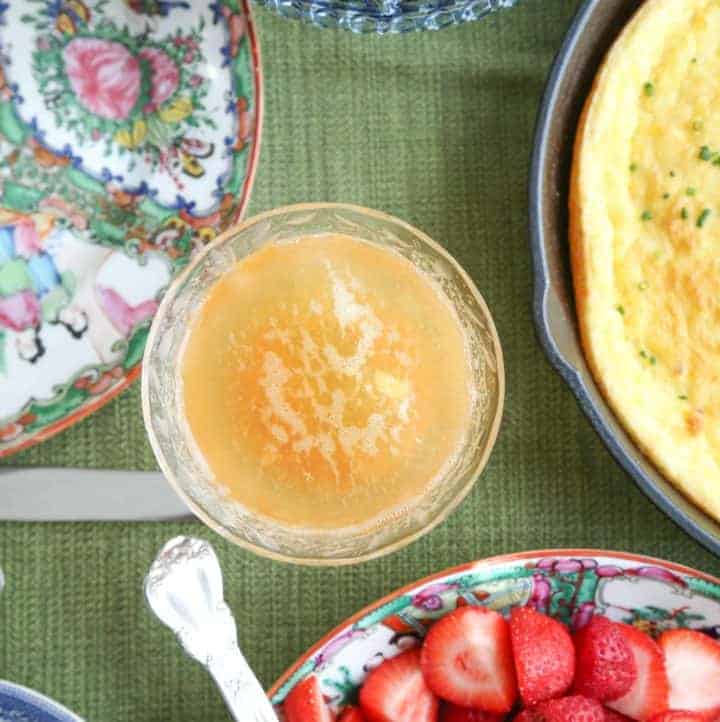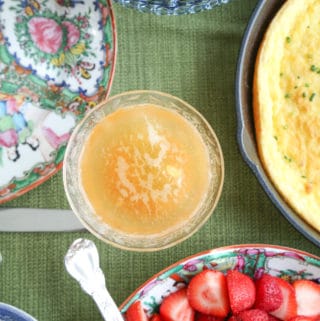 Peach Apricot Bellini
Enjoy every last bit of peach season with this fresh cocktail!
Ingredients
1

ripe peach

1

ripe apricot

1

tablespoon

lemon juice

2

tablespoons

brown sugar

1

bottle prosecco or sparkling wine,

chilled
Instructions
Remove the pits from the peach and apricot and chop roughly. Place the fruit in the bowl of a food processor fitted with a steel blade. Add the lemon juice and brown sugar. Process until the fruit is puréed.

Place a fine mesh strainer over a bowl. Pour the purée through the strainer, pressing the solids with the back of a spatula to release more juice. Discard solids.

Place 1 tablespoon of the fruit purée into a champagne glass. Fill the rest of the glass with the prosecco or sparkling wine. Serve immediately.
Notes
Tip: freeze leftover purée in ice cube trays. Once frozen, place the cubes in a resealable freezer-safe plastic bag. Defrost in the refrigerator when ready to use.
I used La Marca prosecco for this recipe.
Nutrition
Calories:
90
kcal
Carbohydrates:
9
g
Protein:
1
g
Fat:
1
g
Saturated Fat:
1
g
Sodium:
10
mg
Potassium:
173
mg
Fiber:
1
g
Sugar:
8
g
Vitamin A:
194
IU
Vitamin C:
3
mg
Calcium:
15
mg
Iron:
1
mg
Related recipes