This post has been sponsored by Tyson Foods, Inc. All thoughts and opinions are my own.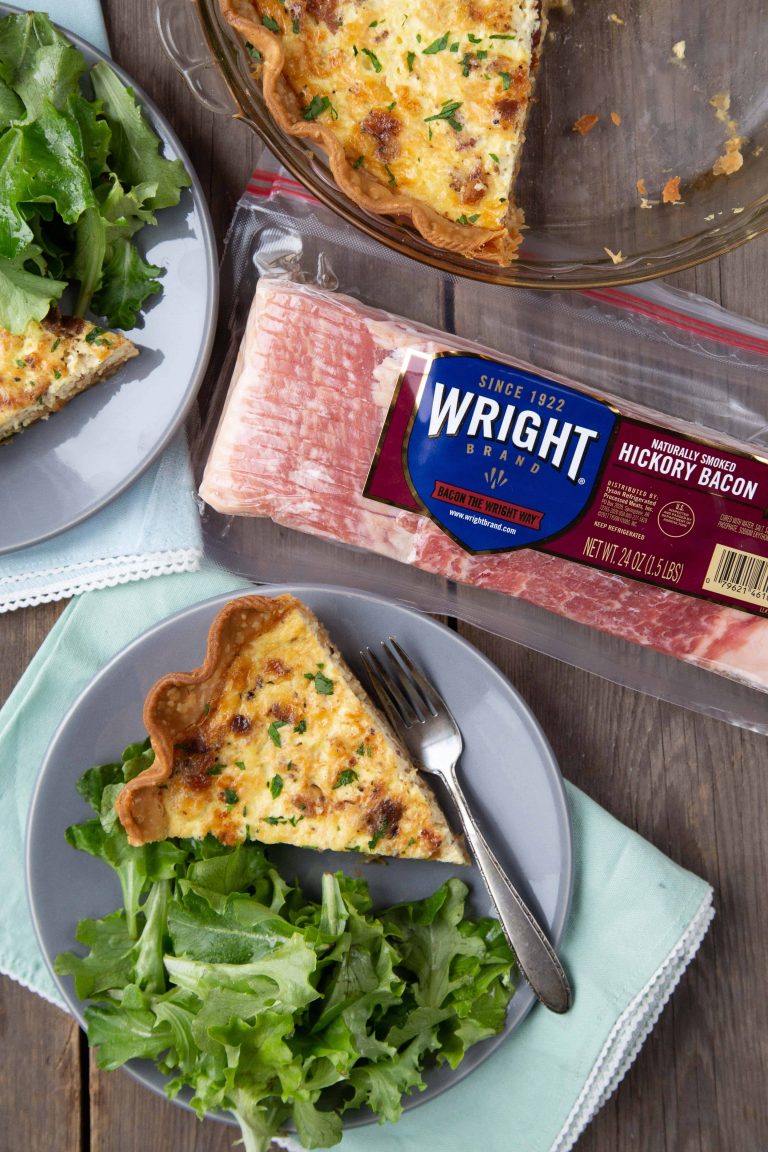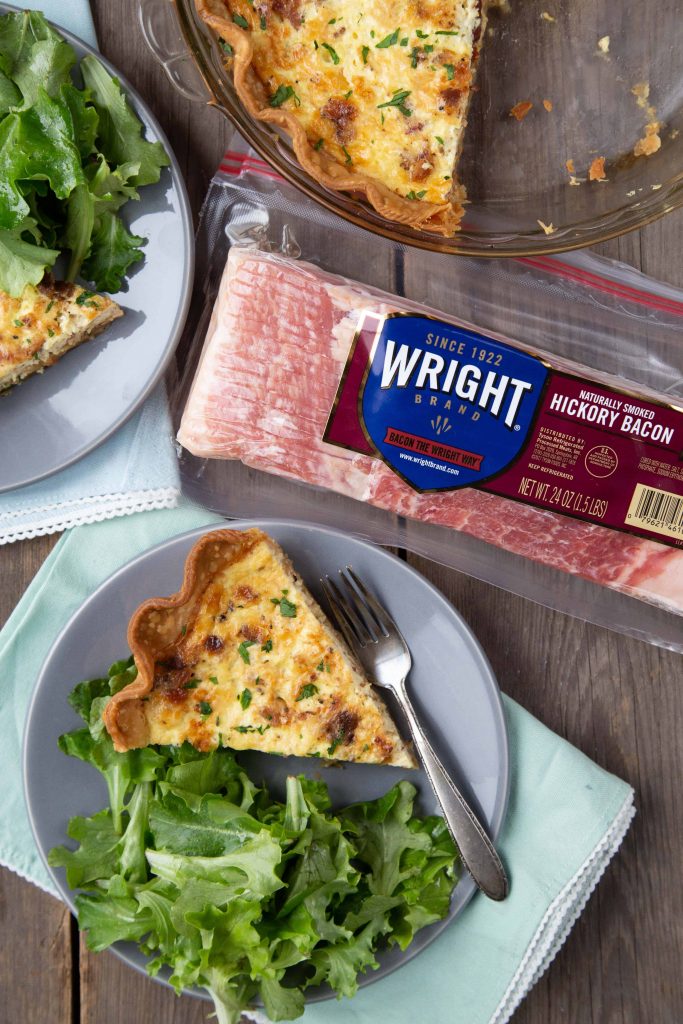 I love any excuse to celebrate, especially when it involves food. The beginning of spring is definitely a cause for celebration in Chicago—it's been a long winter! And with Easter coming later in April, I'm sharing a dish for a spring or Easter brunch: Alsatian Quiche with Bacon and Caramelized Onions.
There are two stars of this quiche: Wright Brand® Hickory Smoked Bacon and caramelized onions. I found Wright Brand® Bacon at Jewel-Osco, which is right down the street from where we live. I love that I can walk there to get groceries! Purchase today and look for an on-pack redeemable coupon for $1.50 off at participating Jewel-Osco stores. As a side note, they also have awesome produce sales on items like berries, which I can't get enough of this time of year.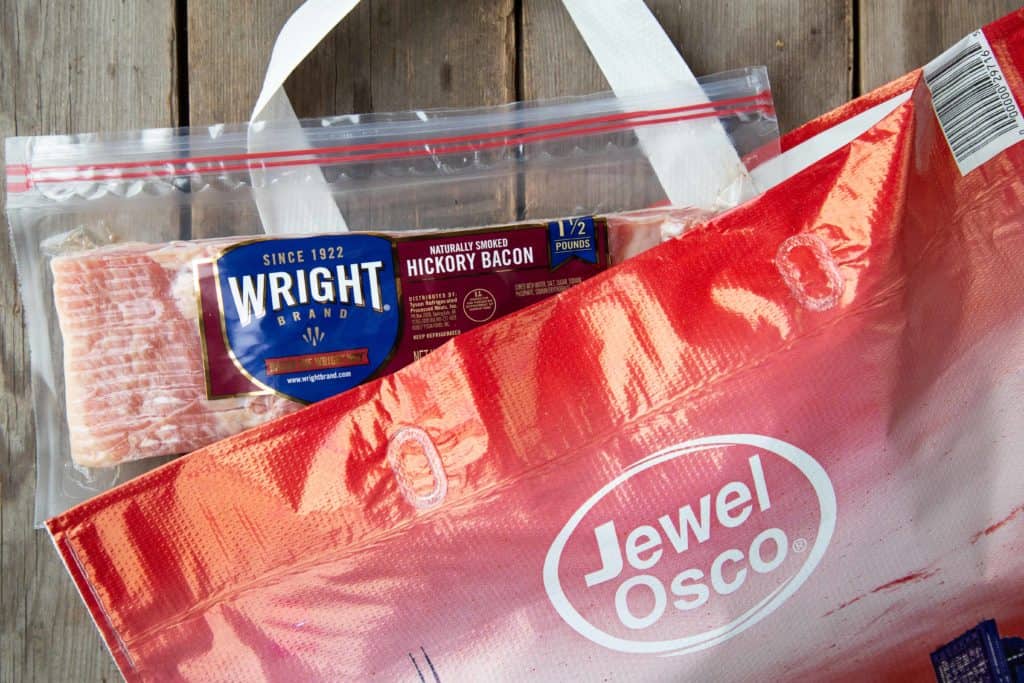 Star #1: Wright Brand® Hickory Smoked Bacon
You know the bacon that practically dissolves into nothing when you cook it? This is NOT that bacon—Wright Brand® Bacon stays nice and thick! And it crisps up perfectly when you cook it. It's hand-trimmed and thick-sliced, and it's been crafted by experts since 1922—this is some seriously premium bacon!
Purchase Wright Brand® Bacon today at your local Jewel-Osco and look for an on-pack redeemable coupon for $1.50 off at participating Jewel-Osco stores.
Star #2: Caramelized Onions
The process of caramelizing the onions takes about 30 minutes, but I promise that it's worth it. It creates an amazing sweetness and depth of flavor that pairs so nicely with the bacon. Best of all, we'll cook the onions in the bacon drippings, which add incredible flavor.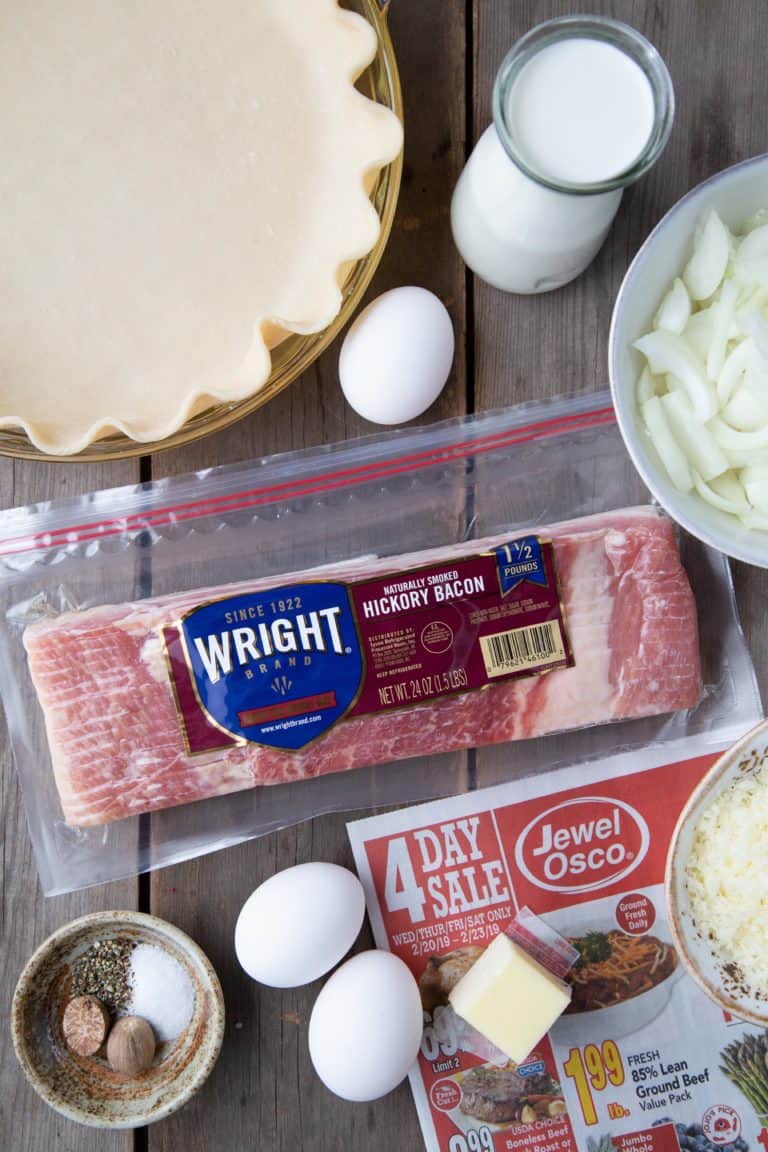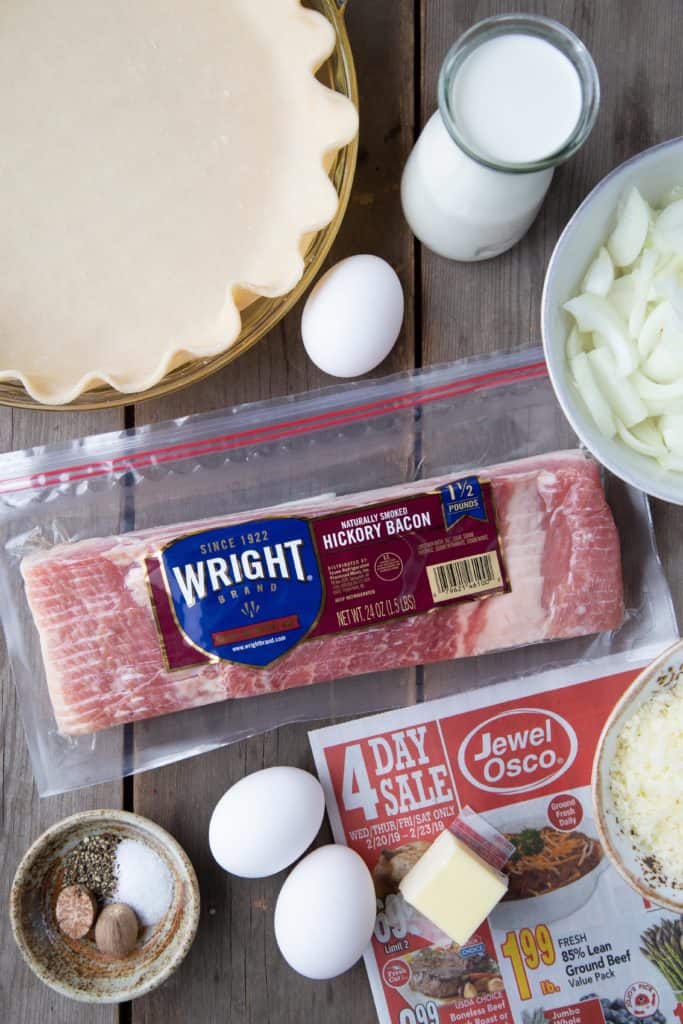 The Process
I started with a refrigerated pie crust. You could absolutely make your own crust, if you prefer. Since caramelizing the onions is a lengthy process, I chose to save time on the crust.
The first step is called par-baking the crust. It involves cooking the crust slightly before adding the filling, which prevents the crust from getting soggy.
Next, I cooked the Wright Brand® Bacon. I did this in a pan on the stove, and it took roughly 6–8 minutes. You're looking for crisp bacon here, since it'll get crumbled and baked into the Alsatian Quiche.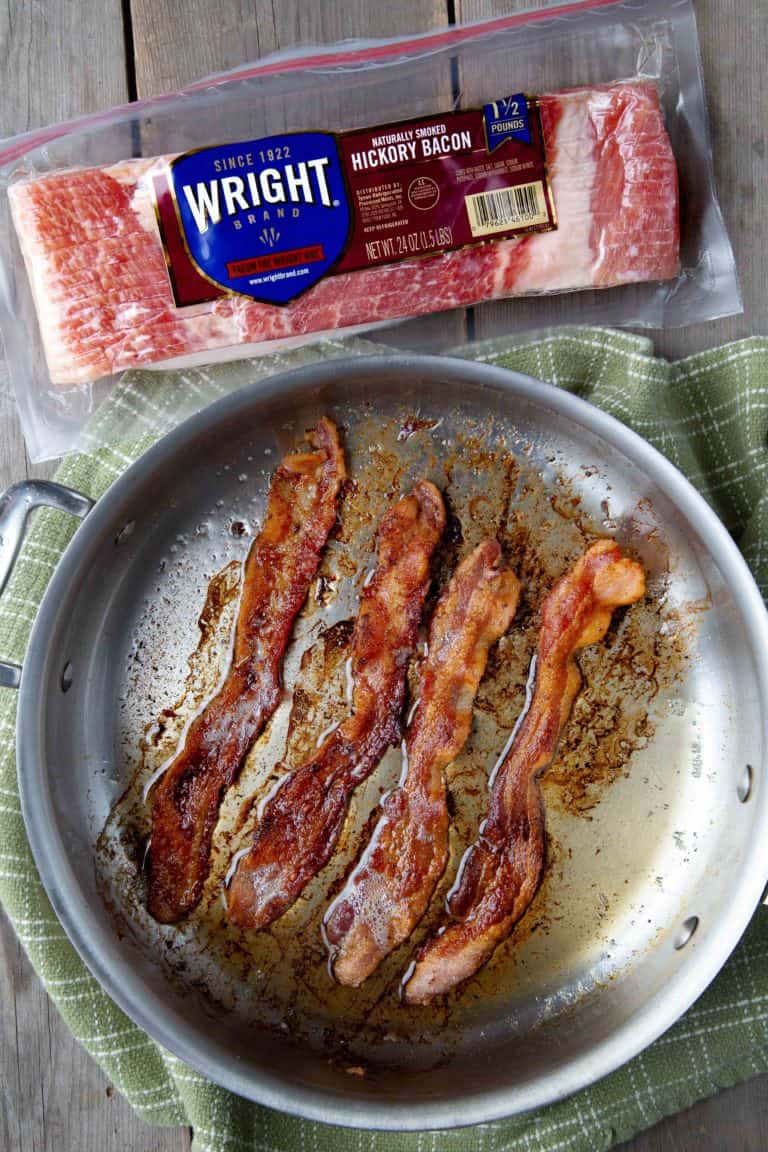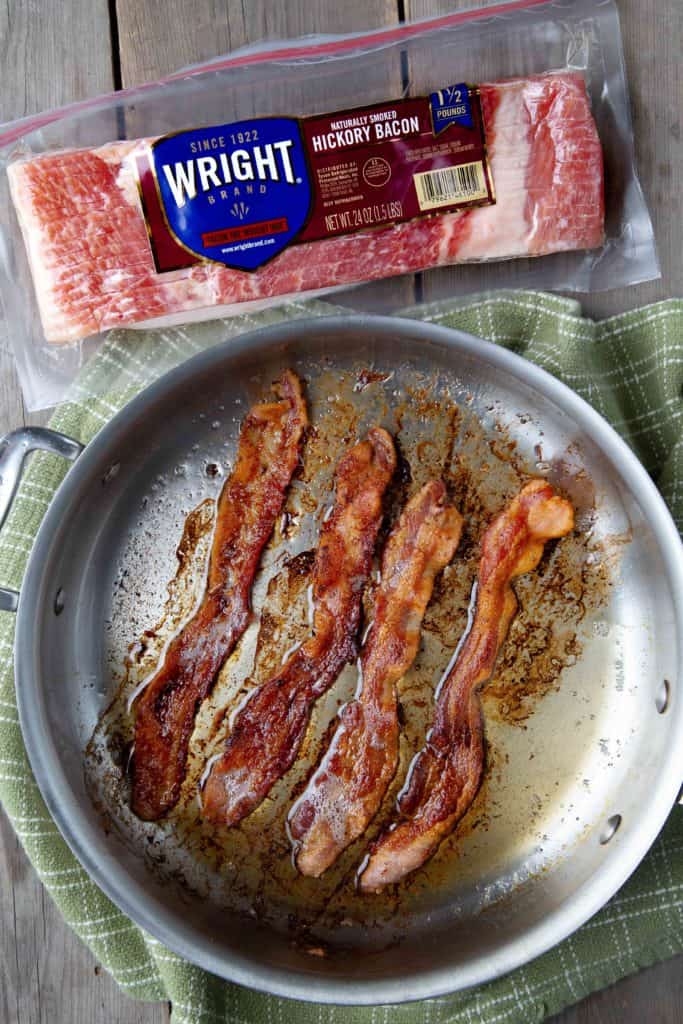 Then I cooked the onions in the bacon fat—might as well use what we have! It gives the onions just a hint of hickory smoke flavor that is irresistible.
I started with 2 medium yellow onions, sliced: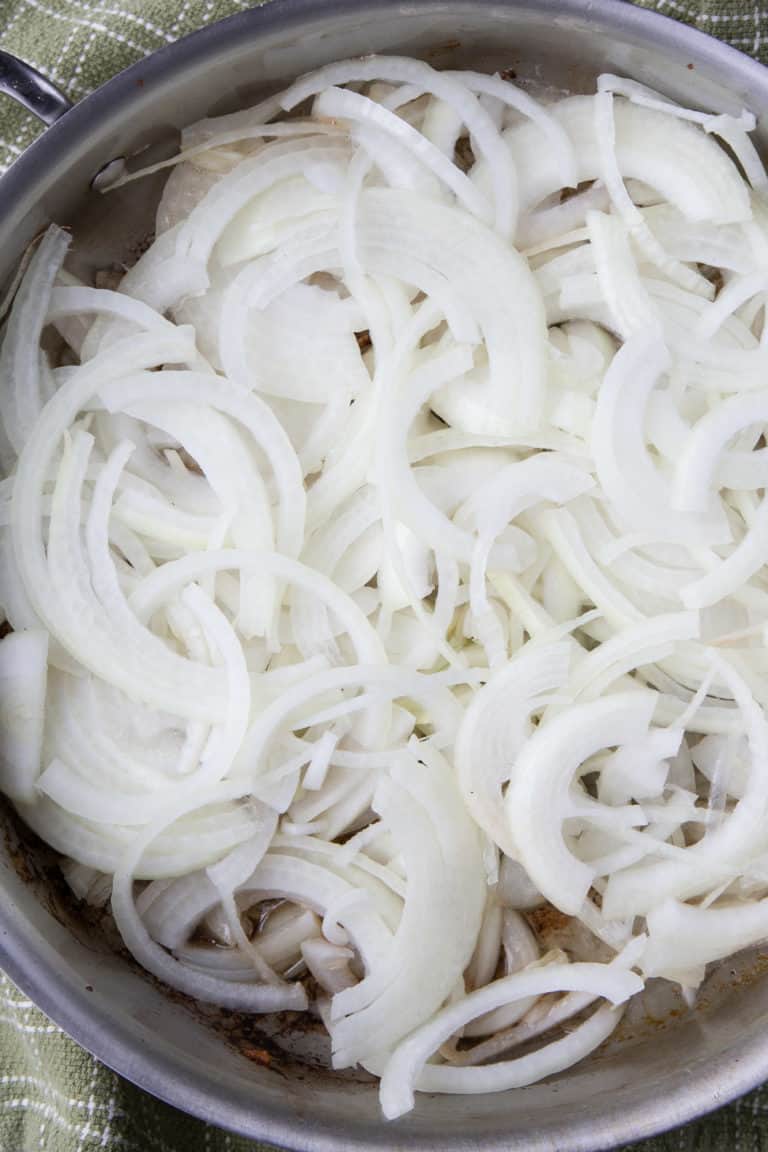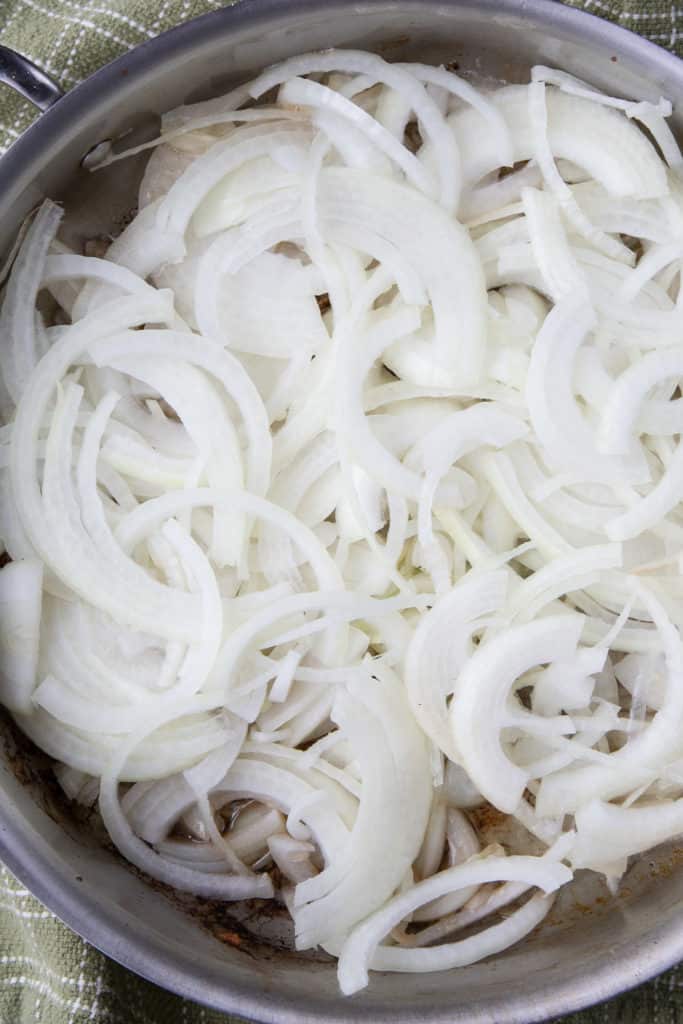 At the end of 30 minutes, they cooked down to this: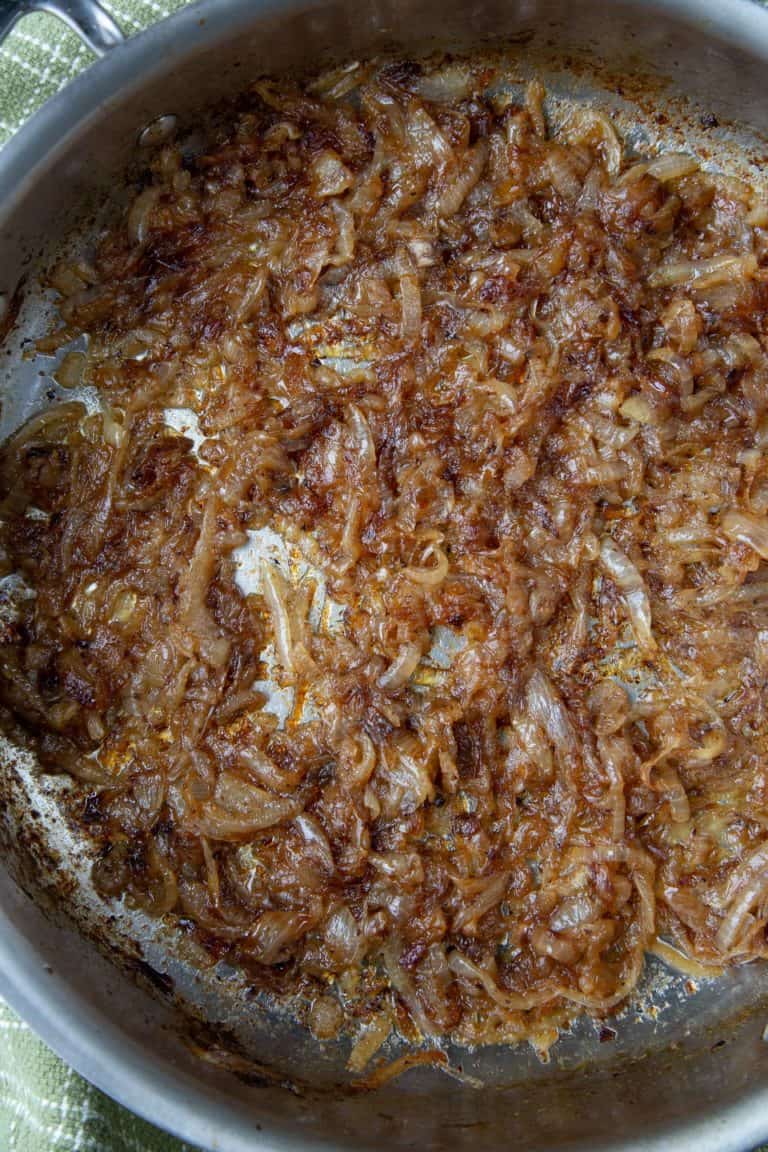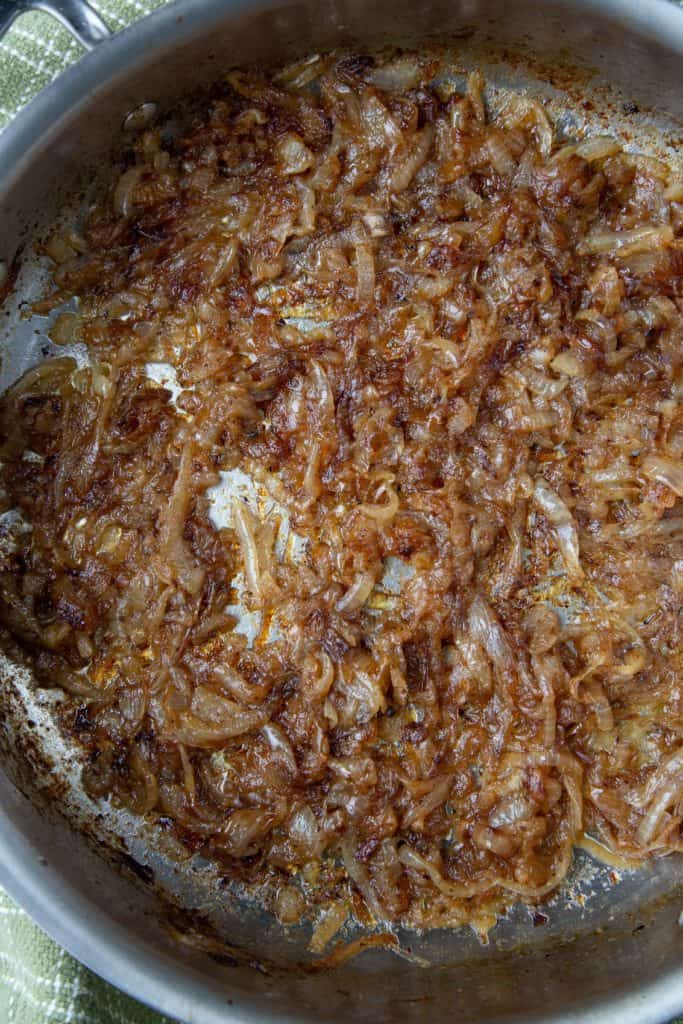 Next, I layered the caramelized onions and crumbled bacon on top of the par-baked crust, then poured a mixture of 3 eggs and 1½ cups half & half over the top. You may be wondering—if this is a quiche, why are there only three eggs?
The truth is, the secret to a light and fluffy quiche is a ratio of 1 egg to ½ cup half & half. So for this Alsatian Quiche recipe, I used 3 eggs and 1½ cups half & half. Any more eggs and liquid would have led to an overflowing quiche, and no one wants to clean their oven on Easter morning!
Finally, I sprinkled ½ cup of gruyere cheese over the top before cooking. It's nutty and a little bit earthy (in a good way) and pairs really well with the caramelized onions and bacon.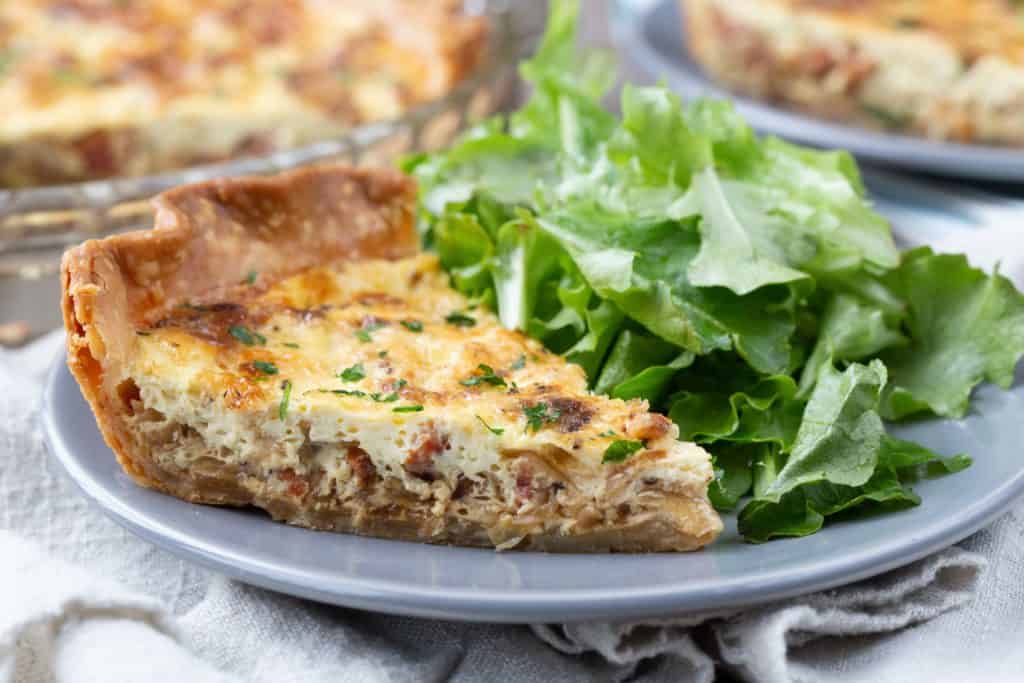 Alsatian Quiche: The Result
The end result is an Alsatian Quiche that is packed with flavor! The bacon adds a light hickory smoke profile, the caramelized onions add sweetness, and the gruyere adds a nuttiness to the finished dish. The bonus is that it's all packed in a crispy, flaky pastry crust.
Alsatian Quiche would be a delightful addition to an Easter or spring brunch—guests of all ages will love it. I like serving a green salad on the side. I find that the freshness of the salad nicely complements the big, bold flavors of the quiche.
To complete the brunch, muffins and a fruit salad would be easy additions. And while you have a package of Wright Brand® Bacon open—how about this Praline Candied Bacon as another side dish? People go CRAZY for it and it's another perfect recipe for the premium, thick-cut bacon.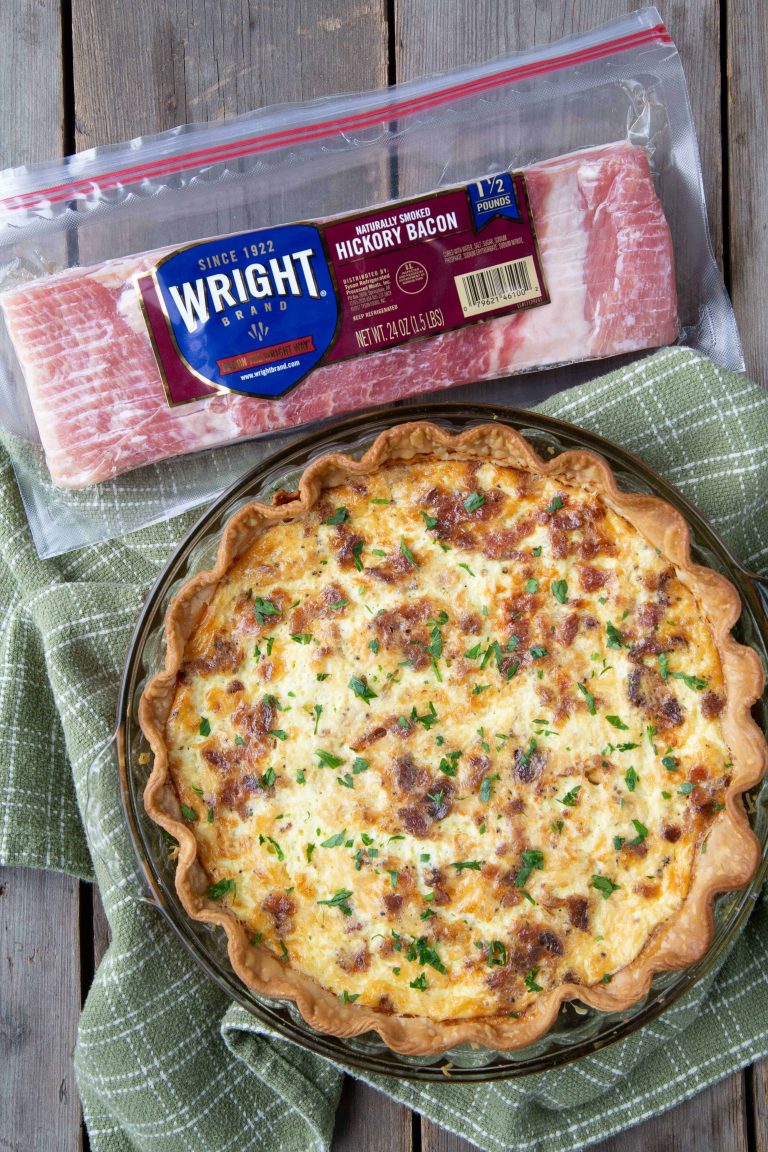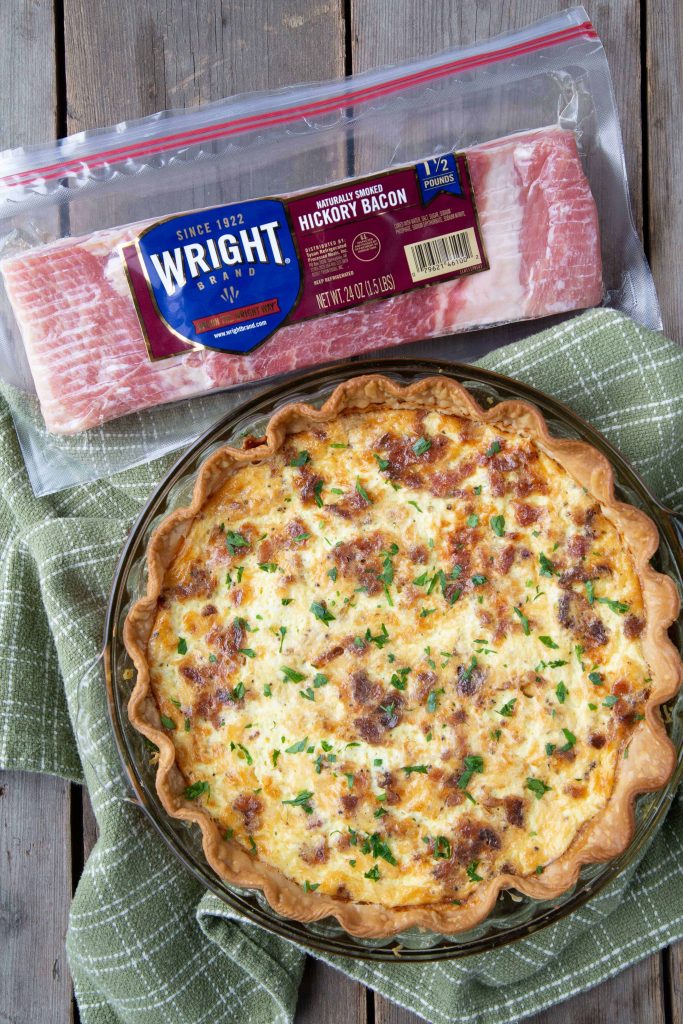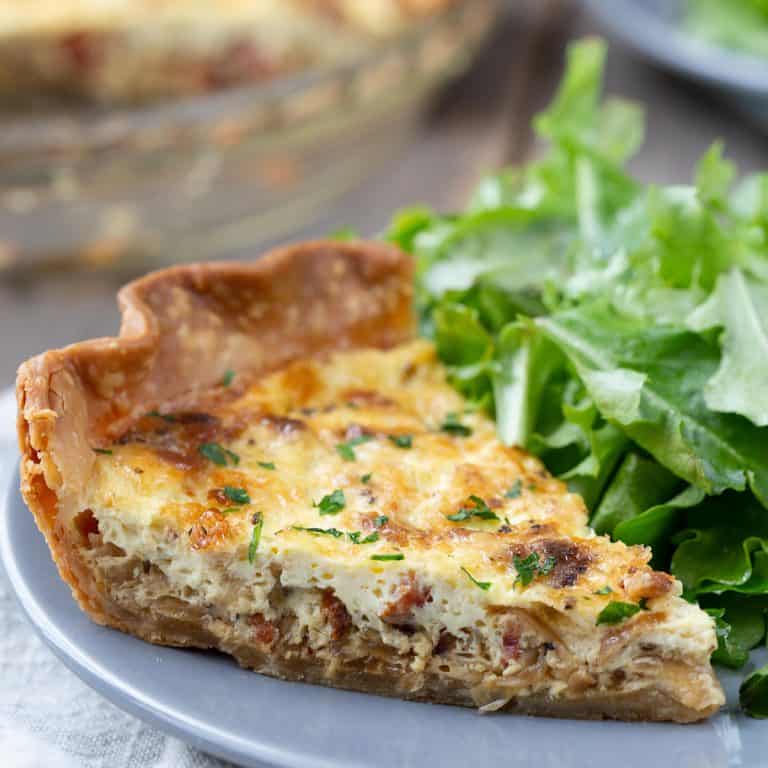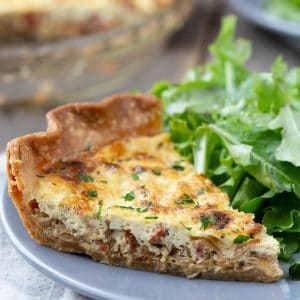 Alsatian Quiche with Bacon and Caramelized Onions
This is a spin on an Alsatian tart, made with caramelized onions, thick-cut bacon, and smoky Gruyere cheese. Perfect for brunch!
Ingredients
1

refrigerated pie crust

4

strips Wright® Brand Hickory Smoked Bacon

1

tablespoon

butter

2

medium yellow onions,

halved and thinly sliced

3

eggs

1½

cups

half & half

1

teaspoon

kosher salt,

divided

¼

teaspoon

freshly ground pepper

Pinch

of freshly grated nutmeg

½

cup

shredded Gruyere cheese
Instructions
Preheat oven to 375°F. Unroll the pie crust and place in a 9-inch pie dish. Flute the edges or press with a fork to crimp the edges.

Prick the bottom of the pie crust with a fork. Place a piece of parchment paper on the bottom of the pie crust and fill with pie weights (dried beans work, too!). Bake the crust for 10 minutes in the preheated oven. This is called par-baking the crust.

Meanwhile, place the bacon in a large skillet over medium heat. Cook until crisp, flipping once, about 6–8 minutes. Remove the bacon from the pan and place on a paper towel lined plate to drain. When the bacon has cooled, crumble it gently with your fingers.

Add the butter to the bacon fat. Add the onions, plus ½ teaspoon salt. Cook for 2–3 minutes or until the onions start to soften. Lower heat to medium low and cover the pan. Continue to cook the onions, uncovering and stirring every 2–3 minutes until the onions are medium brown and very soft—about 25 minutes. Remove from the heat and let cool for 10 minutes.

Meanwhile, place the eggs, half & half, remaining ½ teaspoon salt, pepper, and nutmeg in a mixing bowl. Whisk to combine.

Place the cooled onions in the bottom of the par-baked pie crust. Top with the bacon. Pour the egg mixture over the top and top with the shredded Gruyere.

Bake on the middle rack in the preheated oven until the quiche is beginning to turn light brown in spots, about 45–50 minutes. Let cool for 10 minutes before serving or cool completely and serve at room temperature.
Nutrition
Serving:
1
slice
Calories:
401
kcal
Carbohydrates:
20
g
Protein:
13
g
Fat:
30
g
Saturated Fat:
13
g
Cholesterol:
132
mg
Sodium:
759
mg
Potassium:
246
mg
Fiber:
1
g
Sugar:
2
g
Vitamin A:
446
IU
Vitamin C:
3
mg
Calcium:
204
mg
Iron:
1
mg