Cherry Coffee Cake tastes just like cherry pie! And it's simple to make, thanks to a little help from a can of cherry pie filling.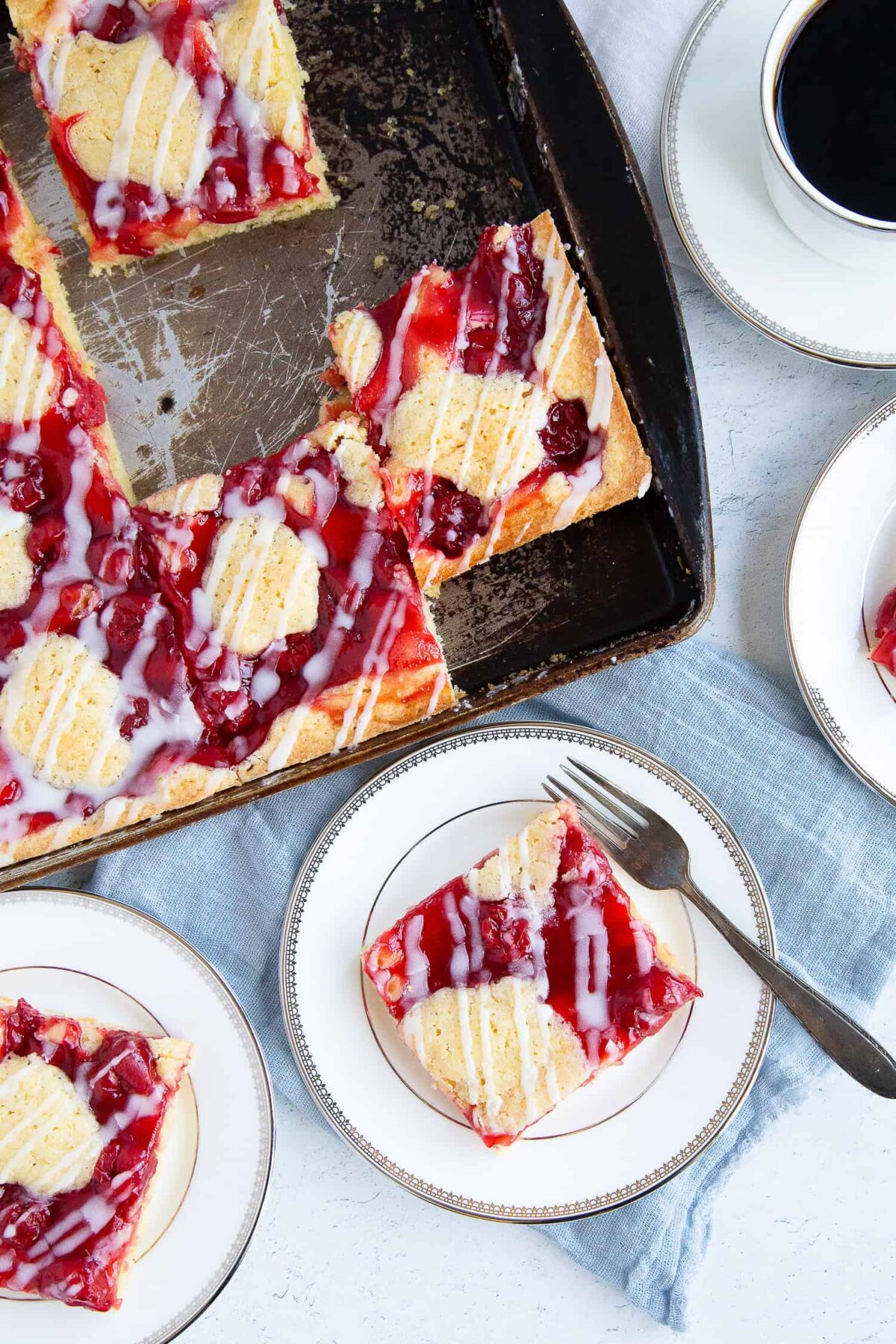 I love having guests over for brunch.
It's easier than a dinner party, and it just feels more laid back to be serving no-fuss dishes like eggs and pastries.
This Cherry Coffee Cake with cherry pie filling is a great example of a no-fuss dish. Instead of pitting cherries and making a filling, we'll use a can of cherry pie filling as a shortcut.
And you can make it ahead! I've made this one day in advance, and then cut and served it the next day.
I love how the coffee cake adds a pop of color to the table. Along with coffee, an asparagus & gruyere quiche and some praline bacon, it's perfect for brunch.
This post contains affiliate links. Affiliate links support Gift of Hospitality at no additional cost to you. I receive a commission if you choose to make a purchase through these links.
Jump to:
Top tips
It takes a little patience to spread the first layer of dough into the pan. I like using an offset spatula, or spraying a plastic sandwich bag with cooking spray, placing my hand inside the bag, and spreading the dough by hand.
Love cherries? You can double the pie filling, or add a (drained) can of cherries to the cherry pie filling for even more cherry flavor.
If you don't have an 11×17 inch pan, you can make this in a 13×9 inch pan. Increase the cooking time by 6–10 minutes.
Ingredients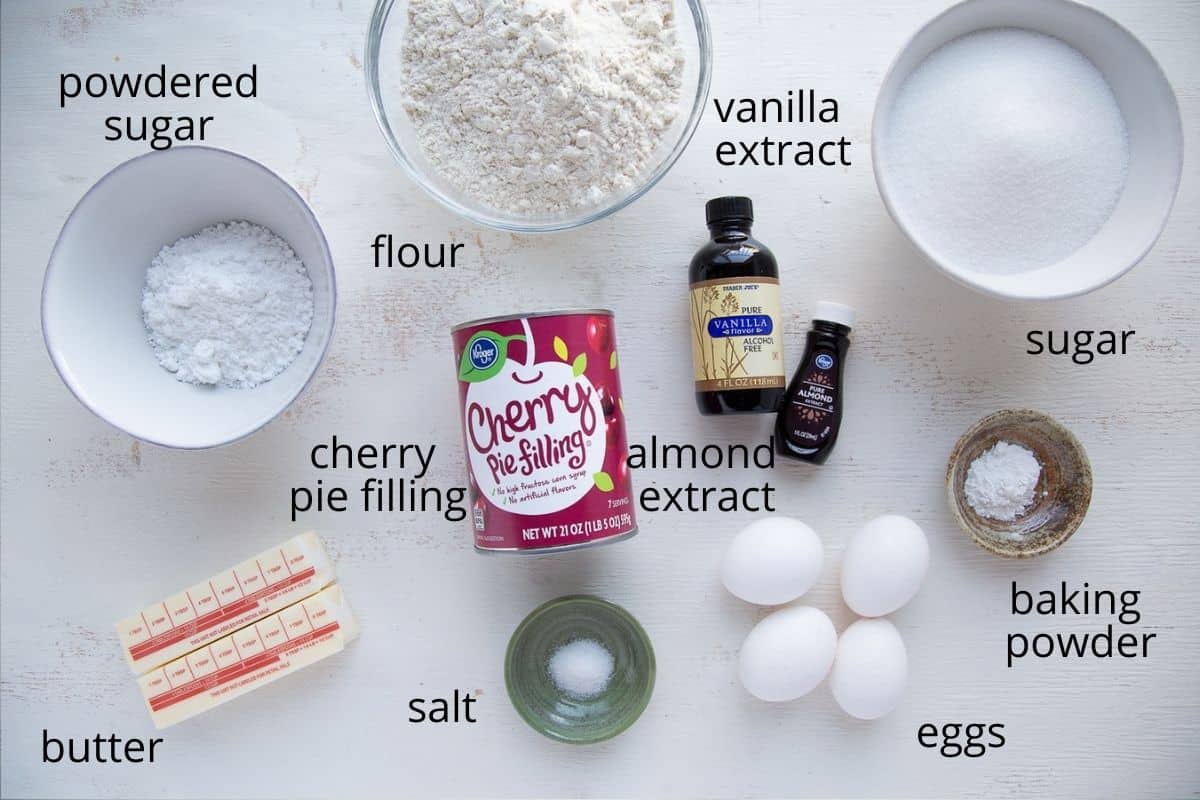 – A can of cherry pie filling is the star of this recipe. You can find it in the baking aisle at your local grocery store. Sometimes pie fillings are sold in jars. That'll work too!
– Yep, that's 2 sticks of butter and 4 eggs. This recipe makes 15 servings, at least, and we need both of those ingredients for a light and fluffy coffee cake!
– Almond extract adds great flavor to the dough, and it complements the cherries perfectly.
– We'll make a glaze with powdered sugar to drizzle on top.
How to make cherry coffee cake
Start by preheating the oven to 350°F.
Then, cream together the butter and granulated sugar with a hand mixer until light and fluffy.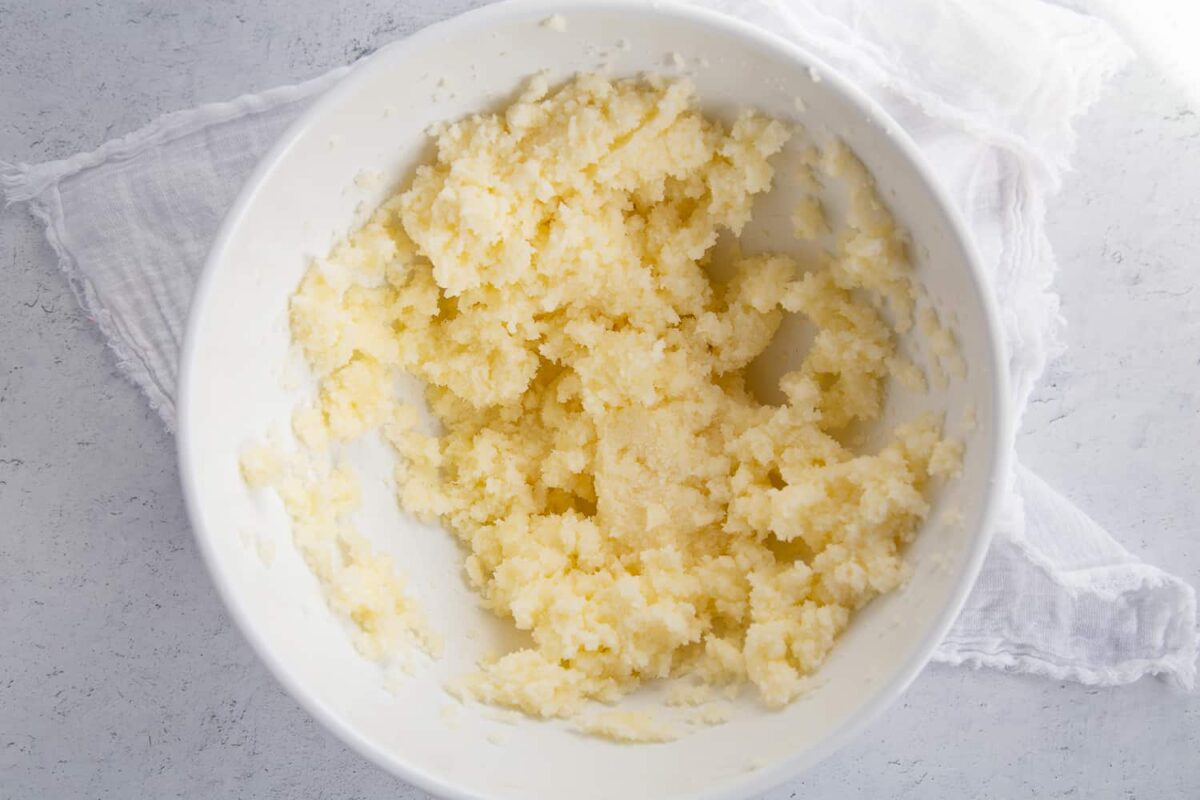 Add the eggs, vanilla extract, and almond extract, and beat until combined.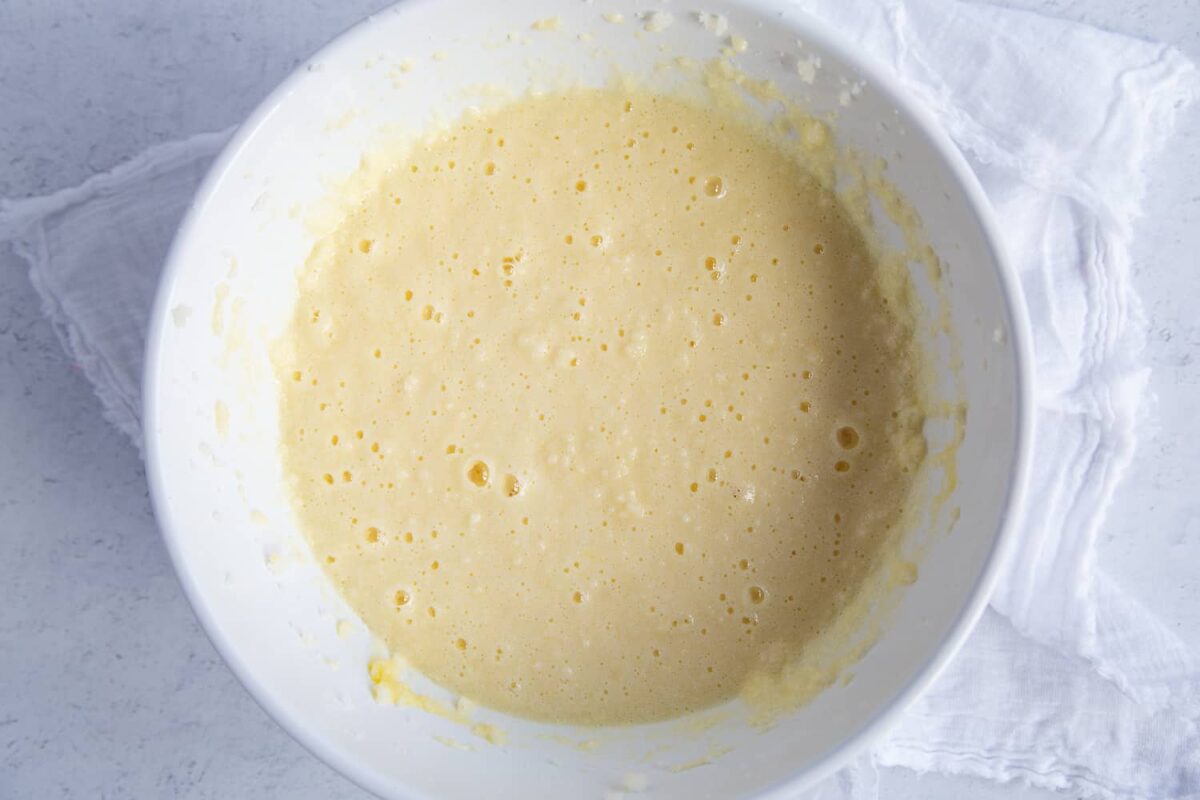 Stir in the flour, baking powder, and salt with a spatula until the mixture forms a soft dough.
Take care not to overmix the dough, as that can make it tough. Reserve 1 cup of dough for the topping.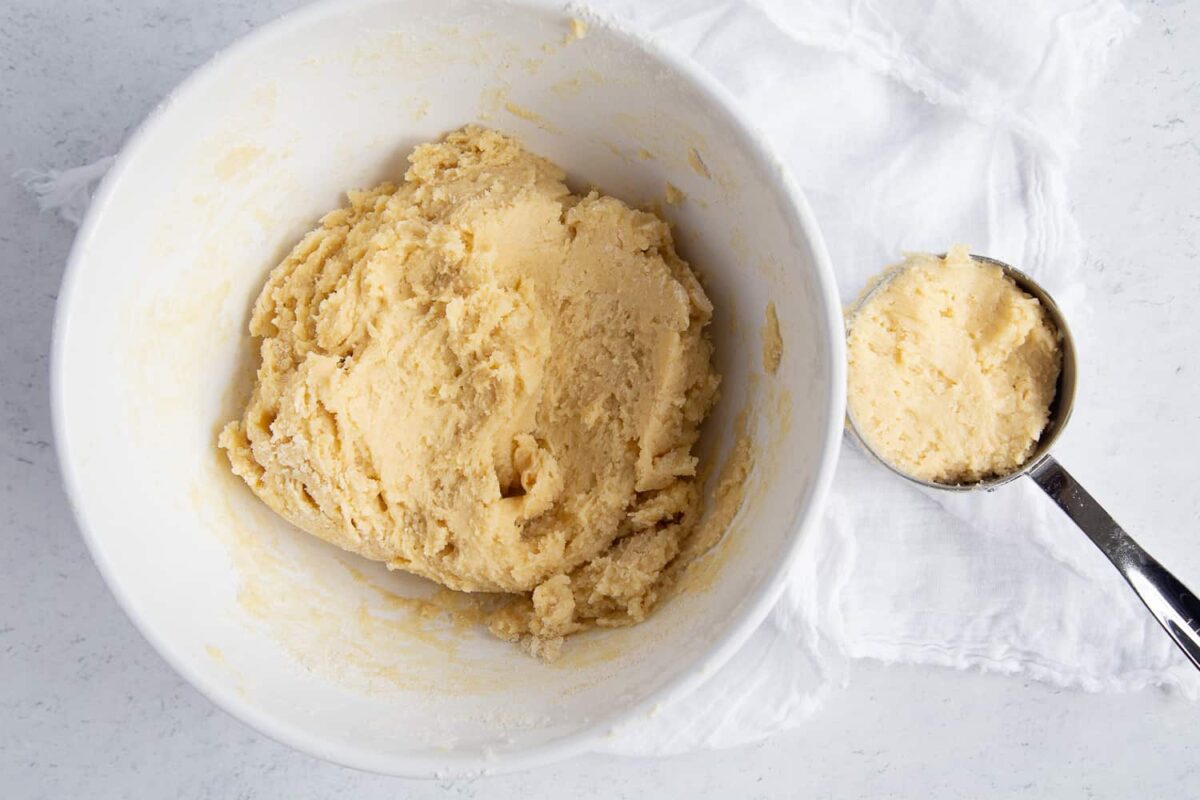 Spread the remaining dough into a greased 11×17 inch pan
. An 11×17 inch pan is often used in vintage recipes, but that size is getting harder and harder to find. I used one that belonged to my grandma!
Feel free to use one that measures close to that size. You just may need to adjust the cooking time slightly if it's larger (reduce the cooking time) or smaller (increase the cooking time).
I find that an offset spatula
is easiest for spreading the dough into the pan. It takes a bit of patience to get it spread all over the pan.
Another trick is to use your hand inside a greased plastic bag. It's the same trick that I use for marshmallow treats (see a photo of how to do it here).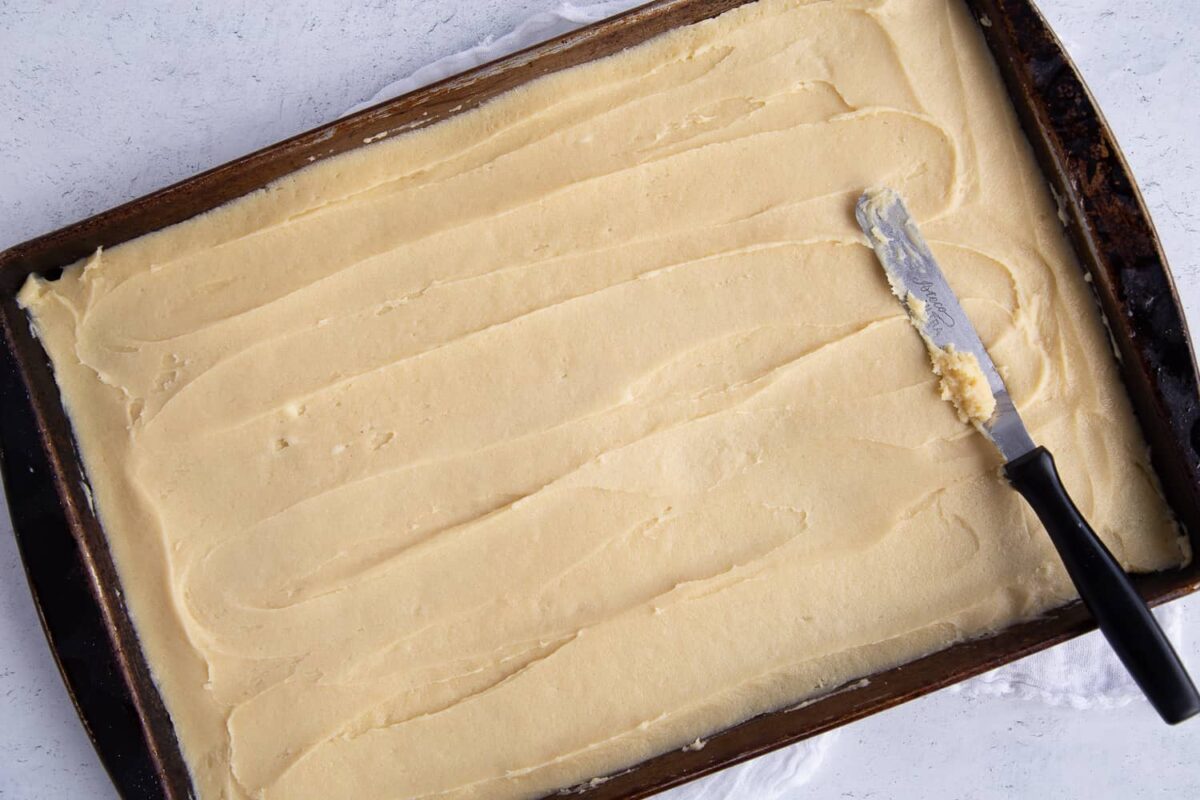 Spread the cherry pie filling over the dough, and then dollop tablespoons of the reserved dough over the top.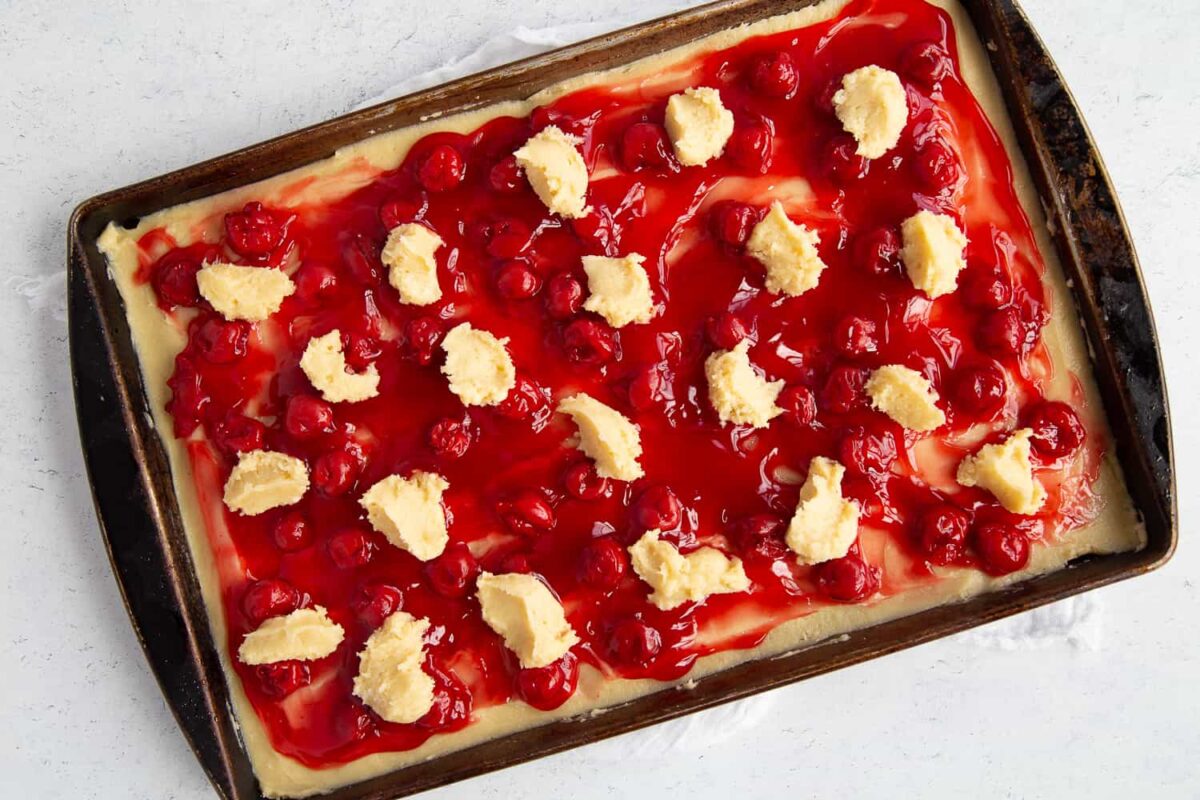 Bake for 30–35 minutes in the 350°F preheated oven. The edges will begin to turn golden brown.
Once the coffee cake has cooled, make the icing by whisking together the powdered sugar and milk.
Transfer the icing to a small resealable plastic bag and cut a very small corner off of it with kitchen scissors. Drizzle the icing through the corner of the bag and onto the coffee cake.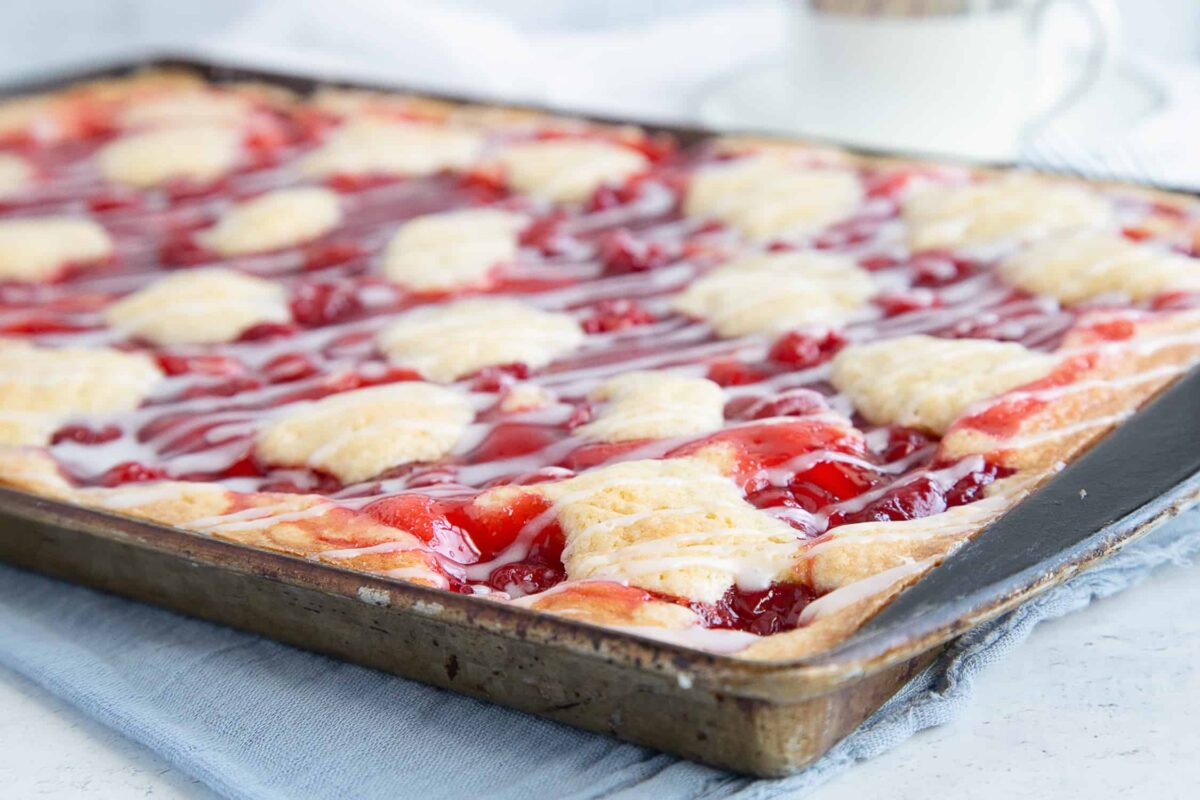 Can I make cherry coffee cake ahead of time?
The coffee cake can be made and left on the countertop for up to one day ahead of serving.
After it cools, wrap it tightly in plastic wrap and leave it on the counter. When you're ready to serve it, make the icing and drizzle it on top, then serve.
Frequently Asked Questions
How can I soften butter faster?
Try these instructions for softening butter in the microwave. Or, to speed up the process on the countertop, cut the butter into small pieces and leave it on the countertop for 30 minutes.
Can I make this without a hand mixer?
Yes! Use a stand mixer, if you have one, or you can do it by hand. If you're doing it by hand, make sure that the butter is very soft so that you can combine it thoroughly with the sugar.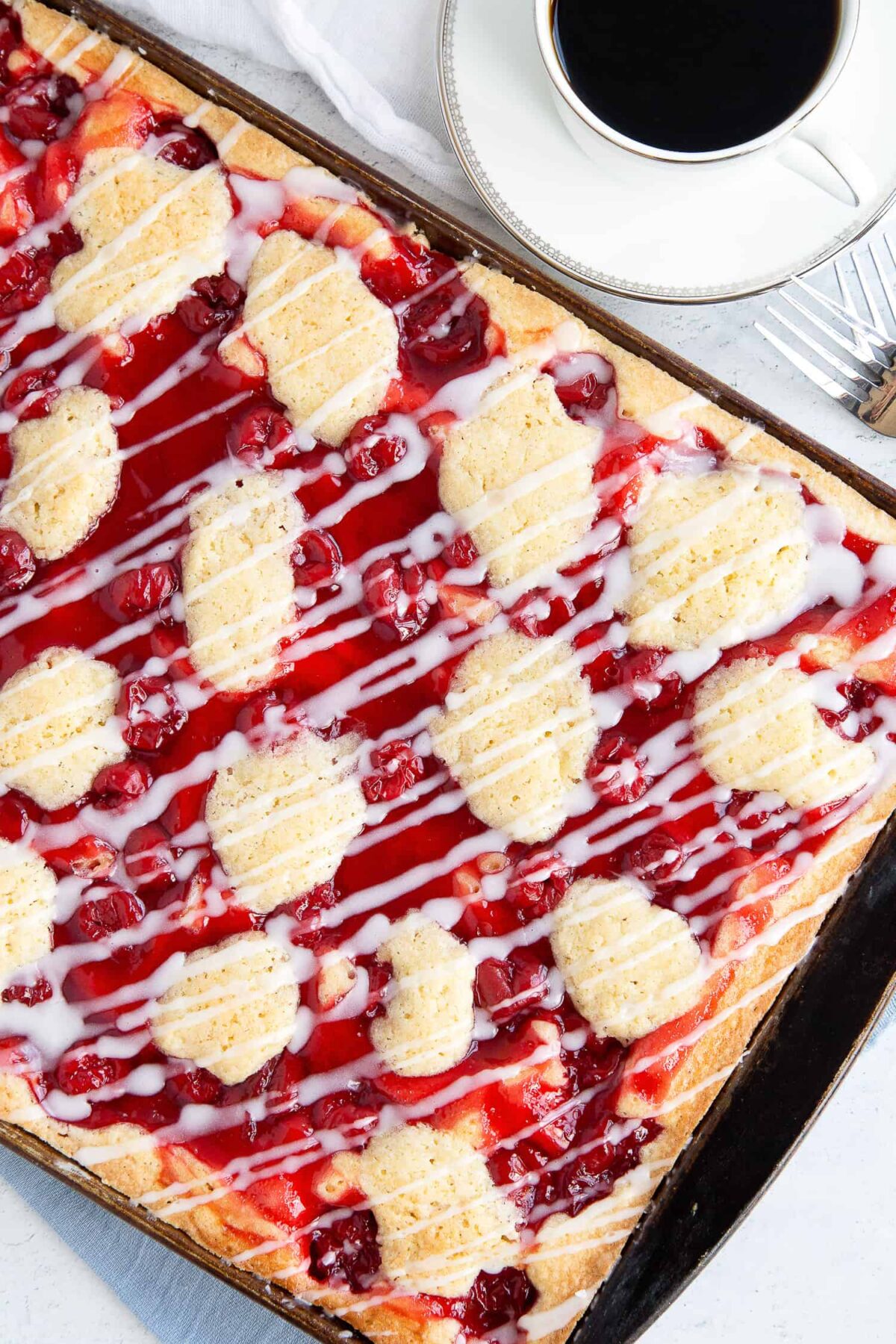 Storage and freezing instructions
Cherry Coffee Cake can be kept at room temperature, covered securely with plastic wrap, for 3–4 days. It will keep for several more days if refrigerated.
To freeze the coffee cake, cut it into slices and wrap the slices in aluminum foil. Place the foil-wrapped slices into a resealable freezer bag.
Alternatively, you can freeze the whole pan of coffee cake if your freezer is big enough. Wrap the pan in plastic wrap, followed by aluminum foil.
The coffee cake will keep in the freezer for 1–2 months. To defrost, place the coffee cake on the countertop at room temperature for 4–6 hours, or until thawed.
If you are freezing the coffee cake before serving it, I recommend leaving off the powdered sugar icing. After defrosting the coffee cake, drizzle the icing over the top before serving.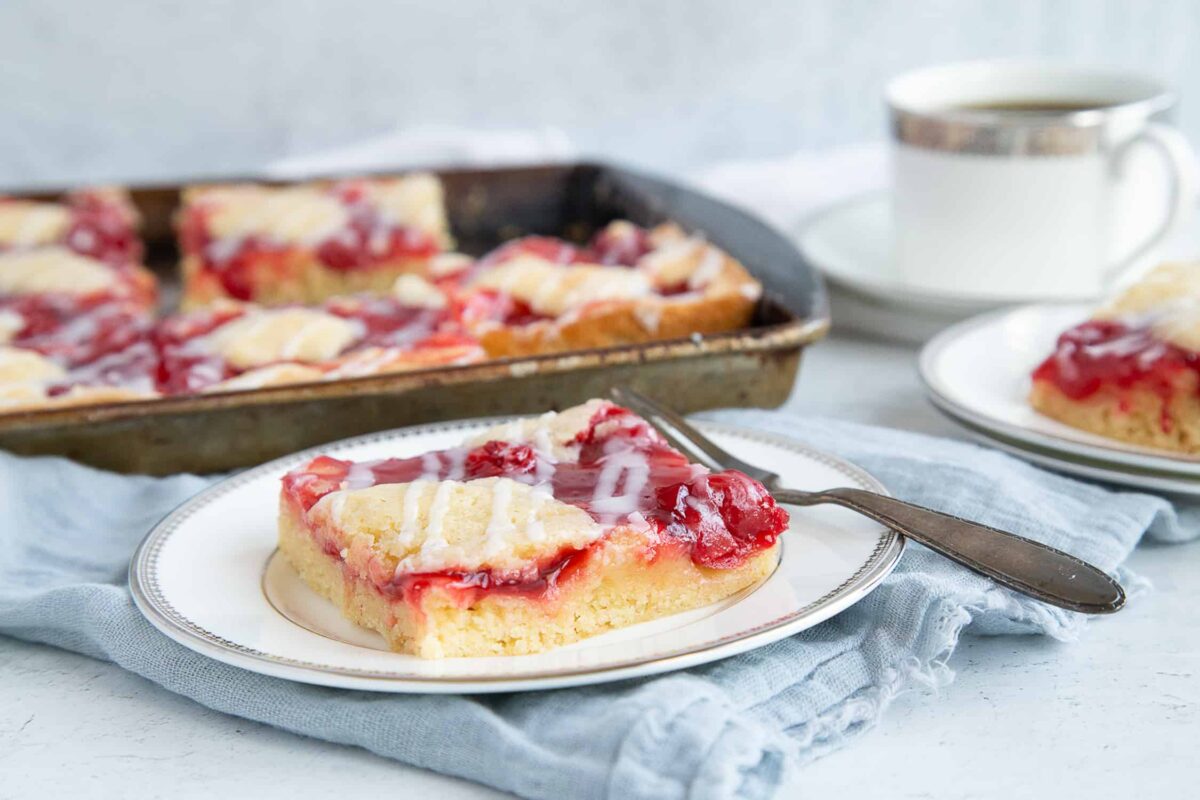 More brunch recipes
Every brunch needs something savory and something sweet! Since this Cherry Coffee Cake basically tastes like cherry pie, here are a few savory options:
This Alsatian Quiche is made with bacon and caramelized onions, and people LOVE it. And this Asparagus, Ham, and Gruyere Quiche is great for a springtime brunch.
I like to serve either bacon or sausage at brunch for the meat eaters. Praline Bacon flies off the table. Or if I'm short on time, frozen sausage is an easy alternative.
And if you're a cherry lover, don't miss this Cherry Dump Cake! It would be a great dessert for brunch.
Have you tried this recipe? Please leave a ⭐️⭐️⭐️⭐️⭐️ rating and/or comment below!


📖 Recipe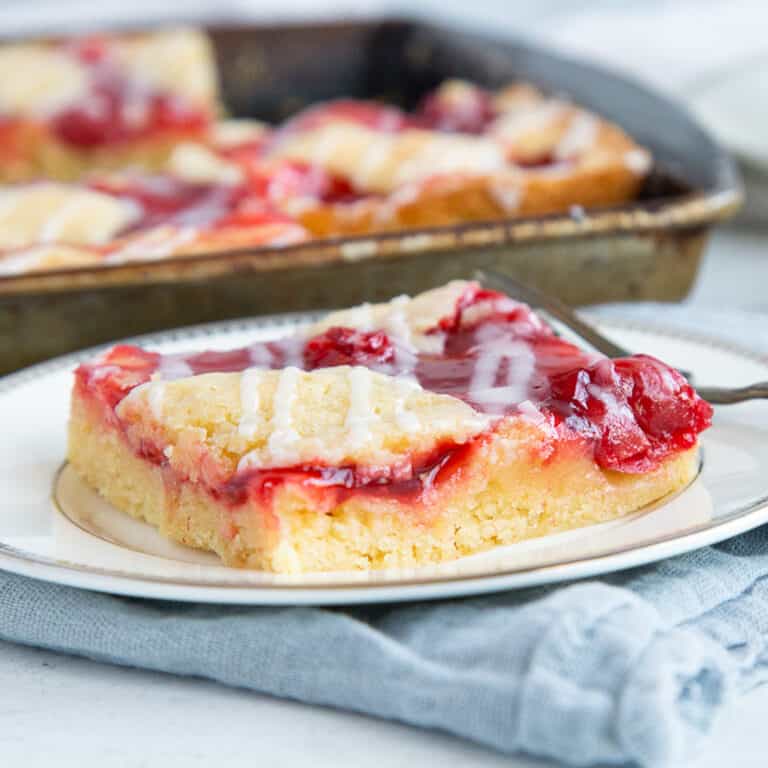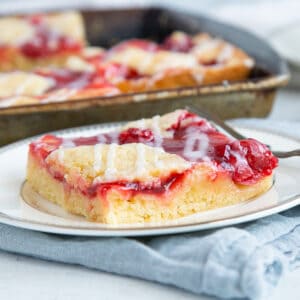 Cherry Coffee Cake with Cherry Pie Filling
This easy coffee cake will be the hit of your next brunch!
Ingredients
For the coffee cake:
1

cup

(2 sticks) unsalted butter, softened

1¾

cups

granulated sugar

4

large

eggs

½

teaspoon

almond extract

1

teaspoon

vanilla extract

3

cups

all-purpose flour

½

teaspoon

salt

1½

teaspoons

baking powder

1

(21 oz) can cherry pie filling
For the icing:
¾

cup

powdered sugar

3

teaspoons

milk
Instructions
Preheat oven to 350°F. Grease an 11×17 inch pan with cooking spray.

In a large bowl, cream the butter and sugar together until soft and fluffy using a hand mixer. Add eggs, almond extract, and vanilla extract, and beat until combined.

Stir in the flour, salt, and baking powder just until combined.

Reserve 1 cup of dough. Spread the remaining dough in an even layer in the greased 11×17 inch pan. I find that an offset spatula helps to do this easily.

Pour the cherry pie filling on top and spread it evenly over the dough.

Take tablespoons of the reserved dough and dot it over the top of the pie filling.

Bake for 30–35 minutes, or until golden brown on the edges and cooked through. Let sit until cool.

In a small bowl, whisk together the powdered sugar and milk. Transfer it to a small plastic storage bag, and snip off a very small corner of the bag with a pair of kitchen scissors to create a makeshift pastry bag. Drizzle the icing over the coffee cake using the pastry bag. Serve right away!
Notes
I recommend using an offset spatula
to spread the dough into the pan.
An 11×17 inch pan is best for this recipe. That size is getting harder and harder to find, but it's available on Amazon.
Nutrition
Calories:
380
kcal
Carbohydrates:
60
g
Protein:
5
g
Fat:
14
g
Saturated Fat:
8
g
Cholesterol:
82
mg
Sodium:
149
mg
Potassium:
90
mg
Fiber:
1
g
Sugar:
29
g
Vitamin A:
532
IU
Vitamin C:
1
mg
Calcium:
44
mg
Iron:
2
mg
Related recipes