Asian Cabbage Salad is packed with the good stuff—cabbage, carrots, green onions, toasted ramen noodles, sunflower seeds, and almonds for lots of crunch!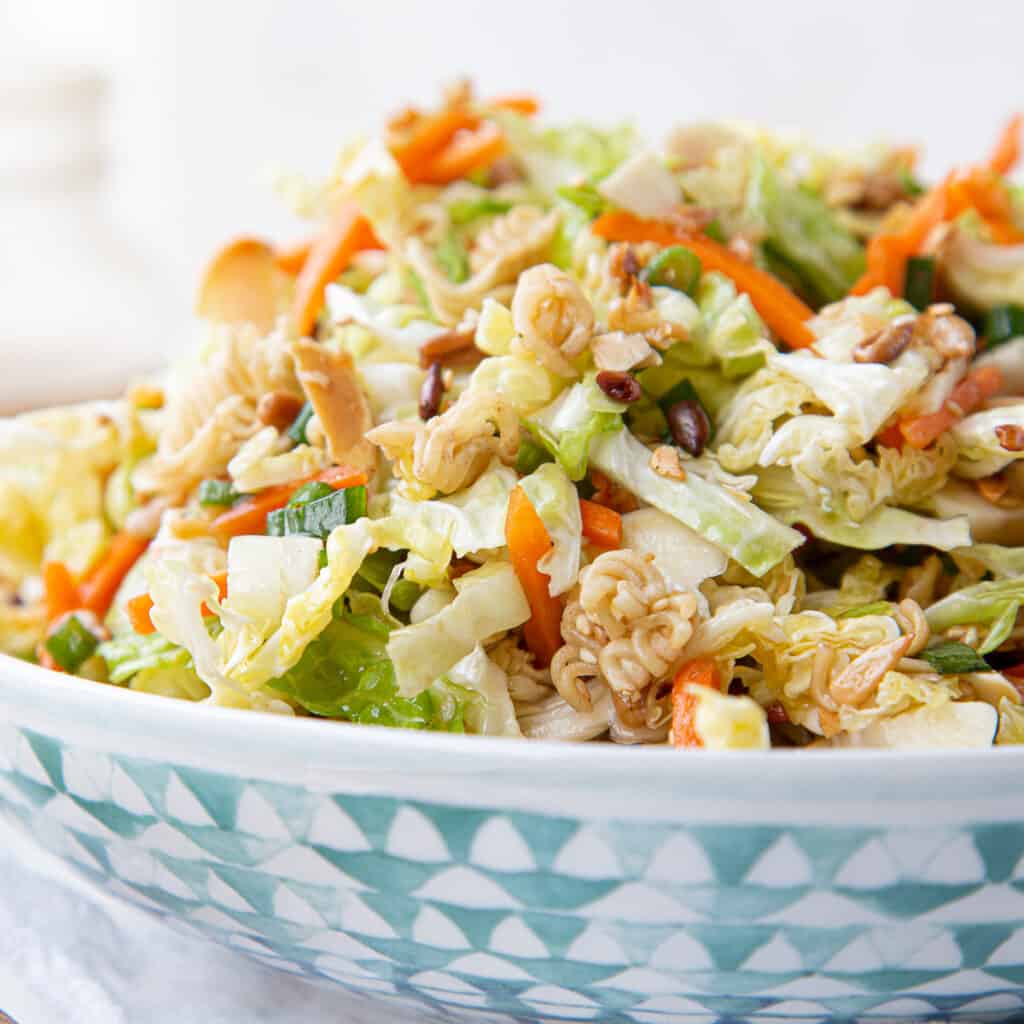 This old fashioned recipe for Asian Cabbage Salad is perfect for potlucks or gatherings!
I grew up eating it at potlucks in the 90s, though the salad dates back to the 1960s, where it became popular at a restaurant called Madame Wu's in California. The restaurant closed in 1998, but the flavors of its famous salad live on.
I particularly love this salad because lettuce salads can get…boring. This one has a base of cabbage, green onions, and carrots, and it's topped with an Asian dressing AND a crispy mix of toasted ramen noodles, sunflower seeds, and almonds. The huge variety of textures and flavors is anything but boring.
It's easy to make ahead, too! Thanks to the cabbage base, the salad can easily sit out for a few hours at room temperature while still remaining crunchy, making it ideal for a potluck or buffet.
Read on for how to make it!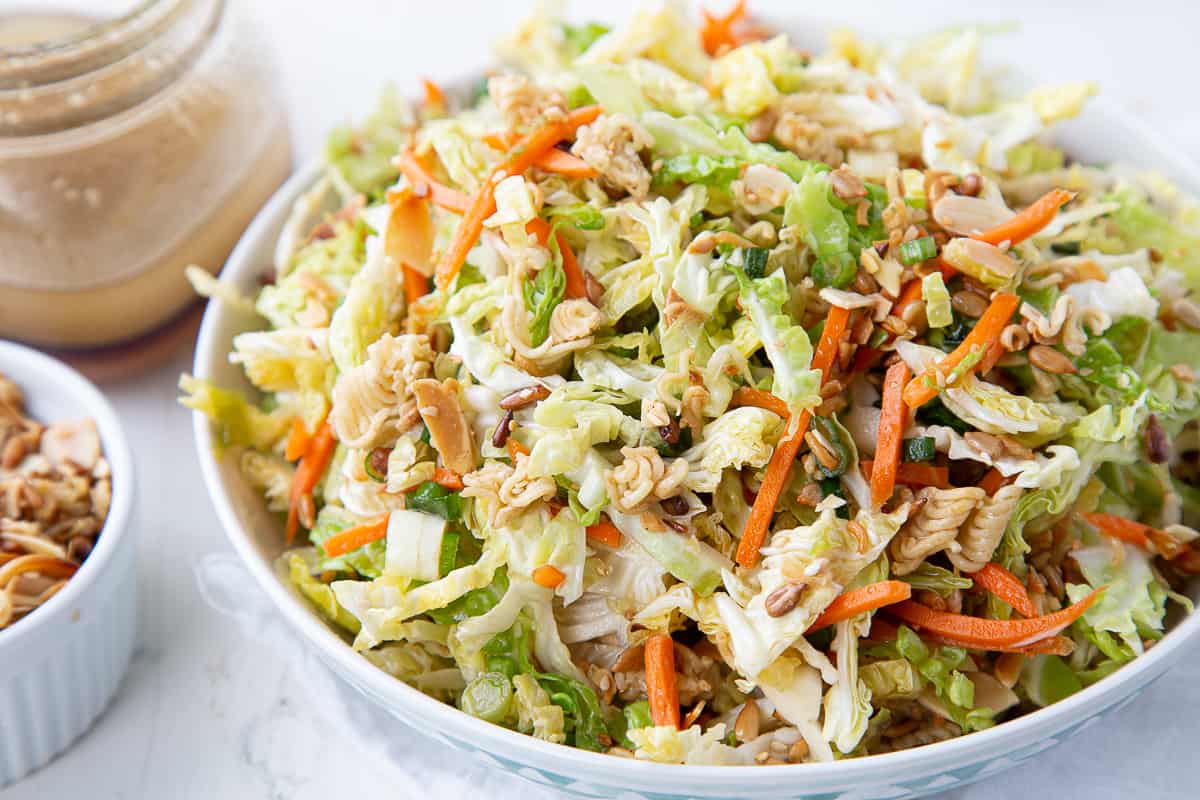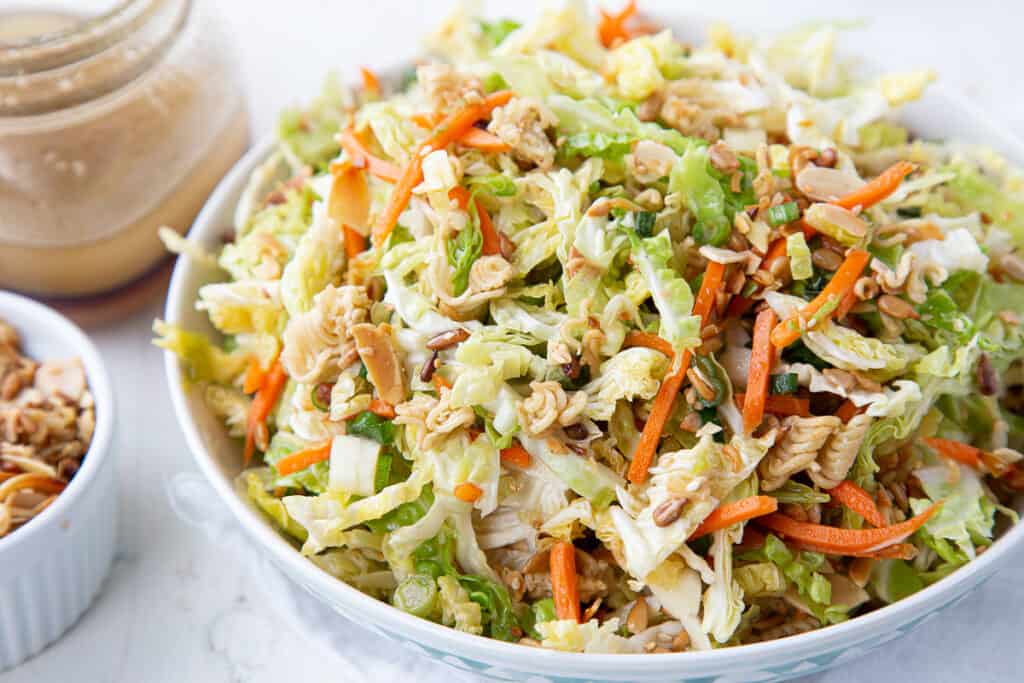 This post contains affiliate links. Affiliate links support Gift of Hospitality at no additional cost to you. I receive a commission if you choose to make a purchase through these links.
Jump to:
Salad ingredients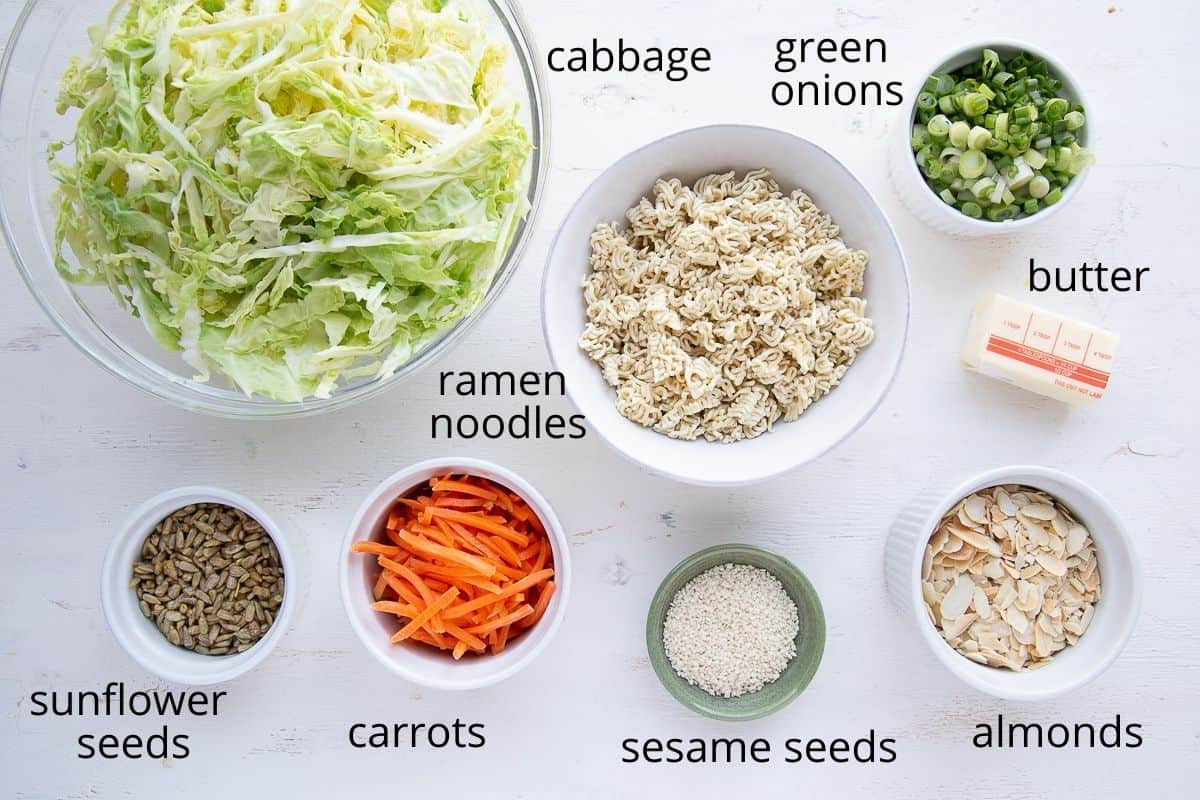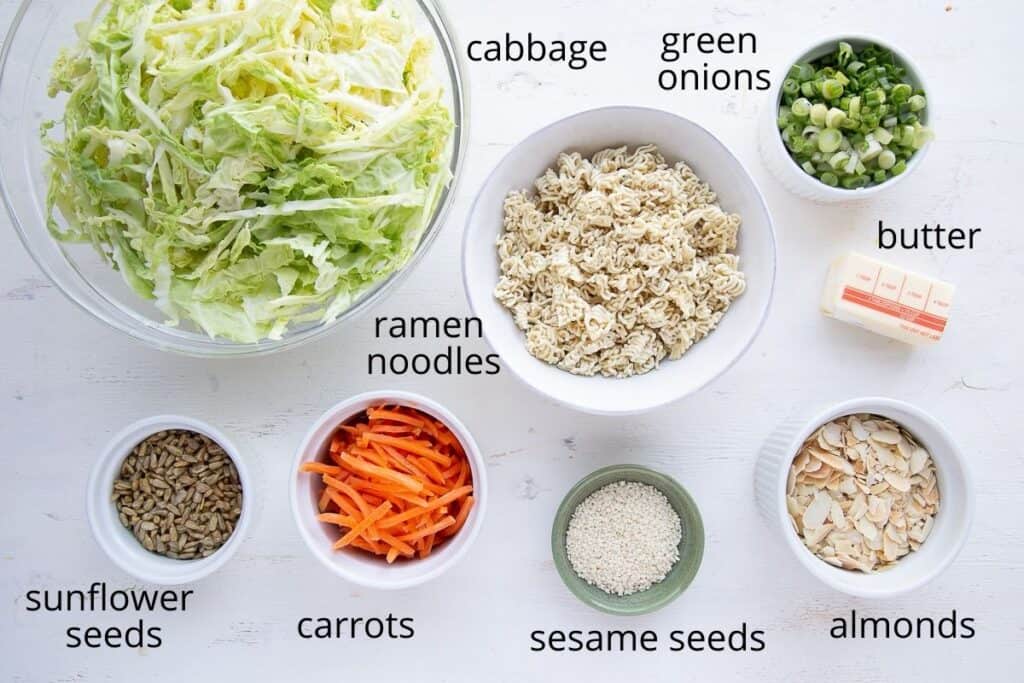 A head of cabbage makes the base of the salad. I used Napa cabbage, but you can use green or savoy cabbage. Two bags of coleslaw mix can also be substituted.
Carrots and green onions lend flavor and color.
You'll need two packages of ramen noodles—just the noodles though—you can discard the seasoning packet or save it for another use.
The ramen noodles get sautéed in butter along with the almonds, sesame seeds, and sunflower seeds. This topping combo is so addicting!
Dressing ingredients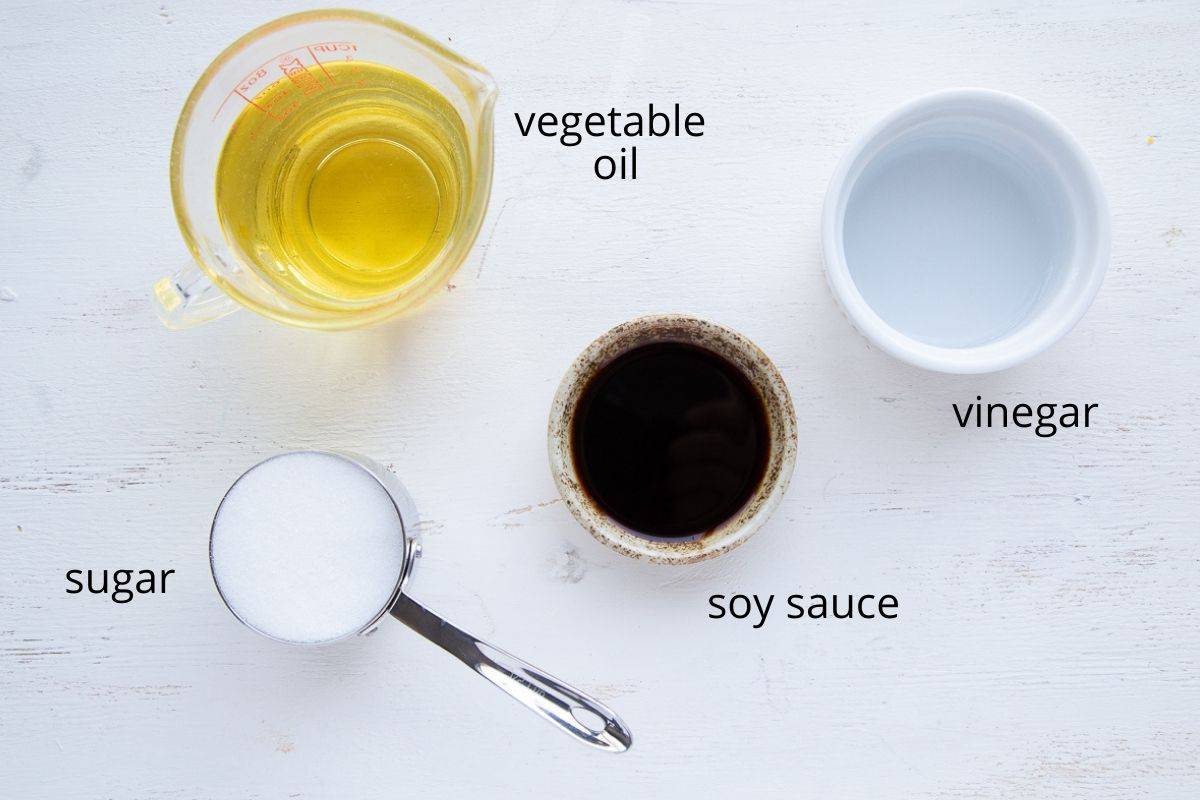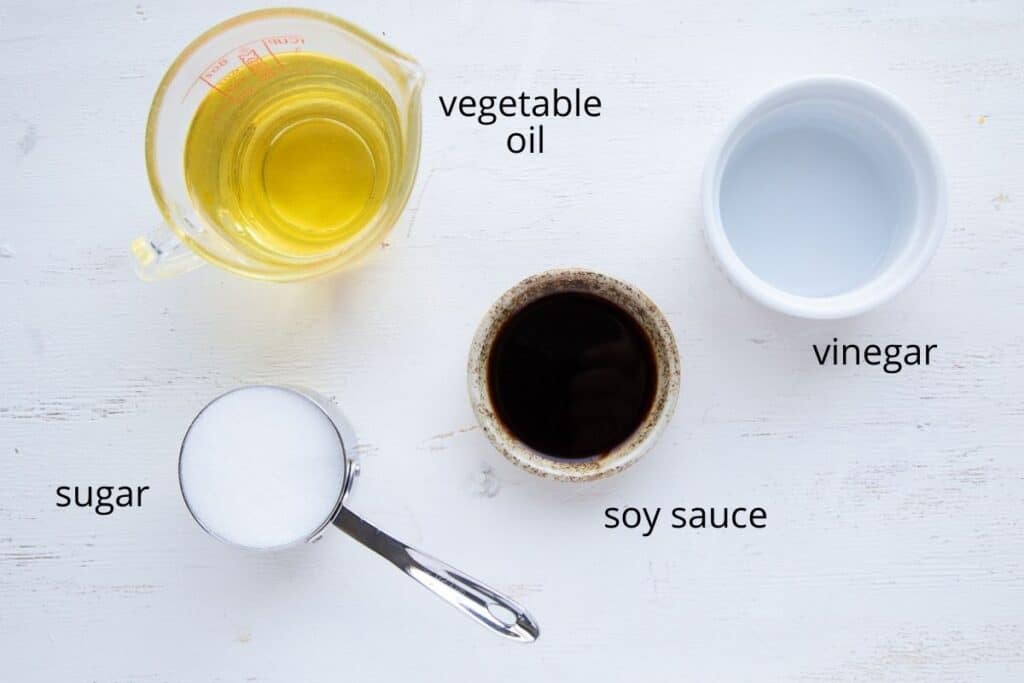 The dress is a simple one:
vegetable oil
soy sauce
vinegar (white vinegar or apple cider vinegar)
sugar
salt (not pictured, but necessary to make all the salad flavors really pop!)
How to make Asian cabbage salad
The salad comes together really easily if you pre-chop all of the ingredients. It can also be made ahead by pre-chopping up to 2 days in advance!
Chop the cabbage thinly (if you're unsure how to do that, here's a tutorial on how to chop cabbage).
Then finely chop the green onions. You can use the white parts, light green parts, and dark green parts for this salad—no waste!
Shred the carrots if they're not already shredded. I bought pre-shredded carrots to save time.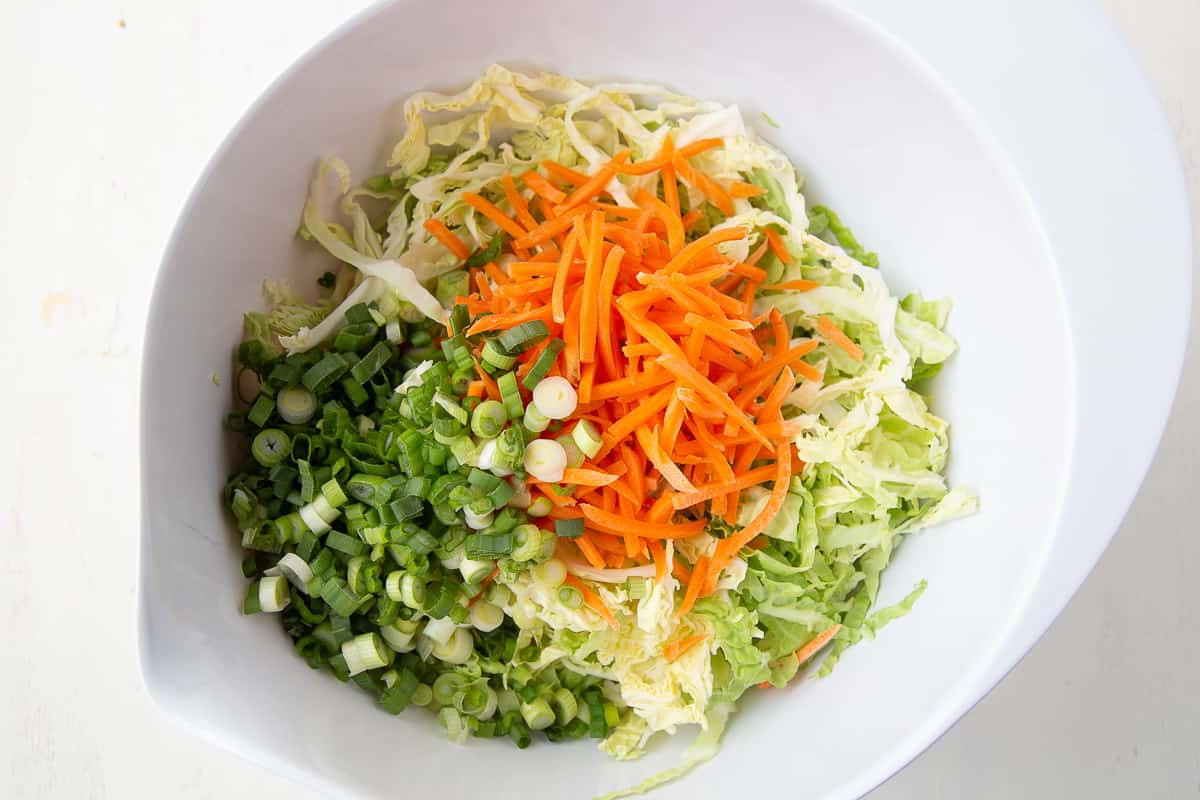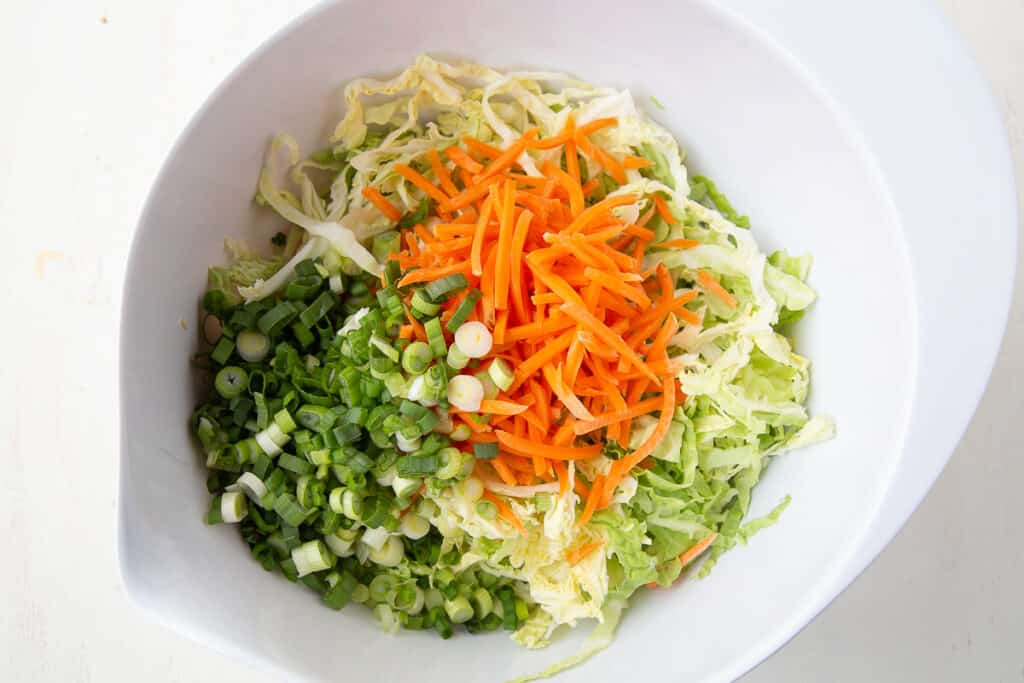 Place all of the ingredients into a large bowl (I love these nesting bowls from Williams Sonoma), and toss together gently.
Making the ramen topping
Melt the butter in a large skillet over medium heat. While the butter is heating, crush the ramen noodles with your hands.
Add the sesame seeds, sunflower seeds, and broken up ramen noodles to the butter. Cook, stirringly occasionally, until the mixture is light golden brown.
Some pieces may turn brown quicker than others, and that's ok! Make sure you are stirring every so often to evenly distribute the ingredients, and take it off the heat when most of the pieces are toasted.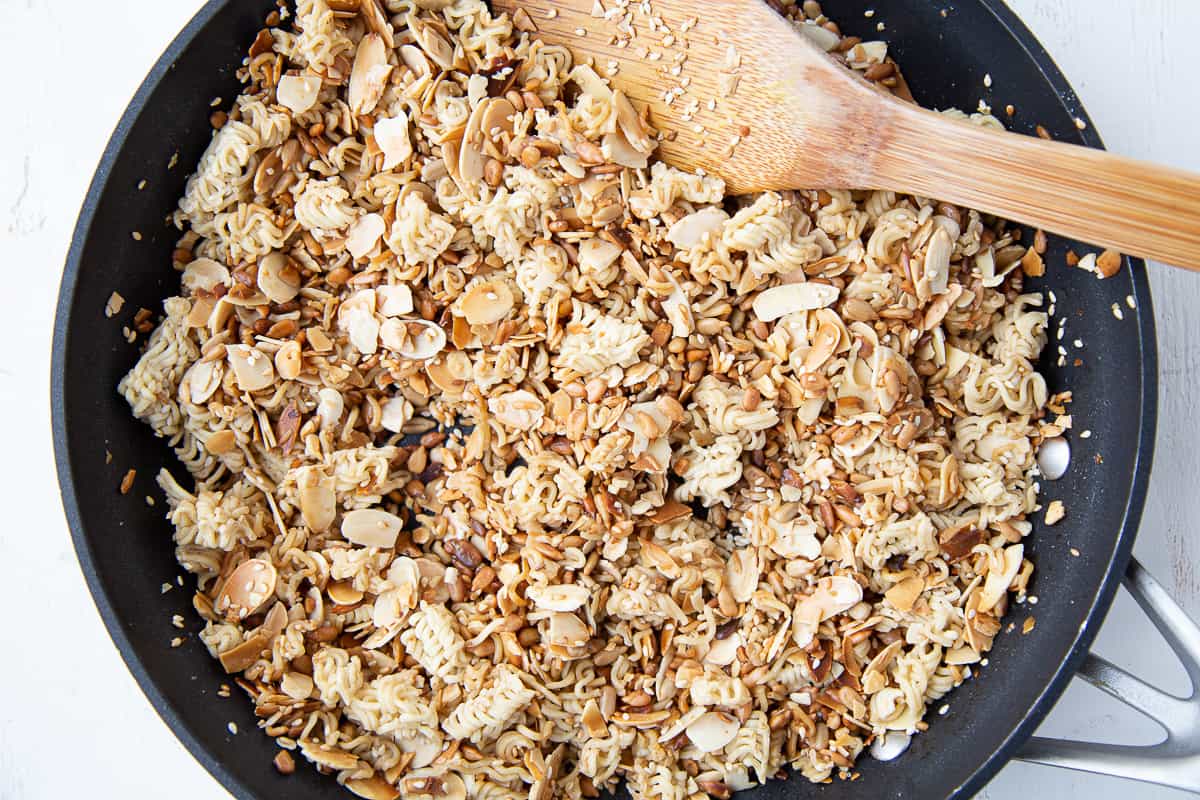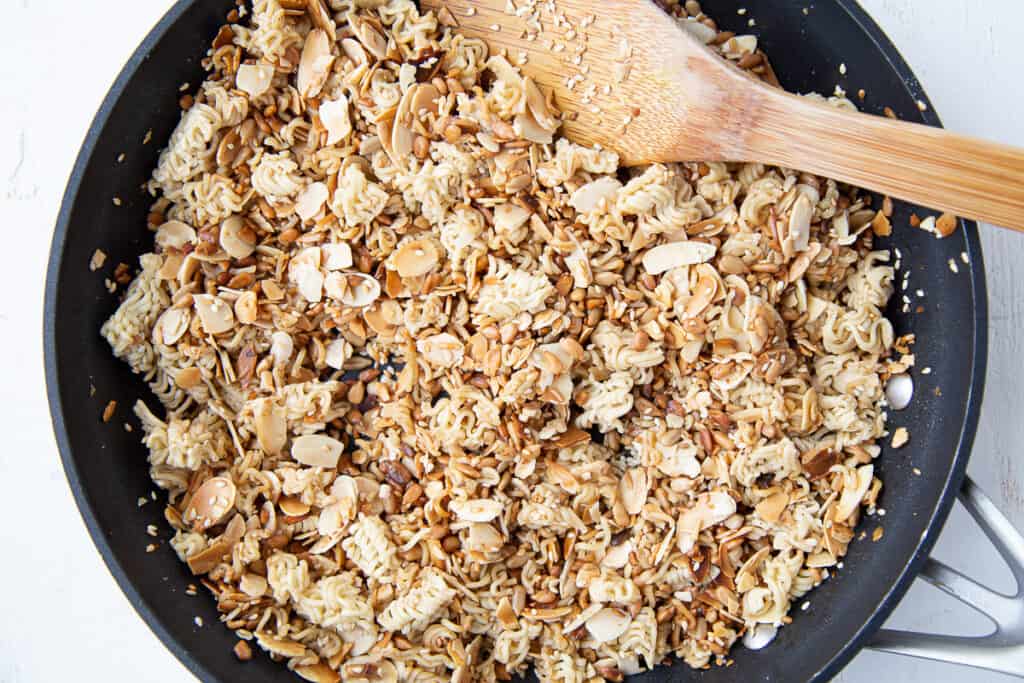 Transfer the mixture to a bowl and allow to cool completely.
How to make Asian vinaigrette
Place the oil, vinegar, sugar, soy sauce, and salt in a jar with a tight-fitting lid. A mason jar works well for this. Shake until the ingredients are combined.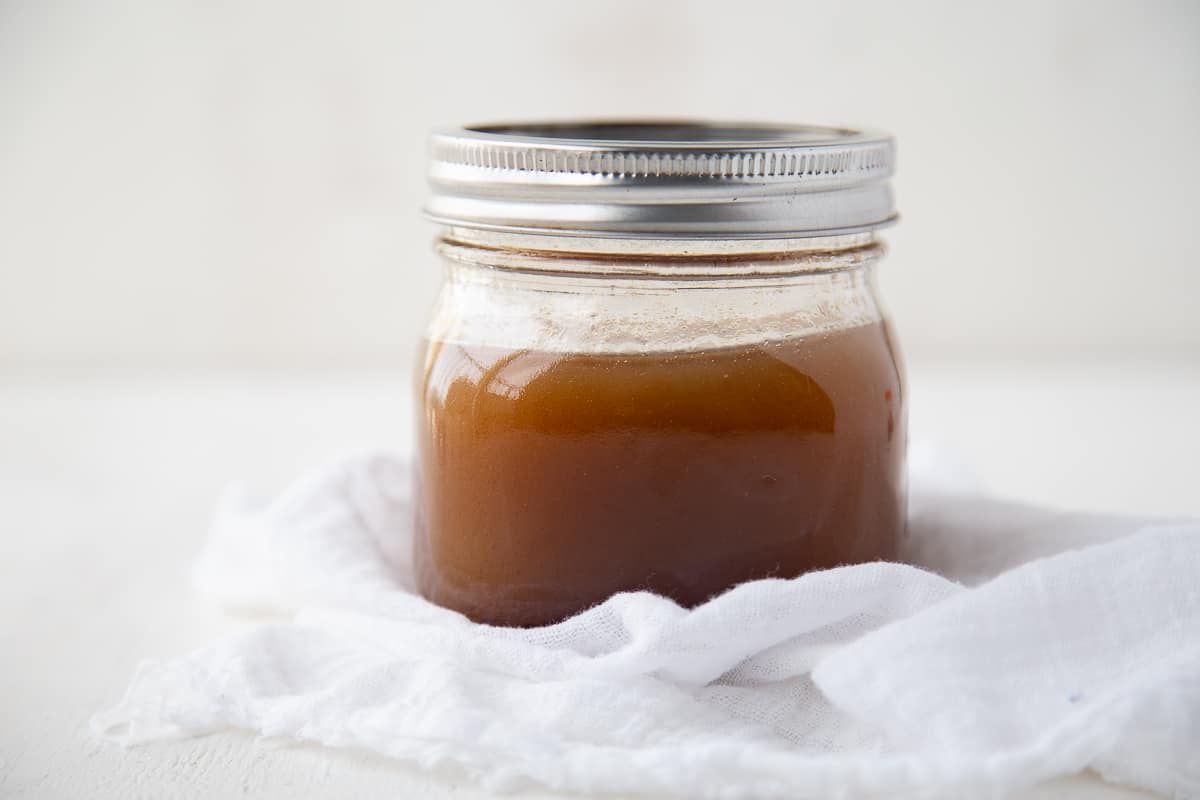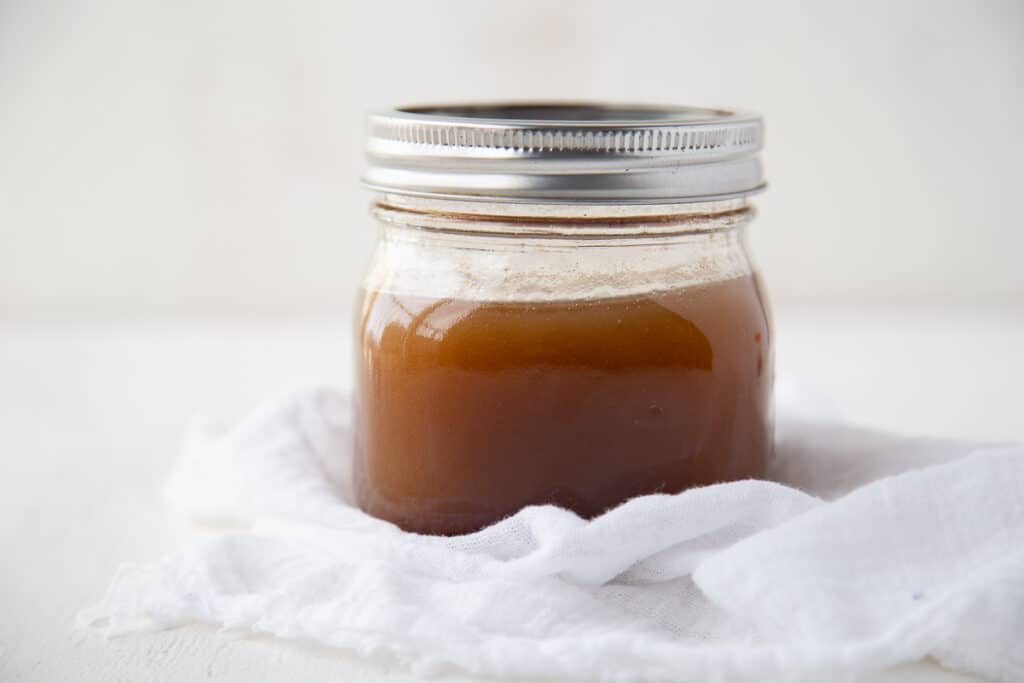 To serve, add the ramen mixture to the cabbage mixture, and pour the dressing over the top. Toss to combine, and serve.
FAQs
Can I use coleslaw mix instead of cabbage?
Yes! Substitute 2 (14 ounce) packages of coleslaw mix in place of the cabbage and carrots.
Can I leave out the almonds (or substitute another nut)?
Definitely! If any of your guests has a nut allergy, you can leave out the nuts altogether. Or, you can substitute chopped peanuts in place of the almonds.
Can I make Asian Cabbage Salad ahead of time?
You can make each individual component (the veggie mix, the ramen topping, and the dressing) up to two days in advance. Keep the veggie mix and the dressing covered in the refrigerator, and keep the ramen topping in an airtight container at room temperature. When you're ready to serve the salad, toss all of them together in a large bowl.
How can I make this salad dairy-free?
To make a dairy-free version of this salad, substitute olive oil or vegetable oil in place of the butter. All of the other ingredients should be dairy-free, but as always, check the packaging of any store-bought items such as the ramen noodles.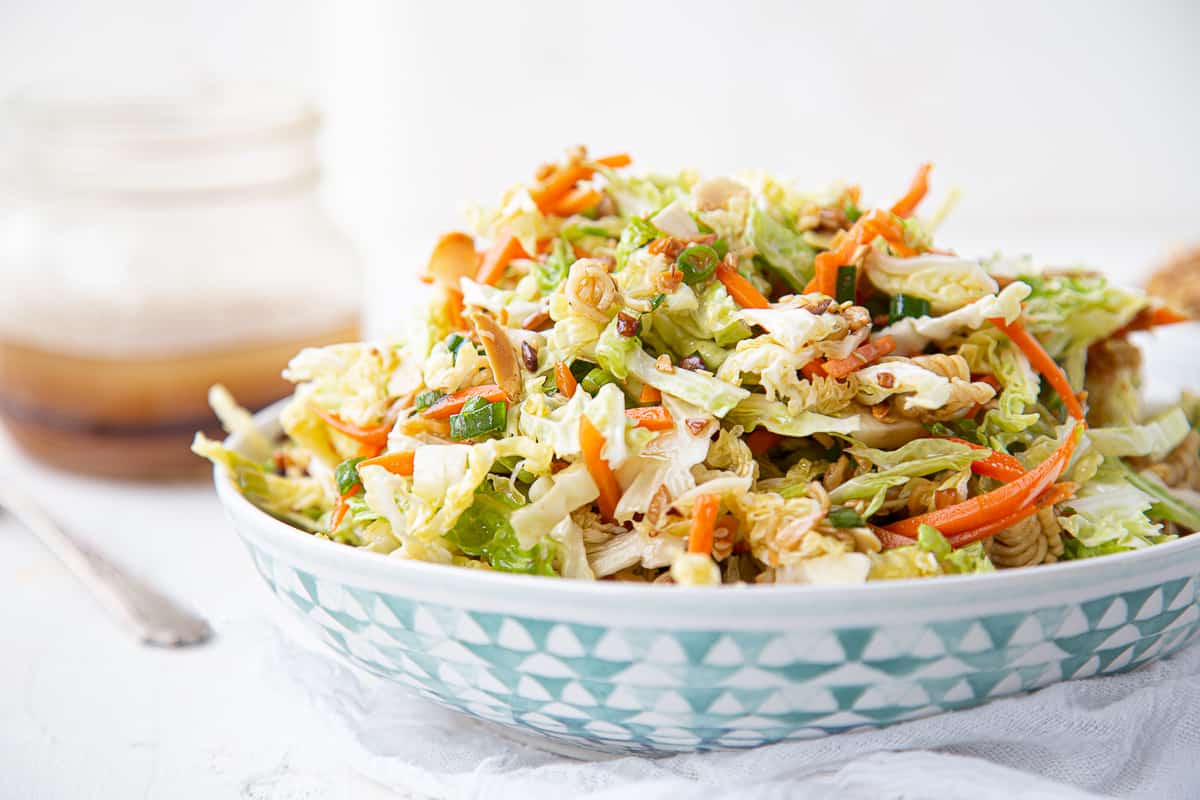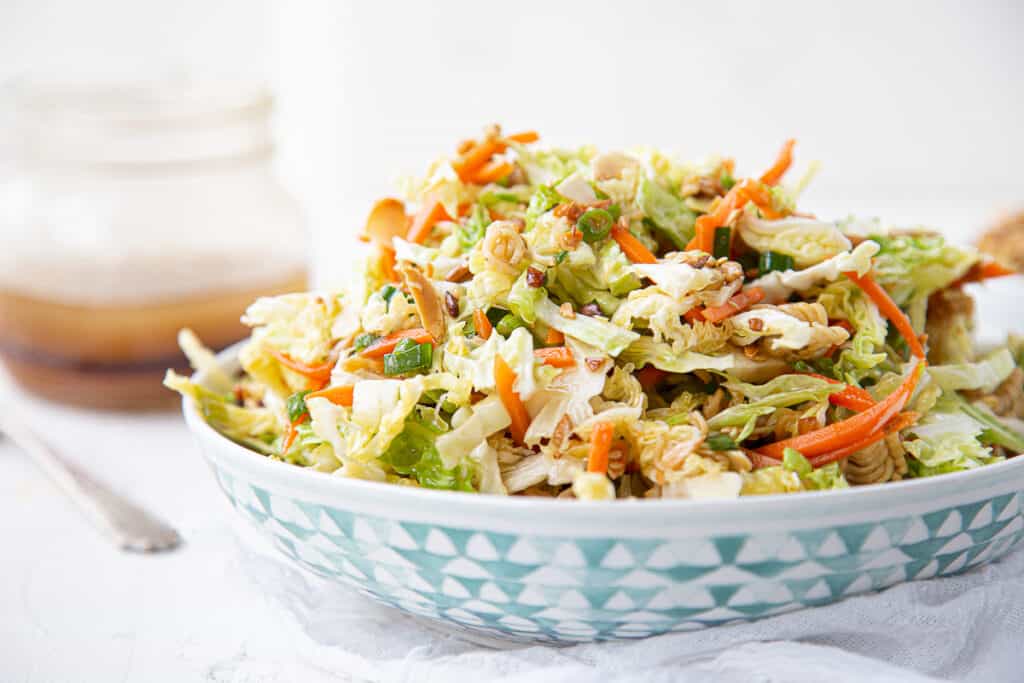 Serving suggestions
Asian Cabbage Salad is a great side dish for a picnic, cookout, or potluck. It would also make a great addition to a baby meal!
I love that it stays crunchy even as it sits, unlike lettuce salads that wilt quickly. The cabbage really does stand up well to sitting over time!
If you're serving it for dinner, it would be delicious as a side for these Honey Soy Pork Chops. I make the pork chop recipe every few weeks in the summer when it's grilling season—the whole family loves it.
You could also add strips of grilled chicken breast to make Asian Cabbage Salad an all-in-one meal!
Have you tried this recipe? Please leave a ⭐️⭐️⭐️⭐️⭐️ rating and/or comment below!
---


---
📖 Recipe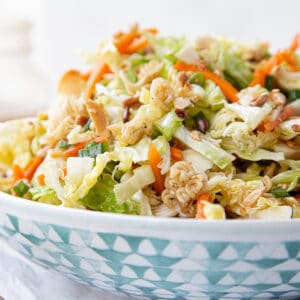 Asian Cabbage Salad
This Asian-inspired salad is filled with lots of crunch, thanks to the cabbage, carrots, sunflower seeds, and almonds!
Ingredients
For the salad:
1

head Napa cabbage,

thinly sliced (or substitute cole slaw mix)

1

bunch green onions,

finely chopped

1

cup

shredded carrots

4

tablespoons

butter

2

tablespoons

sesame seeds

½

cup

sunflower seeds

1

cup

sliced or slivered almonds

2

packages ramen noodles,

broken up (discard seasoning packets)
For the dressing:
½

cup

sugar

¼

cup

white vinegar

¾

cup

vegetable oil

2

tablespoons

soy sauce

½

teaspoon

salt
Instructions
In a large bowl, toss together the sliced cabbage, chopped green onions, and shredded carrots.

In a large skillet, melt the butter. Add the sesame seeds, sunflower seeds, almonds, and broken up ramen noodles (the noodles only—discard the seasoning packet or save for another use). Cook, stirring frequently, until the sunflower seeds and sesame seeds are medium brown. Remove from the heat and let cool.

In a jar with a tight fitting lid, combine the sugar, vinegar, vegetable oil, soy sauce, and salt. Put the lid on and shake to combine.

When you're ready to serve the salad, pour the ramen noodle mixture into the cabbage mixture and toss gently to combine. Pour the dressing over everything and toss again to combine. Serve immediately.
Notes
You can use two 14-ounce packages of coleslaw mix in place of the cabbage and carrots.
Nutrition
Calories:
437
kcal
Carbohydrates:
24
g
Protein:
8
g
Fat:
37
g
Saturated Fat:
18
g
Trans Fat:
1
g
Cholesterol:
12
mg
Sodium:
349
mg
Potassium:
429
mg
Fiber:
6
g
Sugar:
15
g
Vitamin A:
2395
IU
Vitamin C:
35
mg
Calcium:
128
mg
Iron:
2
mg
Related recipes