You just need 3 ingredients to create these easy Biscuit Donuts, made with canned biscuits. They're super flaky, soft in the middle, and crunchy on the outside. They are donut perfection!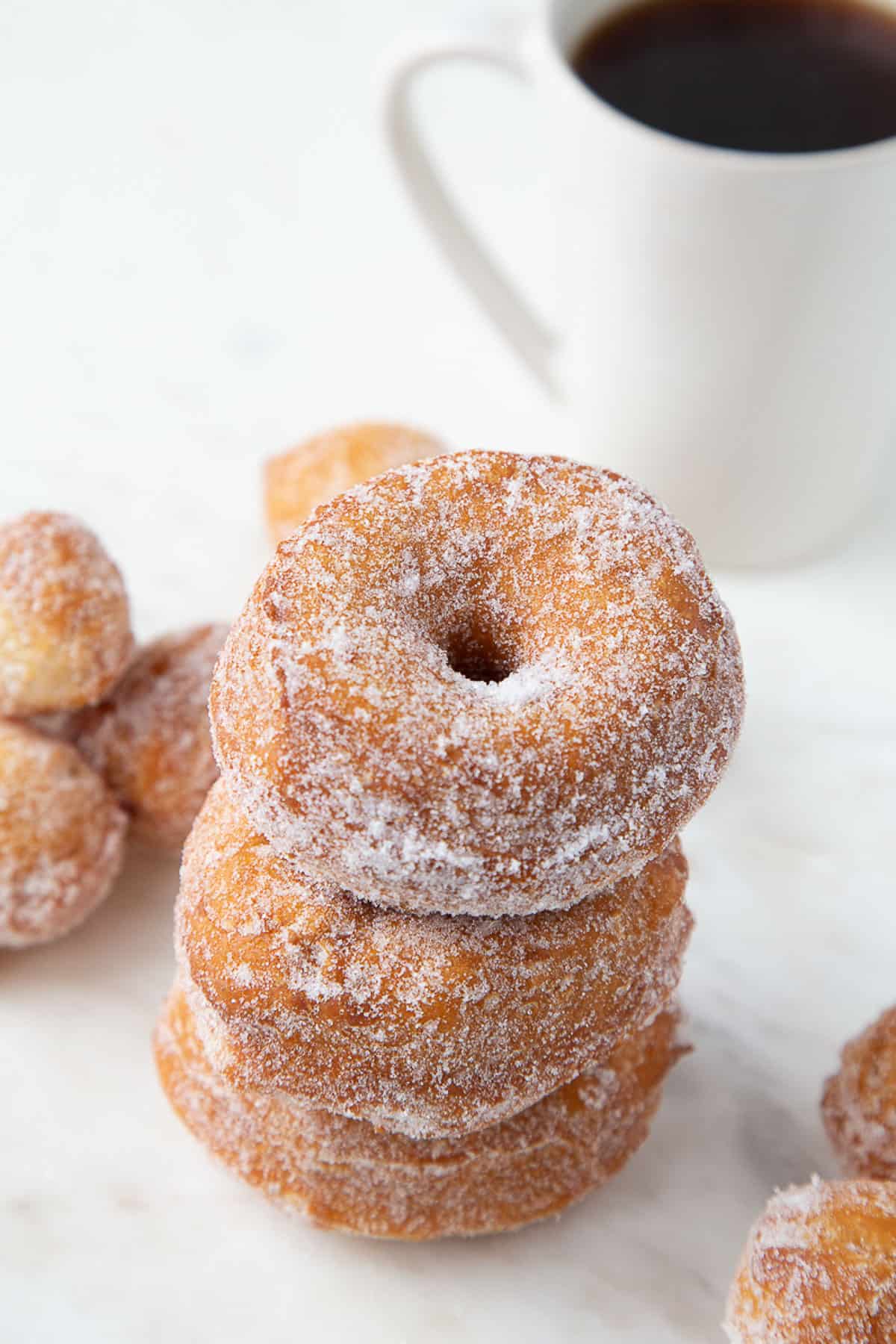 Fresh, piping hot, homemade donuts are easier than you think! The secret to 3 Ingredient Biscuit Donuts is canned biscuit dough. You also need oil for frying and sugar to coat the donuts, and that's it!
The donuts taste like a funnel cake hot from the fryer, but even better. It's hard to describe how delightful these are—you have to try them for yourself!
My mom has fond memories of my grandma making these, likely in the 1970s and 1980s. I'm unsure of the recipe's origin, though I suspect a canned biscuit company might have something to do with it.
The biscuit donuts are perfect for a lazy weekend morning at home, an afternoon snack, or even a fun dessert for your family or guests. And they can be customized in a number of different ways. Read on for more on how to customize them!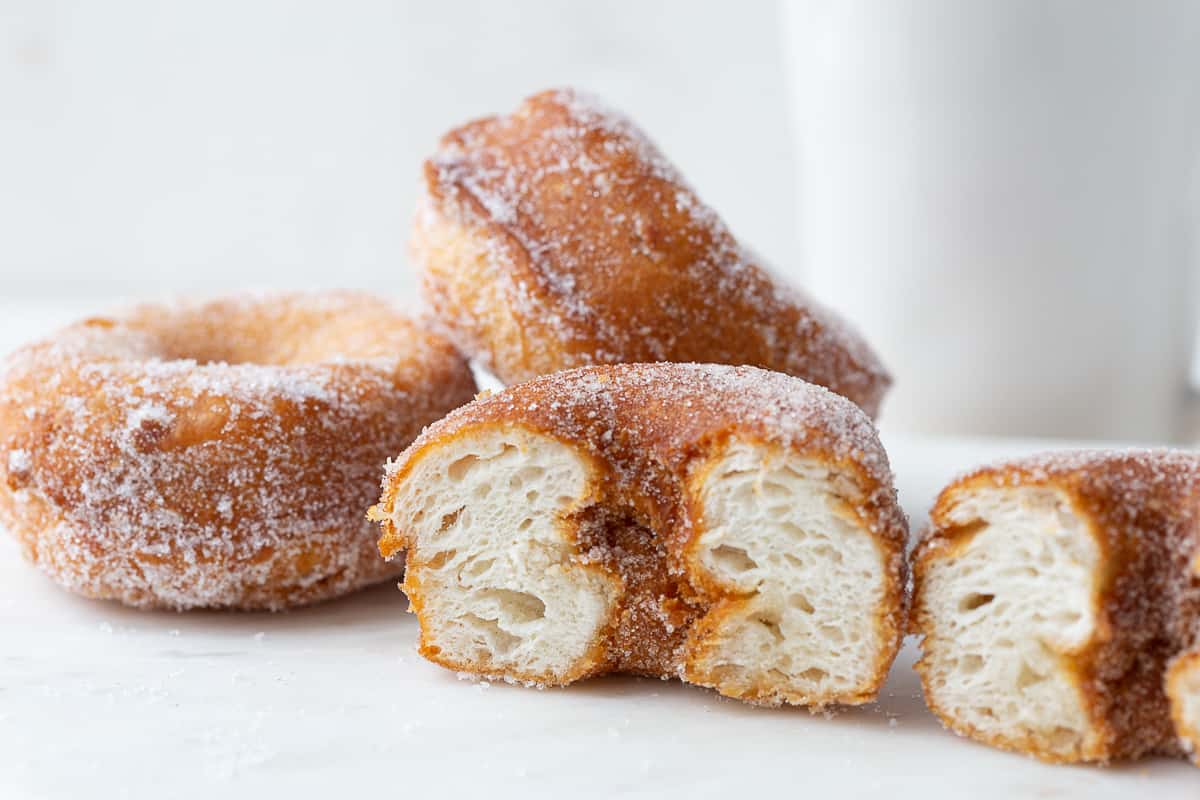 This post contains affiliate links. Affiliate links support Gift of Hospitality at no additional cost to you. I receive a commission if you choose to make a purchase through these links.
Jump to:
Ingredients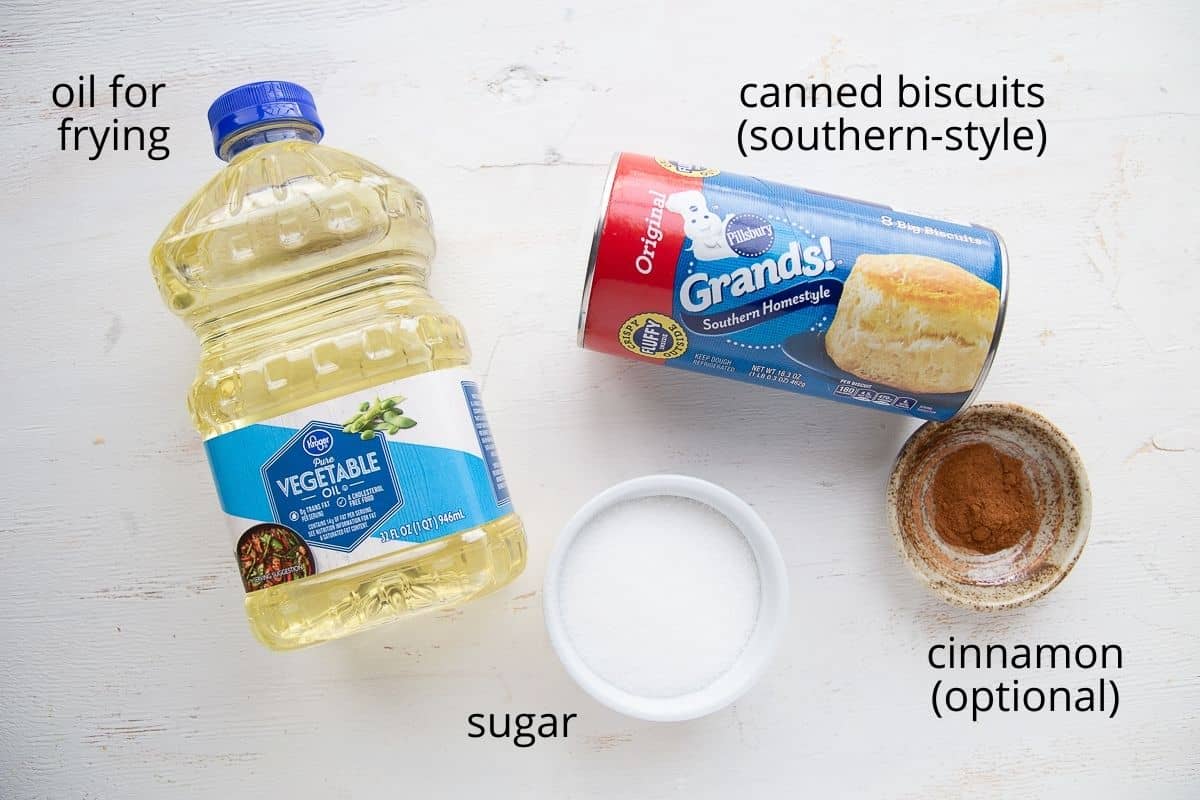 Choose regular or "southern homestyle" canned biscuits. Avoid the biscuits that say, "lots of layers!" which don't turn out as well. Each can makes 8 donuts. Buy 2 cans if you want more donuts!
The donuts are fried in oil—you can use vegetable oil, canola oil, corn oil, peanut oil, or grapeseed oil.
Once they're fried, the donuts get coated with granulated sugar. You can also add cinnamon to the sugar to make cinnamon sugar donuts, if you like!
How to make 3 ingredient biscuit donuts
Start by pouring oil for frying into a deep fryer, cast iron pan, or skillet with high sides. I used a 10-inch cast iron pan. You'll need about 2 inches of oil in the pan.
Heat the oil to 360°–375°F. I find that a deep frying thermometer/candy thermometer is handy for this.
Then, grab a store-bought can of biscuits. I used Grands Southern Homestyle Biscuits. Each can has 8 biscuits in it, so this recipe makes 8 donuts. If you want more donuts, get another can!
Pop open the can and separate the biscuits. Place the biscuits on a cutting board.
Make a hole in the center of the biscuits. You can use your fingers, a tiny round cutter, or really anything in your kitchen that would make a small hole in the biscuits to create a donut shape. I used a coupler that is usually used for frosting!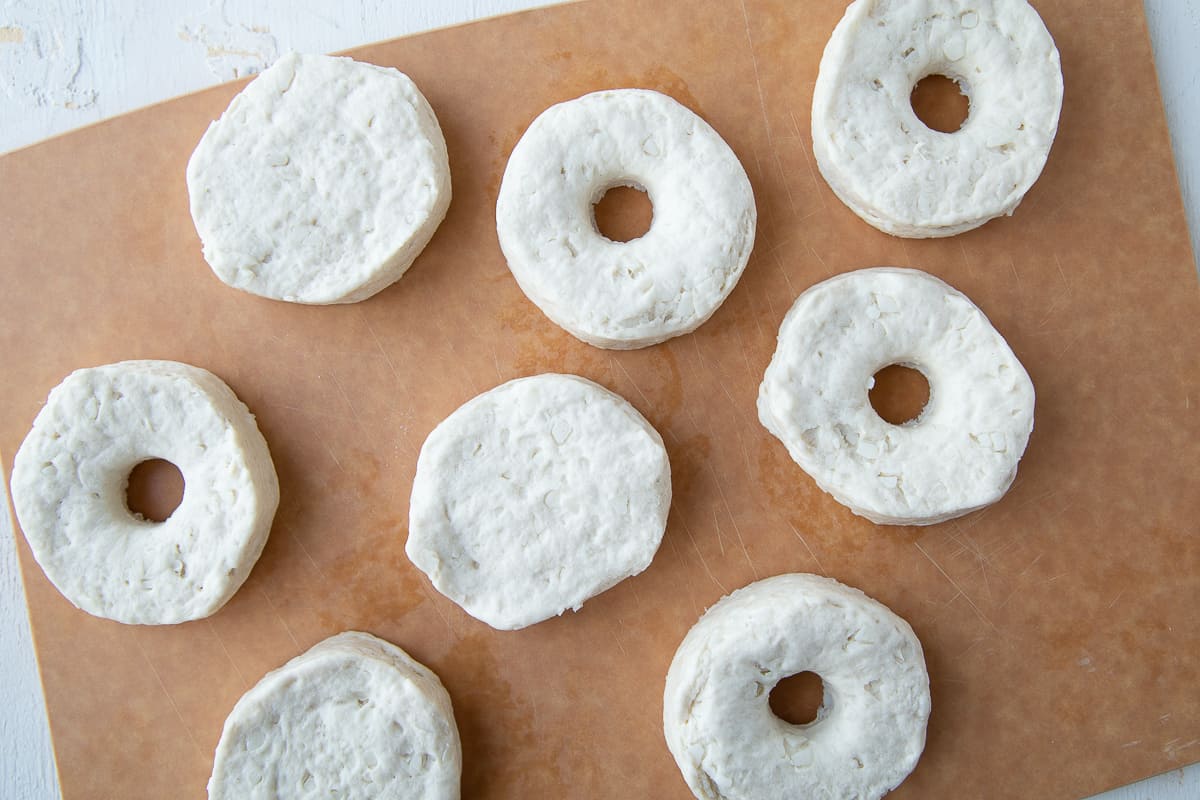 But really, your fingers will work just fine to create a hole. And save those donut holes for frying, too!
Gently lower 2–3 donuts into the hot oil, depending on the size of your pan. Cook for 2–3 minutes, or until golden brown on one side.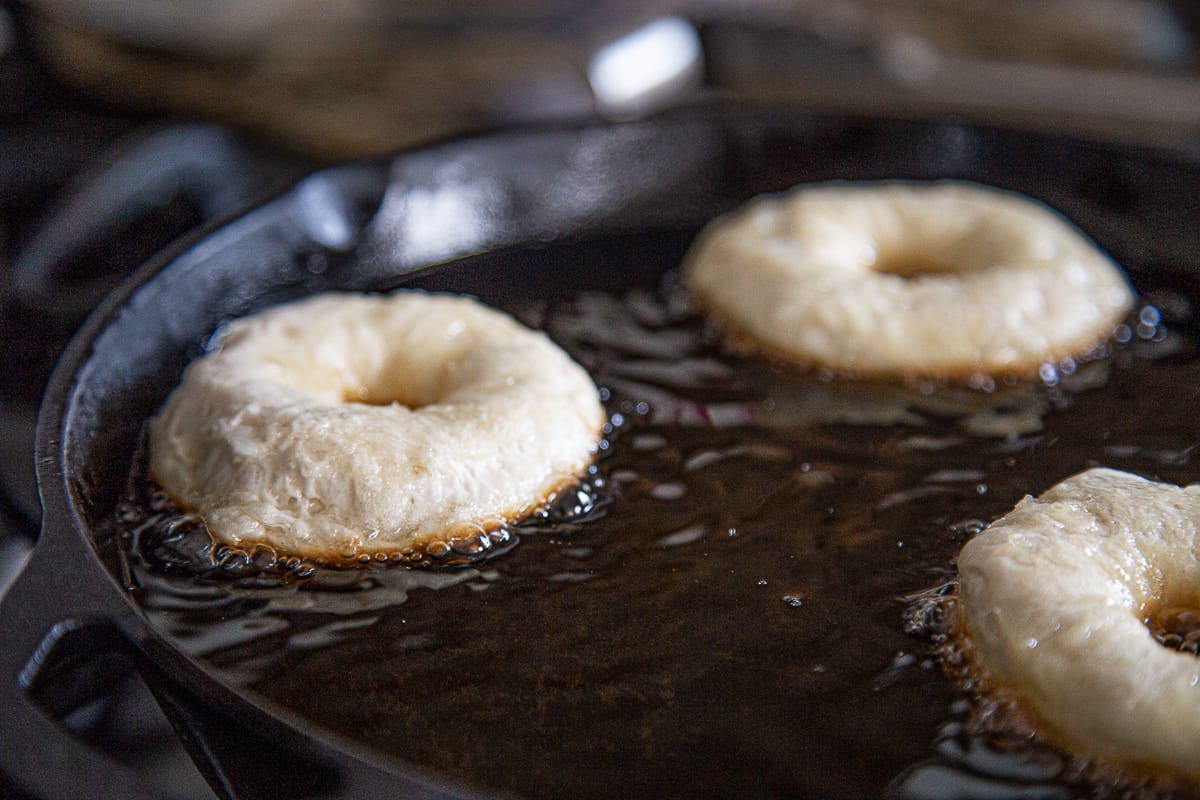 Flip and cook for an additional 2–3 minutes, or until golden brown all over. I like to use a spider tool for this, but a slotted spoon works, too!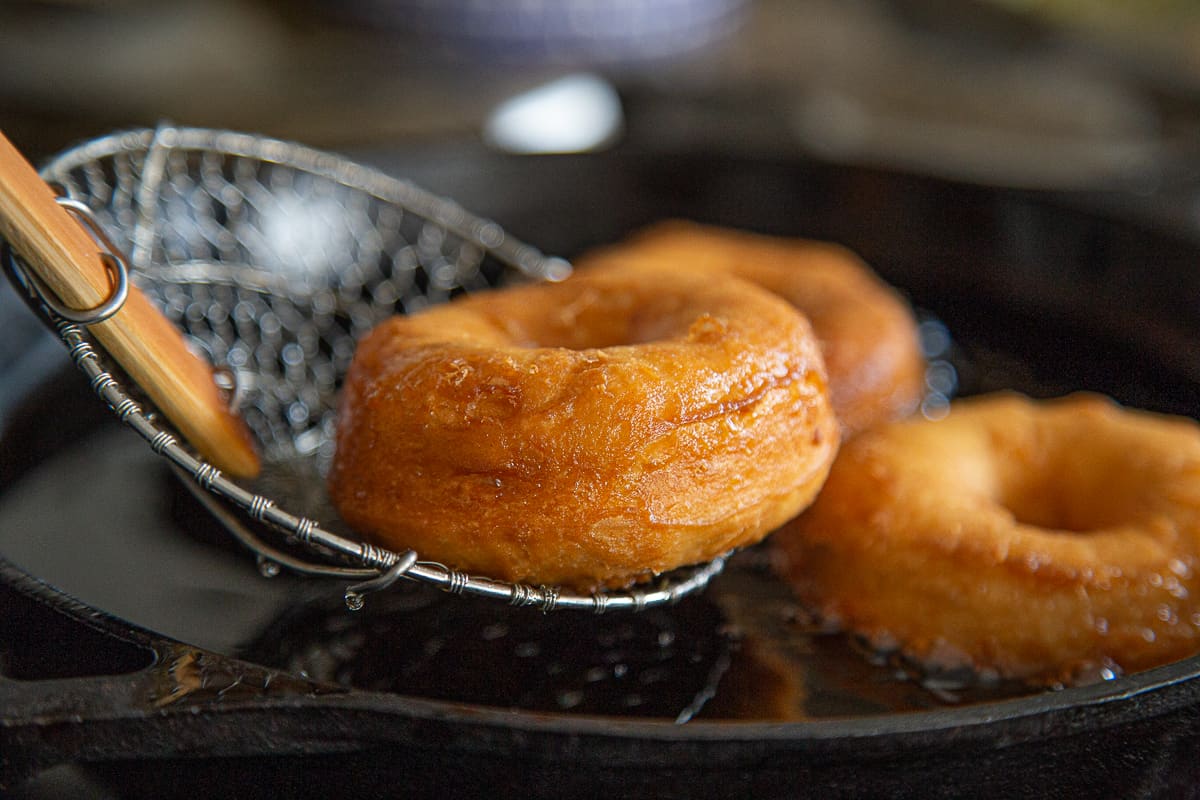 Place the hot donuts in a shallow bowl or on a plate with granulated sugar (add cinnamon if you'd like!). Carefully toss the donuts to coat with the sugar.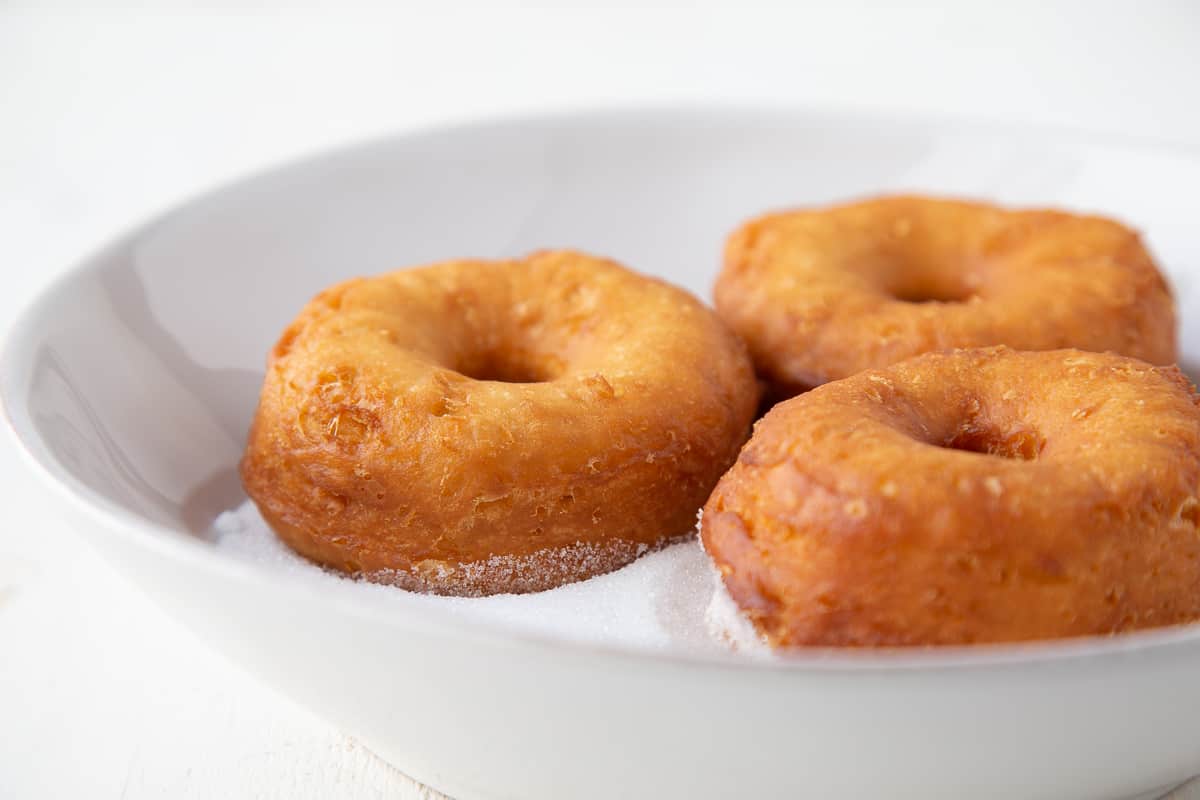 Alternatively, you can place the sugar and donuts in a brown paper lunch bag, seal it, and shake them to coat.
Wait a few minutes before enjoying the biscuit donuts—they will be hot! The donuts are best enjoyed while warm.
If you're making a few batches, keep any cooked donuts on a sheet pan in a 200°F oven. They will stay fresh and warm until the rest of the donuts are done frying. Don't let them sit there any longer than 20 minutes though, or they will dry out.
How to make donut holes from canned biscuits
To make donut holes from canned biscuits, heat 2 inches of cooking oil to 360°–375°F in a large skillet with sides.
Pop open a can of biscuits, and cut each biscuit into 4 pieces. Roll each piece into a ball using your hands.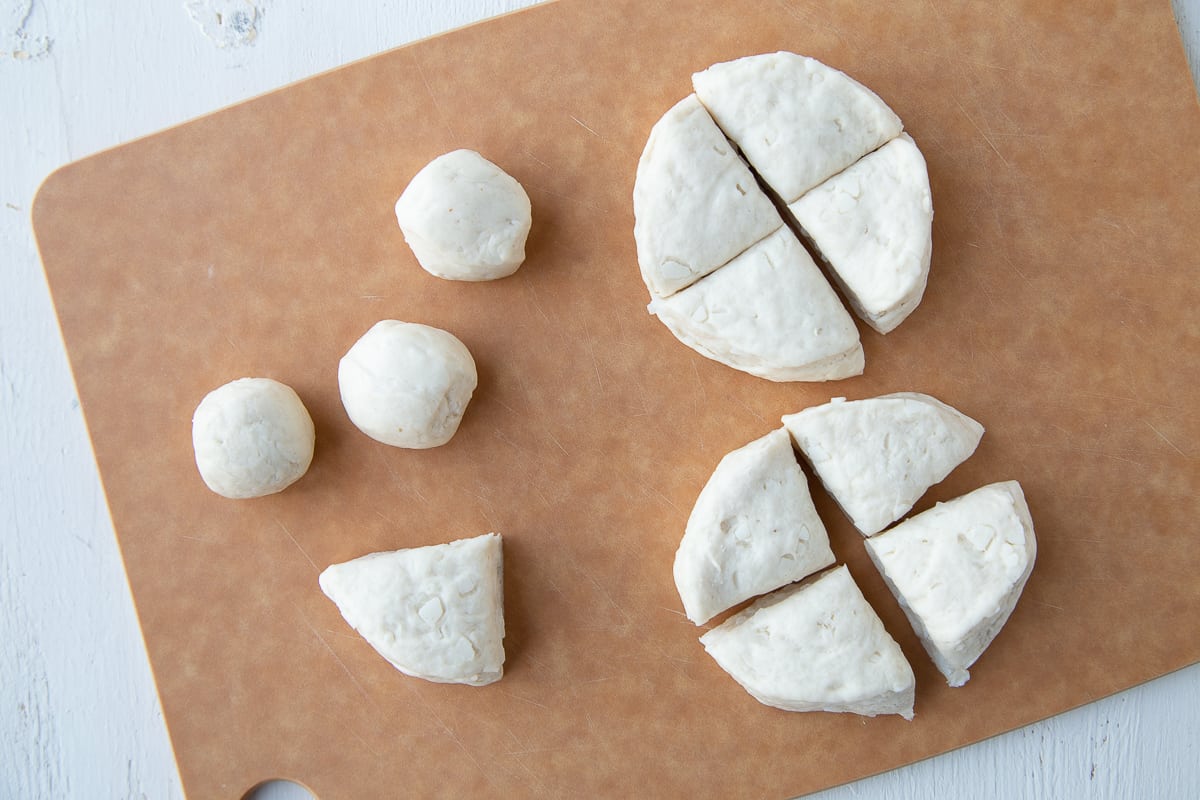 You will get 32 donut holes from a can of 8 biscuits.
Carefully lower 6–8 donut holes into the hot oil. Cook for 1–2 minutes, then flip and cook for 1–2 minutes more, or until golden brown all over.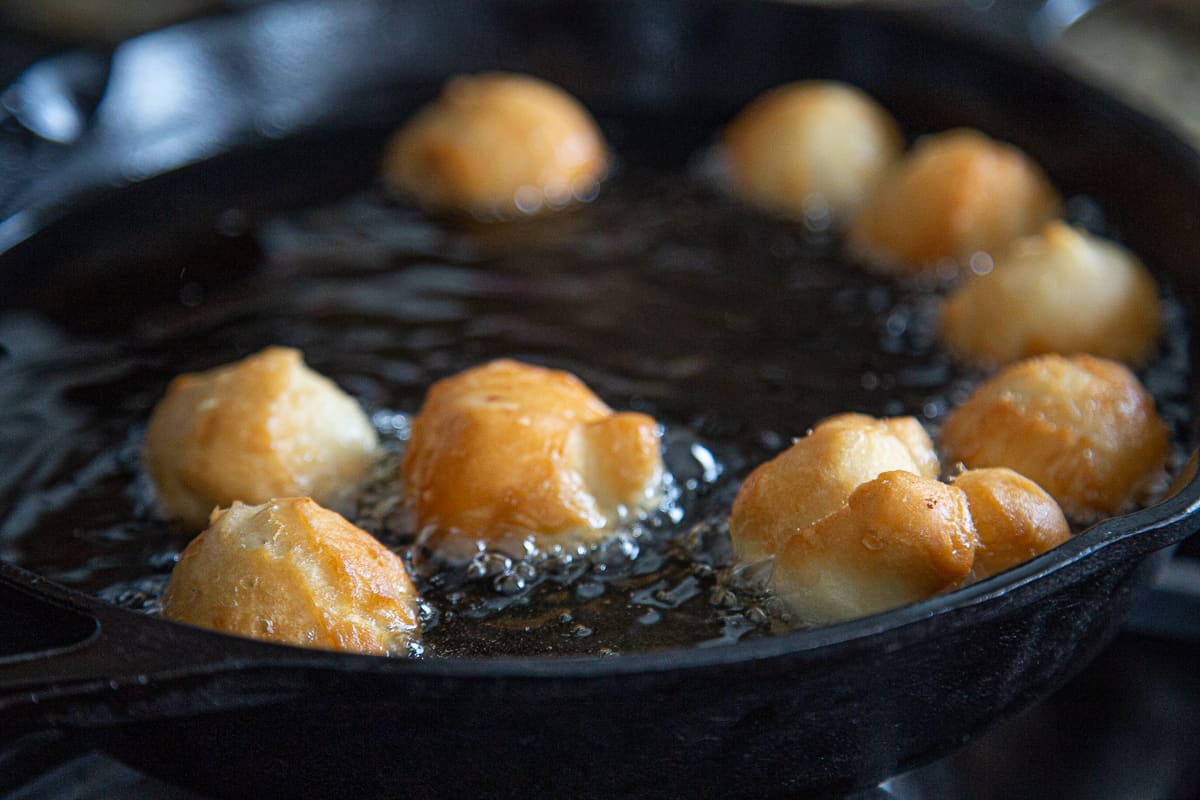 If you are frying the centers of whole donuts, don't bother rolling them together like I did (see photo above; they don't stay together!)—just make teeny tiny donut holes!
Toss the cooked donut holes with sugar, and serve while still warm.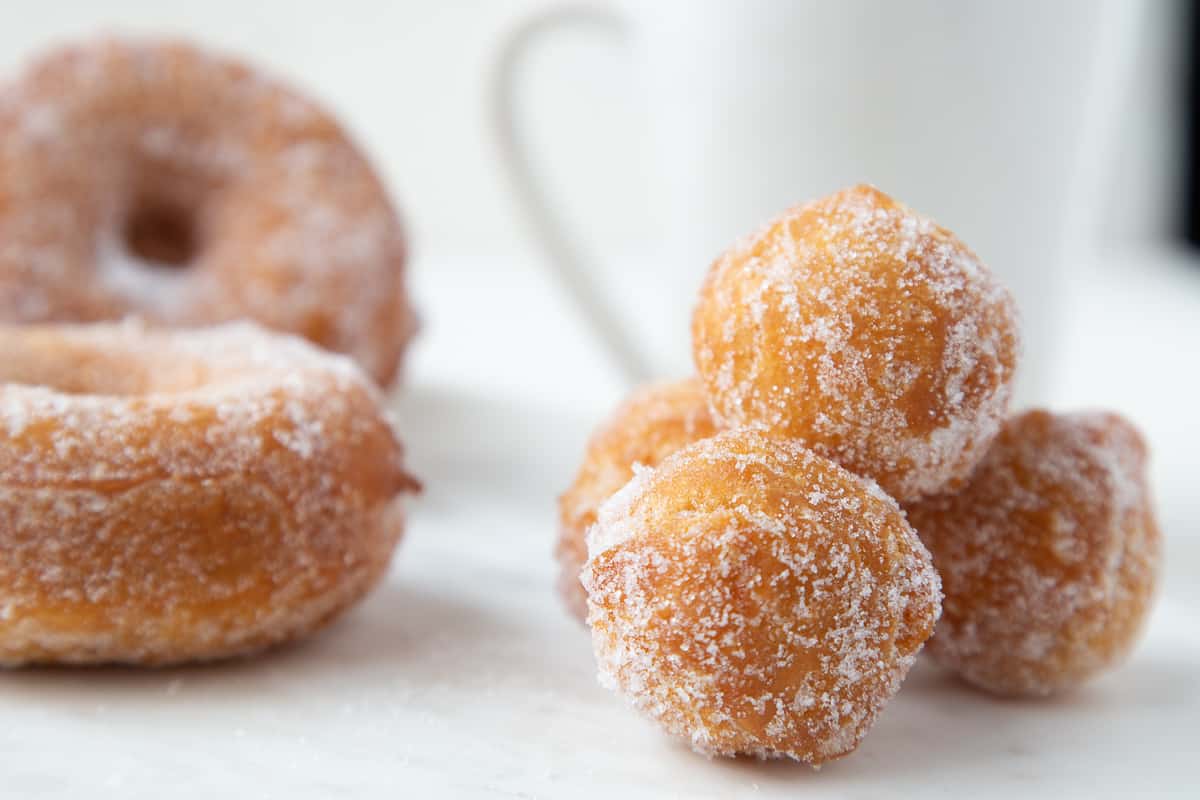 Can I make biscuit donuts ahead of time?
Biscuit Donuts are best enjoyed while fresh. I don't recommend making these ahead of time.
You can store any leftover donuts tightly sealed at room temperature for several days. Re-warm them in a 300°F oven for 5–7 minutes.
Frequently Asked Questions
What's the best oil for frying donuts?
Use a neutral flavored cooking oil with a high smoke point, such as canola oil, vegetable oil, corn oil, or grapeseed oil.
What temperature do I fry donuts at?
Donuts should be fried at 360°F–375°F for best results.
Can I make donuts without a thermometer?
If you don't have a thermometer, heat the oil until it bubbles when you place the handle of a wooden spoon in it. Then, add a single donut or single donut hole to test the temperature of the oil.
Fry the donut completely until it's golden brown on the outside, then cut it in half. If it's cooked through and not raw in the middle, you have a good temperature for frying donuts. If it's raw in the middle, lower the temperature of the burner and wait a few minutes for the oil to cool slightly before trying again. If it takes longer than 2–3 minutes per side to fry the donuts, raise the temperature of the burner and wait a few minutes for the oil to warm up.
Can I air fry biscuit donuts?
To air fry biscuit donuts, spray a piece of parchment paper with cooking spray. Place several donuts on the parchment, place into the air fryer, and fry for 2 minutes at 375°F. Flip and air fry for another 2 minutes, or until golden brown all over.
Topping ideas
These donuts are coated very simply in granulated sugar. They are also really delicious coated in cinnamon sugar! To make your own cinnamon sugar, combine half a cup of granulated sugar with 1 teaspoon of ground cinnamon, and whisk to combine.
Instead of coating them in sugar, here are more ideas for topping the biscuit donuts:
Chocolate or vanilla icing
Icing + festive sprinkles of your choice (this would be great for holidays like Christmas, Easter, Valentine's Day, and birthdays!)
Icing + shredded coconut
Icing + chopped nuts such as pecans, peanuts, walnuts, etc.
Icing + mini M&Ms or mini chocolate chips
Maple glaze + chopped bacon (get a maple glaze recipe here)
All of the above options require that the donuts cool down first (otherwise the icing will melt all over). So if you want to serve the donuts warm, go for the sugar topping in the recipe instead.
If you're feeling fancy, you can set out a toppings bar, and let everyone top their own!
Serving the biscuit donuts
3 Ingredient Biscuit Donuts are best served while freshly fried and still warm.
For any leftovers, re-warm the donuts in a 300°F oven for 5–7 minutes. Do not microwave the donuts to reheat them—it will make them very chewy and hard.
And of course, a cup of coffee is the perfect pairing for these!
If you're serving a bigger brunch, something savory like an Asparagus, Gruyere, and Ham Quiche would be a great accompaniment.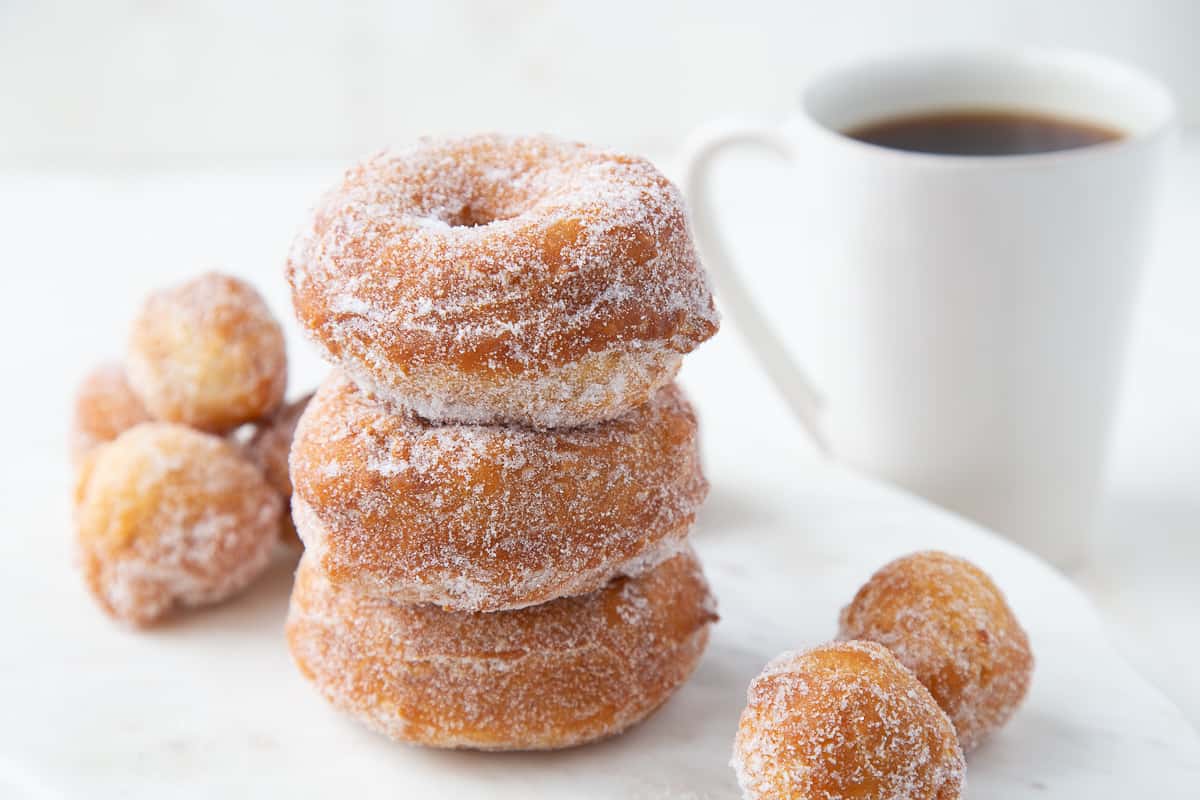 More brunch recipes
Have you tried this recipe? Please leave a ⭐️⭐️⭐️⭐️⭐️ rating and/or comment below!


📖 Recipe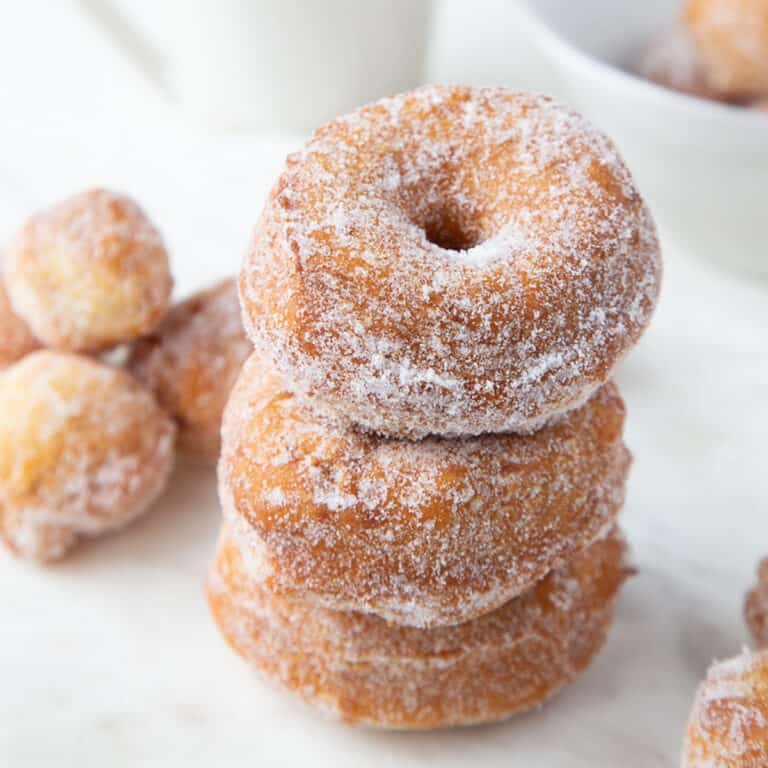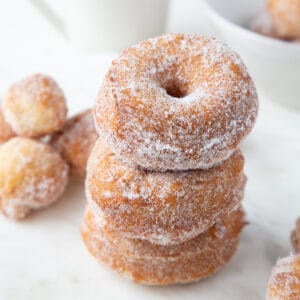 3-Ingredient Biscuit Donuts
These easy biscuit donuts are made from a can of biscuits. You just need 3 ingredients to make them!
Ingredients
Vegetable oil for frying

1

(16.3 oz) can of biscuit dough—it should make 8 biscuits

(I used Grands southern-style)

½

cup

granulated sugar

2

teaspoons

cinnamon

(optional)
Instructions
Pour one inch of vegetable oil into a heavy pan (like a cast iron pan) or fryer. Heat the oil to 360°F–375°F.

Open the can of biscuit dough and separate the dough into 8 biscuits. Use a small cutter to cut holes out of the center of each biscuit (I used a frosting coupler). Alternatively, just use your finger to make a hole in the middle.

If you are making doughnut holes, cut each piece of dough into 4 pieces, and roll the pieces into balls. You should have 32 balls total.

Carefully slide the dough (either the 2–3 whole doughnuts or 6–8 doughnut holes) into the hot oil. Fry until golden brown, then flip and fry until golden brown on the other side. This will take about 2–3 minutes per side, depending on how hot the oil is. Repeat with the remaining dough.

Meanwhile, place the sugar and cinnamon (if using) in a paper bag.

When the doughnuts are cooked, carefully remove them from the oil and place on a paper towel lined plate. Let sit for 30 seconds to drain any excess oil, then put the doughnuts into the bag with the sugar and cinnamon. Fold the bag to close, and gently shake the bag to distribute the sugar evenly onto the doughnuts. You may need to do this in batches.

Remove the doughnuts from the bag and serve immediately. You can also keep them warm on a sheet pan in a 200°F oven for up to 20 minutes.
Notes
Reheating instructions: Heat leftover doughnuts in a preheated 350°F oven for approximately 5 minutes, or until warm. Do not microwave the doughnuts to reheat them (they will get tough and chewy).
Nutrition
Calories:
377
kcal
Carbohydrates:
41
g
Protein:
4
g
Fat:
23
g
Saturated Fat:
13
g
Cholesterol:
1
mg
Sodium:
544
mg
Potassium:
130
mg
Fiber:
1
g
Sugar:
14
g
Vitamin A:
2
IU
Vitamin C:
1
mg
Calcium:
30
mg
Iron:
2
mg
Related recipes