Cinnamon Roasted Pecans are the perfect sweet treat! They taste just like the roasted nuts at the fair, and they're great for gift giving.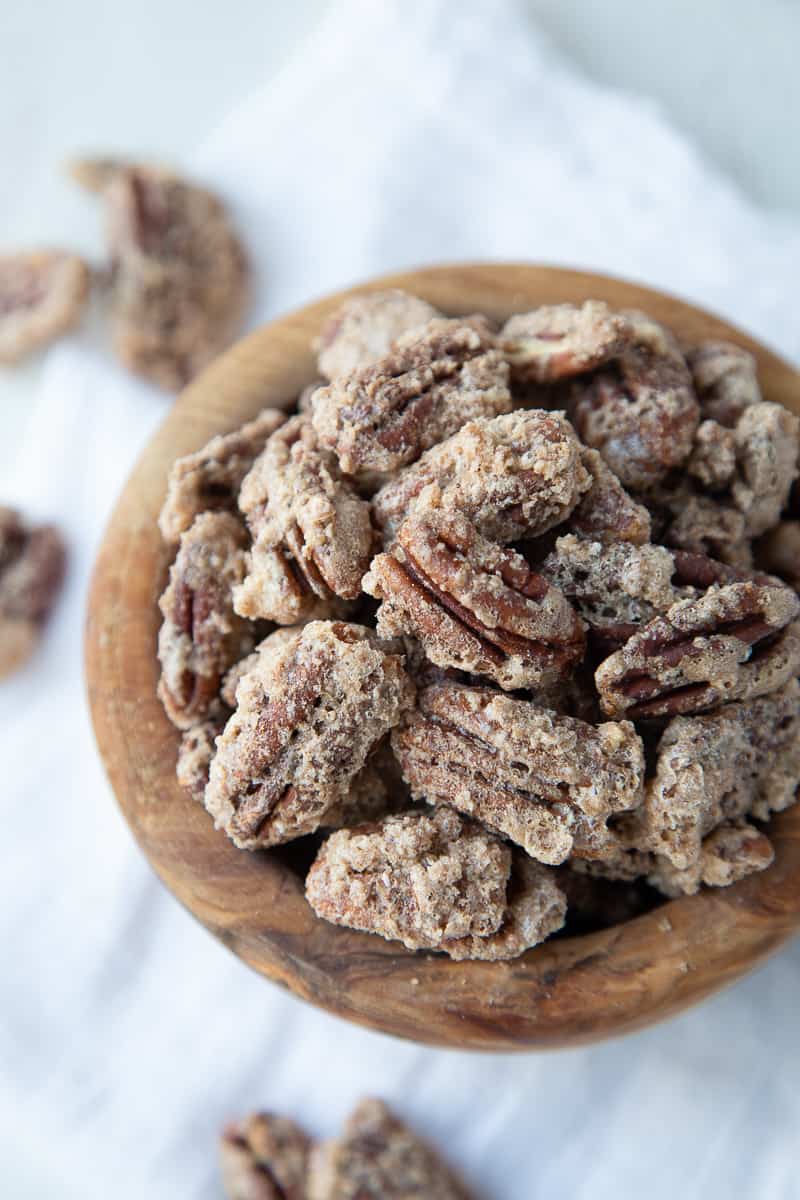 You know those roasted nuts that are $10 for a little paper cone at the fair? These are those nuts!! I was super excited to find this recipe for Cinnamon Roasted Pecans buried in an old church cookbook.
They were labeled as "Spiced Pecans" in the cookbook, and are also known as Candied Pecans. The recipe has five simple ingredients and takes a little over 30 minutes (most of that time is hands-off).
These nuts are seriously addicting. And, if you can bear to part with them, they make a really great hostess gift or homemade holiday gift.
This post contains affiliate links. Affiliate links support Gift of Hospitality at no additional cost to you. I receive a commission if you choose to make a purchase through these links.
Jump to:
True story—when testing the recipe, I burnt the first batch of pecans to a crisp. The original recipe said to roast the nuts for one hour at 350°F.
I really should have known better than to roast nuts for a whole hour at that temperature, but I figured Kathy (who submitted the recipe) knew what she was doing.
Well, it must have been a misprint, because the pecans were burnt after 45 minutes! I was SO bummed.
So I tweaked the recipe by lowering the temperature and reducing the cooking time to 30 minutes, and they came out perfectly.
I hope you love them as much as we did!
Ingredients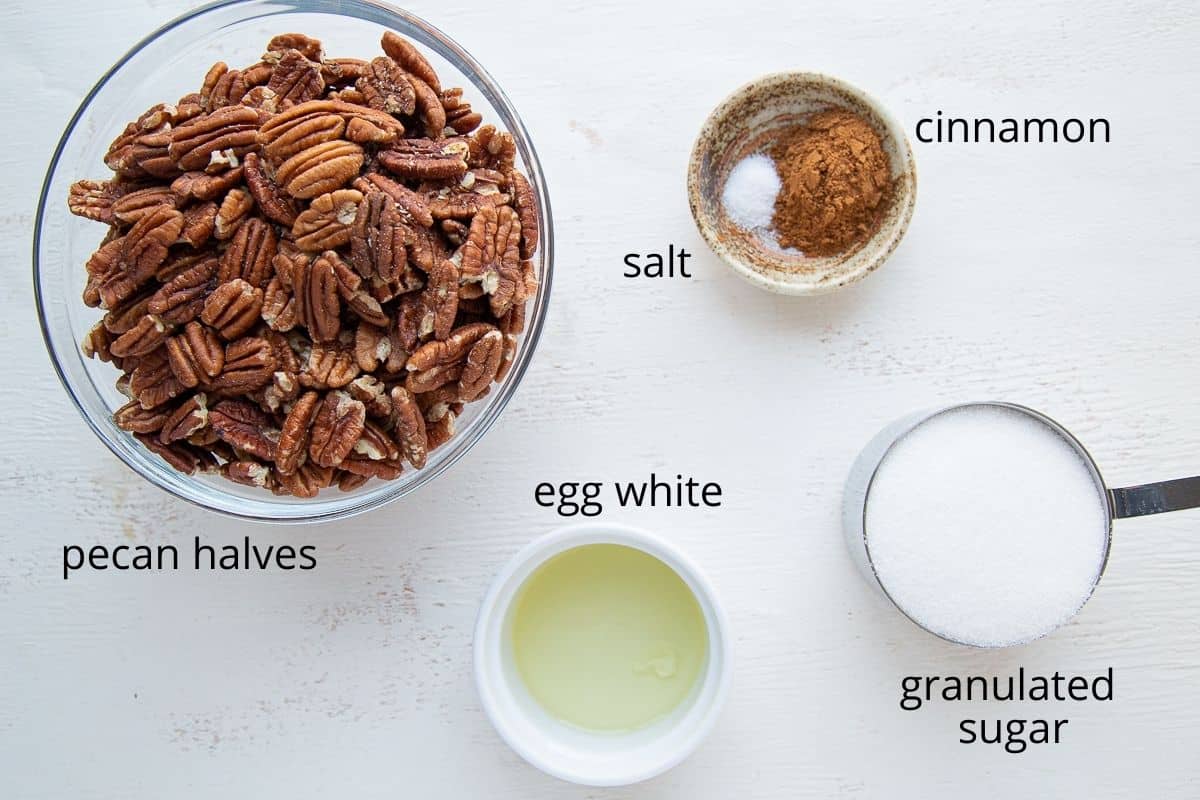 You'll need pecan halves for this recipe. Steer away from chopped pecans as they will be too small.
An egg white helps the other ingredients stick to the nuts.
Sugar, cinnamon, and salt flavor the nuts—the sugar caramelizes in the oven and coats the nuts with an irresistible sweet blanket of deliciousness.
How to make Cinnamon Roasted Pecans
Place a piece of parchment paper or a silicone baking mat
on a sheet pan. This is super important. You do NOT want to clean caramelized sugar off of your baking sheet!
In a large bowl, whisk the egg white with one tablespoon of water until foamy. Take care not to over mix the egg white—you just want to see lots of little bubbles.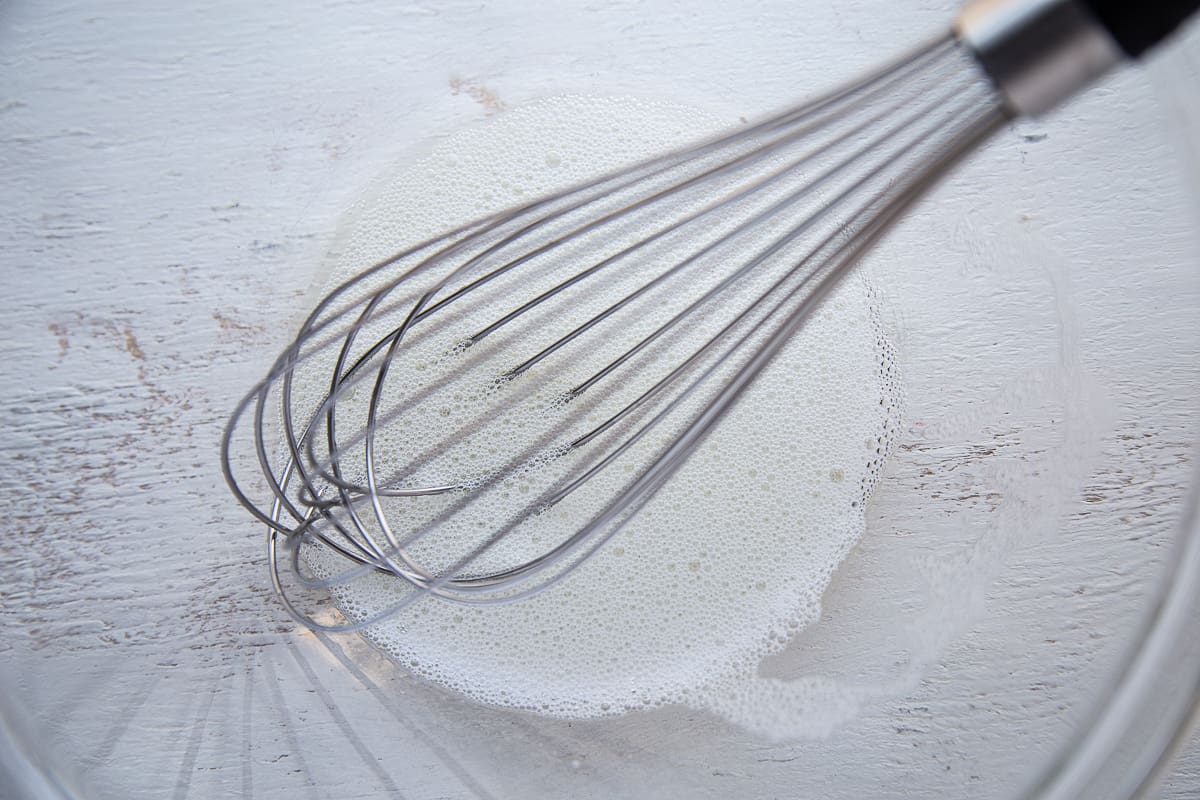 Stir the pecan halves into the egg white, and toss with a spatula until they are all coated.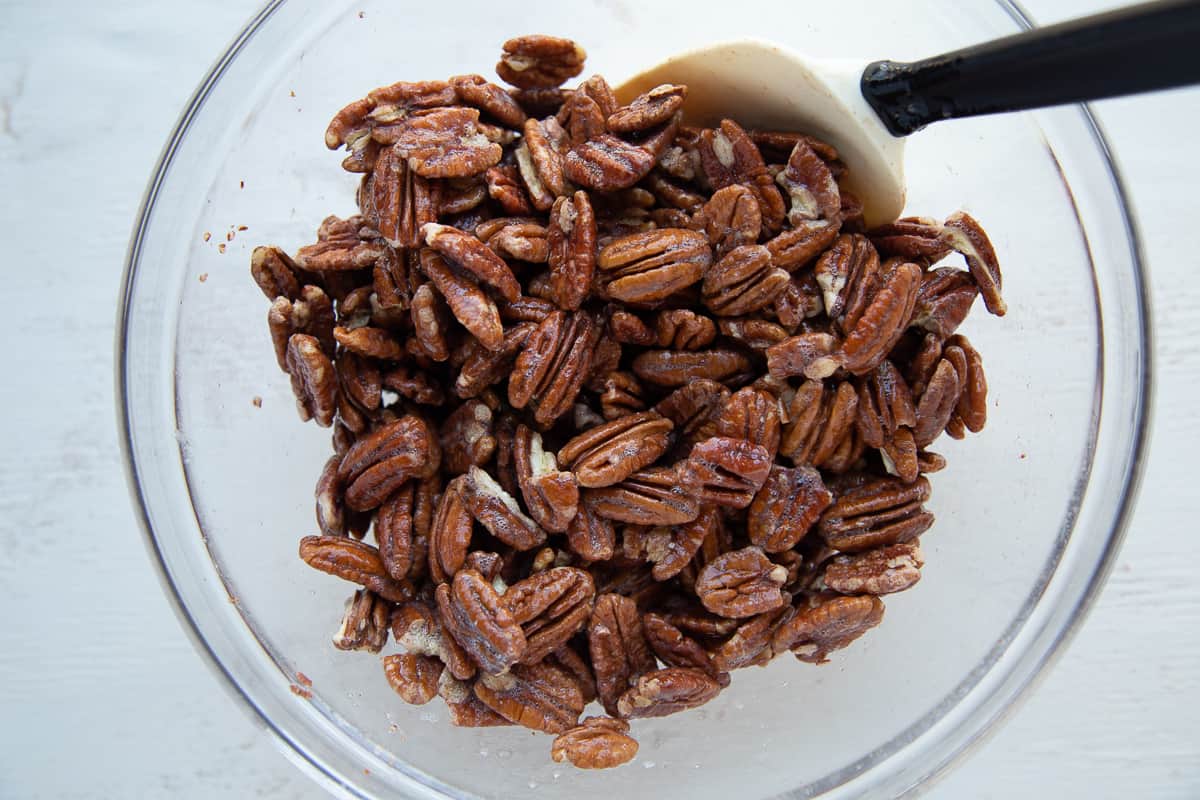 In a small bowl, stir together the sugar, salt, and cinnamon. Pour the mixture over the nuts and toss with a spatula until the nuts are coated.
Pour the nuts out onto the prepared baking sheet. Bake for 15 minutes at 300°F, stir, and then bake for 15 more minutes (for a total of 30 minutes).
Remove the nuts from the oven, and use a pancake turner
to lift the nuts off the tray, and place them on a piece of parchment paper to cool. Break up the nuts gently with your hands, if needed.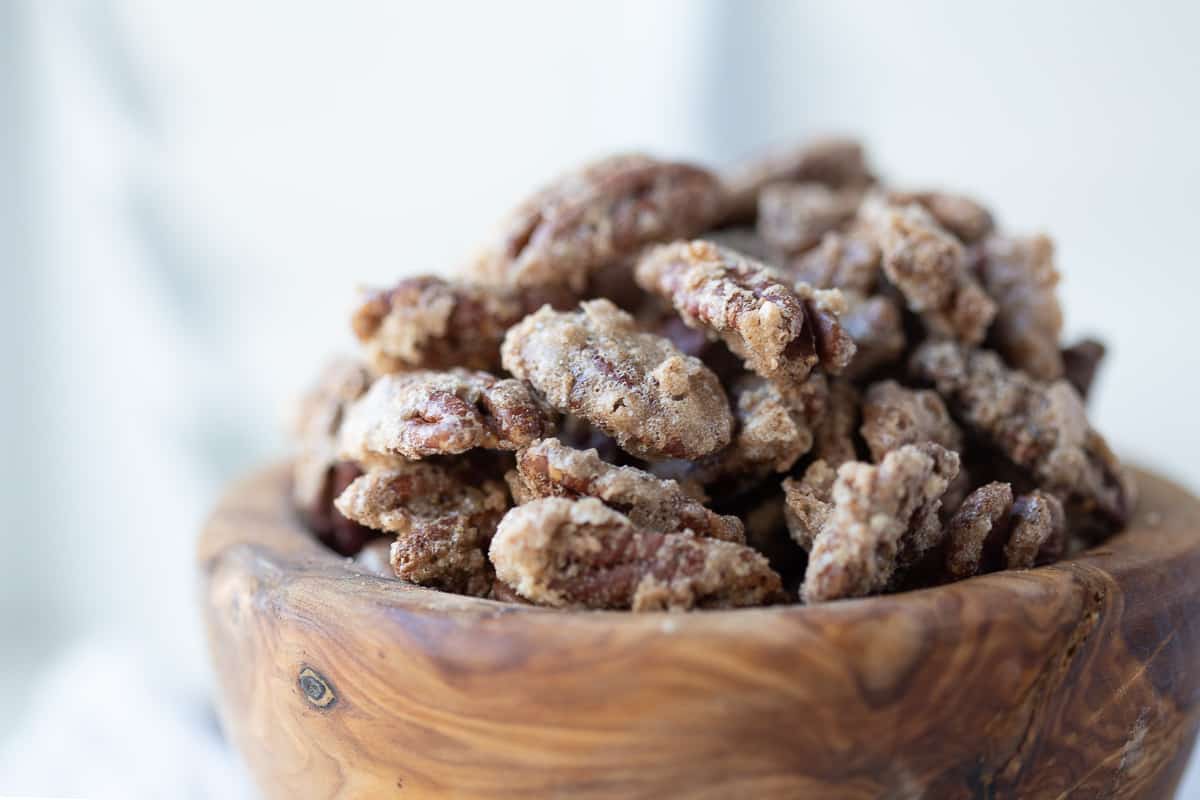 You can also see the how-to for these nuts on Google!
Cinnamon Roasted Pecans: Frequently Asked Questions
Can I substitute another type of nut?
Walnuts, almonds, or cashews (or a mix of any of them) would be delicious in this recipe. Experiment with what you like the best! I recommend using unsalted nuts for best results.
Can I make these spicy?
You can make your own sweet and spicy roasted nuts by adding ¼ teaspoon cayenne pepper to the sugar mixture. You can make them even spicier but I suggest starting with ¼ teaspoon to start, and going up from there. Cayenne pepper packs a punch!
Can I substitute brown sugar for granulated sugar?
You can substitute brown sugar for the granulated (white) sugar in the recipe. You can either replace all of it, or do half brown sugar and half granulated sugar.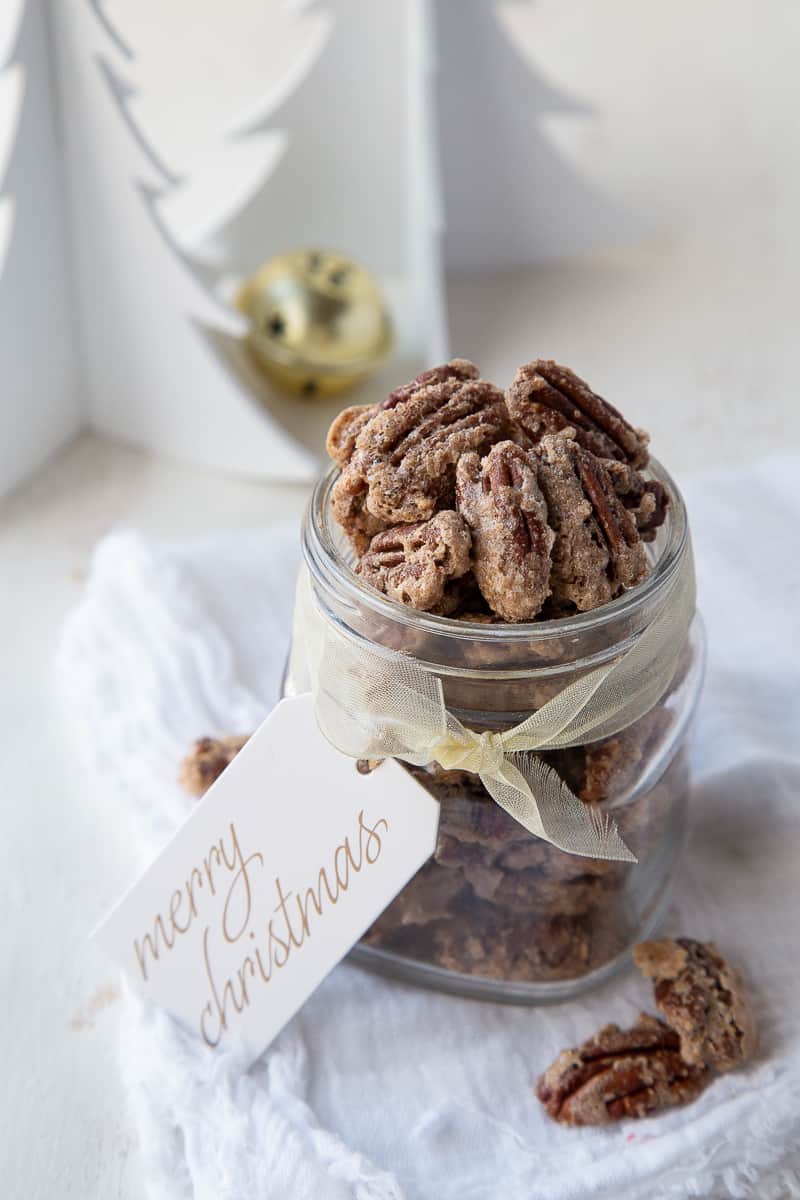 Gift giving
Cinnamon roasted nuts make such a great gift. You can package them in a glass jar with a ribbon, or in a plastic cellophane bag with a bow, or even in a mini holiday tin
.
They also make great party favors. These little kraft gift bags
would be perfect for packaging them up.
Storing the nuts
The nuts will keep in an airtight container at room temperature for at least one week. I have a feeling they will last even longer than that, but these nuts haven't seen past a week at my house. 🙂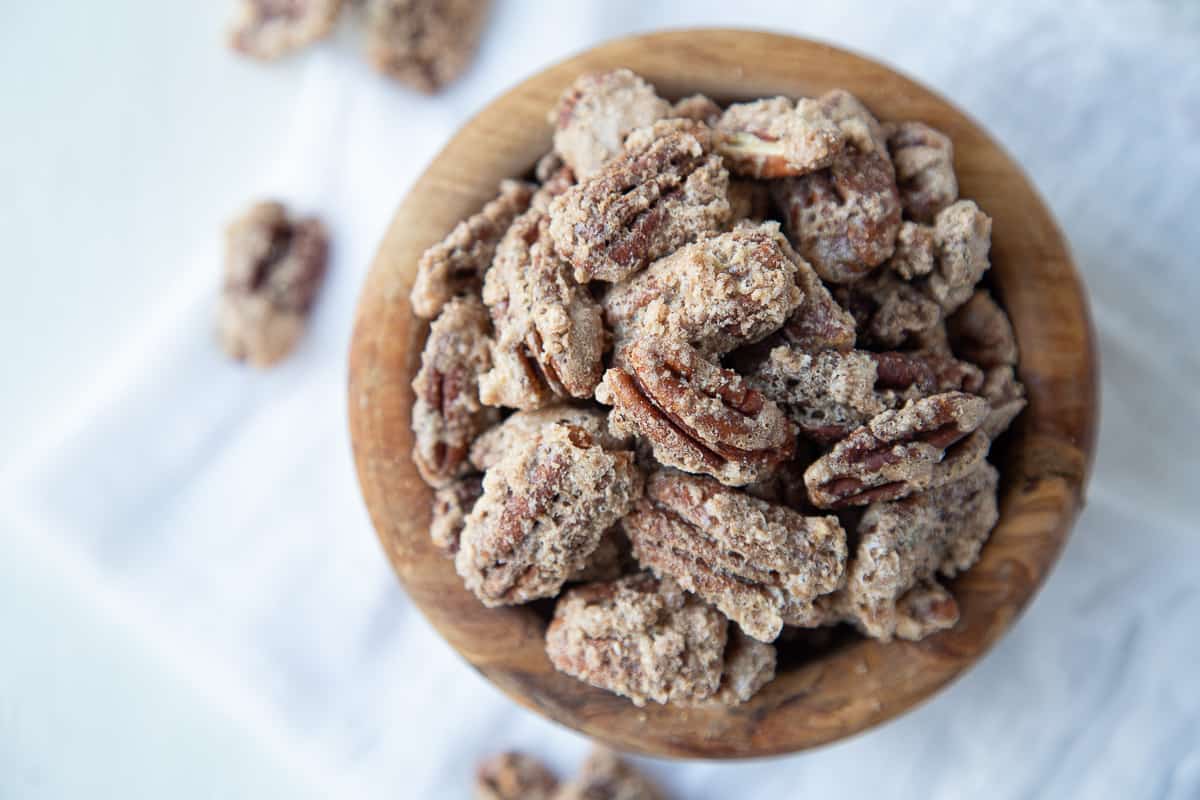 I also love these as a a little nibble, especially when you have company. Along with a glass of wine, they will tide your hungry guests over until dinner is ready. I set these out on our coffee table with a spoon and some cocktail napkins, and let people help themselves.
Speaking of tiding your hungry guests over until dinner, how about making these Boozy Bacon Wrapped Dates for another little nibble? They're soaked in brandy!
Or if you'd like another nut recipe that goes with beer in particular, these Maple Sriracha Roasted Nuts are a favorite for football season at our house!
Have you tried this recipe? Please leave a ⭐️⭐️⭐️⭐️⭐️ rating and/or comment below!
---


---
📖 Recipe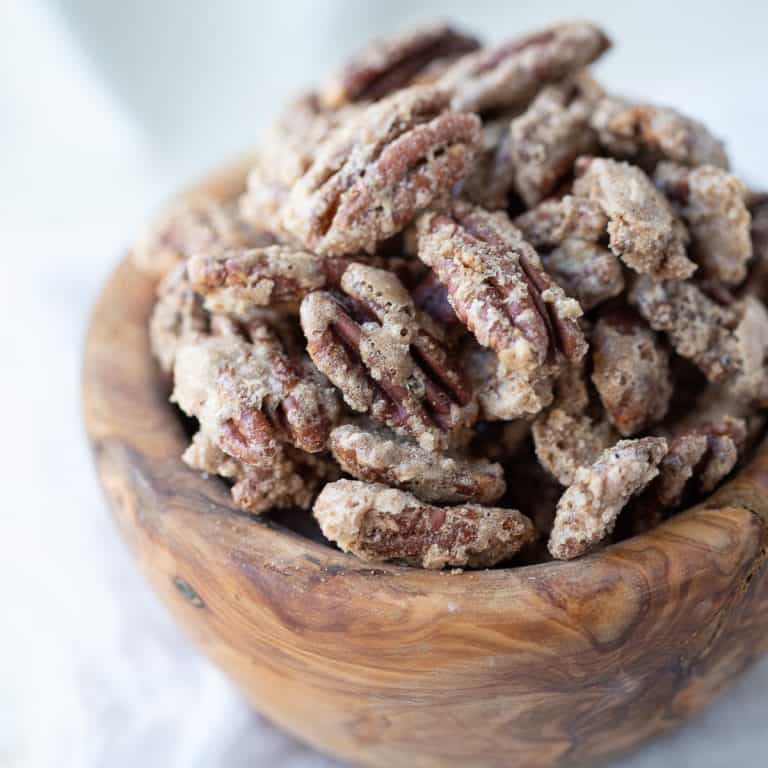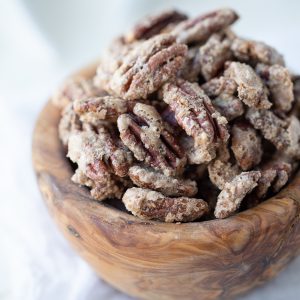 Cinnamon Roasted Pecans
These sweet little treats taste just like the roasted nuts at the fair!
Ingredients
1

lb

pecan halves

1

egg white

1

tablespoon

cold water

1

cup

sugar

1

tablespoon

cinnamon

¼

teaspoon

salt
Instructions
Preheat oven to 300°F. Place a piece of parchment paper or a silicone baking mat on a sheet pan.

In a large bowl, whisk together the egg white and cold water until frothy. Stir in the pecans and toss to coat.

Add the sugar, cinnamon, and salt, and stir to combine.

Spread the pecans evenly on the prepared sheet pan. Bake for 30 minutes, stirring halfway through.

Remove from the oven and transfer to a piece of parchment paper (this ensures that the nuts won't stick to the extra sugar on the bottom of the pan). Let cool and store in an airtight container.
Notes
It is super important to use a piece of parchment paper or a silicone baking mat
to line the sheet pan. You do not want to clean caramelized sugar from the bottom of your pan!
You can substitute unsalted almonds, walnuts, or cashews for the pecans, if you wish. You may need to alter the baking time slightly for cashews, which burn more easily. Start with 15 minutes, then stir, and bake in 5 minute increments until the nuts are toasted.
Want to make these spicy? Add ¼ teaspoon of cayenne pepper along with the cinnamon.
Nutrition
Calories:
263
kcal
Carbohydrates:
18
g
Protein:
3
g
Fat:
22
g
Saturated Fat:
2
g
Sodium:
42
mg
Potassium:
127
mg
Fiber:
3
g
Sugar:
15
g
Vitamin A:
17
IU
Vitamin C:
1
mg
Calcium:
27
mg
Iron:
1
mg
Related recipes