This simple tutorial will show you how to make a beautiful Christmas Cheese Board. You can make it small or make it large, and customize it with all of the things that YOU love!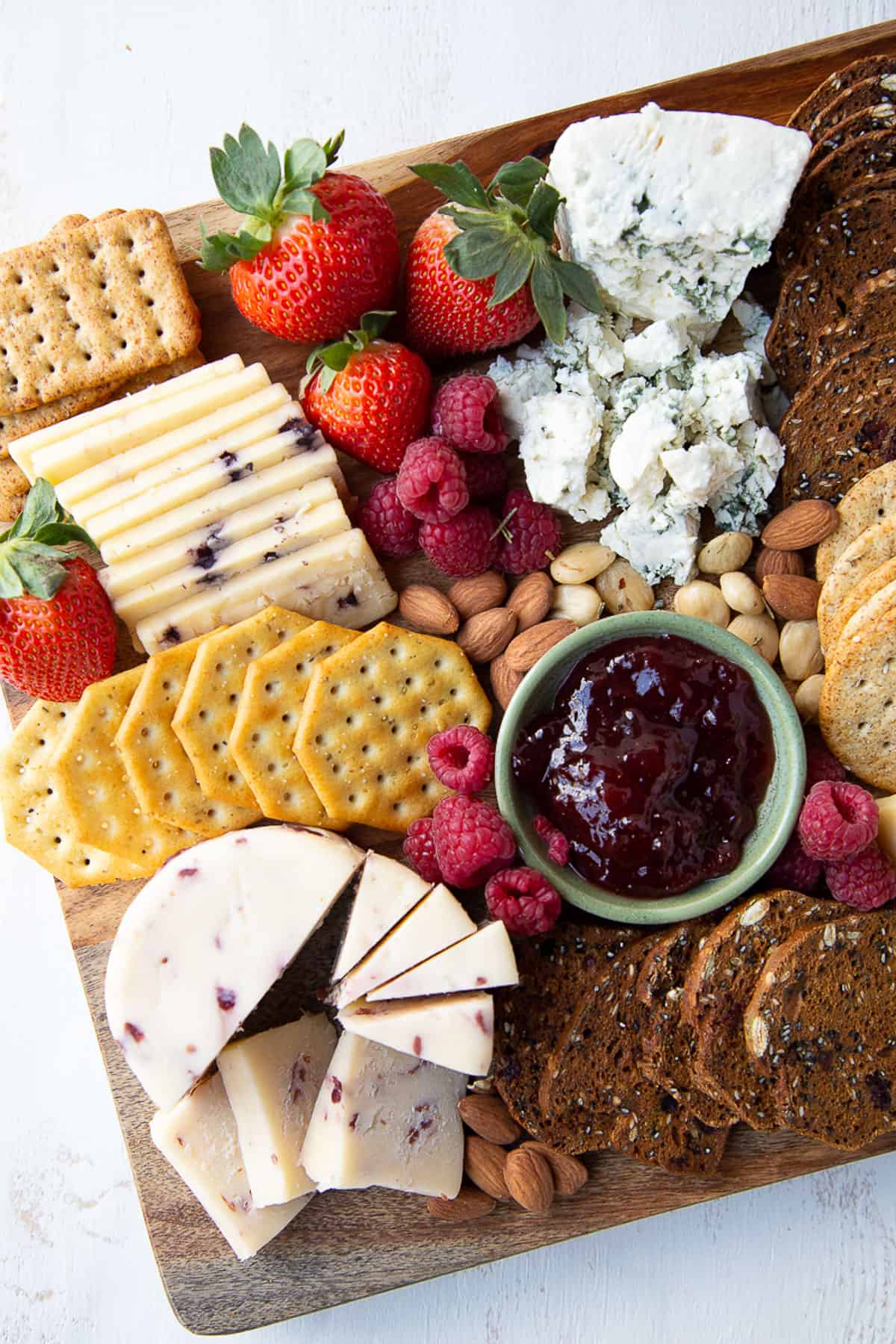 I love serving cheese boards when we have guests. They're easy to make, can be prepared in advance, don't require heating, and guests absolutely demolish them by the end of the evening.
December is a fun time to make a festive Christmas Cheese Board, adorned with seasonal cheeses and red and green garnishes like berries and olives.
And the best part about cheese boards is that they are entirely customizable! I'll go through some traditional board building elements below, but feel free to do what you like.
That's the best part of making it yourself—you get to choose what you enjoy!
I like serving one of these at my annual Christmas Cookie Exchange (you can read more about that here in How to Host a Cookie Exchange).
Which cheese is best for a cheese board?
Traditional cheese boards start with three varieties of cheese: one hard cheese, one soft cheese, and one blue cheese.
Examples of hard cheese include cheddar, manchego, gouda, colby jack, and Parmigiano Reggiano.
Soft cheeses include goat cheese, brie, camembert, and fresh mozzarella.
Blue cheeses include gorgonzola, stilton, and roquefort.
Including one of each type of cheese can typically guarantee that guests will enjoy at least one of the cheeses. That said, choose cheeses that you enjoy while keeping an eye on variety for your guests.
There are many seasonal cheeses that turn up in the cheese section during the holidays. I used a cranberry cheddar, a blueberry vodka cheddar, and a cranberry stilton from Aldi.
Also, Trader Joe's makes an amazing lemon ricotta each December.
Check your local grocery store, specialty cheese shop, or specialty grocer, and ask for their seasonal recommendations. The cheese specialists always know what's good!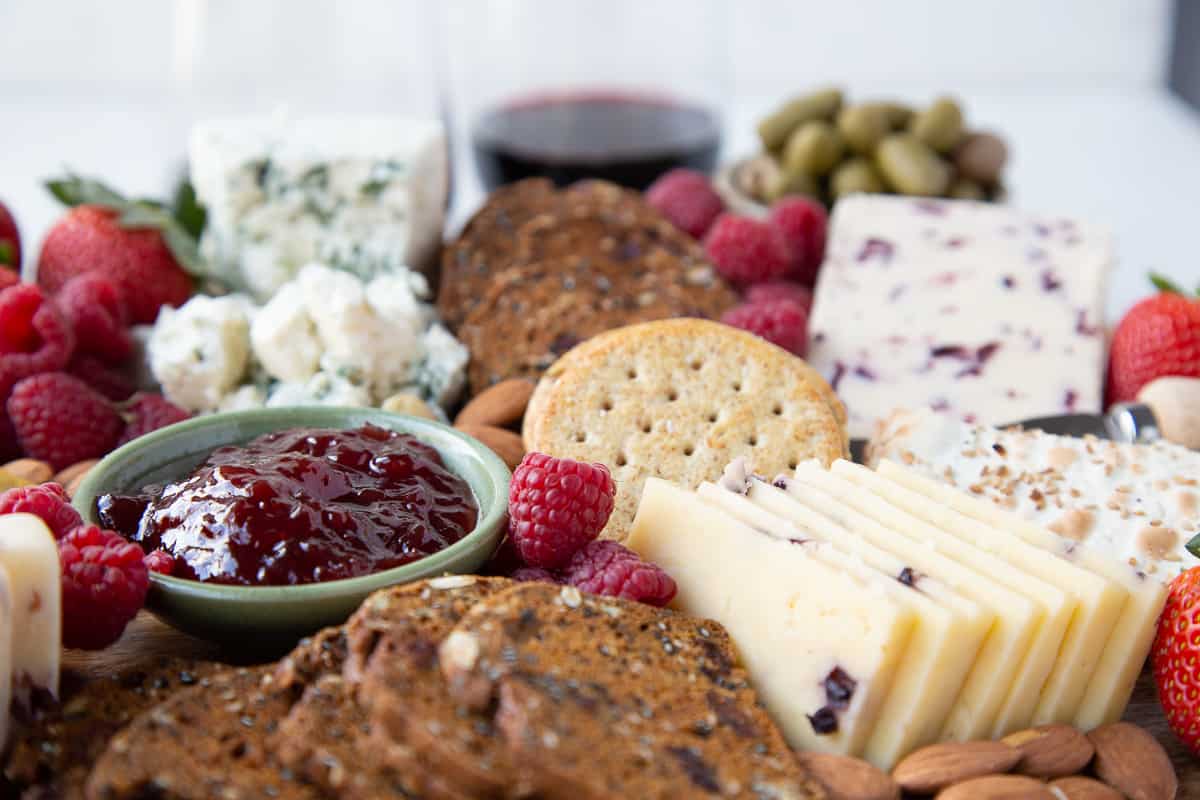 Additions for a cheese board
Cheese is a must for any cheese board, but what else should you include? Here is a list of accompaniment ideas:
A variety of crackers in different shapes and sizes
Charcuterie including sliced salami, sopressata, prosciutto, pepperoni, or ham (or even something like these Ham and Cream Cheese Pinwheels)
Fresh fruit including strawberries, raspberries, blackberries, and grapes
Dried fruit such as apricots, cranberries, and dates
Nuts such as pistachios, cashews, and almonds
Fruit jam, which pairs especially well with hard cheese such as cheddar and manchego
Green and black olives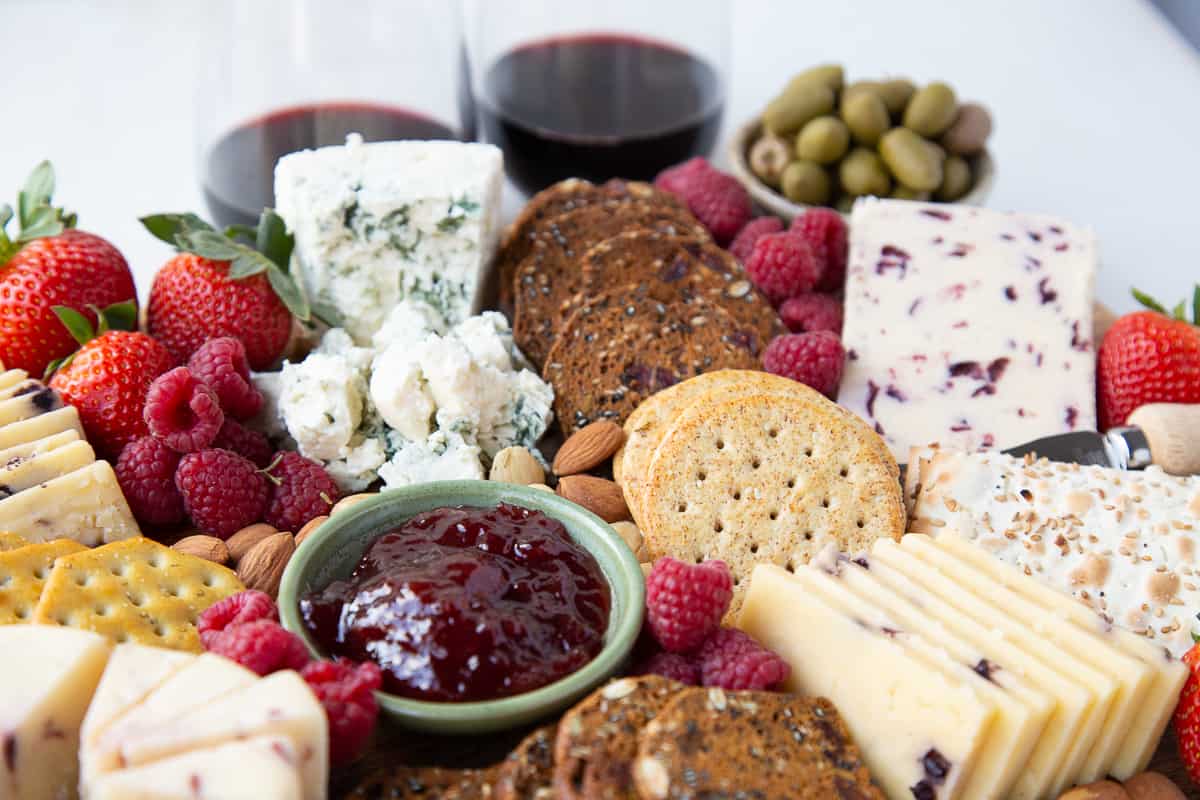 Unique additions
I love adding an unusual element when I'm making a cheese board. In this case, this Christmas Cheese Board is pretty classic, but I selected fruit and nut artisan crisps for one of the crackers.
My guests loved them! Aldi sells them seasonally and you can also find them at grocery stores throughout the year under the brand name Raincoast Crisps.
You can also include something sweet, such as chocolate covered almonds, tiny cookies, or the mini iced gingerbread people from Trader Joe's.
Other fun additions include peppadew peppers, or really anything from you local grocery store's olive bar. They typically have lots of pickled and brined items that will fly off the platter.
One other option is to make homemade Marinated Mushrooms. Mushroom lovers will gobble them up!
Christmas Cheese Board: step-by-step instructions
Start with a platter or board. It can be round, square, rectangular—the shape doesn't matter. The goal is to fill the board completely to make it look bountiful, so choose the size of the board according to the number of guests and the amount of cheese and accompaniments that you have.
Either white or wooden are great choices for showcasing the cheese. This is the wooden board that I have.
Start by slicing the hard cheese into different shapes. The different shapes provide variety, which is key to a visually appealing presentation on the platter. You can even make a homemade Cheese Roll if you'd like!
Place the cheese around the board.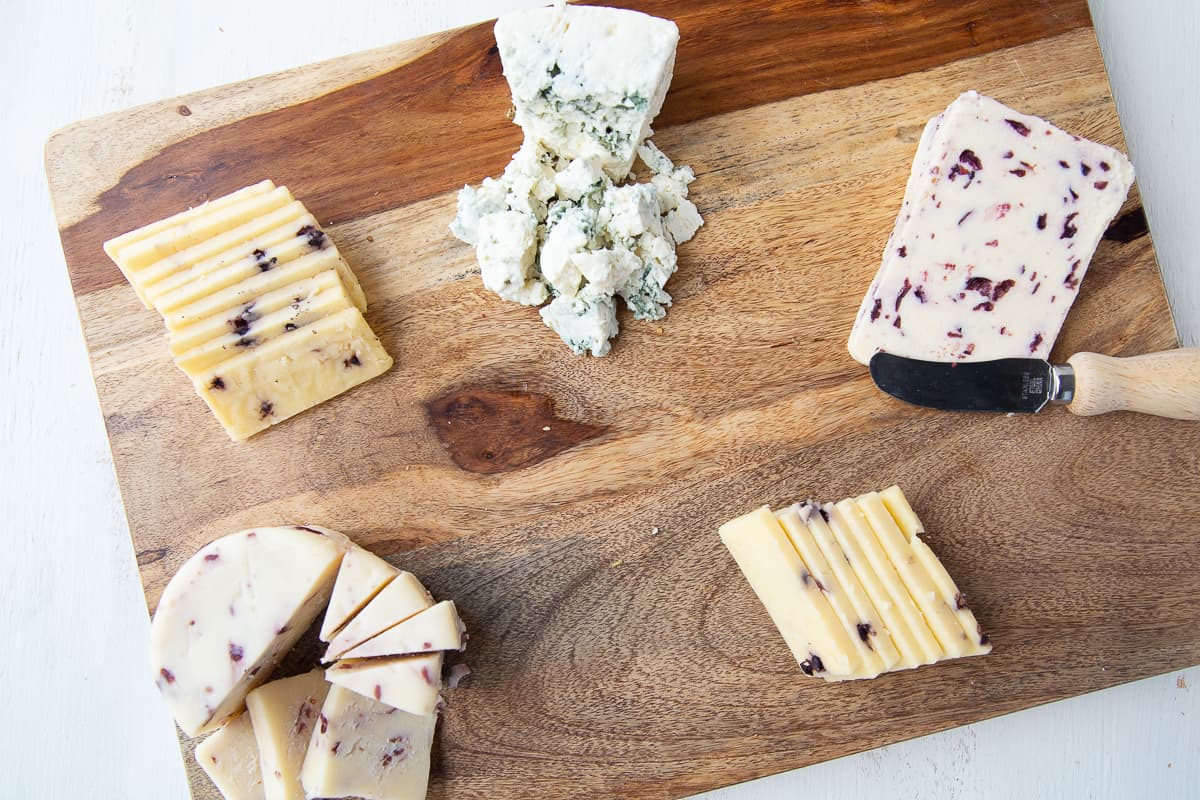 Place the jam and olives in small bowls and place on the board.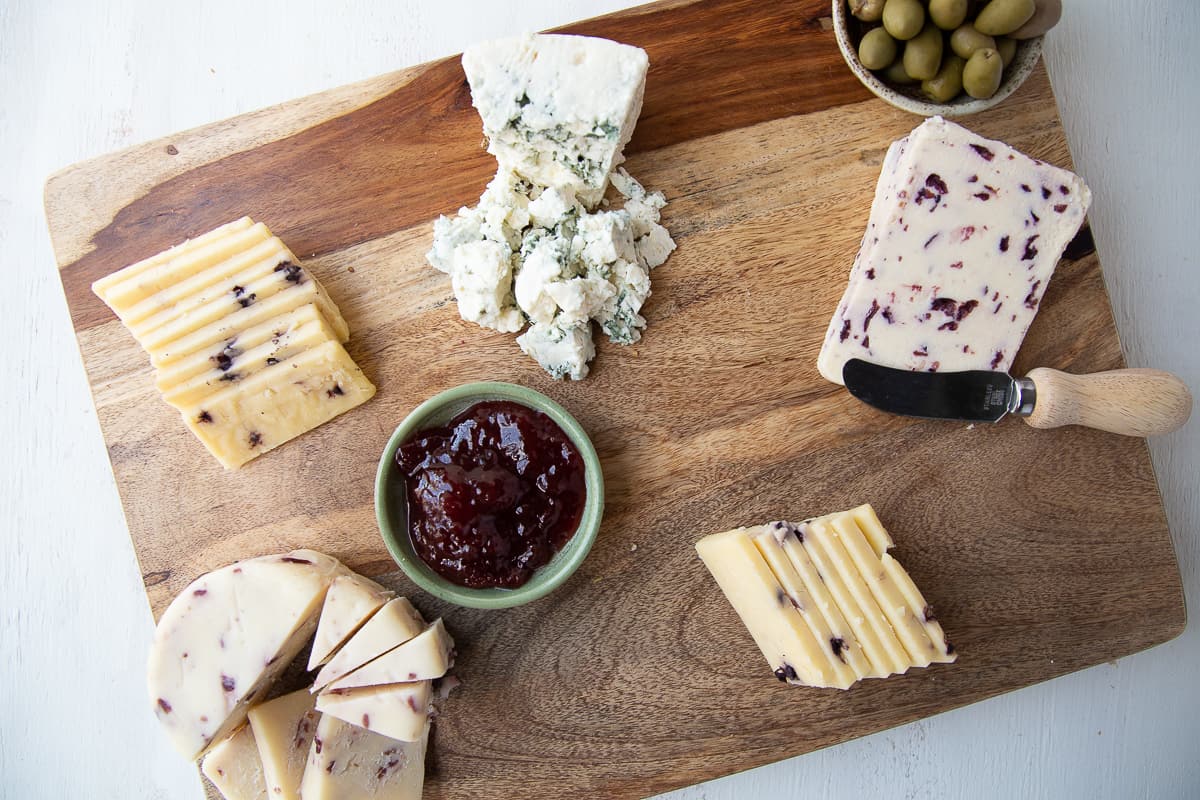 Add a variety of crackers in different locations around the board. Fan them out, stack them up—just be sure to include a variety!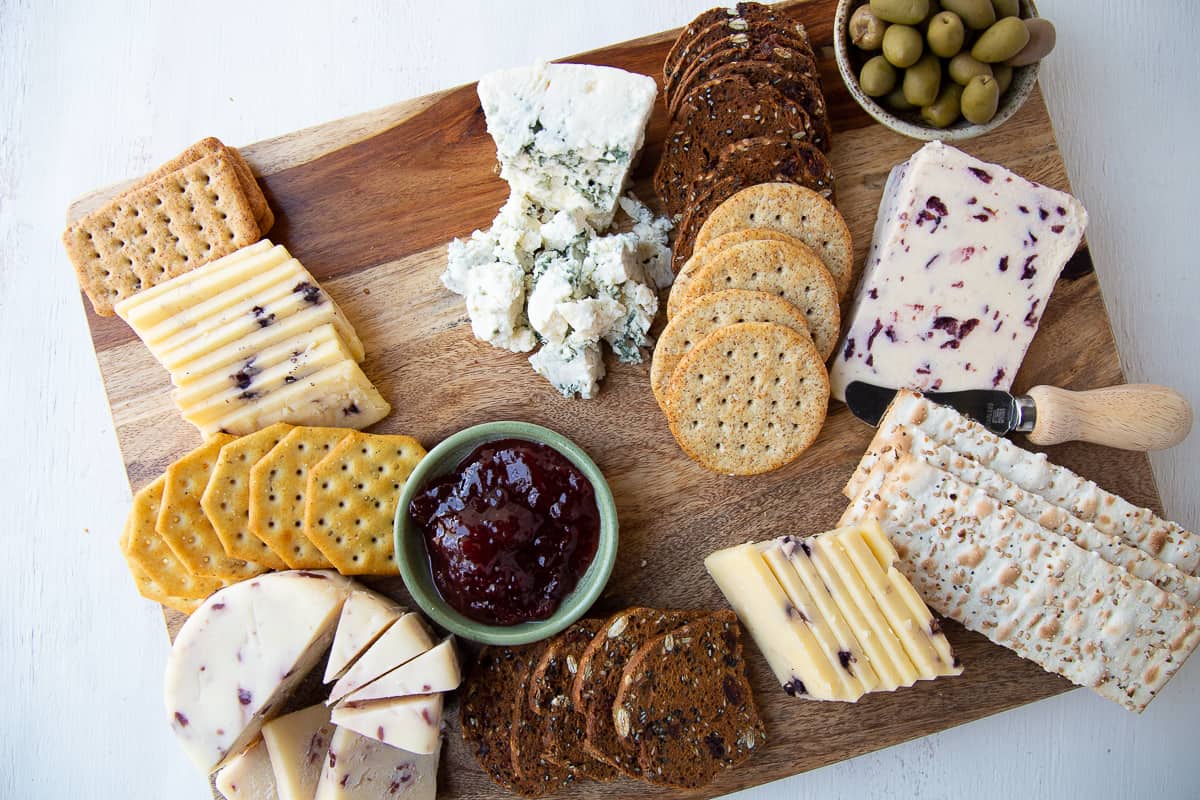 Finally, fill in any holes with fresh fruit and/or nuts. Strawberries are particularly festive due to the red and green color.
And I love including marcona almonds, which you can find at Whole Foods Market or Trader Joe's. Marcona almonds are a particular almond variety that is fried lightly in oil—yum!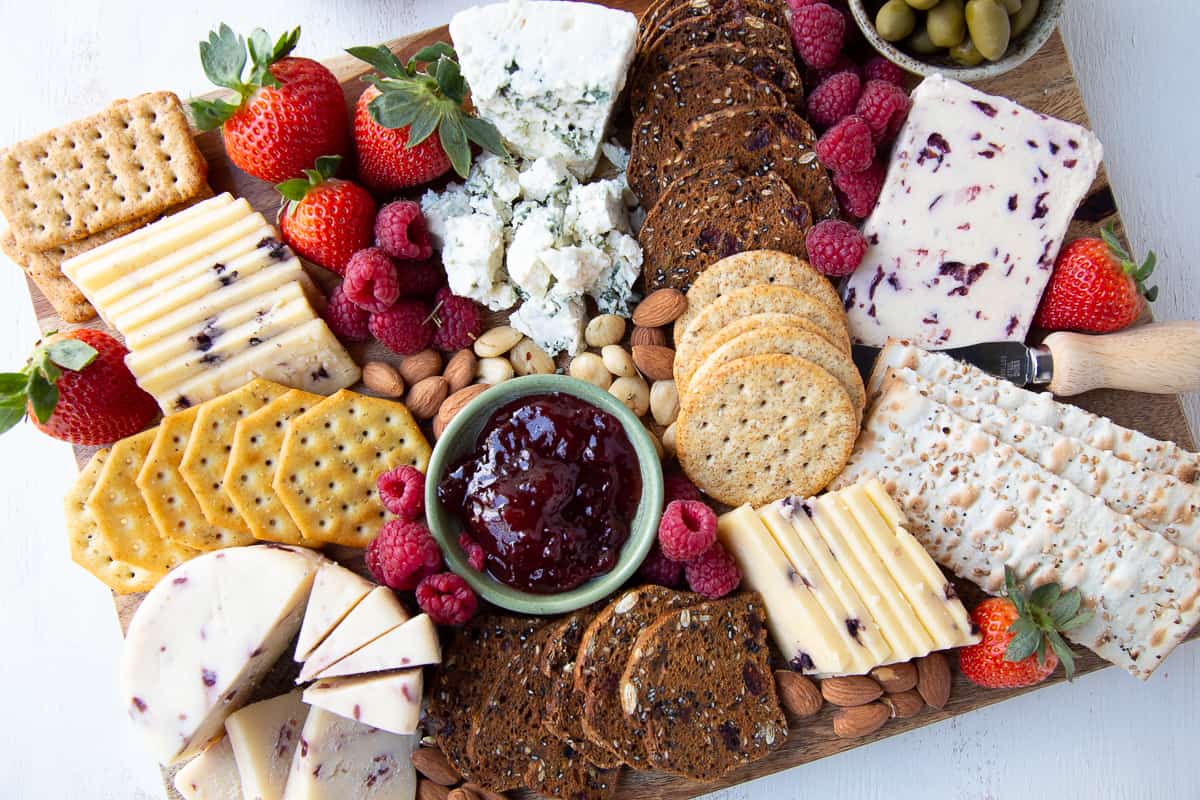 Your Christmas Cheese Board is ready to serve!
You can also find step-by-step instructions for this board here on Google.
How to make a cheese board in advance
I recommend gathering all of the ingredients ahead of time to make assembly easy.
However, I do not recommend building the entire board more than one hour before you plan to serve it. You also do not want to place it in the refrigerator fully constructed, which will make the crackers soggy.
That said, here are a few make-ahead tips:
1. Slice the cheese up to one day in advance. Store by itself in an airtight container.
2. Wash the fruit up to one day in advance. Keep in the refrigerator.
3. Make the small dishes or jam and olives up to one day in advance. Cover with plastic wrap and refrigerate.
4. Gather all of the items that are kept at room temperature, such as the crackers and nuts. Set them aside so they are ready when it's time to construct the platter.
Once constructed, the Christmas Cheese Board will keep for 3–4 hours at room temperature. Most cheese really does need to be refrigerated at the 4 hour mark for freshness and safety.
More cheese platter tips and examples
I adore making these platters, so I have a few more tutorials with photos:
A Simple Cheese & Charcuterie Board—this one is made with pre-cut cheese and it's super easy to assemble.
This Cheese Board How-To is made on a round platter, and also has step-by-step instructions.
Have you tried this recipe? Please leave a ⭐️⭐️⭐️⭐️⭐️ rating and/or comment below!


📖 Recipe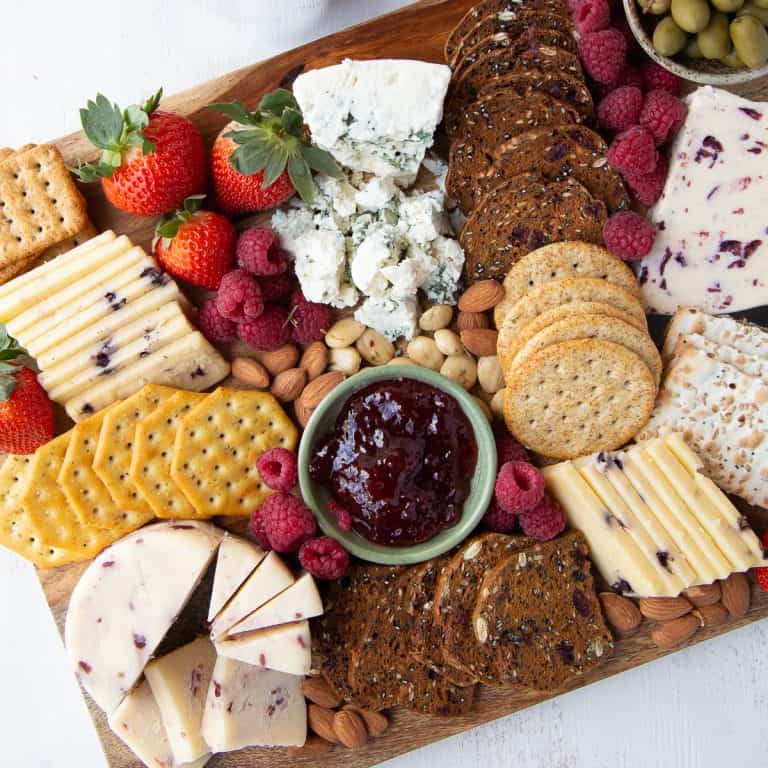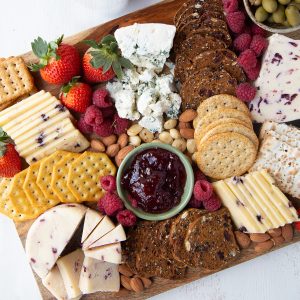 Christmas Cheese Board
A festive cheese platter for your holiday get-togethers.
Ingredients
12

oz

cheddar or another hard cheese

(I used a cranberry white cheddar and a blueberry vodka cheddar, both from Aldi)

5

oz

stilton or another soft cheese

(I used a cranberry stilton from Aldi)

5

oz

blue cheese

(I used blue cheese from Aldi)

3

cups

assorted crackers

(a box of assorted "entertaining crackers" is great for this)

1

cup

fresh strawberries

1

cup

fresh raspberries

⅓

cup

strawberry jam

(or use a another type of red fruit jam)

½

cup

green olives

½

cup

nuts

(I used skin-on almonds and marcona almonds)
Instructions
Slice the cheese into assorted shapes and place on the platter.

Place the jam and olives into small dishes, and place the dishes on the platter.

Add crackers to the platter, fanning out the crackers as you go.

Fill in the holes with the strawberries, raspberries, and nuts.
Notes
Examples of hard cheeses include cheddar, manchego, gouda, colby jack, and Parmigiano Reggiano. Soft cheeses include goat cheese, brie, camembert, and fresh mozzarella. Blue cheeses include gorgonzola, stilton, and roquefort. Choose cheeses that you enjoy! You can find seasonal cheeses such as cranberry cheddar in December at stores such as Aldi, Whole Foods Market, and your local grocery store. Amp up the red and green theme with strawberries, raspberries, green olives, strawberry jam, and small red or green dishes for items such as marinated mushrooms, olives, or jam.
Nutrition
Calories:
351
kcal
Carbohydrates:
21
g
Protein:
15
g
Fat:
24
g
Saturated Fat:
12
g
Cholesterol:
47
mg
Sodium:
729
mg
Potassium:
183
mg
Fiber:
2
g
Sugar:
7
g
Vitamin A:
486
IU
Vitamin C:
11
mg
Calcium:
366
mg
Iron:
1
mg
Related recipes