Yes, you can taste the rum in Grandma's Rum Balls! They're an easy, no-bake cookie that everyone will love.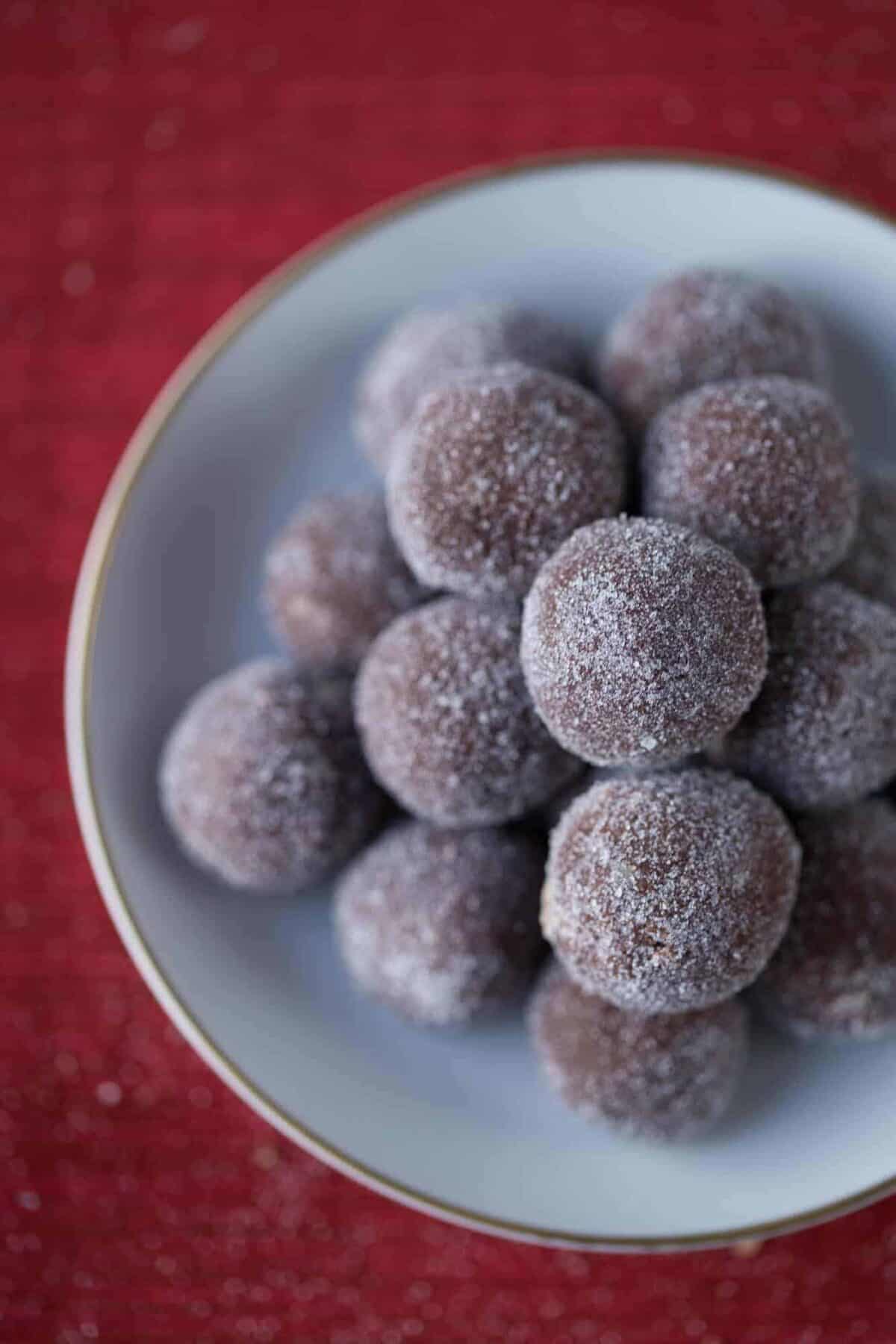 Every Christmas, my grandma made old fashioned Rum Balls. And everyone LOVED them. They're packed with chocolate, walnuts, and of course, rum!
One taste sends me right back to Christmas at Grandma's, when rum balls were served on a platter with Snowballs and Chocolate Shortbread Squares.
Grandma's ancestors were from Germany, so this recipe is likely German.
Here's a look at grandma's typewriter-written recipe: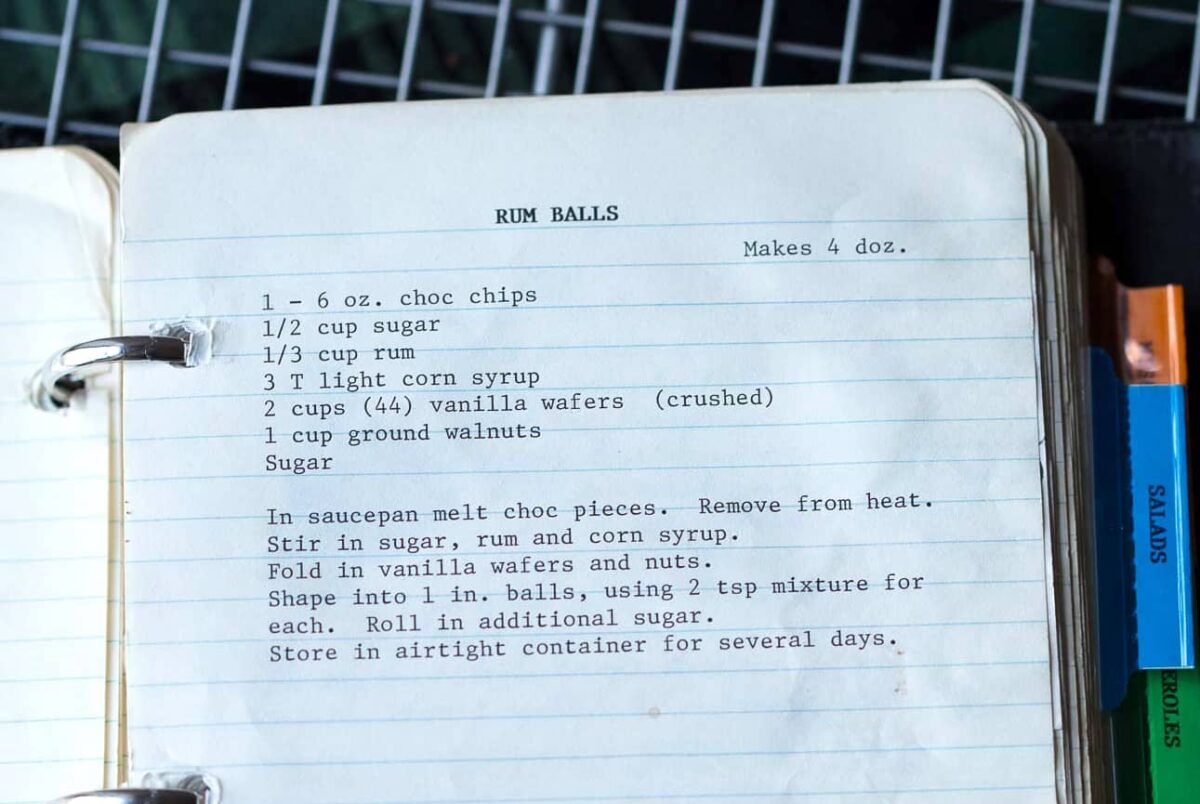 I refined the recipe only slightly, adding clarification for ingredients and instructions.
I love making these every year for guests, and I've entered them a few times in Christmas cookie exchanges (see my guide here on How to Host a Cookie Exchange!).
This post contains affiliate links. Affiliate links support Gift of Hospitality at no additional cost to you. I receive a commission if you choose to make a purchase through these links.
Jump to:
The best rum for rum balls
These old fashioned Rum Balls get get their name from the addition of ⅓ cup of rum. I used Bacardi White Rum, which is about $12 for an entire bottle. You can definitely taste the rum, so don't purchase a super cheap variety.
Choose whatever rum you like. If you't not a regular rum drinker, I recommend getting Bacardi—it's good without being overly expensive.
You can use spiced rum or even bourbon in place of the white rum, if you'd like.
Ingredients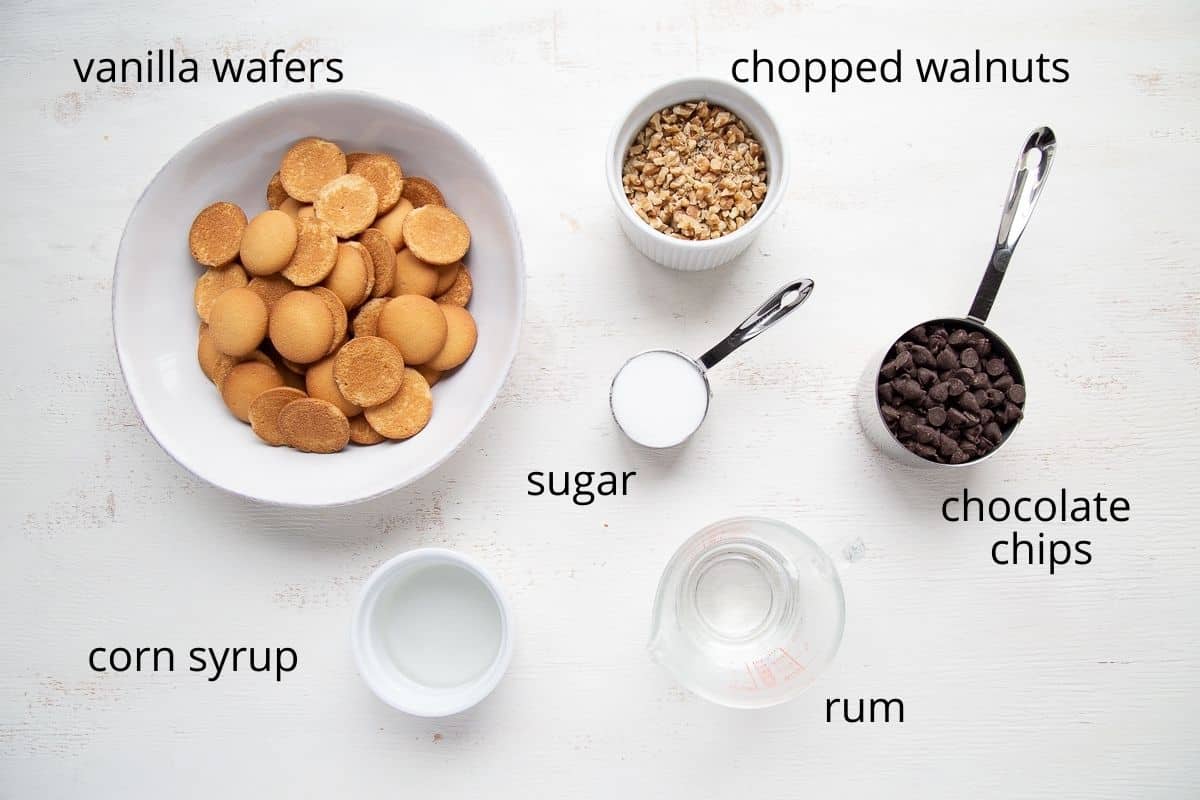 How to make rum balls
Start by placing the vanilla wafers in the bowl of a food processor
. Process until the wafers are in fine crumbs. Alternatively, place the wafers in a large zip-top bag, seal, and crush the wafers using a rolling pin or meat mallet.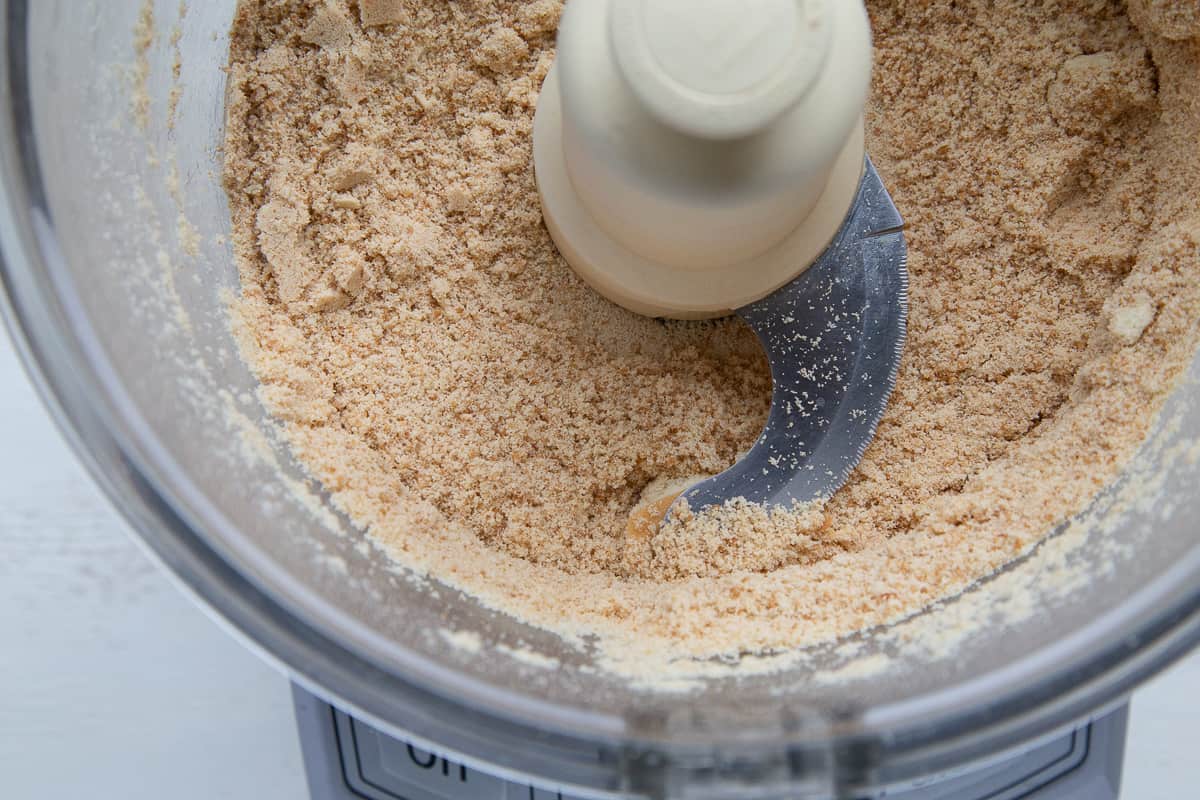 If you're using a food processor, you can also use it to chop the walnuts into very small pieces. Otherwise, a knife and a cutting board work great for chopping the walnuts.
Next, microwave the chocolate chips in 30 second intervals until melted. Stir in between each 30 second interval so the chocolate chips melt evenly.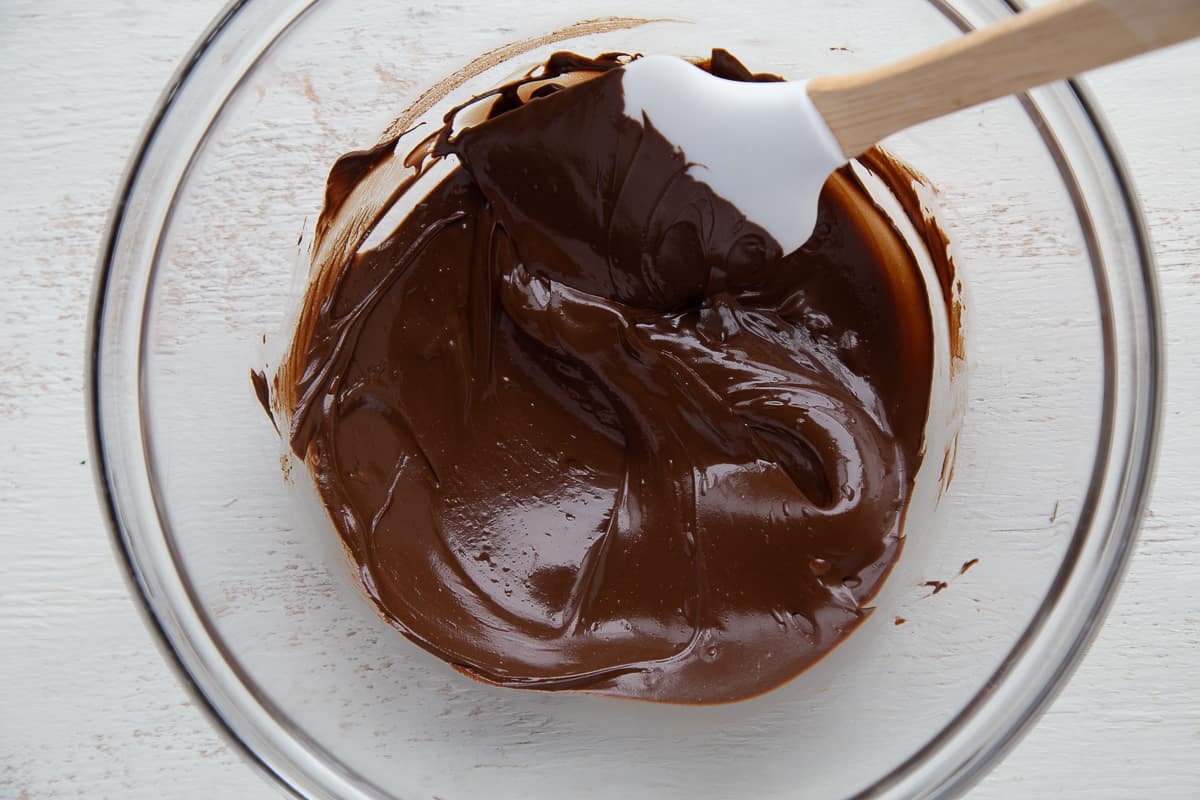 Stir in the sugar, rum, and corn syrup.
Tip: when measuring the corn syrup, spray the measuring spoon with cooking spray—the corn syrup will slide right out!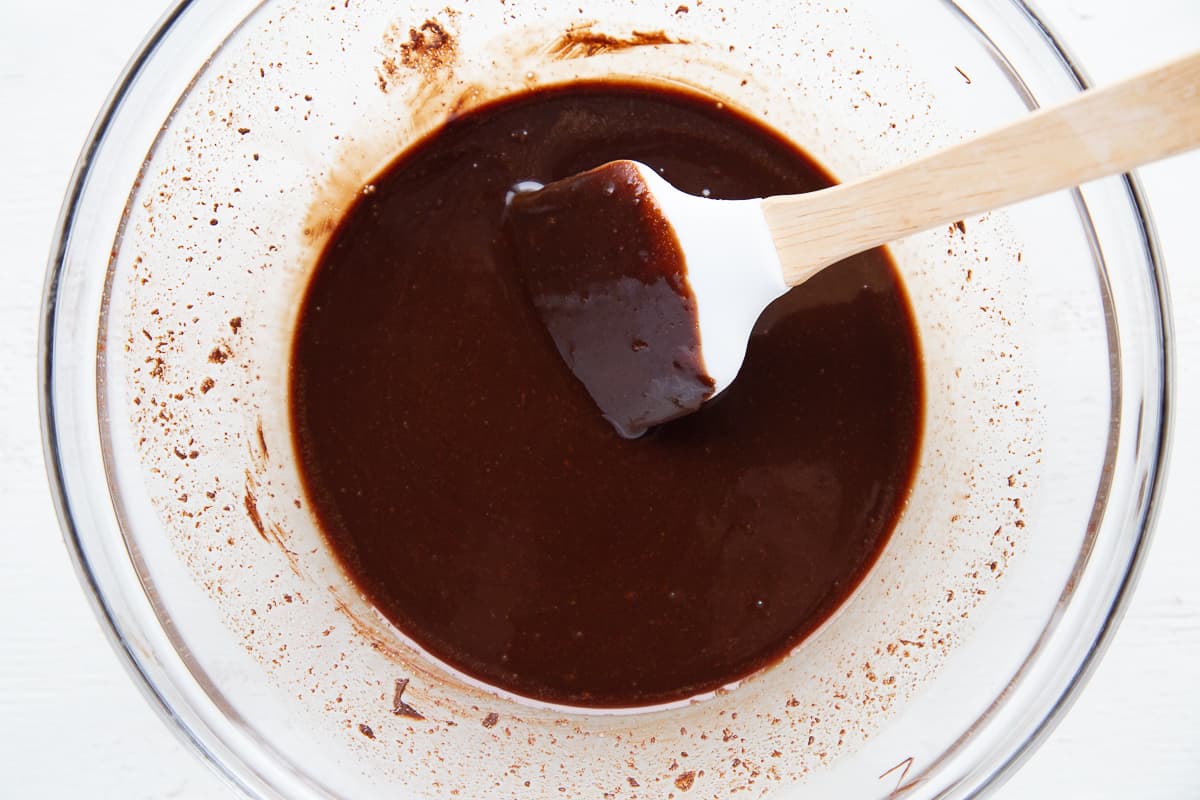 Then, stir in the vanilla wafer crumbs and walnuts. Refrigerate the mixture for 30 minutes.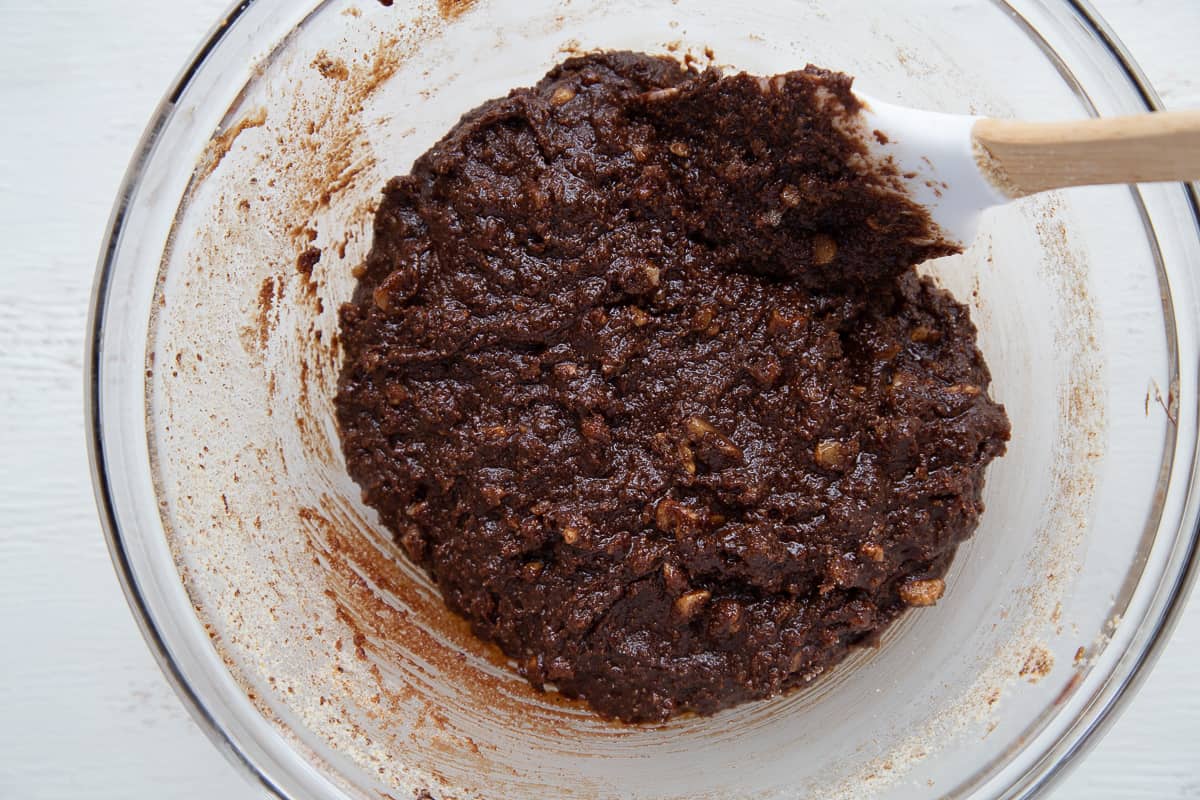 When you're ready to roll the rum balls, place ⅓ cup of granulated sugar in a shallow dish. Scoop the dough into 1 inch pieces, roll with your hands until round, and roll in the sugar.
I find that a cookie scoop/ice cream scoop with a release lever is the easiest way to scoop out the dough. I have this cookie scoop
, which I fill about halfway with dough to create 1 inch balls.
Tip: if the dough is too firm to scoop, let it sit at room temperature for 15 minutes, then try again. It will continue to soften as it sits.
If the dough is too wet (and sticks to your hands), add another tablespoon of crushed wafers and try again. If it's too dry, add a few teaspoons of rum.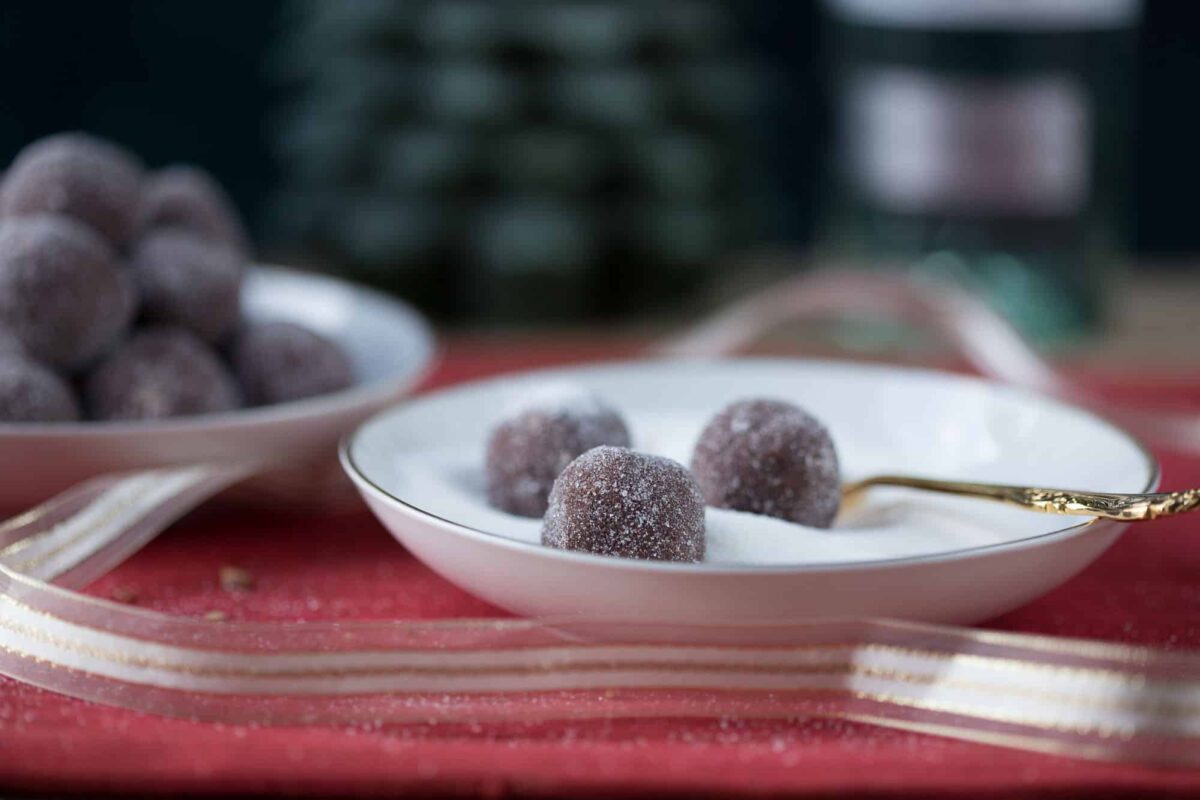 Rum Ball variations
White sugar is a very traditional topping for Rum Balls. That's what Grandma used, so that's what I prefer.
Here are a few more ideas for what to roll them in:
If you use powdered sugar, you will likely need to re-roll the rum balls after a few days, as the powdered sugar gets absorbed into the ball.
Make it ahead & freezing
Rum Balls are great for making ahead of time. The flavor improves as they sit!
They will keep, tightly covered, at room temperature for at least one week, and up to several weeks in the refrigerator.
You can also freeze rum balls for up to 2 months in a resealable freezer bag, or another freezer-safe container.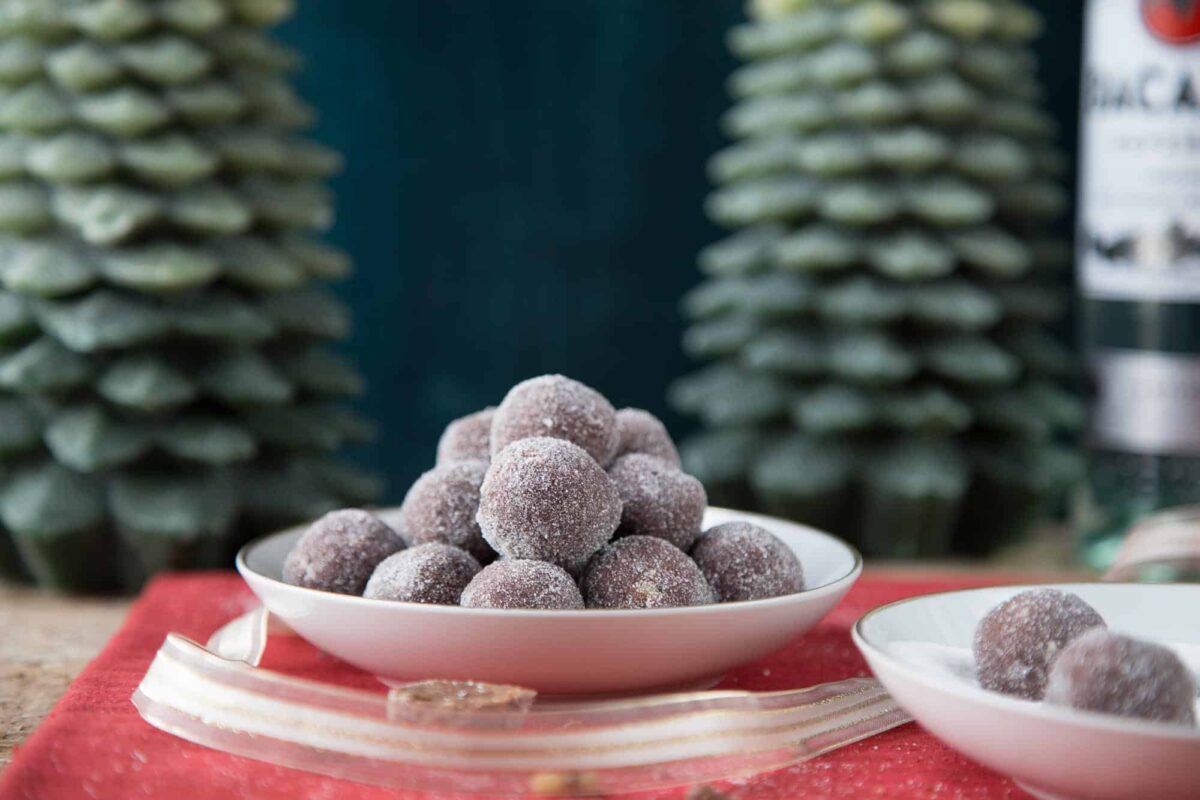 Frequently Asked Questions
Can I use another type of alcohol?
Instead of white rum, try using bourbon to create bourbon balls! You can also use spiced rum if you like the taste of it.
How do I crush the vanilla wafers if I don't have a food processor?
To crush vanilla wafers, place them in a large zip-top bag and seal the bag. Pound the bag with a meat mallet or rolling pin to crush the wafers. It might take a few minutes, but they will turn to crumbs eventually!
Can I make these without the nuts?
To make rum balls that are nut-free, simply omit the nuts. You do not need to change anything else about the recipe. It will yield fewer rum balls but they will still be really delicious.
Can kids eat Rum Balls?
The answer to this question is up to you! The recipe calls for ⅓ cup rum, and it makes 42 rum balls. Each rum ball contains approximately ⅓ of a TEASPOON of rum. I ate them as a kid, and I turned out ok, I think! 😉
Can Rum Balls get you drunk?
You would have to eat a LOT of rum balls to feel the effects. Each rum ball contains approximately ⅓ of a teaspoon of rum.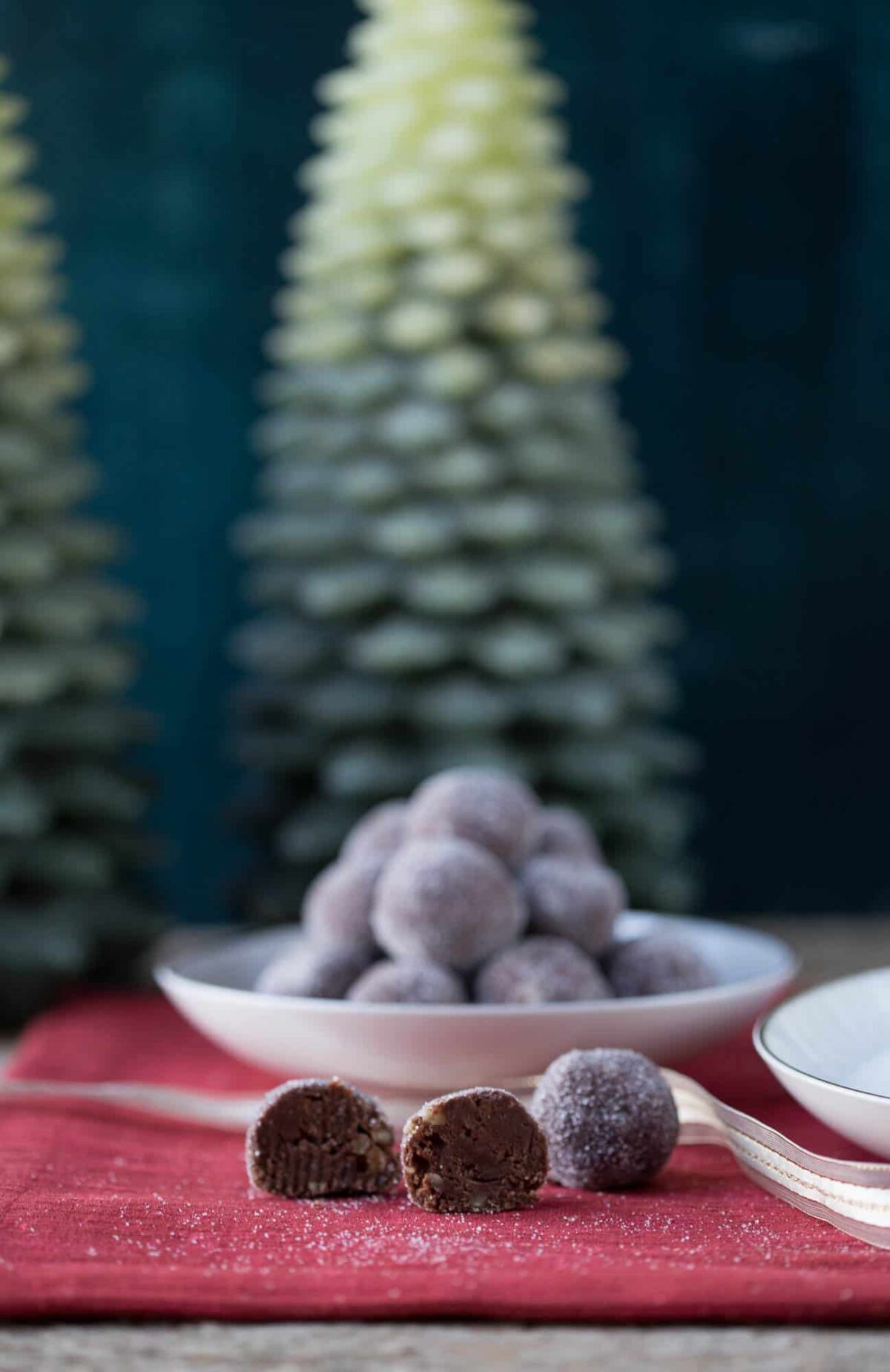 Tips for giving rum balls as a gift
Rum Balls make a delightful holiday gift! Here are a few ideas for gifting:
More holiday cookie recipes
This season, I'm sharing six of my grandmothers' old fashioned Christmas cookie recipes. I hope you enjoy them as much as our family has throughout the years!
Have you tried this recipe? Please leave a ⭐️⭐️⭐️⭐️⭐️ rating and/or comment below!


📖 Recipe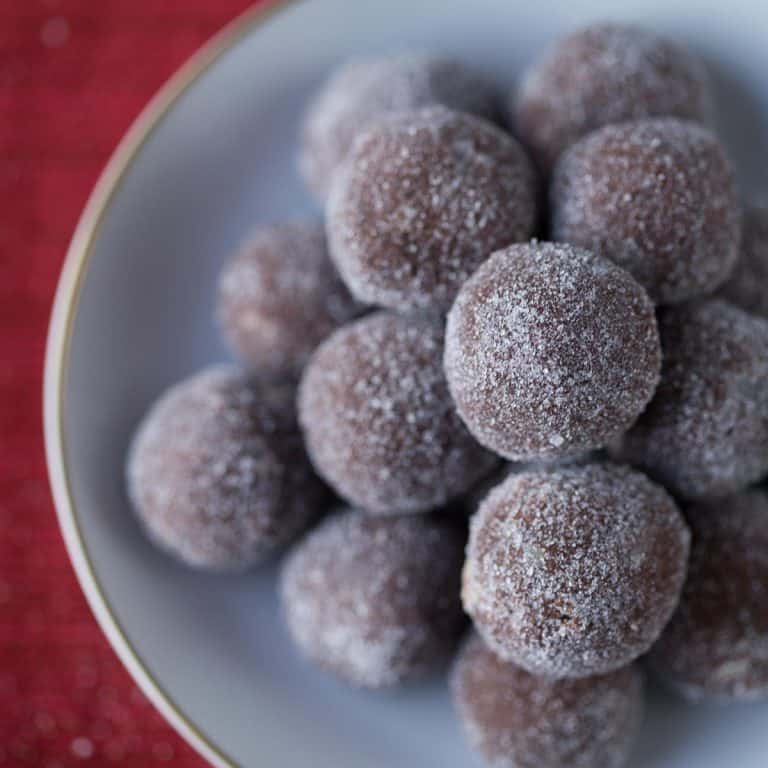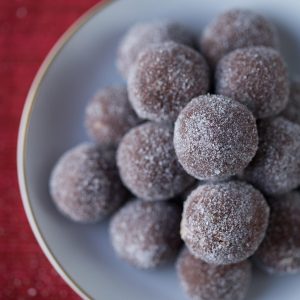 Grandma's Rum Balls
Yes, you can taste the rum in these easy, no-bake cookies!
Ingredients
1

cup

(6 oz) semi-sweet chocolate chips

½

cup

granulated sugar

⅓

cup

white rum

3

tablespoons

light corn syrup

50

vanilla wafers (about 2 cups when crushed)

1

cup

walnuts,

very finely chopped

Granulated sugar for rolling
Instructions
Place the vanilla wafers in the bowl of a food processor or in a zip-top bag. Process or crush with a rolling pin until the wafers are fine crumbs.

Place the chocolate chips in a large microwave-safe bowl. Microwave in 30 second increments, stirring in between, until melted.

Stir in the sugar, rum, and corn syrup. Fold in the vanilla wafers and nuts. Refrigerate for 30 minutes.

Shape into 1 inch balls. Roll in granulated sugar.

Store in an airtight container.
Notes
You can taste the rum, so make sure you use a white rum that you like! It doesn't not have to be expensive. I used Bacardi, which was $10–$12 for the whole bottle. You can use spiced rum or bourbon if you prefer the taste of those. Make sure the vanilla wafers are completely crushed, or nearly so (there can be some little chunks). Having large chunks of wafers will negatively affect the consistency and they will be too wet to roll. If the mixture is too dry to roll, add another teaspoon or two of rum. If it's too wet/sticky, add another tablespoon or two of wafer crumbs. You can leave out the nuts, if you prefer. Keep the rest of the recipe the same. It will yield fewer rum balls. You can also roll rum balls in powdered sugar, cocoa powder, chocolate sprinkles, or very finely chopped coconut. Each rum ball contains approximately ⅓ TEASPOON of rum (if you're wondering about alcohol content!). Store the finished rum balls in a covered container, either on the countertop or in the refrigerator. They will keep at room temperature for 1–2 weeks and in the refrigerator for up to 1 month. They can also be frozen in a freezer bag for up to 2 months (defrost at room temperature for several hours before serving).
Nutrition
Calories:
84
kcal
Carbohydrates:
10
g
Protein:
1
g
Fat:
4
g
Saturated Fat:
1
g
Cholesterol:
1
mg
Sodium:
24
mg
Potassium:
46
mg
Fiber:
1
g
Sugar:
7
g
Vitamin A:
2
IU
Vitamin C:
1
mg
Calcium:
6
mg
Iron:
1
mg
Related recipes