This easy fruit dip recipe is the perfect way to jazz up a platter of fruit! It has just 4 ingredients and it's delicious with a variety of fruit.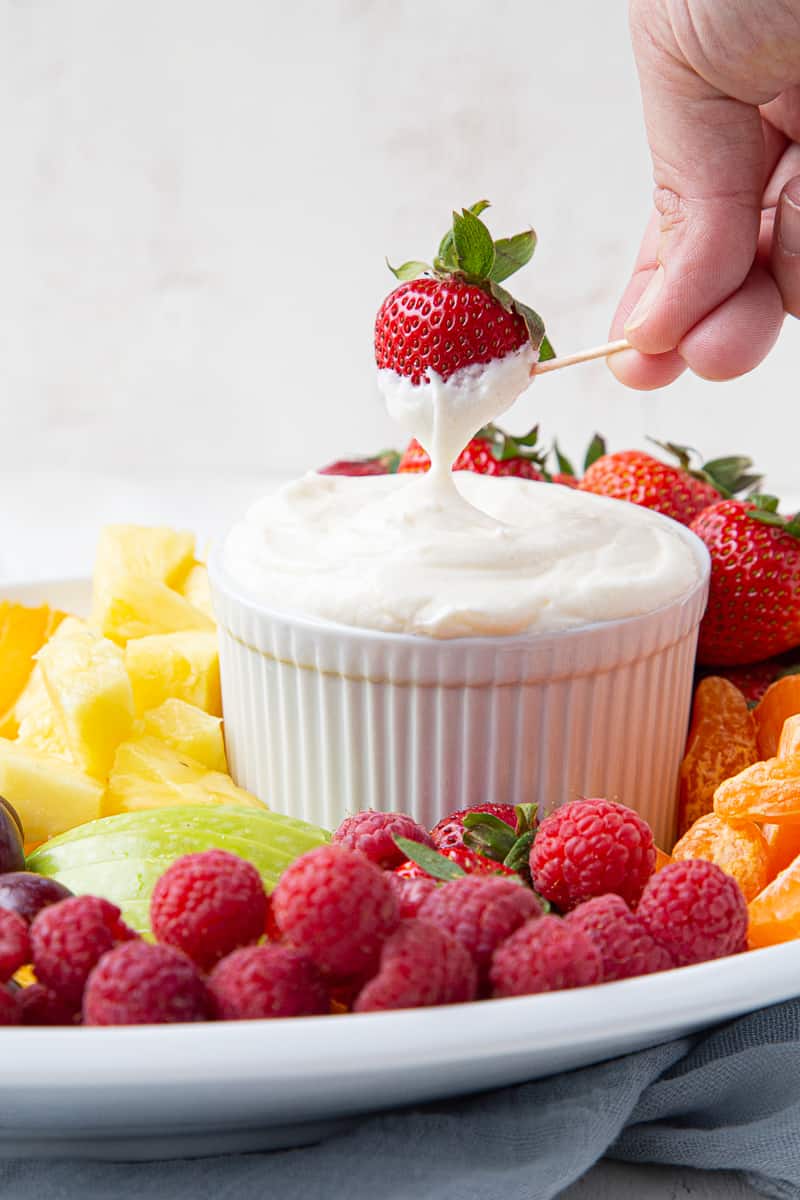 I love a big platter of fresh fruit, and this is best Easy Fruit Dip for dipping into berries, pineapple, apples, grapes, and more.
It's light and fluffy (perfect for dipping!) and only has FOUR ingredients.
The dip, along with a big platter of fresh fruit, is a great addition to a cookout or potluck, or even just a delicious snack for yourself.
And I can confirm that kids and adults of all ages absolutely love it.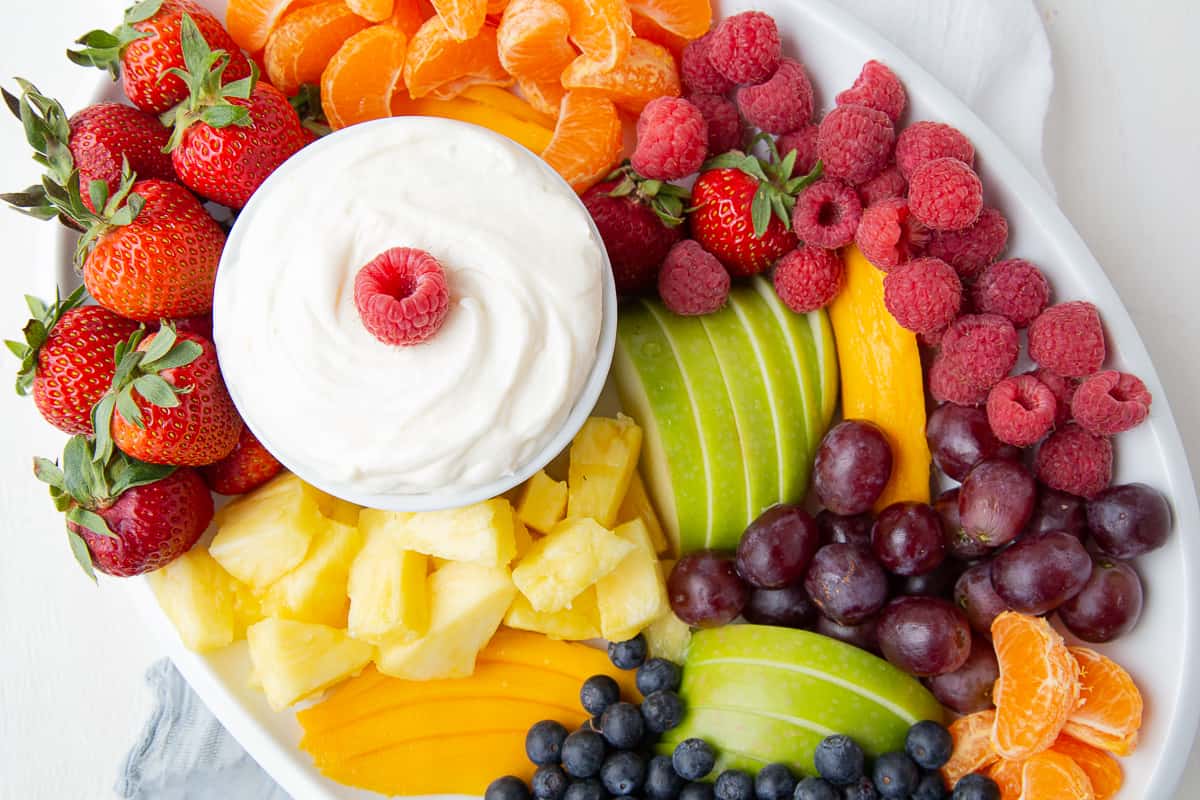 This post contains affiliate links. Affiliate links support Gift of Hospitality at no additional cost to you. I receive a commission if you choose to make a purchase through these links.
The secret ingredients
This dip only has four ingredients, but there are TWO that make this dip the best fruit dip ever:
Orange zest perfectly complements the fruit and gives the dip a light citrus flavor
Nutmeg gives the dip a slightly nutty, warm, aromatic flavor. It's one of those ingredients that you can tell there's something special in there, but you're not quite sure what it is. It's lovely in this dip!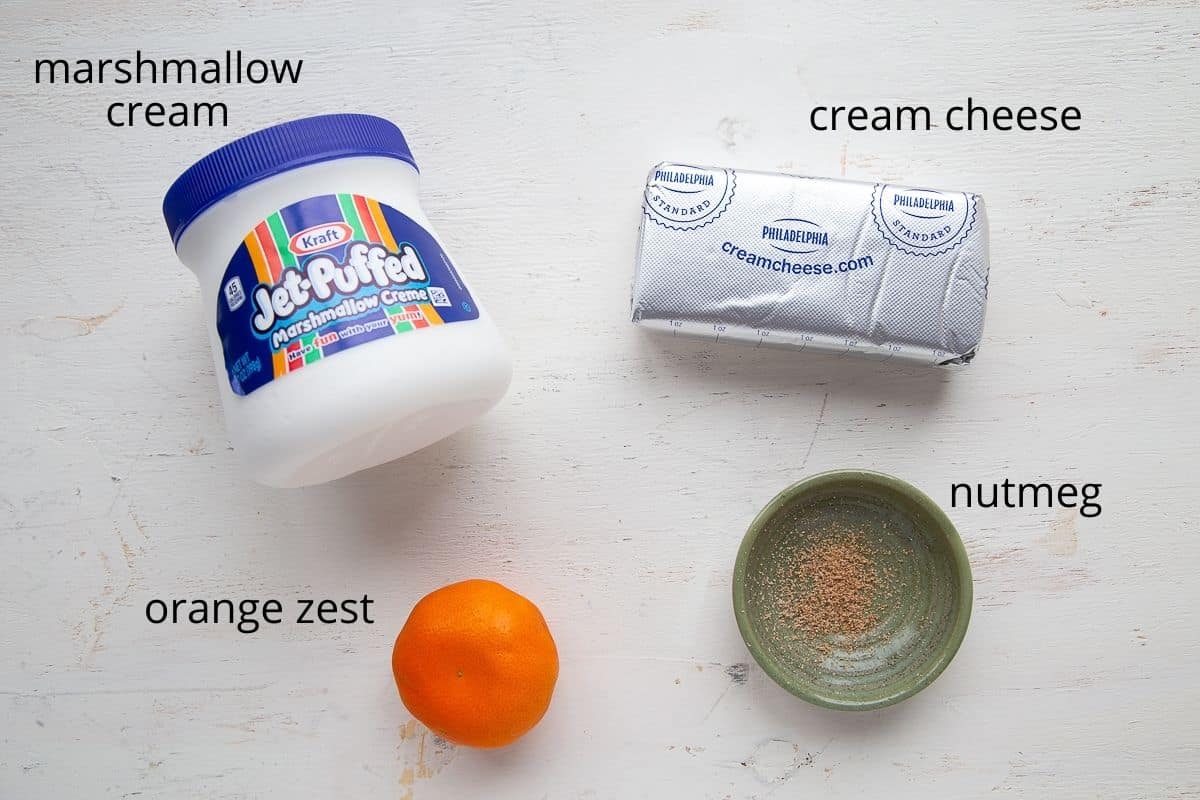 The other ingredients are:
Full fat cream cheese (you could also use low-fat cream cheese)
Marshmallow creme makes the dip super light and fluffy!
How to make this easy fruit dip
Start by softening the cream cheese. You can do this by leaving it at room temperature for 1–2 hours. Here are some tips for softening cream cheese in a hurry if you forget to get it out!
Make sure that the cream cheese is fully softened, otherwise the dip will be lumpy.
While you wait, zest the orange. I like using a microplane for this. The smallest holes on a box grater work, too.
When the cream cheese is soft, place it in a large bowl with the marshmallow cream, orange zest, and nutmeg.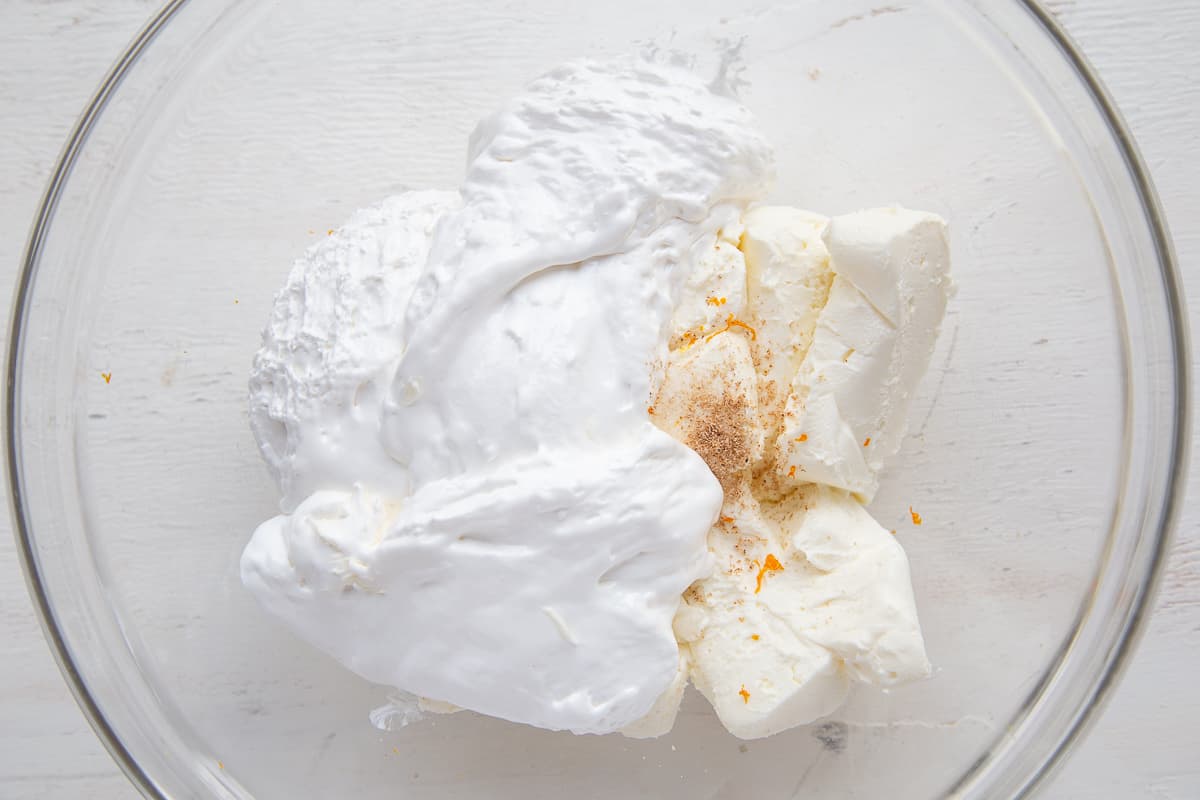 Beat on high with a hand mixer until the mixture is light and fluffy.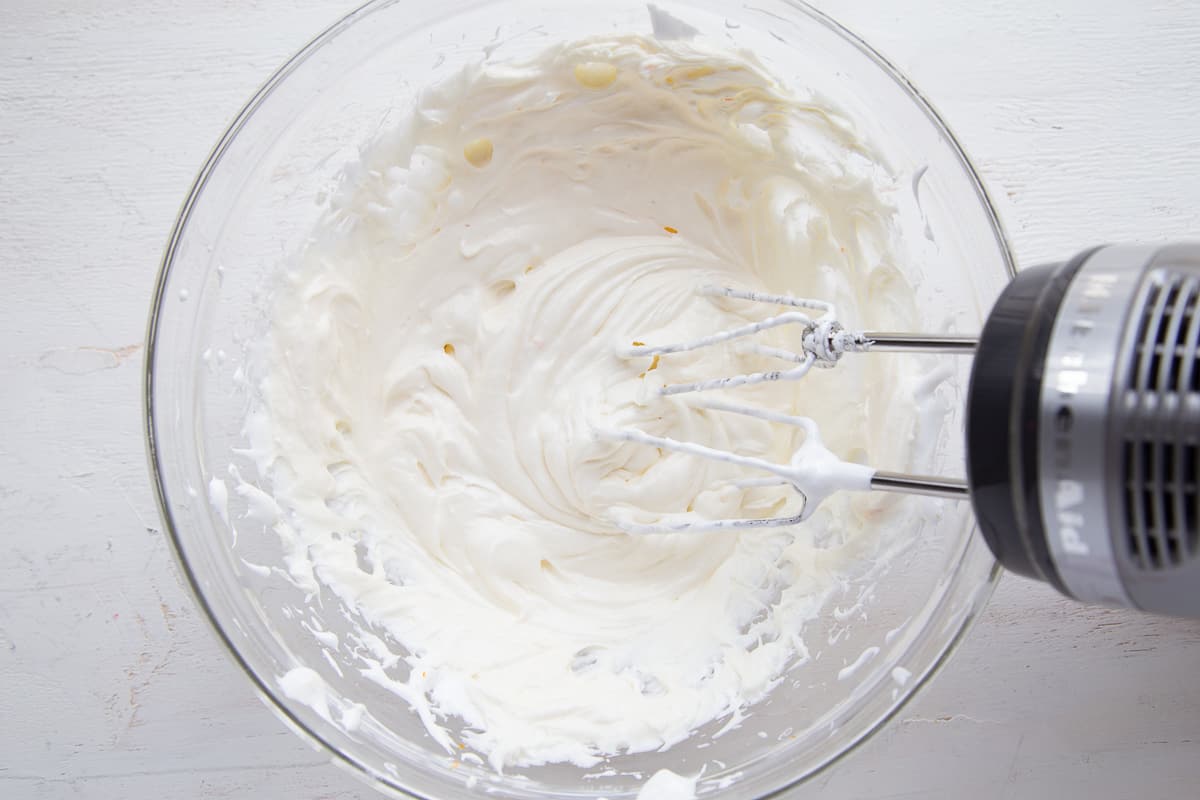 Transfer the fruit dip to a serving bowl, and surround it with fresh fruit.
I used a mixture of sliced apples, raspberries, strawberries, mango, grapes, clementines, blueberries, and pineapple. My favorite fruit to dip was the strawberries!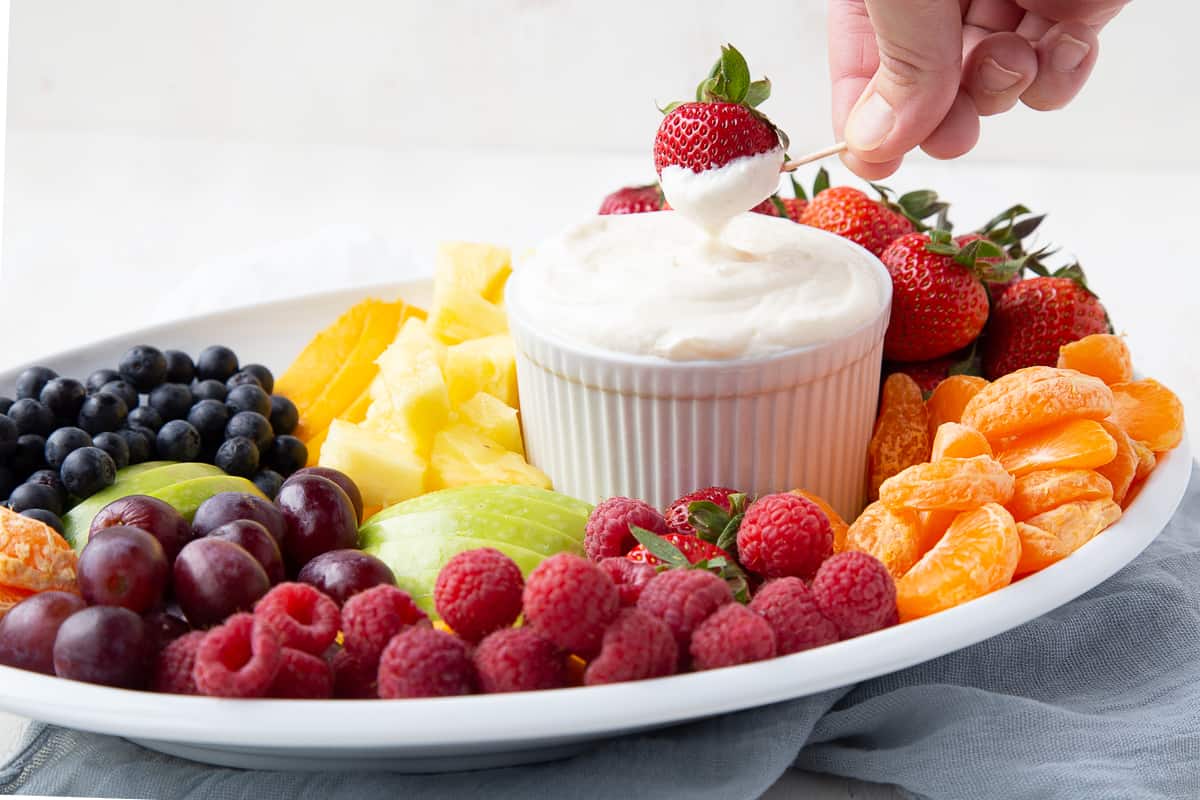 Place toothpicks on the side for easy serving.
Frequently Asked Questions
Can I use low-fat cream cheese for this recipe?
Yes! You can easily substitute 8 oz of low-fat cream cheese for the full-fat cream cheese.
Can I leave out the orange zest?
If you don't have an orange for zesting, add the zest of one lemon instead.
Can I leave out the nutmeg?
If you don't have nutmeg, just leave it out.
Can I make this recipe dairy-free?
To make a dairy-free fruit dip, use a non-dairy cream cheese in place of the regular cream cheese. Follow the recipe as directed otherwise.
Can I make this recipe gluten-free?
The ingredients for this dip don't contain gluten, so it's already gluten-free. But as always, check the labels of any store-bought ingredients just to be sure.
Can I make fruit dip ahead of time?
This fruit dip recipe can be made several days in advance. Keep it covered tightly in the refrigerator. About two hours before you plan to serve it, remove it from the refrigerator to soften.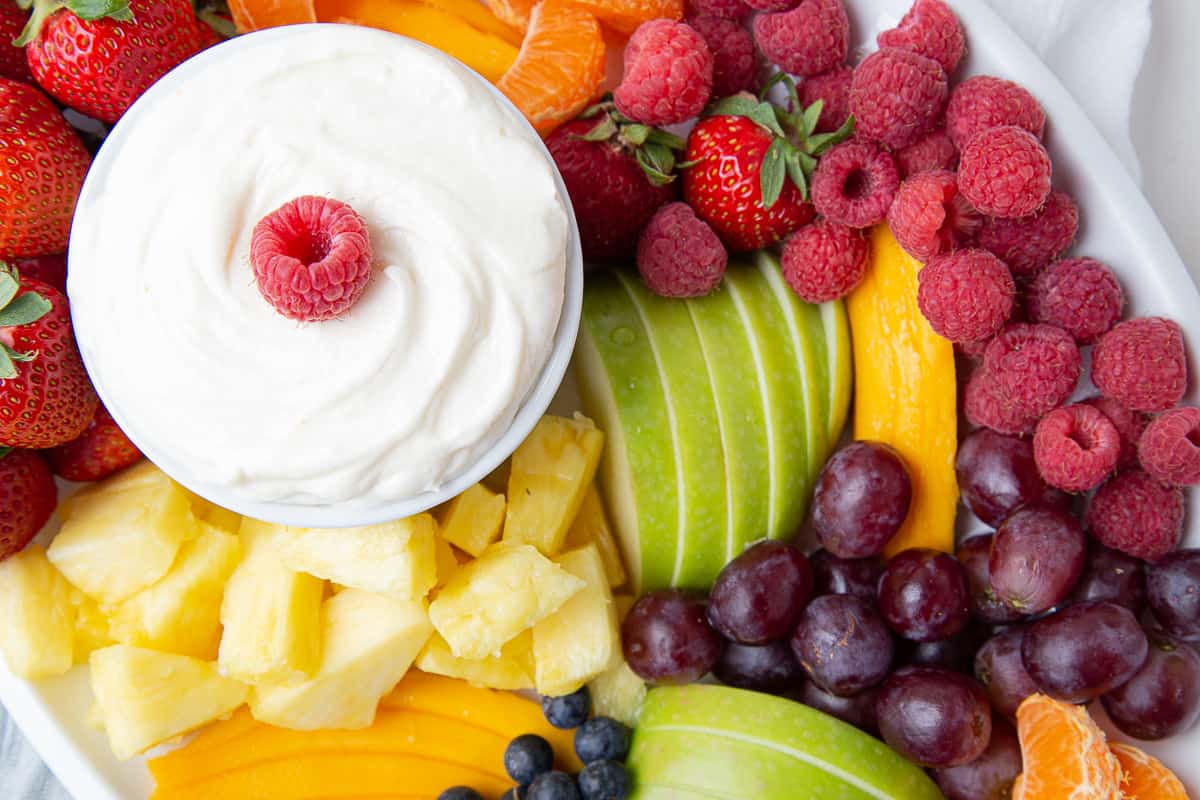 The best fruits for dipping
This easy Fruit Dip isn't overly sweet, so choose fruit that is on the sweeter side (usually fruit that is in-season is the sweetest). Here are a few ideas:
Strawberries, raspberries, blueberries in the summer
Ripe pineapple
A sweet apple such as fuji, gala, or honeycrisp
Grapes
Mango (this is sweetest in the spring)
Clementines are nice and sweet in the winter
For serving, I like placing a raspberry or a strawberry sliced with the slices fanned out) on top of the fruit dip for a little bit of color.
Don't forget to put some toothpicks nearby for people to dip their fruit!
Have you tried this recipe? Please leave a ⭐️⭐️⭐️⭐️⭐️ rating and/or comment below!


📖 Recipe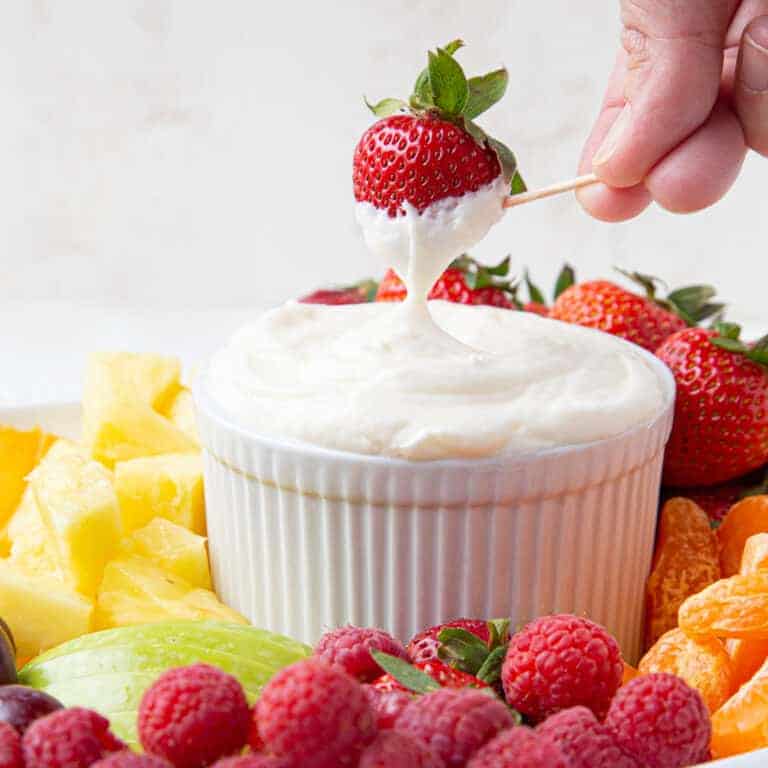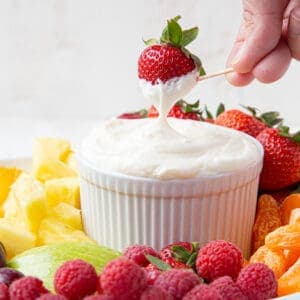 The Best Easy Fruit Dip
You just need 4 ingredients to create this light and fluffy fruit dip!
Ingredients
1

(7 oz) jar marshmallow cream

1

(8 oz) package cream cheese, softened

Zest of one orange

1

dash of nutmeg

Fresh fruit: strawberries, grapes, blueberries, bananas, pineapple, raspberries, clementines, apples, mango, etc.
Instructions
Place the marshmallow cream, softened cream cheese, orange zest, and nutmeg in a large bowl. Beat on medium with an electric mixer until smooth and fluffy, about 1–2 minutes.

Transfer the dip to a serving dish and surround it with fresh fruit for dipping. Include toothpicks to pick up the fruit, if desired.
Notes
You can use either full-fat or low-fat cream cheese for this recipe. It should be fully softened (leave it out at room temperature for at least 2 hours). The dip isn't overly sweet, so use fruit that is on the sweeter side for this recipe, such as in-season berries, a sweet apple, ripe mango, etc.
Nutrition
Calories:
116
kcal
Carbohydrates:
15
g
Protein:
1
g
Fat:
6
g
Saturated Fat:
4
g
Cholesterol:
21
mg
Sodium:
61
mg
Potassium:
26
mg
Sugar:
11
g
Vitamin A:
254
IU
Calcium:
19
mg
Iron:
1
mg
Related recipes