Homemade Garlic Butter Croutons are the perfect use for leftover bread, and they make eating salad WAY more fun. You just need four ingredients to make these!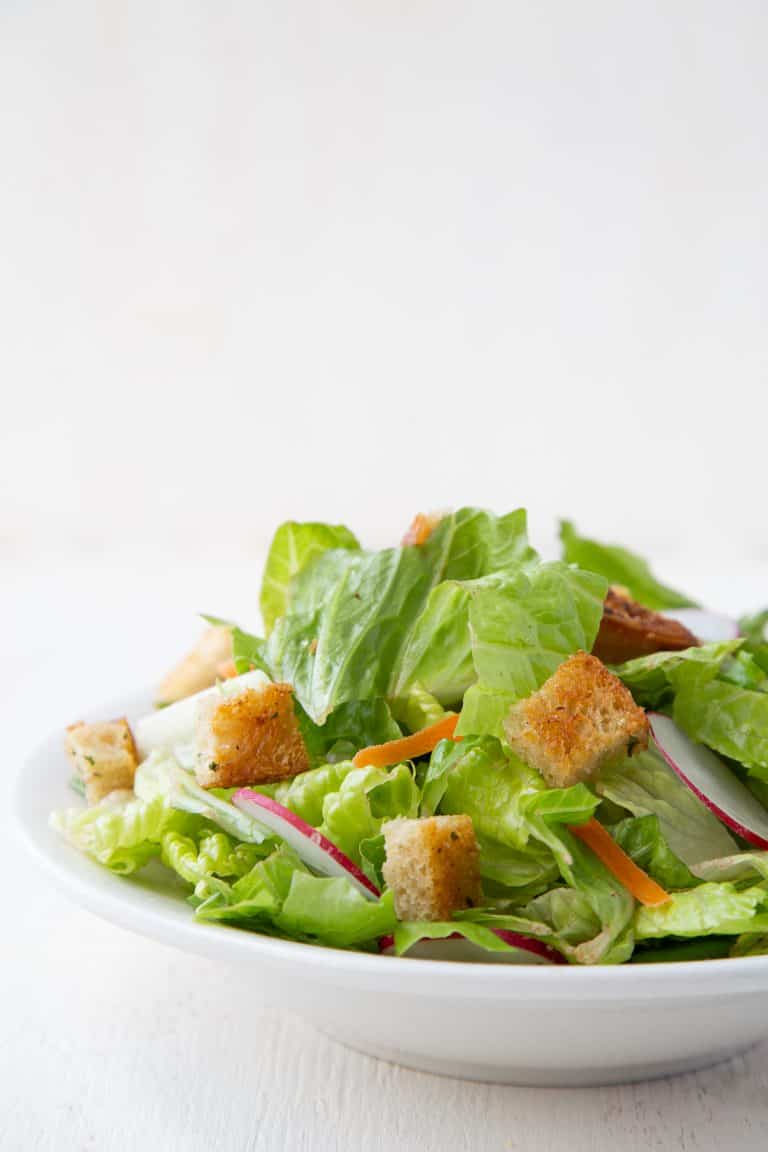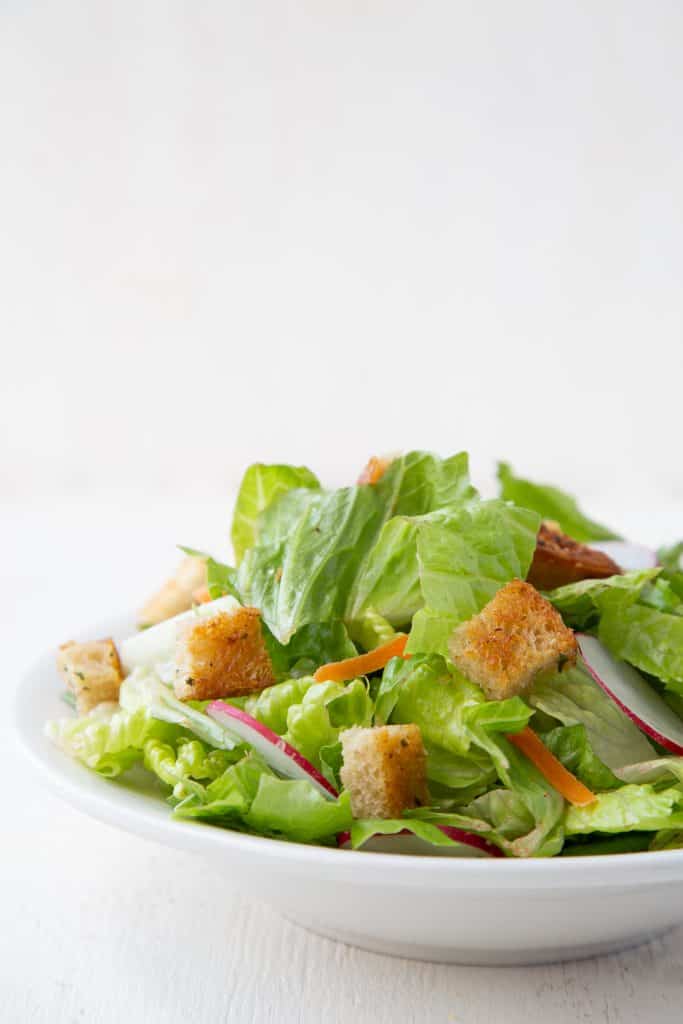 This is such a simple recipe, and it's one that I'm not entirely sure that you need a recipe for. Cube bread, toss it with butter and garlic salt, and bake until crisp. Stop here if that's all you need. 🙂 If not, here's the easy how-to!
Ingredients
Use your favorite bread. I used sourdough.
Butter will coat the croutons and help them get golden and crispy in the oven.
We'll season the croutons with garlic salt. Use a mixture of garlic powder + salt if you don't have it.
Dried parsley adds a pop of color to the croutons.
How to make homemade croutons
Start with bread. It can be regular white bread, sourdough, whole wheat bread, a bread with nuts and seeds, brioche, etc. Cinnamon raisin might be a little odd for some salads, but basically anything else will work!
Cut the bread into cubes. Big cubes, small cubes—cut it into the size of crouton that you like.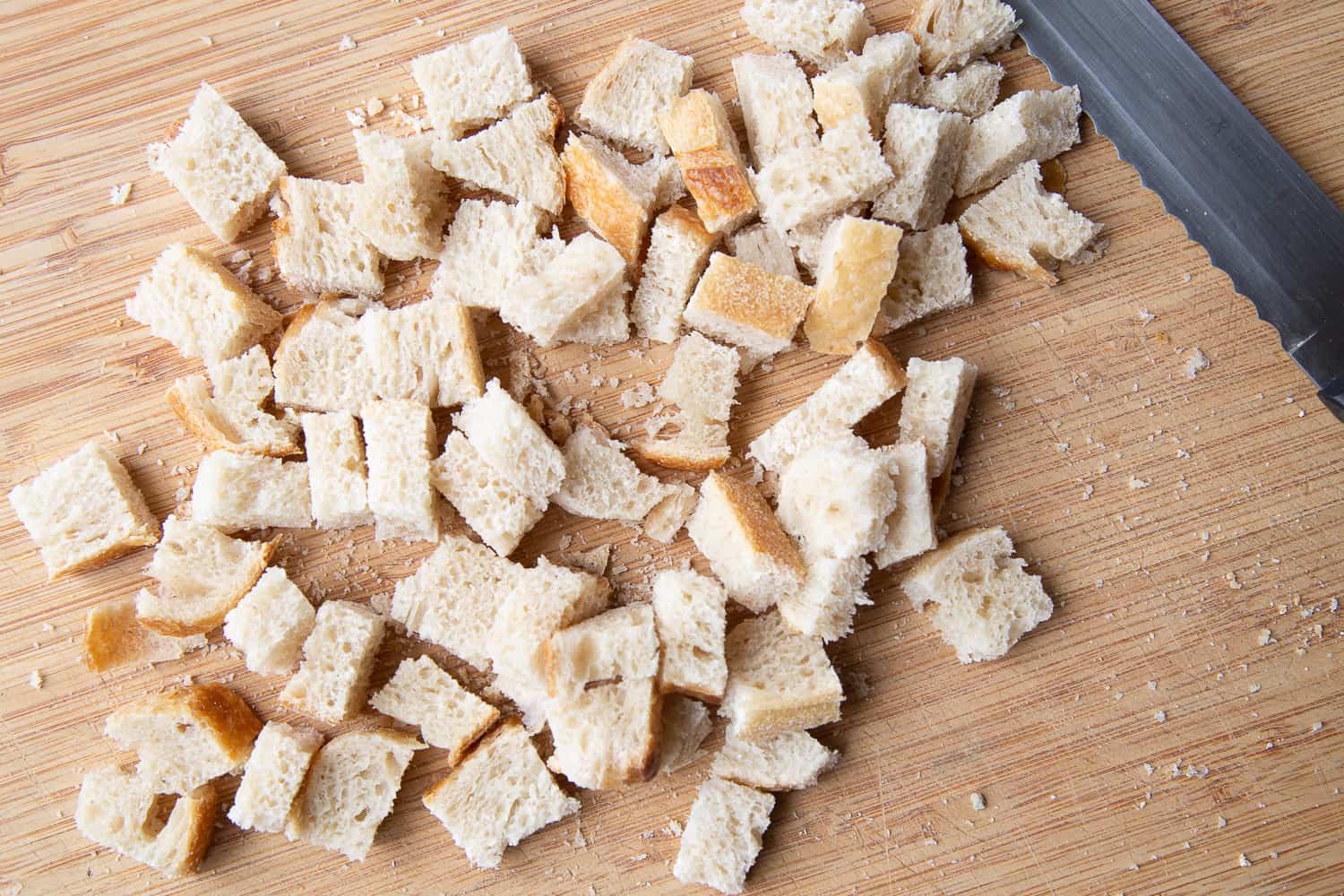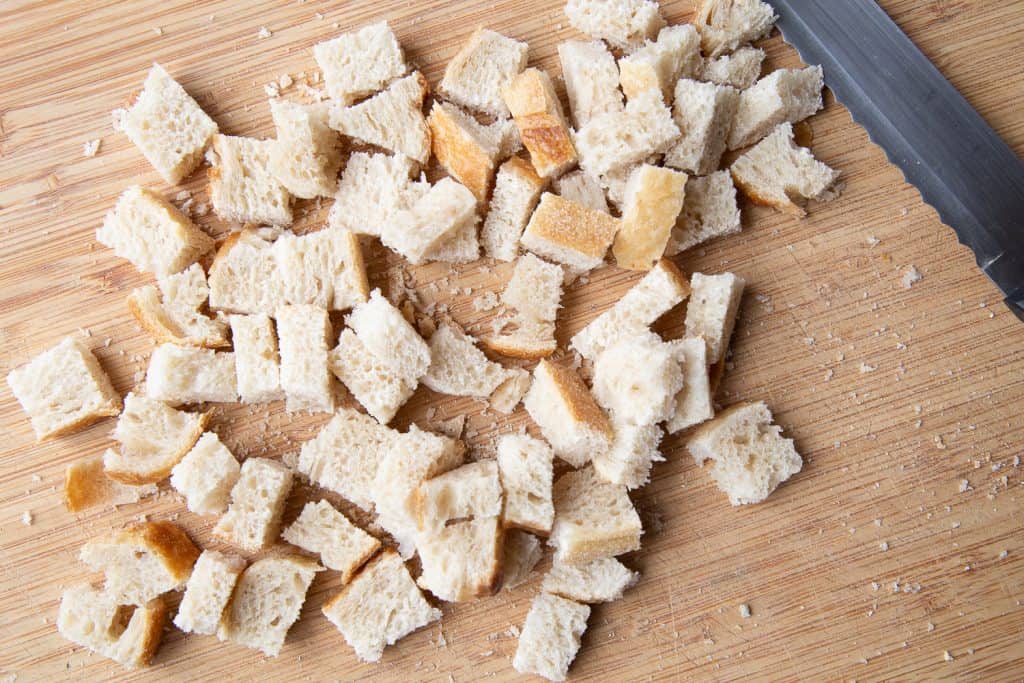 Mix together melted butter, garlic salt, and dried parsley. Pour it over the cubes and toss to coat.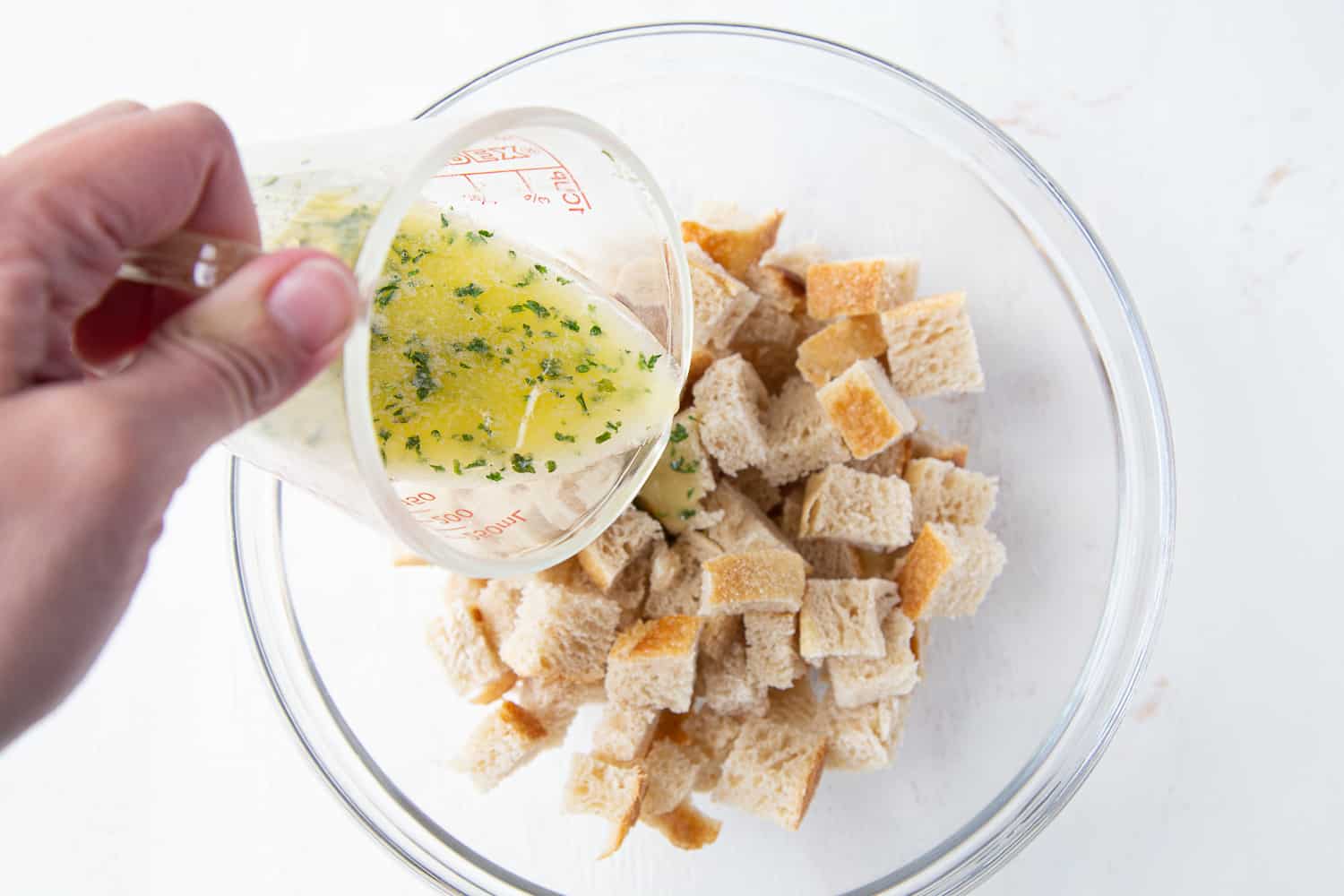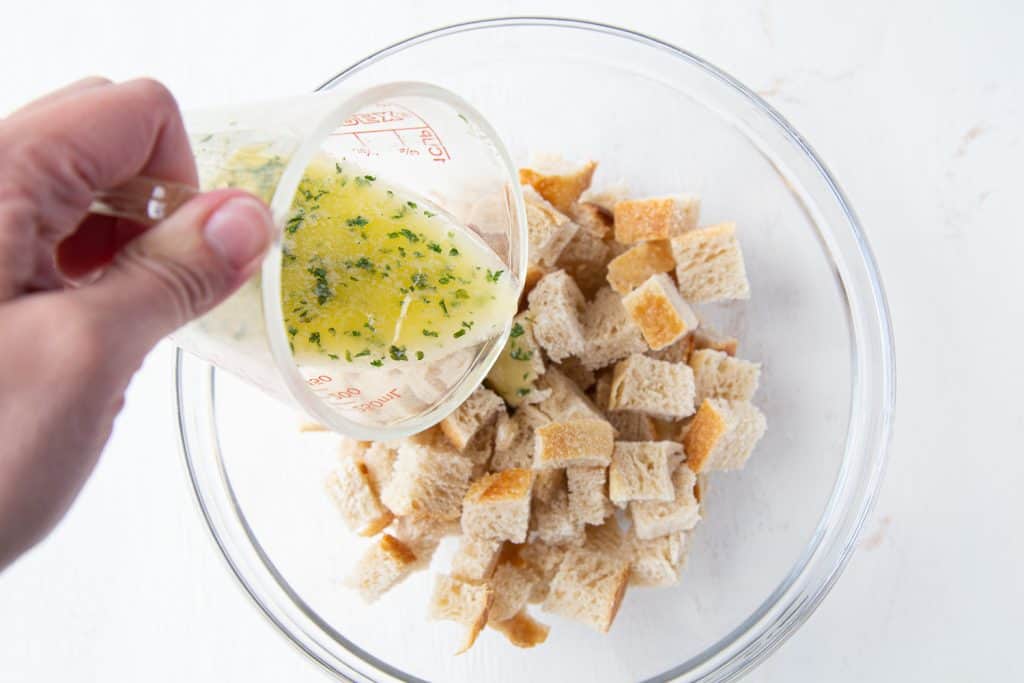 Spread the cubes in a single layer on a sheet pan. Bake for 12–15 minutes, stirring halfway through. You are looking for the cubes to be lightly golden.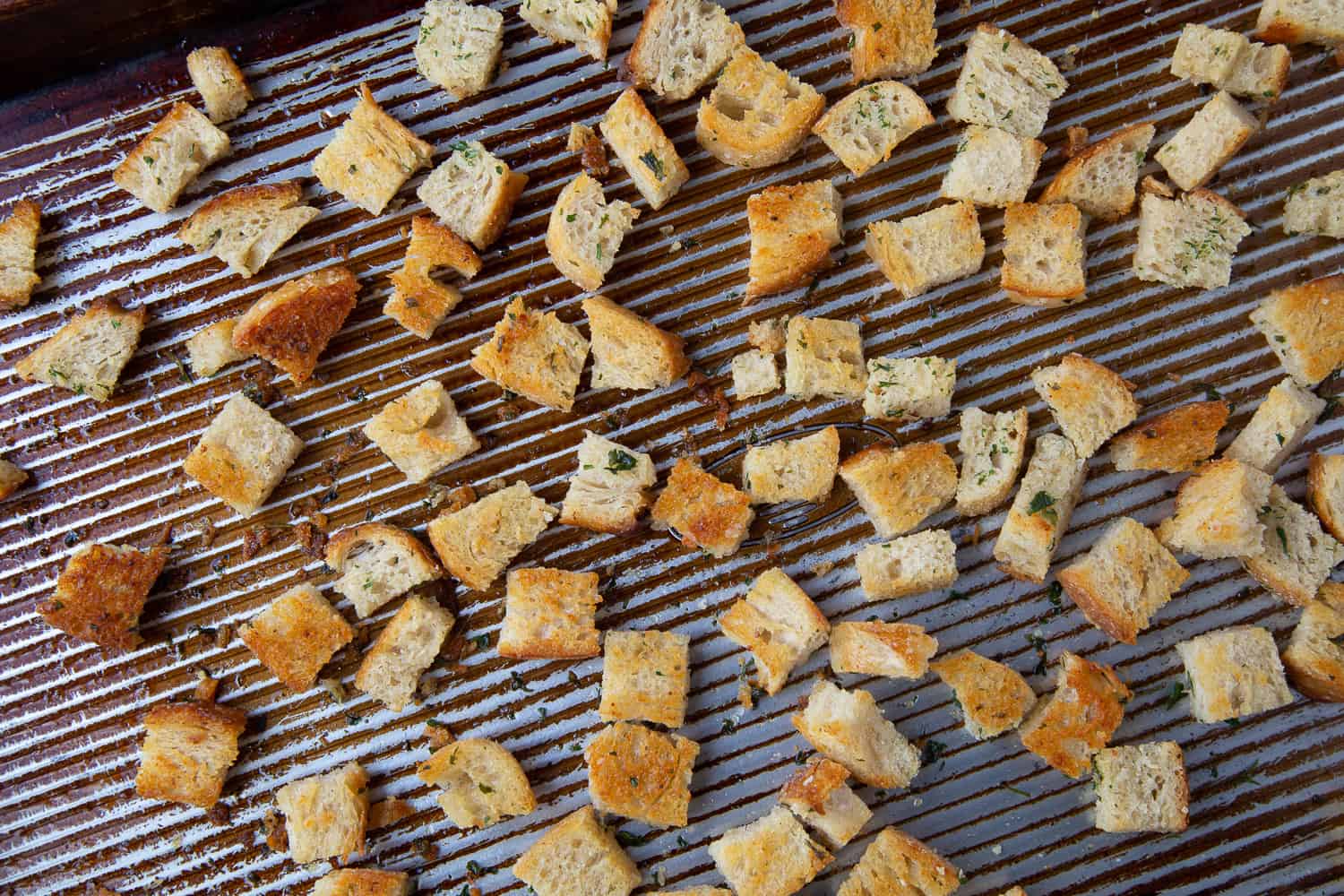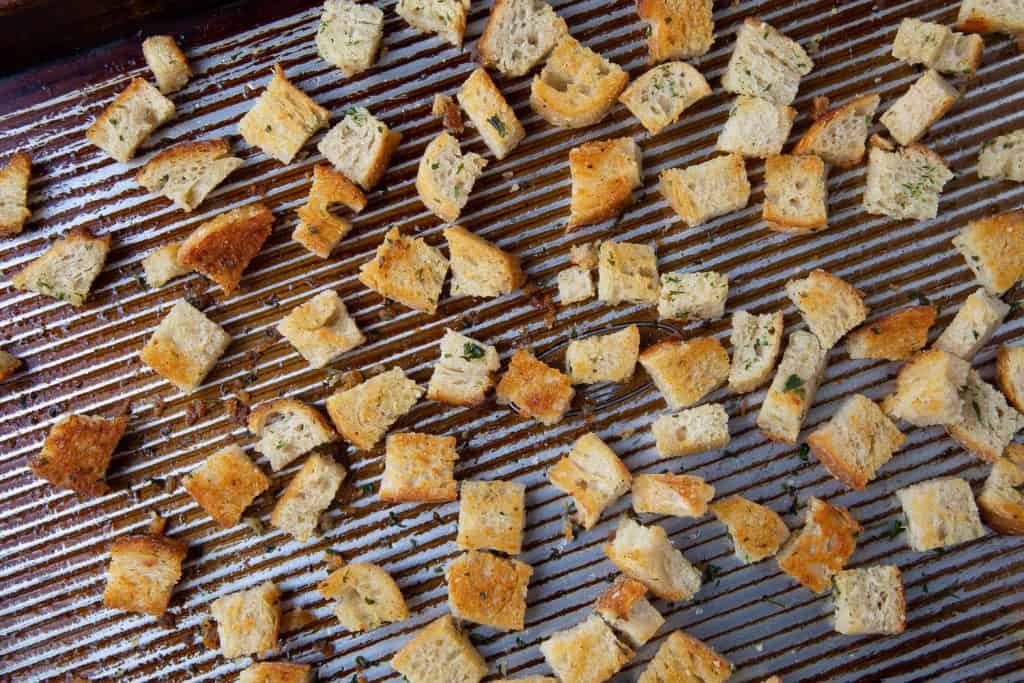 You've already cracked the first code to a delicious salad: something crunchy. These garlic butter croutons add just the right amount of crunch.
How to make salad taste good
You'll need a variety of textures and tastes to make a salad taste restaurant-worthy:
Salad greens (use your favorite—something hearty like romaine are best for bigger croutons, something more delicate like spring greens for smaller croutons)
Something creamy (like crumbled feta or shaved parmesan)
Something small and crunchy (like slivered almonds or toasted pecans)
Something sweet (like dried cherries or fresh blueberries)
Dressing (make sure it has oil and vinegar of some sort in it—none of that fat free stuff!)
Something fresh and colorful (like shaved carrots or thinly sliced radishes)—we eat with our eyes, too!
Along with croutons, all of the components combine to create a delicious salad worthy of a spot on a restaurant menu.
How to store croutons
Place baked and cooled croutons in an airtight container or resealable bag. They will keep on the countertop for up to 1 week, or in the refrigerator for up to 2 weeks.
We keep them for the week to eat on salads for dinner, and they're easy to get out for impromptu pizza parties. If you order a pizza and all you have is salad greens and dressing, add these croutons and your salad is instantly elevated.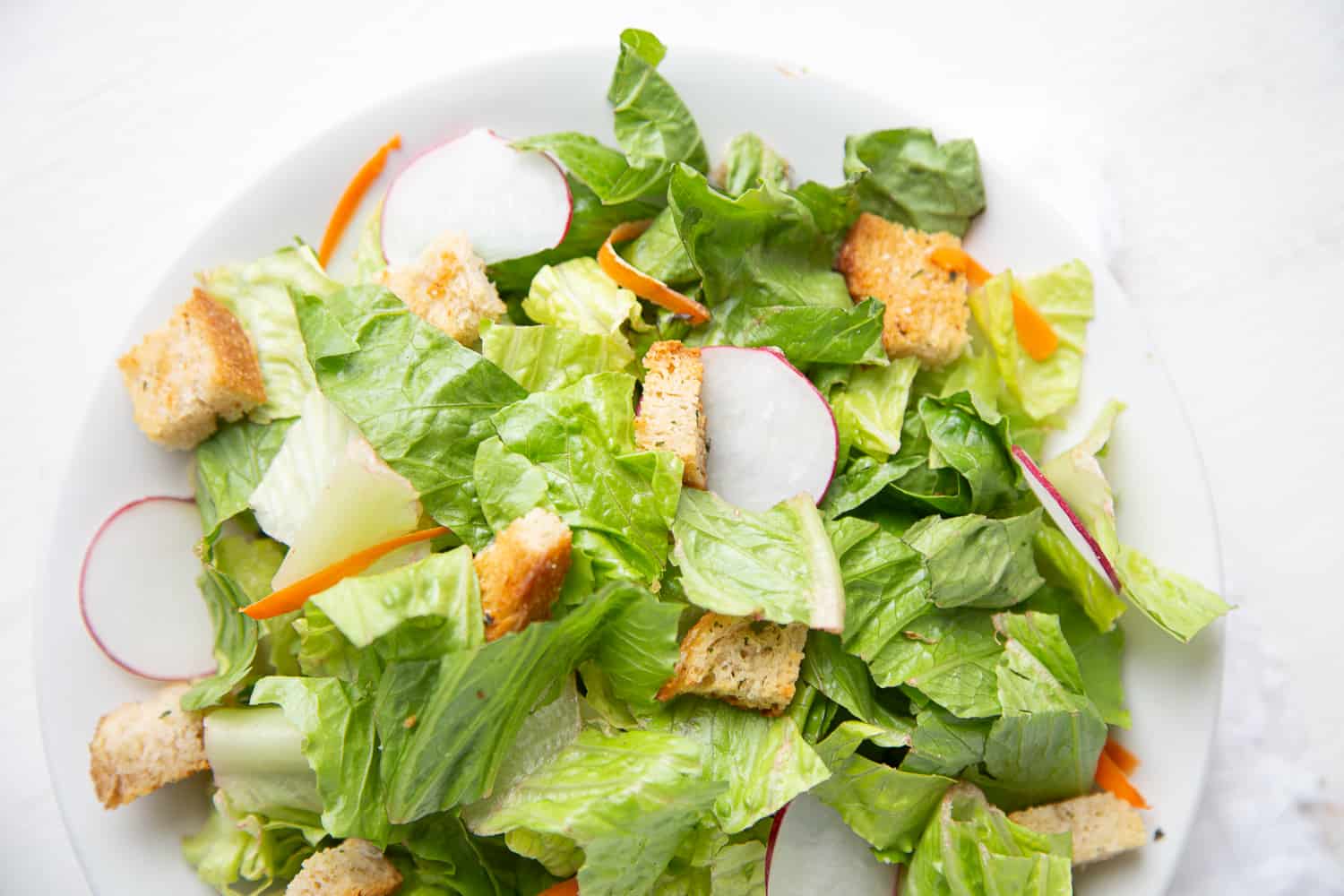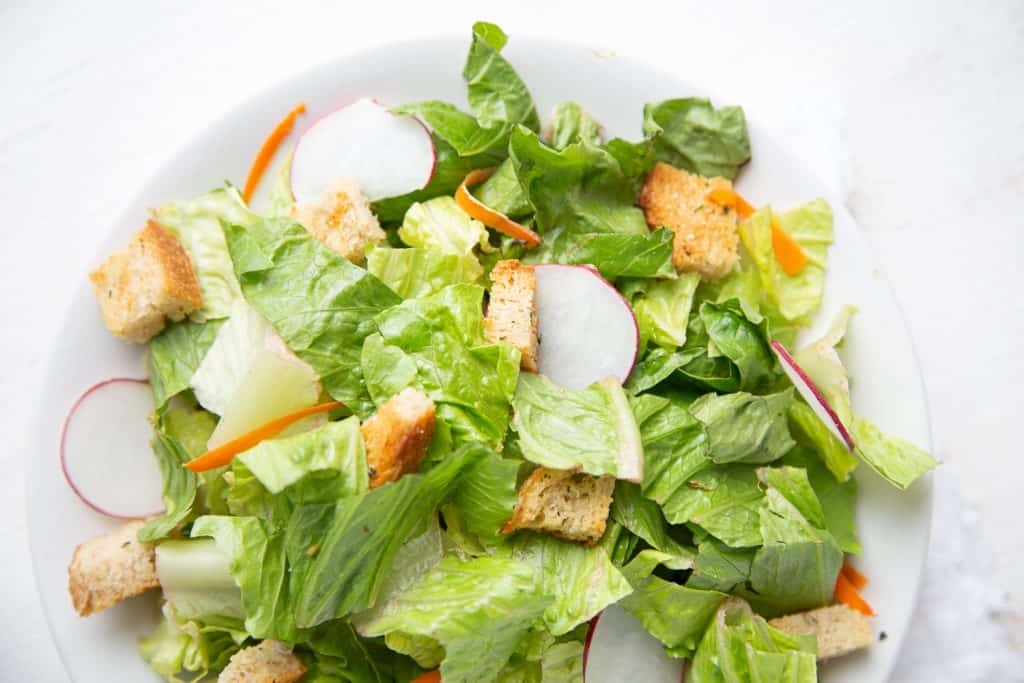 FAQs
Can you make croutons gluten-free?
Substitute gluten-free bread in place of regular bread to make gluten-free croutons.
How do you make croutons dairy-free?
Toss the bread with olive oil instead of butter to make dairy-free croutons.
How long do homemade croutons last?
Homemade croutons will keep for 1 week on the countertop or 2 weeks in the refrigerator in an airtight container.
If you make this recipe, please leave me a comment below, or tag me on Instagram or Pinterest. I love hearing from you!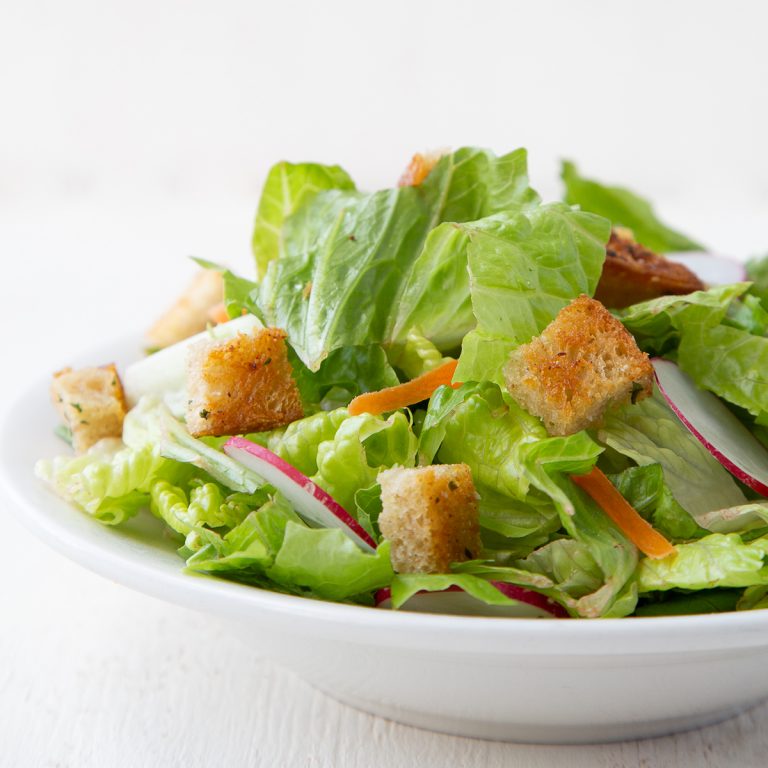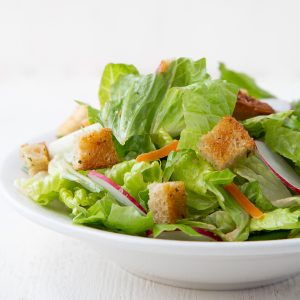 Homemade Croutons with Garlic Butter
These croutons will easily elevate any salad to restaurant-worthy.
Ingredients
4

cups

bread,

cut into cubes (I used sourdough)

4

tablespoons

butter,

melted

½

teaspoon

garlic salt

1

teaspoon

dried parsley
Instructions
Preheat oven to 400°F. In a small bowl, stir together the melted butter, garlic salt, and dried parsley.

Place the cubes of bread on a sheet pan. Drizzle with the garlic butter mixture and toss until the cubes are coated.

Bake for 12–15 minutes, stirring halfway through, or until the cubes are light golden brown.

Store in an airtight container.
Notes
You can substitute olive oil for the butter if you prefer. Then, of course, they are not "garlic butter croutons" but they are still really delicious.
Nutrition
Serving:
12
servings
Calories:
65
kcal
Carbohydrates:
6
g
Protein:
1
g
Fat:
4
g
Saturated Fat:
2
g
Polyunsaturated Fat:
0
g
Trans Fat:
0
g
Cholesterol:
10
mg
Sodium:
107
mg
Fiber:
0.3
g
Sugar:
0
g