Grandma's recipe for snickerdoodles results in the PERFECT soft and chewy cookie. They're easy to make and perfect with a cold glass of milk.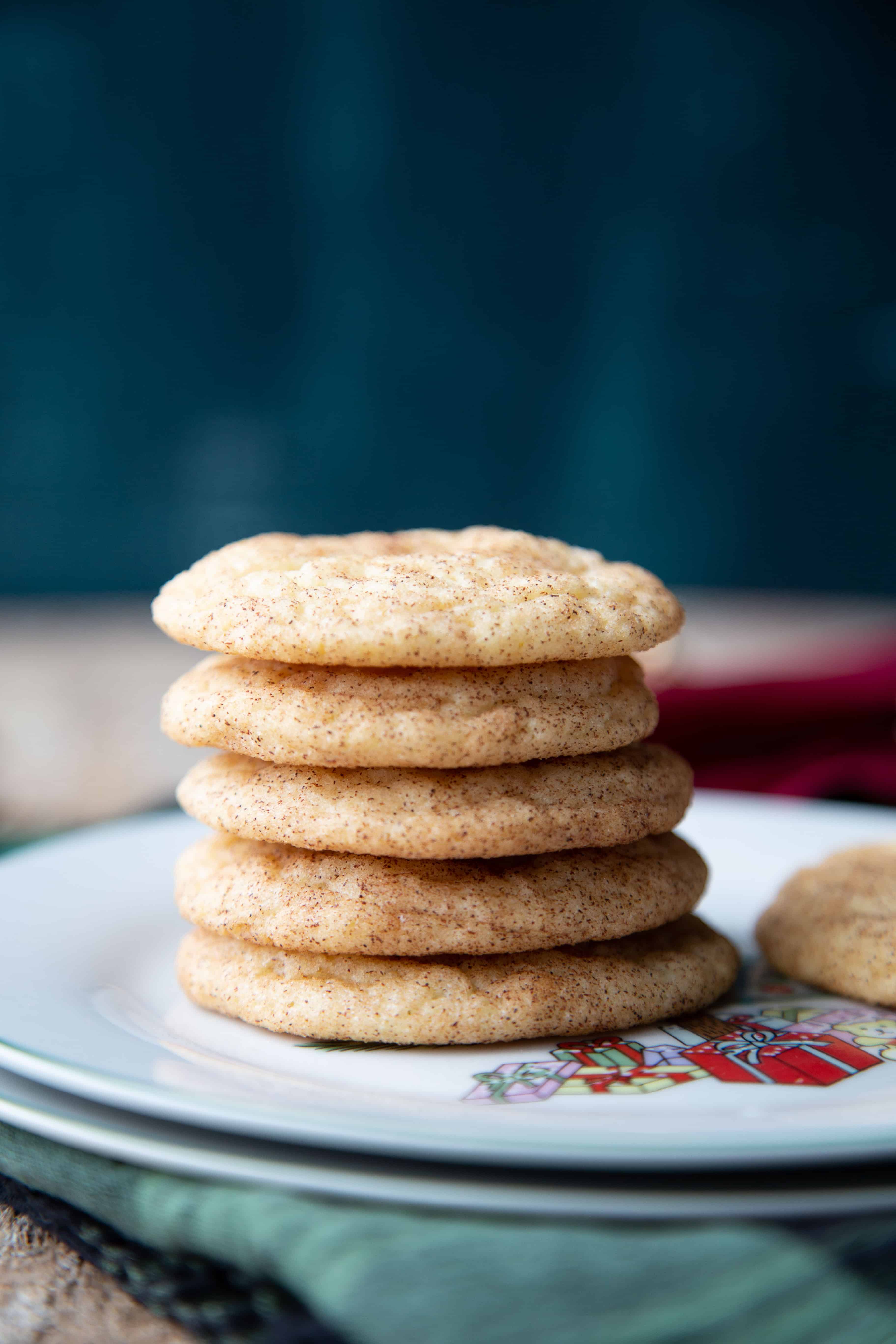 Grandma's recipe book contains a lot of recipes, and it begins with twenty-some pages of cookie recipes. This makes sense since Grandma had a sweet tooth, which got passed down to me!
Her recipe for "Schnitzer Doodles", which are more commonly known as snickerdoodles, is a classic. Sources like The Joy of Cooking
say that the cookie likely has a German origin, and based on the fact that Grandma's ancestors were German, I'd say this recipe backs up that research.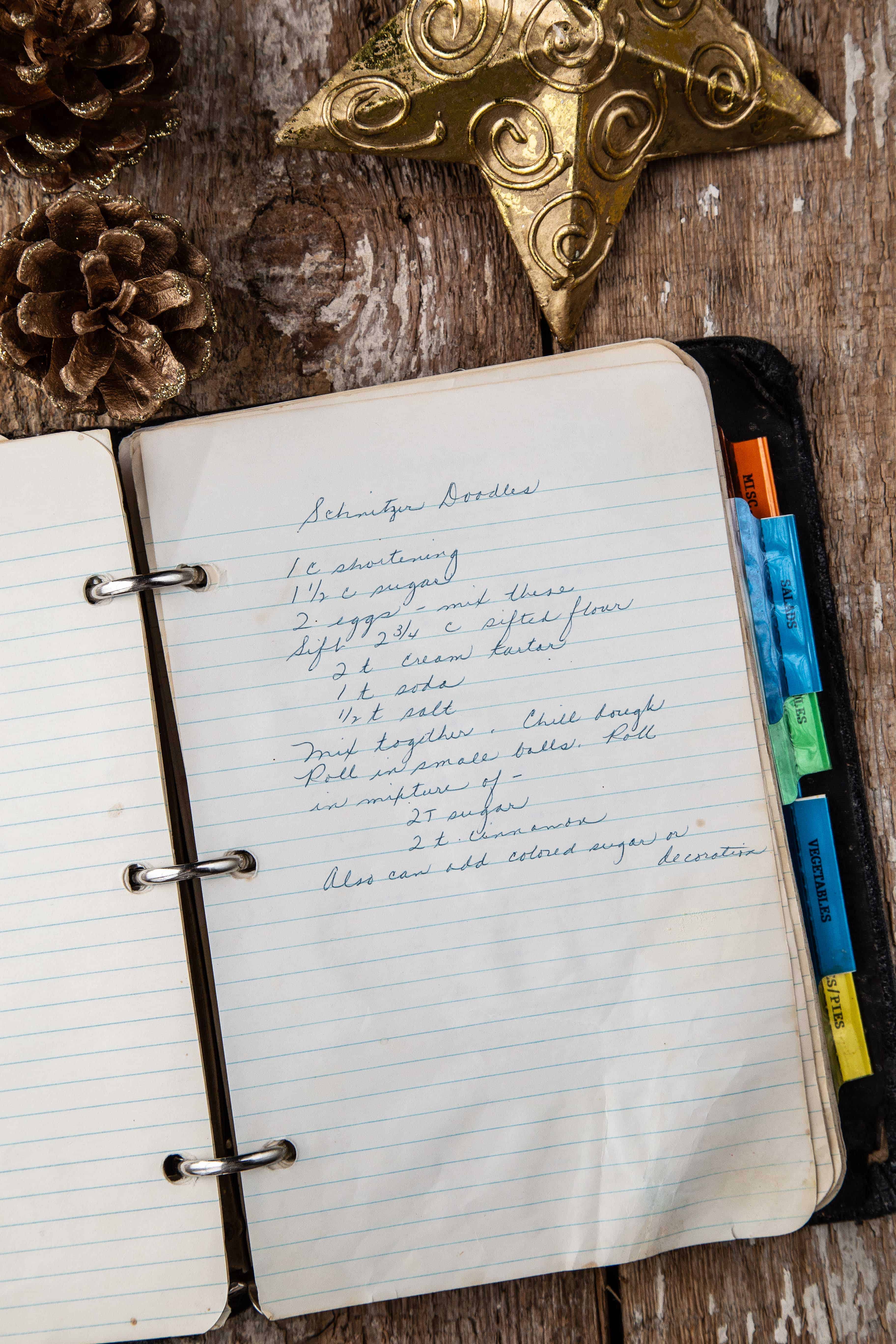 The snickerdoodle dough gets a slightly tangy flavor from cream of tartar, and then the balls of dough get rolled in a cinnamon sugar mixture.
The end result is a soft and chewy cookie with a crisp bottom, its tanginess tamed by the cinnamon sugar. The cookies aren't overly packed with cinnamon—you can just taste a hint of it.
Ingredients
Grandma's recipe calls for lard, which I changed to butter. I do recommend butter for the flavor (lard lacks the same buttery flavor that butter has—sounds so obvious but it's worth noting that it's true!)
Cream of tartar gives the dough a slightly tangy flavor.
The balls of cookie dough get rolled in cinnamon and sugar, which give the cookies a slightly crunchy exterior.
How to make snickerdoodles
1. In the bowl of a stand mixer, beat together the butter and granulated sugar until light and fluffy.
2. Add the eggs and beat until combined, stopping to scrape down the sides of the bowl with a spatula if necessary.
3. Add the flour, cream of tartar, baking soda, and salt. Beat on low just until combined.
4. Refrigerate the dough for at least one hour.
5. Roll the dough into 1-inch balls, then roll in cinnamon sugar.
6. Bake at 350°F for 10–14 minutes.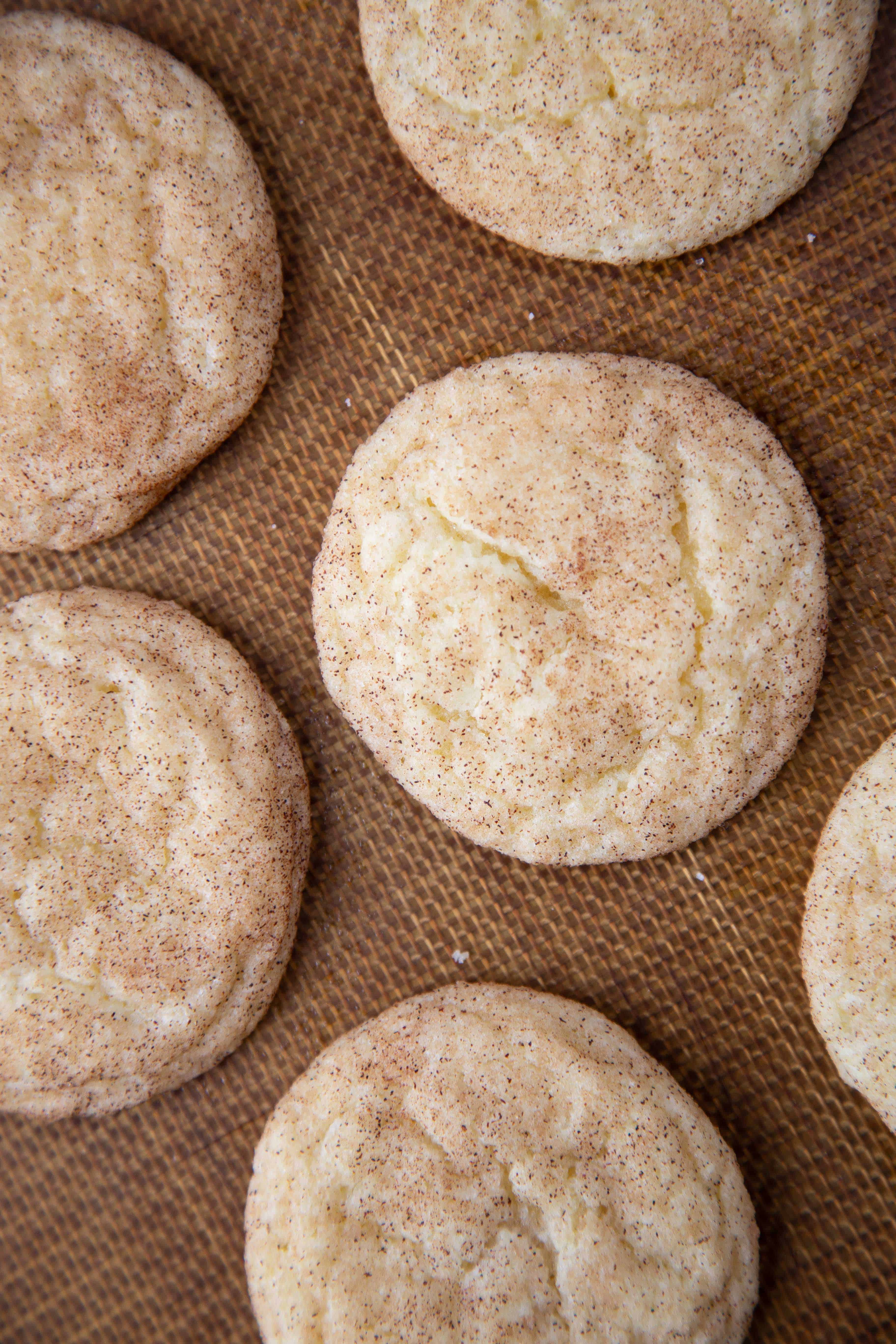 Best type of sugar for snickerdoodles
I tried rolling some of the cookies in a mixture of cinnamon and turbinado sugar instead of granulated sugar. The end result was a cookie with a crunchier exterior thanks to the larger sugar crystals, but they weren't as nice looking.
So I recommend sticking to granulated sugar for rolling the cookies.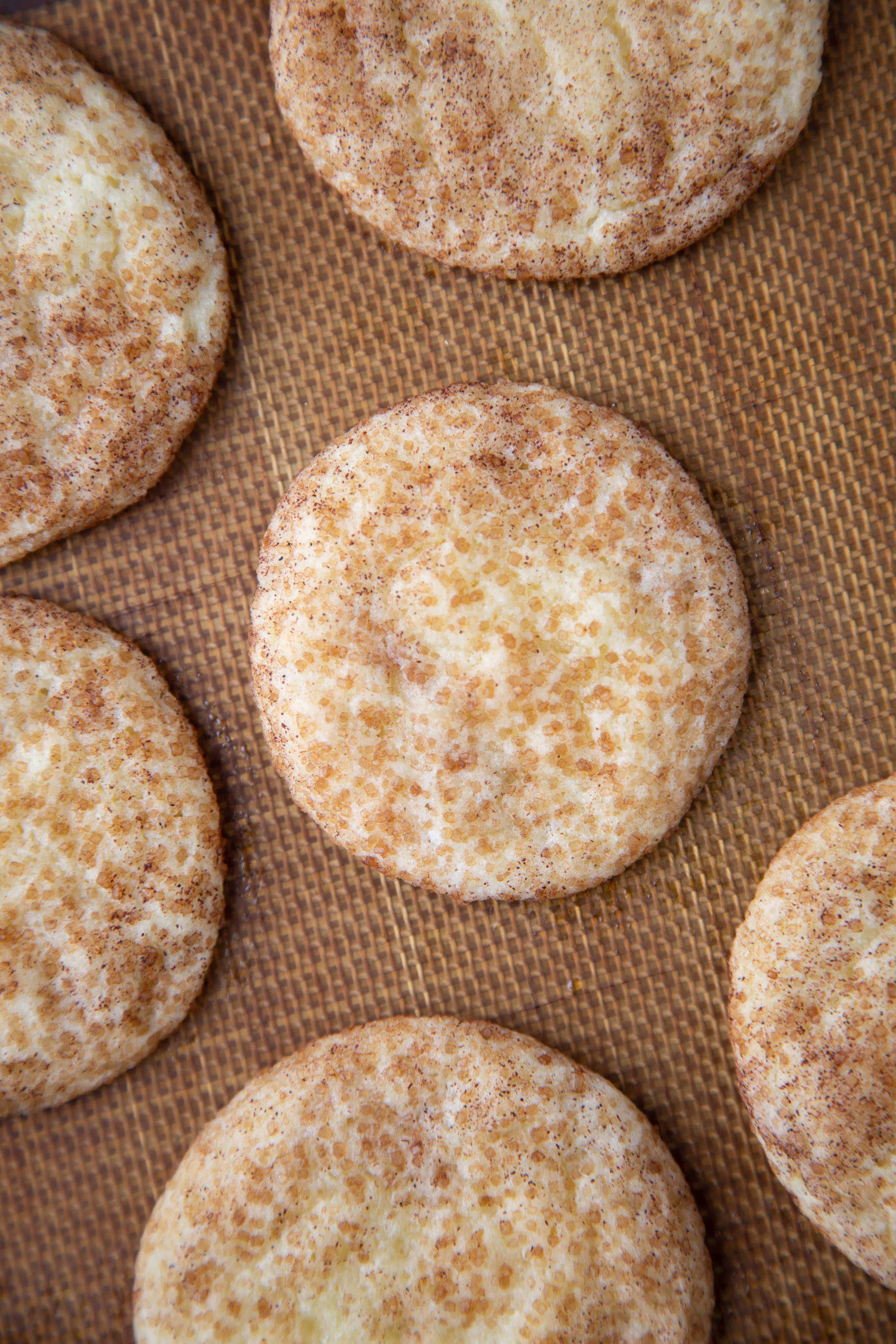 Grandma mentioned that you could add colored sugar or decoration in the recipe. I'll be trying that next time. Let me know if you try it!
Tips and FAQs
1. The key for this recipe (or any cookie recipe really) is to use silicone baking mats. The cookies lift right off so you don't have to worry about broken cookies or scrubbing a baking sheet. These baking mats
are a great price for two!
It's especially important to use baking mats (parchment paper works too!) because the sugar can crystallize in the heat of the oven, and you do not want to be scraping sugar off of your baking sheets!
2. Can I freeze snickerdoodles?
You can freeze both snickerdoodle dough and baked snickerdoodles. To freeze the dough, place it in an airtight container and seal tightly. To freeze the cookies, place them in a single layer in a plastic freezer bag (put wax paper or parchment paper in between layers). Both the dough and the cookies will keep in the freezer for up to one month. To defrost, place the dough in the refrigerator for 48 hours, or leave the already baked cookies on the countertop.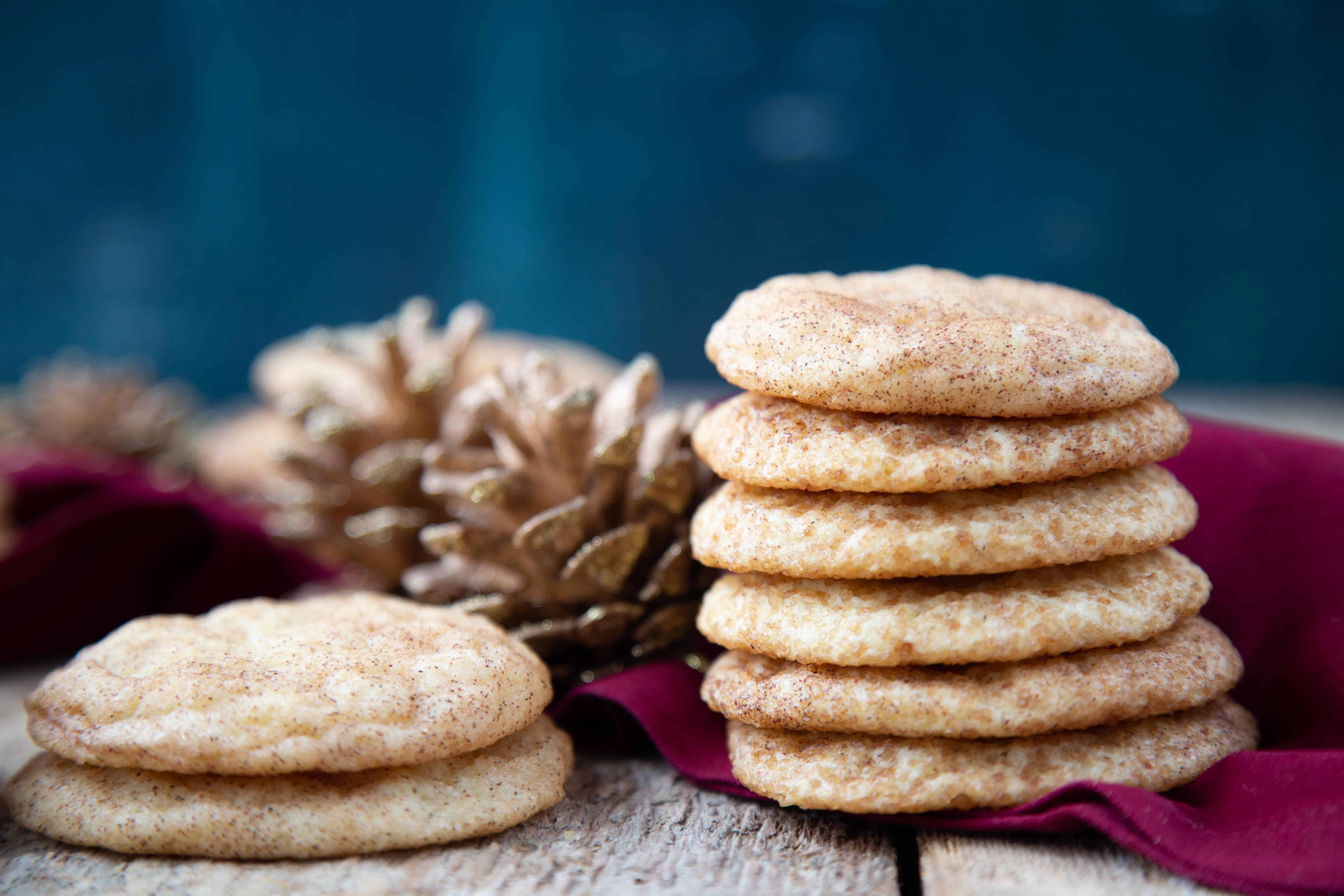 More cookie recipes
Here are a few other cookies from Grandma's recipe book!
If you make the snickerdoodles, please leave me a comment below, or tag me on Instagram or Pinterest. I love hearing from you!
📖 Recipe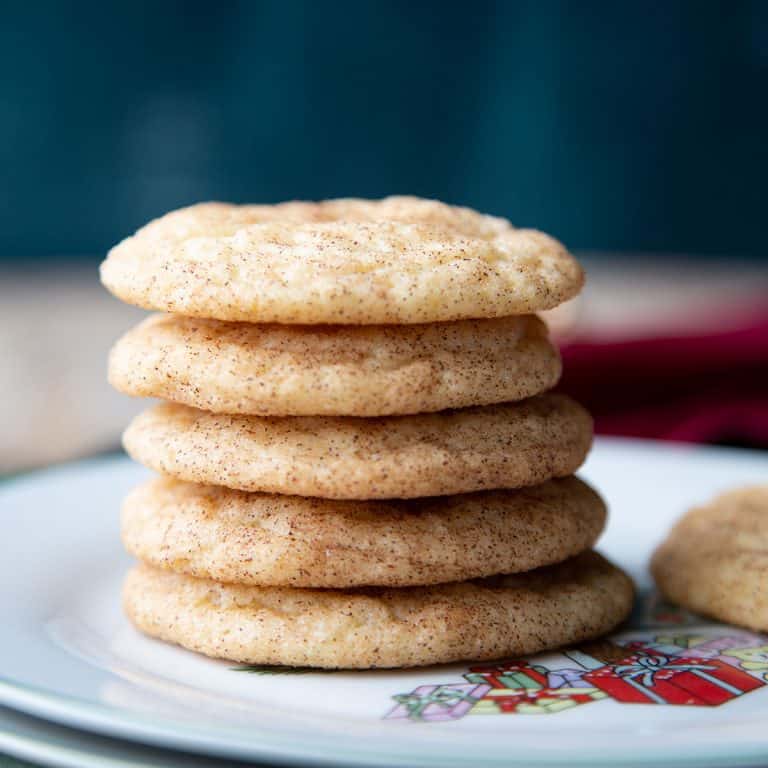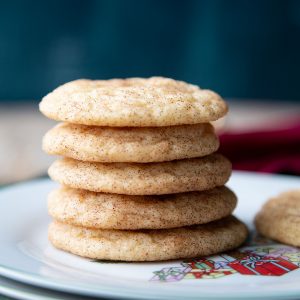 Soft and Chewy Snickerdoodles
These soft baked snickerdoodle cookies from Grandma's recipe box are a classic. A must with a glass of milk!
Ingredients
1

cup

unsalted butter,

softened

1½

cups

granulated sugar

2

eggs

2¾

cup

flour

2

teaspoons

cream of tartar

1

teaspoon

baking soda

½

teaspoon

salt

2

tablespoons

granulated sugar

2

teaspoons

cinnamon
Instructions
In the bowl of a stand mixer, cream together the butter and 1½ cups granulated sugar until light and fluffy. Add the eggs, one at a time, beating after each addition.

In a medium size bowl, whisk together the flour, cream of tartar, baking soda, and salt. Add ⅓ of the flour mixture to the butter mixture and beat on low until incorporated. Add another ⅓ of the flour mixture and repeat. Add the final ⅓ of the final mixture and beat just until incorporated.

Cover with plastic wrap and chill for at least 1 hour (or overnight) in the refrigerator.

Preheat the oven to 350°F. In a small bowl, combine the remaining 2 tablespoons granulated sugar and the cinnamon. Stir to combine.

Roll the dough into 1-inch balls. Roll each ball of dough in the cinnamon sugar mixture. Place 2 inches apart on a baking sheet fitted with a silicone mat or parchment paper.

Bake for 10–14 minutes, or until the cookies no longer look raw in the middle. Let cool and serve.
Notes
The recipe calls for the cookies to be rolled in a mixture of granulated sugar and cinnamon. I tried subbing turbinado sugar for the granulated sugar and it produced a cookie with a crispier exterior, though I don't think they were as attractive as the cookies made with granulated sugar. Stick with granulated sugar for rolling!
I recommend silicone baking mats
for baking the cookies to ensure the cookies don't stick.
Nutrition
Serving:
1
cookie
Calories:
188
kcal
Carbohydrates:
27
g
Protein:
2
g
Fat:
8
g
Saturated Fat:
5
g
Cholesterol:
34
mg
Sodium:
101
mg
Potassium:
64
mg
Fiber:
1
g
Sugar:
16
g
Vitamin A:
256
IU
Calcium:
8
mg
Iron:
1
mg