This easy Lebanese Lemon Lentil Soup is a one-pot meal that can be made in 30 minutes! Serve it with hummus, veggies, and pita bread for dipping.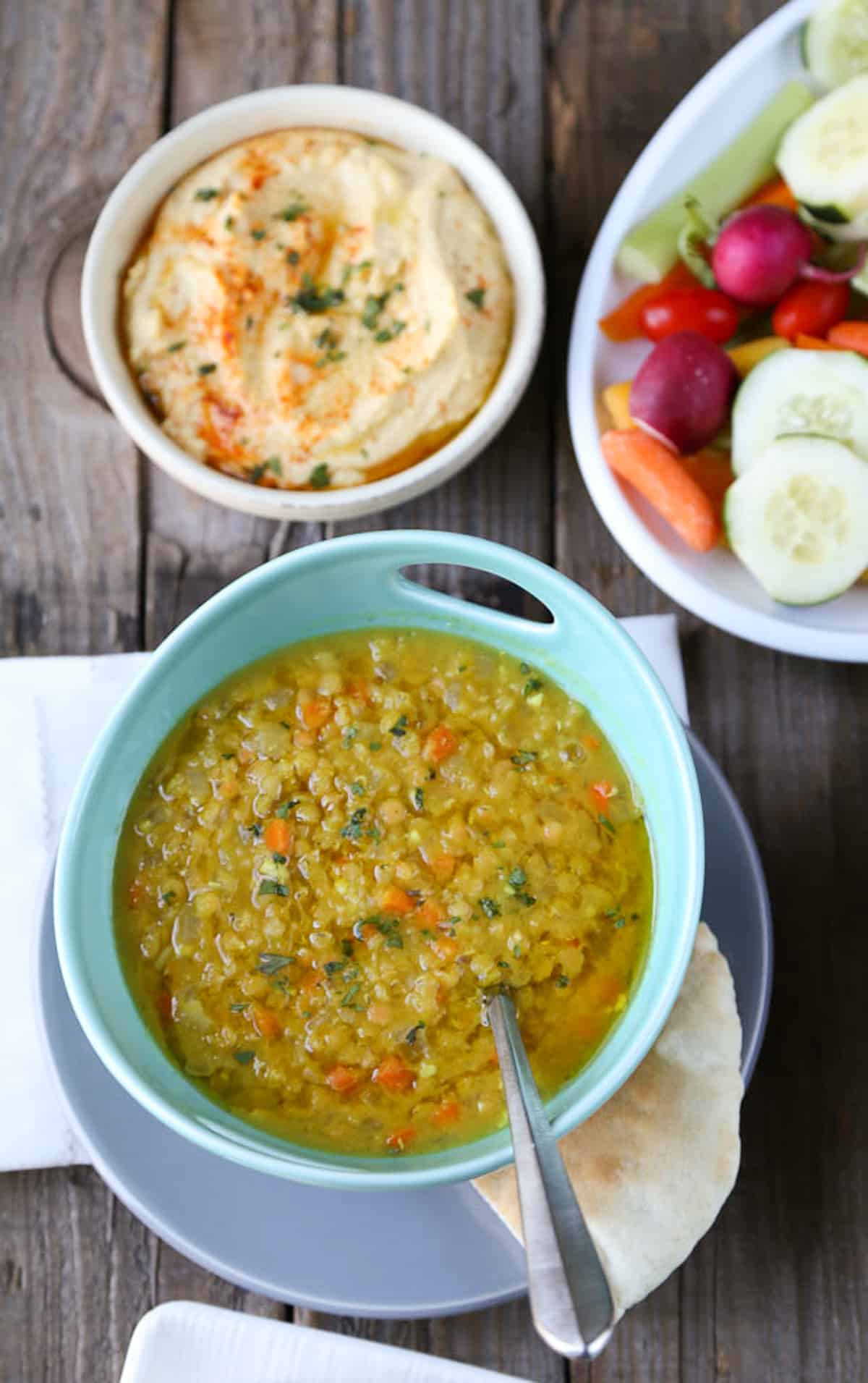 The inspiration for Lebanese Lemon Lentil Soup with red lentils comes from my favorite restaurant in Cleveland, Ohio. It's called Taza, and it's run by a local Lebanese family.
Their hummus, schawarma, fattoush, and falafel are must-trys, but I come back to this red lentil soup every time.
When I moved to Chicago, I had to re-create the soup. Over the years I've tinkered with a recipe, and finally landed on this version.
It's easy to make and only uses one pot. It's quick cooking too, thanks to the red lentils. The whole soup cooks in just about 30 minutes.
Lebanese Lemon Lentil Soup also happens to be vegetarian and vegan, and high in protein. It's some seriously comforting (and healthy!) soup for a chilly day.
This post contains affiliate links. Affiliate links support Gift of Hospitality at no additional cost to you. I receive a commission if you choose to make a purchase through these links.
Jump to:
How to make lentil soup taste good
Red lentils are relatively bland with an earthy flavor. As a result, they need other ingredients to taste good.
Spices such as cumin, turmeric, and cayenne pepper add a nice flavor to lentil soup. However, the best ingredient for making lentil soup taste good is a lemon—both the zest AND the juice.
The bright, acidic citrus contrasts really nicely with the earthy flavor of the lentils, making this soup seriously delicious.
Ingredients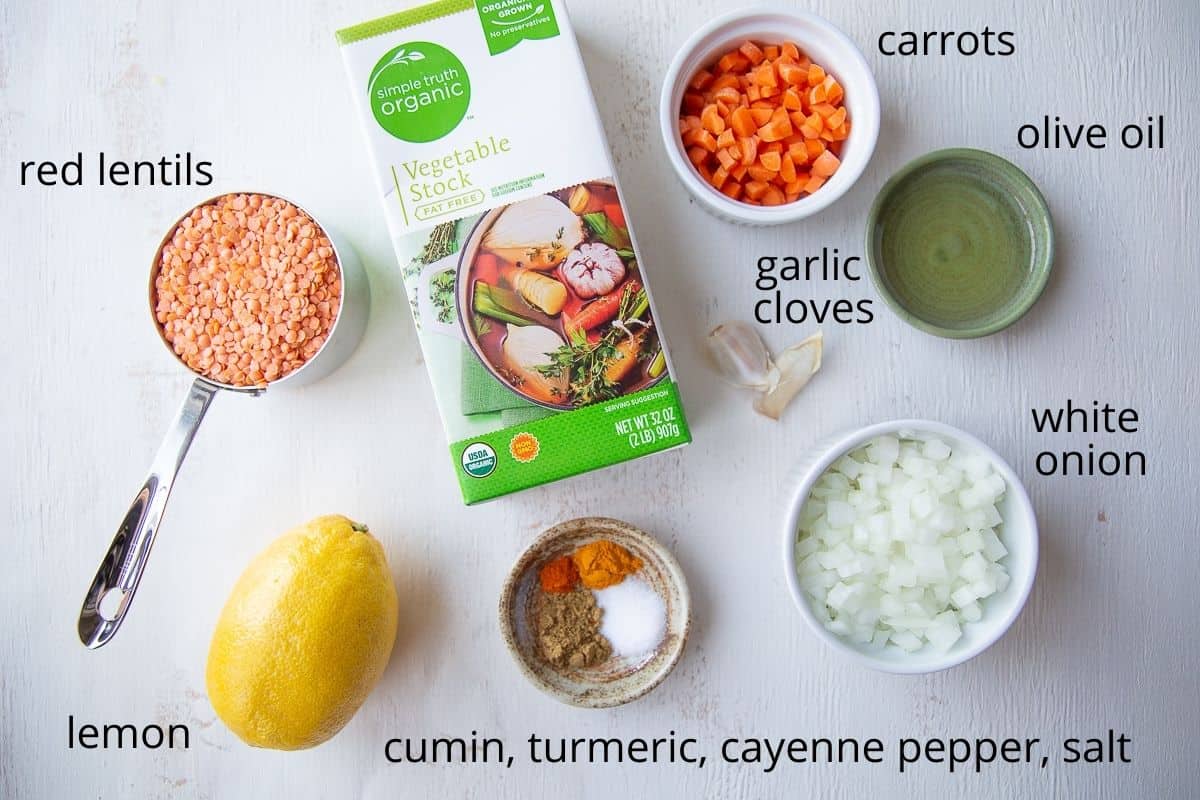 Yellow onion, carrot, and garlic add lots of great flavor.
Red lentils are key here—they break down as they cook, resulting in a creamy soup.
Turmeric adds a beautiful golden hue, and cumin adds a warm earthiness to the lentils.
Veggie stock or chicken stock will work well here (obviously use veggie stock if you want this to be vegetarian).
We'll use both the zest and the juice of a lemon for lots of bright, fresh citrus flavor.
How to make Lebanese lemon lentil soup
Heat the olive oil in a large saucepan over medium heat. Sauté the onion and carrot until soft.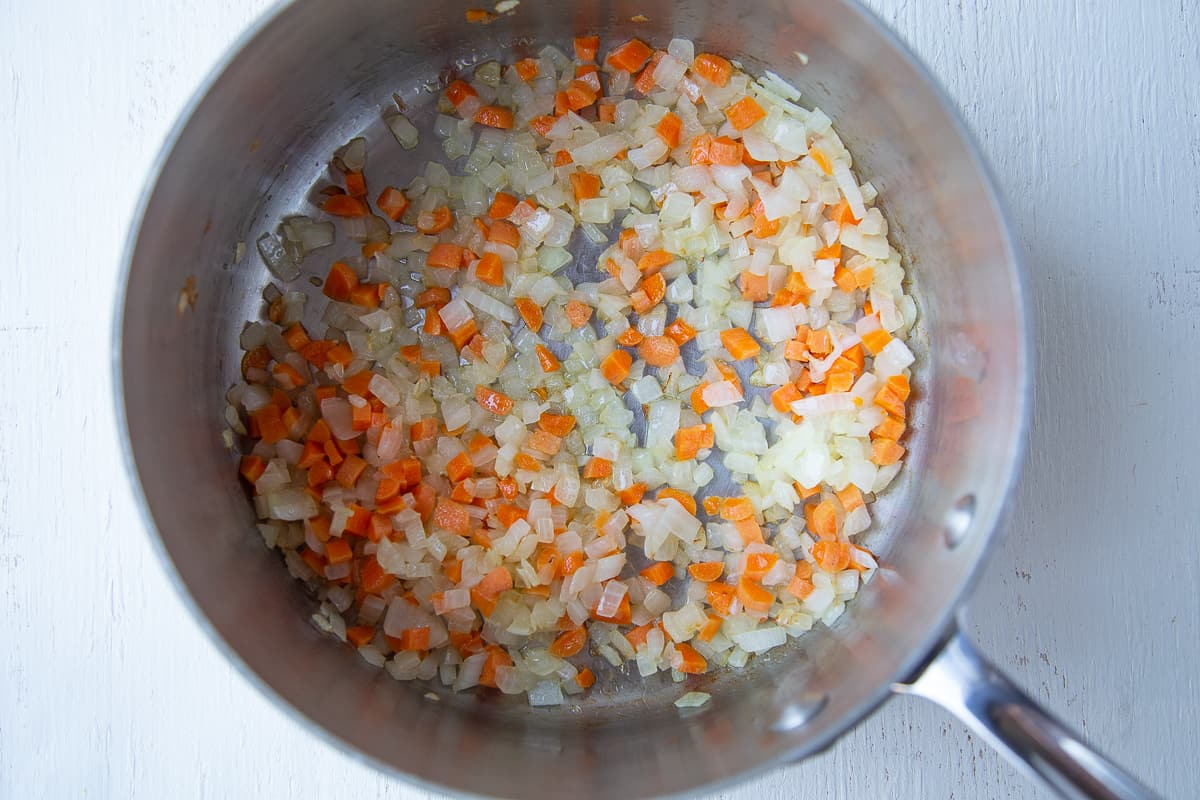 Add the garlic, cumin, and turmeric, and sauté for 30 seconds.
Sautéing the spices before adding liquid helps them "bloom", which releases their flavor. And the aromas are heavenly!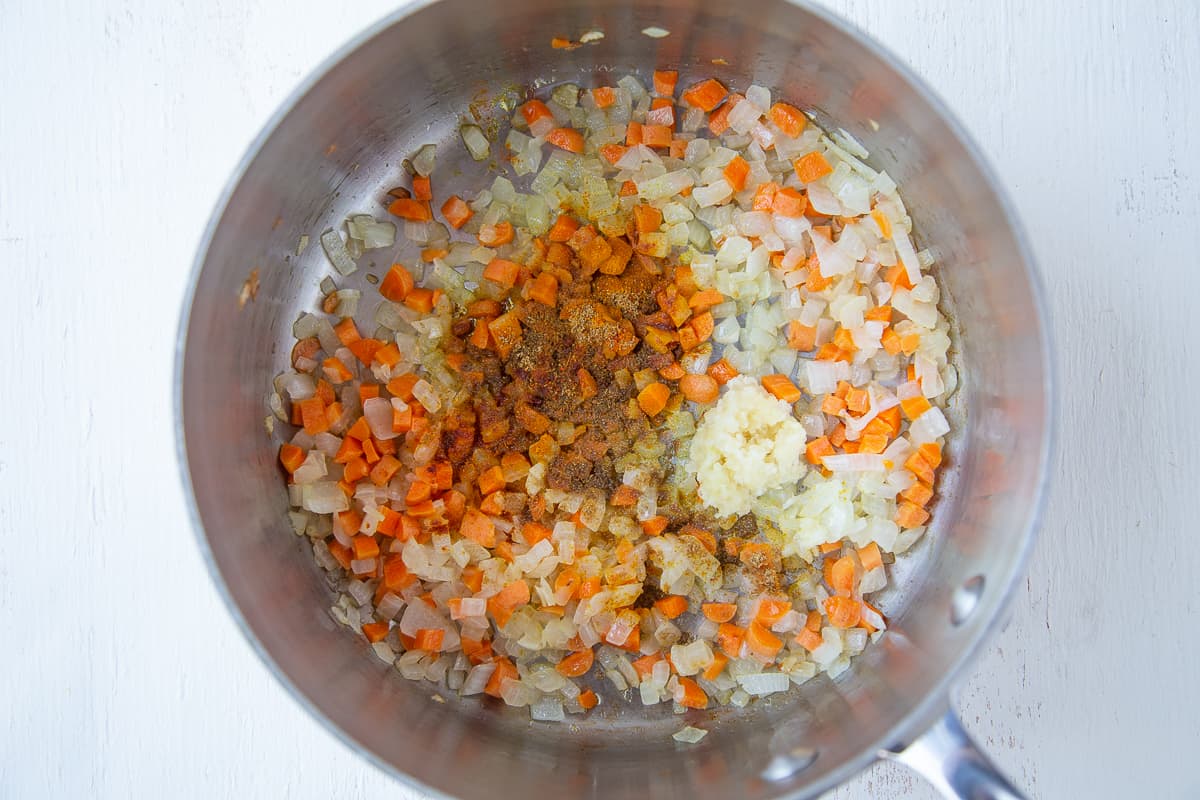 Then, add the red lentils and chicken stock, and cook for 18–20 minutes, or until the lentils are tender.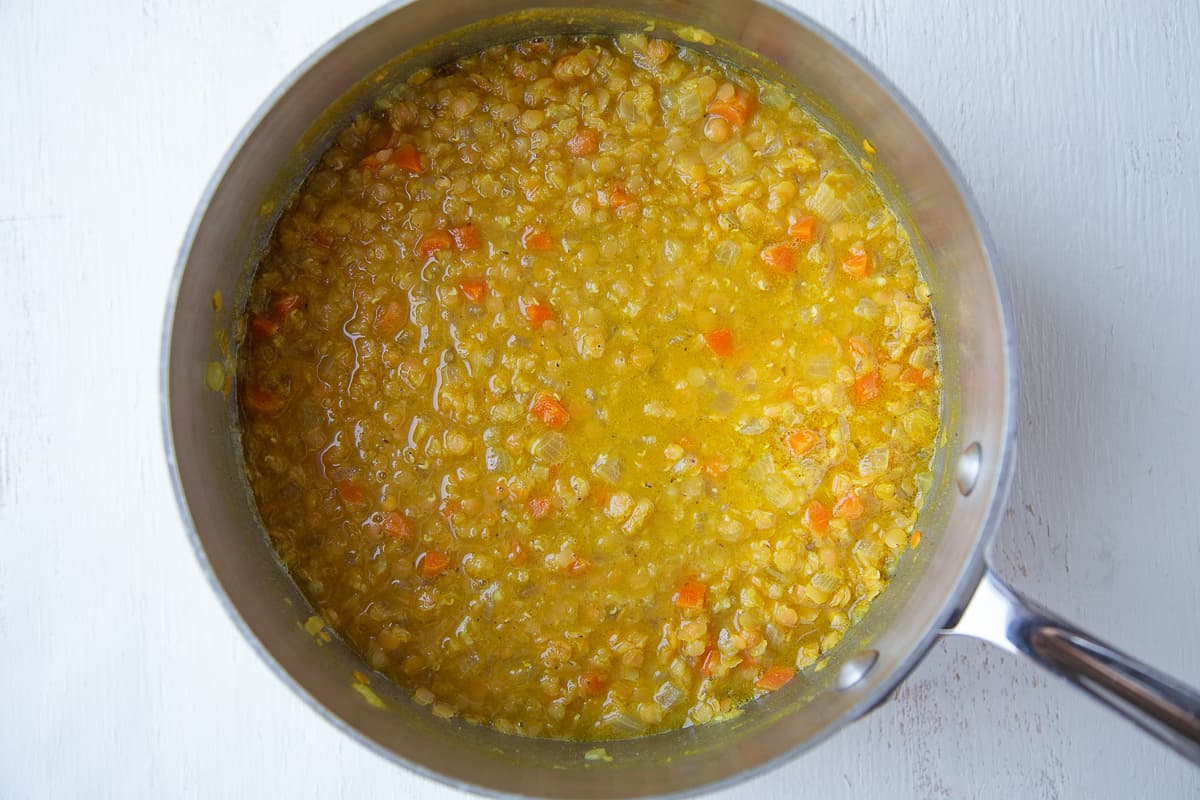 While the lentils cook, chop some veggies, get out some hummus, and warm up some pita bread to serve with the soup. To warm pita bread in the oven, wrap the pita in foil and place in a 350°F oven for 5–8 minutes, or until warm.
Finally, add the zest and juice of one lemon. The lemon really brightens the flavor, perking up the modest lentils into something amazing.
Garnish it with cilantro and a drizzle of olive oil. Crushed pita chips on top are delicious, too!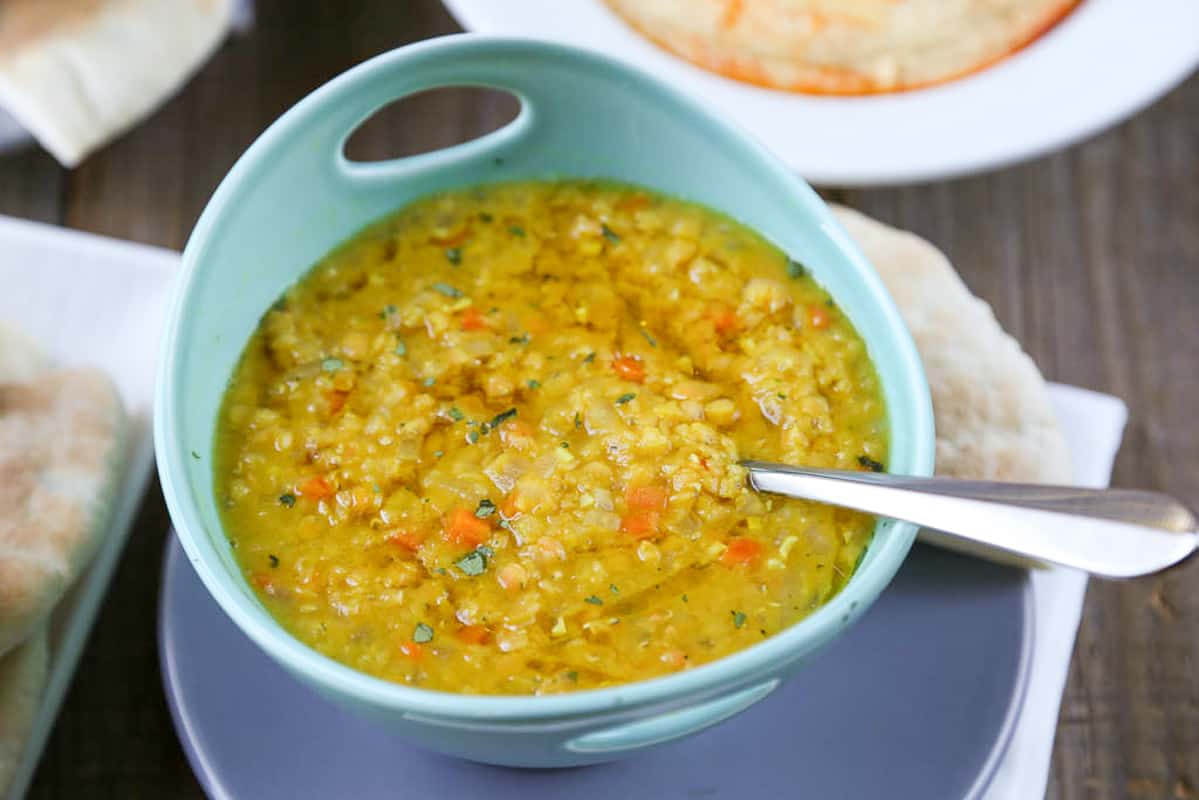 The verdict? This Lebanese Lemon Lentil Soup tastes just like it does at the restaurant! It's such a comforting dish on a chilly day.
I love serving it to friends who come for dinner, or for a book club. It's dairy-free, gluten-free, and meat-free, so it pleases a variety of eaters while still being hearty and delicious.
Frequently Asked Questions
Do lentils need to be soaked before cooking?
Lentils do not need to be soaked. Rinse the lentils in cool running water before using. This will remove any debris.
Can I use brown lentils for this soup?
Red lentils taste the best, as they are milder tasting than other lentil varieties.
Is lentil soup vegetarian?
Lebanese lemon lentil soup is vegetarian, provided that you use vegetable stock (and not chicken stock). It's vegan, too!
Is lentil soup gluten-free?
This recipe for Lebanese Lemon Lentil Soup is gluten-free. As always, check the labels on all store-bought products to make sure.
Make it ahead: storage and freezing
Store the soup in a covered container in the refrigerator. It will keep there for up to five days.
To reheat, place the soup in the microwave, or in a saucepan on the stove, and heat until warm.
To freeze lentil soup, let it cool and ladle it into resealable plastic freezer bags. Seal the bags and lay flat in the freezer. The soup can be stored in the freezer for up to 2 months.
To defrost, place the bag in the refrigerator overnight, or place the bag in a bowl of warm water, and let sit until defrosted. You may need to add more hot water as the water cools down.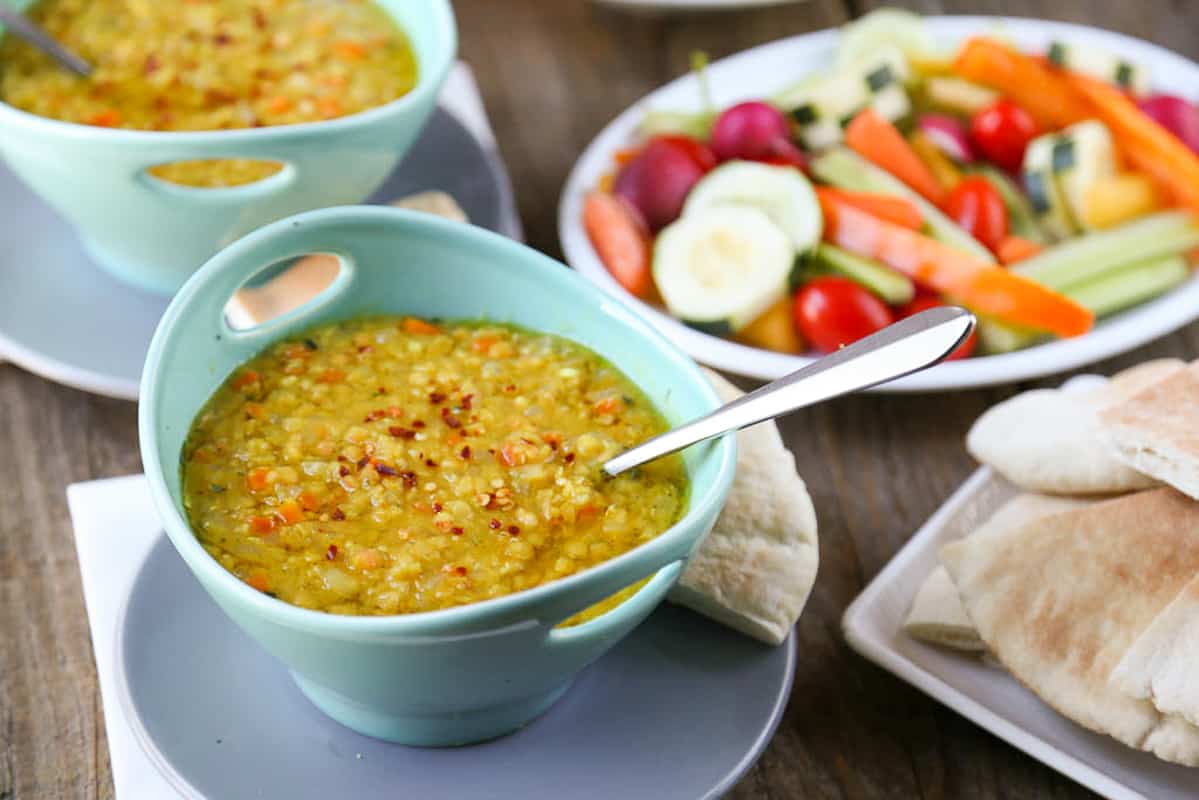 Serving suggestions
Lebanese Lemon Lentil Soup is creamy (despite not having cream in it), so it's nice to add garnishes that contrast with the soup.
Chopped cilantro adds a fresh flavor, and crushed pita chips contrast nicely with the soup. I also like to serve it with warm pita for dipping.
You can also add crushed red pepper flakes to the top for some spice.
This is crossing cultures here, but it would also be delicious with Garlic Butter Naan or Homemade Potato Rolls.
And speaking of other cultures, if you love red lentils, you'll love this Vegetarian Red Lentil Dal!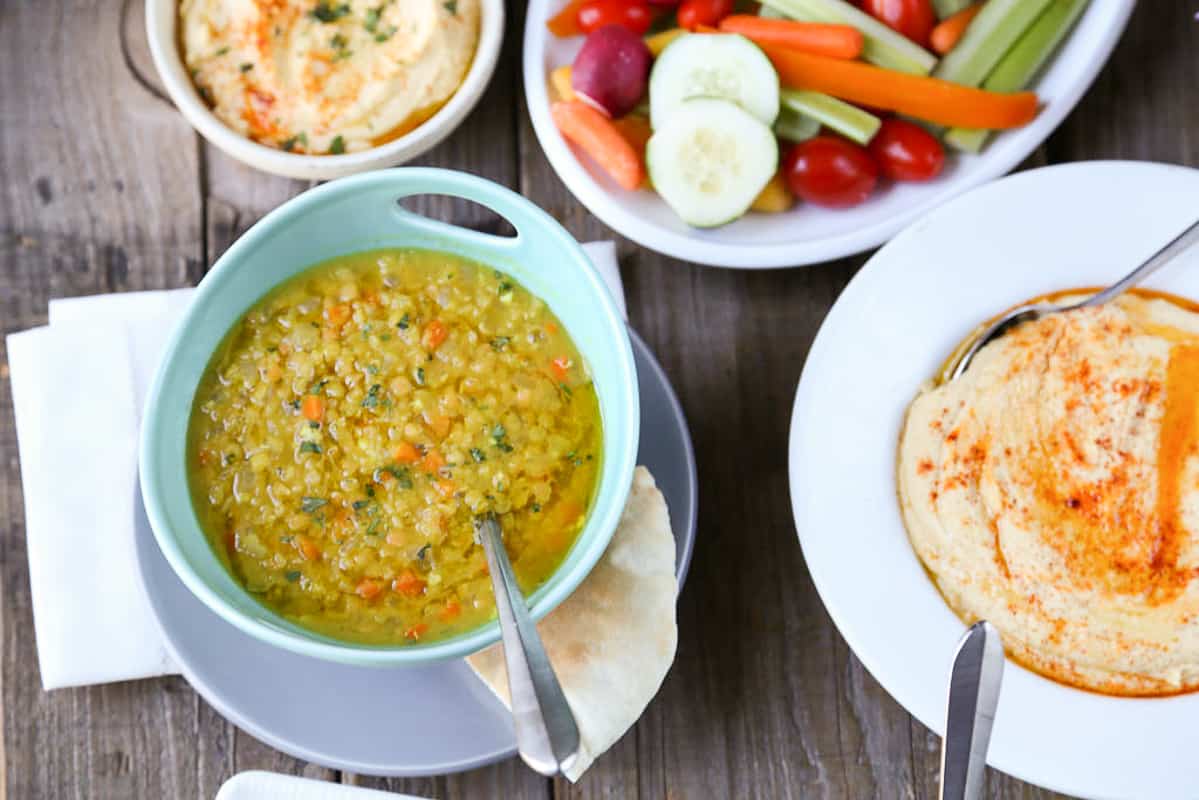 Have you tried this recipe? Please leave a ⭐️⭐️⭐️⭐️⭐️ rating and/or comment below!
---


---
📖 Recipe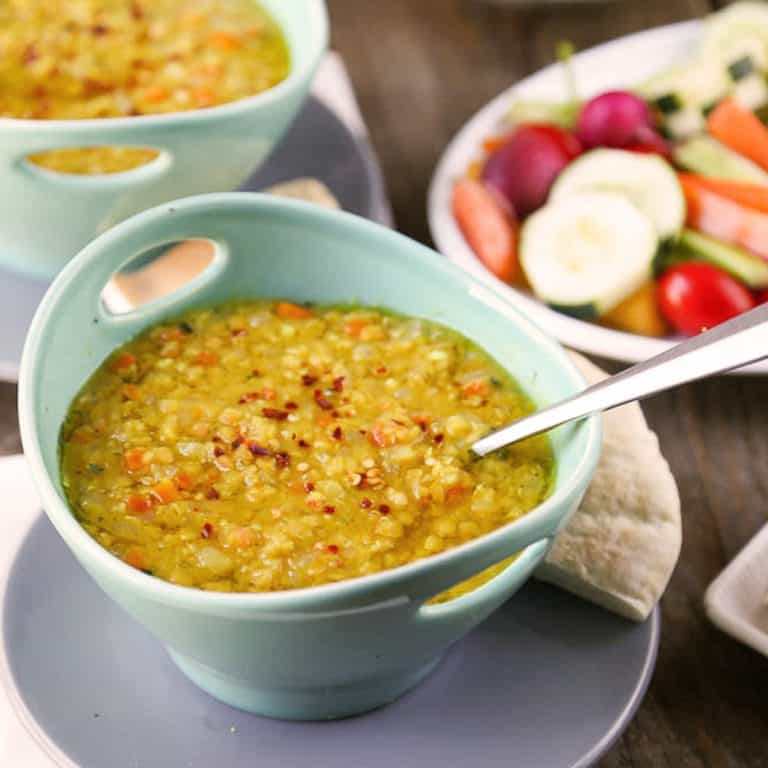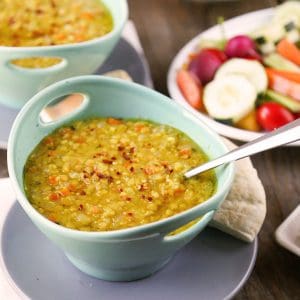 Lebanese Lemon Lentil Soup
This one-pot, Lebanese soup with red lentils is ready in 30 minutes!
Ingredients
2

tablespoons

olive oil

1

large yellow onion,

finely diced

1

large carrot (or 8 baby carrots),

finely diced

2

cloves

garlic,

minced

½

teaspoon

cumin

¼

teaspoon

turmeric

Pinch

of cayenne pepper

1

cup

red lentils

3½

cups

vegetable or chicken stock

¾

teaspoon

kosher salt

Zest and juice of 1 lemon

For garnish: chopped cilantro and olive oil
Instructions
Heat olive oil in a large pot over medium heat. Add the onion and carrot. Sauté until the carrot is soft and the onion is translucent, about 4–5 minutes.

Meanwhile, rinse the lentils in a colander under cool running water.

Add the garlic, cumin, turmeric, and cayenne pepper to the pot. Cook, stirring occasionally, for 1 minute.

Add the lentils, chicken stock, and salt. Bring to a boil, then reduce to a simmer. Cook for 18–20 minutes, stirring occasionally, or until the lentils are tender.

Stir in the lemon zest and juice.

Divide the soup among 3–4 bowls. Garnish with chopped cilantro and olive oil. Crushed pita chips are nice, too!
Notes
You do not need to soak the lentils before cooking. Just rinse them under cool running water to remove any debris. While the soup is cooking, chop up some raw veggies and get out some hummus. Warm some pita bread in the oven (wrap it in foil and heat for 5 minutes at 350°F). Serve the veggies, hummus, and pita with the soup!
Nutrition
Calories:
275
kcal
Carbohydrates:
34
g
Protein:
16
g
Fat:
9
g
Saturated Fat:
1
g
Sodium:
513
mg
Potassium:
696
mg
Fiber:
15
g
Sugar:
3
g
Vitamin A:
2565
IU
Vitamin C:
5
mg
Calcium:
48
mg
Iron:
4
mg
More global recipes