In need of a quick but really delicious dessert? Grilled Pound Cake with Berries and Cream is the answer! It takes minutes to make, and it's the perfect ending to a summer meal.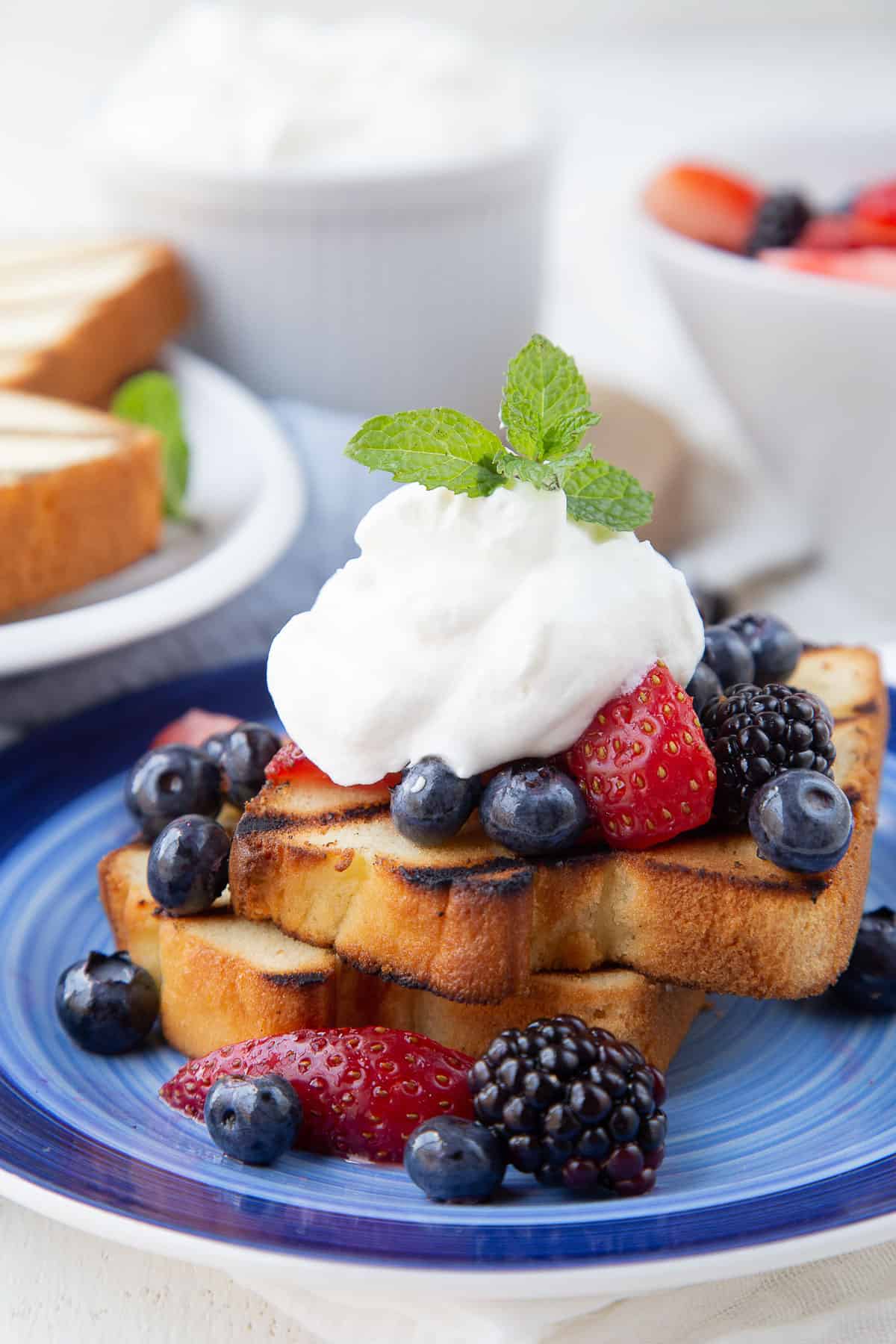 No need to turn on the oven for this easy dessert! Grilled Pound Cake with Berries and Cream starts with a store-bought pound cake, which we'll grill, then top with berries and homemade whipped cream.
It's the perfect summer dessert. And, with its patriotic colors, it's a delicious treat for the 4th of July!
This post contains affiliate links. Affiliate links support Gift of Hospitality at no additional cost to you. I receive a commission if you choose to make a purchase through these links.
Jump to:
Why grill cake?
Similar to how a toaster adds flavor to bread, the grill will add a delicious toasted flavor to the pound cake. The heat works quickly, caramelizing the sugar in the cake, so it takes just minutes.
Grilling elevates the cake from average to beyond delicious.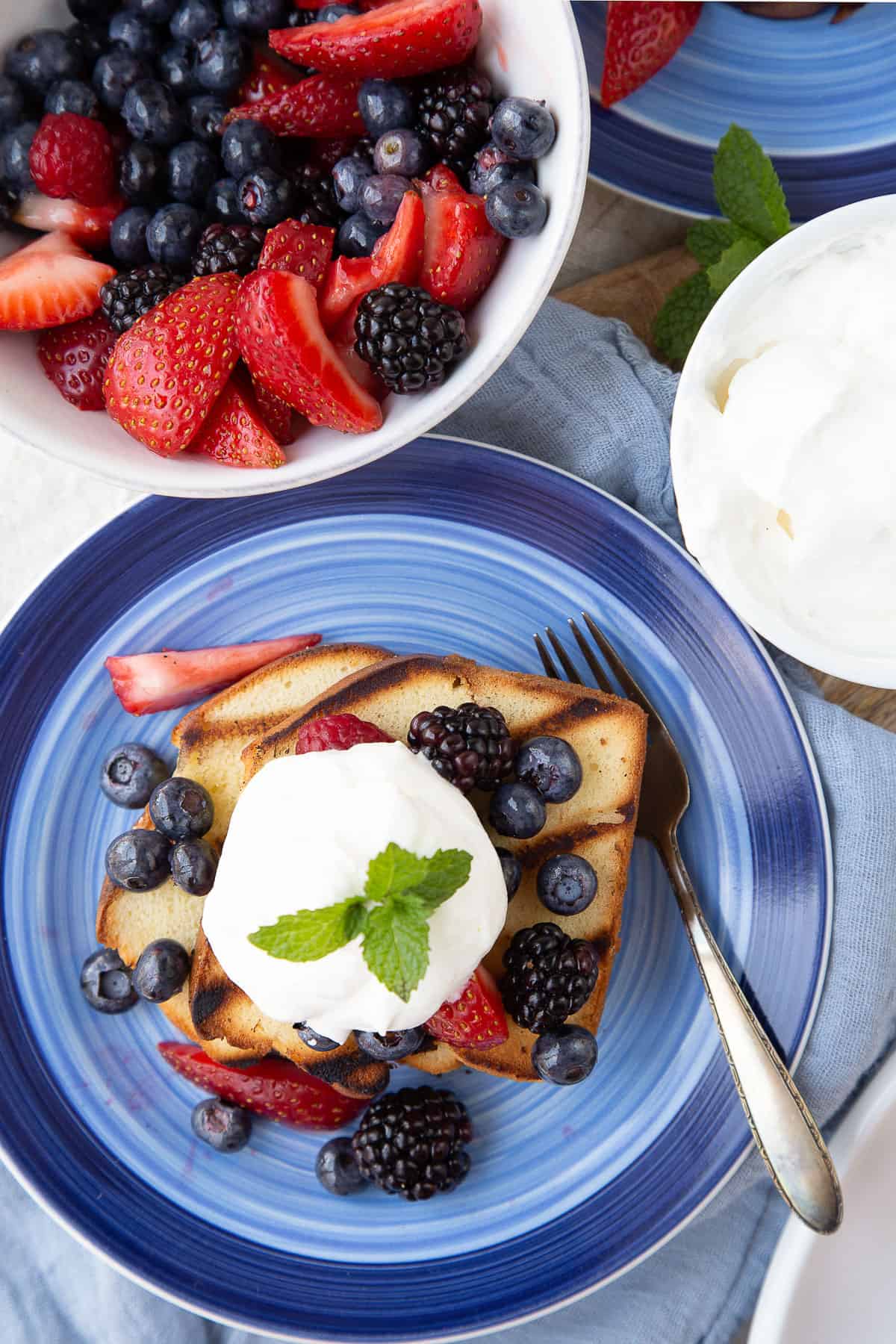 How to grill pound cake
It all starts with pound cake from the grocery store. My grocery store makes a really good one—buttery and dense, yet still soft with a hint of vanilla.
If you prefer, you can make your own pound cake here (this is a good recipe), but I've found that the grocery store version works great.
Start by preheating the grill to medium heat. Cut the pound cake into slices (about ¾ of an inch thick). You do not need to brush it with butter or oil. There's enough butter in the cake already!
Place the pound cake directly on the grill, and leave it there for 60–90 seconds per side. Check to see if there are grill marks and if it's lightly toasted. If not, give it 30 seconds more before flipping.
It'll get beautiful grill marks (thanks to the sugar in the cake) and even start to toast a bit. The light toasting deepens the flavor of the cake and makes it really delicious!
Topping the pound cake
To top the pound cake, I used a mixture of strawberries, blueberries, blackberries, and raspberries. You can use whatever berries that you like.
Toss the fruit (3 cups) with 2 tablespoons granulated sugar and 2 tablespoons of water. After it sits for 10 minutes or so, the fruit starts to release its juices and even glisten a bit.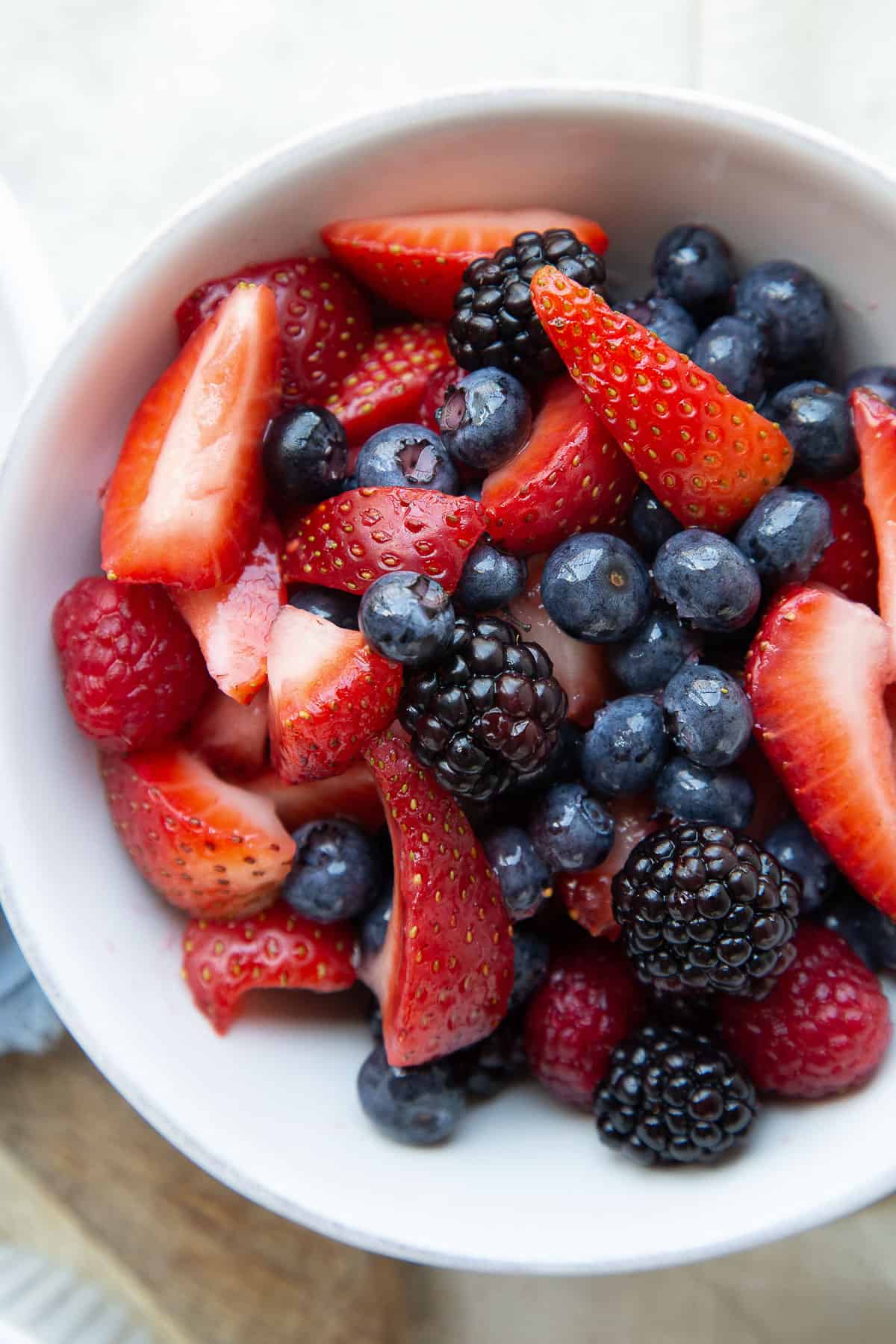 This trick works especially well with fruit that's not quite in season yet, or isn't very sweet.
Next is the homemade whipped cream. I find that homemade really is best in this case, when whipped cream is one of just a few ingredients.
Use your stand mixer to whip one cup of heavy cream with 2 tablespoons of powdered sugar and ½ teaspoon of vanilla extract. If you don't have a stand mixer, a hand mixer will work well. Or, if you're feeling like a workout, a whisk will work with a little effort!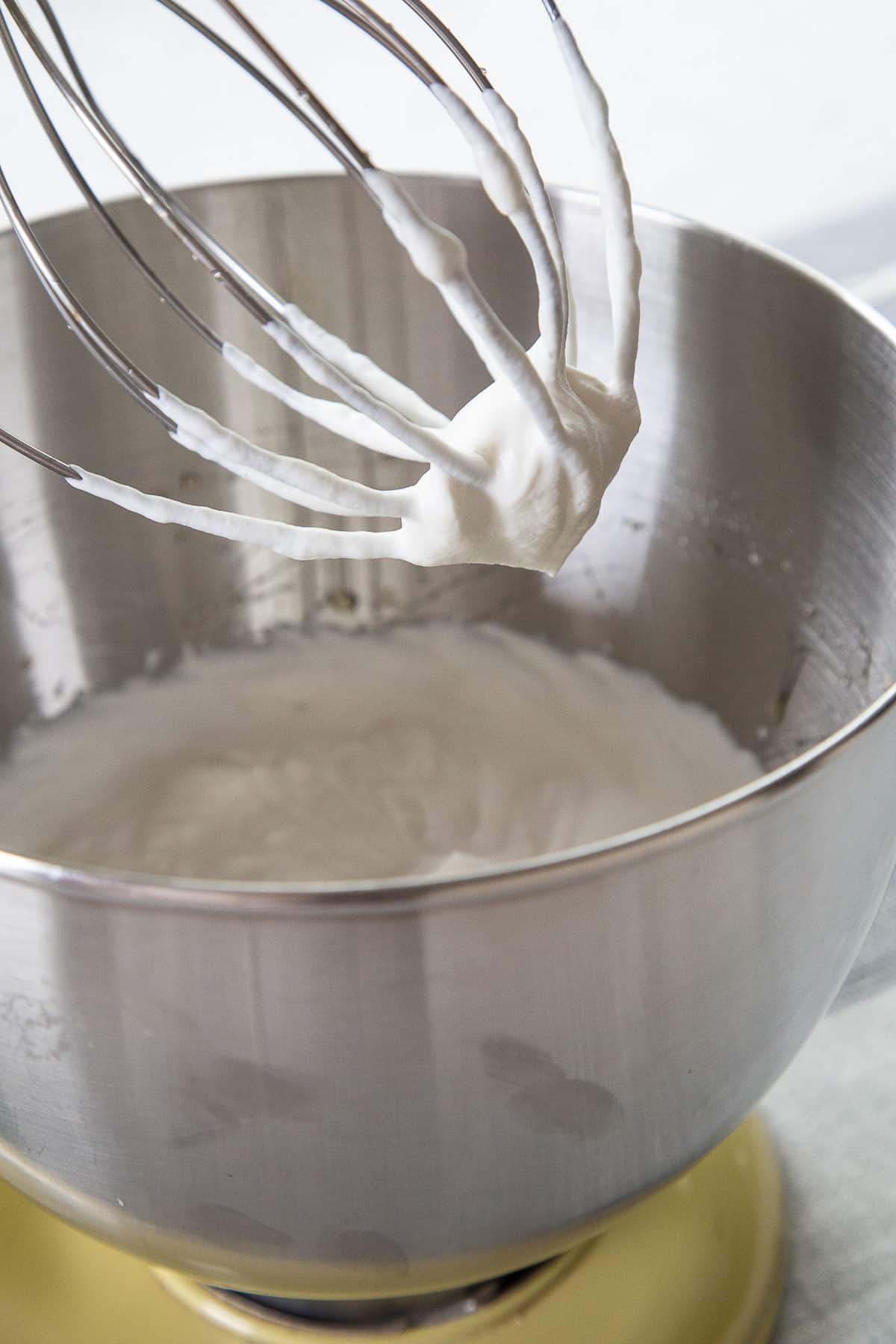 Serving suggestions
Place one or two pieces of grilled pound cake on a small plate, then top with the berries and whipped cream. A sprig of fresh mint is optional but I love how it looks!
A scoop of vanilla ice cream would make a delicious stand-in for the whipped cream.
Alternatively, you could place each of the ingredients on a platter or in a bowl, and your guests can assemble their own desserts.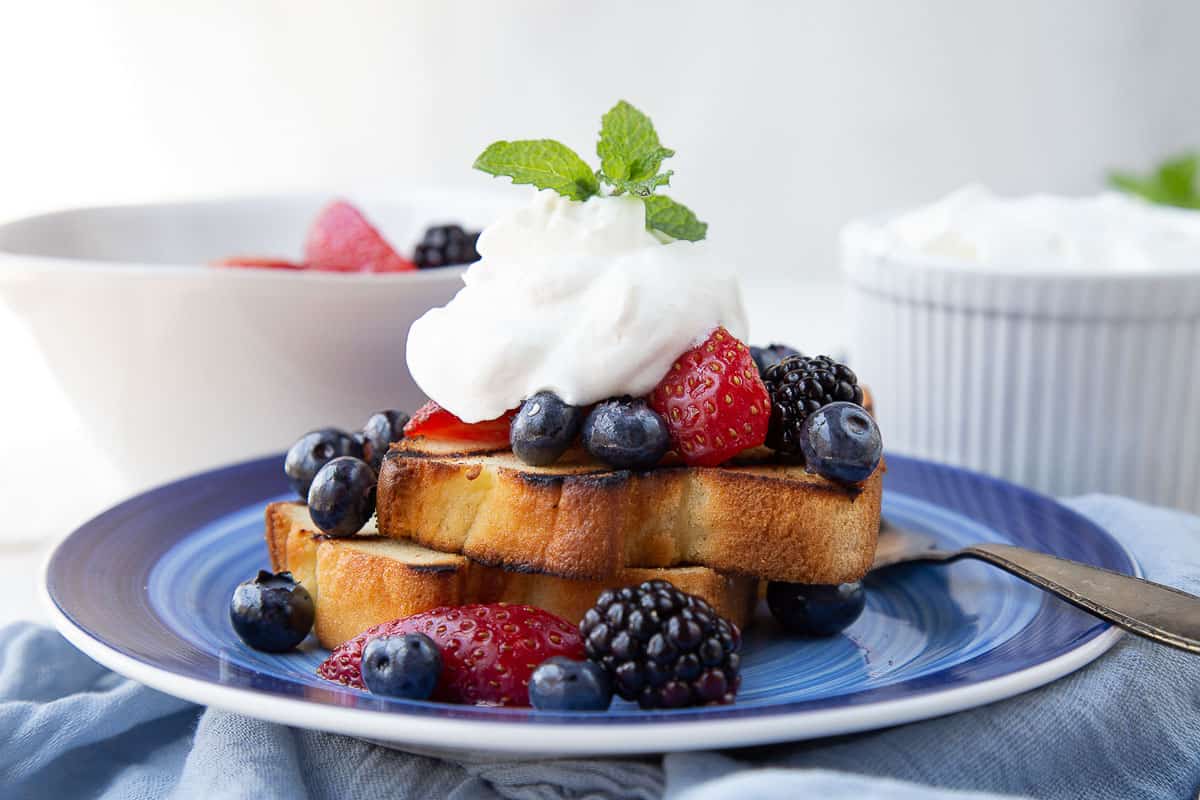 More topping ideas
You can easily change up this dessert by the season! Here are a few more ideas for toppings:
Sliced peaches or nectarines
Pitted and halved cherries
Sautéed apple slices
Banana slices
Chocolate or caramel sauce
Ice cream
Frequently Asked Questions
Can I use canned whipped cream instead?
Yes!
I don't have a stand mixer. Can I still make this recipe?
Yes, use a hand mixer instead. You can also whip cream by hand with a whisk (just bring some patience!).
Do I need to oil the grill before grilling the pound cake?
No, the pound cake has enough butter in it, so it will not stick to the grill. That said, use a grill brush to clean any debris off the grill before grilling the cake.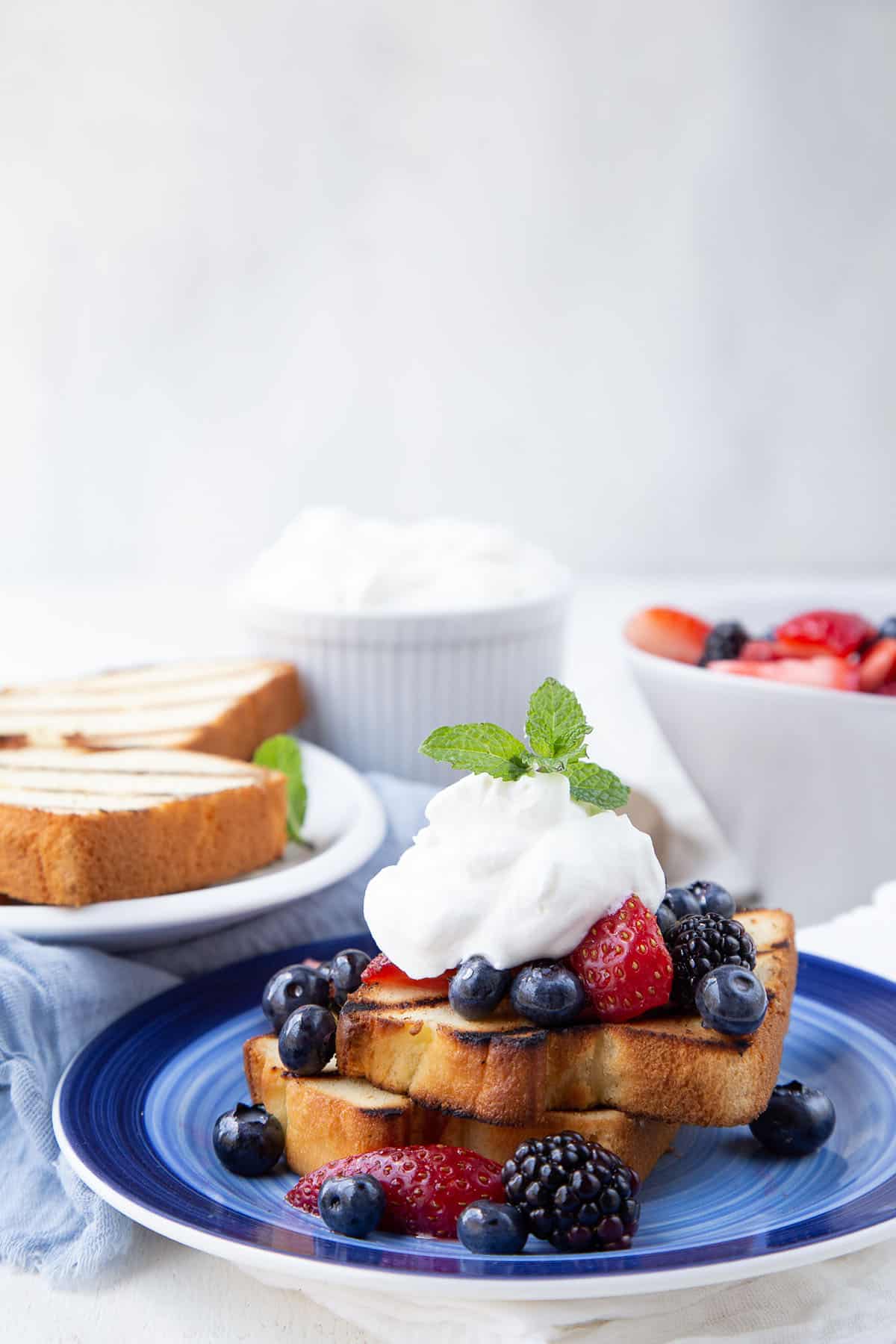 More summer dessert ideas
If you're looking for a weekend baking project, this Patriotic Pavlova is a fun one. And if it's not the 4th of July, you can just pile the berries on top instead of making a flag.
I also love these Grilled Peaches with Honey Whipped Cream in the summer.
Have you tried this recipe? Please leave a ⭐️⭐️⭐️⭐️⭐️ rating and/or comment below!


📖 Recipe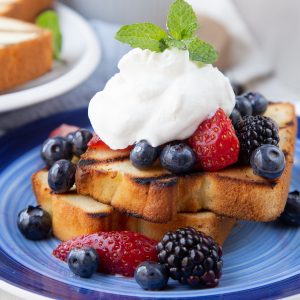 Grilled Pound Cake with Berries and Cream
Grilled Pound Cake with Berries and Cream is an easy summer dessert that your guests will love. Start with store-bought pound cake to make it even simpler!
Ingredients
1

store-bought pound cake

3

cups

assorted fresh berries

(I used blackberries, raspberries, sliced strawberries, and blueberries)

2

tablespoons

granulated sugar

1

cup

heavy cream

2

tablespoons

powdered sugar

½

teaspoon

vanilla

For garnish: fresh mint sprigs
Instructions
Preheat a grill to medium heat.

Place the fresh berries in a large bowl with the granulated sugar and 2 tablespoons of water. Toss gently to combine and let sit while you finish the rest of the dessert.

Slice the pound cake into ¾ inch thick slices. I got 8 slices out of my cake.

Place the pound cake slices on the grill. Grill until the cake is lightly toasted and grill marks appear, about 60–90 seconds per side. Watch carefully as the cake may burn easily. Your grill may have hot spots, like mine did, so some pieces will toast more quickly than others.

Place the heavy cream, powdered sugar, and vanilla in the bowl of a stand mixer. Mix on high until soft peaks form.

To assemble, place 1–2 pieces of pound cake on a dessert plate. Top with a few spoonfuls of berries and a dollop of whipped cream. Repeat with the remaining ingredients. Garnish with fresh mint and serve immediately.
Notes
The recipe serves 4 people if you place 2 slices of pound cake on each plate, or 8 people if you place 1 slice of pound cake on each plate. Don't have a stand mixer? Use a hand mixer instead. You could also whisk the cream vigorously until it's whipped—it will take a few minutes and some patience (and arm strength!). Heavy cream and heavy whipping cream can be used interchangeably here. You do not need to butter the pound cake or oil the grill grates before grilling the pound cake. It has enough butter in it to keep it from sticking. 🙂
Nutrition
Calories:
319
kcal
Carbohydrates:
48
g
Protein:
4
g
Fat:
13
g
Saturated Fat:
7
g
Cholesterol:
99
mg
Sodium:
316
mg
Potassium:
110
mg
Fiber:
2
g
Sugar:
31
g
Vitamin A:
551
IU
Vitamin C:
2
mg
Calcium:
64
mg
Iron:
2
mg
Related recipes