These creamy Buttermilk Mashed Potatoes with Roasted Garlic create a flavor-packed side dish for your dinner table. And, there's no peeling required!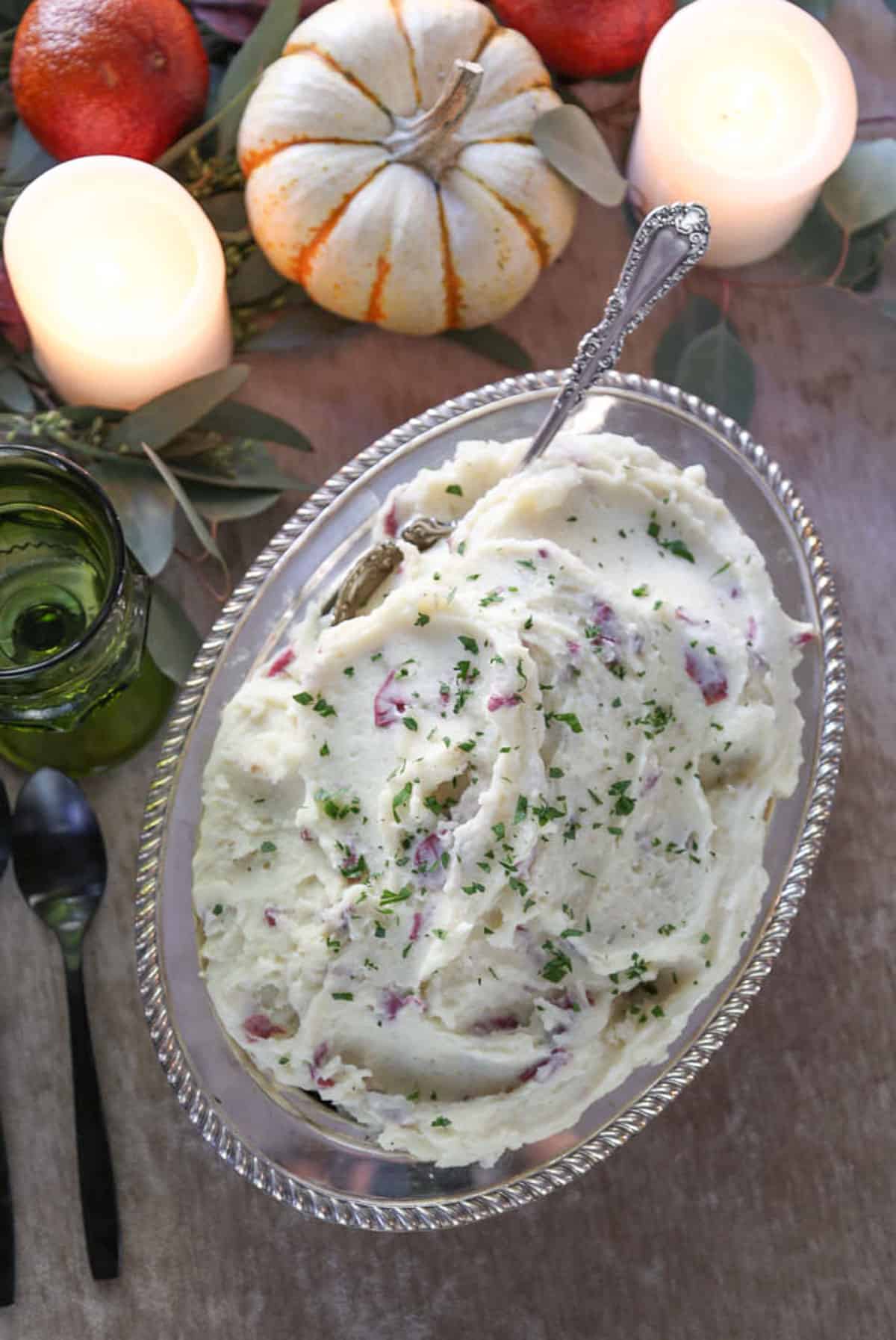 Buttermilk Mashed Potatoes with Roasted Garlic are some seriously easy mashed potatoes—there is no peeling required! Similar to my Mashed Potato Casserole, you just need to boil, mash, and enjoy these creamy spuds.
The ease of making them is only half the allure of this recipe. The other half is the flavor!
The buttermilk adds this lovely tang to the otherwise plain potatoes. And the roasted garlic takes them over-the-top delicious.
They're easy enough for a weeknight dinner, but fancy enough for a holiday dinner.
Want some cheese in your potatoes? Don't miss these Extra Cheesy Mashed Potatoes!
This post contains affiliate links. Affiliate links support Gift of Hospitality at no additional cost to you. I receive a commission if you choose to make a purchase through these link.
Jump to:
How to roast garlic
This recipe starts with a simple step that makes a huge difference when it comes to flavor: roasting a head of garlic.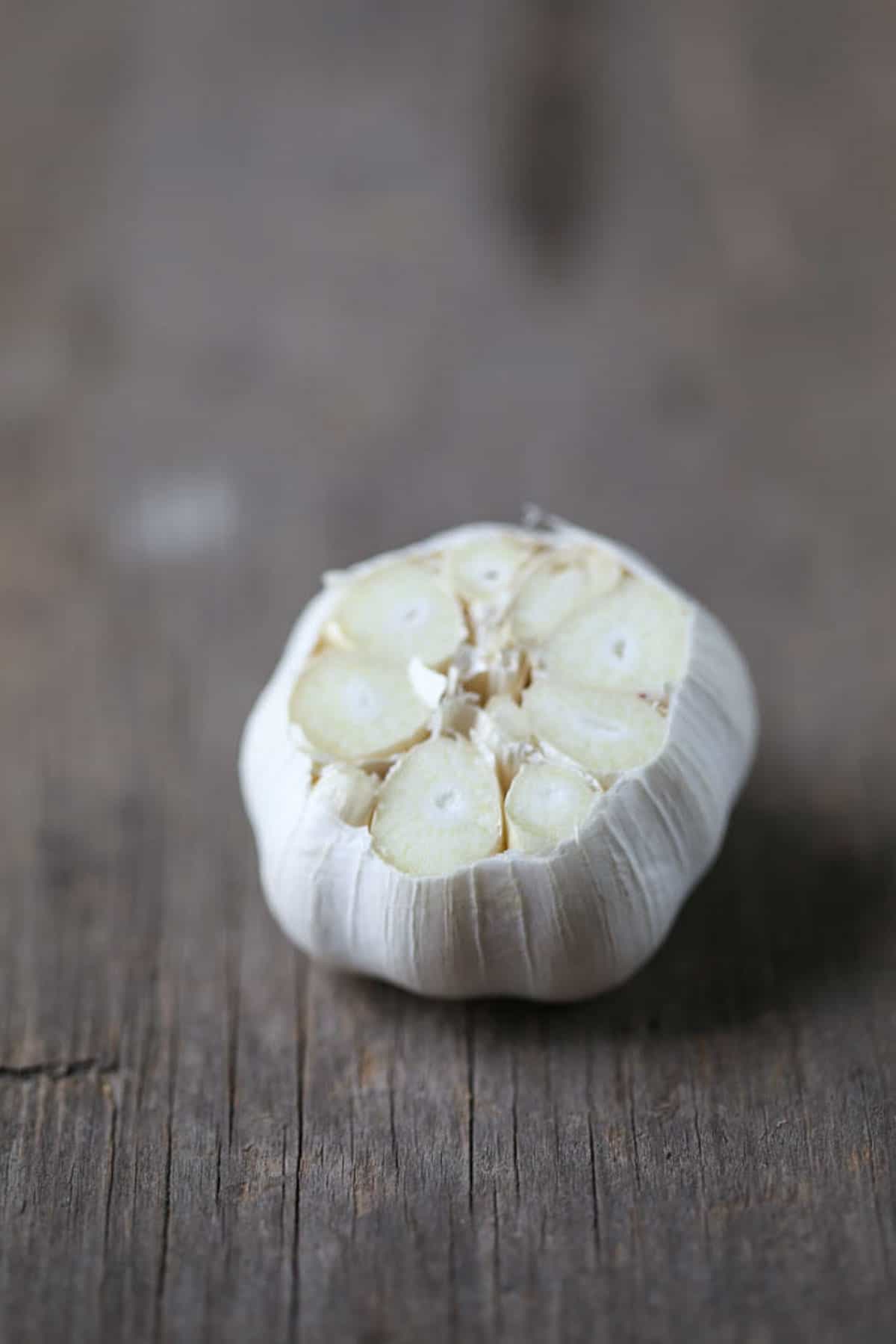 The process is pretty simple:
1. Preheat the oven to 350°F
2. Cut ¼ inch off the top of the head of garlic
3. Place the garlic on a piece of foil
4. Drizzle the top (now exposed) with 2 teaspoons of olive oil
5. Close up the foil and bake for 1 hour
That's it! That's all you need to do to roast garlic. Your home will smell intoxicating as it cooks.
I usually do a couple heads of garlic at a time—one for mashed potatoes (or roasted garlic mashed cauliflower) and one for spreading on toast or making garlic bread.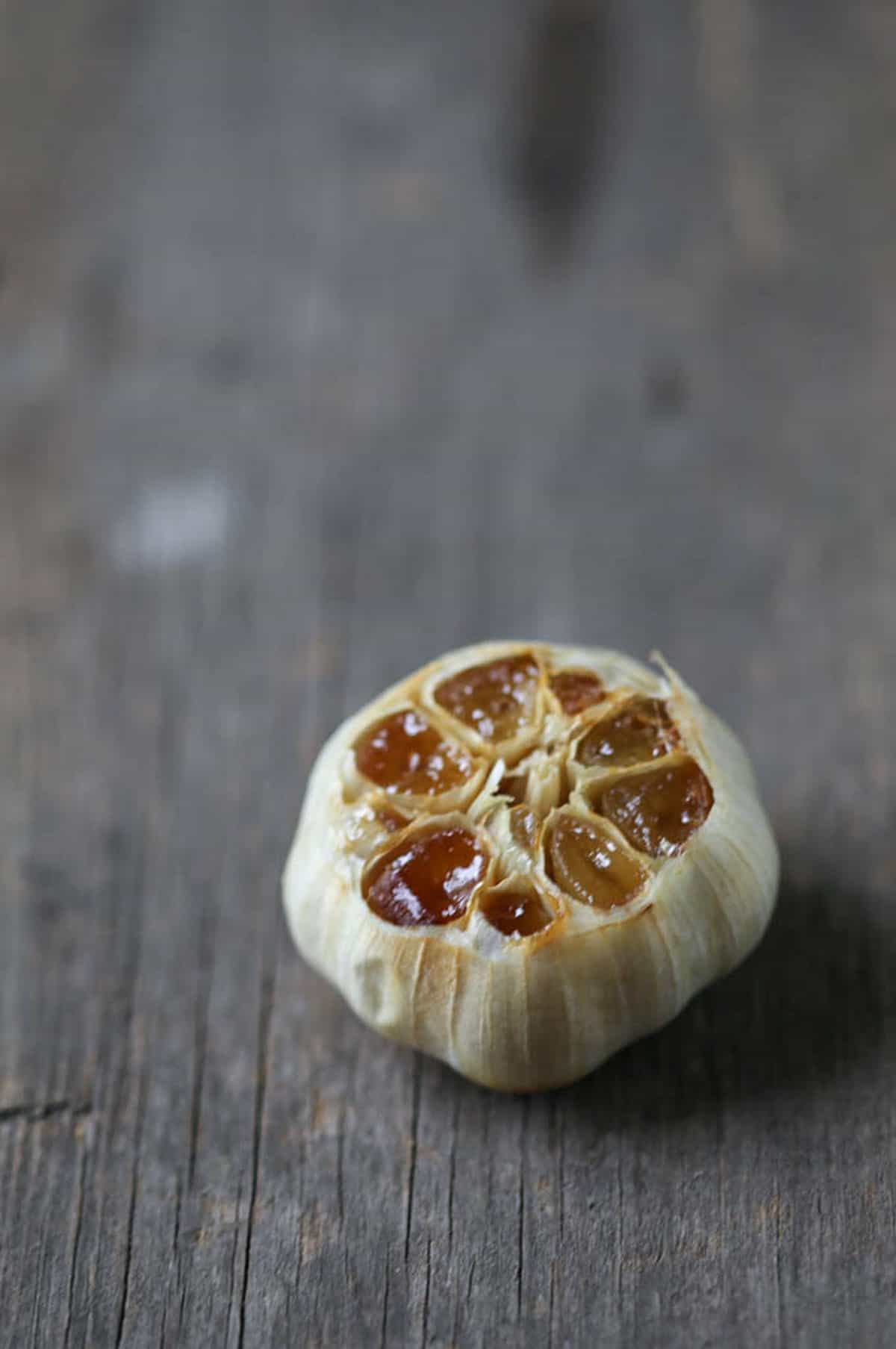 Once the garlic has cooled, squeeze the cloves out of the skin. They will be a paste-like consistency. Mash them with a fork and then set them aside for adding to the potatoes.
How to make buttermilk mashed potatoes (without peeling the potatoes!)
If you want to make mashed potatoes without the hassle of peeling potatoes, you'll want to start with red skinned potatoes.
The skin on red skinned potatoes is thin, making them ideal for mashing. You can just boil them and then mash them, skin and all. It adds a nice texture to the finished dish!
To make them, place the potatoes in a large saucepan and cover with cold water.
Place the saucepan over medium high heat and bring to a boil. Reduce the heat to a simmer and cook until the potatoes are tender, about 15–20 minutes.
You will be able to tell the potatoes are tender by sticking a fork through them. If the fork slides through easily, the potatoes are tender.
Drain the potatoes and place in a large bowl. Add the butter, buttermilk, and salt. Mash with a potato masher or handheld mixer.
If you're using a mixer, take care not to over-mash the potatoes, which can make them gummy.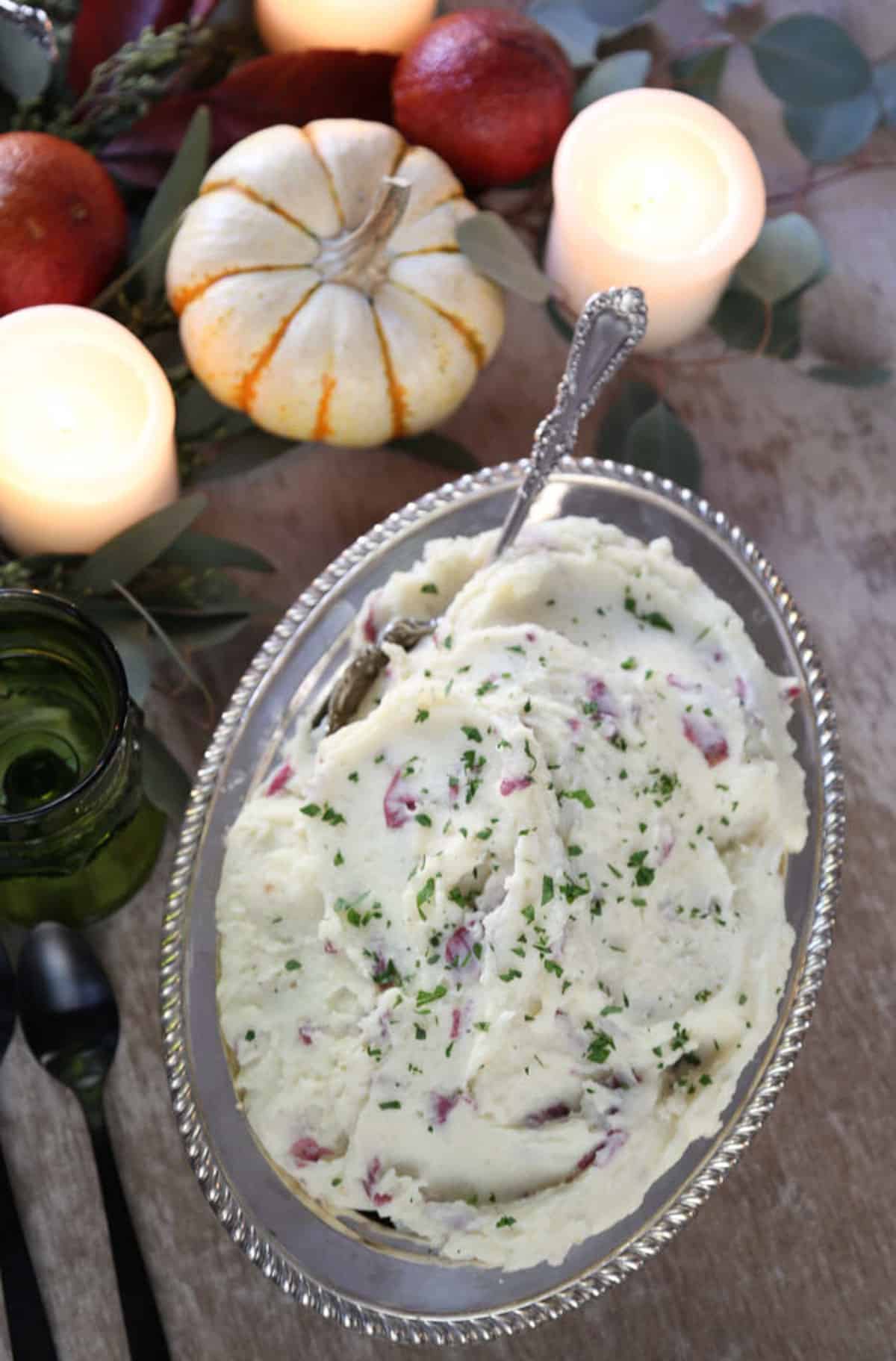 Can I make buttermilk mashed potatoes ahead?
Mashed potatoes are typically best served right after mashing. However, you can make them 1–2 days ahead and reheat them with these steps:
Place in a microwave-safe dish.
Add a splash of milk or buttermilk.
Cover and heat in 1-minute intervals, stirring each time, until warm.
Frequently Asked Questions
Do I have to peel the potatoes to make mashed potatoes?
If you don't want to peel the potatoes, red skinned potatoes or Yukon Gold potatoes are best for making mashed potatoes.
Can I make these without roasted garlic?
If you don't want garlic in your potatoes, you can just leave out the roasted garlic.
Can I use regular milk instead of buttermilk?
Don't have buttermilk? You can either substitute regular milk, or create your own buttermilk by adding 2 teaspoons of white vinegar or lemon juice to the ⅔ cup of milk that this recipe calls for.
Can I make these dairy free?
To make dairy-free mashed potatoes, substitute a dairy-free butter for the regular butter in this recipe. Also, substitute ⅔ cup of non-dairy milk (such as unsweetened almond) for the cow's milk.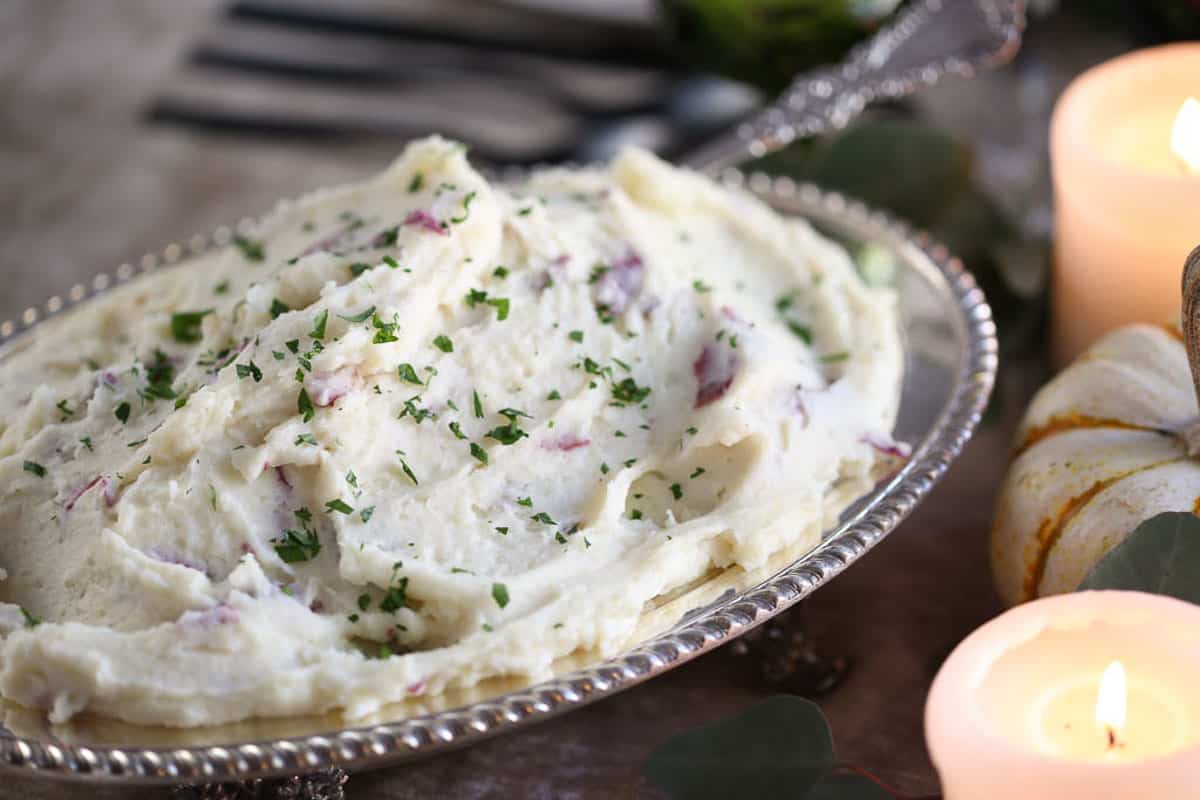 Can I freeze buttermilk mashed potatoes?
Freeze any leftover mashed potatoes for up to one month in a resealable freezer bag or another freezer-safe dish.
Defrost in the microwave in a covered dish, after adding a splash of milk or buttermilk. Stir every minute or so.
Serving suggestions
These Roasted Garlic Buttermilk Mashed Potatoes were part of a Friendsgiving I hosted with my friend Kelley of Haviland Events.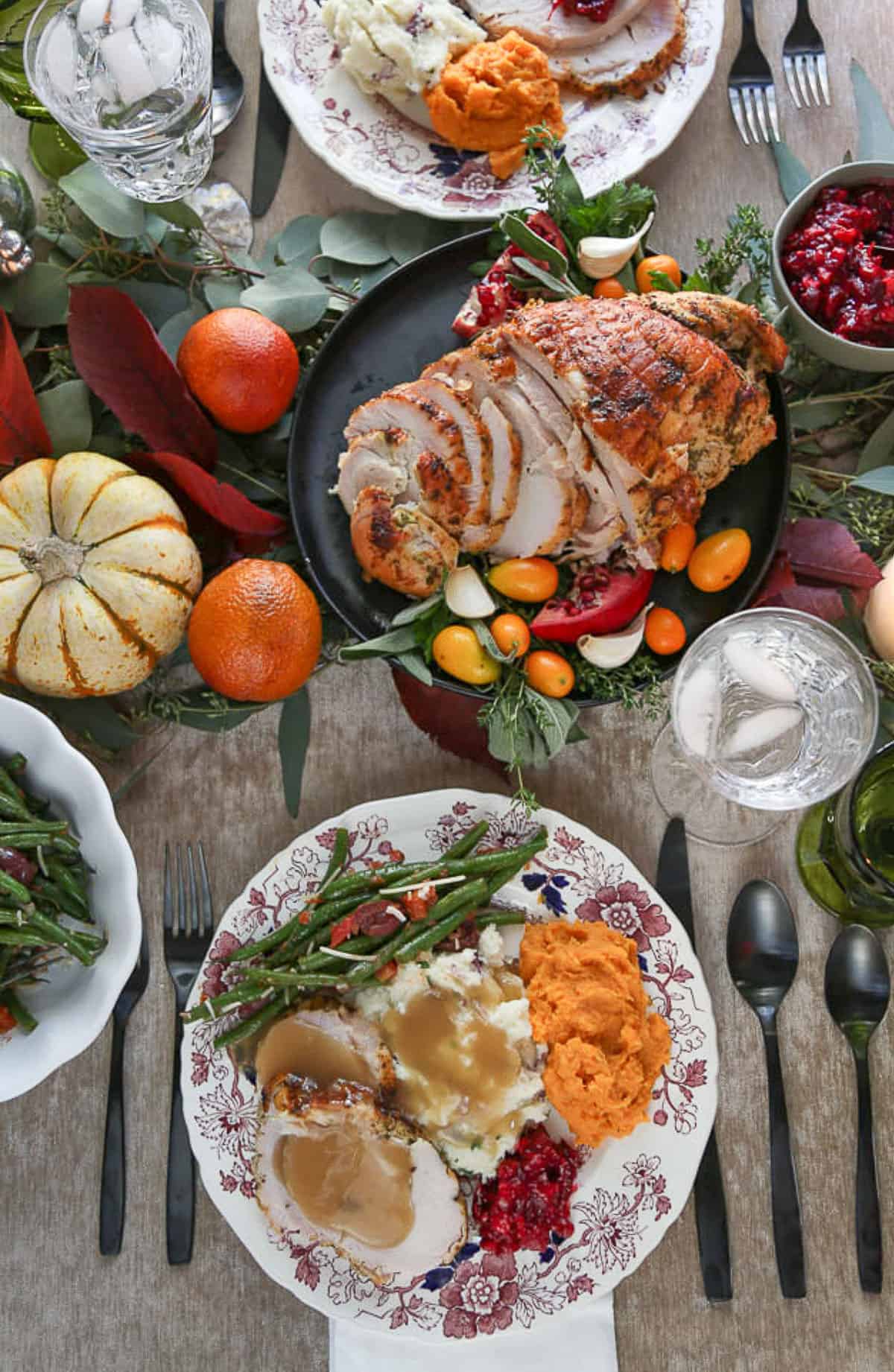 The rest of the Friendsgiving dinner included the following:
Olive Oil & Herb Roasted Turkey Breast
Savory Mashed Sweet Potatoes with Olive Oil, Thyme, and Parmesan
Italian Stovetop Green Beans
Each of these dishes serves 4–6 people, making them the perfect size for an intimate Thanksgiving gathering. They can easily be doubled or tripled for bigger crowds, too!
Have you tried this recipe? Please leave a ⭐️⭐️⭐️⭐️⭐️ rating and/or comment below!


📖 Recipe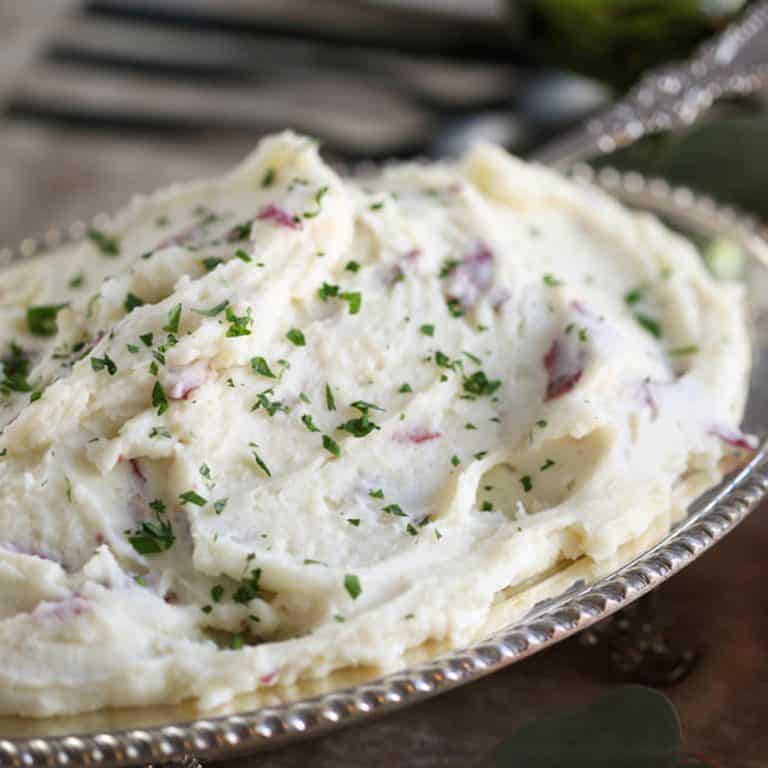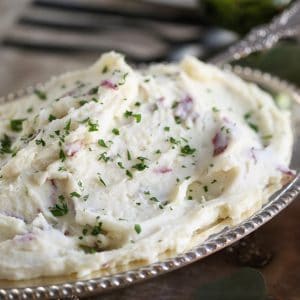 Roasted Garlic Buttermilk Mashed Potatoes
Flavor-packed mashed potatoes, thanks to the buttermilk and roasted garlic!
Ingredients
1

whole head garlic

2

teaspoons

olive oil

3

lbs

red potatoes

4

tablespoons

unsalted butter

⅔

cup

buttermilk

2½

teaspoons

salt
Instructions
Preheat oven to 350°F.

Slice ¼ inch off the top of the garlic bulb. Place the bulb, cut side up, on a 12×12 inch piece of aluminum foil, folded in half. Pour the olive oil over the top of the cut garlic bulb. Pull the edges of the foil around the garlic bulb to enclose the garlic in foil.

Place in the oven and roast for 45–60 minutes, or until the garlic cloves are deep brown.

Squeeze the roasted garlic out of the skin and mash with a fork.

Meanwhile, cut the potatoes (with the skin on) into 1½ inch chunks. Place in a large saucepan and cover with water. Add 1 teaspoon of salt to the water.

Place over high heat and bring to a boil. Reduce to a simmer and cook for 15–20 minutes, or until a fork easily slides in and out of the middle of a potato.

Drain the potatoes. Place them back in the large saucepan or another mixing bowl.

Add the mashed roasted garlic, butter, buttermilk, and 1½ teaspoons of salt.

Using a handheld mixer, mix on medium speed until mashed, about 3–4 minutes. Taste and season with additional salt if desired. Serve immediately.
Notes
Yukon Gold potatoes can also be mashed with the skin on. Make these dairy-free by substituting non-dairy butter for the butter, and non-dairy milk (such as unsweetened almond) for the cow's milk. These can be made up to 2 days in advance. Store in the refrigerator until you're ready to serve. To reheat, place in a covered dish in the microwave and heat until hot throughout. Add additional buttermilk to loosen the potatoes as necessary.
Nutrition
Calories:
261
kcal
Carbohydrates:
39
g
Protein:
6
g
Fat:
10
g
Saturated Fat:
6
g
Cholesterol:
23
mg
Sodium:
1040
mg
Potassium:
1087
mg
Fiber:
4
g
Sugar:
4
g
Vitamin A:
293
IU
Vitamin C:
21
mg
Calcium:
64
mg
Iron:
2
mg
Related recipes