Chicken and Sausage Jambalaya is an easy one-pan meal is packed with flavor! It's the perfect dinner for a chilly evening.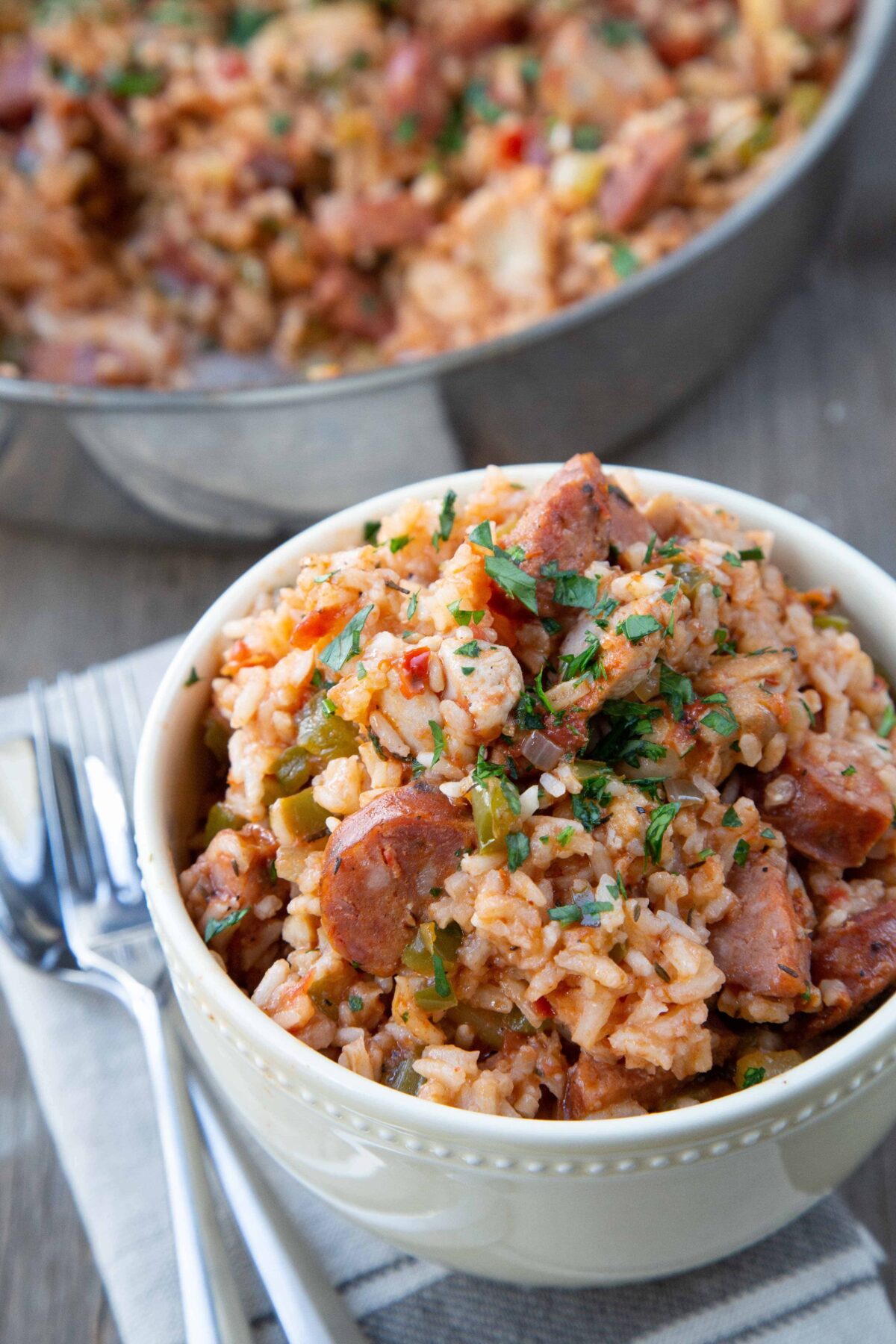 If you like lots of flavor in your meals, this Chicken and Sausage Jambalaya is for you! It's a traditional recipe, made with a special seasoning (more on that below!) that adds a zip of spice to the dish.
Best of all, it's a one-pan meal, so minimal clean-up is needed!
This post contains affiliate links. Affiliate links support Gift of Hospitality at no additional cost to you. I receive a commission if you choose to make a purchase through these link.
Jump to:
Ingredients
The secret ingredient can be found in the spice aisle of your local grocery store: Slap Ya Mama seasoning.
It's a spicy blend of Cajun seasonings and spices made in Louisiana, and it adds a TON of flavor to this recipe for Chicken and Sausage Jambalaya.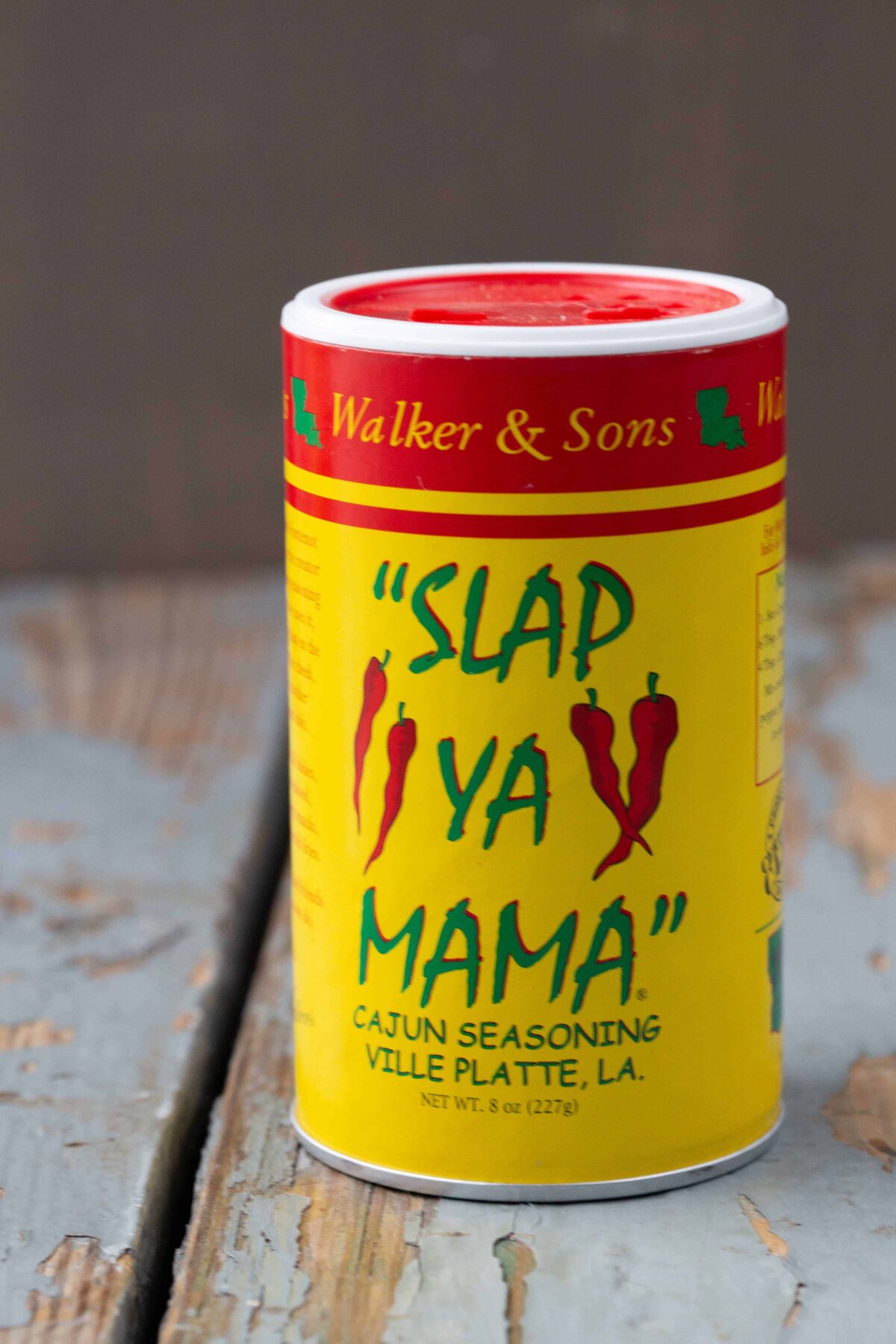 You can find Slap Ya Mama seasoning on Amazon or in your local grocery store with the other spices.
It is seasoned with salt already, so you won't need additional salt for the dish. If you use an unsalted Cajun seasoning, you'll need to add up to two teaspoons of salt to the dish.
In addition to the seasoning, here's what else you'll need:
Celery, onion, and bell pepper are also known as the "holy trinity" in Cajun cooking
Boneless skinless chicken thighs or breasts and andouille sausage make the jambalaya hearty and filling
Garlic and dried thyme add lots of flavor
The rice will get cooked in a mixture of water and crushed tomatoes
Spice lovers will appreciate hot sauce served on the side
How to make chicken and sausage jambalaya
Heat oil in a large sauté pan with sides. Cook bite-size pieces of boneless skinless chicken thighs until browned on both sides.
Then, cook half moons of andouille sausage in the same pan until they are golden brown. Both of these steps really build the flavor of the finished dish.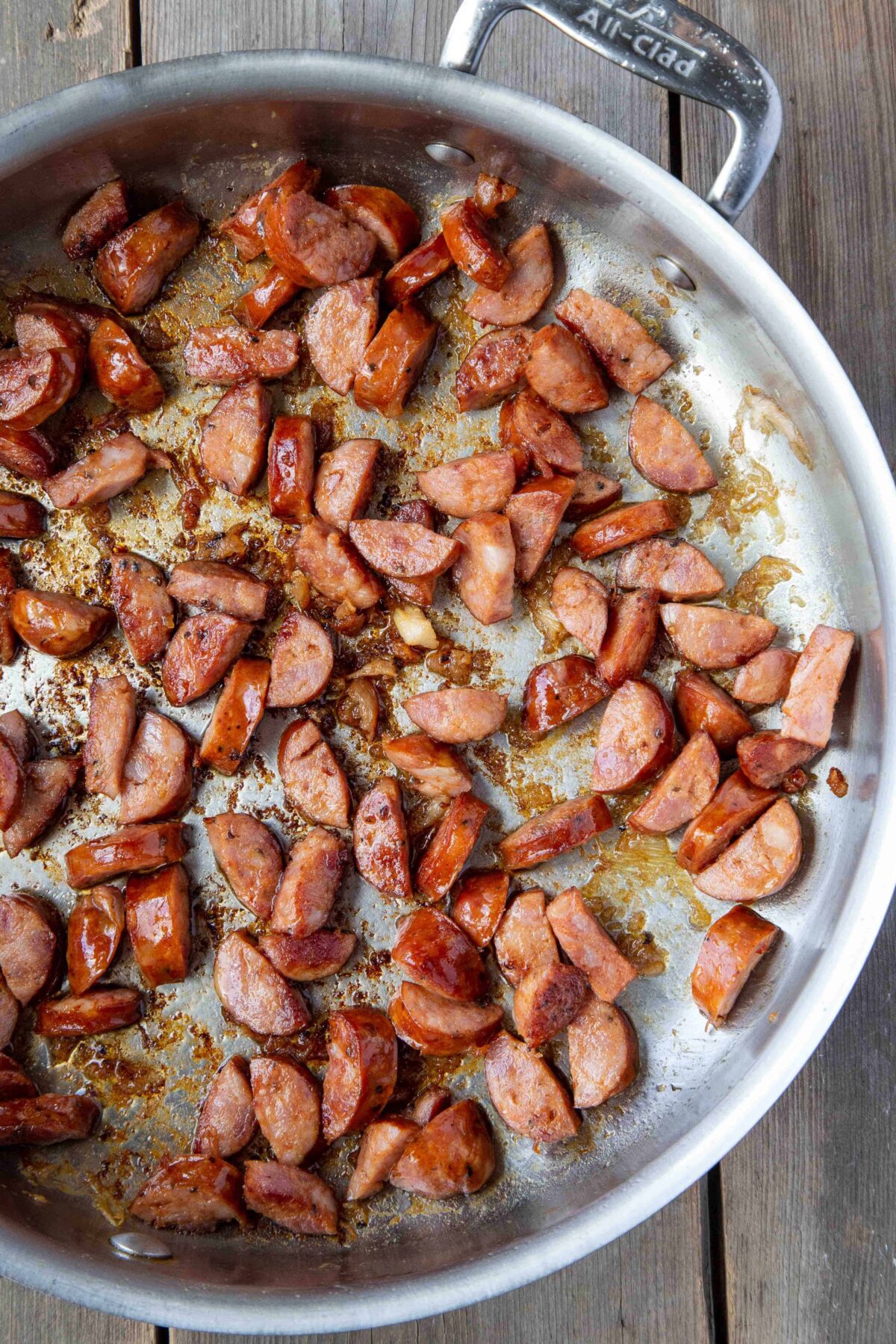 Next, sauté a yellow onion, green pepper, and two stalks of celery in the same pan until soft.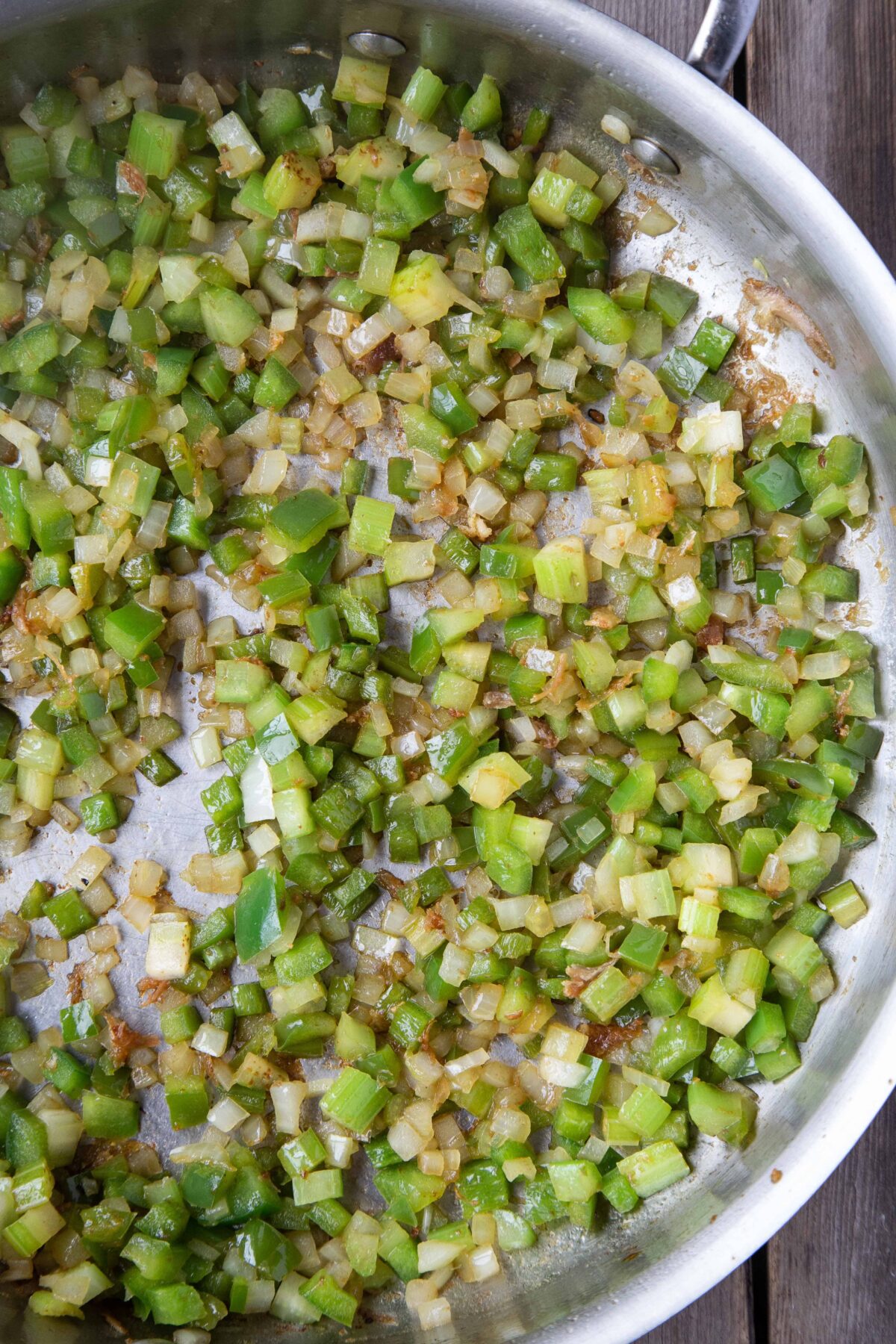 After that step, everything goes into the pan! Cover the pan and cook it for 20 minutes. The rice will soak up the liquid from the stock and crushed tomatoes, and the chicken will finish cooking, too.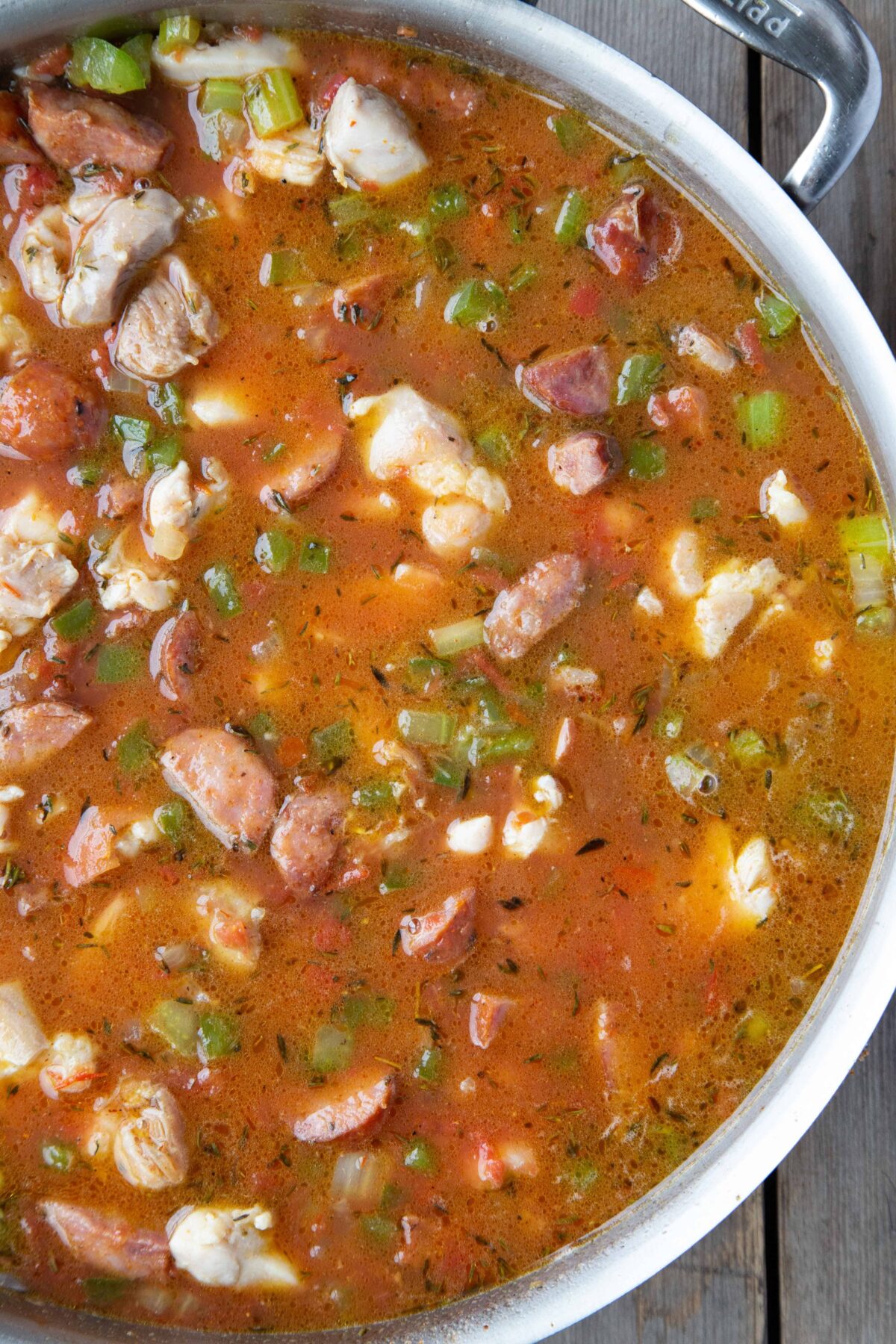 The end result is perfectly cooked, Cajun-seasoned rice dish also known as Chicken and Sausage Jambalaya!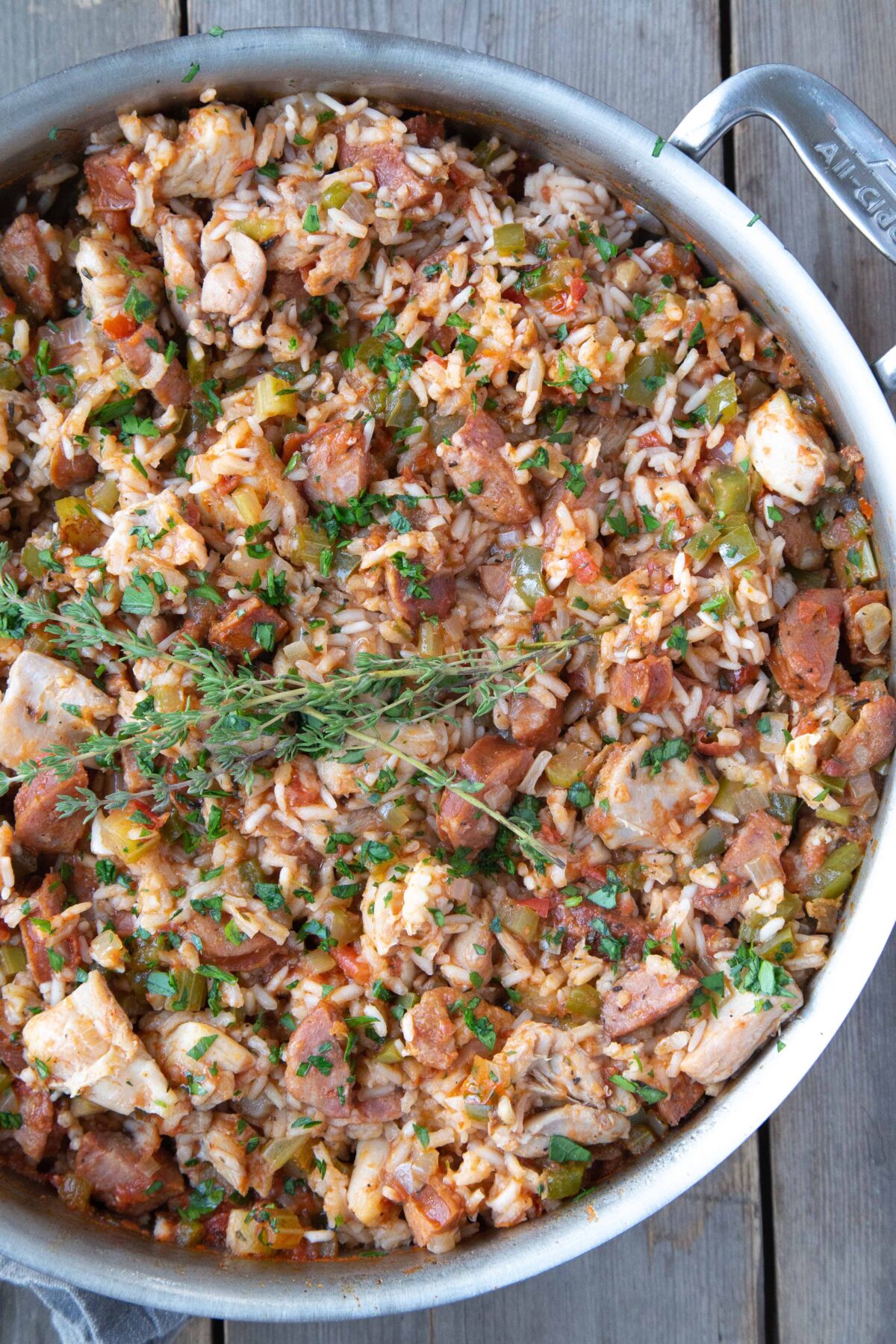 It's great for a weeknight meal, and also for a weekend of football watching! It would be a great substitute for chili on a cozy fall or winter afternoon.
Frequently Asked Questions
What type of rice is best for jambalaya?
Any long grain white rice would work well for jambalaya. Basmati, jasmine, or anything labeled "long-grain white rice" is a good choice.
Can I make jambalaya ahead of time?
Jambalaya is best enjoyed immediately after cooking. Reheating jambalaya or letting it sit out for a few hours can cause the rice to get mushy.
However, you can chop the ingredients ahead of time (chicken, sausage, onion, celery, and pepper), and place them in the refrigerator until you're ready to cook.
Can I freeze jambalaya?
Freezing and reheating jambalaya would compromise the texture of the rice (it will get mushy). Enjoy the jambalaya soon after cooking it.
Can I make jambalaya without sausage?
You can omit the sausage and it'll still be delicious. You can replace the sausage with additional chicken if you'd like.
Reheating instructions
To reheat Chicken and Sausage Jambalaya, place an individual serving on a large plate. Place a large ice cube on top of the rice, then cover the plate with a paper towel or microwave splatter cover. Heat on high for 2–3 minutes.
Remove the ice cube (it won't melt!) and serve.
The ice cube steams the rice nicely and the texture of the rice is better with this method. However, you can also just microwave it without the ice cube.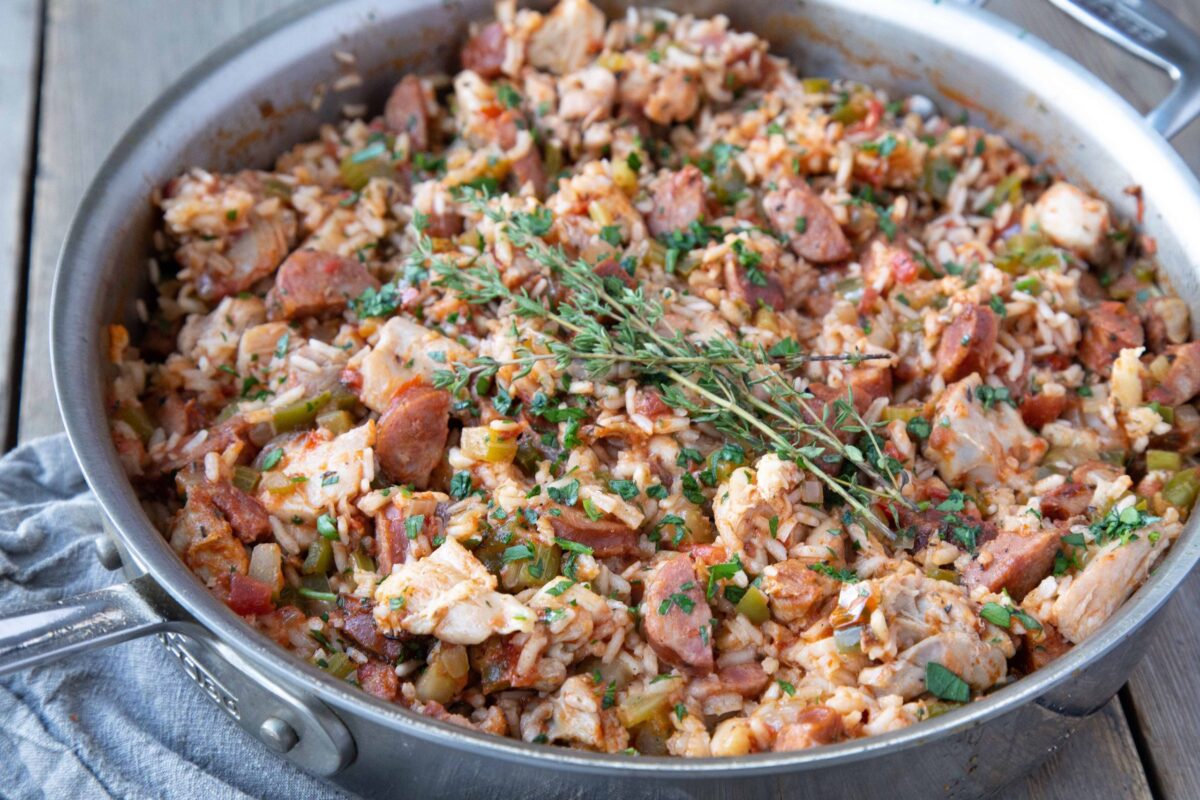 What to serve with jambalaya
Salad and cornbread are the perfect side dishes. I love the boxed cornbread mix from Trader Joe's (it's a sweet cornbread). The sweetness pairs really nicely with the spiciness of the jambalaya.
This Church Lady Salad has a sweet dressing that would be a nice complement to it, too.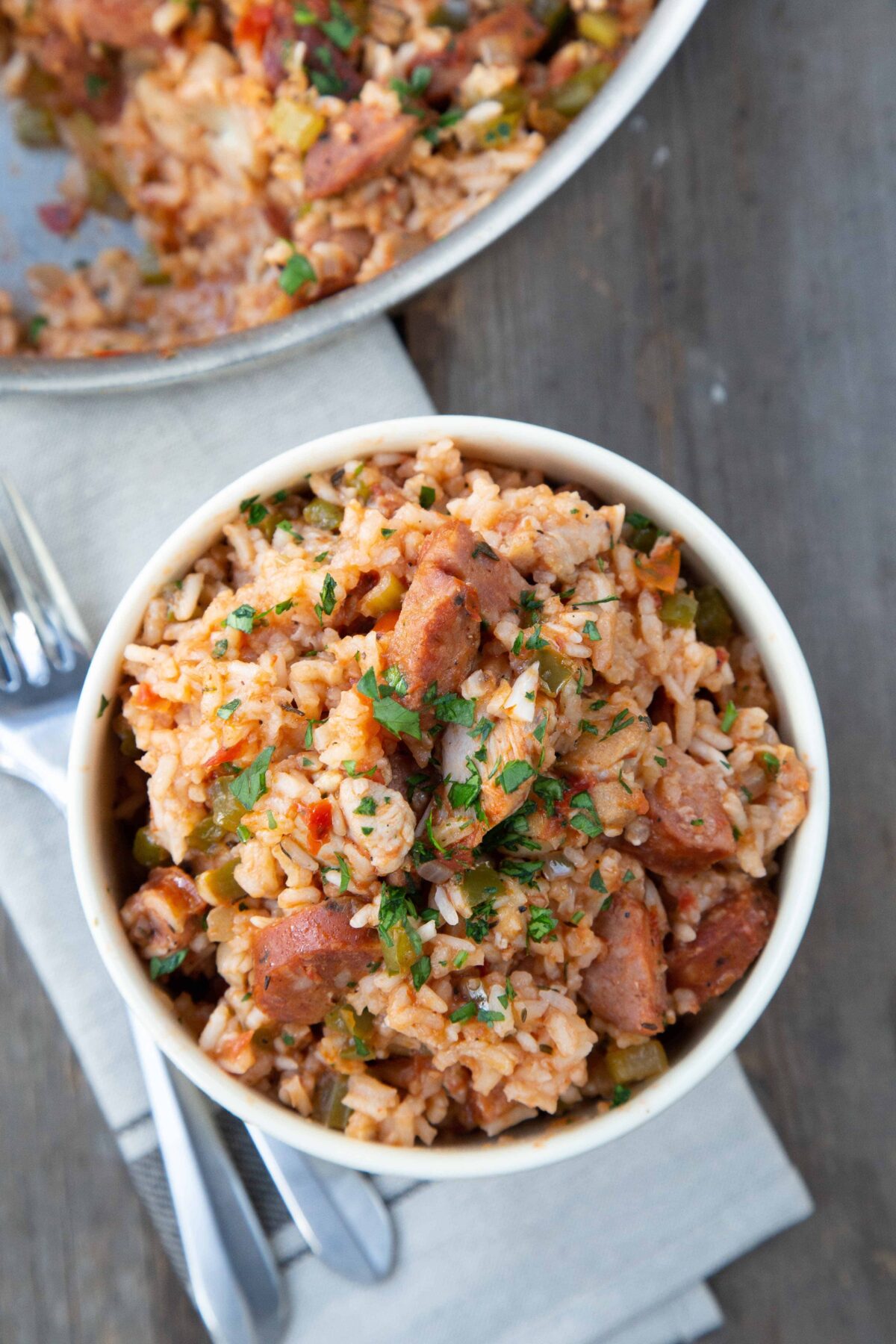 More recipes for cozy evenings:
White Chicken Chili with Potatoes and White Beans
Slow Cooker Italian Beef Sandwiches
Lemon Lentil Soup
Have you tried this recipe? Please leave a ⭐️⭐️⭐️⭐️⭐️ rating and/or comment below!


📖 Recipe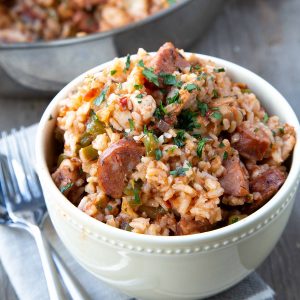 Chicken and Sausage Jambalaya
This flavorful jambalaya recipe is easy enough to make on a weeknight, and it only takes one pan (minimal dishes to do later!).
Ingredients
2

tablespoons

olive oil

1½

lbs

boneless skinless chicken breasts or thighs,

cut into bite-sized pieces

1

tablespoon

+ 1 teaspoon salted Cajun seasoning,

divided (I used Slap Ya Mama)

12

oz

smoked andouille sausage,

sliced into half moons (I used Aidells)

1

yellow onion,

finely chopped

2

stalks celery,

finely chopped

1

green pepper,

finely chopped

3

cloves

garlic,

minced

1

teaspoon

dried thyme

1½

cups

long grain white rice

1

(14.5 oz) can crushed tomatoes

3

cups

water

For garnish: fresh chopped parsley, hot sauce
Instructions
Heat the olive oil in a large sauté pan over medium heat.

Sprinkle the chicken with 1 teaspoon of the Cajun seasoning. Place half of the chicken in a single layer in the sauté pan. Cook until light golden brown (about 2–3 minutes), then flip and continue cooking until brown on the other side. Remove chicken from the pan and place on a plate. Repeat with the remaining chicken.

Add the andouille sausage to the pan. Cook, flipping halfway through, until light golden brown on both sides, about 4–6 minutes. Remove the andouille sausage from the pan and place on the plate with the chicken. There should be some oil still left in the pan. If not, add up to 1 tablespoons of additional olive oil.

Add the onion, celery, and green pepper to the pan. Cook, stirring occasionally, until the onion is translucent and the celery and pepper are soft, about 4–5 minutes. Add the garlic and cook for 30 seconds more.

Stir in the dried thyme, rice, crushed tomatoes, water, and the remaining 1 tablespoon of Cajun seasoning. Add the cooked chicken and andouille sausage. Turn the heat to high and bring the mixture to a boil.

Reduce the heat to low and cover the pan. Let cook, undisturbed for 20 minutes. Remove from the heat and let sit for 5 minutes. Uncover and fluff the jambalaya with a fork. Garnish with fresh chopped parsley and serve.
Notes
Slap Ya Mama Cajun Seasoning contains salt. As a result, the dish doesn't need any more salt. If you use a unsalted variety, I recommend adding at least 2 teaspoons of salt to the dish as it cooks.
To prevent the rice from becoming mushy, serve the jambalaya soon after cooking.
Nutrition
Calories:
549
kcal
Carbohydrates:
41
g
Protein:
39
g
Fat:
24
g
Saturated Fat:
7
g
Cholesterol:
120
mg
Sodium:
651
mg
Potassium:
734
mg
Fiber:
2
g
Sugar:
1
g
Vitamin A:
705
IU
Vitamin C:
20
mg
Calcium:
44
mg
Iron:
2
mg
Related recipes