Puff Pastry Appetizers with Goat Cheese and Jam are an easy snack made with just three ingredients! Your guests will adore these bite-size treats.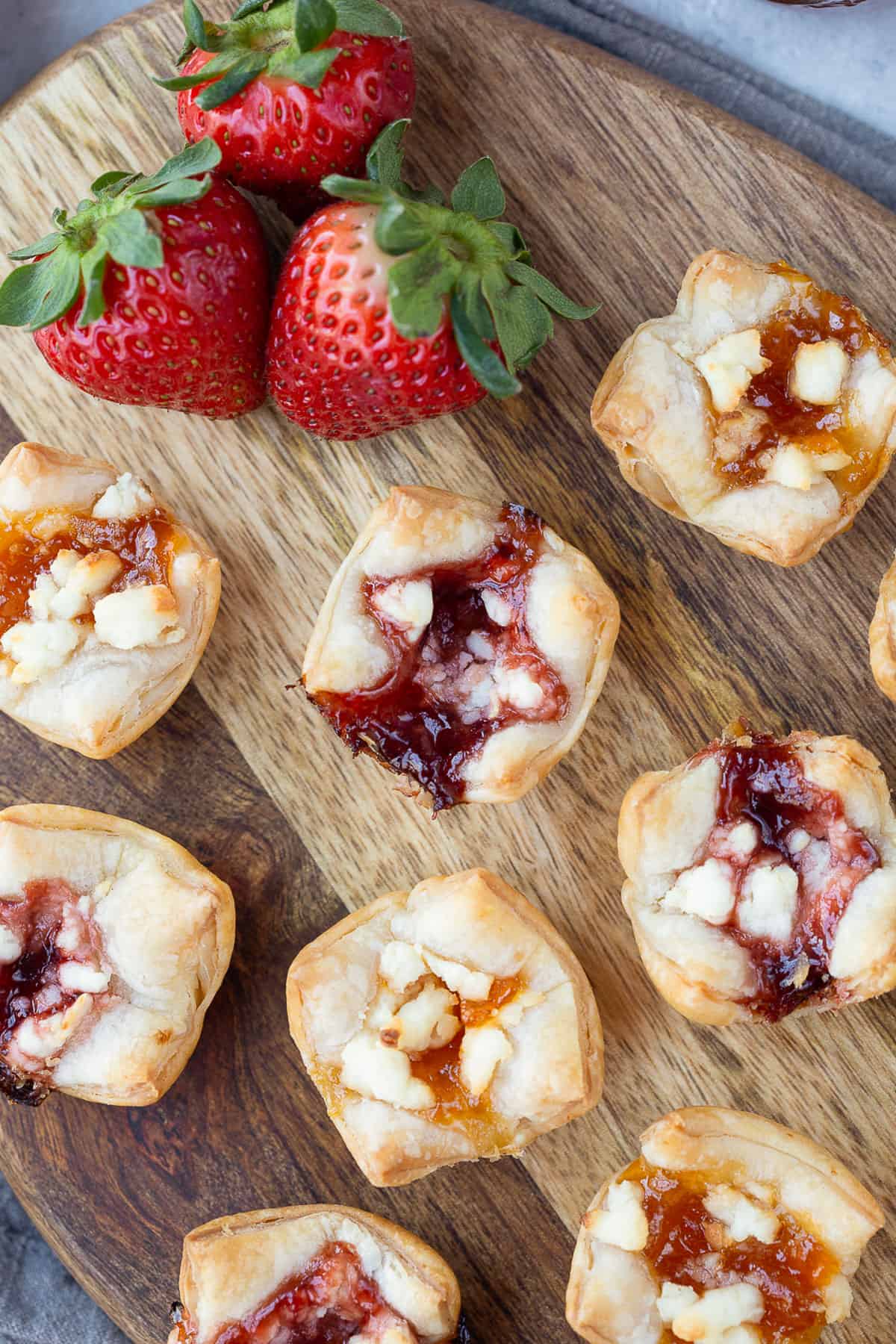 When I'm in need of a quick appetizer, two options come to mind: dips and puff pastry.
Dips, like my Hot Reuben Dip or Easy Crab Dip, are always a hit. People love dip all year round and it's often easy to assemble and serve.
Puff pastry is also easy to bake and serve, plus it adds an element of "wow". The end result often looks like it came from a bakery, and these Puff Pastry Appetizers with Goat Cheese and Jam are no exception.
They have just three ingredients, take about 10 minutes to assemble, and under 20 minutes to bake.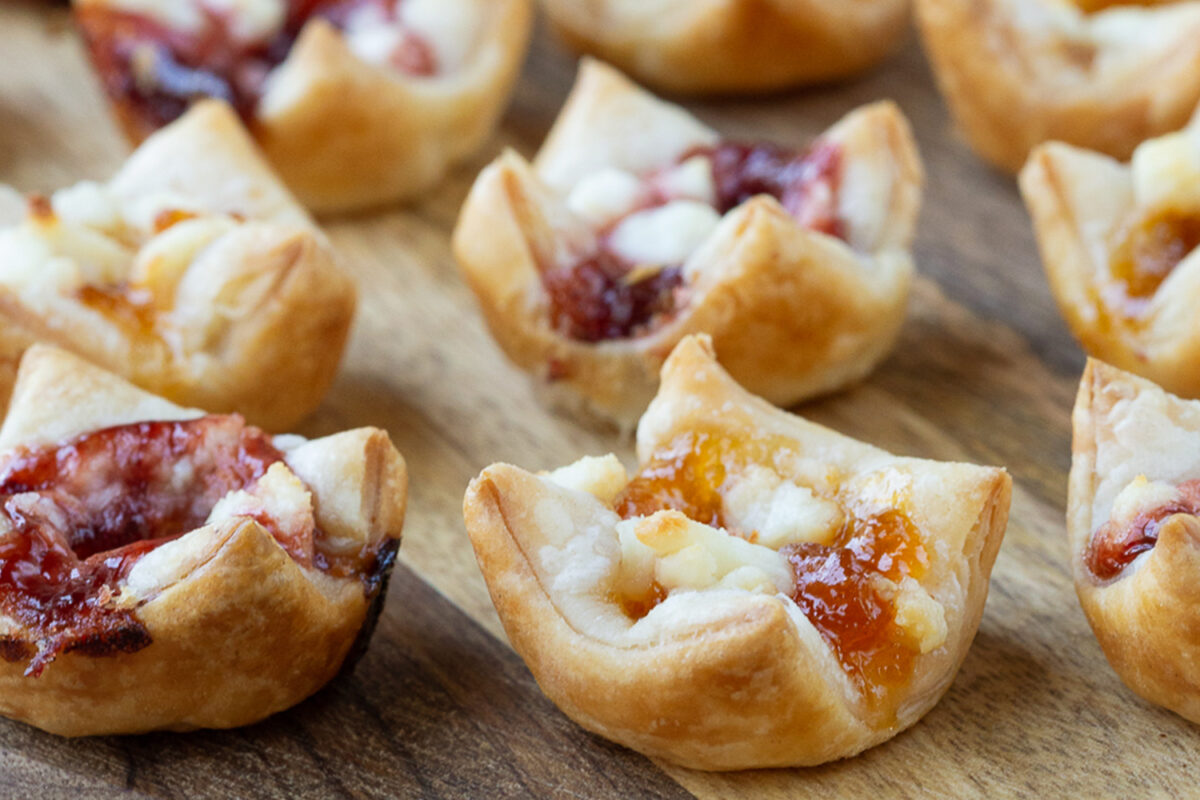 Top tips
While these appetizers are easy to make, follow these tips to set yourself up for success:
Leave time to defrost the puff pastry. This can be done in the refrigerator overnight, or on the countertop (follow the instructions for defrosting on the box).
Remove the puff pastry appetizers quickly after baking. Otherwise, the jam will make them stick to the muffin tin.
Immediately soak the muffin tin in soapy water after baking. This makes the muffin tins much easier to clean. (Or just stick them in the dishwasher like I do!)
This post contains affiliate links. Affiliate links support Gift of Hospitality at no additional cost to you. I receive a commission if you choose to make a purchase through these link.
Jump to:
Ingredients
Defrosted puff pastry. This takes a little bit of advance planning—either defrost in the refrigerator overnight or leave frozen pastry on the counter for 40 minutes to defrost)
Jam of your choice. I used a mixture of apricot and strawberry. Raspberry or peach would be delicious, too.
Crumbled goat cheese. You can buy a log and crumble it yourself, or buy the already crumbled variety. Blue cheese would be delicious here, too!
How to make puff pastry appetizers
Defrost the puff pastry according to package directions.
Cut the puff pastry into 2×2 inch squares. A pizza wheel is the quickest and easiest way to do this. A knife works, too!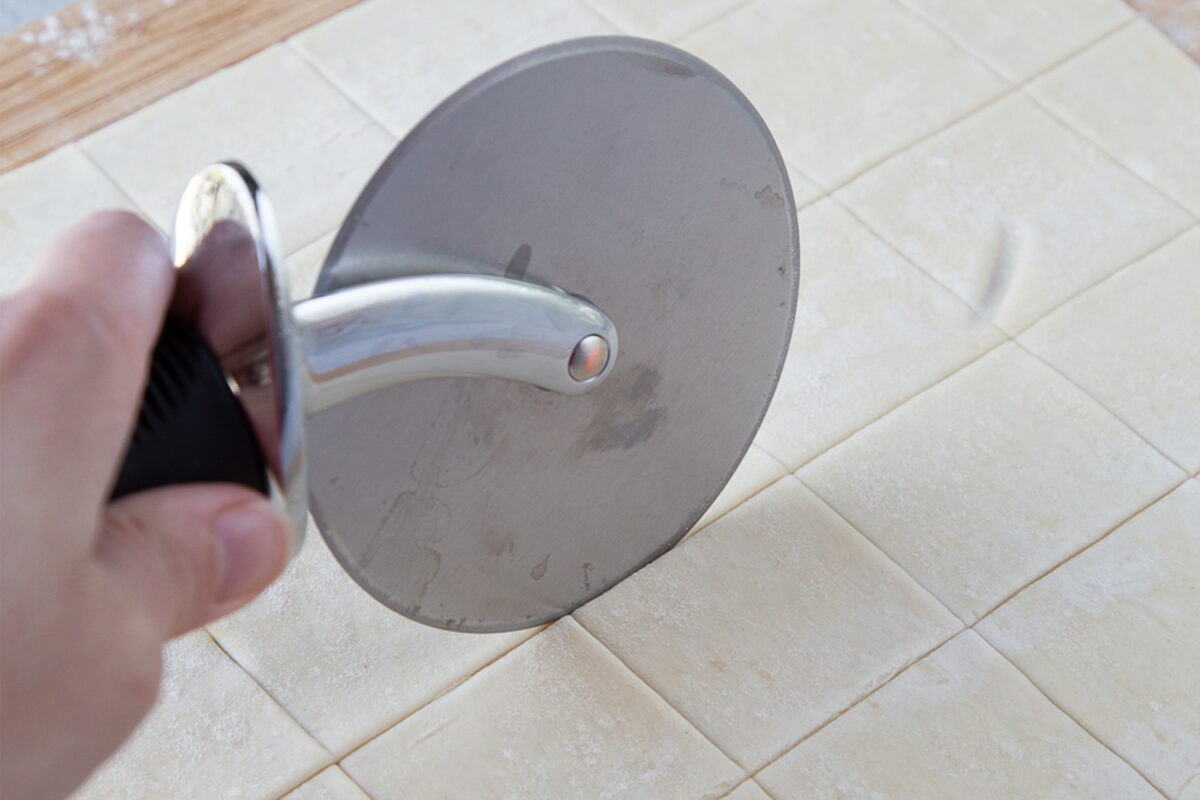 Next, place the squares in a mini muffin tin. You do not need to grease the tin.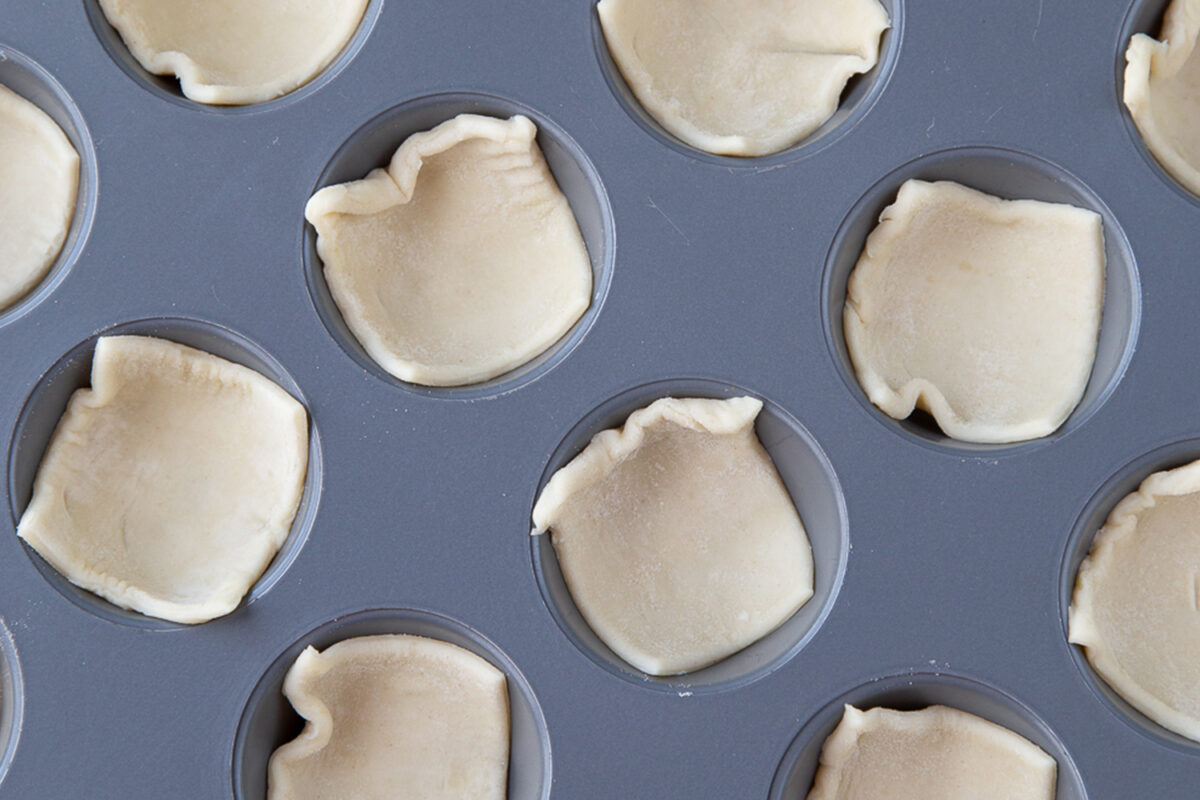 Top each square with jam and goat cheese.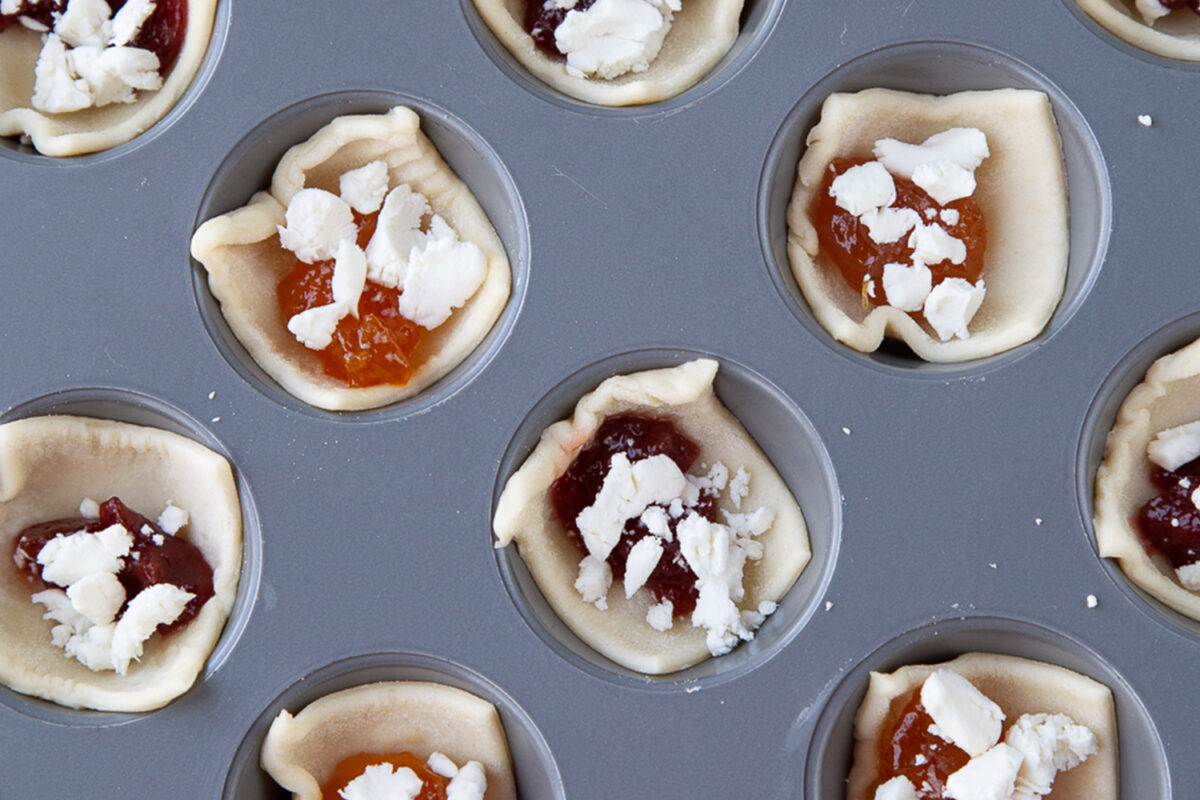 Bake at 400°F for 14–18 minutes. The end result are the sweetest little 1–2 bite appetizers that fly off the buffet table!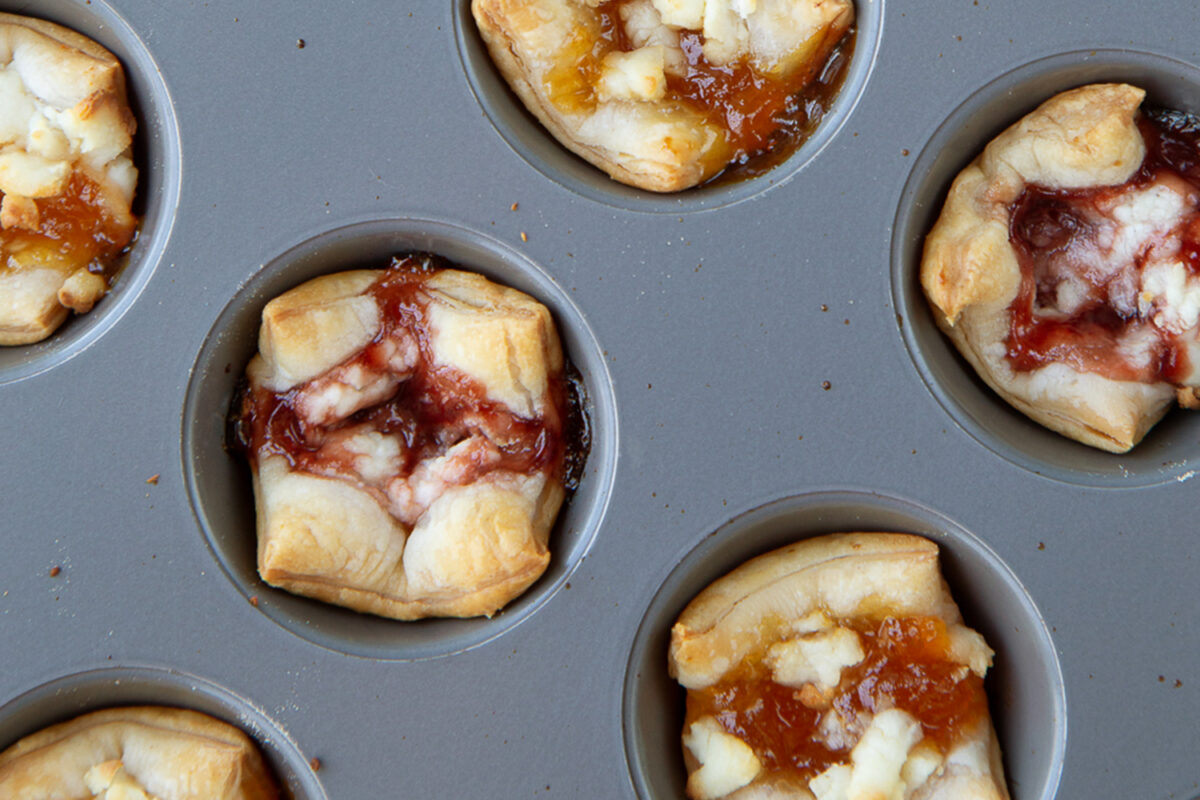 Use a knife to release the appetizers from the tin immediately after baking. Otherwise, the jam will stick to the tin.
These are perfect for a bridal shower or baby shower, as an appetizer at a dinner party, or a snack for an outdoor picnic or gathering.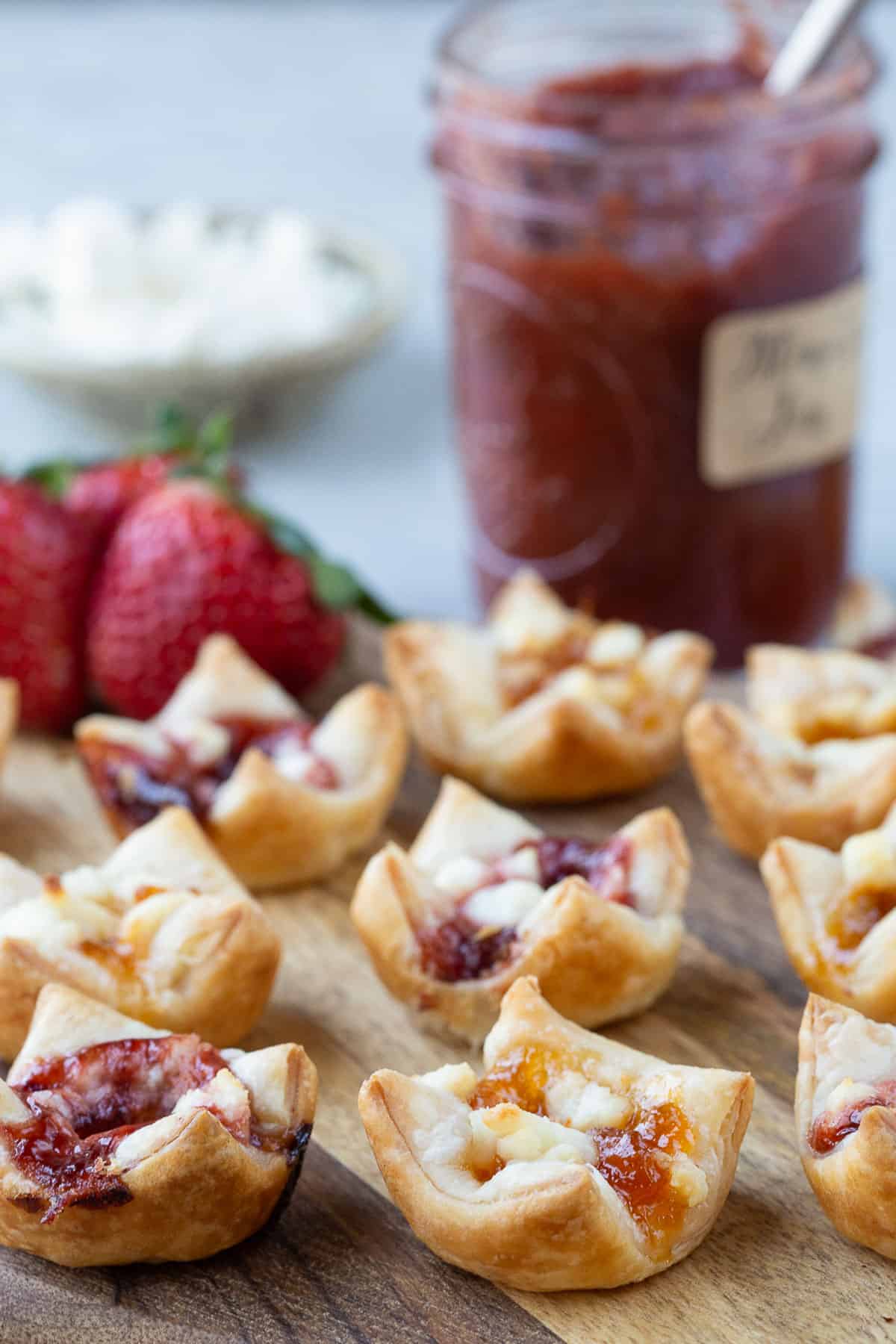 You can also see an easy step-by-step tutorial for these appetizers here!
Puff Pastry Appetizers: Frequently Asked Questions
What can I use instead of goat cheese?
Crumbled blue cheese or crumbled feta are good substitutes for goat cheese. You could also make them with small pieces of brie or cream cheese.
What other kinds of jam can I use?
Use any variety of jam that you like. Strawberry, apricot, blackberry, cherry, fig, and orange are all be delicious with goat cheese. I used two varieties of jam (strawberry and apricot) so there would be different colors on the serving board.
Can I make these if I don't have a mini muffin tin?
You can still make these appetizers if you don't have a muffin tin. To do so, cut the puff pastry into 3-inch squares. Place the squares on a baking sheet. Top with a dollop of jam and a piece of goat cheese. Roll the corners of each appetizer up slightly, so prevent the cheese and jam from falling out. Bake as directed. They will obviously be more flat in appearance, but they will still be pretty and taste delicious.
Make it ahead
I recommend making these puff pastry appetizers right before you plan to serve them. Unfortunately, they will get soggy if they are kept in an airtight container overnight.
You can, however, cut the puff pastry into squares, and place the squares in the muffin tin. Wrap the muffin tin very tightly with plastic wrap (otherwise the puff pastry will dry out) and refrigerate for several hours or up to overnight. When you're ready to bake them, add the goat cheese and jam, and bake as directed.
Storing and reheating
To reheat, place the baked appetizers either back in the muffin tin, or on a sheet pan. Bake in a 350°F oven for 3–4 minutes, or until warm throughout.
I recommend eating these the same day that you make them. But, you can store any leftover appetizers in an airtight container in the refrigerator. They will not be as crispy the next day.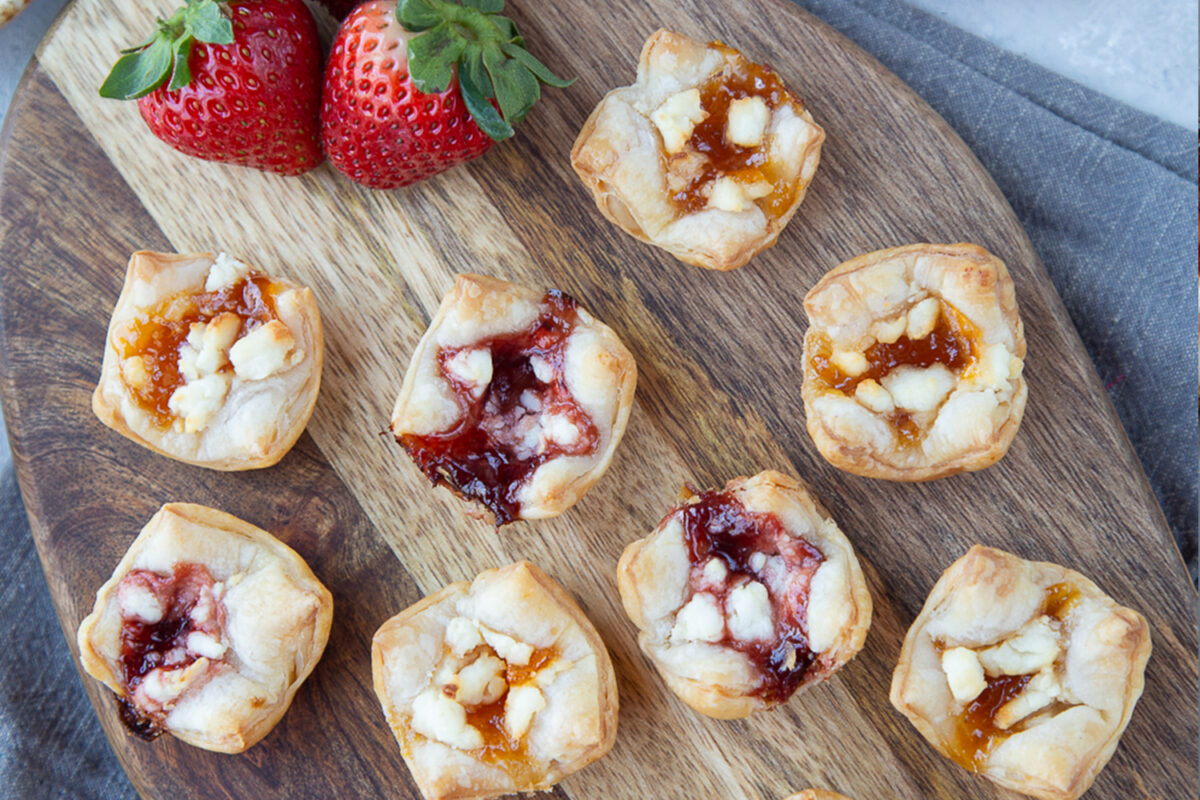 Serving suggestions
These Puff Pastry Appetizers are best enjoyed the day that they are made for maximum crispiness from the puff pastry.
They can be served either warm from the oven, or at room temperature.
I love using two different varieties of jam for the same batch. The color contrast on the platter looks beautiful. Feel free to use any variety of jam that you like—any fruit jam would work wonderfully with the goat cheese.
More puff pastry appetizers:
More appetizers for your get-together:
Have you tried this recipe? Please leave a ⭐️⭐️⭐️⭐️⭐️ rating and/or comment below!


📖 Recipe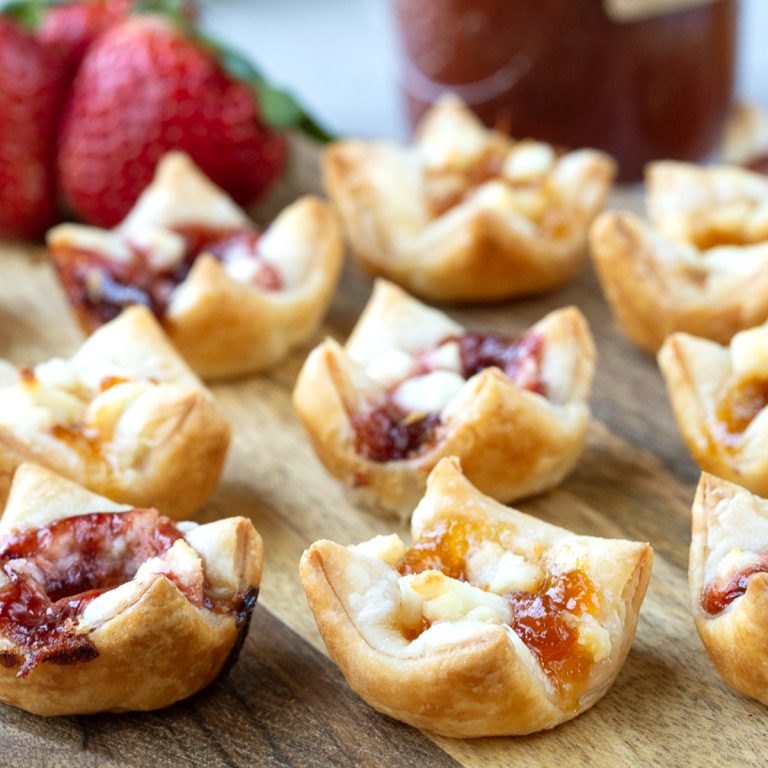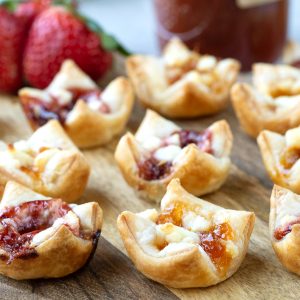 Puff Pastry Appetizers with Goat Cheese and Jam
Easy to make and just three ingredients, these Puff Pastry Appetizers will be the hit of your next party!
Ingredients
1

piece

(½ of a 17.3 oz box) puff pastry, defrosted according to package directions

(I used Trader Joe's)

¼

cup

apricot or strawberry jam

(or a mixture of the two)

1

oz

crumbled goat cheese
Instructions
Preheat oven to 400°F. Lightly flour a countertop or another flat surface. Unroll the defrosted puff pastry on top. Pat the puff pastry gently at the seams to get rid of the creases.

Cut the puff pastry into 2×2 inch pieces (I use a pizza cutter for this). Place one square in the cup of a miniature muffin pan and push gently in the middle to form a loose cup. Repeat with the remaining pieces.

Fill each cup with ½ teaspoon of jam followed by 1 teaspoon of crumbled goat cheese.

Bake for 14–18 minutes, or until the puff pastry is golden brown. Let cool for 1 minute in the pan and then remove promptly, using a knife if necessary to wiggle them free. If you let them sit any longer, some of the jam that has oozed out will harden and cause them to stick to the pan. Serve warm or at room temperature.
Notes
Use your favorite jam. I like doing two different jams for variety and for color on the serving tray.
You can swap in blue cheese, feta, or even pieces of brie or cream cheese for the goat cheese, if you wish!
Make it ahead: cut the puff pastry and place the squares in the muffin tin. Tightly wrap the muffin tin with plastic wrap, and refrigerator for up to 1 day. When you're ready to serve them, add the jam and cheese, and bake as directed.
I do not recommend making the whole appetizer ahead of time—the puff pastry will get soggy if it's stored in an airtight container for any amount of time.
Reheat any leftovers on the same day in a 350°F oven for 3–4 minutes.
Nutrition
Serving:
1
piece
Calories:
69
kcal
Carbohydrates:
7
g
Protein:
1
g
Fat:
4
g
Saturated Fat:
1
g
Cholesterol:
1
mg
Sodium:
31
mg
Potassium:
9
mg
Fiber:
1
g
Sugar:
2
g
Vitamin A:
12
IU
Vitamin C:
1
mg
Calcium:
3
mg
Iron:
1
mg
Related recipes