This old fashioned Cheese Roll recipe is the perfect party appetizer. Also known as a cheese log, it's studded with pecans and rolled in chili powder for a little bit of spice!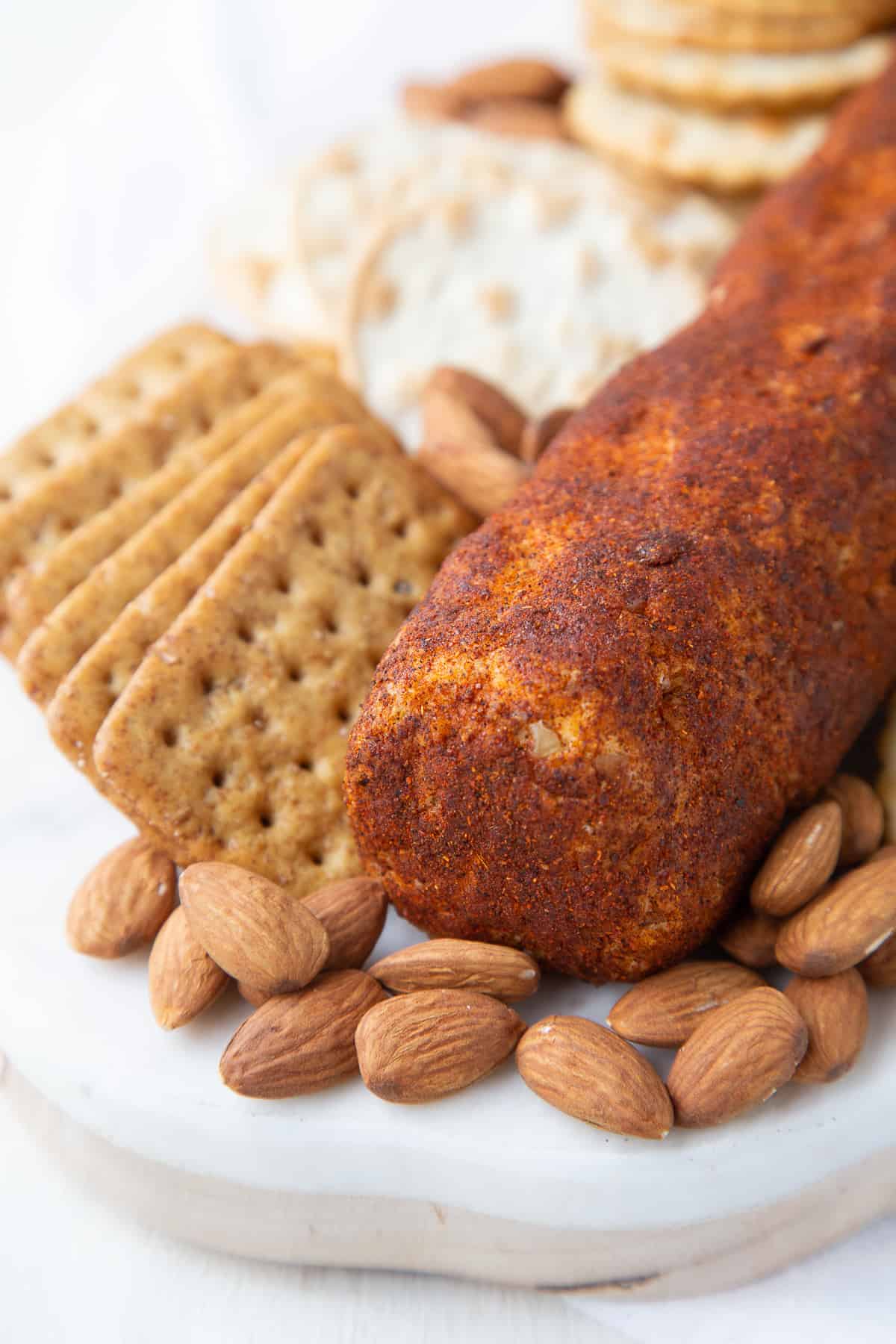 I love serving a cheese tray as an appetizer. It's an easy way to ensure that your guests are happy, because who doesn't love cheese?
This easy Cheese Roll, also known as a cheese log, is a lovely addition to an appetizer spread or cheese tray.
The recipe is from a church cookbook from the 1970s. The original recipe calls for Longhorn cheese, which I replace with Colby Jack (which is easier to find). I kept the rest of the recipe the same, and it is a winner!
This recipe one of the reasons that old church cookbooks are a treasure trove of recipes—it is truly delicious. I have a feeling that Marilyn, the contributor of this recipe, was proud of this one. And for good reason! It got rave reviews from my husband and our neighbors, and I hope you'll love it, too.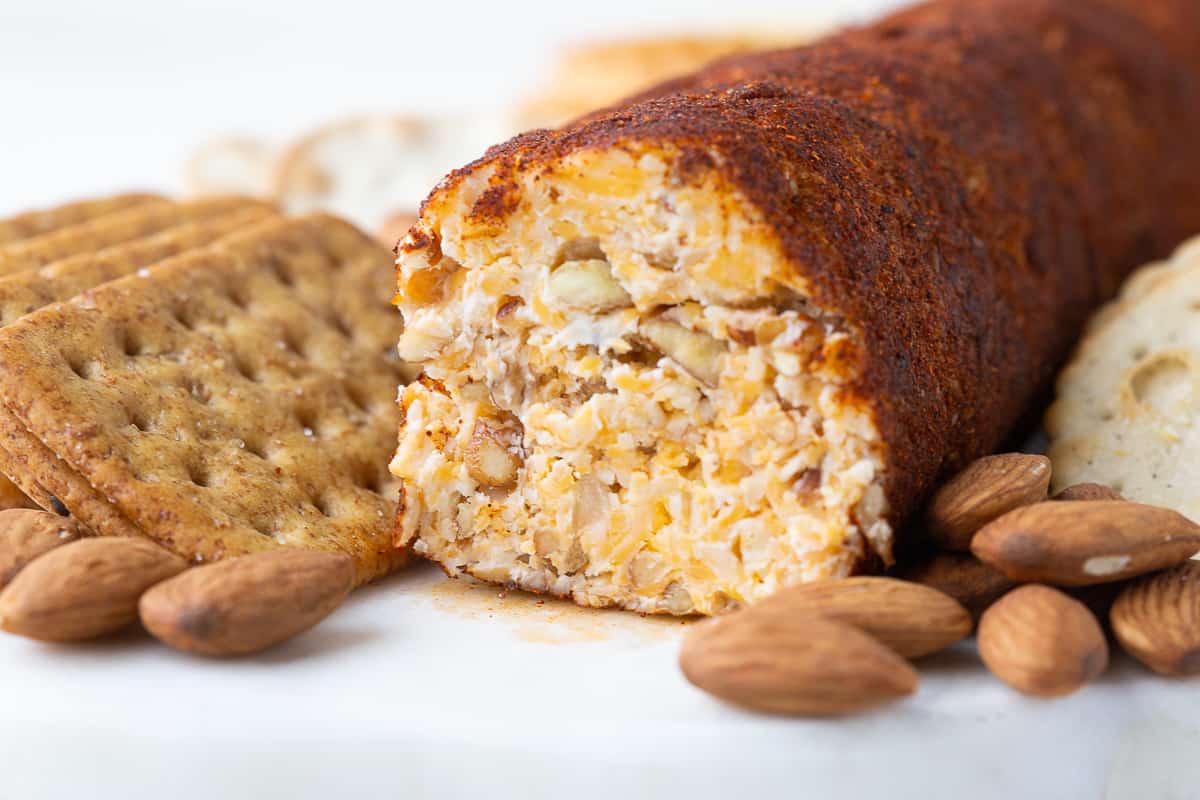 Need more appetizer inspiration? Don't miss my 20 lil smokies recipes or my Grape Jelly BBQ Meatballs.
This post contains affiliate links. Affiliate links support Gift of Hospitality at no additional cost to you. I receive a commission if you choose to make a purchase through these links.
Jump to:
Cheese roll origins
So why a cheese roll, and not a cheese log? It's really just a matter of what you prefer to call it. You can use cheese roll and cheese log interchangeably—they are the same thing.
A cheese ball, however, is completely round. Legend has it that the first cheese ball weighed 1,235 pounds, and was created by a Massachusetts farmer for President Thomas Jefferson in 1801. You can read more about the cheese ball's history on The Splendid Table, if you're curious.
Whatever the shape, this old fashioned appetizer is a combination of shredded cheese, cream cheese, and seasonings. Many recipes include finely chopped nuts, too.
Ingredients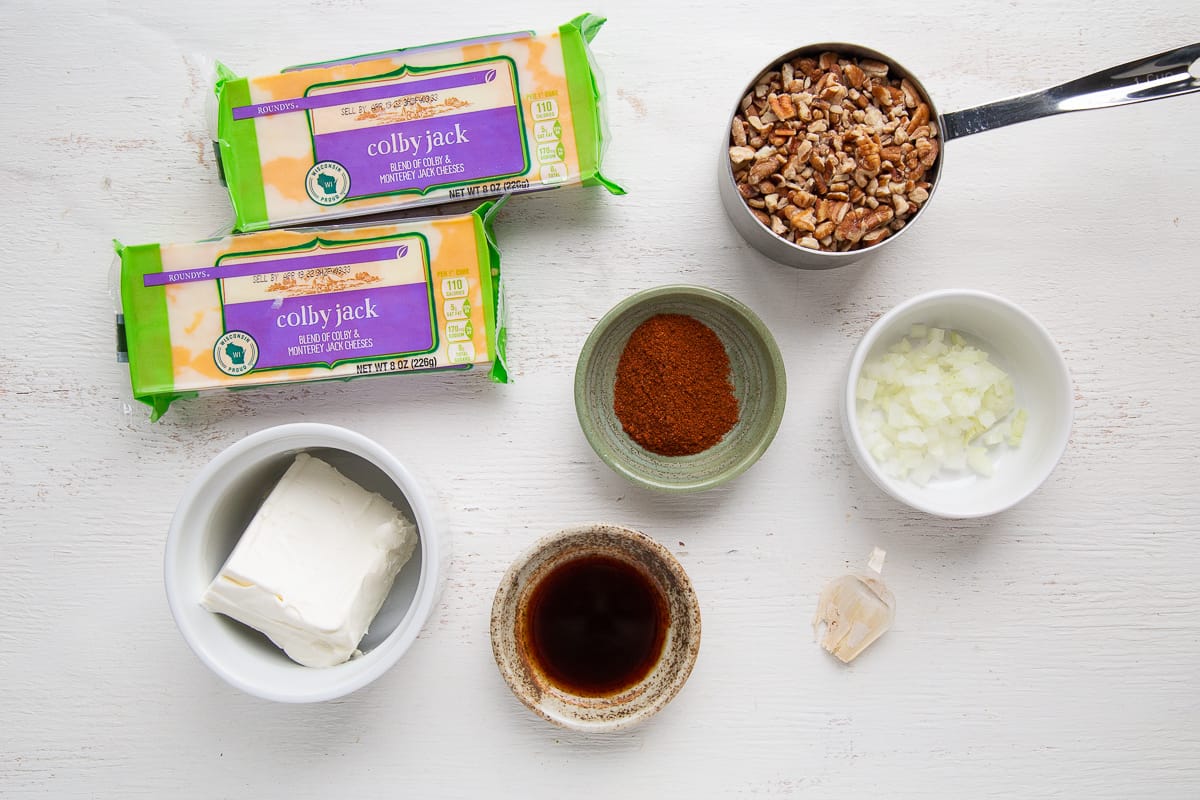 A mixture of Colby Jack cheese and cream cheese are the base of this recipe.
Pecans add a nice crunch!
Chopped onion, garlic, and worcestershire sauce provide the flavorings.
The cheese roll gets rolled in chili powder for a pop of color and flavor.
How to make a cheese roll
Start by letting the cream cheese come to room temperature. If you're in a hurry, follow these instructions for softening cream cheese.
Then, shred the Colby Jack cheese.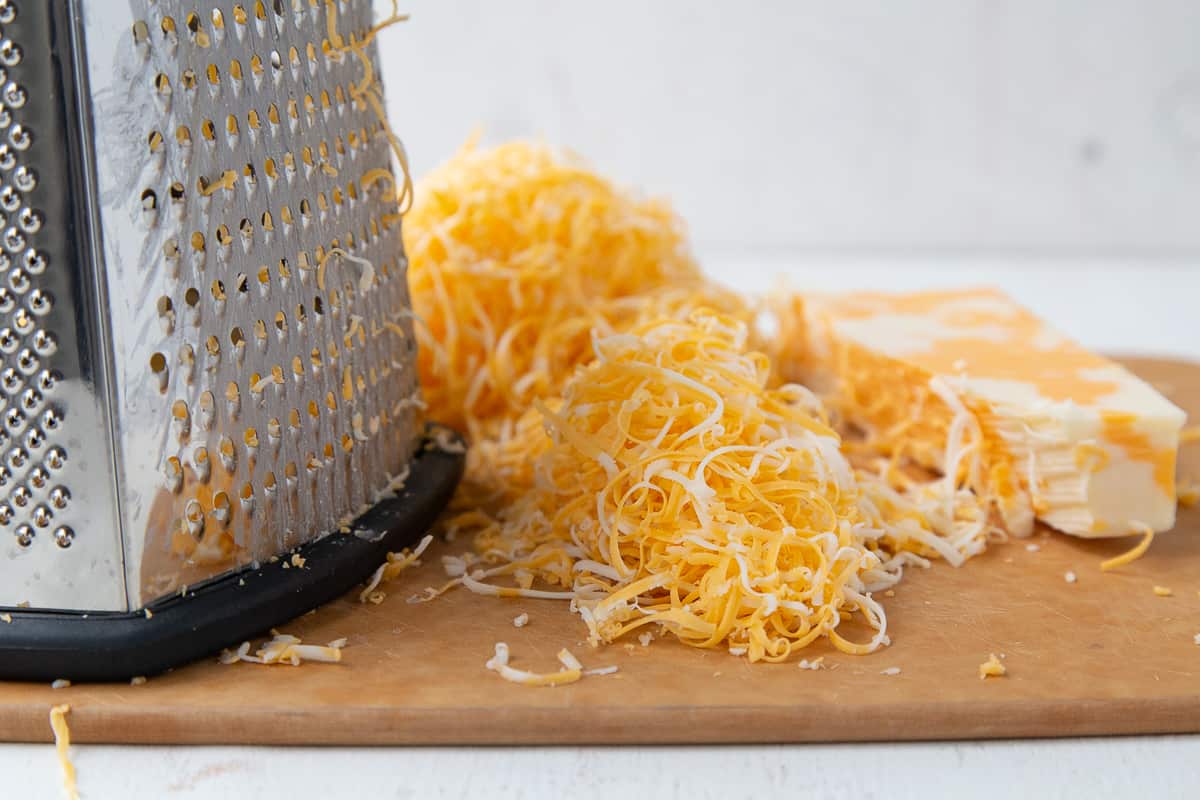 You'll want to start with cheese blocks and shred them yourself. Pre-shredded cheese won't incorporate as well into the cheese roll, and it'll be dry.
So start with blocks/bricks of cheese for best results! Here's the box grater that I use.
Then, finely chop the pecans. You want very small pieces here so they can be spread onto a cracker. Get them as finely chopped as you can.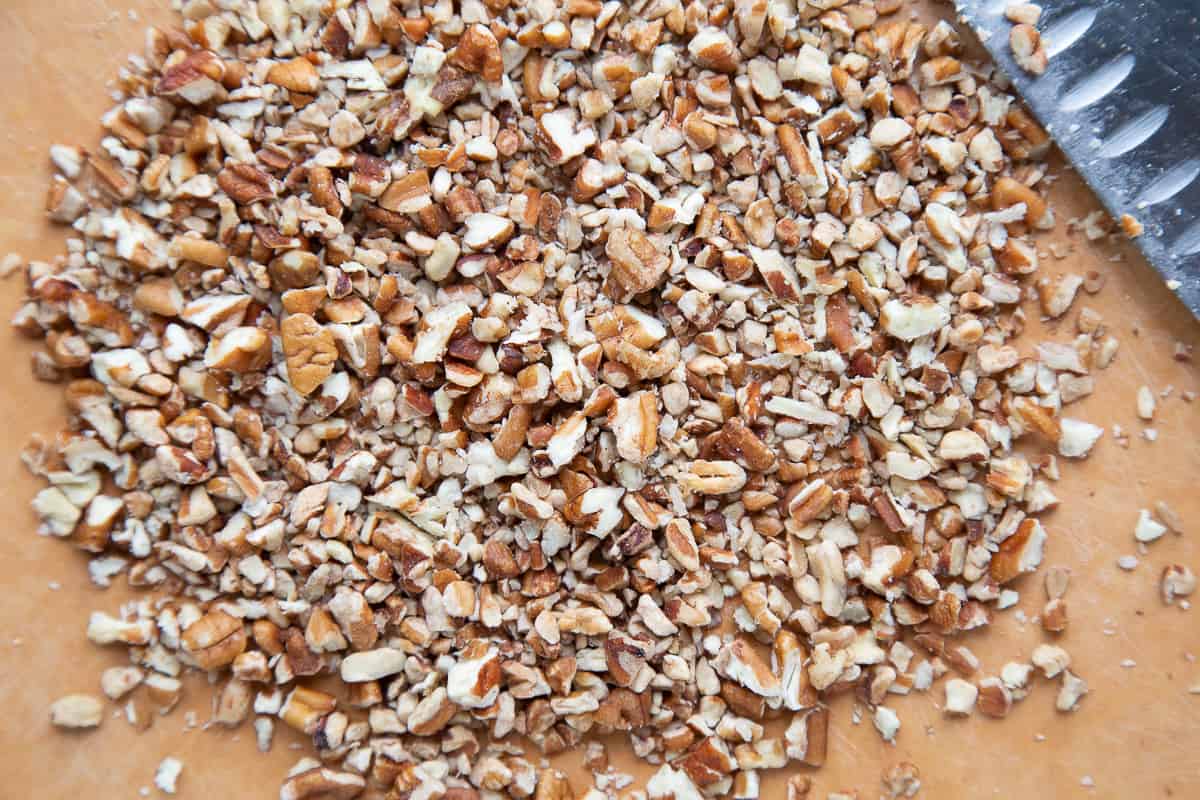 Place the shredded cheese, cream cheese, pecans, worcestershire sauce, chopped onion, and minced garlic in a large bowl. Mix to combine.
I find that using my hands is the easiest way to mix everything together.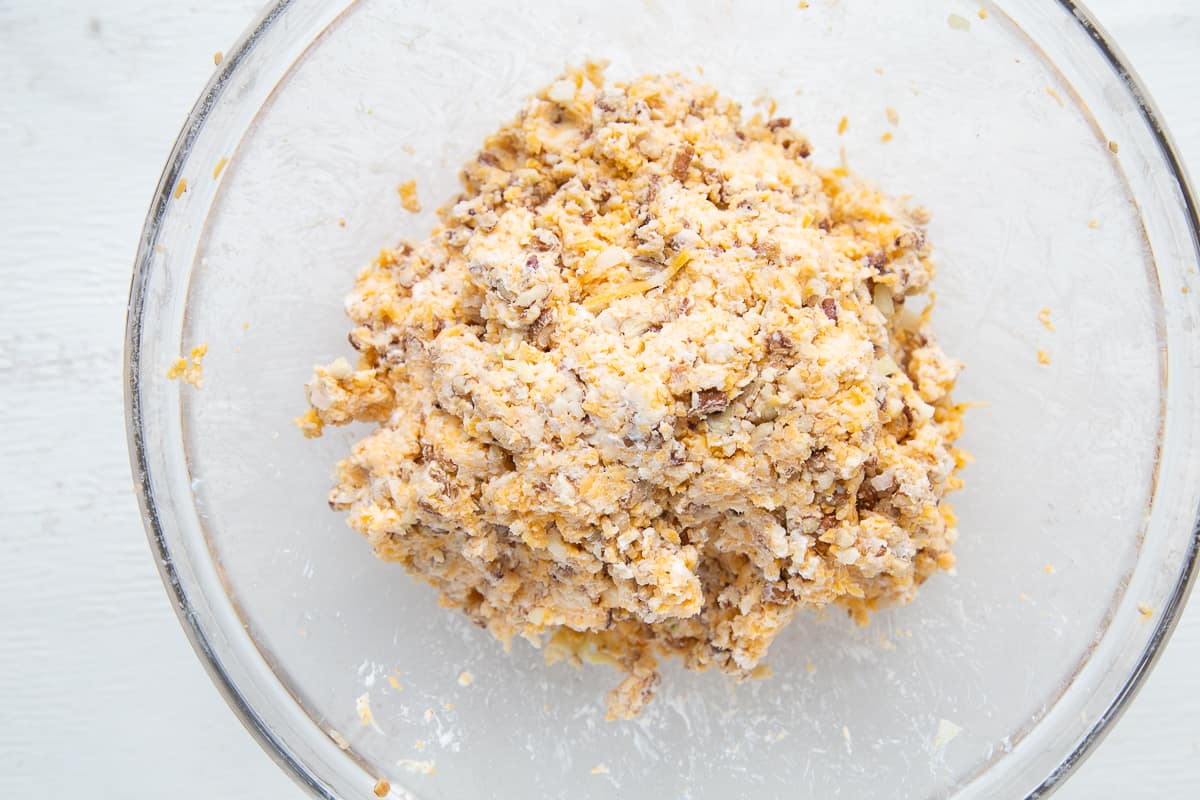 The mixture may seem dry at first, but as the cream cheese gets dispersed throughout, it'll come together.
Form the mixture into a 12 inch log. It'll be roughly 2–3 inches in diameter.
Sprinkle chili powder onto a cutting board, and roll the log into it. You may need to use your fingers to sprinkle the chili powder and pat it into the roll in order to get it completely covered.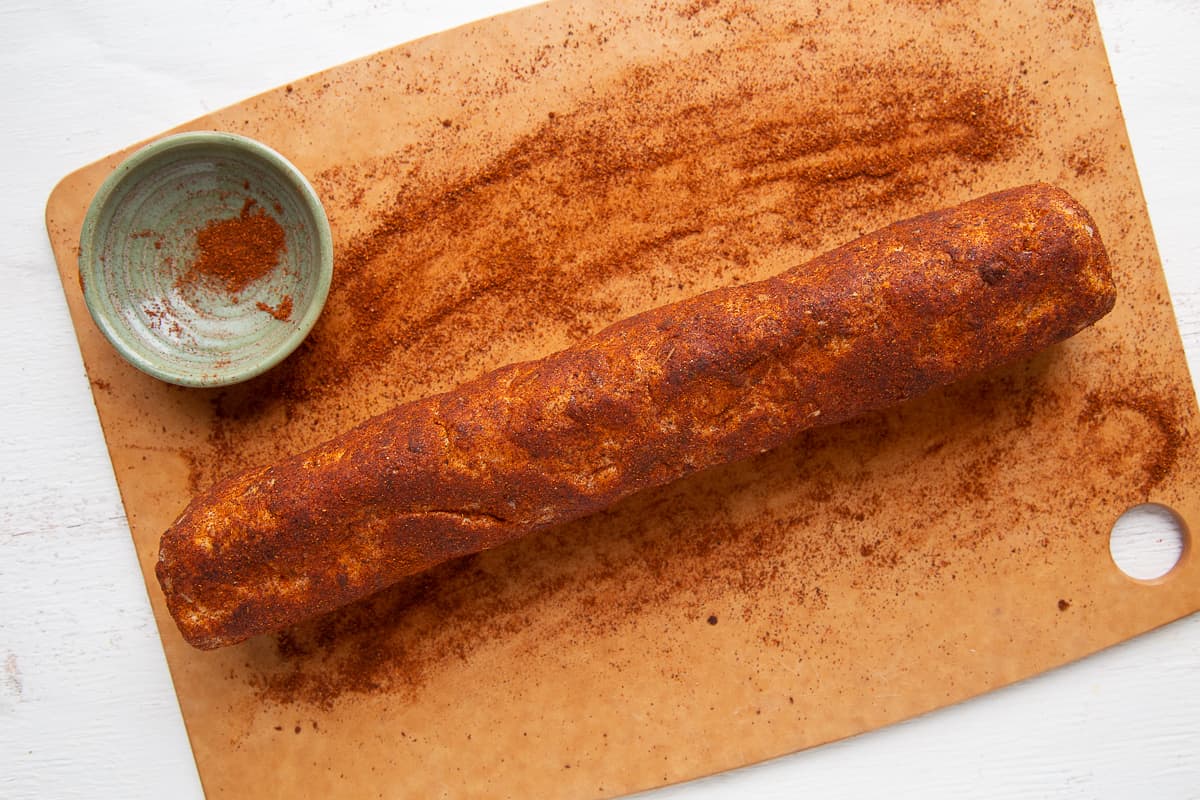 Your Cheese Roll is ready to serve!
Cheese Roll: Frequently Asked Questions
What type of cheese is best for a Cheese Roll?
Cream cheese is essential for holding the cheese roll together. The shredded cheese, however, can be varied. You can use colby jack, monterey jack, cheddar, longhorn, or Swiss in a cheese roll.
Can I use garlic powder instead of the garlic clove?
You can substitute ¼ teaspoon of garlic powder in place of the minced garlic.
What can I substitute for worcestershire sauce?
You can use an equal amount of soy sauce in place of worcestershire sauce.
Can I omit the pecans?
You can omit the pecans from this recipe, or substitute finely chopped walnuts instead.
Can I make this into a cheese ball instead?
Yes! Form the cheese mixture into a ball with your hands, and then roll in chili powder. You can also form it into individual 1-inch balls.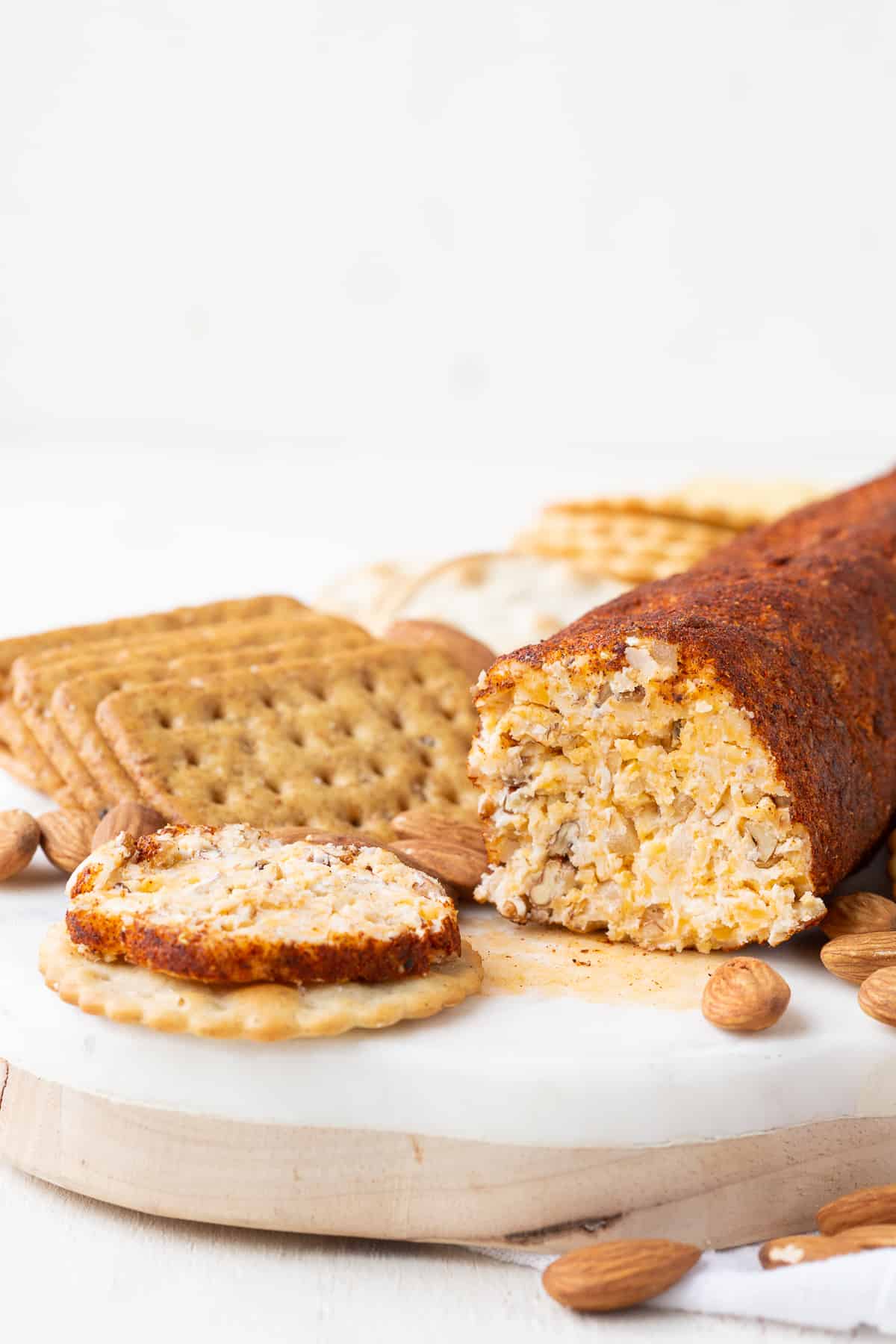 Make it ahead
This easy Cheese Roll can be made up to 2 days ahead. Wrap it tightly in plastic wrap and refrigerate it until you're ready to serve it.
Let it sit at room temperature for 2 hours before serving, in order to soften it slightly for spreading.
Storage/freezing
Store any leftovers in a sealed container in the refrigerator. You can also freeze leftovers, tightly wrapped in plastic wrap and placed in a resealable freezer bag.
Serving suggestions
The Cheese Roll is a great addition to a large cheese board, or just served on its own with crackers.
I like serving it with a butter knife or cheese spreader next to it, so that guests can cut off slices themselves.
Take care when placing this on any marble serving trays, as the chili powder can stain the marble. I recommend putting it on something washable or wooden if possible.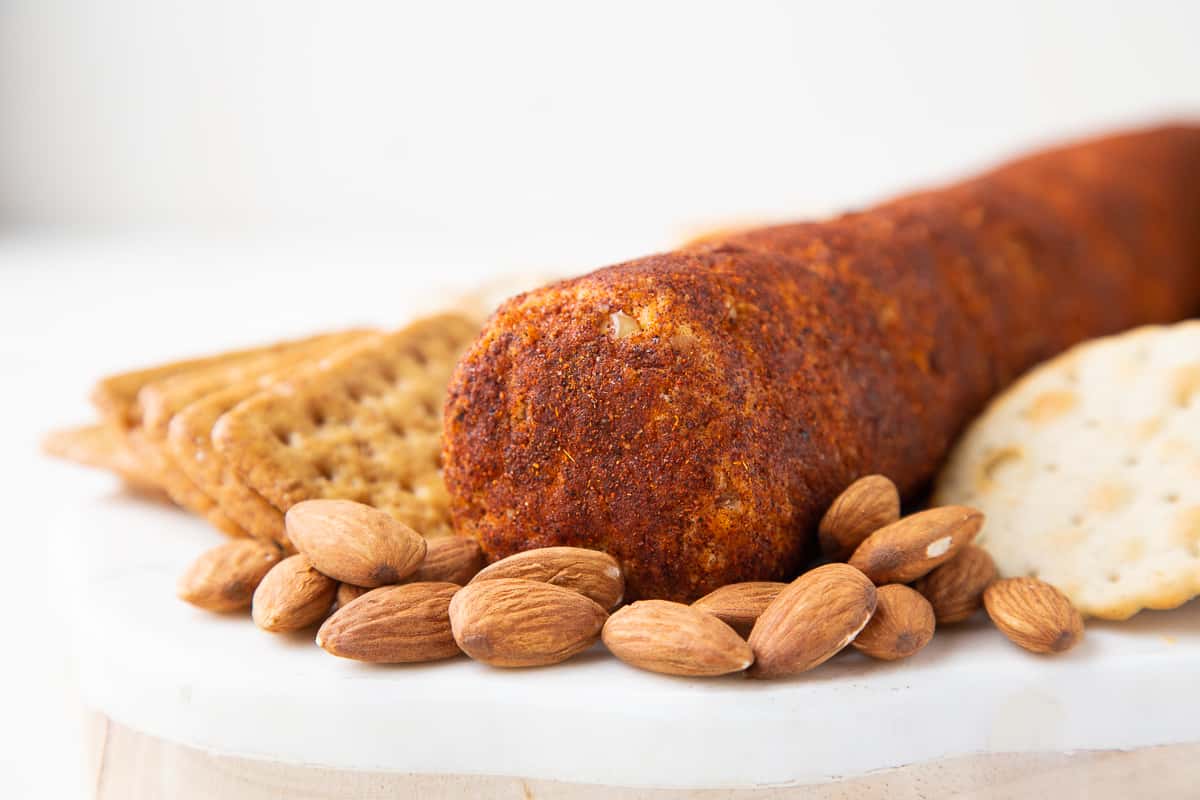 Have you tried this recipe? Please leave a ⭐️⭐️⭐️⭐️⭐️ rating and/or comment below!


📖 Recipe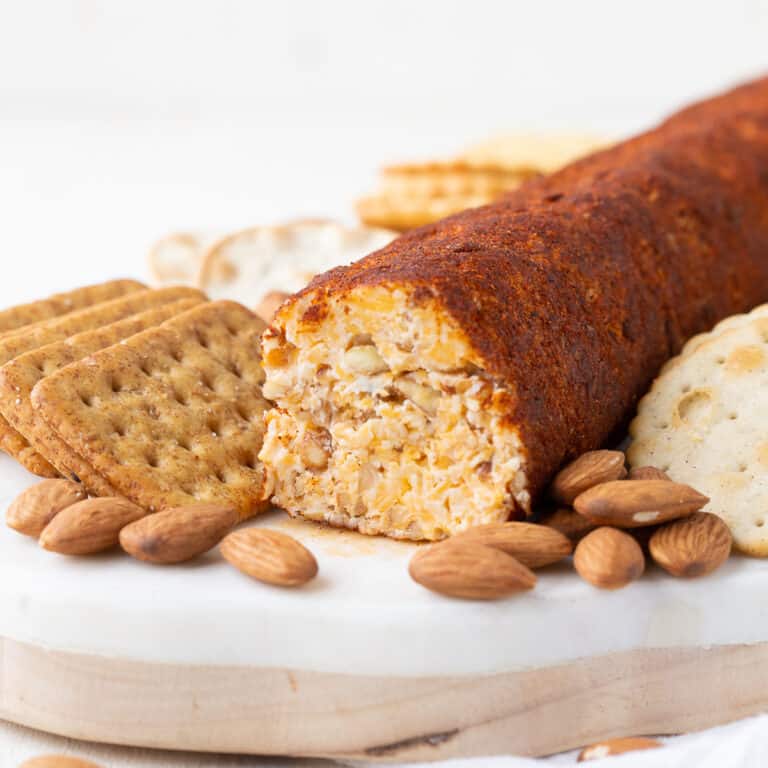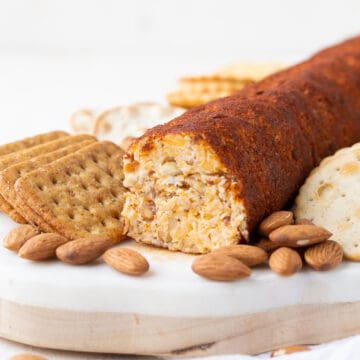 Cheese Roll (Cheese Log)
This easy Cheese Roll with pecans is a fun and flavorful addition to a cheese tray or appetizer spread.
Ingredients
1

lb

Colby Jack cheese

4

oz

cream cheese,

softened

1

cup

pecans

1

tablespoon

finely chopped onion

1

tablespoon

worcestershire sauce

1

clove

garlic,

minced

1

tablespoon

chili powder

To serve: crackers
Instructions
Grate the Colby Jack on a box grater or with the shredding disk of a food processor.

Very finely chop the pecans.

Place the grated cheese, cream cheese, chopped pecans, onion, worcestershire sauce, and garlic in a large bowl. Mix with a spoon or your hands to combine.

Pat the cheese mixture into a 12-inch long log. It will be 2–3 inches in diameter.

Sprinkle the chili powder on a cutting board, and roll the cheese log in the chili powder to coat. Use your fingers to sprinkle or pat the chili powder onto the roll as necessary.

Serve the cheese roll by slicing it into thin slices and spreading on crackers.
Notes
Make sure you use a block of cheese, and NOT pre-shredded cheese. The roll won't stick together if you use pre-shredded cheese. You can substitute Monterey Jack, Cheddar, or Swiss for the Colby Jack cheese, if you'd like. You can substitute an equal amount of soy sauce for the worcestershire sauce. You can also substitute one-quarter teaspoon of garlic powder for the minced garlic, and also substitute walnuts for the pecans. Avoid placing the cheese roll on anything that will stain (such as a marble platter). Instead, place it on a wooden board or another easily washable platter.
Nutrition
Calories:
242
kcal
Carbohydrates:
3
g
Protein:
10
g
Fat:
21
g
Saturated Fat:
10
g
Polyunsaturated Fat:
2
g
Monounsaturated Fat:
8
g
Cholesterol:
46
mg
Sodium:
284
mg
Potassium:
120
mg
Fiber:
1
g
Sugar:
1
g
Vitamin A:
706
IU
Vitamin C:
1
mg
Calcium:
278
mg
Iron:
1
mg
Related recipes