These Savory Mashed Sweet Potatoes are flavored with olive oil, thyme, and parmesan for a savory take on a classic side dish.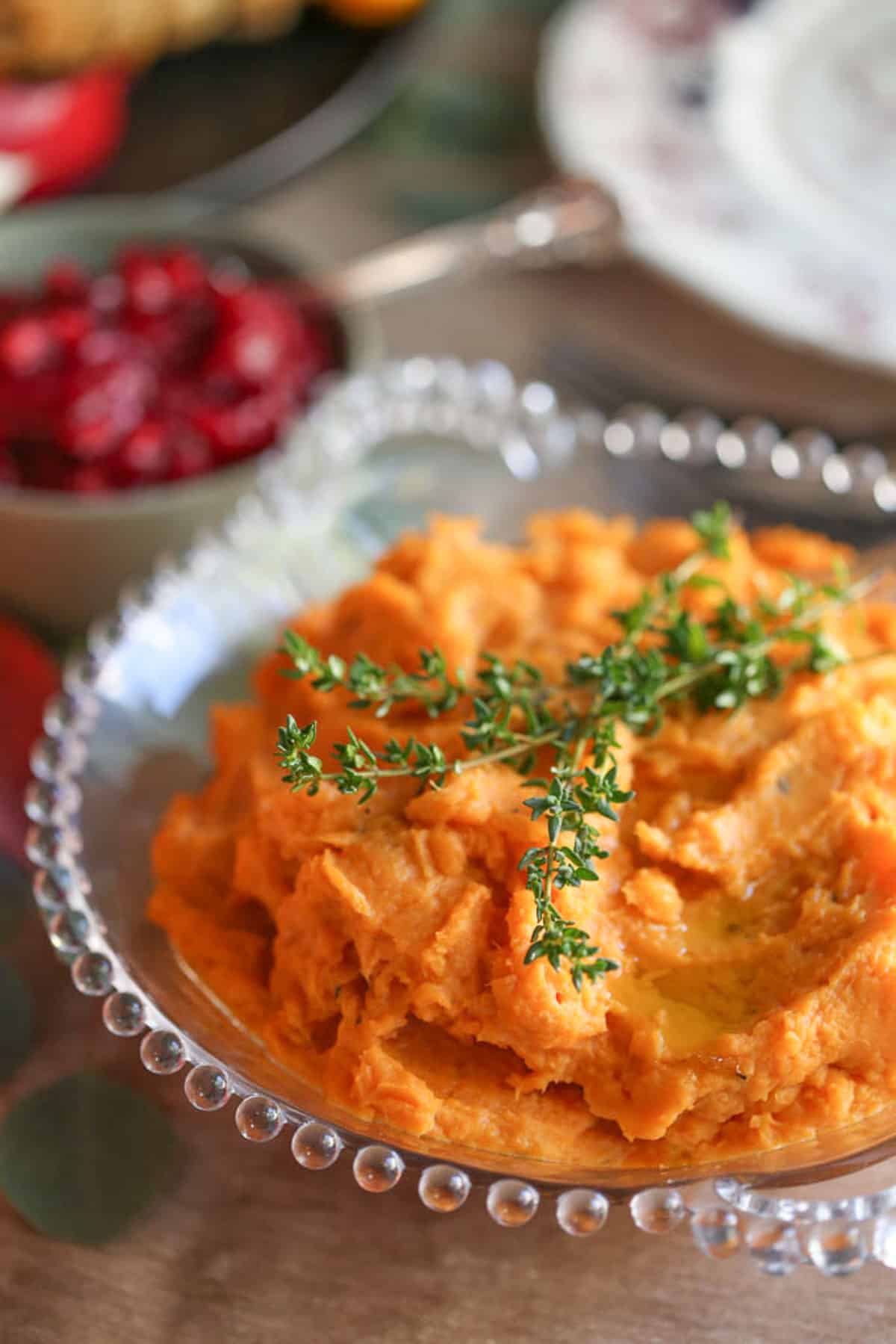 No sweet stuff here! These Savory Mashed Sweet Potatoes with Olive Oil, Thyme, and Parmesan are a less-sweet take on mashed sweet potatoes.
With just ¼ cup of oil for the whole batch, dare I say they're a healthier take on them, too!

Most families fall into one of two categories on Thanksgiving: their sweet potatoes are adorned with marshmallows or their sweet potatoes are topped with a brown sugar and pecan crumble. We have made Sweet Potato Casserole with Pecans for years in my family!
These Mashed Sweet Potatoes with Olive Oil, Thyme, and Parmesan are a different take altogether.
They're decidedly savory, with the fresh thyme and pungent Parmigiano Reggiano. I love the flavors that they lend to the potatoes. There's just enough thyme to keep guests guessing (what's that herb?) and the parmesan comes in with a nice, salty kick.
They're great for guests who are watching their sugar intake, or anyone who wants something different this Thanksgiving!
This post contains affiliate links. Affiliate links support Gift of Hospitality at no additional cost to you. I receive a commission if you choose to make a purchase through these links.
Jump to:
Ingredients
With so few ingredients, the ingredient quality is important for these savory sweet potatoes!
The cheese
Instead of a pre-shredded cheese, I grated a hunk of imported Parmigiano Reggiano with a microplane
for this recipe.
It really does make a difference in the flavor of the finished dish. It's usually available in the specialty cheese section of your grocery store, and sometimes you can even find it pre-grated.
The olive oil
Instead of butter, this recipe uses olive oil. It's a little more heart-healthy than butter, but in reality it just pairs nicely with the thyme and parmesan.
It puts a decidedly Italian spin on these sweet potatoes, and is a nice change of pace from the usual butter-ladened side dish.
You can use either regular olive oil or extra virgin olive oil.
Fresh thyme
The addition of fresh thyme really takes this recipe to next-level delicious. It gives the sweet potatoes a slightly citrus-like flavor that complements them really nicely.
You can use ¼ teaspoon dried thyme if you don't have fresh thyme (though I do recommend using fresh thyme if you can).
And any extra sprigs of thyme make a really pretty garnish!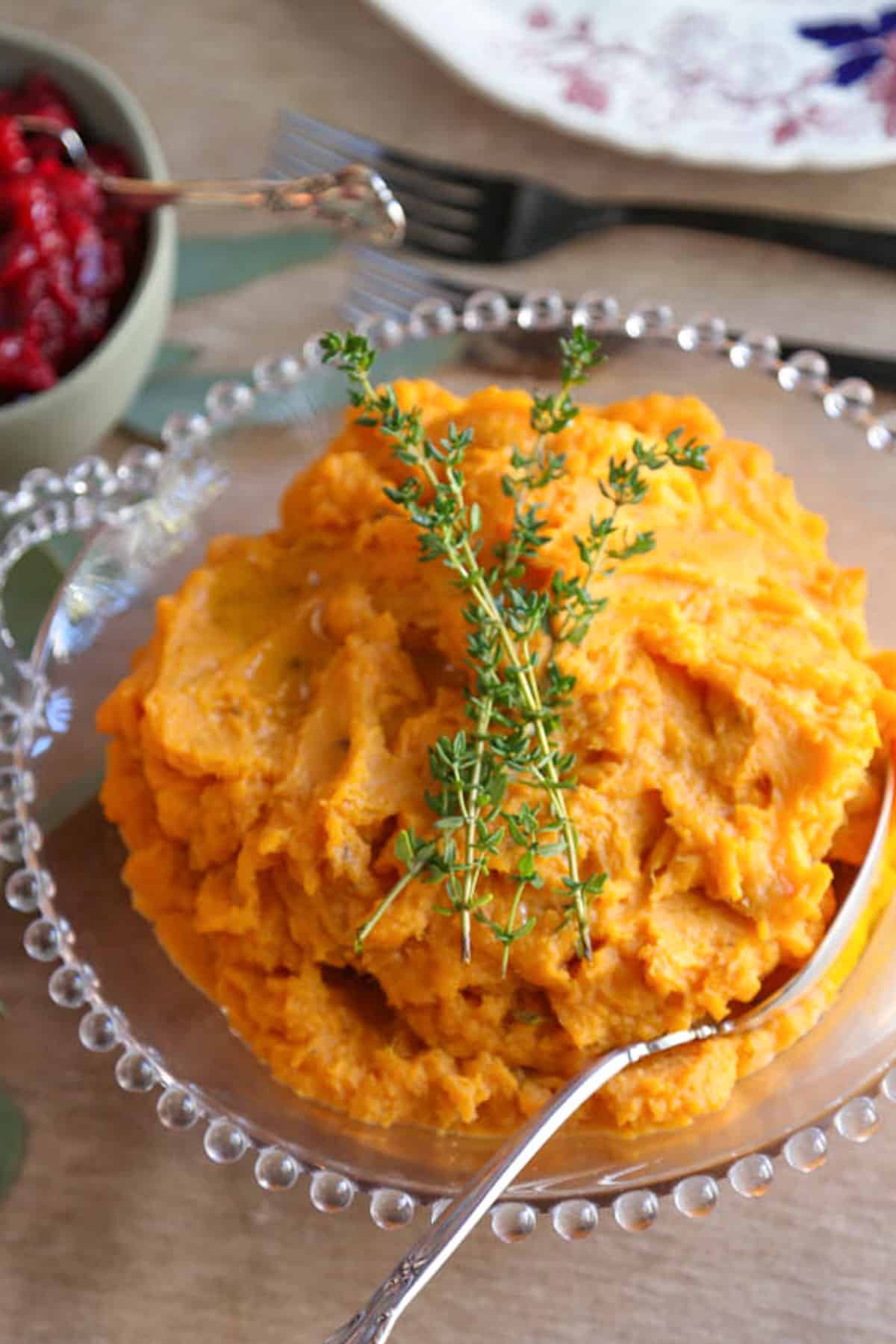 How to make savory mashed sweet potatoes
The texture of the potatoes will turn out best if you follow these steps:
1. Peel and cut the potatoes in 1½ inch chunks.
2. Place the potatoes in a saucepan and cover with cold water.
3. Heat the potatoes and water together until boiling.
4. Reduce to a simmer and let cook until a fork easily slides in and out of the middle of a potato.
This technique of even-sized chunks and starting the potatoes in cold water (instead of throwing them into boiling water) ensures the potatoes cook evenly.
As a result, they'll also mash evenly and you won't have lumpy mashed sweet potatoes.
To mash the potatoes, I use a handheld mixer. It's so much easier than mashing them with a potato masher, and yields a similar result. A stand mixer would work, too.
You don't really run the risk of easily over-beating the mashed sweet potatoes like you do traditional white mashed potatoes. I suppose you could, though, so don't go crazy!
After mashing the potatoes with the olive oil, add the thyme, Parmigiano Reggiano, and salt.
Can I make savory mashed sweet potatoes ahead?
You can make these savory mashed sweet potatoes up to 2 days in advance.
Refrigerate them until you're ready to serve, then warm them in the microwave until warm throughout. Give them a good stir to make sure that the heat is evenly distributed.
Frequently Asked Questions
Are these savory mashed sweet potatoes healthy?
Compared to something like a Sweet Potato Casserole, they certainly are! These sweet potatoes are flavored simply with olive oil, thyme, Parmigiano Reggiano, and salt. Check the recipe below for more specific nutrition information.
Can I use butter instead of olive oil?
Yes! Substitute an equal amount of butter for the olive oil.
Can I make these dairy-free?
To make these savory sweet potatoes dairy free, simply omit the Parmigiano Reggiano. You can also substitute an equal amount of dairy-free parmesan cheese, such as from the Follow Your Heart brand.
What herbs pair well with sweet potatoes?
Thyme, rosemary, sage, and cilantro complement sweet potatoes nicely. You can use any of them in this recipe.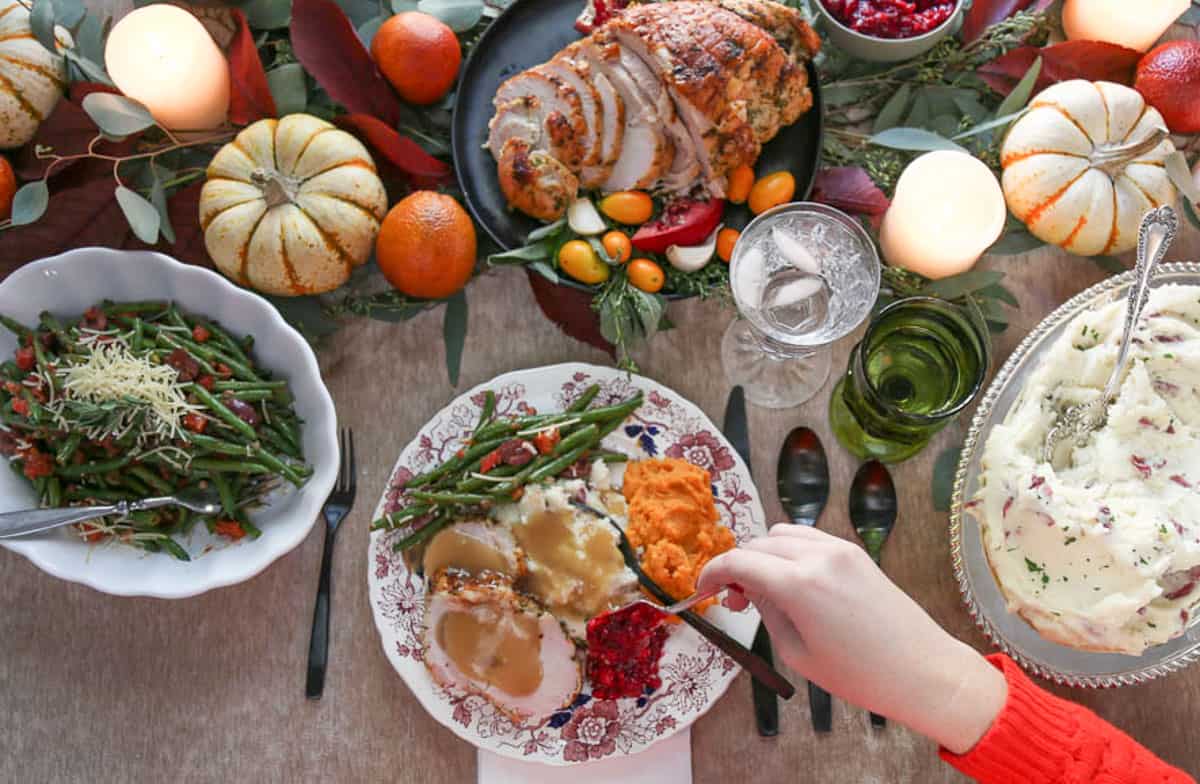 How to store and reheat savory mashed sweet potatoes
Store any leftover mashed sweet potatoes in the refrigerator for 3–4 days. They can be re-warmed in the microwave.
You can also freeze them. Transfer them to a freezer safe container and freeze for 1–2 months. Defrost in the refrigerator overnight, or in the microwave.
More holiday side dishes
I served Savory Mashed Sweet Potatoes with Olive Oil, Thyme, and Parmesan as part of a Friendsgiving with my friend Kelley of Haviland Events. She contributed all of the gorgeous dishes and created the tablescape for the dinner.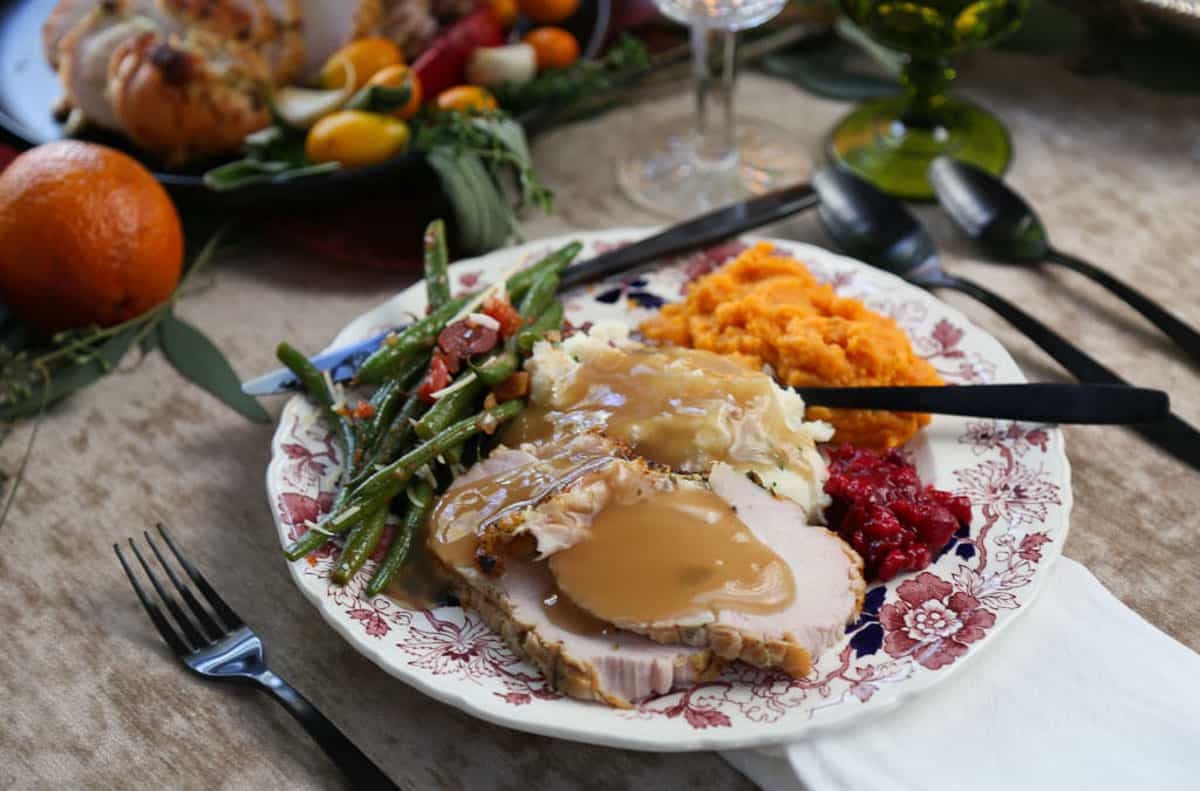 Here's the rest of the menu for this Italian-inspired Thanksgiving:
Olive Oil & Herb Roasted Turkey Breast
Mashed Sweet Potatoes with Olive Oil, Thyme, and Parmesan (recipe below)
Roasted Garlic Mashed Potatoes
Italian Stovetop Green Beans
Have you tried this recipe? Please leave a ⭐️⭐️⭐️⭐️⭐️ rating and/or comment below!


📖 Recipe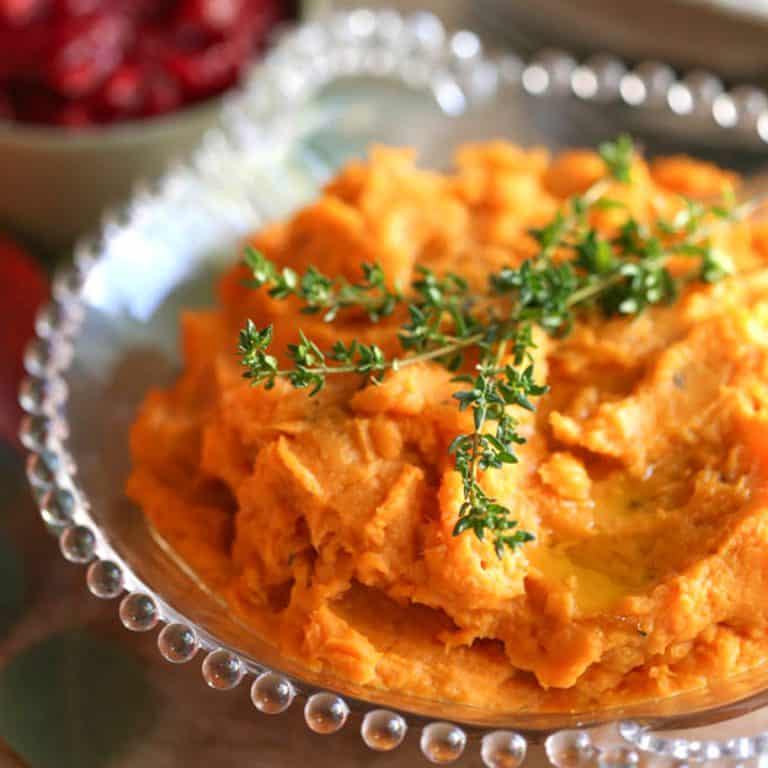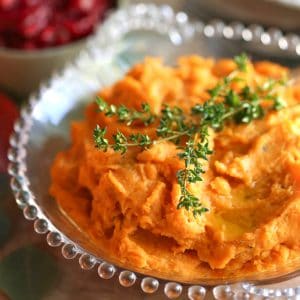 Savory Mashed Sweet Potatoes
These mashed sweet potatoes are soft and creamy, and savory instead of super sweet!
Ingredients
3

lbs

sweet potatoes

¼

cup

extra virgin olive oil

1

teaspoon

fresh thyme, leaves removed from stem and chopped

½

cup

finely grated Parmigiano Reggiano

1¾

teaspoons

salt
Instructions
Peel sweet potatoes. Cut into 1½ inch chunks and place in a large saucepan. Cover with water and add 1 teaspoon of salt to the water.

Place pan over high heat and bring to a boil. Reduce to a simmer and cook for 15–20 minutes, or until a fork easily slides in and out of the middle of a potato.

Drain the potatoes. Place back in the large saucepan or another mixing bowl.

Add the olive oil and ¾ teaspoon salt.

Using a handheld mixer, mix on medium speed until mashed, about 3–4 minutes.

Add the Parmigiano Reggiano and thyme; mix for 30 seconds more.

Taste and season with additional salt if desired. Serve immediately.
Nutrition
Calories:
307
kcal
Carbohydrates:
46
g
Protein:
7
g
Fat:
11
g
Saturated Fat:
3
g
Cholesterol:
6
mg
Sodium:
937
mg
Potassium:
772
mg
Fiber:
7
g
Sugar:
10
g
Vitamin A:
32241
IU
Vitamin C:
5
mg
Calcium:
167
mg
Iron:
2
mg
Related recipes