Italian Green Beans are a flavorful, healthy side dish that your family will love. They're easy enough for a weeknight but fancy enough for the holidays. And you can make them in less than 30 minutes!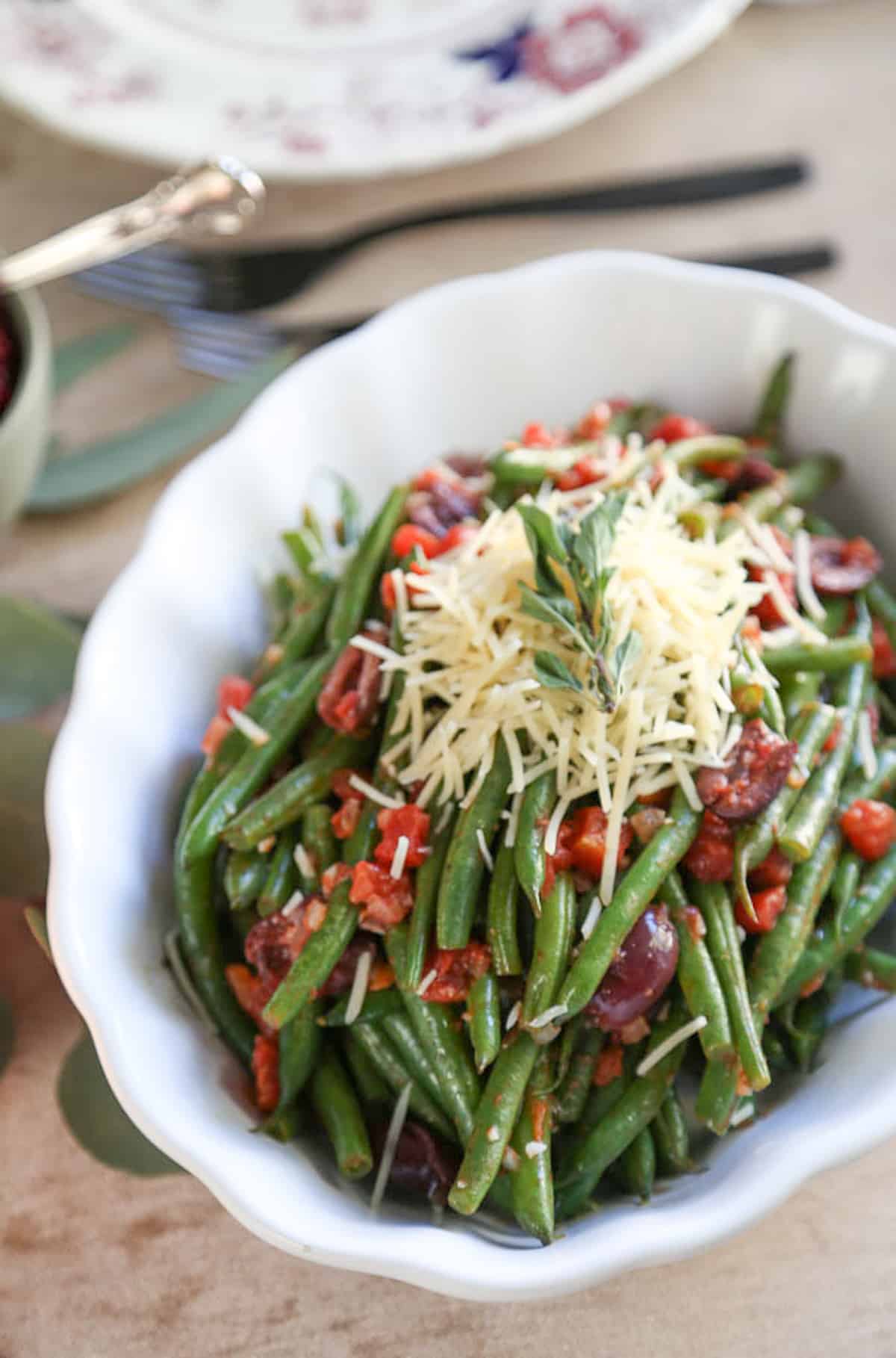 I'll admit that green bean casserole isn't my favorite. The green beans are often mushy, and I'm not a fan of cooking with condensed soup. I'll gladly pass on it and scoop up more sweet potatoes.
But these Italian Green Beans are a game changer. They're perfectly cooked and chock-full of delicious add-ins like shallots, garlic, tomatoes, olives, and parmesan cheese. No cream of mushroom soup here!
This recipe is a spin on a green bean dish that my mom makes every Christmas. She uses canned green beans and feta, but I freshened it up with fresh green beans and added parmesan instead of feta to keep the flavors Italian-inspired.
The finished dish is a gorgeous combination of red tomatoes and green beans, so while I served this for Thanksgiving, it would also be perfect for a holiday celebration!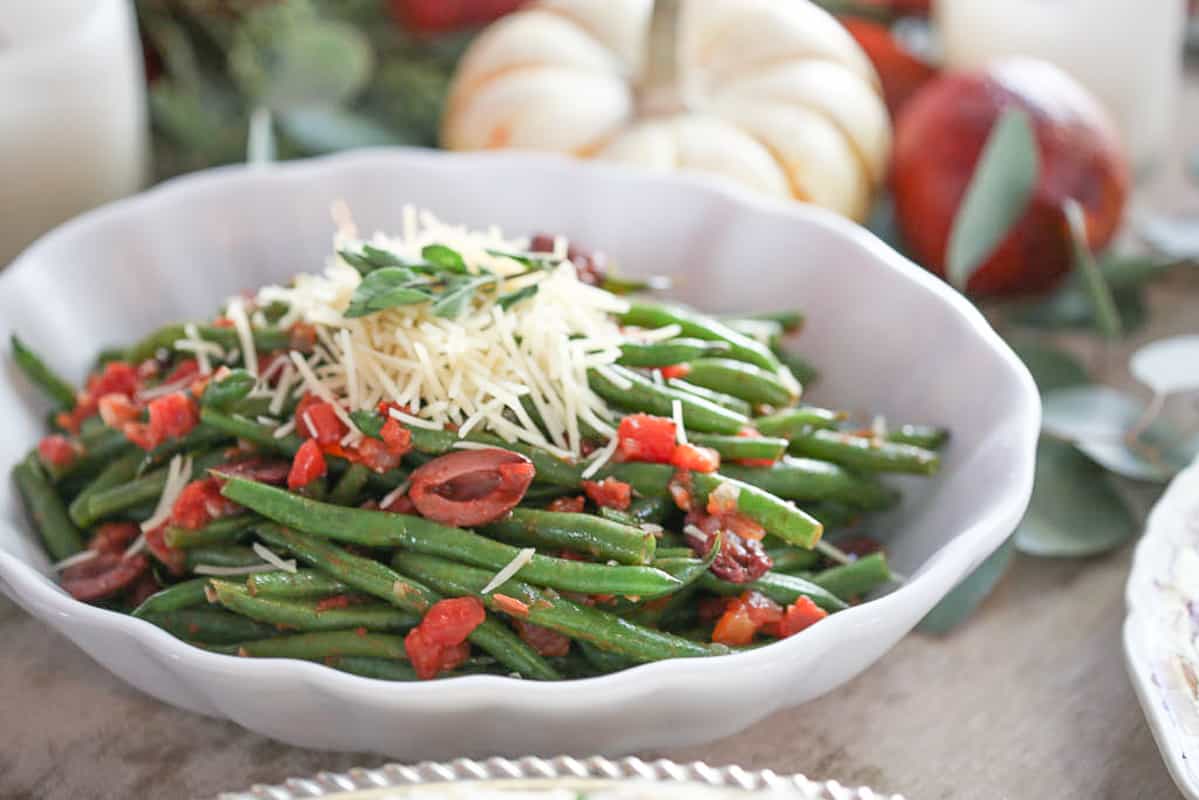 Ingredients
Green beans are the star of this dish. You can use fresh or canned.
A can of diced tomatoes contrasts the flavor and color of the green beans beautifully.
Shallots, olives, garlic, and dried oregano add lots of flavor.
A sprinkling of parmesan cheese on top completes the dish.
Fresh green beans can come in so many sizes. In the summer, they get really thick. In the fall/winter, they're a little thinner.
I tend to like the thinner green beans a little better—they're quicker to cook and often more tender.
Around the holidays, they're usually pretty inexpensive, too! I got mine for 99¢/lb, but let me know if you found a better deal and I'll be jealous! 🙂
How to make Italian green beans
The recipe is fairly straightforward. I used my largest nonstick sauté pan (we received these Zwilling nonstick pans
as a wedding present—they're perfectly nonstick!).
1. Add oil and shallots to the sauté pan, and cook until the shallots are tender.
2. Add green beans and water, then cover the pan and cook for 2–3 minutes, then uncover and cook for 3 more minutes, or until the water evaporates. I don't have a lid for my pan, so I tore off a sheet of aluminum foil and laid it over the top to steam the green beans.
3. Add in the tomatoes, oregano, and salt. Stir to combine, and cook for a few minutes until the tomatoes are warmed through.
4. Stir in the olives and transfer to a serving dish. Top with parmesan cheese and serve!
FAQs
Can I substitute canned green beans for fresh?
Yes! Substitute two 14.5 oz cans of green beans for the fresh green beans. Drain them before adding them to the pan. There's no need to cook them, so just add them along with the tomatoes, oregano, and salt, and cook everything until it is warmed through. You can use either regular cut green beans or french style green beans.
Can I make this dish dairy-free?
Simply omit the cheese to make this dish dairy-free. You can pass the cheese separately at the table, so guests can add it themselves if they would like.
Serving the green beans
I served the Italian Green Beans as part of my Friendsgiving with Kelley of Haviland Events. Kelley was our wedding planner and now good friend, and she is the definition of a gracious hostess. When I bring food to her house, she gives me back my dishes and they're already clean!
For this Friendsgiving, she set the table with mini pumpkins, eucalyptus, red leaves from a tree outside, and my favorite addition: blood oranges. All of the colors and flavors flowed so wonderfully into a memorable Friendsgiving.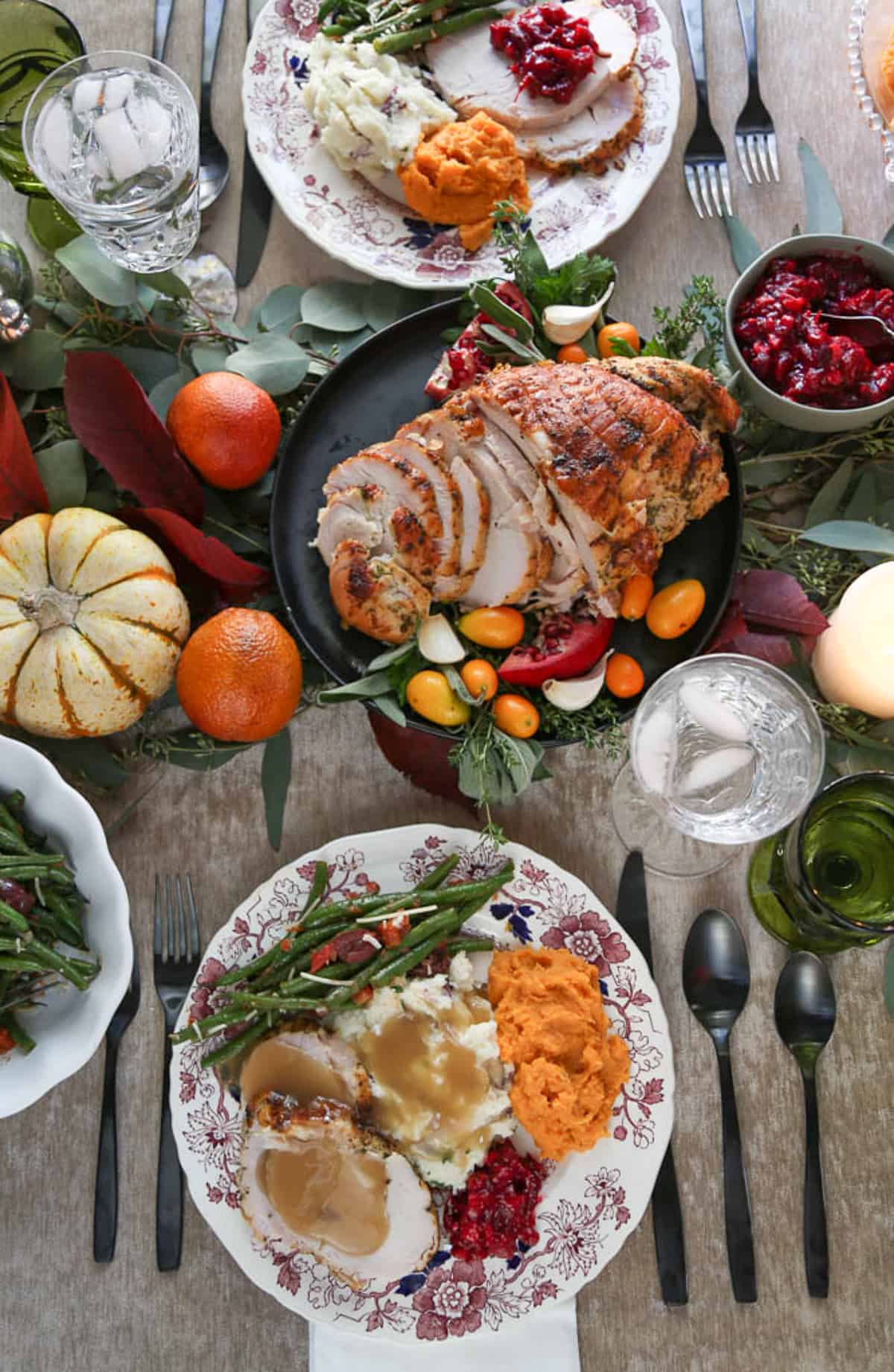 Here's what was on the menu:
Olive Oil & Herb Roasted Turkey Breast
Savory Mashed Sweet Potatoes with Olive Oil, Thyme, and Parmesan
Roasted Garlic Buttermilk Mashed Potatoes
Italian Stovetop Green Beans (recipe below)
If you make the green beans, please leave me a comment below, or tag me on Instagram or Pinterest. I love hearing from you!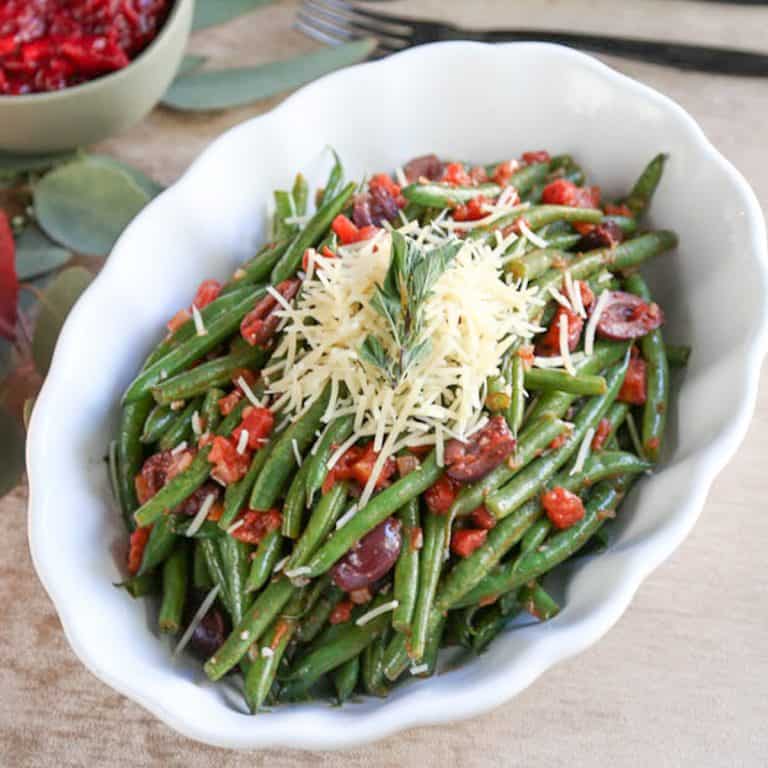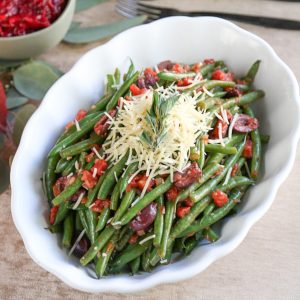 Italian Green Beans
This easy and flavor-packed side dish is made on the stovetop in just 30 minutes.
Ingredients
2

small shallots,

minced

2

tablespoons

olive oil

1½

lbs

green beans,

trimmed

2

garlic cloves,

minced

1

(14 oz) can petite diced tomatoes.

drained

½

teaspoon

dried oregano

½

teaspoon

salt

½

cup

pitted olives

(I used kalamata)½

½

cup

shredded parmesan
Instructions
Heat the olive oil in a large sauté pan over medium heat. Add the shallots and sauté, stirring occasionally, until almost tender, about 3–4 minutes.

Add the green beans and ¼ cup water. Cover and cook for 3 minutes. Remove the lid and cook for 2 minutes, or until the water mostly evaporates.

Add the tomatoes, oregano, and salt. Stir and cook for another 2 minutes, or until the green beans are tender.

Remove from the heat and stir in the olives. Top with parmesan and serve.
Notes
If you don't have a lid large enough to fit your sauté pan, use a piece of aluminum foil instead. No need to curl it around the edges, just place a large flat sheet of foil on top and it'll do the trick. You can substitute two (14.5 oz) cans of green beans for the fresh green beans, if you'd like. Drain the green beans and add them along with the tomatoes. Since they are canned, they don't require cooking like fresh green beans do. They just need to be warmed up! You can also substitute ½ of a large yellow onion in place of the shallots.
Nutrition
Calories:
135
kcal
Carbohydrates:
10
g
Protein:
6
g
Fat:
9
g
Saturated Fat:
2
g
Cholesterol:
7
mg
Sodium:
504
mg
Potassium:
278
mg
Fiber:
4
g
Sugar:
4
g
Vitamin A:
899
IU
Vitamin C:
15
mg
Calcium:
143
mg
Iron:
1
mg
This post contains affiliate links. Thank you for reading GiftofHospitality.com and helping me to provide quality content.